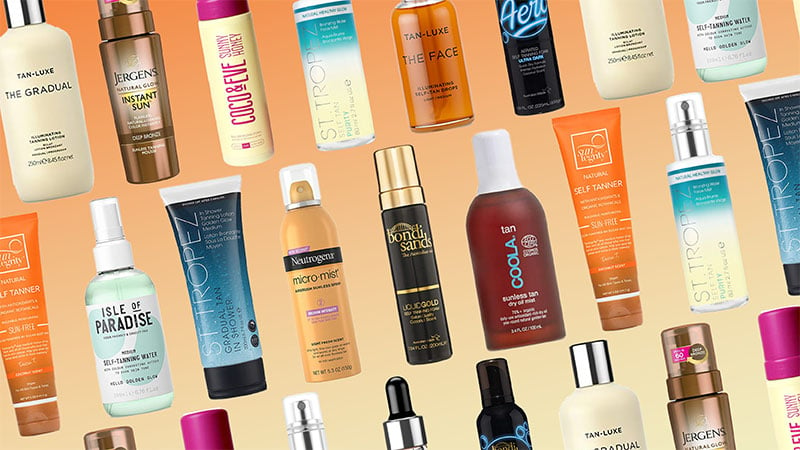 Self-tanning lotions are a great way to get a sun-kissed glow without the need to go somewhere tropical or having to deal with the damaging effects of UV rays. Sun exposure can cause burning, aging, and skin conditions such as sunspots, hyperpigmentation, and even cancer. It's much safer to embrace a bottled bronze. Luckily, there are plenty of options to select from. Some build a gradual tan over time and are great for beginners or anyone wanting just the slightest hint of color. Others are almost instant and can provide a deep, golden hue. Choose from lotions, creams, mousses, and sprays, as well as formulas designed for your whole body or just the face. Plus, many have other excellent benefits thanks to a range of hydrating and moisturizing ingredients that enhance your beautiful, flawless tan even more.
1. Tan-Luxe The Gradual
Build a glowing golden tan over time with Tan-Luxe's The Gradual. It's a lightweight moisturizer that begins to develop a beautiful golden glow within an hour. Incorporate it into your daily routine, and build your tan deeper with each application. It gives you great control over the final shade, so you don't end up too dark or patchy. This also makes it perfect for beginner self-tanners who are hesitant about making mistakes. Finally, the revolutionary oil-lotion hybrid feels incredible and absorbs really well, leaving no streaks behind.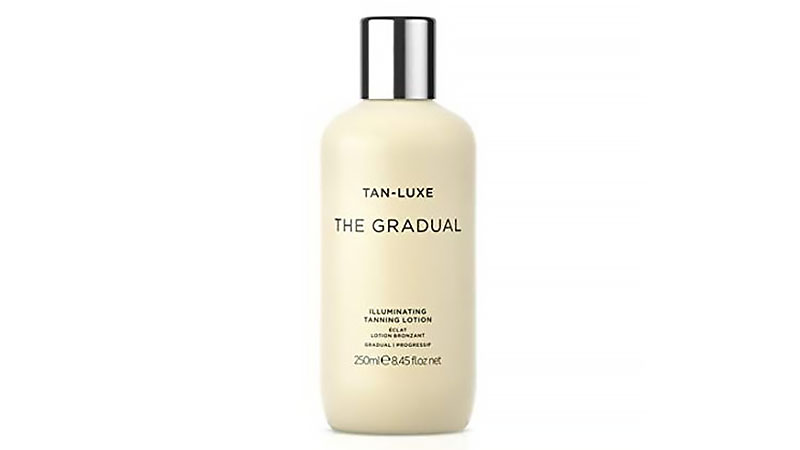 2. Jergens Natural Glow Instant Sun Body Mousse
The airy formula of Jergens Natural Glow Instant Sun Body Mousse makes the application of this self-tanner so simple and easy. All you need to do is apply it to clean, prepped skin, and use it sparingly around your elbows, ankles, and knees. You'll enjoy an even, streak-free application that dries in just 60 seconds. The color develops instantly and continues to deepen over the next few hours. The end result mimics the natural glow of a suntan without the damage. Best of all, it moisturizes at the same time. Finally, it has a tropical, fruity scent that will transport your mind to a sunshiney beach in no time!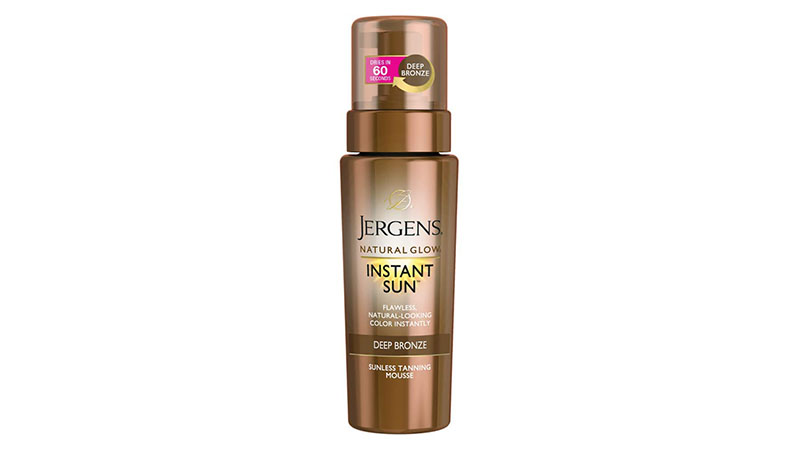 3. Beauty By Earth Self Tanner
If you're looking for a more natural self-tanning option, don't go past Beauty By Earth. The recipe skips the harmful parabens, phthalates, and chemical-based active ingredients. Instead, you'll find a cruelty-free formula full of organic aloe vera, shea butter, botanical extracts, and DHA. Plus, it's excellent for all skin types, including sensitive skin. You'll enjoy a sun-kissed glow without the damage of harmful UV rays or the risk of looking like an Oompa Loompa. There's a sublet coconut scent, and the smooth, creamy texture glides onto your skin smoothly. You'll see results within six to eight hours, and your golden glow will last four to six days.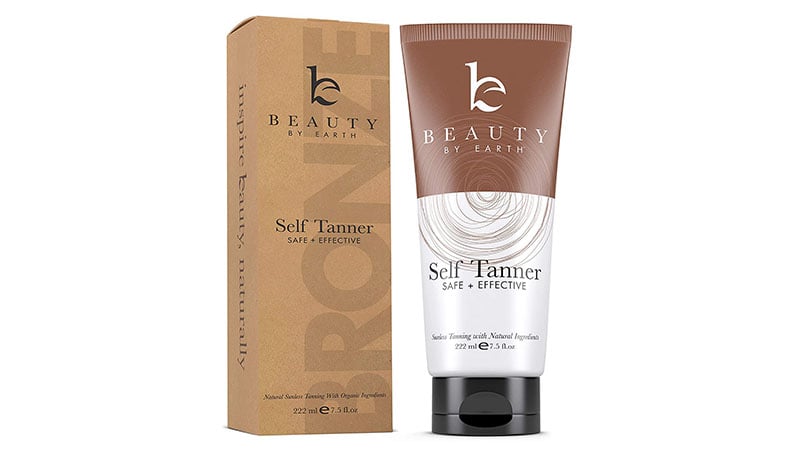 4. Tan Physics True Color Sunless Tanner
Get a deep, luxurious tan easily with Tan Physics' True Color Sunless Tanner. It's specially formulated with anti-aging ingredients to hydrate, replenish, and restore a youthful appearance to your skin, all while giving you a bronzed glow. For the best results, apply it to smooth exfoliated skin. There'll be no streaks, orange tint, or lingering smells.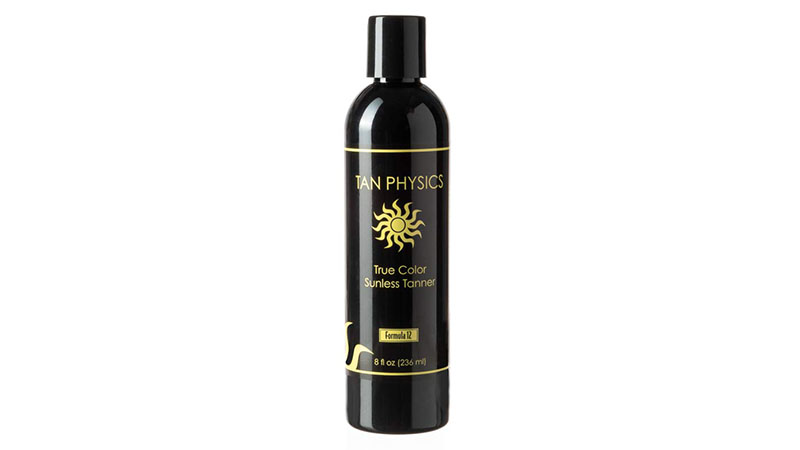 5. Coco & Eve Self Tanner Mousse Kit
Coco & Eve has released the world's first 100% natural DHA self-tan body treatment with full skincare benefits. It's a lightweight mousse that makes application easy, dries fast, and develops in just two hours. The formula is infused with raw coconut, botanicals, and amino acids, further supported by powerful antioxidants from fig, banana, papaya, and cocoa. Together, these ingredients hydrate, minimize the appearance of pigmentation and stretch marks, and reduce the signs of aging. Application is simple, using circular motions before rinsing off in warm water after two hours. Alternatively, you can also sleep in it overnight for a deeper color, without the fear of it transferring to your clothes or sheets. Finally, it's also cruelty-free and vegan, so you won't feel guilty using this sunless self-tanner.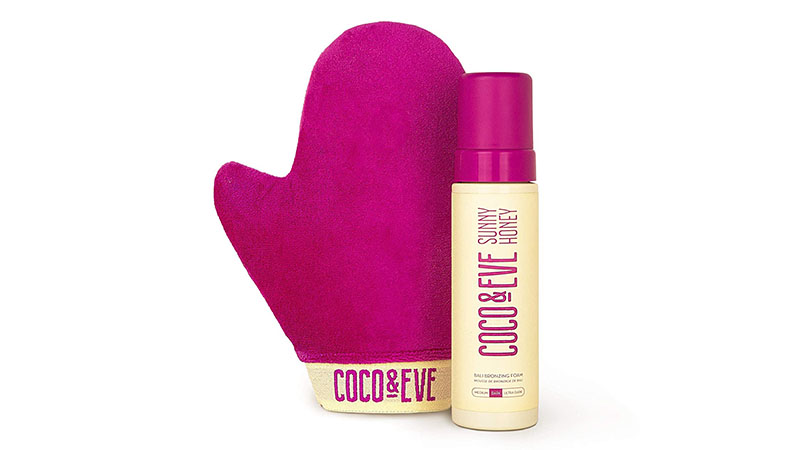 6. Tarte Cosmetics Brazilliance™ 2HR Express Deep Foaming Self-Tanner
Enjoy quick results with Tarte Cosmetics Brazilliance™ 2HR Express Deep Foaming Self-Tanner. It's packed full of nourishing ingredients such as aloe vera, coconut, and jojoba. This keeps your skin soft and supple while preventing a patchy, unappealing tan. The foaming formula makes the application, without streaks, much easier. The result is a deep, natural-looking tan in just two hours, all from the comfort of your home and without damaging effects on your skin and health. The formula is also vegan, and alcohol-free so it won't dry your skin.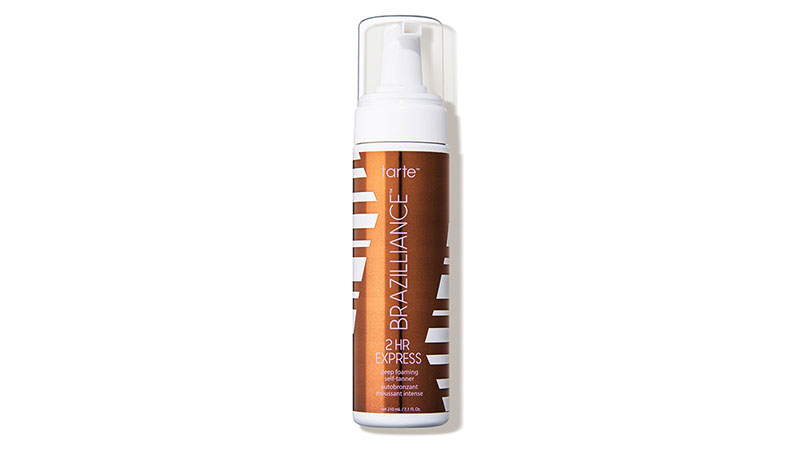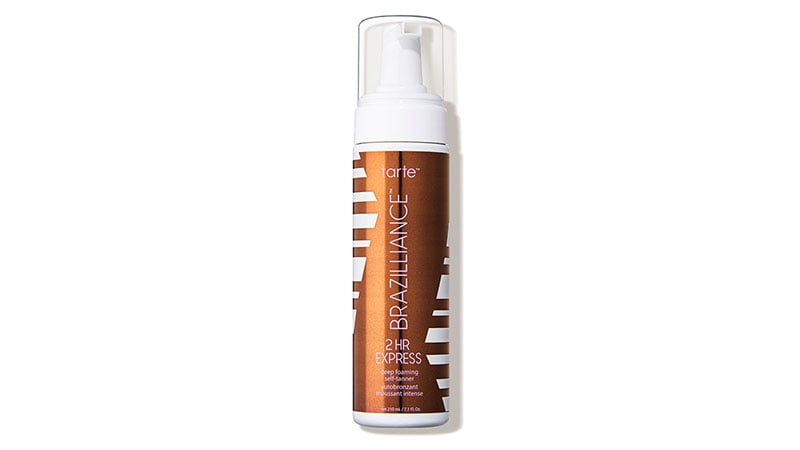 7. St. Tropez Self Tan Purity Bronzing Water Face Mist
While you may not be in the French Riviera, you can look like you've just come back from the most delightful vacation there with St. Tropez's self-tanning products. The Purity Bronzing Water Face Mist is designed for use on your face, where other products can be too much. Best of all, it's so easy to use. Simply shake it well, then spritz five to six full pumps onto the clean, dry skin of your face, neck, and decolletage. The fine mist absorbs quickly and develops into a flawless golden glow in four to eight hours. The formula is enriched with 100% natural tanning agents and hibiscus extract and is vegan-friendly. There's also no need to worry about a lingering odor thanks to the uplifting tropical scent. Use it daily for an even, lasting effect and continual sun-kissed glow.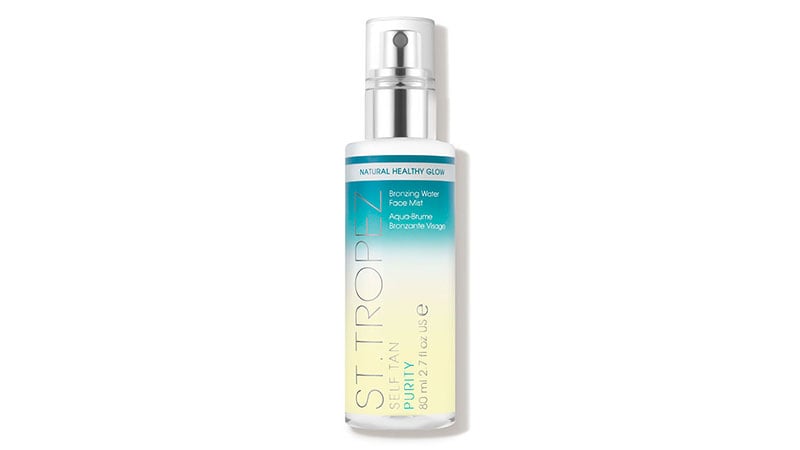 8. Suntegrity Skincare Suntegrity Natural Self Tanner
Nourish your skin while you give it a straight-from-the-tropics bronzed glow. Suntegrity Skincare's self-tanner uses a five-in-one formula to hydrate, replenish, repair, nourish, and, of course, tan. It's full of organic ingredients such as sweet almond and coconut oil, which creates the base, while mango seed and shea butter nourish and soften. Finally, rosehip oil regenerates and brightens your skin. It also contains Vegetan®, an eco-certified DHA source (the active tanning ingredient) from sugar beets. Simply apply it to your body, letting the formula sink in without any sticky residue. If you want a deeper color, add another layer until you've achieved the perfect look. Just remember, the color will continue to develop over the next few hours!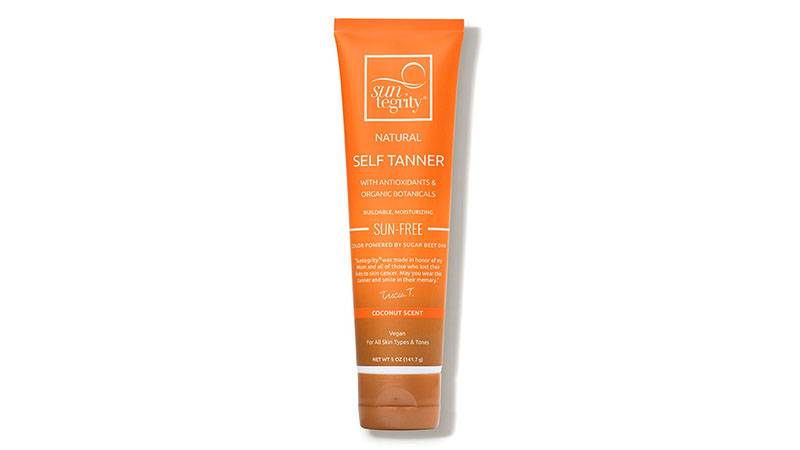 9. James Read Tan Sleep Mask Tan Face
Tan while you sleep with this overnight mask from James Read. The lightweight gel formula is colorless and packed full of nourishing ingredients. Apply it to your clean, dry face, neck, and decolletage before heading to bed to dream of far-flung tropical destinations. When you awake in the morning, you'll be greeted with a sunkissed glow as if you'd just come from the beach in real life. Ingredients include aloe vera and cucumber to soothe, and hyaluronic acid, a powerful humectant that draws moisture into the skin. There's also algae extract, a natural source of antioxidants that protects the skin from environmental aggressors. Apply this sleep mask nightly with a tanning mitt until you've reached your desired result, then as needed after that for maintenance.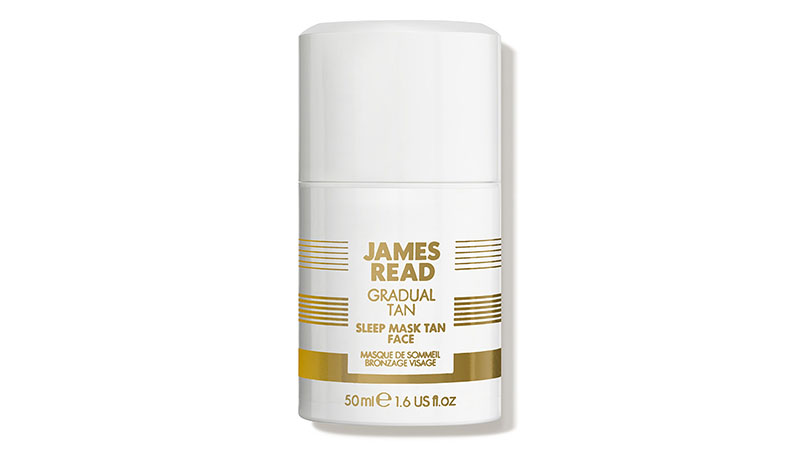 10. Clarins Self-Tanning Milky Lotion
Tan your whole body, from head to toe, with this milky lotion from Clarins. It's lightweight and ultra-hydrating thanks to the addition of aloe vera and fig extract. The smooth, silky texture makes it easy to apply for streak-free, glowing results. Clarins uses an exclusive combination of self-tanning molecules — DHA and erythrulose, which creates a natural-looking and long-lasting tan without blotchiness or the dreaded orange tint. Use light sweeping motions to apply the lotion to your skin, giving it a few minutes to dry before dressing and continuing with your day.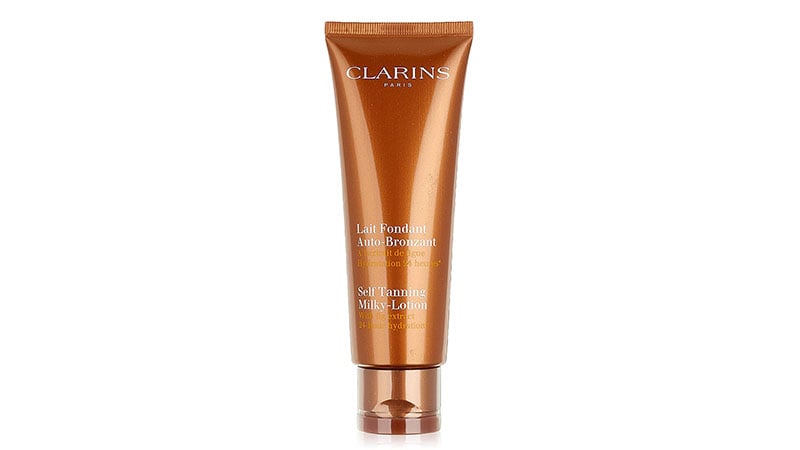 11. L'Oreal Paris Skincare Sublime Bronze Hydrating Sunless-Tanning Milk
Regardless if you're a beginner or a pro-self-tanner, L'Oreal Paris' Skincare Sublime Bronze Hydrating Sunless-Tanning Milk is an excellent choice. It's designed to create a buildable shade that gives you the perfect tan year-round. The ultra-hydrating formula includes vitamin E to nourish the skin, leaving it soft and glowing. Apply the milky lotion to clean, dry skin three times a week for a gradual tan. Alternatively, you can use it between other tanning applications to maintain moisture and your ideal sun-kissed look.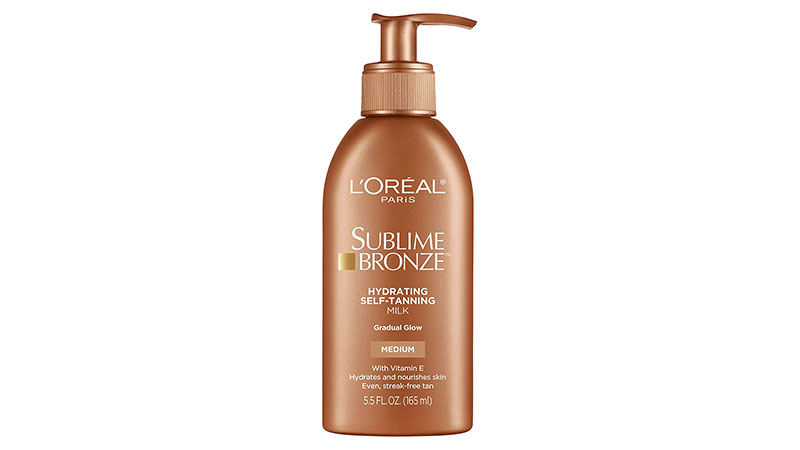 12. Isle of Paradise Fake Tan Water
Isle of Paradise's Fake Tan Water certainly doesn't look like a traditional self-tanning lotion! This vegan-friendly product is easy to use and develops in four to six hours. Simply spritz onto exfoliated skin and blend with a tanning mitt using sweeping motions. It dries quickly, and you're good to go. The nourishing ingredients include coconut, avocado, chia seed, and eucalyptus oils, as well as grapefruit extract. Plus, the liquid's green hue contains color-correcting active ingredients to eliminate red tones for the perfect golden tan. While this shade is universally flattering for an all-over glow, it's particularly good for people with fair skin who prefer a lighter shade.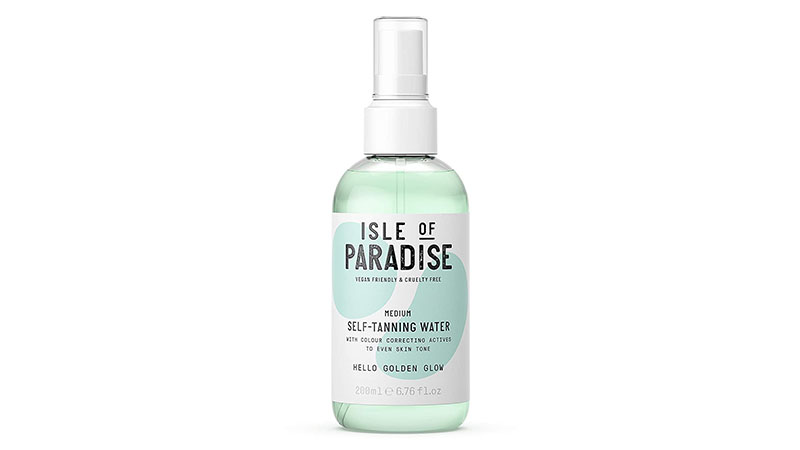 13. Golden Star Beauty Self Tanner Dry Oil
Indulge in an all-over tan without the UV damage. Golden Star Beauty Self Tanner Dry Oil is cruelty, gluten, and paraben-free, as well as vegan, made in the USA, and contains certified organic ingredients. The dry oil formula is simple to apply and absorbs well without leaving any residue to stain your clothes. Simply spray it evenly on your skin, and rub it in. Allow it 10 to 15-minutes to dry completely before dressing. If you're in doubt, it also comes with a handy guide with tips and tricks for achieving the perfect, streak-free tan. The ingredients include sugar cane-derived DHA for the perfect color, as well as jojoba, avocado, macadamia, and evening primrose oils. Lastly, there's also hyaluronic acid which draws moisture to the skin for extra hydration.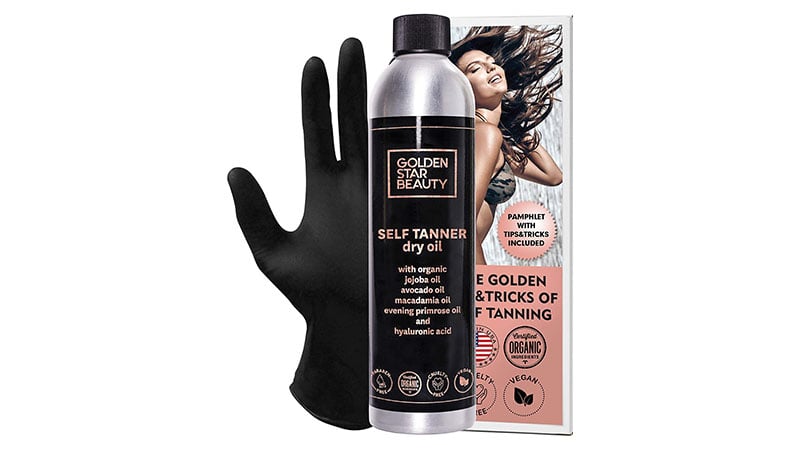 14. Bondi Sands Liquid Gold Self Tanning Foam
Bondi Sands is made in Australia but globally loved. The Liquid Gold Self Tanning Foam is perfect for giving you a golden glow as if you've just stepped out from the hot Aussie sun. It's infused with moisturizing argan oil, has a lovely coconut scent, and is touch-dry in seconds. It's also ideal for quick applications if you're a bit time-poor. The foam formula makes it easy to smooth over your body with a tanning mitt for streak-free results. Dress and continue about your day while your golden tan continues to develop over the next two to three hours. Plus, it's cruelty-free, vegan, and made Down Under.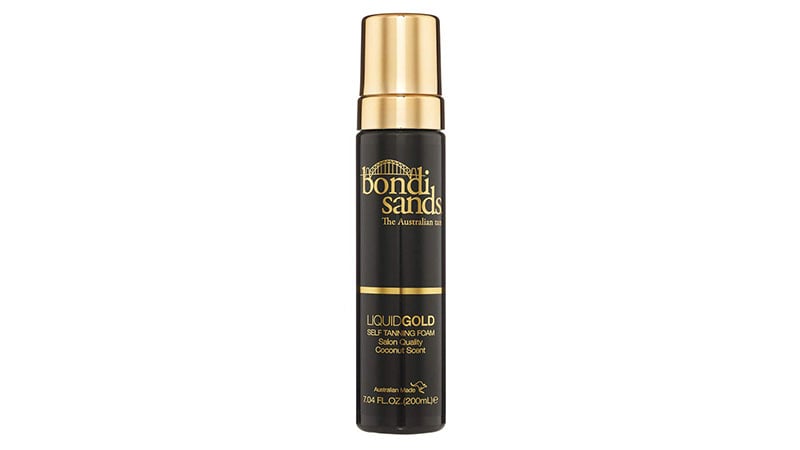 15. St. Tropez Gradual Tan In Shower Lotion
Invest in a revolutionary self-tanning lotion with St. Tropez's Gradual Tan In Shower Lotion. Unlike other self-tanning products, this one goes on in the shower! Wash as usual, and once you've rinsed off, generously apply the lotion in a circular motion to your wet skin, and wash your hands. Hang about for three minutes (which is roughly the length of ABC by The Jackson 5 if you feel like belting out a tune with your great bathroom acoustics), then rinse it off, pat dry, get dressed, and off you go. Repeat the process for three consecutive days to build up to your desired golden glow. Not only is it straightforward and mess-free, but the formula also contains hydrating sweet almond oil, so you don't need extra moisturizer.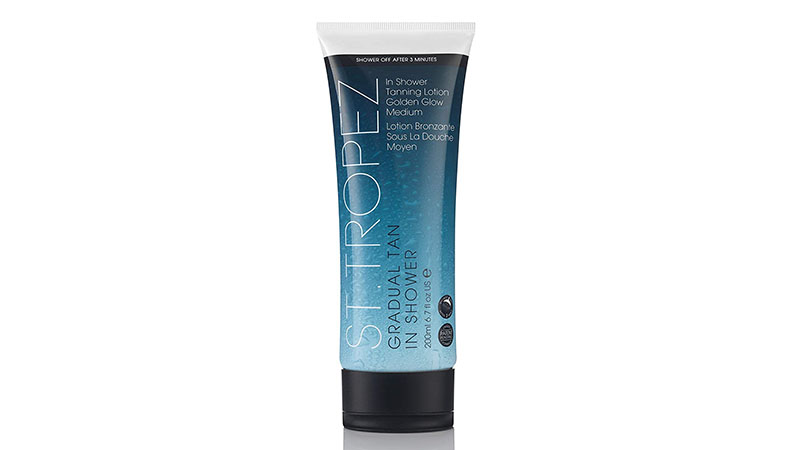 16. COOLA Organic Sunless Tanner Spray
Enjoy a natural-looking, dewy glow without sun damage. The self-tanning oil mist from COOLA Organic is packed with more than 70% organic and nourishing ingredients like aloe vera and argan oil. These help to soften and smooth the skin while adding and retaining moisture. In addition to the organic components, it's also paraben, cruelty, and gluten-free, vegan, reef-friendly, and contains no GMOs. To apply, simply spray the micro-mist liberally on the areas you want tanned, rub it in using a circular motion, and let it dry. You can reapply for a deeper color, although the shade will develop further for six to eight hours. Finally, if you like pina Coladas (… and getting caught in the rain… ), you'll definitely enjoy the fresh tropical pineapple and coconut scent of this self-tanner.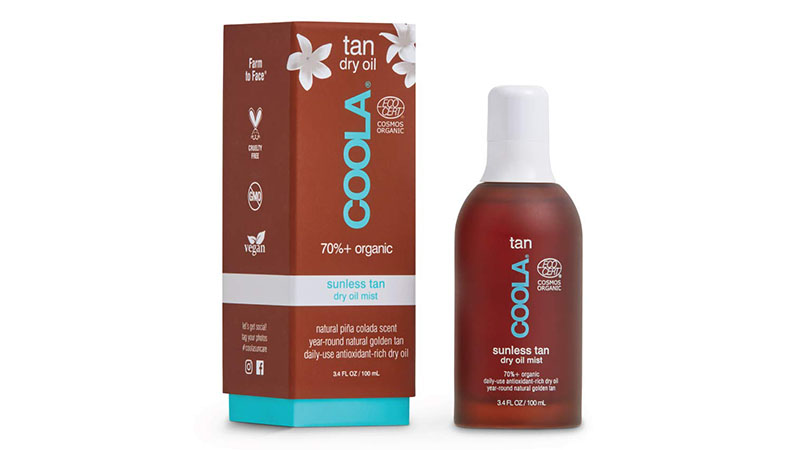 17. CosmoSun by Cosmopolitan Sunless Mousse
Get instant color on your skin with this self-tanning mousse from CosmoSun by Cosmopolitan. It contains bronzing ingredients for an instant touch of color, while the tan develops in as little as two hours. This makes it ideal if you're running late but still need a touch-up. Thankfully, the color won't come off on your clothes, so you can go about your day immediately. It also has a fresh and clean fragrance, so you won't smell like you've just stepped out of a tanning booth. The mousse is easy to apply, even for beginners, and gives you a streak-free finish.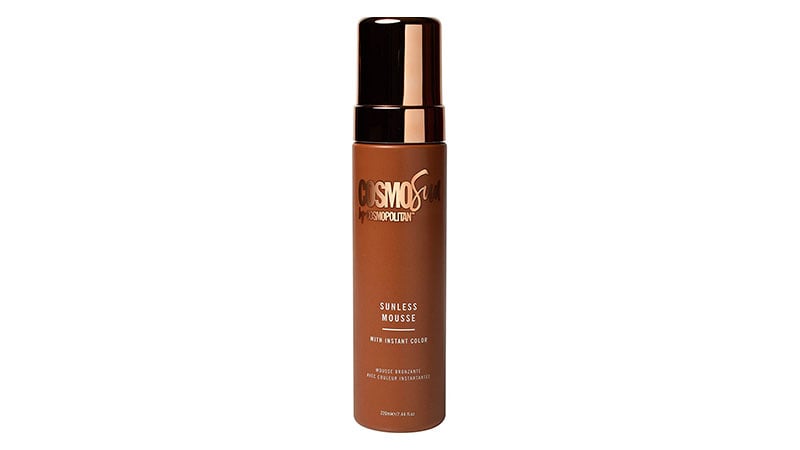 18. Body Drench QuickTan Bronzing Spray
The fine mist of the Body Drench QuickTan Bronzing Spray makes it oh-so-simple to apply all over. Plus, it has a tinted formula which makes it easy to see where you already have coverage, ensuring an even, streak-free golden tan. The color then develops fully in three to five hours and can be reapplied twice a week to maintain your glow. It also smells lovely, with a cocoa and vanilla scent that's reminiscent of sunset drinks at a beach bar in the tropics.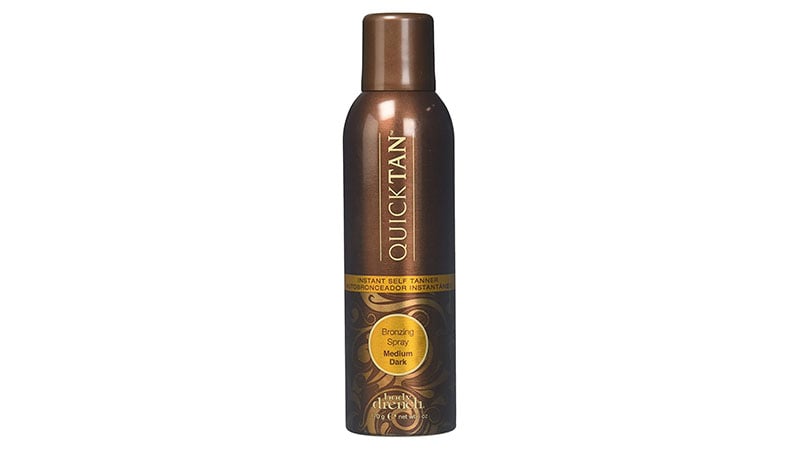 19. Vita Liberata Ten Minute Tan
Ten minutes is all it takes for a beautiful sun-kissed glow. This formula from Vita Liberata is designed to be massaged into your clean, dry skin, then rinsed off in the shower after just ten minutes. However, you can leave it on for up to 20 minutes for an even deeper hue. Once you're clean and dry, the color will continue to develop for four to six hours. Other benefits of this self-tanning lotion are the super-charged anti-aging ingredients. These include Matrixyl 3000 and rosehip, which encourage and support collagen production. It also has natural and organic ingredients, including neroli oil, aloe vera, Ginkgo Biloba, and marula oil, which provide a boost of vitamins C and E, protect your skin from free radicals, and are exceptionally hydrating.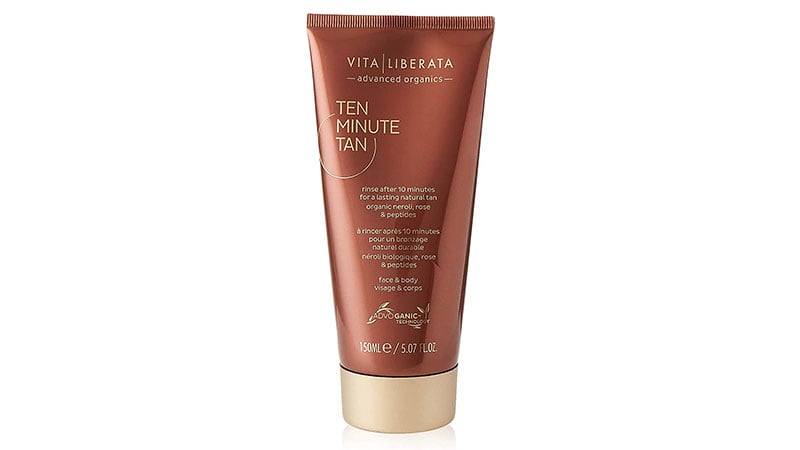 20. St.Tropez Tan x Ashley Graham Limited Edition Ultimate Glow Kit
If ever there was a bronzed goddess worth emulating, it's the beautiful Ashley Graham. She has collaborated with St. Tropez for this limited edition glow kit, which includes Self-Tan Luxe Whipped Creme Mousse & a specially designed applicator mitt. The creme mousse is enriched with a hyaluronic acid complex, rosehip oil, and vitamin E to leave your skin nourished, smooth, and looking sun-kissed. It touch-dries in seconds and has a powdery soft finish. Plus, the subtle fragrance is also inspired by Ashley's favorite scents. When it comes to application, simply use the mitt to apply the mousse in gentle, circular motions and rinse off after one hour. However, for a deeper tan, you can leave it on for longer. The long-lasting tan will continue to develop over four to eight hours for the perfect golden glow.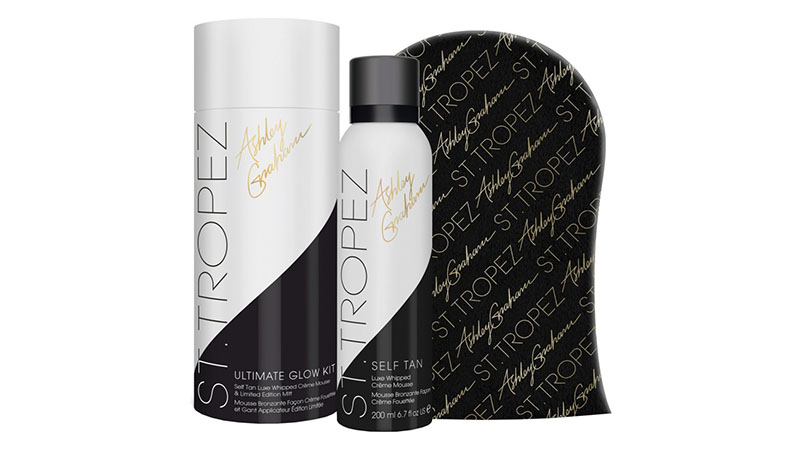 21. Tan-Luxe The Face Illuminating Self-Tan Drops
Take your skincare regime to another level, creating a custom-made golden glow with The Face drops from Tan-Luxe. These award-winning self-tanning drops use the highest quality DHAs from the south of France to give you a natural tan that suits your skin tone. Simply add a few drops to your face moisturizer in the morning or evening, and watch as the color develops over the next two to four hours. Use just two drops for a radiant glow and up to 12 drops for a bronzed complexion. Not only does it give you a sun-kissed look, but it also minimizes imperfections and adds hydration. The nourishing ingredients include raspberry seed oil, vitamin E, and aloe vera.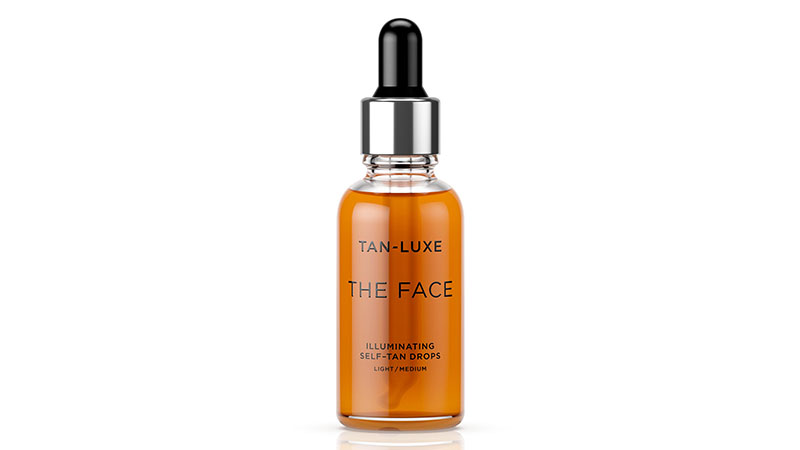 22. Vita Liberata Fabulous Self Tanning Tinted Lotion
Enjoy deep hydration along with instant color by using the Fabulous Self-Tanning Tinted Lotion from Vita Liberata. It's the original tanning product from the brand and is fragrance, cruelty, and sulfate-free, and is vegan. While you'll get instant color, your sun-kissed tan will continue to develop over four to eight hours. It also contains shea butter, vitamin E, and hyaluronic acid, all of which are great for adding and retaining hydration, giving your skin a flawless finish. Finally, Advoganic technology combines potent natural ingredients with cutting-edge chemistry to supercharge the effects and unlock the full potential of every component in the formula, ensuring maximized results for you.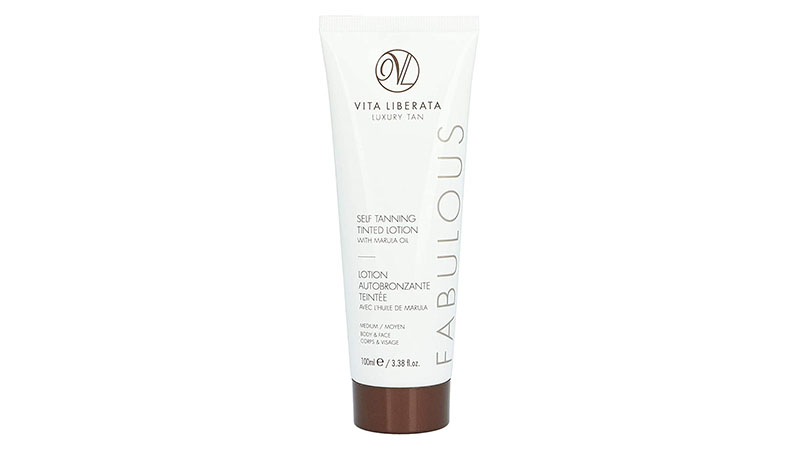 23. St. Moriz Professional Self-Tanning Mousse and Applicator Mitt Set
Make self-tanning easy with this set from St. Moriz. It contains both the Professional Self-Tanning Mousse and a luxurious velvet applicator mitt so that you can achieve the perfect, streak-free tan. Ingredients like olive milk and vitamin E are gentle and hydrating, making it suitable for all skin types. Meanwhile, the lightweight mousse spreads easily, while the instant color helps you identify any areas you've missed. This ensures there are no blotchy, pale patches left – only a luminous, golden glow. The tan continues to develop over four to six hours and lasts for days.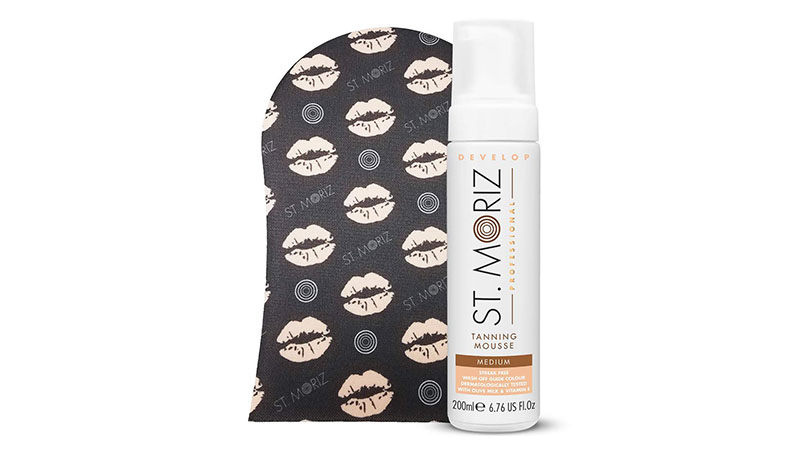 24. Bondi Sands Aero Self Tanning Foam
The aerated self-tanning foam from Bondi Sands is the next generation of tanning products. It absorbs into the skin faster and deeper than regular foam, drying quickly so you can get on with your life. To apply, use a tanning mitt and sweeping motions across your body. Leave the foam on for at least six hours before rinsing off. This will give you a beautiful, deep, bronzed glow. Like other Bondi Sands products, it's enriched with argan oil for extra hydration and boasts the iconic coconut scent that immediately transports you somewhere sunnier.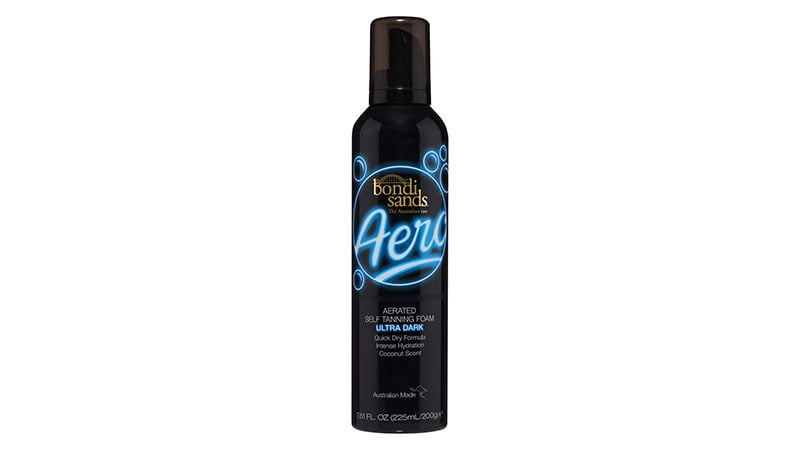 25. Neutrogena Micromist Airbrush Sunless Tanning Spray
There's no need for Photoshop when you're rocking a tan thanks to the Neutrogena Micromist Airbrush Sunless Tanning Spray. The fine mist emulates a professional application, all in the comfort of your own home. The continuous spray ensures even coverage and lets you easily get to those hard-to-reach areas. Plus, it dries in only five minutes, and there's no rubbing in required. The buildable color also allows you to control the shade for your ideal results. Finally, it's oil and alcohol-free and won't clog your pores.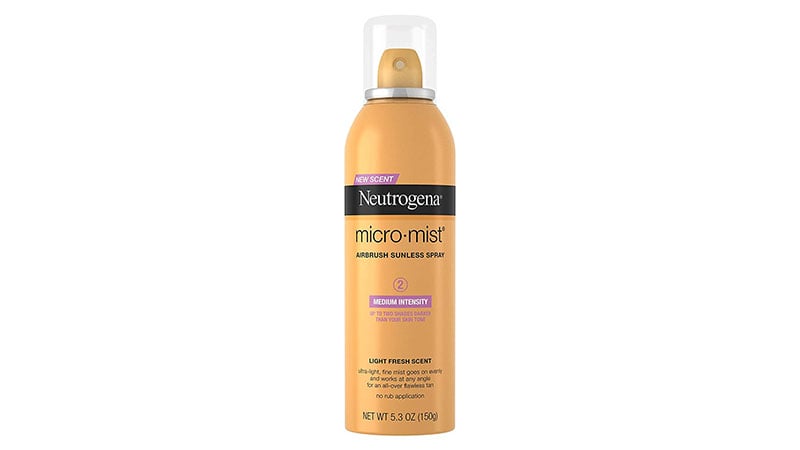 Self Tanning Tips
To achieve a smooth and uniform tan be sure to exfoliate and wax or shave 24 hours before application.
Patch test self-tanner before applying to make sure the color suits your skin tone.
As your elbows, knees, feet, and hands often develop darker than the rest of your body, apply moisturizer before self-tanning to create a barrier.
Self-tanner can appear different in color when blended with other products on your skin, so be mindful of what you apply to your body. Use moisturizer only where needed and mineral oil-free body washes and scrubs to ensure no residue is left behind.
Select quality products that'll soothe, hydrate, and nourish your skin.
When applying self-tanner, stand between two mirrors to have the best vision of what it is you're doing.
To make self-tanner last longer, be sure to keep skin suitably hydrated.
FAQs
Do self-tanning lotions work?
As long as you follow the instructions carefully and prep your skin adequately, self-tanning lotions work a treat to give you a safe, sunless golden glow. Generally, you need to start with well-exfoliated skin that's clean and dry. Some brands recommended adding a small amount of oil-free moisturizer to areas like the ankles, knees, and elbows, which are notorious for being try and going patchy. The best, streak-free results come from using a specialized applicator mitt, which will help with even coverage. Leave the product on for the specified time, and avoid sweating, getting caught in the rain, and applying other products while the color is developing.
Is it OK to shave before self-tanning?
If you want to shave your legs, it's best to do it at least a few hours before you apply your self-tanning lotion. Shaving can help exfoliate your skin, but can also cause irritation which will affect the tan, so always use a good shaving cream or gel. Generally, you don't want to shave for at least 24-hours after applying the tan, as this can remove it. As such, make sure you factor both into your weekly schedule, so they line up appropriately.
Can I lay down after self-tanning?
You'll need to wait for the product to be completely dry before going near any kind of fabric, including clothing or your bed. Otherwise, the lotion can rub off, leaving you with both a patchy tan and ruined bedding. Always read the instructions before starting to know what to expect and how long things will take.
Should you moisturize before self-tanning?
No, you should avoid moisturizing before self-tanning, as this can affect the way the color absorbs. Plus, many tanning products already contain moisturizing and hydrating ingredients such as vitamin E, hyaluronic acid, shea butter, and various natural oils. The exception to this rule is the annoyingly dry parts of your body, including your ankles, knees, and elbows. Some products recommended applying a minimal amount of oil-free moisturizer to these areas to prevent them from getting too dark or blotchy. However, always check the instructions first!
What self-tan do Kardashians use?
The Kardashian clan have a team of stylist and beauty experts on hand to help them look flawless at all times, but it is believed that one of the self-tanners they favor includes Vita Liberata pHenomenal. Kim Kardashian is also believed to use Dolce Glow spray tan solution.
Are self-tanners unhealthy?
In general, self-tanner lotions are considered to be safe. They are also a fantastic way to get a glow without exposing your sun to harmful ultraviolet radiation. Tanning can cause skin cell damage and signs of aging, which is why it is a popular and less time-consuming alternative to use a sunless tanning solution.
What are the best self-tanning drops?
There are so many sunless alternatives on the market designed to offer you a tanned appearance and provide you with a glow. One of these options is tanning drops, which can be added to your favorite moisturizer, and results usually take a few hours. In general, these drops help avoid streaks, orange tones, and the unpleasant smells often associated with lotions and sprays. A few of the top picks include Isle of Paradise Self-Tanning Drops, Ulta Glow by Morning Gradual Tan Drops, and Drunk Elephant D-Bronzi Drops.
What is the best self-tanner on the market?
To determine which is the best self-tanner on the market is dependent on your skin tone and type. Some of the top picks include La Mer The Face and Body Gradual Tan and Elemis Total Glow Gradual Tan Bronzing Body Lotion for fair skin. This is the hardest complexion to tan because it can easily look too dark, and flaws and imperfections, such as streaks and patches, are easier to notice. For those with a medium complexion, you can try Dr. Lewinn's Sunless Self-Tanning Lotion. Those with dark skin really only need a product to help conceal uneven areas of coloring, with choices including St Tropez Dark Bronzing Lotion and Le Tan Self Tanning Lotion Ultra Dark.
SUBSCRIBE TO OUR NEWSLETTER
Subscribe to our mailing list and get interesting stuff and updates to your email inbox.