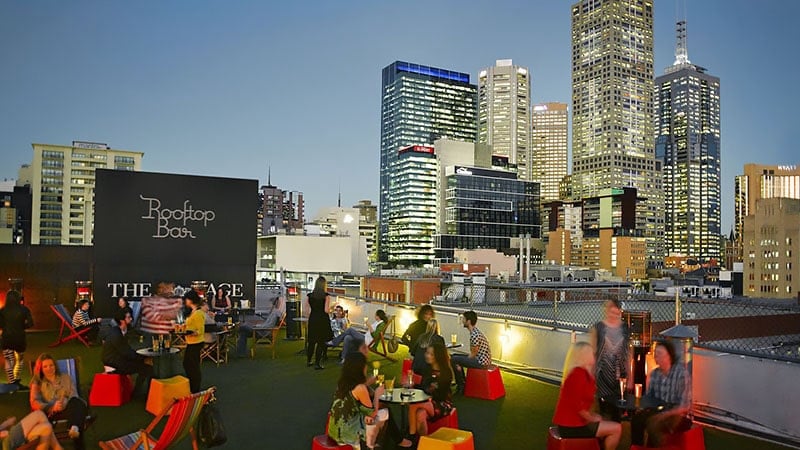 Melburnians love their rooftop bars, and with good reason! The city offers countless top venues for sipping drinks under a setting sun or starry night. From inner-city hotspots to scenic suburban haunts, Melbourne's rooftop bar scene is something not to be missed. So, to ensure you don't get left behind on the ground floor, we've rounded up the best rooftop bars in Melbourne for you to visit. No matter if you're a craft beer kind of guy or a cocktail-loving lady, you'll find plenty of places to wet your whistle on this list. Oh, and don't worry about the weather either. Heaters, retractable awnings, and more make many of these open-to-the-elements bars perfect for all year round. Below we recap the best rooftop bars in Melbourne for your next pub crawl.
1. Naked in the Sky
Sitting above Naked for Satan in Fitzroy is the Naked in the Sky terrace. While the bar and restaurant are known for its flavoured vodkas and delicious Spanish bites, the view from its top-level is just as impressive. Featuring sweeping sights all around Fitzroy and to the CBD, this cool rooftop bar may even offer the best views in Melbourne's north.
Website: www.nakedforsatan.com.au
Location: 285 Brunswick Street, Fitzroy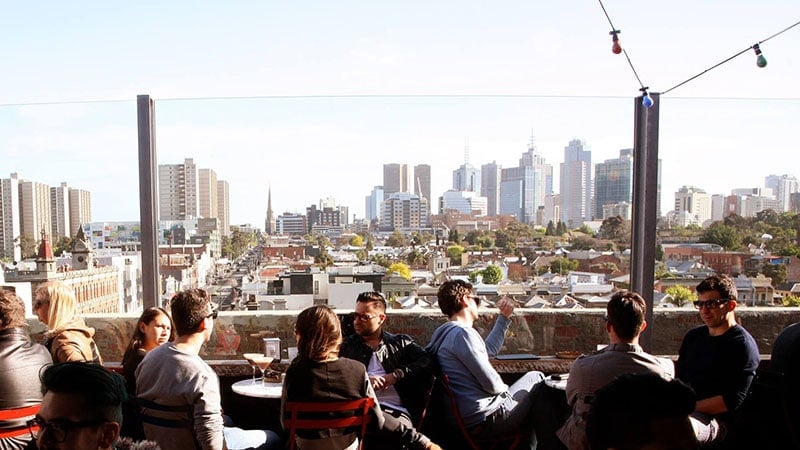 2. Rooftop Bar
Rooftop Bar has become a Melbourne institution and favourite choice for drinks in the sky. Set on the seventh storey of Curtin House, this easy-going venue provides jaw-dropping views of the city skyline. From December to April the site also plays host to an awesome open-air cinema.
Website: www.curtinhouse.com
Location: 252 Swanston Street, Melbourne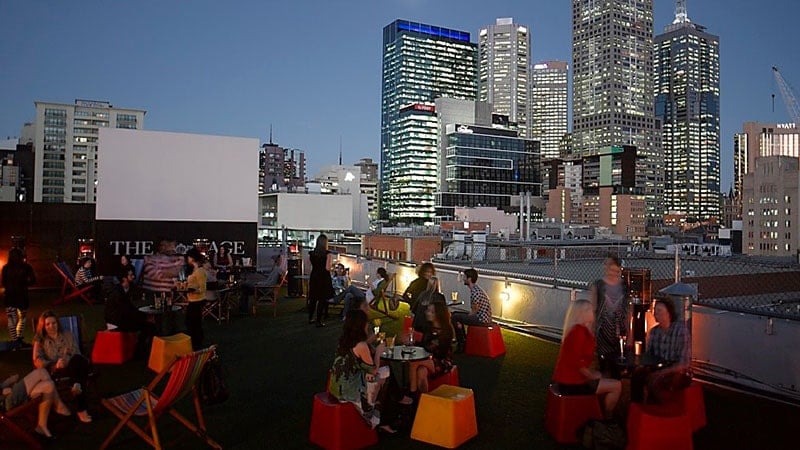 3. The Rooftop at QT
You don't have to be staying at the incredible QT Melbourne to experience its lavish environment. Just head to its rooftop bar any night of the week to take in this exciting venue and its fantastic views across inner-city Melbourne.
Website: www.qthotelsandresorts.com
Location: 11/133 Russell Street, Melbourne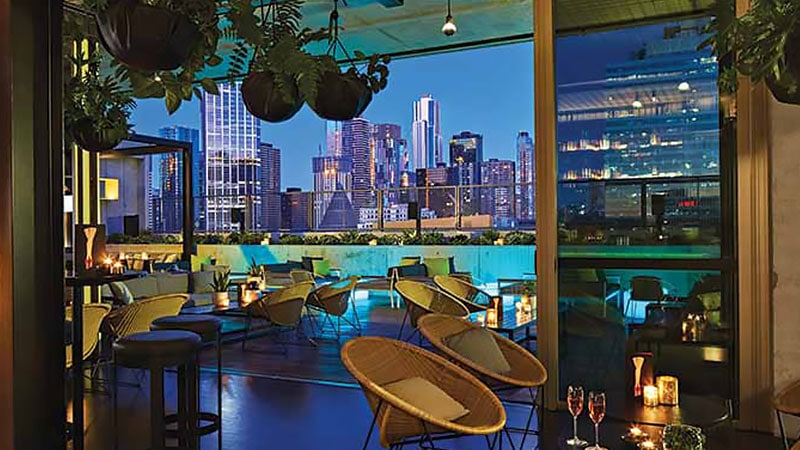 4. The Emerson Rooftop
While the lower levels of The Emerson are all about entertainment and dancing, the rooftop is the perfect place for a drink and chat. The area is elegant and sophisticated while also feeling casual thanks to its stylish and comfortable furnishings. Stop off for a sunset cocktail, and you may just find yourself staying long into the night at this chic South Yarra bar.
Website: www.theemerson.com.au
Location: 143/145 Commercial Road, South Yarra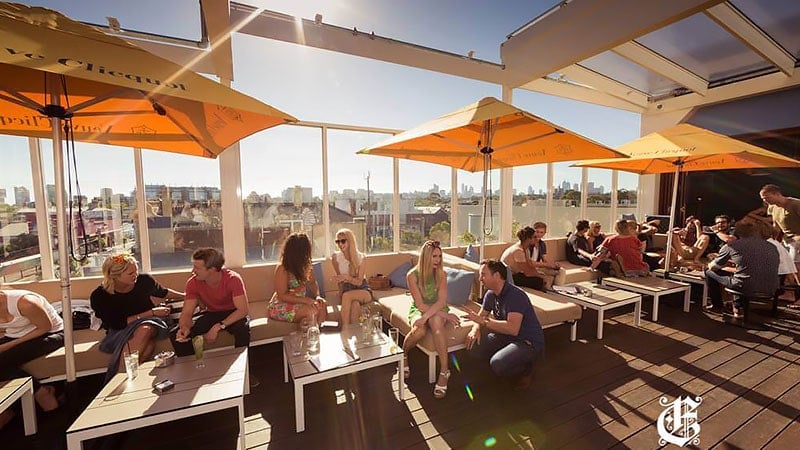 5. Siglo
Located above Melbourne Supper Club on Spring Street, Siglo offers rooftop drinking with an elegant twist. At this classy venue, you'll find yourself sitting at a table covered by a traditional white tablecloth as waiters serve you your chose of classic cocktails, premium spirits or even a fine Cuban cigar.
Website: www.siglobar.com.au
Location: 161 Spring Street, Melbourne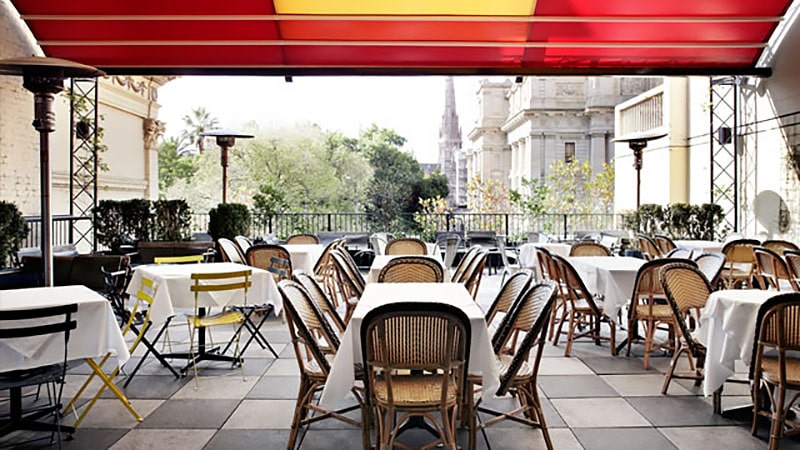 6. Loop Roof
Impressive CBD views and lush, exotic greenery make Loop Roof a must-attend bar. This little piece of paradise in the middle of the city is the perfect place to escape, unwind, and lose track of time. No matter what season or weather, you'll feel comfortable and carefree at this rooftop bar thanks to its retractable awnings, radiant heating, and subtle misting system.
Website: www.looprooftopbar.com.au
Location: 23 Meyers Place, Melbourne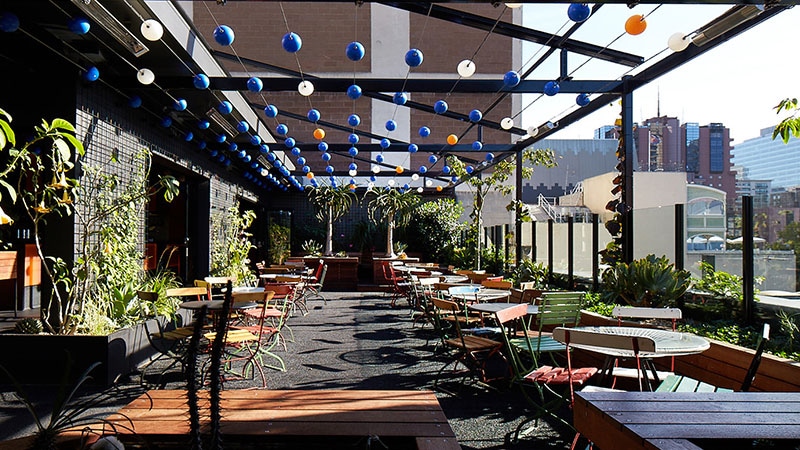 7. Good Heavens
Sitting above Fancy Hank's, Good Heavens is the coolest new rooftop bar in Melbourne. The venue offers patrons a slice of Palm Springs right on Melbourne's iconic Bourke Street. You can expect 80's cocktails, killer cheeseburgers, and DJ tunes on the weekend at this fun watering hole.
Website: www.goodheavens.com.au
Location: Level 2, 79 Bourke Street, Melbourne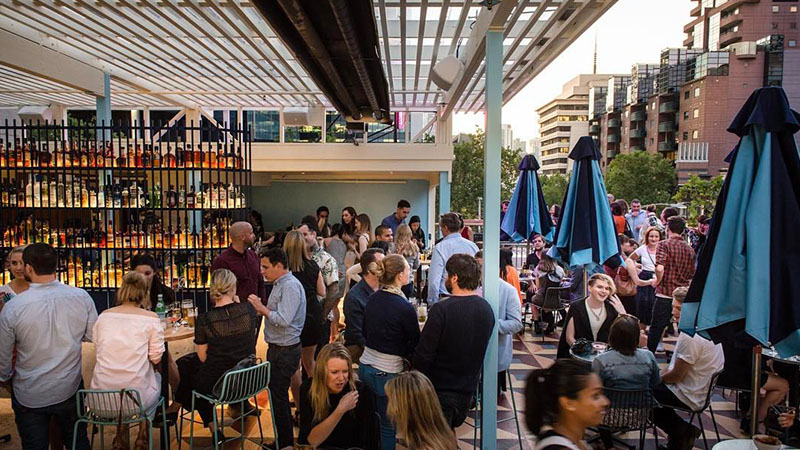 8. Imperial Hotel
Imperial Hotel may be known for its love of sporting events, but its chic rooftop beer garden is garnering a reputation of its own. Featuring stylish furniture and offering amazing views of Parliament House, this spacious and relaxed bar is the perfect spot for evening drinks.
Website:www.bourkestreetimperial.com
Location: 2-8 Bourke Street, Melbourne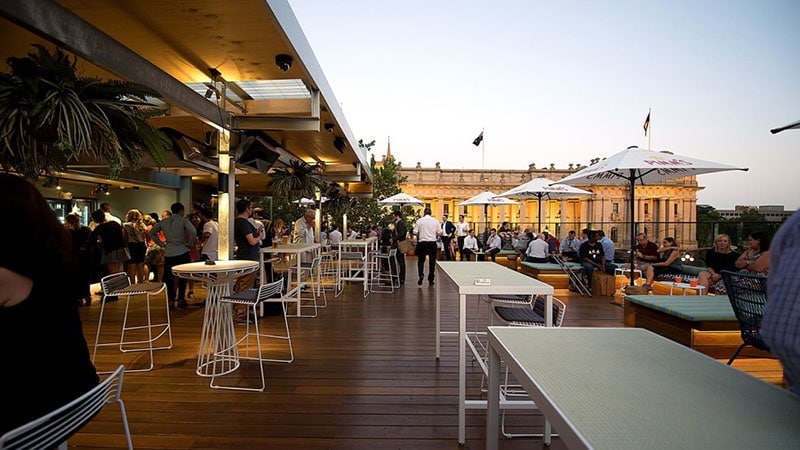 9. Easey's
If you're looking for a rooftop bar with a point of difference, then Easey's is the place to go. This cool Collingwood venue features an old train plonked on top of a building. Not just for decoration, you can go ahead and consume your beers and burgers inside these great graffiti-covered carriages.
Website: www.easeys.com.au
Location: 3/48 Easey Street, Collingwood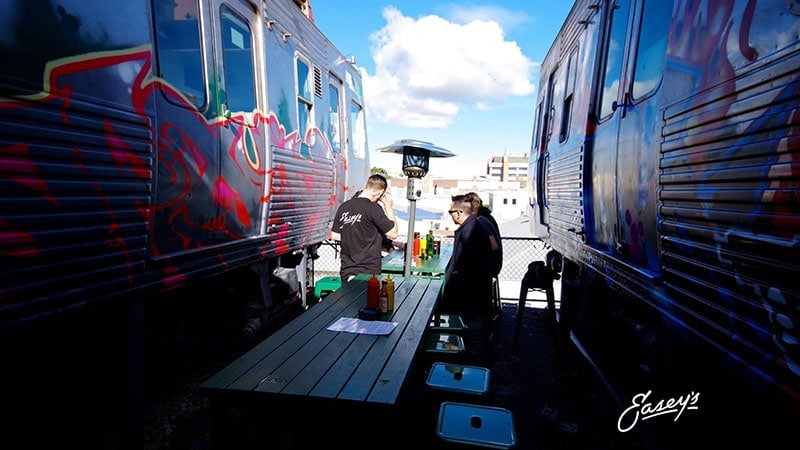 10. Bomba Rooftop
The rooftop at Bomba is open every day from 3 pm till late and dishes up delicious tapas and cocktails for your pleasure. While this venue is excellent in summer, it also fully encloses in winter to become a comfy and cosy haven from the chilly weather.
Website: www.bombabar.com.au
Location: 103 Lonsdale Street, Melbourne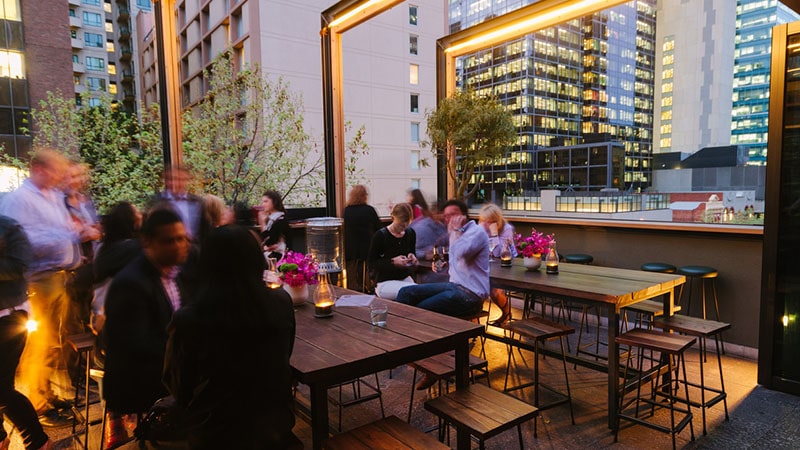 11. Upside Rooftop Bar
Situated on Brunswick Street in Fitzroy, Upside Rooftop Bar is the perfect venue for catching up with friends. From the bar's inventive cocktails and extensive drinks list to its live DJ tunes, this space is creative and cool all in one.
Website: www.upsiderooftopbar.com.au
Location: 127 Brunswick Street, Fitzroy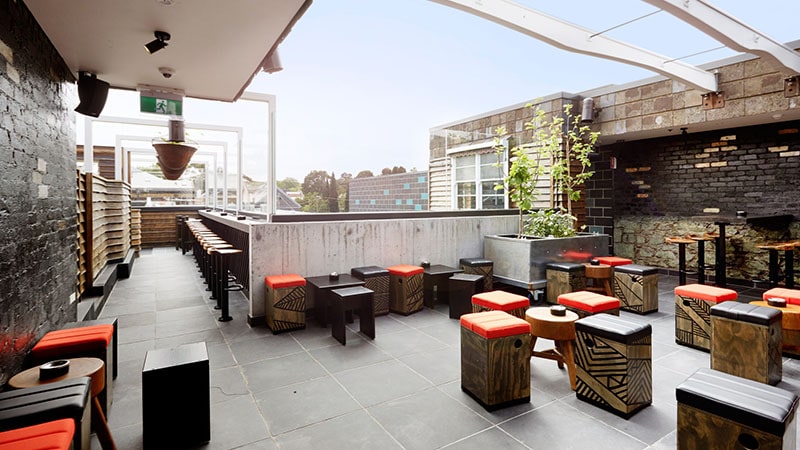 12. Madame Brussels
Madame Brussels' unique and over the top version of country club chic is a sight to behold. From the AstroTurf to the old-fashioned garden furniture, this quirky bar is full of fun and charm. Head on out to the terrace and take in the marvellous Melbourne view while sipping on the Madame's signature DD Cup cocktail at this unforgettable rooftop bar.
Website: www.madamebrussels.com
Location: 59 Bourke Street, Melbourne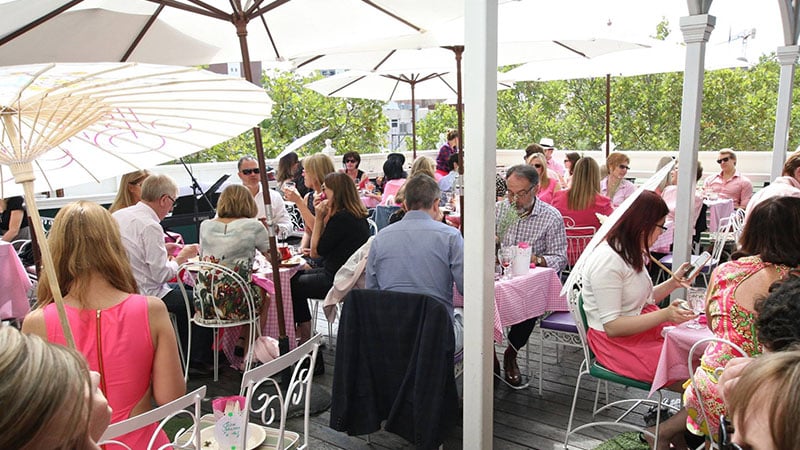 13. Feast of Merit Rooftop Bar
The rooftop bar at Feast of Merit is Richmond's best-kept secret. The intimate and secluded space serves tasty Middle Eastern snacks as well as locally sourced wine and beer and cocktails. On top of that, this fantastic bar also invests 100% of its profits into YGAP, which supports entrepreneurs changing lives in some of the world's toughest communities.
Website: www.feastofmerit.com
Location: 117 Swan Street, Richmond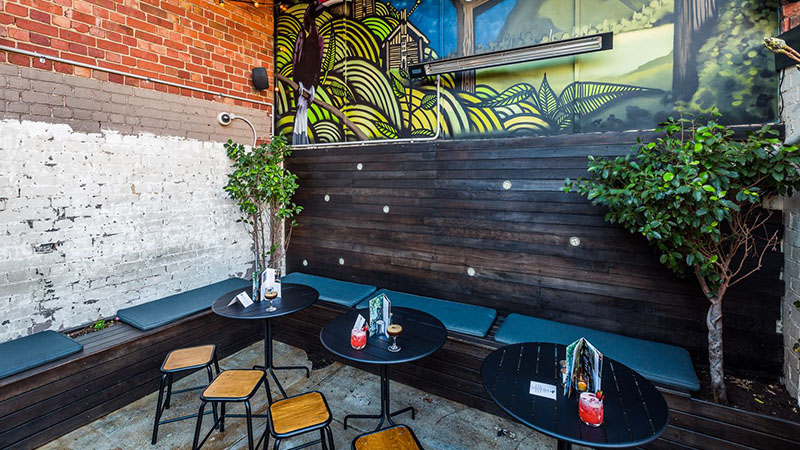 14. The Corner Hotel
If you're catching a gig at the Corner Hotel in Richmond, the rooftop beer garden is the perfect place to hang out before and after. It's also entirely wheelchair accessible, making it an ideal location for drinks in the sky with all your friends.
Website: www.cornerhotel.com
Location: 57 Swan Street, Richmond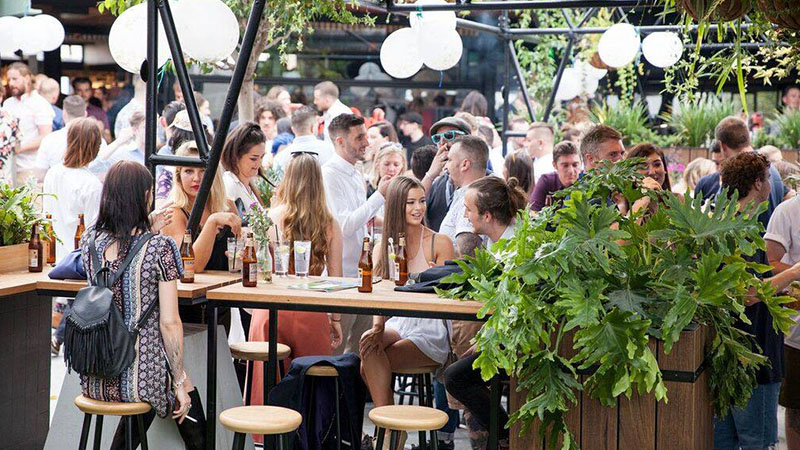 15. Fonda Mexican in Windsor
Fancy some delicious Mexican style street snacks and authentic Mexican cocktails while enjoying the open air? Fonda in Windsor is the place to go. This restaurant/bar features an excellent rooftop terrace with a fun atmosphere and plenty of great menu items.
Website: www.fondamexican.com.au
Location: 144 Chapel Street, Windsor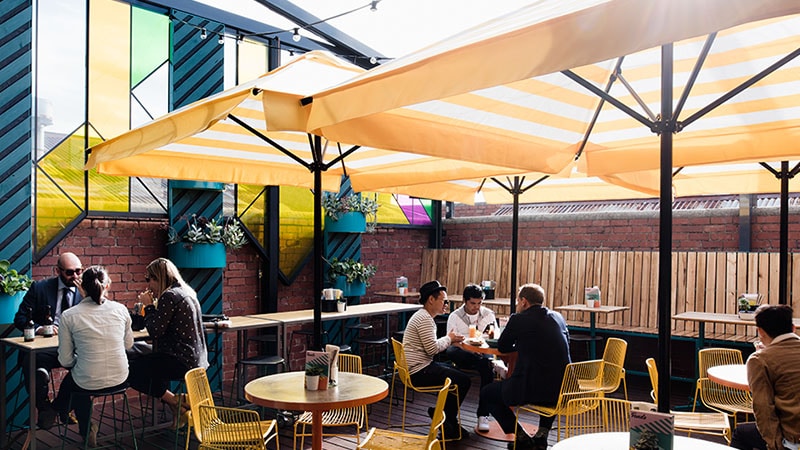 16. Palmz Rooftop Bar
Anyone who has visited the Carlton won't soon forget its weird and wonderful personality and interiors. While the inside boasts psychedelic colours and quirky animal decorations, the Palmz Rooftop Bar is designed to be an island oasis in the city. Surrounded by palm trees and bamboo huts, this venue is the perfect spot for a cocktail or two.
Website: www.thecarlton.com.au
Location: 193 Bourke Street, Melbourne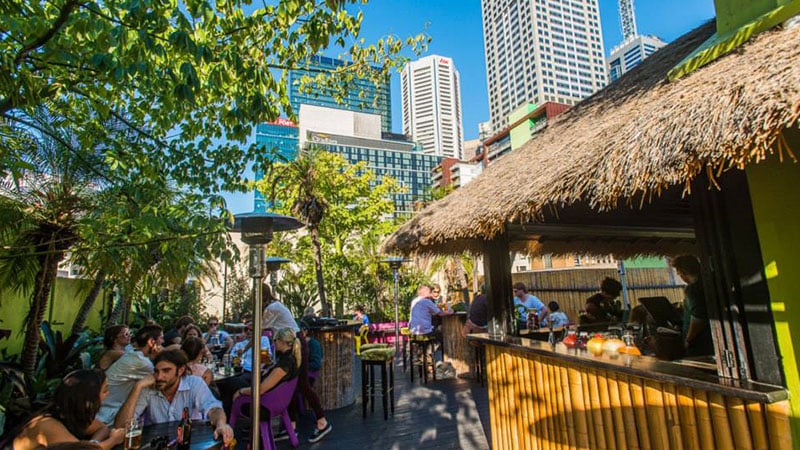 17. Marquis of Lorne
Chilled, casual drinks don't get much better than at the rooftop bar of Marquis of Lorne. Located in Fitzroy, this classic pub venue will make you feel like a local every time, no matter where you're from.
Website: www.marquisoflorne.com.au
Location: 411 George Street, Fitzroy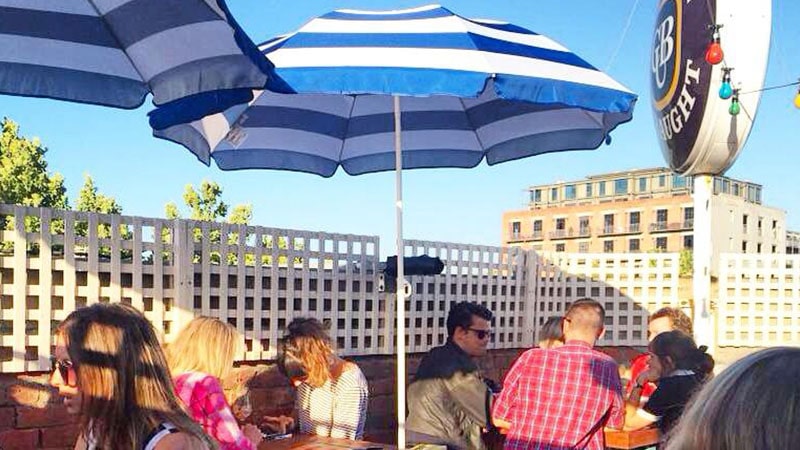 18. Uncle in St Kilda
Uncle's St Kilda location is complete with a super stylish rooftop so that you can dine on delicious food under the stars. The restaurant makes incredible Vietnamese dishes and is ideal for those who prefer banh mi and wine over burgers and beers.
Website: www.unclerestaurants.com.au
Location: 188 Carlisle Street, St Kilda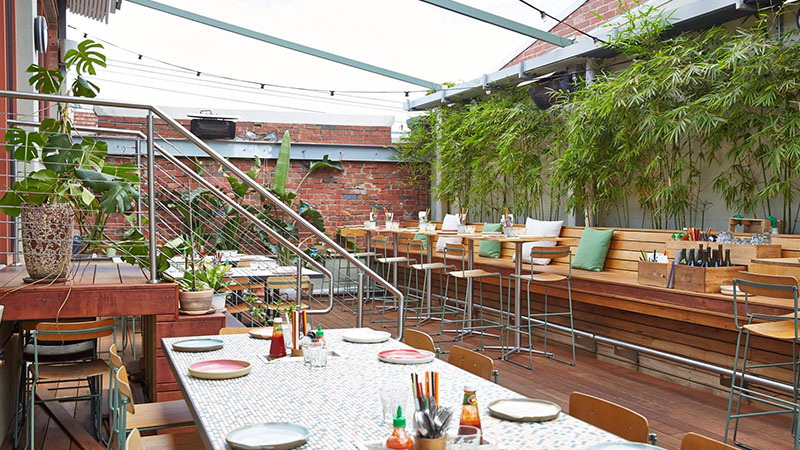 19. The Local Taphouse
Also in St Kilda and located right near Uncle is the Local Taphouse. While both venues have an impressive rooftop bar, each is far different from the other. If it's a pint you're after, then the Local is the place for you. This classic pub venue offers one of the most extensive beer lists in town and is ideal for those who enjoy a craft brew.
Website: www.thelocal.com.au
Location: 184 Carlisle Street, St Kilda East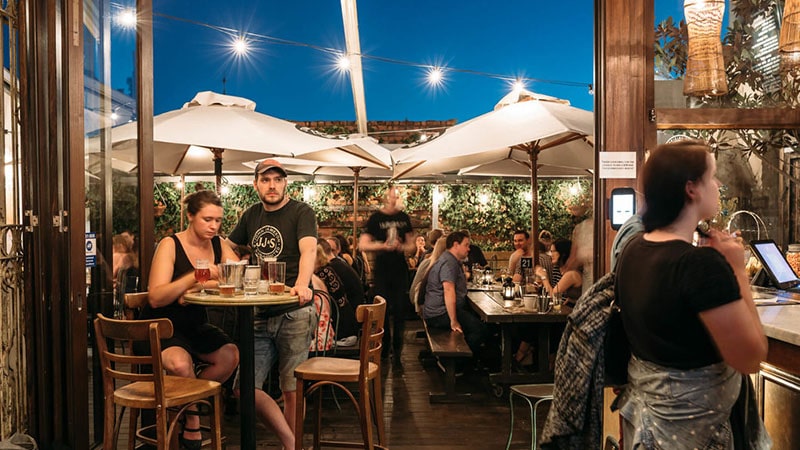 FAQs
What are the best rooftop bars in Melbourne CBD?
Melbourne has heaps of unique, hidden rooftop bars. Check out Naked in the Sky, Rooftop Bar, The Rooftop at QT, The Emerson Rooftop, and Siglo.
What Melbourne rooftop bar has the best food?
Enjoy delicious food with your views at venues like Naked in the Sky, Bomba Rooftop, Loop Roof, The Corner Hotel, and Uncle in St Kilda.
SUBSCRIBE TO OUR NEWSLETTER
Subscribe to our mailing list and get interesting stuff and updates to your email inbox.