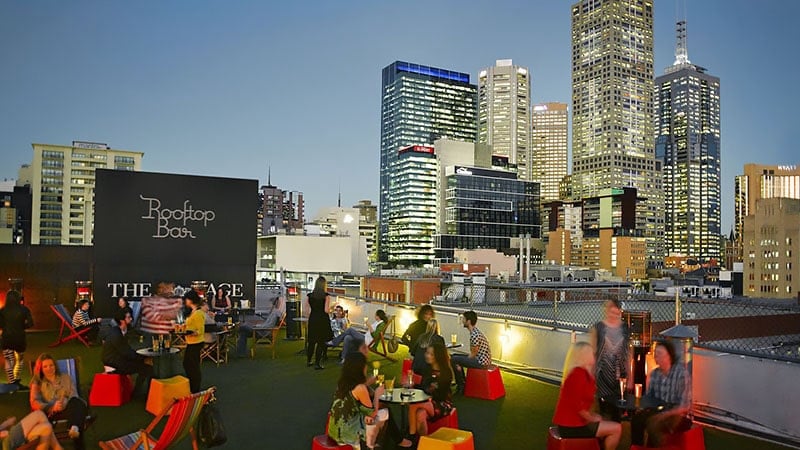 Melburnians love their rooftop bars, and with good reason! The city offers countless top venues for sipping drinks under a setting sun or starry night. From inner-city hotspots to scenic suburban haunts, Melbourne's rooftop bar scene is something not to be missed. So, to ensure you don't get left behind on the ground floor, we've rounded up the best rooftop bars in Melbourne for you to visit. No matter if you're a craft beer kind of guy or a cocktail-loving lady, you'll find plenty of places to wet your whistle on this list. Oh, and don't worry about the weather either. Heaters, retractable awnings, and more make many of these open-to-the-elements bars perfect for all year round. Below we recap the best rooftop bars in Melbourne for your next pub crawl.
1. Naked in the Sky
Sitting above Naked for Satan in Fitzroy is the Naked in the Sky terrace. While the bar and restaurant are known for their flavoured vodkas and delicious Spanish bites, the view from its top level is just as impressive. Featuring sweeping sights all around Fitzroy and to the CBD, this cool rooftop bar may even offer the best views in Melbourne's north.
Website: www.nakedforsatan.com.au
Location: 285 Brunswick Street, Fitzroy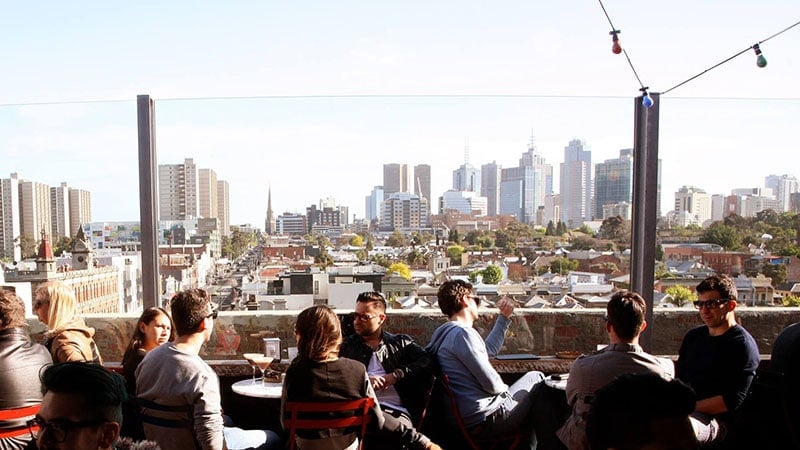 2. Madame Brussels
Madame Brussels' unique and over-the-top version of country club chic is a sight to behold. From the AstroTurf to the old-fashioned garden furniture, this quirky bar is full of fun and charm. Head on out to the terrace and take in the marvellous Melbourne view while sipping on the Madame's signature DD Cup cocktail at this unforgettable rooftop bar.
Website: www.madamebrussels.com
Location: 59 Bourke Street, Melbourne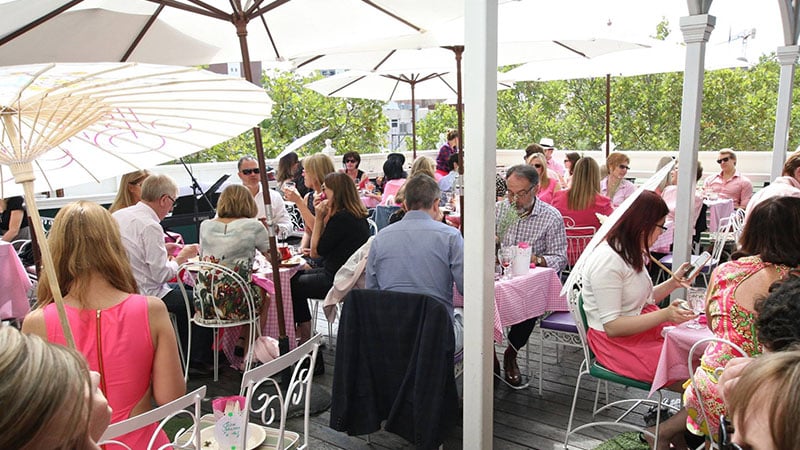 3. Rooftop Bar
Rooftop Bar has become a Melbourne institution and favourite choice for drinks in the sky. Set on the seventh storey of Curtin House, this easy-going venue provides jaw-dropping views of the city skyline. From December to April the site also plays host to an awesome open-air cinema.
Website: www.curtinhouse.com
Location: Level 7, 252 Swanston Street, Melbourne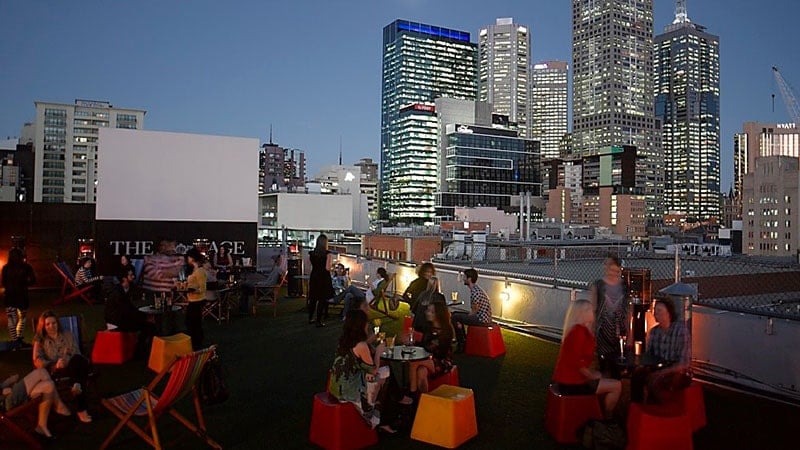 4. Suburban Dining + Rooftop
Deep in the suburb of Ringwood, situated in the town square, you'll find the aptly named Suburban Dining and Rooftop. This architecturally designed three-story venue houses a restaurant, bar, rooftop bar, and courtyard. Make your way to the top level for the rooftop bar, where the partially covered space offers a mix of sunshine and shade, accented by green garden beds and fairy lights. It's perfect for date nights, after-work drinks, and family catch-ups. Indulge in a classic cocktail, refreshing spritz, a glass of wine, or beer to accompany bar snacks or a delicious cheeseboard.
Website: https://thesuburban.com.au/
Location: Level 3, Shop R10, 171-173 Maroondah Hwy, Ringwood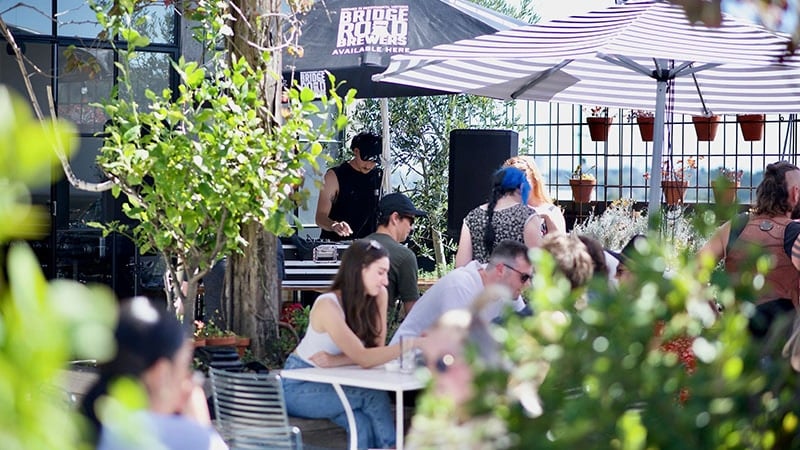 5. Johnny's Green Room
Johnny's Green Room wasn't always a scenic rooftop bar with 360-degree views over Carlton. In a past life, it was a slightly unsavory but ever-so-fun and character-filled bar whose neon lights drew musicians, artists, gangsters, and students to where the party never stopped. The fun spirit lives on in a more sophisticated venue with a picturesque ambiance. Catch up with friends for a house cocktail, bottle of wine, or pint of beer over bar snacks and gelato for a classic good time. Plus, you won't find any generic bar-chill music playing predictably in the background. Instead, the team at Hope St Radio provides an eclectic, judgment-free mix of music from local emerging talent, international stars, and underground sounds to set the party scene.
Website: https://johnnysgreenroom.com/
Location: Level 2/293-297 Lygon St, Carlton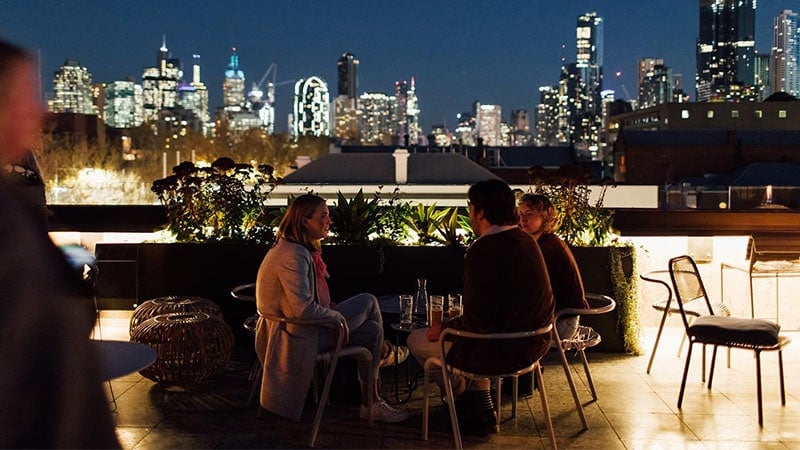 6. The Rooftop at QT
You don't have to be staying at the incredible QT Melbourne to experience its lavish environment. Just head to its rooftop bar any night of the week to take in this exciting venue and its fantastic views across inner-city Melbourne.
Website: www.qthotelsandresorts.com
Location: 11/133 Russell Street, Melbourne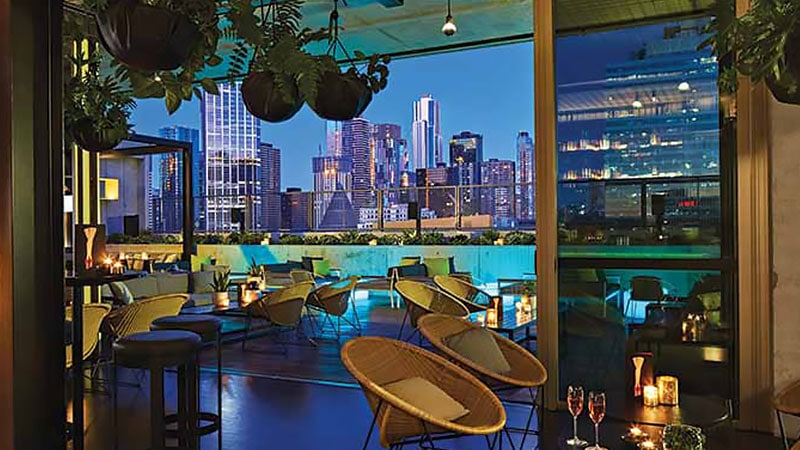 7. Dom's Social Club
Another triple-level venue, Dom's Social Club, is the ideal place to grab a drink and chill. Taking walk-ins and bookings, the rooftop space has plenty of sunshine, terrazzo tables, and a polished white bar. The extensive drink menu features an excellent array of vinos, including Lambrusco, pet nats, orange, amber, red, white, and rose. If wine isn't your jam, there are also excellent cocktails, aperitifs, spirits, and beer. For hungry tummies, choose from a range of wood-fired pizzas, plus Italian bar snacks like Stracciatella and croquettes. In addition to the rooftop, you'll find a wood-clad pizzeria restaurant on level one and a public bar and pool room on level two that's great for private events.
Website: http://www.domssocial.club/
Location: 1/301 Swanston St, Melbourne CBD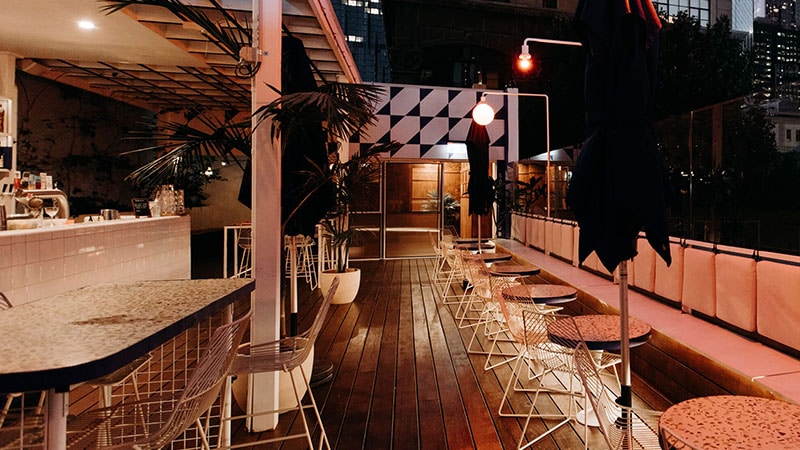 8. Campari House
Campari House on Hardware Lane actually has two rooftop bars. At the first, you'll find green AstroTurf combined with fairy lights and a friendly atmosphere. It's like being at a mate's place, with incredible views. Then, the second is the Soda Bar, which is ideal for private functions. Established in 1967, this venue is a mainstay of Melbourne's laneway scene. Enjoy incredible views over the city with a cocktail, beer, or wine in hand, as well as delicious Italian eats. In addition to the rooftop bar, this venue boasts a cozy cocktail lounge with leather sofas and a traditional Italian restaurant.
Website: https://camparihouse.com.au/
Location: 23-25 Hardware Lane, Melbourne CBD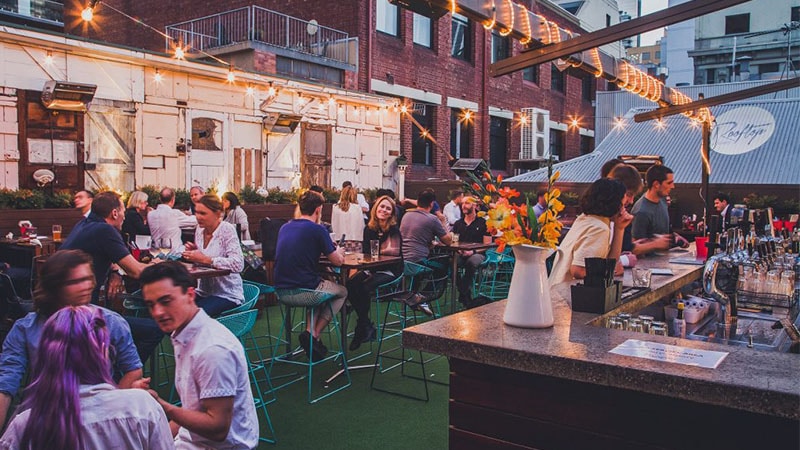 9. Good Heavens Rooftop Bar
Nestled among the treetops along Bourke Street, Good Heavens is a retro-styled bar sitting above its sister venue, Fancy Hanks. Enjoy sweeping city views with a cocktail in hand. There are plenty of classic favorites like Dark and Stormy or Pina Colada. Additionally, there is an excellent range of beers and wine, plus boilermakers that pair whisky and beer. When it comes to food, it's the same American barbecue fare as Fancy Hanks, so you can get your mouth around delicious specialties such as smoked brisket, pulled pork, and meat platters to satisfy all your protein cravings.
Website: https://www.goodheavens.com.au/
Location: Level 2, 79 Bourke Street, Melbourne CBD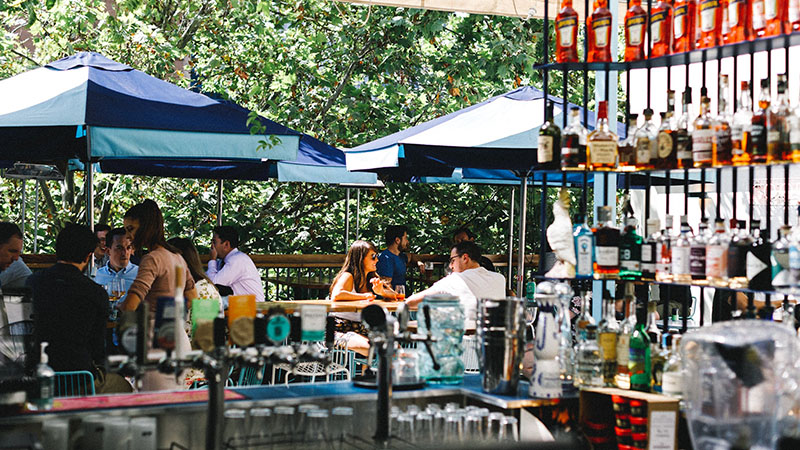 10. Captain Baxter
Soak in the St Kilda Sun at Captain Baxter. This beach bar and restaurant keeps the summer vibes going all year long with the rooftop deck. It takes inspiration from 1920 beach bungalows and has a fully retractable roof to bring the outdoors in. This is the ideal venue to visit for a long lunch or sundowners while you enjoy panoramic views of the seaside with a cocktail in hand. The seasonal menu focuses on seafood with subtle Asian influences. Dig into dishes like fresh oysters, bay lobster rolls, or a fresh prawn and pomelo salad. Wash it down with a signature cocktail, summer spritz, wine, or cold, crisp beer. On the weekend, from 12:00 pm to 2:00 pm, they also offer a Boujie Brunch with a 2-hour drink and food package to celebrate the weekend.
Website: https://www.captainbaxter.com.au/
Location: St Kilda Sea Baths, 10/ 10-18 Jacka Boulevard, St Kilda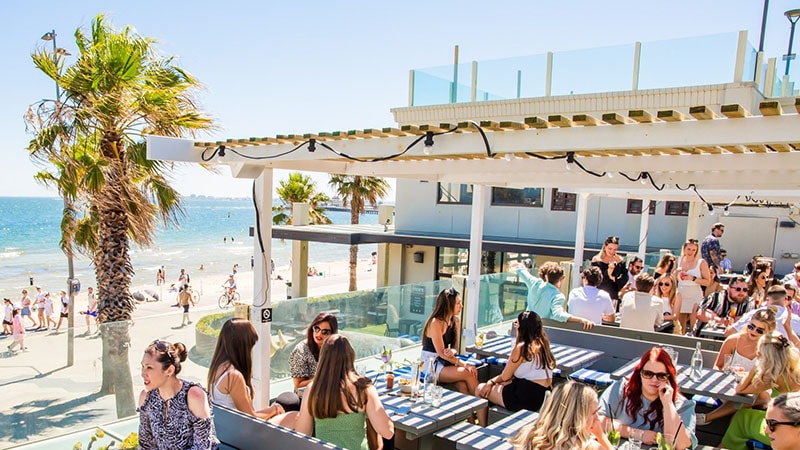 11. The Osborne Rooftop & Bar
Relax in style at The Osborne Rooftop. This expansive bar has incredible views of the South Yarra coastline, with a range of seating, including tables, sofas, and booths. Enjoy a menu of contemporary cocktails plus a curated selection of wine, beer, and spirits. Food-wise, there are snacks like tacos and sushi, plus larger plates like burgers, schnitzels, and steak – all classic and filling pub fare. On the other levels of this venue, you'll also find a bar and courtyard, a restaurant, and an intimate cocktail lounge.
Website: https://www.theosborne.com.au/
Location: 119 Commercial Rd, South Yarra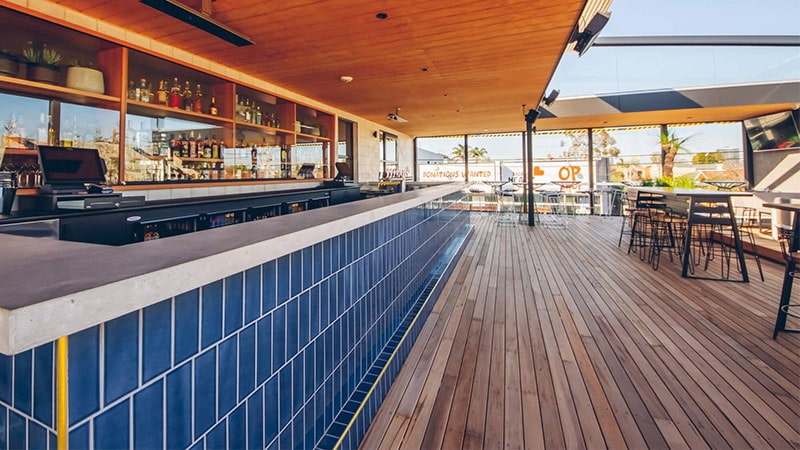 12. The Provincial Hotel
Considered the Grand Old Dame of Brunswick Street, The Provincial Hotel is a Fitzroy icon. Inside you'll find unique decor and a killer rooftop bar, with plenty of greenery to accompany the views. Sip on an array of drinks, including classic cocktails, tap and canned beer, refreshing seltzers and ciders, wine by the glass or bottle, and spirits. The mouthwatering seasonal food menu includes dishes like warmed halloumi, cheeseburger spring rolls, chicken parma, burgers, and fresh pizza. Weekly events include trivia, bingo, and poker nights, plus a rooftop bottomless brunch with two-hour free-flowing drinks and brunch bites. It's the perfect excuse for a beer at breakfast and catching up with your friends.
Website: https://provincialhotel.com.au/
Location: 299 Brunswick Street, Fitzroy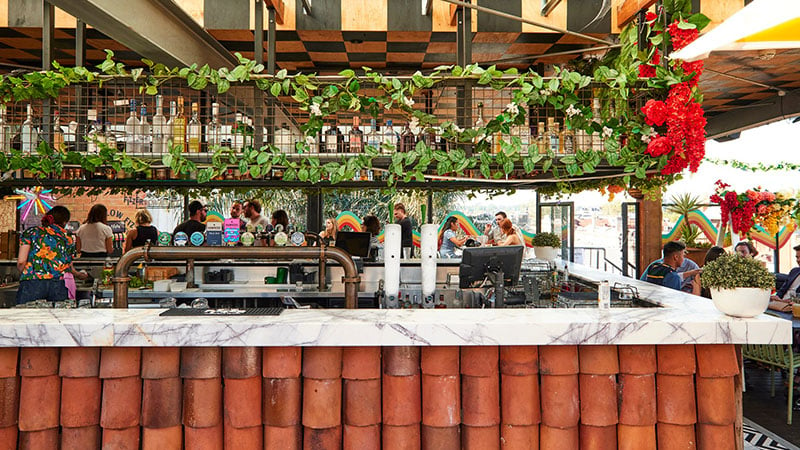 13. Fable Melbourne
Take a mental trip to the Mediterranean with a visit to Fable. A storytelling menu of thoughtful share plates and tantalizing cocktails greet you, along with luxe decor and epic views from the 13th level on Lonsdale Street. Start with dishes like marinated olives or white anchovies with flatbread. Then, share a plate of burrata, dolmades, or beef tartare, followed by a main of eggplant moussaka or lamb shoulder. Finally, dessert includes Mediterranean classics such as tiramisu, loukoumades, and dressed watermelon. The carefully curated drinks list includes creative cocktails like Robespierre's Faith, Elisir Lungavita, and Hephaestus Craft – all with their own story. Of course, there are also straight spirits, wine, beer, and a full martini menu!
Website: https://fablemelbourne.com.au/
Location: Level 13, 168 Lonsdale St, Melbourne CBD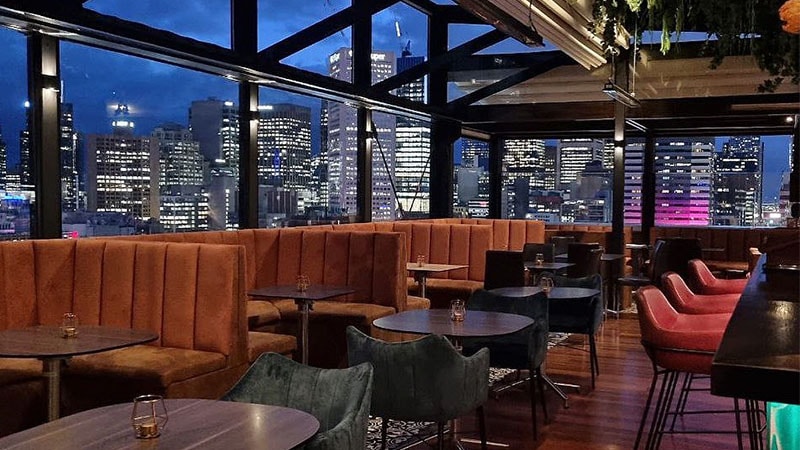 14. Harlow
It's good vibes only at Harlow. The rooftop is the newest section of this venue and offers epic views, great vibes, and plentiful sunshine. It wraps around the building, so there's plenty of space to catch up with friends, family, or colleagues. Sip on a signature cocktail or mocktail, an ice-cold pint, or cheek glass (or bottle) of vino. Then, satisfy your appetite with bar snacks like fried chicken, lamb riblets, or grilled flatbread. There are also pub classics with a Harlow twist, such as the Heirloom Chicken Schnitty, House Pie, or range of burgers. Plus, if you're feeling fancier, opt for a grilled steak or hearty salad. Lastly, on the weekend, you can book a table for a bottomless boozy brunch, including selected beer, wine, and cocktails.
Website: https://harlowbar.com.au/?utm_source=GMB
Location: 447 Church St, Richmond, VIC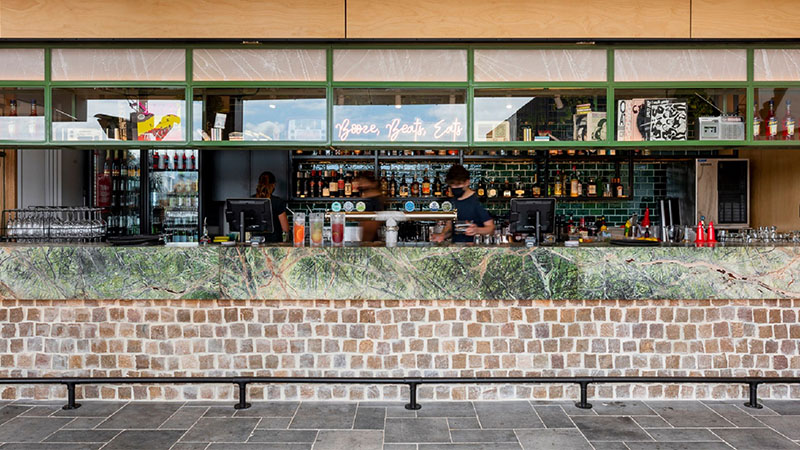 15. Heroes Karaoke & Rooftop Bar
Keep your Fridays and Saturdays free to visit Heroes Karaoke & Rooftop Bar. With multiple levels, including the new rooftop bar, it's the ideal way to bring in the weekend. The rooftop is built for year-round fun with cover and heating to suit both summer and winter in Melbourne. While the views and drinks are great, it's really the karaoke on the lower levels that punters come for. Book a private room to belt out your favorite pub tune, epic ballad, or iconic duet, or join the open-mic section. It's great for birthdays, hen's or buck's nights, or other celebrations.
Website: https://www.heroesbar.com.au/
Location: 188 Bourke Street, Melbourne CBD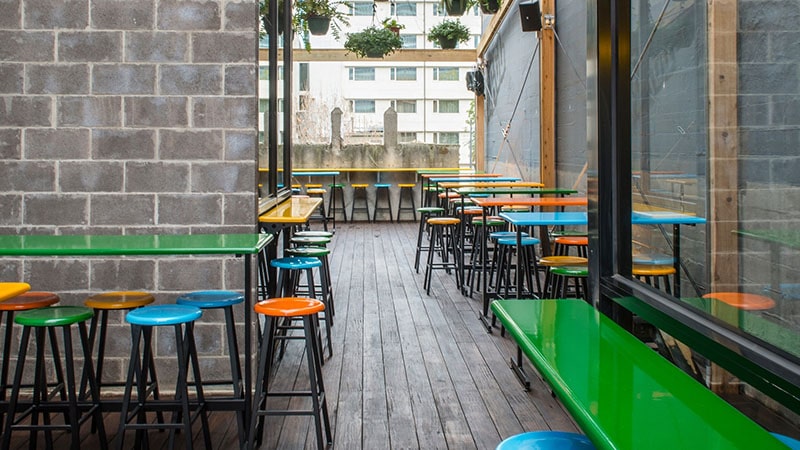 16. The Q. at Quincy Hotel Melbourne
Indulge in sophistication perched above the Melbourne streets. The Q at Quincy Hotel Melbourne is a club lounge experience that's both exclusive and inclusive at the same time. During the day, enjoy views of the skyline in a relaxed atmosphere. Then, at night, the venue transforms into a lively bar. Enjoy a menu of tasty signature cocktails, wines by the glass, local beers, and spirits, including a gin made exclusively for The Q by the team at Antagonist. Finally, the food menu consists of southeast Asian-inspired bar bites such as roasted pork belly bao and cauliflower and shiso fritters.
Website: https://quincymelbourne.com/
Location: 509 Flinders Lane, Melbourne CBD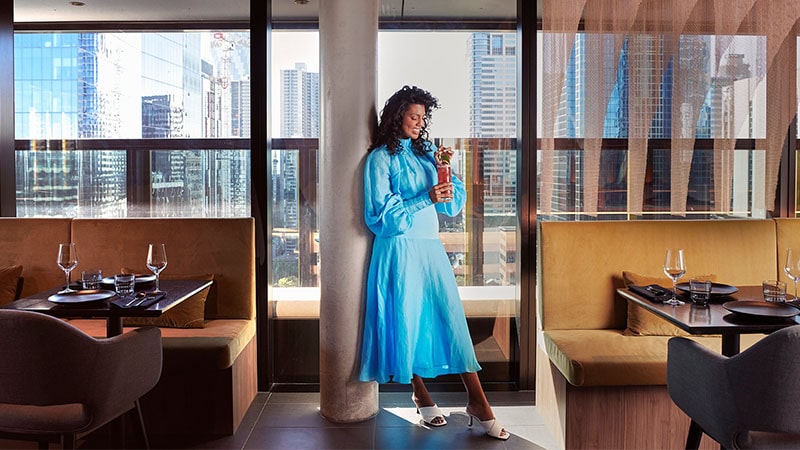 17. State of Grace
Discover a world above the streets of Melbourne at the rooftop bar at State of Grace, a mischievous venue with plenty of character. Soak in the views while you indulge in bar bites with European flavor and beautiful beverages. The grazing menu includes favorites like marinated olives, gin cured kingfish, truffle arancini, and charcuterie. For something heartier, there's old-school toasties and a range of flatbreads. If sky-high isn't where you want to be, you can also book in to the restaurant or sneak past the library and through the secret entrance to Fall from Grace, a hidden cellar bar.
Website: https://www.stateofgracemelbourne.com.au/
Location: 27 King Street, Melbourne CBD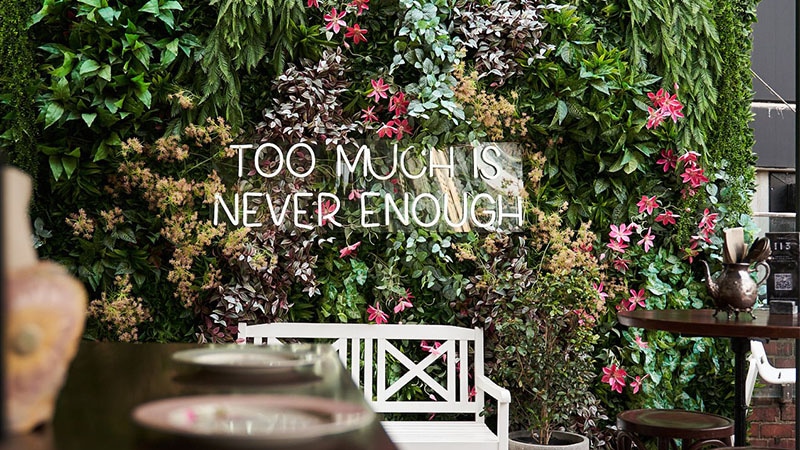 18. Goldilocks Rooftop Bar
Step away from the hustle and bustle of the Melbourne CBD and into the hidden world of Goldilocks Rooftop Bar. This fairytale venue focuses on local Victorian craft wine and beer, with a touch of the weird and wonderful from around the world. If you're in the mood for a cocktail, there's a range of Goldilocks-inspired options, including the Baby Bear, Into the Forest, and Broken Chair. Then, satisfy your hunger, not with porridge, but bar snacks like nuts, olives, spring rolls, chicken ribs, and dumplings.
Website: https://www.goldilocksbar.com.au/
Location: Level 4, 264 Swanston Street, Melbourne CBD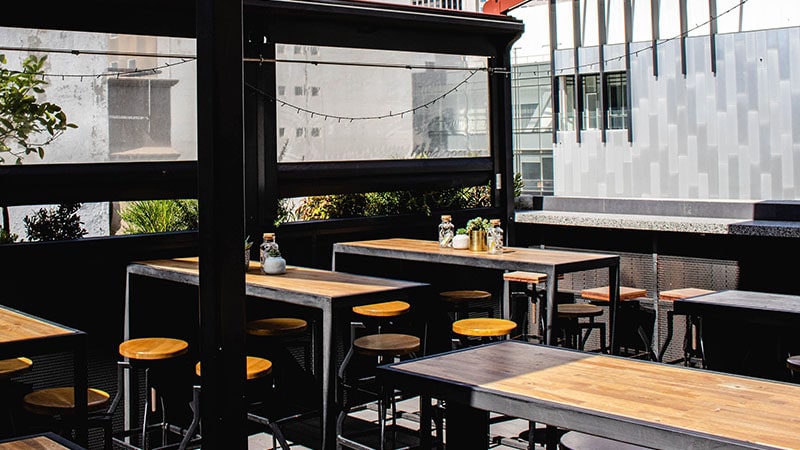 19. Transit Bar at Transport Hotel
Take in some of Melbourne's most iconic views from Transit Bar's premium location at Federation Square. Enjoy live music, stylish cocktails, and delicious food. The menu boasts small plates, hot sandwiches, pizza, and dessert and cheese. Meanwhile, the outdoor terrace is heated in winter, but if the weather is too much, head inside to the cabaret-style interior. Adding to the ambiance of this rooftop bar is the live music, with a collection of the best jazz, blues, funk, reggae, and rhythm & blues musicians on stage throughout the week.
Website: https://transporthotel.com.au/transitbar/
Location: Federation Square, Cnr Flinders & Swanston Street, Melbourne CBD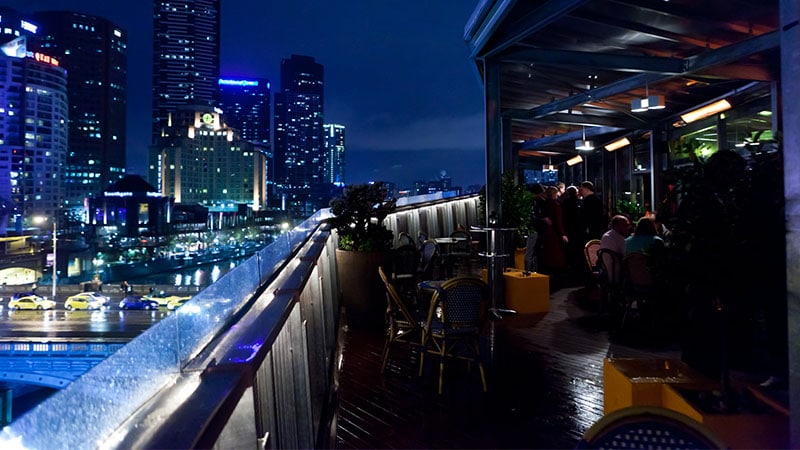 20. Palmz Rooftop at The Carlton
You could almost convince yourself you're in the Caribbean rather than Melbourne at Palmz at the Carlton. This hideaway rooftop bar is the perfect escape where you can unwind under the thatched roof and palm trees. It's stunning a juxtaposition against the city skyline. When you're hungry, select from a range of tapas for sharing or large mains such as burgers, steak, and fish. Of course, it wouldn't be a bar without drinks, so choose a glass of wine, beer, creative cocktail, or even a delicious house-made vodka infusion. Below the bar, you'll find wildly decadent The Carlton Club bar, balcony, and dining room featuring Wally the Ostrich and Gerald the Giraffe, as well as Hasti Bala, a jungle labyrinth of private booths and DJ tunes.
Website: https://www.thecarlton.com.au/rooftop-bars-melbourne/
Location: 193 Bourke Street, Melbourne CBD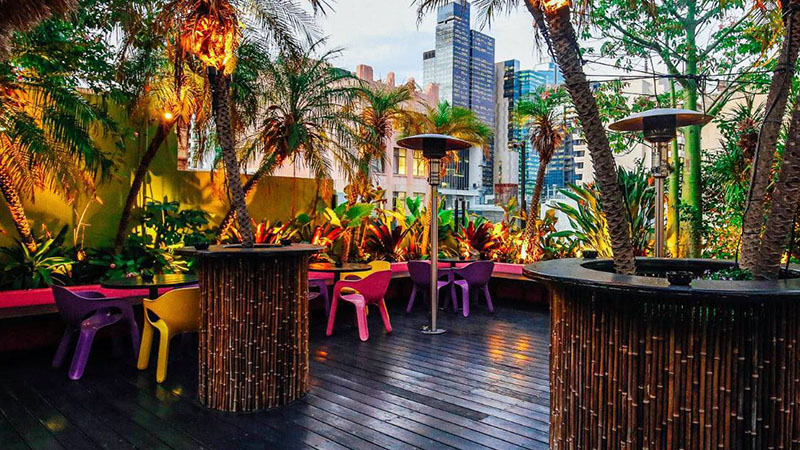 21. The Emerson Rooftop
While the lower levels of The Emerson are all about entertainment and dancing, the rooftop is the perfect place for a drink and chat. The area is elegant and sophisticated while also feeling casual thanks to its stylish and comfortable furnishings. Stop off for a sunset cocktail, and you may just find yourself staying long into the night at this chic South Yarra bar.
Website: www.theemerson.com.au
Location: 143/145 Commercial Road, South Yarra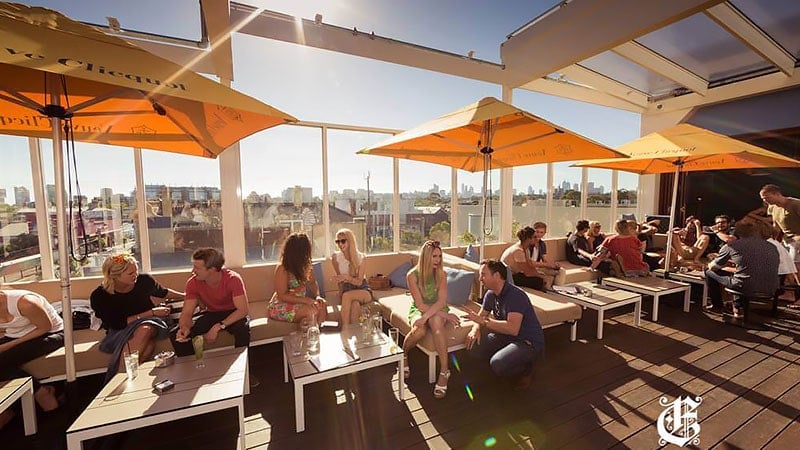 22. Siglo
Located above Melbourne Supper Club on Spring Street, Siglo offers rooftop drinking with an elegant twist. At this classy venue, you'll find yourself sitting at a table covered by a traditional white tablecloth as waiters serve you your chose of classic cocktails, premium spirits or even a fine Cuban cigar.
Website: www.siglobar.com.au
Location: 161 Spring Street, Melbourne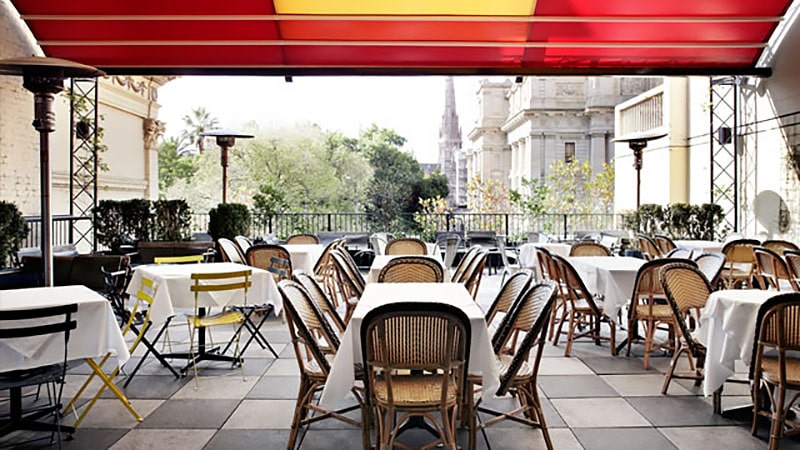 23. Loop Roof
Impressive CBD views and lush, exotic greenery make Loop Roof a must-attend bar. This little piece of paradise in the middle of the city is the perfect place to escape, unwind, and lose track of time. No matter what season or weather, you'll feel comfortable and carefree at this rooftop bar thanks to its retractable awnings, radiant heating, and subtle misting system.
Website: www.looprooftopbar.com.au
Location: 23 Meyers Place, Melbourne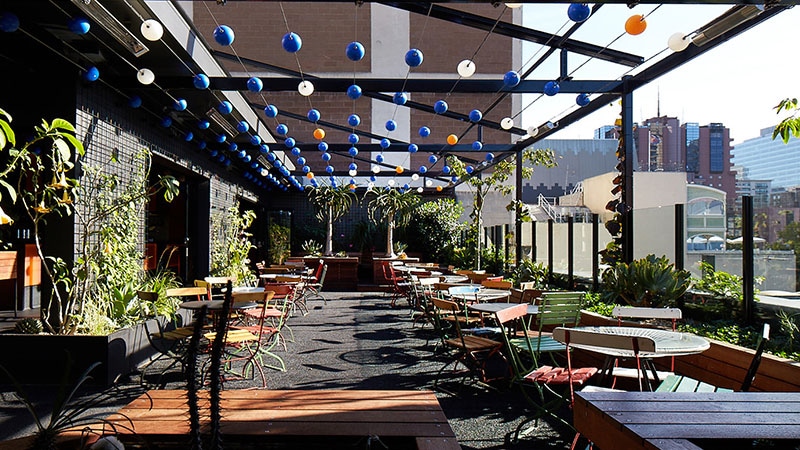 24. Good Heavens
Sitting above Fancy Hank's, Good Heavens is the coolest new rooftop bar in Melbourne. The venue offers patrons a slice of Palm Springs right on Melbourne's iconic Bourke Street. You can expect 80's cocktails, killer cheeseburgers, and DJ tunes on the weekend at this fun watering hole.
Website: www.goodheavens.com.au
Location: Level 2, 79 Bourke Street, Melbourne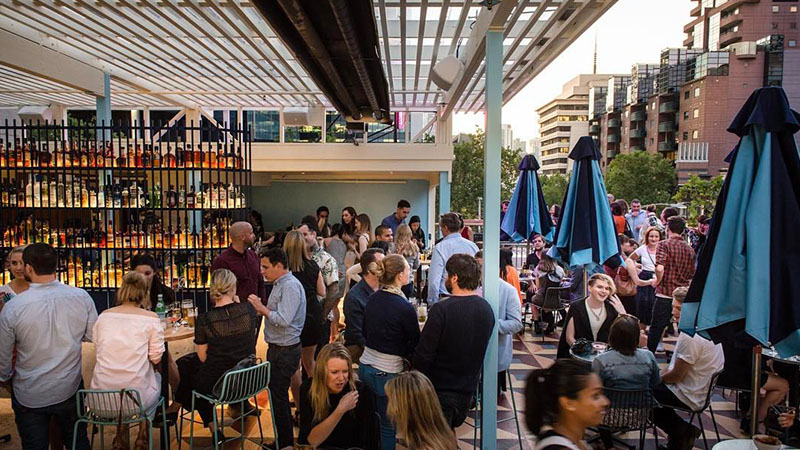 25. Imperial Hotel
Imperial Hotel may be known for its love of sporting events, but its chic rooftop beer garden is garnering a reputation of its own. Featuring stylish furniture and offering amazing views of Parliament House, this spacious and relaxed bar is the perfect spot for evening drinks.
Website:www.bourkestreetimperial.com
Location: 2-8 Bourke Street, Melbourne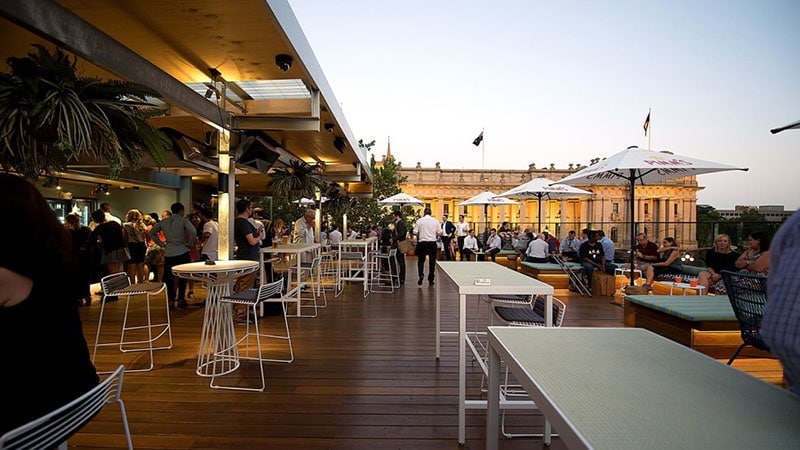 26. Easey's
If you're looking for a rooftop bar with a point of difference, then Easey's is the place to go. This cool Collingwood venue features an old train plonked on top of a building. Not just for decoration, you can go ahead and consume your beers and burgers inside these great graffiti-covered carriages.
Website: www.easeys.com.au
Location: 3/48 Easey Street, Collingwood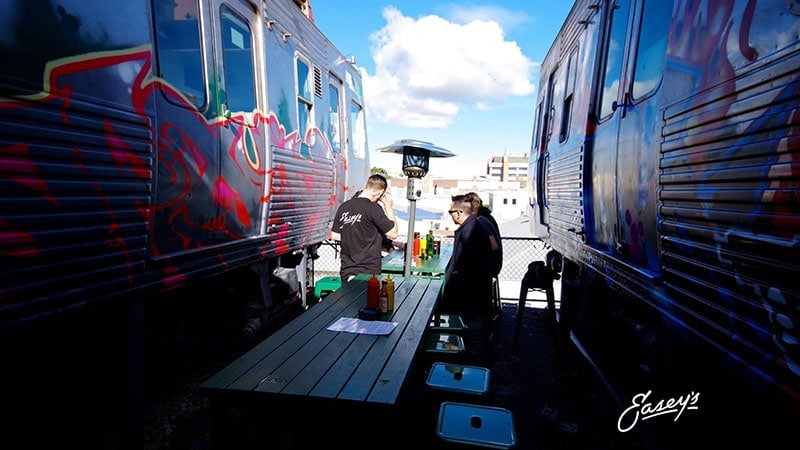 27. Bomba Rooftop
The rooftop at Bomba is open every day from 3 pm till late and dishes up delicious tapas and cocktails for your pleasure. While this venue is excellent in summer, it also fully encloses in winter to become a comfy and cosy haven from the chilly weather.
Website: www.bombabar.com.au
Location: 103 Lonsdale Street, Melbourne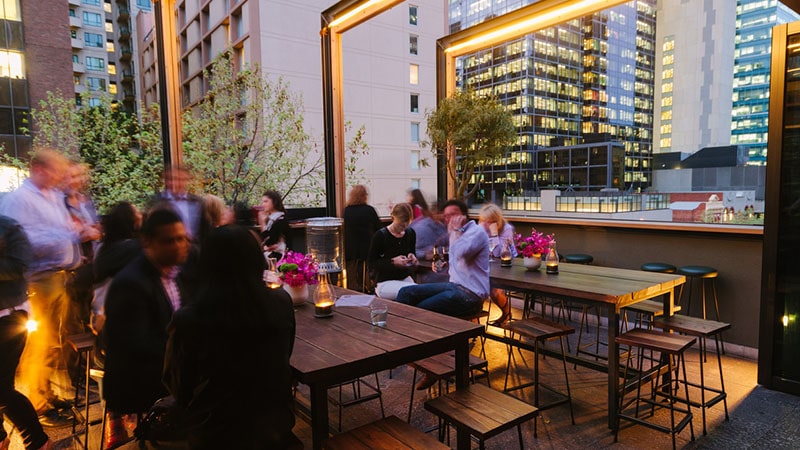 28. Upside Rooftop Bar
Situated on Brunswick Street in Fitzroy, Upside Rooftop Bar is the perfect venue for catching up with friends. From the bar's inventive cocktails and extensive drinks list to its live DJ tunes, this space is creative and cool all in one.
Website: www.upsiderooftopbar.com.au
Location: 127 Brunswick Street, Fitzroy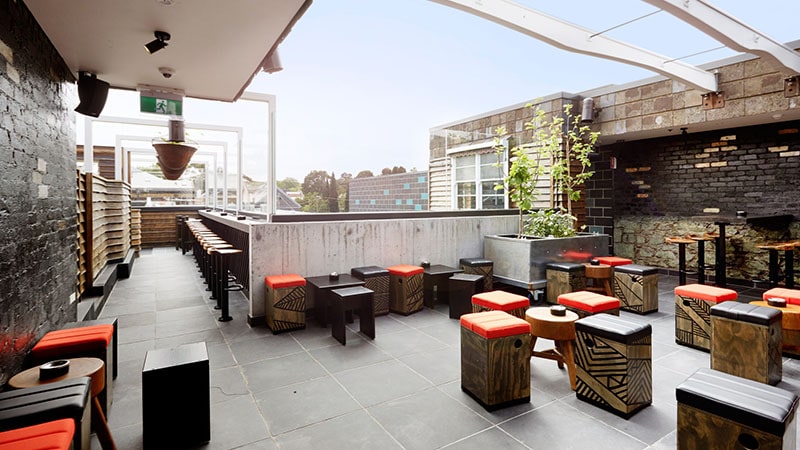 29. Feast of Merit Rooftop Bar
The rooftop bar at Feast of Merit is Richmond's best-kept secret. The intimate and secluded space serves tasty Middle Eastern snacks as well as locally sourced wine and beer and cocktails. On top of that, this fantastic bar also invests 100% of its profits into YGAP, which supports entrepreneurs changing lives in some of the world's toughest communities.
Website: www.feastofmerit.com
Location: 117 Swan Street, Richmond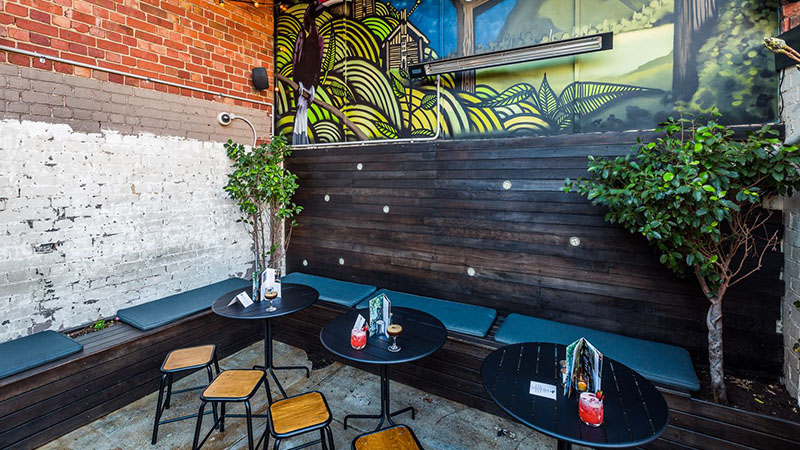 30. The Corner Hotel
If you're catching a gig at the Corner Hotel in Richmond, the rooftop beer garden is the perfect place to hang out before and after. It's also entirely wheelchair accessible, making it an ideal location for drinks in the sky with all your friends.
Website: www.cornerhotel.com
Location: 57 Swan Street, Richmond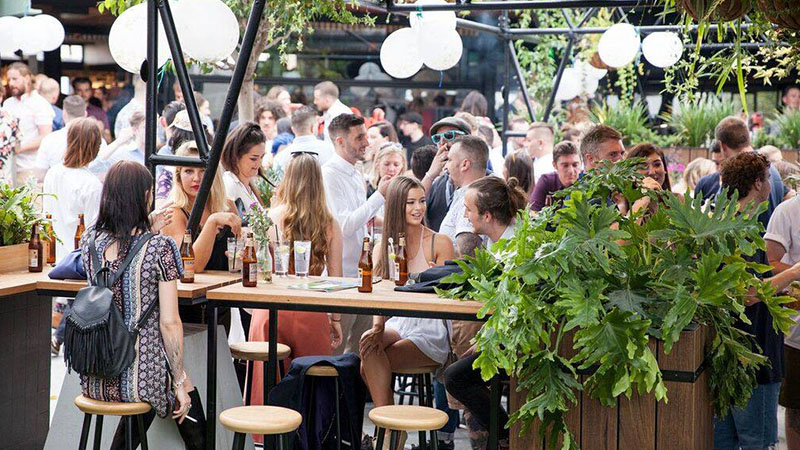 31. Fonda Mexican in Windsor
Fancy some delicious Mexican style street snacks and authentic Mexican cocktails while enjoying the open air? Fonda in Windsor is the place to go. This restaurant/bar features an excellent rooftop terrace with a fun atmosphere and plenty of great menu items.
Website: www.fondamexican.com.au
Location: 144 Chapel Street, Windsor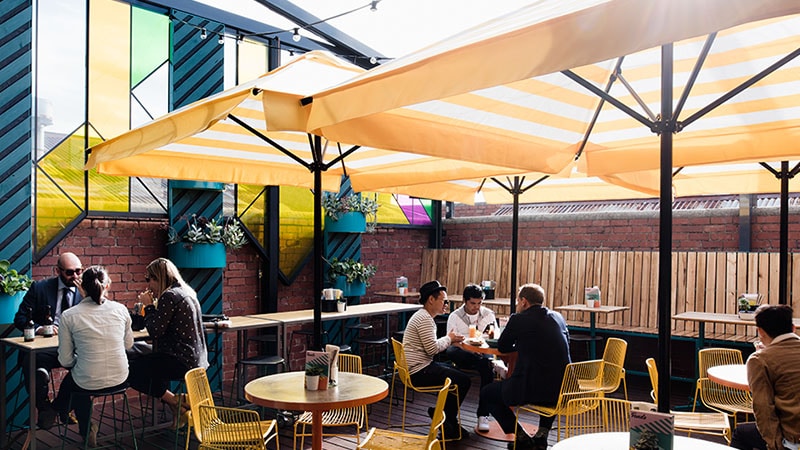 32. Palmz Rooftop Bar
Anyone who has visited the Carlton won't soon forget its weird and wonderful personality and interiors. While the inside boasts psychedelic colours and quirky animal decorations, the Palmz Rooftop Bar is designed to be an island oasis in the city. Surrounded by palm trees and bamboo huts, this venue is the perfect spot for a cocktail or two.
Website: www.thecarlton.com.au
Location: 193 Bourke Street, Melbourne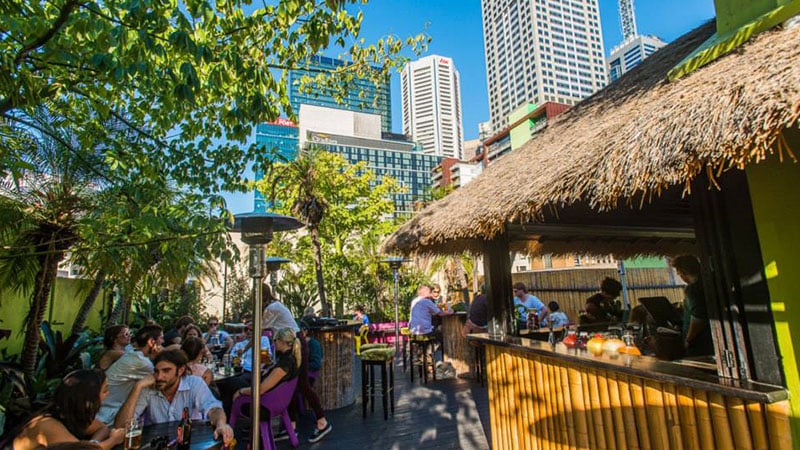 33. Marquis of Lorne
Chilled, casual drinks don't get much better than at the rooftop bar of Marquis of Lorne. Located in Fitzroy, this classic pub venue will make you feel like a local every time, no matter where you're from.
Website: www.marquisoflorne.com.au
Location: 411 George Street, Fitzroy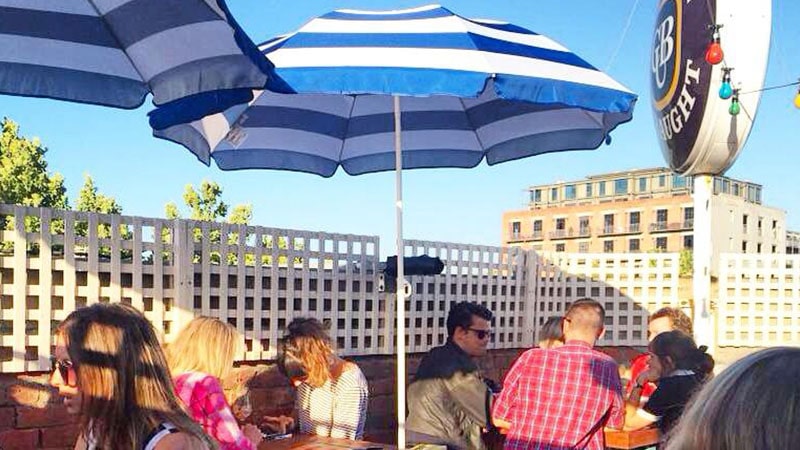 34. Uncle in St Kilda
Uncle's St Kilda location is complete with a super stylish rooftop so that you can dine on delicious food under the stars. The restaurant makes incredible Vietnamese dishes and is ideal for those who prefer banh mi and wine over burgers and beers.
Website: www.unclerestaurants.com.au
Location: 188 Carlisle Street, St Kilda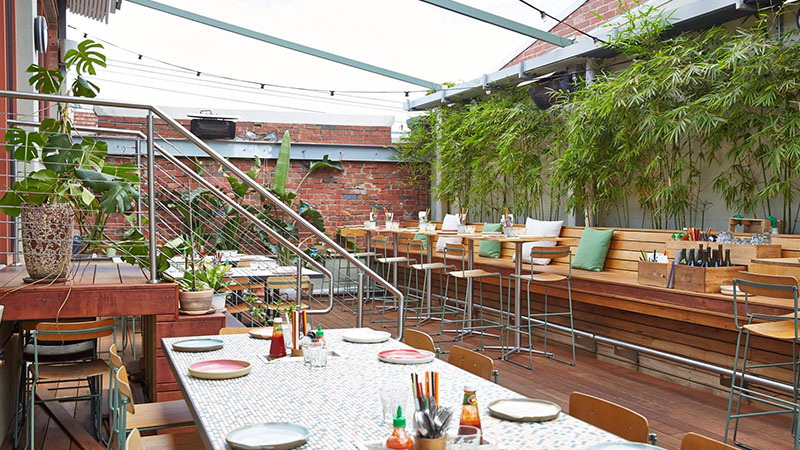 35. The Local Taphouse
Also in St Kilda and located right near Uncle is the Local Taphouse. While both venues have an impressive rooftop bar, each is far different from the other. If it's a pint you're after, then the Local is the place for you. This classic pub venue offers one of the most extensive beer lists in town and is ideal for those who enjoy a craft brew.
Website: www.thelocal.com.au
Location: 184 Carlisle Street, St Kilda East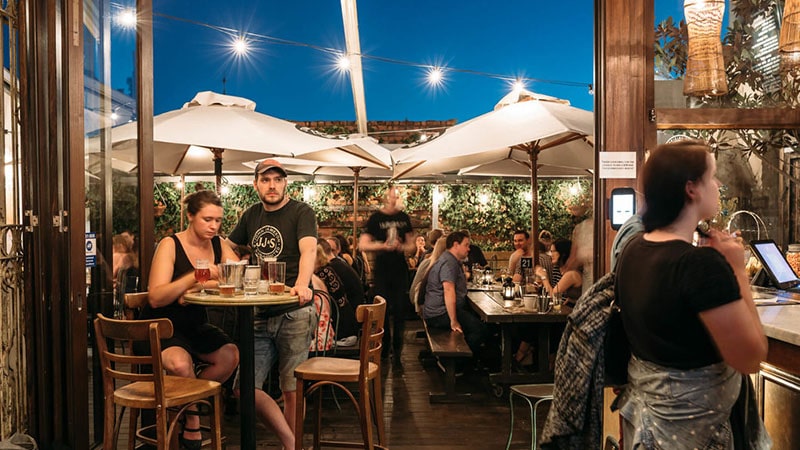 FAQs
What are the best rooftop bars in Melbourne CBD?
Melbourne has heaps of unique, hidden rooftop bars. Check out Naked in the Sky, Rooftop Bar, The Rooftop at QT, The Emerson Rooftop, and Siglo.
What Melbourne rooftop bar has the best food?
Enjoy delicious food with your views at venues like Naked in the Sky, Bomba Rooftop, Loop Roof, The Corner Hotel, and Uncle in St Kilda.
SUBSCRIBE TO OUR NEWSLETTER
Subscribe to our mailing list and get interesting stuff and updates to your email inbox.