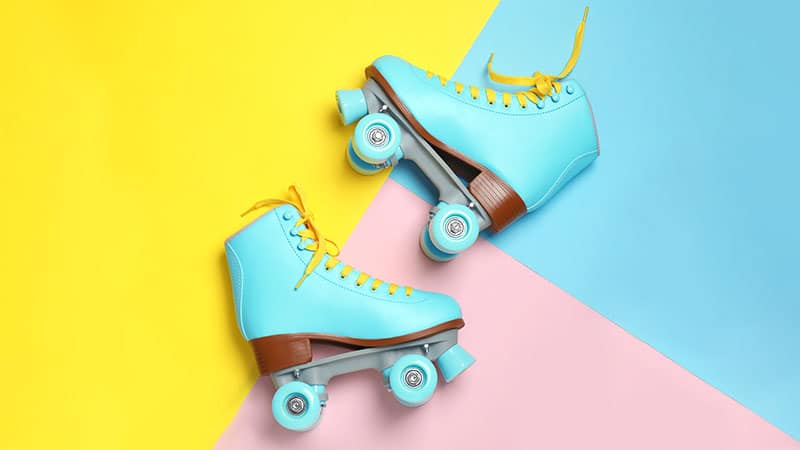 Roller skating is a fun and exciting activity for the whole family. Whether you've never skated before, haven't thought about skating since rink parties as a kid, or have been riding for years, there's a perfect pair of roller skates for you. Pick a fun, retro pair, or opt for something street-savvy and modern. Either way, once you get the hang of it, you'll be able to spend hours at the skating rink or cruising around town, feeling the wind in your hair as you glide around have a great time.
Best Roller Skates for Women
1. XUDREZ Roller Skates
Grab yourself a fun pair of rollerskates with this design from XUDREZ. The exteriors feature soft PU leather, while the insides are lined with comfortable and breathable fabric. This lets your feet stay cool and dry even on the longest skate journey or with vigorous exercise. Select from regular, solid-color wheels, or light up your life with the flashing option. Both styles use polyurethane for excellent shock absorbency, strong grip, and high wear resistance, plus have ABEC-7 Bearing for superior stability. Finally, the style comes in pink, blue, and white, with sizes for men and women — just check the conversion chart to make the right choice.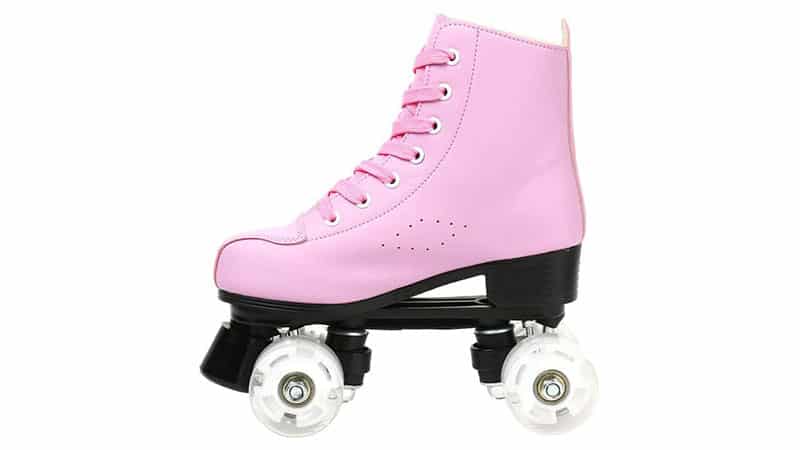 2. Chicago Skates Pulse Light-Up Quad
If you're a sneakerhead but don't want to give up that vibe when buying roller skates, this design from Chicago skates is perfect. It's the best of both worlds, combining high-top kicks with wheels. The uppers are made with durable metallic synthetic material in either silver, gold, or pink. Plus, there are flashing, rechargeable LED lights in the outsole so you can really get the party started. Stay cool with perforations for breathability and comfort with a padded collar. Enjoy excellent traction and control with the high-rebound wheels and ABEC bearings that will have you rolling smooth and fast. Lastly, this style comes in childrens', teenagers' and adults' sizing for the whole family.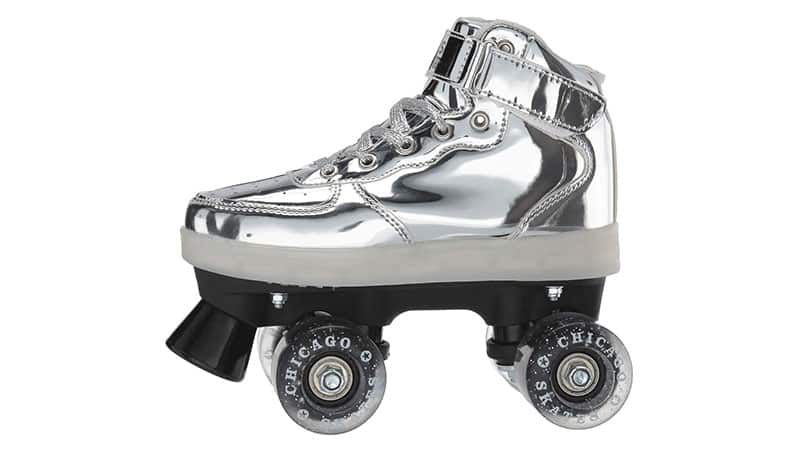 3. Impala Rollerskates Pink Tartan
Feel pretty in pink with these quad rollerskates from Impala. The comfortable design has a padded collar and tongue for maximum ankle support. Meanwhile, the cute tartan uppers use PETA-approved vegan materials that are both waterproof and hardwearing, so you'll get plenty of use out of them. Other features include an aluminum alloy baseplate and trucks, 58mm wheels, ABEC 7 bearings, and metal speed lace eyelets. Match these with your favorite tartan mini-skirt and a cute white tee for a clean a classic look!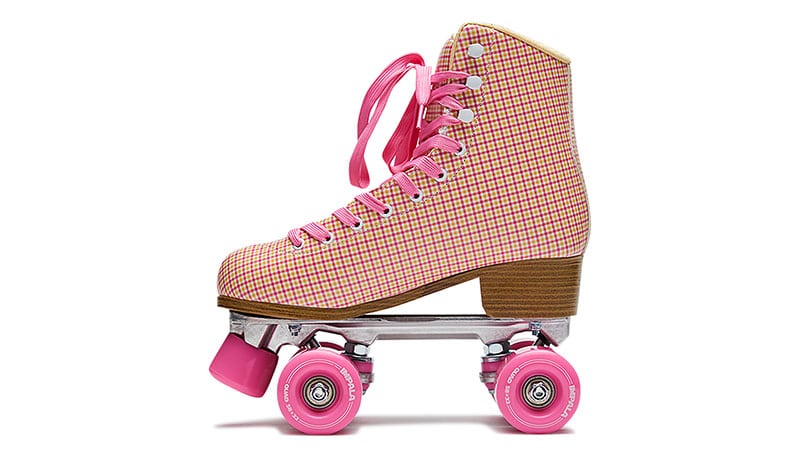 4. Pacer GTX-500 Quad Roller Skates
The Pacer GTX-500 Quad Roller Skates are great for the whole family, with sizing for kids, women, and men. The sleek black boot has a low-cut design for great ankle flexibility, which is ideal for the roller derby track or fun tricks. Keep your laces out of the way with the velcro strap, so you don't need to worry about mid-action tangles and trips. Meanwhile, the Mach-5 wheels with ABEC-3 bearings are best suited for indoor rinks, with long, smooth rolling. Select the all-black boot with black wheels, or opt for the white boot with pink wheels for a lighter aesthetic.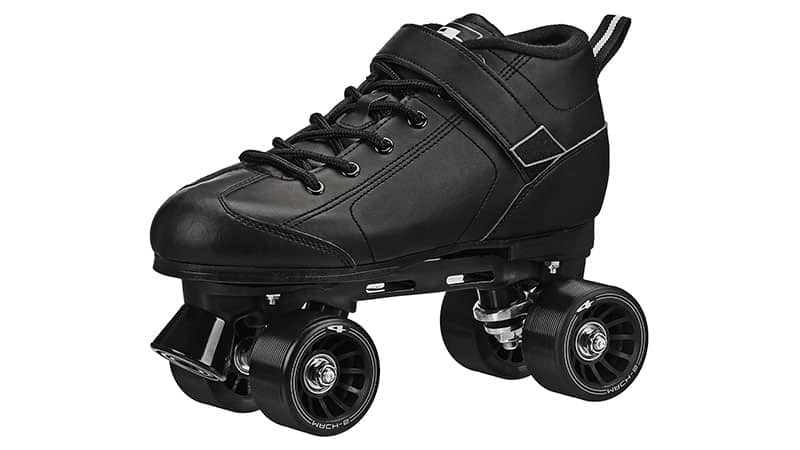 5. C SEVEN Dark Magic Quad Roller Skates
The C Seven Dark Magic collection of roller skates are sure to make a statement wherever you roll. The dark hues, including Midsummer's Eve blue, Cherrypop red, and Queen Bee yellow, will ensure you stand out from the crowd. They're also are designed for all ages, genders, and skill levels. Speedy 62mm 83A wheels are great for long rides and epic sessions either indoors or out and about. Plus, the increased ankle support with a structured PVC boot and plush interiors provide plenty of extra comfort.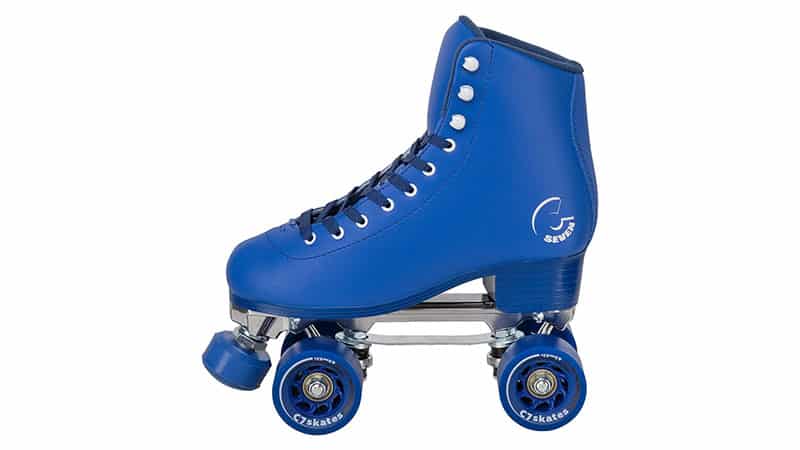 6. Chicago Skates Bullet Speed Skate
These cute white and pink rink skates are perfect for younger ladies. The low-cut vinyl boot boasts a rear pull loop for getting in easy and laces that you can keep out of the way with a velcro strap. The double-action adjustable trucks let you set them how you like for the perfect balance of stability and turning, so they're great for learning in and modifying as you improve. Plus, they also have ABEC 1 precision speed bearings, so you can embrace the race and hit speeds that will have your hair flying and face smiling.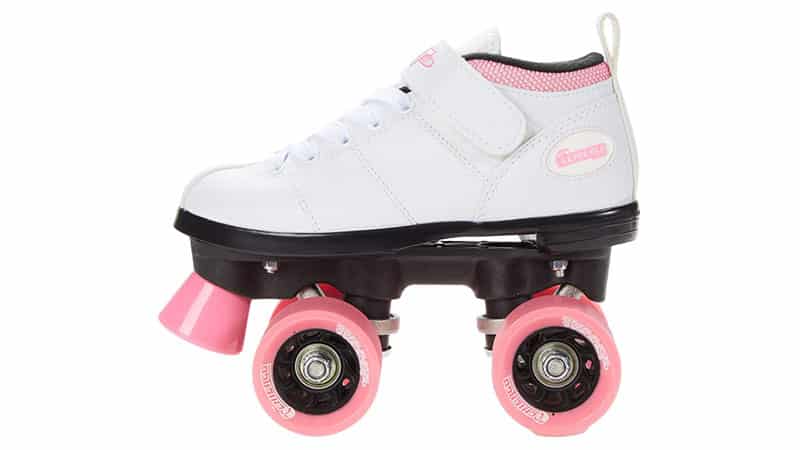 7. Moxi Skates Lolly Women's Quad Roller Skate
Moxi skates are a real fashion statement that oozes retro-cool. Soft leather outers wear in quickly and easily for a comfortable ride and feature an easy lacing system so you can kit up and go faster. Enjoy optimal support with high-impact PowerDyne Thrust nylon plate and strong metal trucks. The high-top design fits snug around your ankle with a padded tongue for the perfect amount of stability, safety, and comfort. Rock these skates outside with outdoor wheels designed to withstand rougher surfaces. Lastly, pick from vibrant colors such as Clementine Orange, Pineapple Yellow, or deep black. Pair them with bootleg-cut faded jeans and a crochet crop top for the perfect hot girl summer look.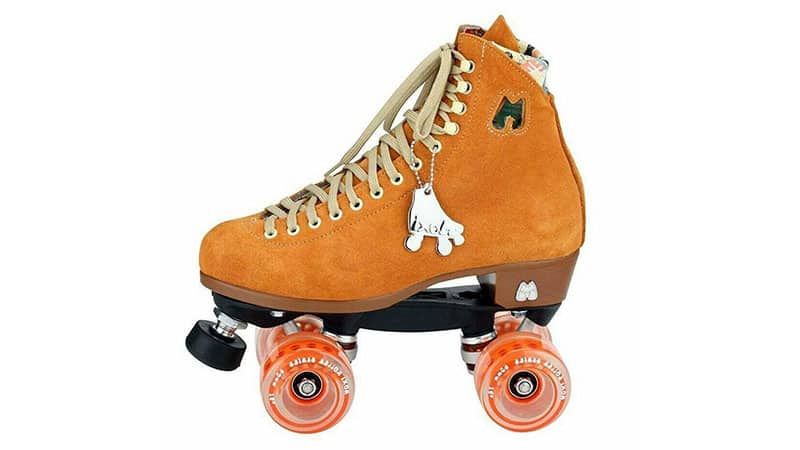 8. Gets Women's Roller Skates
These women's roller skates from Gets are fresh, white, and fun. They have ABEC 5 bearings for a smooth and speedy roll, plus a large front brake for more effective stopping if you gain too much momentum. The uppers are soft and snug, with high-tops for additional stability and support through the ankle. You'll be able to take them out for a spin at the rink on a Friday night or spend Sundays cruising the streets of your neighborhood, checking in with friends. They're perfect for both indoor and outdoor use. Lastly, if the pure white is too bright, there's also an all-black option.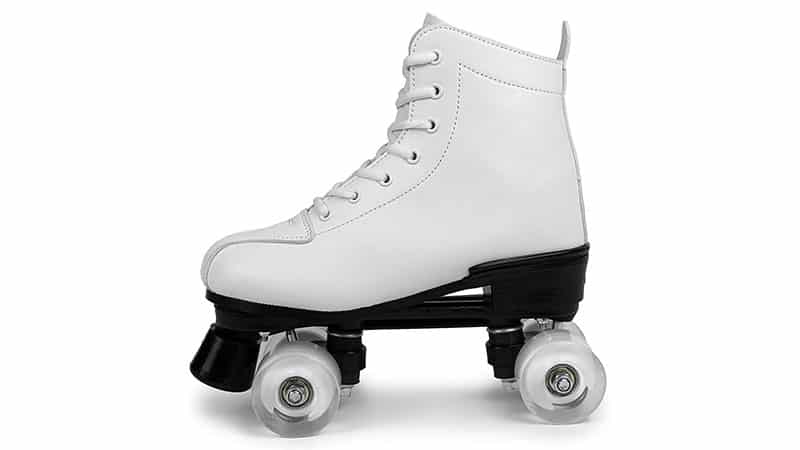 9. C SEVEN Cute Roller Skates
Get ready to disco, baby! These holographic gold skates are designed for maximum fun. They come in youth and adult sizes for both guys and girls, plus other colors, including aquamarine and lemon pop. Reach top speeds thanks to 58mm 83A wheels that provide plenty of grip on both indoor and outdoor surfaces. Padded ankle support makes skating easier, especially for learners as you find your skating legs. Lastly, the aluminum plates are durable to ensure long-lasting fun. Rock these with a cute black romper or your favorite sundress.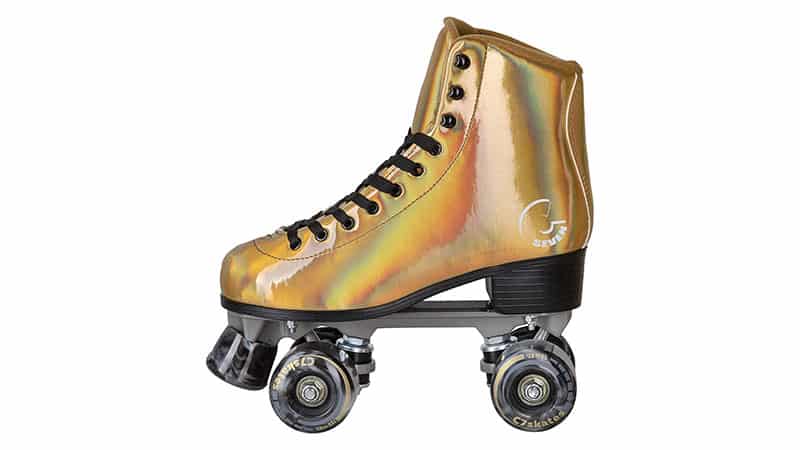 10. Skate Gear Classic Quad Faux Leather Roller Skates
Pick from a variety of fun colors with these Skate Gear Classics. There are white with pink or purple laces; pink, white, or purple with fun graphics; and two options in black. The retro-style boot has plenty of support through the ankle to help with stability, with grippy 95A wheels. Plus, the faux leather outers are both comfortable and durable, so you'll be rolling for years. Enjoy excellent control, traction, and maneuverability whether you're a new skater learning or someone who's been doing it for years.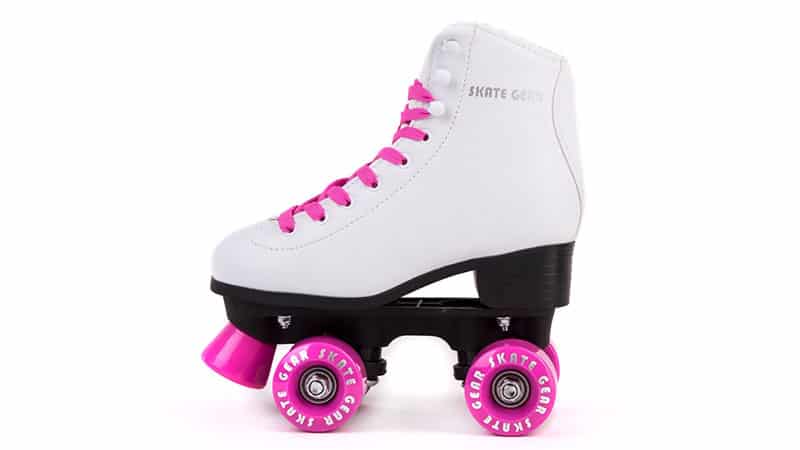 11. Moxi Skates Beach Bunny Women's Quad Roller Skate
If you're looking for super cute, brightly colored, and high-quality skates, then look no further than Moxi Skates' Beach Bunny. Select from a range of fun colors, including Strawberry Lemonade, Blue Sky, Peach Blanket, Periwinkle Sunset, and Watermelon. The exteriors are animal-friendly vinyl, while the lining is the custom, moisture-wicking Moxi Dry-Lex. Plus, die-cast aluminum plates and trucks provide maximum durability and support, while the glitter wheels have ABEC-5 steel ball bearings for a frictionless ride. Amplify your cool-girl vibes by rocking these with fun patterned crew socks, short overalls, and a plain white tee.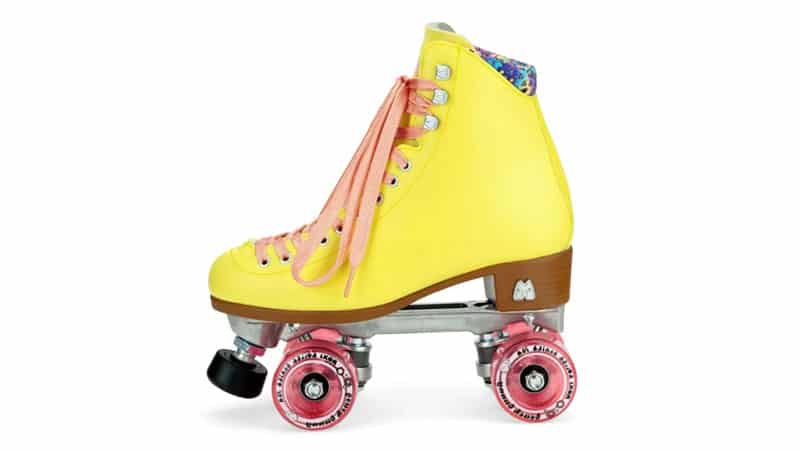 12. Candi GRL Carlin Womens Roller Skates
Enjoy colorful, stylish, and smooth skating with these Carlin skates from Candi Grl. The brushed suede uppers and lining are padded for comfort, while the classic laces ensure the perfect fit. Meanwhile, the chassis is made from lightweight aluminum with robust trucks that give excellent control for turns and tricks. Tackle any surface with the multipurpose Kemistry Glide 65 mm wheels with Bevo Silver-5 Race rated chrome bearings.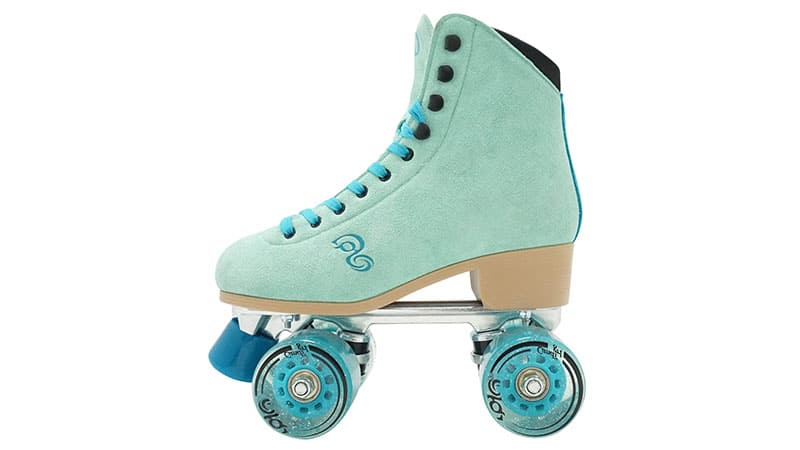 13. Roller Derby Elite Glidr Sneaker Skate
Embrace some street style with the Roller Derby Elite Glidr Sneaker Skate. The athletic aesthetic has mesh panels, perforated sides, and a padded tongue. The molded sole is extra comfy, while the ankle straps keep your laces secured and out of the way. Rock these on any outdoor surface. The 70mm Kemistry Radikal high rebound wheels and Bevo Silver 5 bearings ensure a smooth and efficient ride. Meanwhile, the polymer chassis is super lightweight, while the aluminum trucks are durable.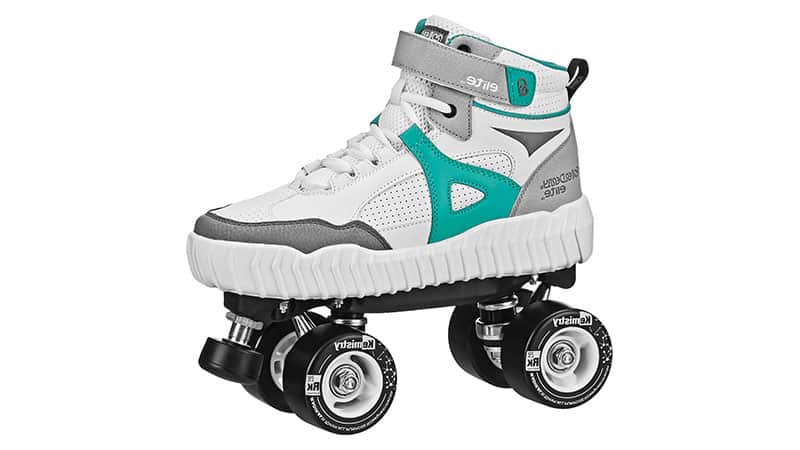 14. Impala Rollerskates Quad Skate
Impala Rollerskates' Quad Skates boasts a classic, retro design. However, they have state-of-the-art features, including 58mm 82a durometer nylon-core urethane wheels, ABEC 7 bearings, and aluminum alloy trucks and baseplates. The uppers are made with PVC, with a high-top design that supports your ankle for improved stability. Best of all, they come in a vast range of colors, so there's something for everyone's perfect look. Choose from white, pastel rainbow, sky blue, glittery black, high-voltage green, pink tartan, and more.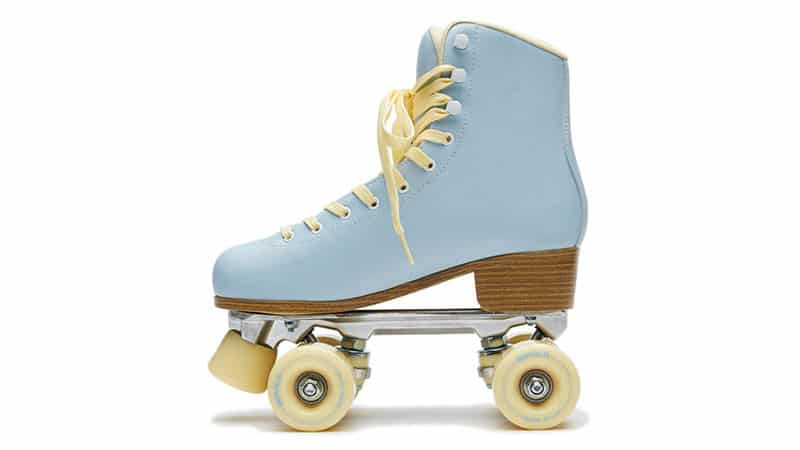 15. Silvertree Roller Skates Classic High-top
Stand out with the bright colors and graffiti-style design of these classic high-top rollers skates from Silvertree. They're made from high-quality and durable polyurethane, with 54mm 85A sturdy wheels and ABEC 5 bearings. The result is a smooth, elegant ride that has you feeling like you're flying. Cruise along a beachside boardwalk, explore your neighborhood, or hit the rinks — these skates are up for any adventure!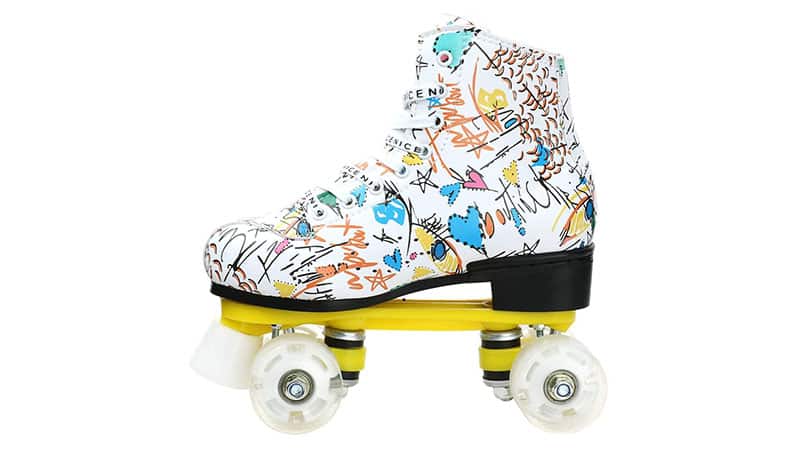 16. Moxi Skates – Rainbow Rider
The colorful retro vibes of these Rainbow Rider skates from Moxie will have you standing out from the crowd. Drum-dyed black vinyl uppers are enhanced with red, orange, and blue accents combined with fun matching laces. Plus, the combo of eyelets and hooks for the lacing ensures maximum convenience and comfort for the perfect fit. When it comes to the technical details, these skates boast ABEC-5 steel ball bearings, a high-impact die-cast aluminum plate, and strong metal trucks. Together they give you a smooth, supported, and durable ride, whether you're out for a cruise or hitting the skate park.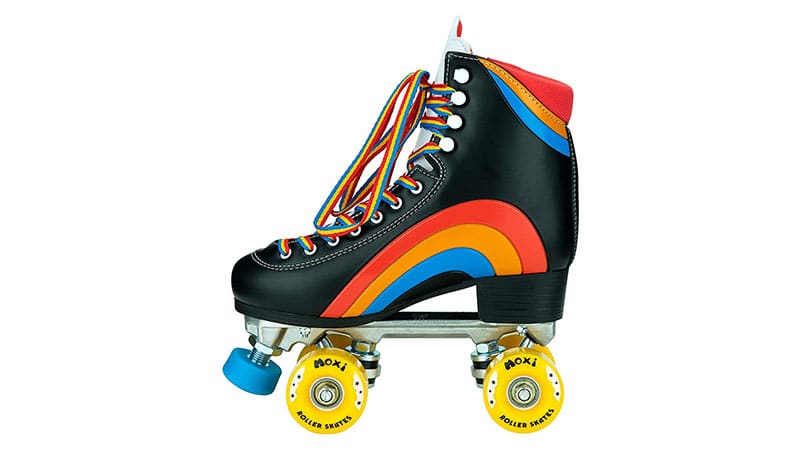 17. Chicago Skates Classic Rink Skate
Keep it traditional with these Classic Rink Skates from Chicago Skates. It's the kind of look that is paired best with bubblegum-colored mini shorts and your favorite graphic tee. They feature vinyl uppers, speed laces, and a retro-silhouette. An aluminum chassis and jump bar give you excellent stability, while the rubber stopper and urethane rink wheels provide excellent take-off and maneuverability.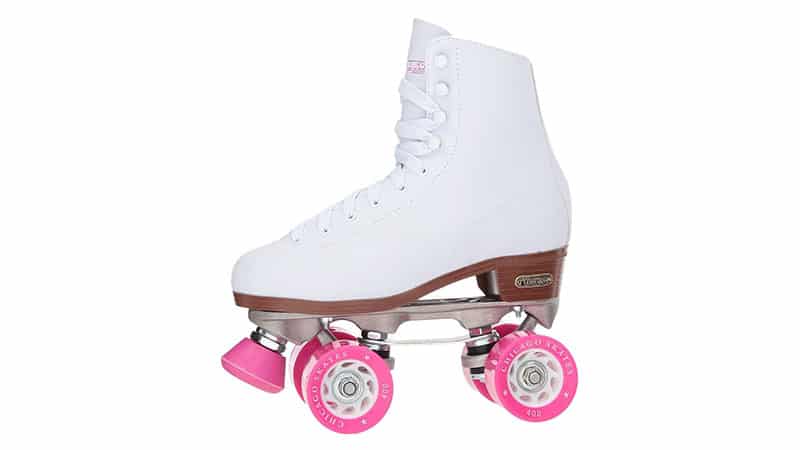 18. Bont Prostar Roller Derby Skates
If you're a roller derby skater, then it's hard to go past Bont's Prostar skates. They're lightweight, responsive, and designed to keep you safe and comfortable, even during the hardest games. It uses a fiberglass Prodigy plate and Ballistic 92A roller derby wheels. The counter is made with Thermo-molded plastics, and there's a rear tab so you can tie the laces around the back of your heel to prevent slippage. Nylon anti-stretch tape on the internals maintains the shoes' shape, while the EVA insole provides plenty of cushioning. Your toes will also stay safe, with triple-layered protection and a replaceable toe bump. Finally, the tongue remains centered on your foot thanks to a velcro tab, and the ankle straps hold everything in place securely.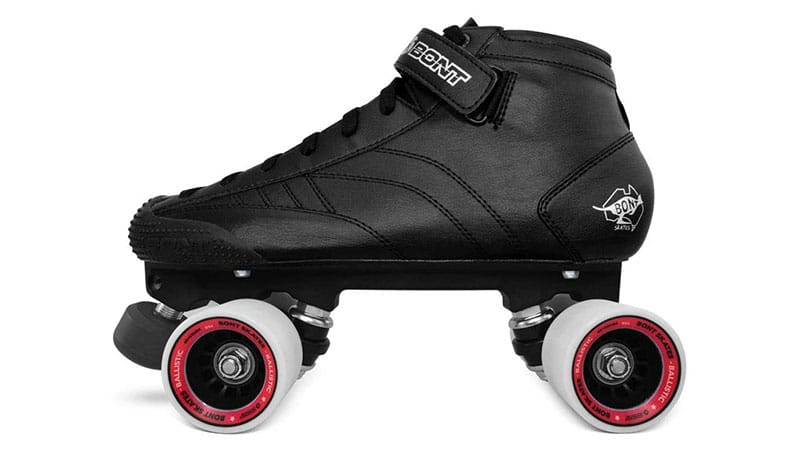 19. Riedell Skates – Dart Pixel
Riedell's roller skates are another great option for serious roller derby players. Enjoy optimal support with high-impact die-cast aluminum plates and strong metal trucks. A low yet snug fit through the ankle keeps you secure yet provides flexibility in your movements. Plus, 93A wheels with ABEC-5 steel ball bearings will have you cruising smoothly. The bright, pixel-pattern fade color comes in both a red, white, and black combo or for a fun spin purple, pink, and white. This is the perfect option for the most demanding skater, whether you're on track, at the rink, or cruising outside.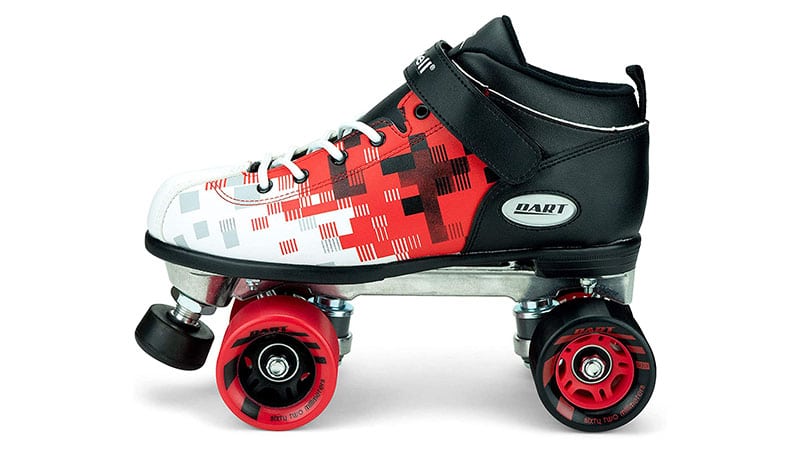 20. Sure-Grip White Fame Roller Skate
Feel fresh with the crisp white of the Sure-Grip White Fame Roller Skate. This is an ideal pair of roller skates for casual skaters and beginners. Made with vinyl outers and a soft microfiber lining, they're both comfortable and durable. The ROCK plate is made from high-strength nylon, providing plenty of stability, while the Carrara toe stop makes braking simple. The 57mm 95A wheels are best used indoors only, making this a great choice for the rink, so grab your dancing pants and get ready to have some fun.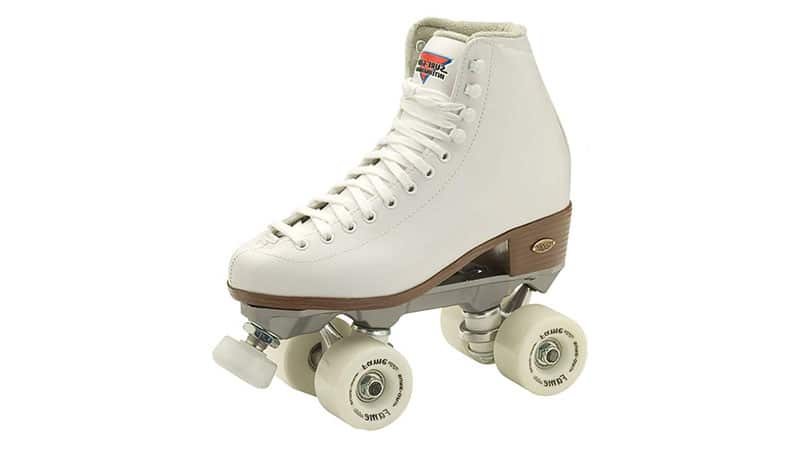 21. Impala Rollerskates Holographic
Embrace the futuristic space disco-babe vibes with a pair of holographic quad rollerskates from Impala. They're a fun alternative to the regular matte finishes of the brand's other styles without sacrificing functionality for looks. Metal speed lace hooks mean you can get done up and rolling faster. Meanwhile, you'll enjoy plenty of stability with the aluminum alloy base plate and trucks, with 82A wheels, which are an excellent hybrid option if you want the flexibility of different skate locations. Pair these with a pair of corduroy bell-bottom trousers and a cute crop for a fully nostalgic 70's feel.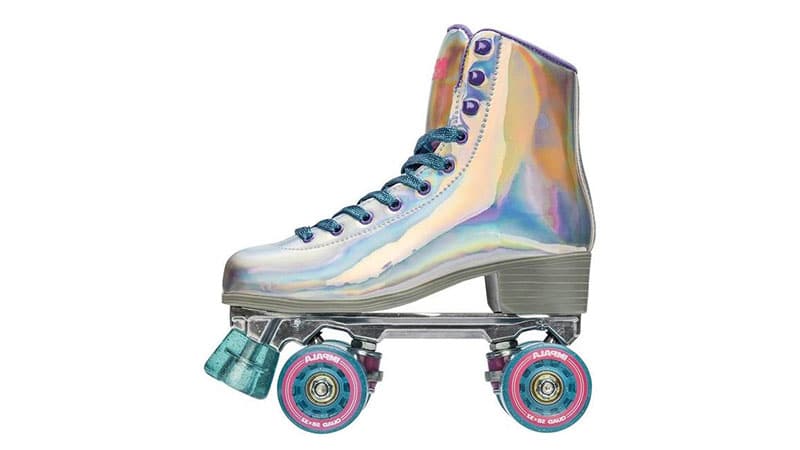 22. Roller Derby Roller Star 600
Roller Derby's Roller Star 600 is a traditional high-top quad skate that's perfect for a recreational ride. It boasts reinforced heel support so you won't slip and slide, plus padded lining for all the cushiony comfort. The lace closure ensures a secure fit all the way through your ankle, the RTX Pro Chassis provides plenty of stability, and the ABEC-5 bearings give you a smooth journey. When it comes to styling, the white, purple, and teal combo looks great paired with denim cut-off shorts and a plain white singlet, keeping your look simple and fresh.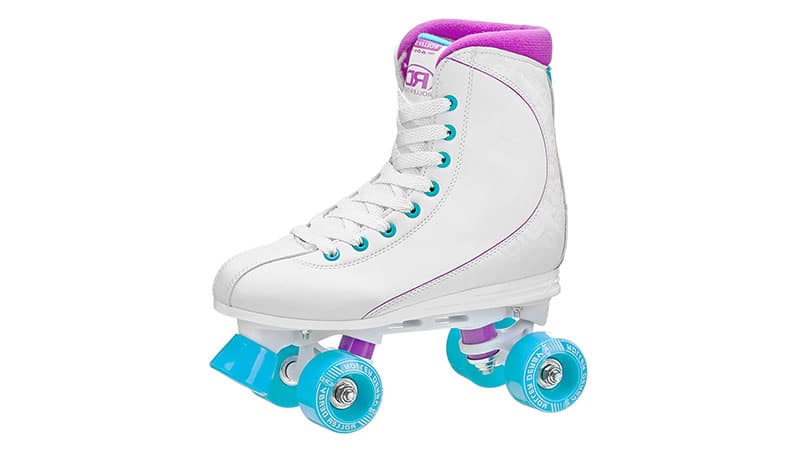 23. Rollerface HipSkates Glitter Girl's Classic
Ride the rainbow in a pair of Rollerface HipSkates Glitter Girl's Classic roller skates. They make a great first pair of skates for kids and teenagers, with fun sneaker-styling that has a youthful feel thanks to the metallic shades and long colorful laces. The premium 58mm wheels are graded 85A for a smooth, easy skate on various surfaces, both indoors and out. ABEC 7 carbon steel bearings add to a fluid ride, while the reinforced plastic frame has a lower center of gravity for increased control. If you're buying these as a first pair of skates, don't forget to also invest in safety gear as well!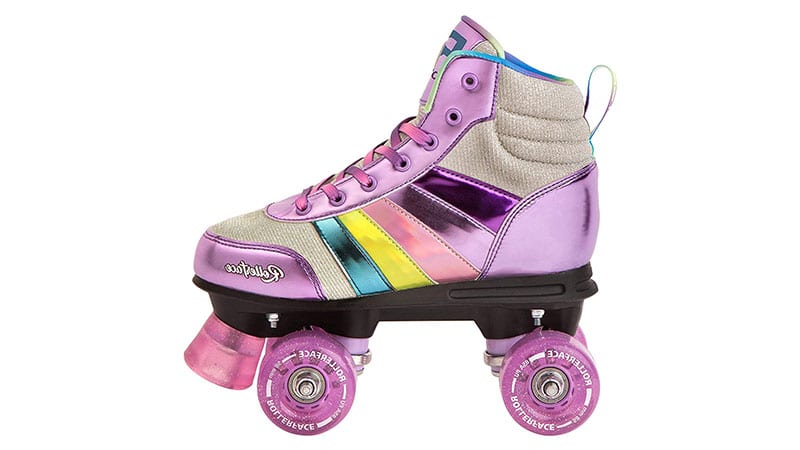 24. BTFL Scarlett Pro
Add a touch of luxury to your skate wardrobe with these leather boots from BTFL. The Scarlett Pro is a classic quad skate style made with genuine leather uppers – the same kind used in premium shoes and handbags. The 80A durable wheels provide brilliant cushioning and high-impact absorption, making them ideal for outdoor use. Plus, a nylon fiber plate chassis, aluminum trucks, and ABEC-7 carbon precision bearings further enhance a smooth ride. You'll also enjoy plush lining, a large pull tab to get them on easier, and a cushioning polyurethane insole.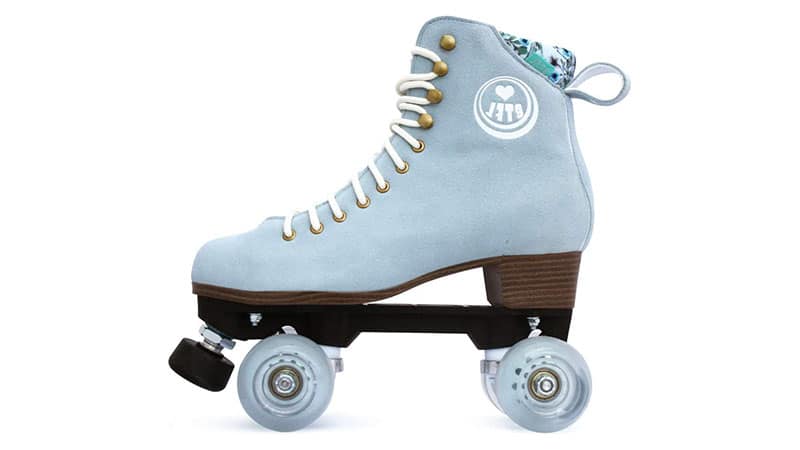 25. XUDREZ Roller Skates Black Flash Wheels
Light up the rink with these fun skates from XUDREZ with bright flashing wheels. As you roll along the ground, the friction creates power for the internal lights creating a flashy, exciting effect. The high-top cut provides support through the ankle with quality laces to ensure a secure fit. You'll stand out from the crowd even more, thanks to the vibrant graffiti-style artwork contrasting against the deep black base. These skates make a great gift for birthdays, the holiday season, or other special occasions.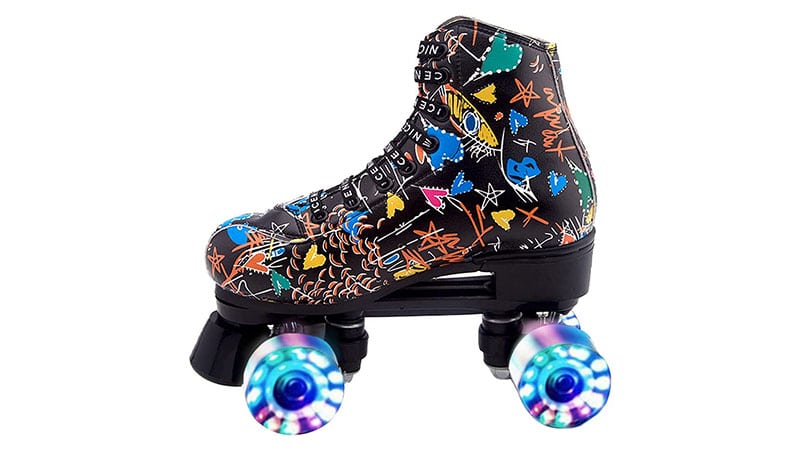 26. Skate Gear Retro Quad Roller Skates
Opt for nostalgic vibes when buying some roller skates with this fresh white choice from Skate Gear. The retro quad roller skates feature a classic, high-top cut and short heel design. Internally, you'll find a PVC leather structure designed to provide additional ankle support. Other construction features include aluminum trucks, faux leather outers, and 83A wheels, which are excellent all-rounders. Plus, it comes in women's, youth's, and men's sizing, so no matter who you're shopping for, there's a pair to fit.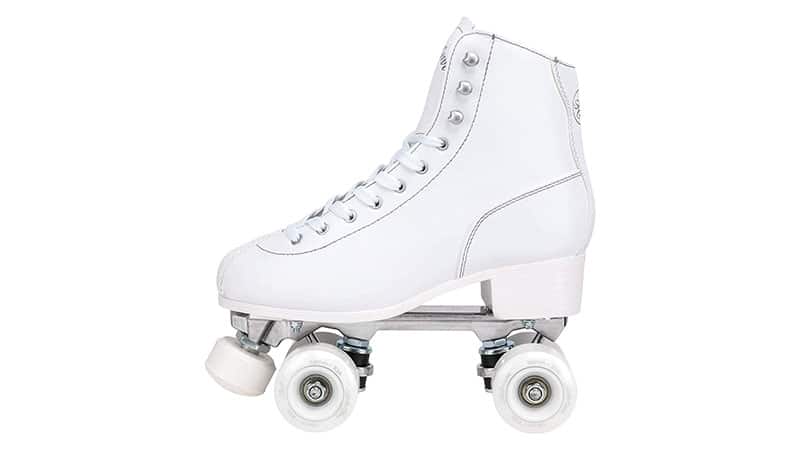 27. Comeon Roller Skates
If you're looking for a pair of roller skates that are full of attitude, then this all-black design from Comeon is ideal. They have a lower center of gravity than other designs for better control, plus plenty of padding for secure and cozy feet. The exteriors use synthetic leather for a durable yet stylish finish, while a support column in the front can make maintaining balance and braking easier. This design is a brilliant choice for young people and anyone wishing to learn the ins and outs of rollerskating.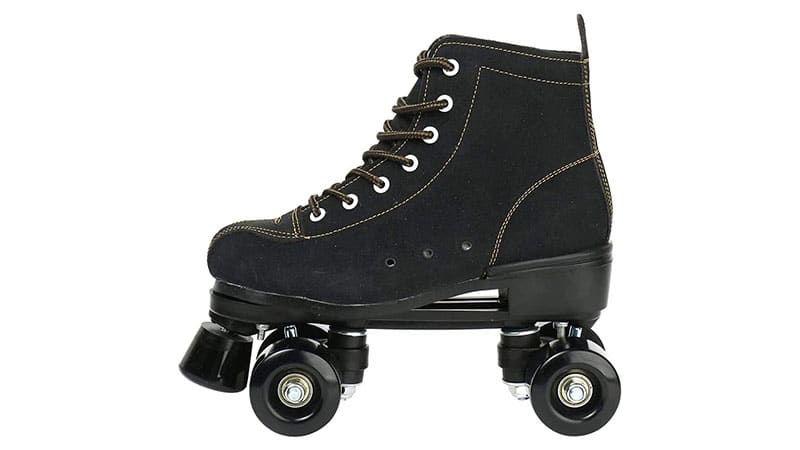 28. Roller Derby Roller Star 750
Whether you're hitting the skating rink, boardwalk, or local streets for a ride, then these Roller Derby Roller Star 750's are a great investment. Keep your streetwear edge with the casual sneaker-style cut and detailing, including colored and patterned panels. The nylon chassis is lightweight with quality trucks, while the wheels are designed for any surface, with rounded edges to deflect obstacles such as small rocks or sticks. Finally, they also boast Silver-5 Speed Rated bearings for an even smoother, faster ride. Rock these with black skinny jeans and a vintage band shirt.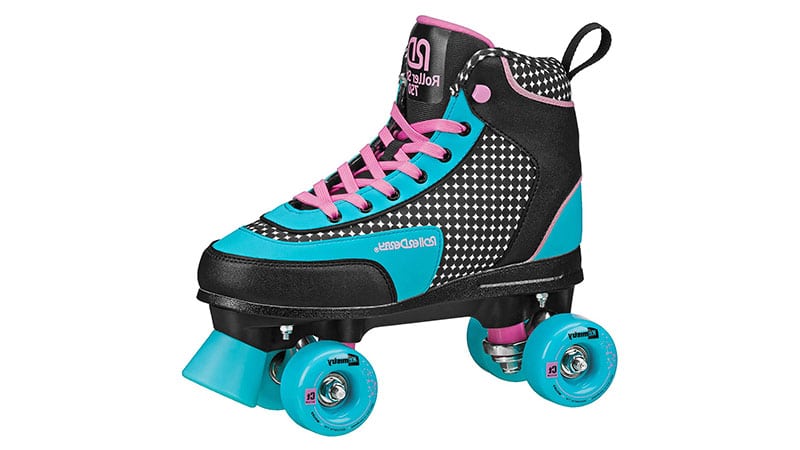 29. STMAX Quad Roller Skates
Younger girls will love these pink floral quad skates from STMAX. They're an ideal style for beginners and work well on both indoor and outdoor terrain. The high cuffs and speed lace eyelets mean plenty of support and security through the ankle. Enjoy a smooth, fast ride with ABEC 7 bearings and adjustable wheels that means they'll suit a variety of skill and ability levels. Finally, they're also lightweight, so they won't feel cumbersome or drag for girls with smaller frames. They look perfect matched with denim shorts, a graphic tee, and of course, safety gear.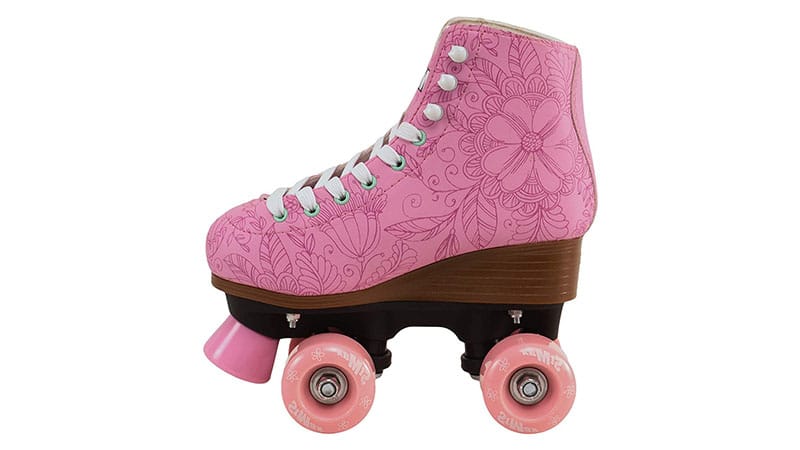 30. OceansEdge11 Women's Roller Skates
Get the party started with a pair of oceansEdge11 Women's Roller Skates. While they may appear to be a classic and subdued black style, the clear wheels light up with flashing lights as you roll! As such, they're perfect for disco and dance nights at your local roller skating rink. The uppers are made with PU, with adjustable laces for the ideal fit, while the ABEC 7 bearings ensure a smooth ride. At a lower price point than some other alternatives, they're a great introductory skate for beginners and anyone unsure of entering the skating world.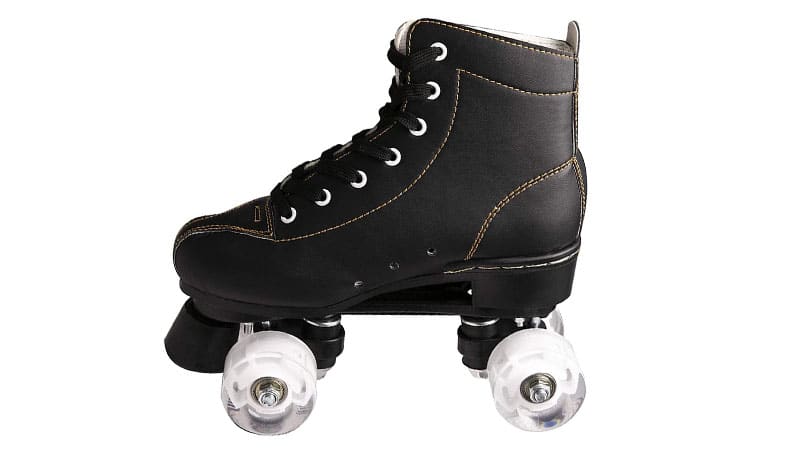 Roller Skates Buying Guide
Roller skates are much more than just boots with wheels, and all the different features can be confusing, especially when starting out. Here's a breakdown of the various components of a roller skate, what they do, and what to look for when buying a new pair.
Wheels
Roller skate wheels might all look similar, but they range from soft to hard. There is a rating system to determine the softness of wheels. It ranges from 0 to 100A, with the higher the number, the harder the wheel. Soft wheels give excellent grip and better shock absorption but will wear down faster. Conversely, harder wheels will have a longer lifespan but won't cushion the impact from bumps as well, nor have as good a grip.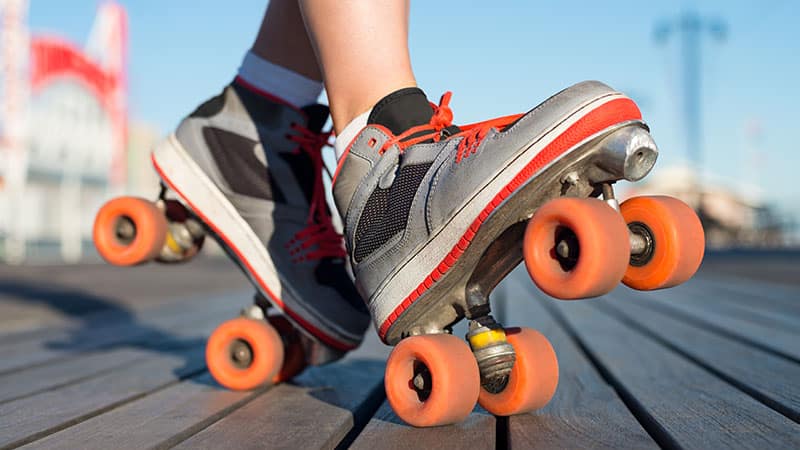 Bearings
Bearings are what allows the wheels to roll smoothly. It's not something you need to worry too much about as a beginner. However, you do need to look after them to maintain their integrity. That means avoiding water and moisture as much as possible and also avoiding dirt buildup. It pays to pull your wheels apart every so often to clean the bearings, and there are plenty of videos on YouTube that you can follow along.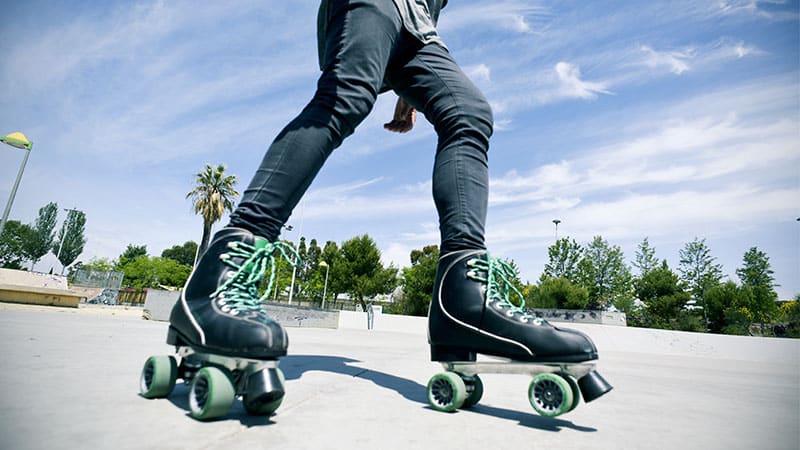 Hard Boot vs. Soft Boot
Like tacos, roller skates come in hard and soft shell versions. What you pick will depend on how you're planning to use your skates the most. If you're looking for long rides to improve your fitness, the best option is a hard boot. This will provide good stability and support, enhancing your comfort over more extended periods. However, if you're heading to the rink for some fun dancing or disco nights, then soft boots are brilliant. They're lighter, so you can pull off better moves and give you freedom and flexibility while breathing better.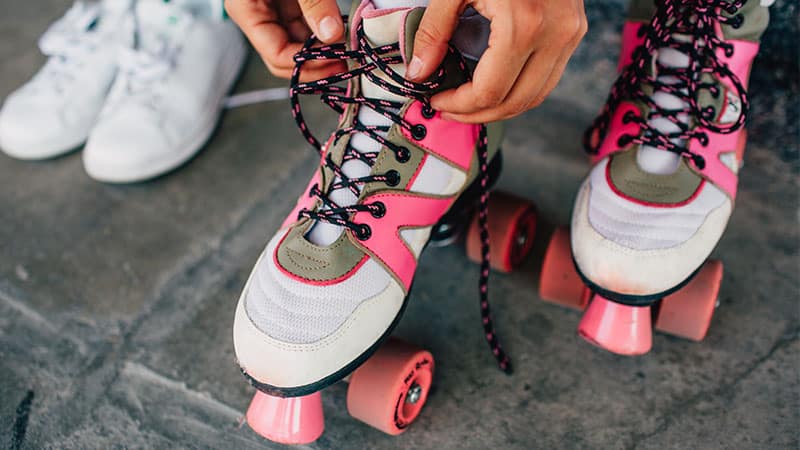 Size
Picking the right size roller skates is a little trickier than buying shoes. You want a firm and supportive fit, but without being too tight or too loose. Always read the sizing charts when purchasing online, as the fit can vary between brands and styles. As a very general suggestion, most people will size up one from their regular footwear size. When you get your new skates, try them on at home before going out anywhere. You want to have a little bit of room at the tip of the toe – if they're press up against the end, they're too small. Ensure to check the store's return policy before purchasing, just in case you need to return or exchange for a different size.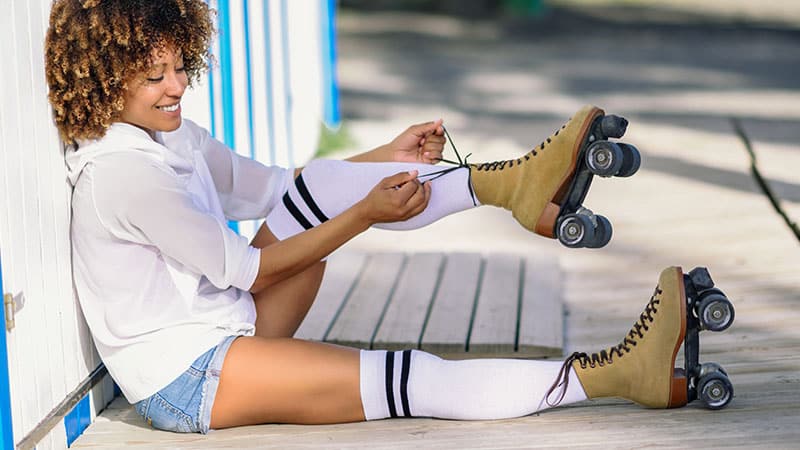 Trucks and Plates
The plate and trucks of your roller skates are kind of like a chassis in the car. The plate is what the boot section sits on and is often made from lightweight nylon. It provides the structural integrity of the skate, ensuring it doesn't collapse on itself. Then, the trucks are what the wheels attach to and generally feature aluminum construction for extra strength. Trucks let you turn, and you can adjust them to be looser or tighter. Looser means more agility as easier turning on the edges, but tighter trucks provide greater stability.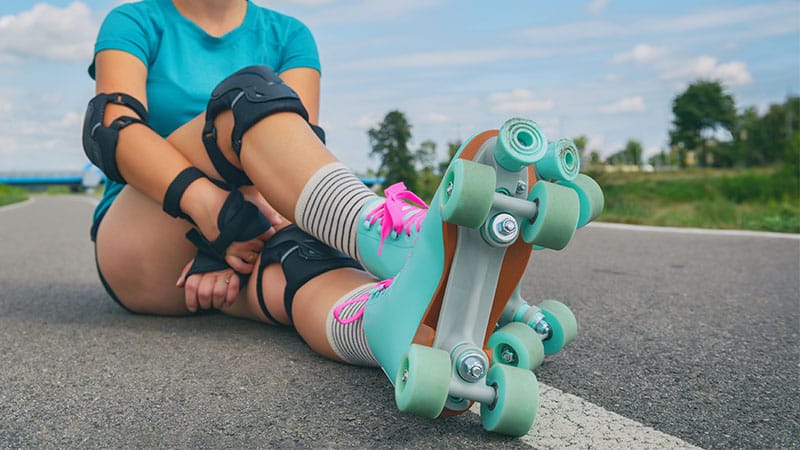 Toe Stop
You take off and brake by using the toe stop, a unique feature of roller skates. It's a rubber unit that sits under the tip of the toe and will wear down over time with use. They're really easy to replace, as long as you don't let them wear all the way down before replacing them.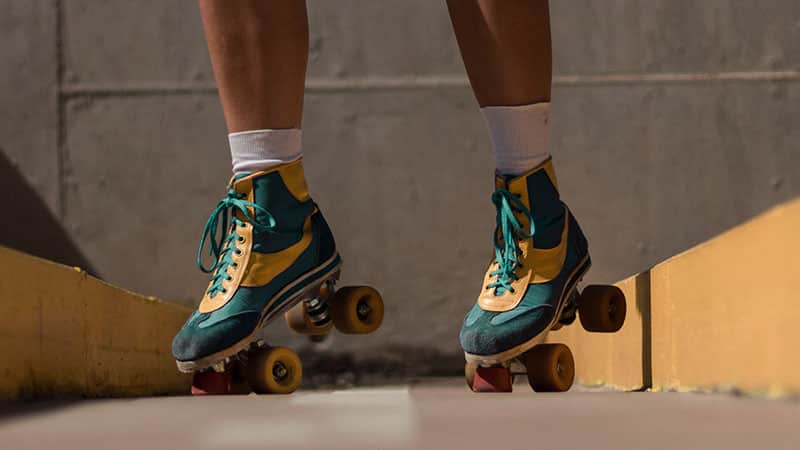 Skate Protection
Safety is paramount when skating, especially if you're new to it. As such, it's just as important to invest in good quality safety gear as it is good skates. Get yourself a helmet to protect your head, wrist guards and elbow guards to protect your arms, and knee pads to protect your legs. Each of these are high-hit zones if you do stack it while skating. The safety gear will help reduce the risk of fractures and breaks if you do fall over.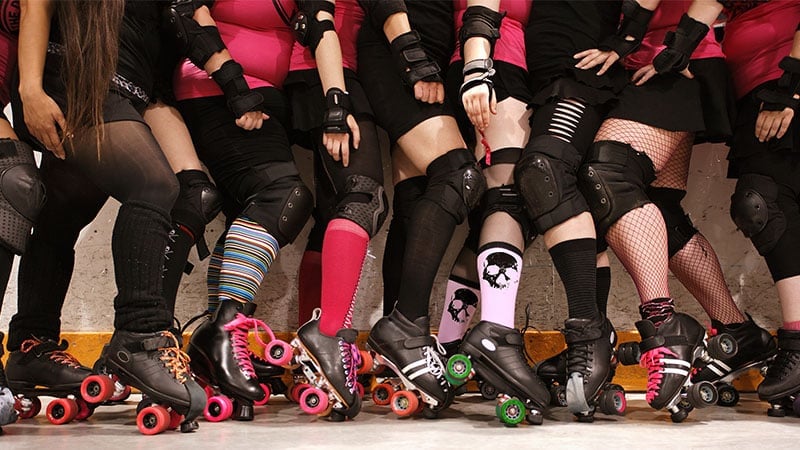 Roller Skates for Women FAQs
What should I look for when buying roller skates?
Start by deciding if you want hard or soft boots, then high or low tops. Hard boots are great for exercise, while soft is better for dancing, and high tops provide greater support which is best if you're new. The second most important thing is getting the correct size. Check the sizing chart, and use your regular shoe size as a guide. Try them on before you head out, in case you need to exchange. Finally, read the description of the products to check where you should be using them – indoors or out. The hardness of the wheels will generally determine this, based on how much they'll wear and absorb shock. Other factors such as the trucks, bearings, and toe stop won't matter as much when you're new, and you'll work out your preferences for these the more you skate.
Which roller skates are best for beginners?
If you're just starting out with skating, quad roller skates are a great option as they provide more stability than inline skates. Look for high-top styles that offer plenty of ankle support and stability, which will help keep you upright until you build up your strength and endurance.
How do I know what size roller skates to buy?
Always read the sizing chart for your skates, especially when shopping online. As a general rule, many skaters will go up one size from their regular shoe size. However, you want the fit to be firm without being too tight or too loose. Ideally, there should be a little bit of space at the end of the toe. Try your new skates on at home, so if they're not the right fit, you can return them.
Is Roller Skating good for you?
Roller skating is a great activity that can help burn calories and provide a lot of fun. You'll work the big muscles in your legs, glutes, and core without the impact that other sports such as running puts on your joints. Plus, you'll learn new skills, relieve stress, and have fun. Of course, it's not without its risks, especially as you learn, but that's why it's just as essential to buy protective gear. It will help lessen the impact of falls and protect high-hit areas.
SUBSCRIBE TO OUR NEWSLETTER
Subscribe to our mailing list and get interesting stuff and updates to your email inbox.