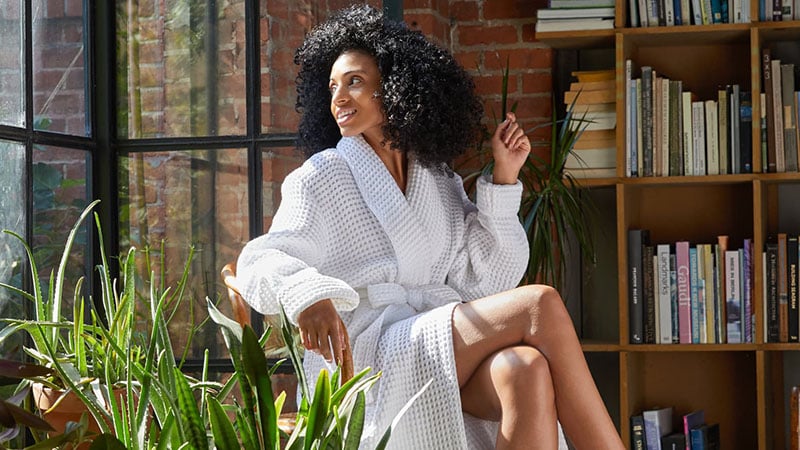 A robe is a must-have item for any complete loungewear wardrobe and the ultimate signifier of "me time." It's perfect for swanning around the house after you wake up and getting ready after a shower. Alternatively, fully embrace the relaxation life by rocking it for a day of chilling with Netflix, a book, or another hobby. The best thing about robes for women is that there are so many options. There are designs in waffle cotton, smoothy silk, fuzzy terry cotton, and stretchy modal, all with different lengths, collar shapes, and cuff styles. Choose a robe that's snuggly and absorbent, sleek and seductive, or lightweight and simple. Of course, you're also not limited to only owning one!
Best Women's Bathrobes
1. Gucci Embellished Robe Coat
Gucci embodies impeccable Italian craftsmanship, and this embellished robe is no exception. It's an authentic taste of luxury. The design features silk lining that sits smoothly against your skin. Then on the exterior, you'll find beautiful crystals and pearls that nestle against the lush teal velvet. The black velvet cuffs, collar, and belt add a striking element of contrast that also anchors the outfit well. While the price tag makes it a bit of an investment, the opulent statement makes it worth it.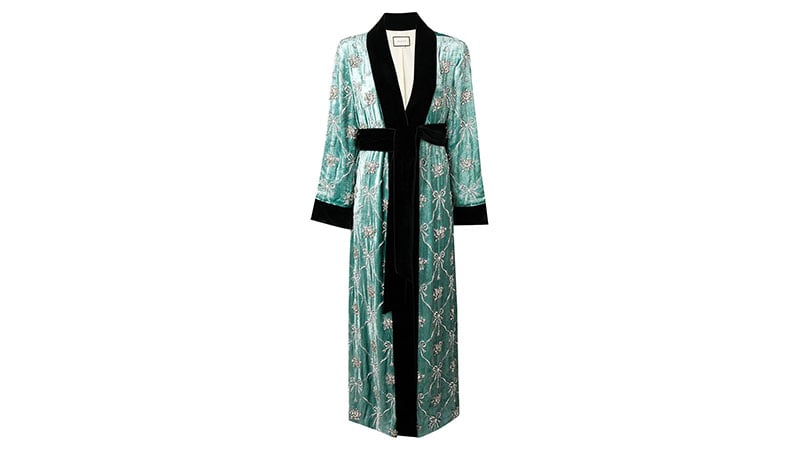 2. Carine Gilson Belted Appliquéd Embroidered Silk-satin Robe
This stunning black silk-satin robe from Carine Gilson has some serious main character energy. It's hand-stitched and features intricate, embroidered, and appliqued velvet flowers for beautiful detail. Because it's made from 100% silk, it slides smoothly over your skin, caressing it softly. This makes it ideal for swanning around the house, either getting ready or embracing some leisure time. However, it could also be considered far too extraordinary to keep within the walls of your home. If you feel like showing it off, don't be afraid to throw it one over a cute camisole dress or pair of jeans and go about your day!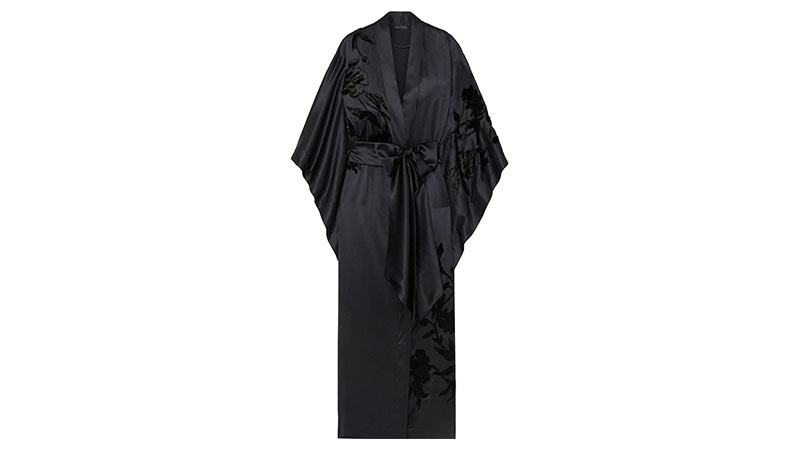 3. Carine Gilson Belted Chantilly Lace-trimmed Silk-satin Robe
Carine Gilson's saffron Chantilly lace-trimmed robe has strong femme-fatale energy to it. It's profoundly luxurious and every kind of elegant. The delicate lace panels at the forearms and calves give an alluring feel that is subtly seductive. The main body is made from 100% silk, so it feels delightful against bare skin. It also wears well and breathes beautifully. This is the kind of robe that would have graced the screens of old-school Hollywood, oozing glamor and sophistication.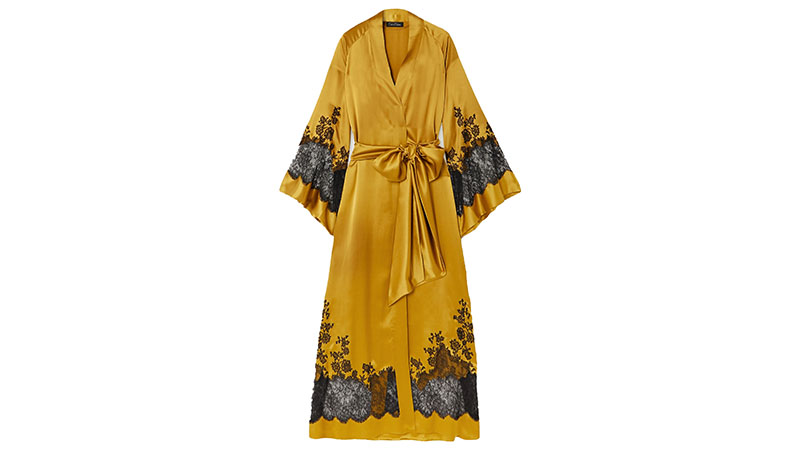 4. Karl Lagerfeld Logo Bath Robe
Karl Lagerfeld keeps it effortlessly simple with this hotel spa-inspired design. It's made from super soft and comfy terry cotton and features a tied waist and patch pockets. The black Lagerfeld logo sits across the chest, contrasting sharply with the crisp white fabric. You can easily spend hours wrapped in its warm embrace as you get ready for the day, chill on the couch with Netflix, or guard yourself against the woes of the world at the end of a hard day.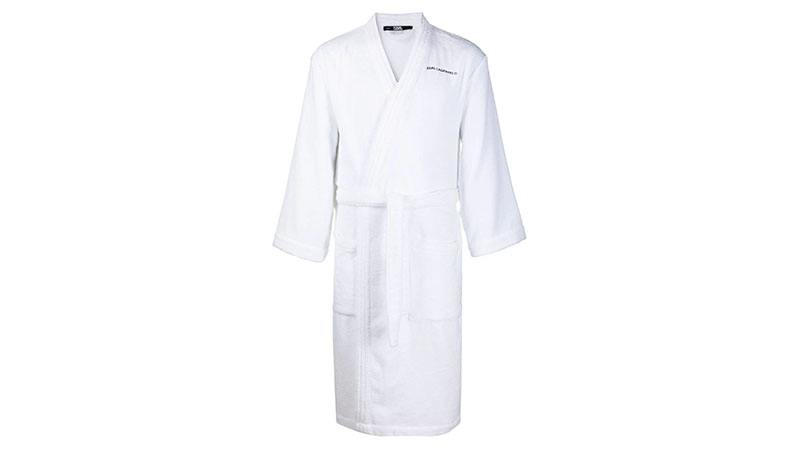 5. Eberjey Raquel Heartbreaker Lace-trimmed Stretch-modal Robe
This Raquel Heartbreaker robe from Eberjey will undoubtedly add a pop of color to your leisure wardrobe. Start your day on the right foot by wearing this as you sip your morning coffee. Alternatively, put a hard day behind you with its vibrant red energy. The combination of modal and elastane in the main body means it's breathable, stretchy, and ever-so-soft. The styling is taken up a notch thanks to the beautiful lace cuffs on each floaty sleeve. Plus, the short length makes this the perfect summer robe for women living in warmer climates.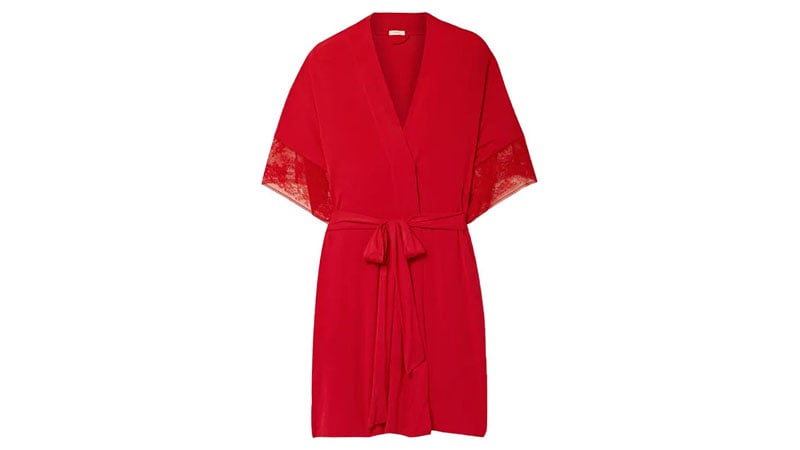 6. Versace Baroque Logo-print Robe
Ladies who love some luxury should invest in this distinctive Versace Baroque Logo-print Robe. Like everything from Versace, it's made with the highest quality fabric, including 100% cotton. The design is sleek, featuring deep black that boldly contrasts with the exquisite baroque detailing on the pockets, cuffs, and waist tie. There's also shawl lapels for that extra feel of indulgence. This is the kind of robe that makes a big fashion statement while still keeping you comfortable.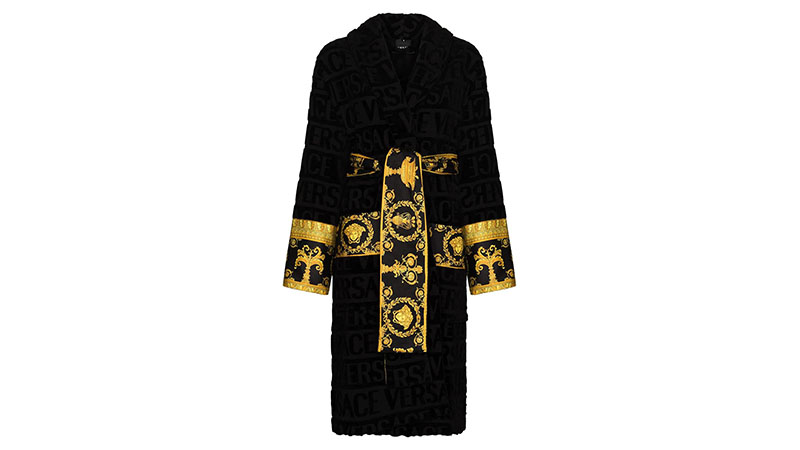 7. Deiji Studios Tied Waist Linen Robe
Just because you're relaxing at home doesn't mean you have to be subdued about it. This striking flax linen robe from Deiji Studios is as vibrant as you get. Rock it as soon as you get out of bed in the morning, all day reading a book, or after a long day of work when you just want to chill. The dual tones of yellow and white look excellent and crisp together. Meanwhile, the three-quarter sleeves won't get in your way and are loose enough for layering. It's also long enough to keep you both warm and covered.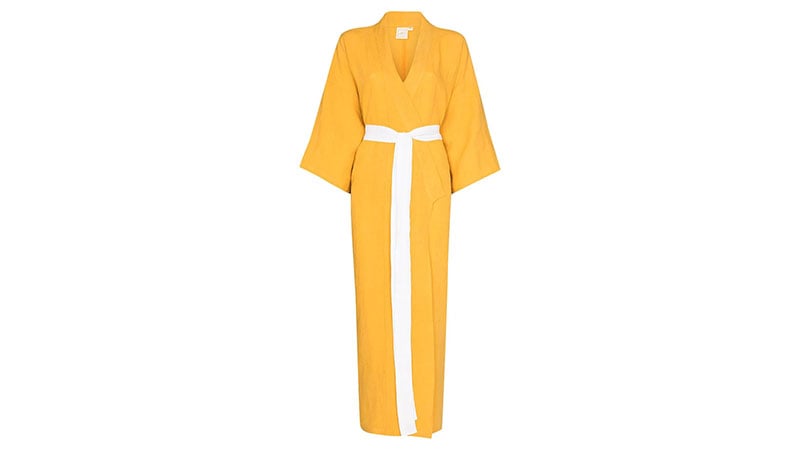 8. La Perla Silk Long-Sleeve Short Robe
La Perla's Silk Long-Sleeve Short Robe is a timelessly classic choice — it's the loungewear equivalent of a little black dress. The lines are simple and clean, without any fuss. However, there are small details that ensure it's not dull. This includes a notched collar, ribbed hem, and side slip pockets to discreetly carry your essentials. Just like everything this Italian company does, the design is luxurious without being ostentatious. If black is not your cup of tea, you can also opt for an icy white or warm champagne shade.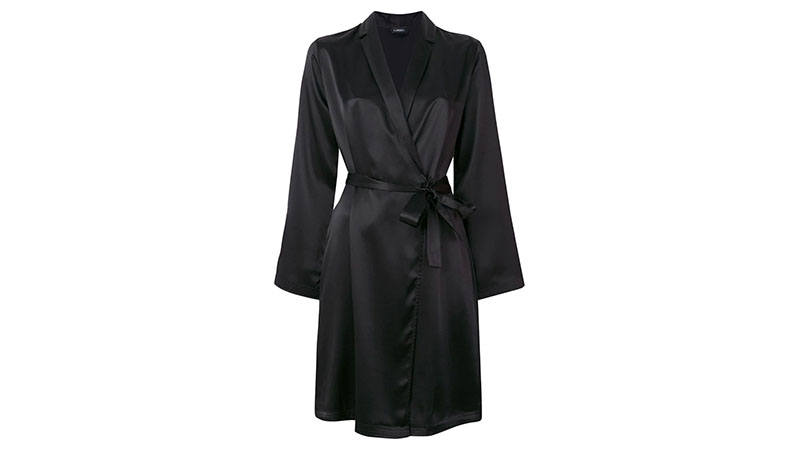 9. TowelSelections Women's Turkish Cotton Kimono Robe
Keep it cozier with this kimono robe from TowelSelections. The fuzzy feeling of the 100% terry cotton is gentle on your skin and also exceptionally absorbent. That makes it perfect for putting on after a bath, dip in the pool, or soak in the hot tub. The kimono collar is low-fuss and won't get in your way, while the belt ties at the waist so you don't accidentally flash too much. Finally, you can also select from over a dozen colors. Options include royal blue, lilac, sage, wine, grey, and pink. It's also an ideal gift for yourself or a loved one.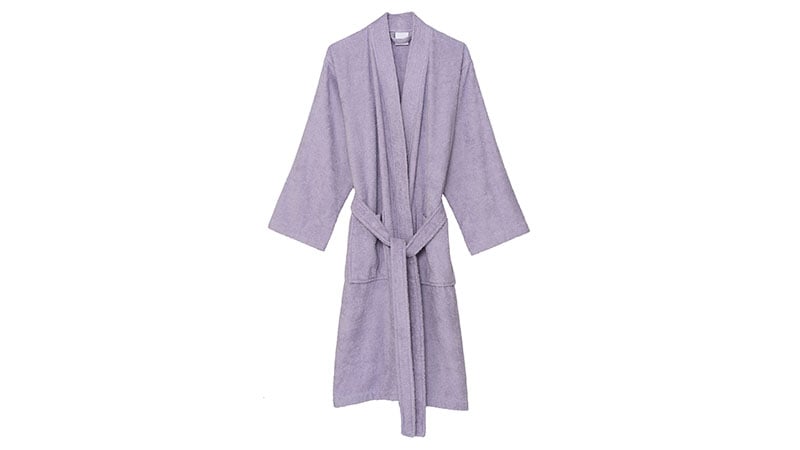 10. Rossell England Belted Linen Robe
The shape of this belted robe from Rossel England takes inspiration from traditional Japanese kimonos. As such, it has dropped shoulders, wide sleeves, and shawl lapels. It's also made from beautiful Irish linen, so it's breathable, natural, and, most importantly, comfortable. Cinch it at the waist with a matching belt to maintain your modesty. You can also choose between two colors. It comes in the crisp white shade, as well as soft navy blue.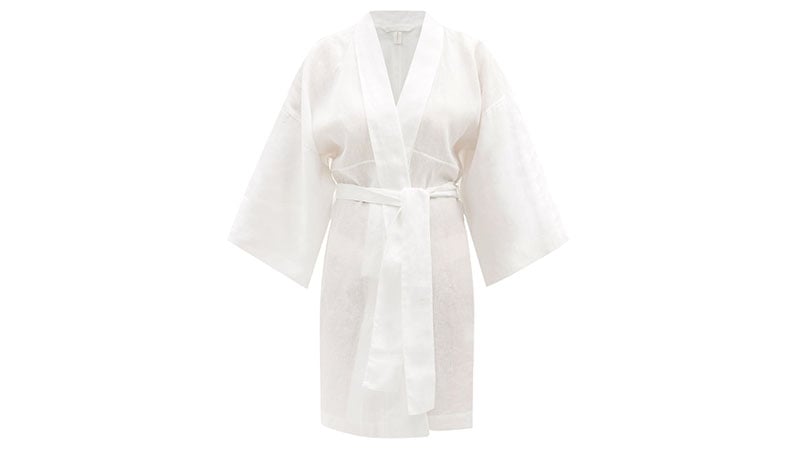 11. MAXMODA Women's Kimono Cotton Long Robe
If you prefer your robe to be sleeker and slim-fitting, this design from MAXMODA is ideal. The jersey material is made from cotton and spandex to balance natural breathability with supple stretch. As such, it's perfect for year-round lounging or wearing while you put on your make-up. The three-quarter sleeves are great because they don't get in the way, and the handy pockets can keep your hands warm, and your essentials close by. Plus, the waist tie is stitched in at the back, so you'll never need to worry about it going missing in the wash. Select from a range of colors, patterns, and sizes. While it's perfect for personal use, they're also an excellent design for bridal parties, girls' nights, and gifts.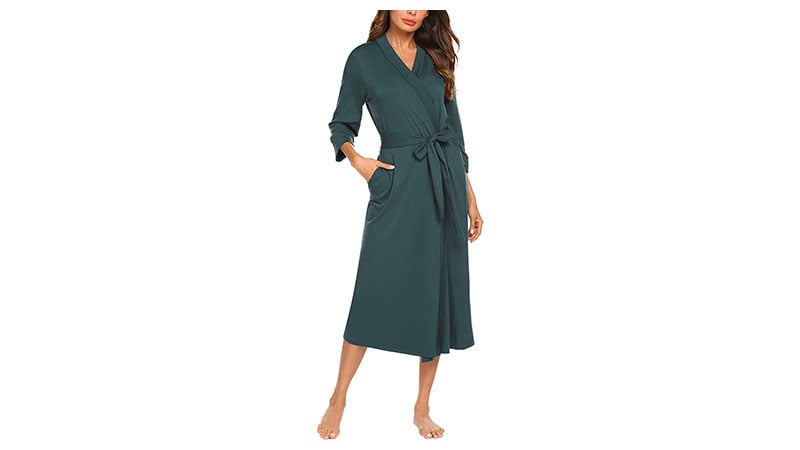 12. Carine Gilson Belted Silk-satin and Chantilly Lace Robe
Add some glamour to your loungewear wardrobe. This silk-satin robe from Carine Gilson is both sexy and elegant. Maintaining the brand's quality reputation, each piece is made by hand in the Brussels atelier. The comfortable draped sleeves feature the finest, most delicate Chantilly lace for a touch of romance. The short length combined with the fresh teal shade also makes this the perfect choice for warm weather and hot climates. If you want to splash out, this design also has a matching chemise and briefs.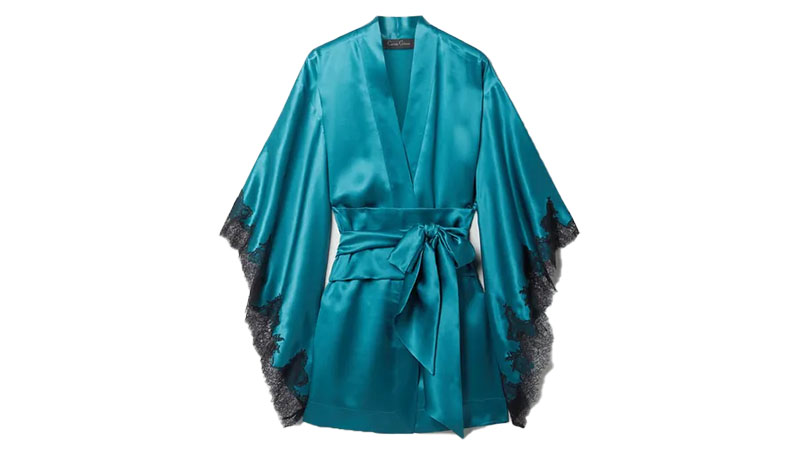 13. Brooklinen Waffle Robe
Channel vibes from your favorite five-star hotel with this luxurious feeling waffle robe from Brooklinen. This classic robe will let you feel comfortable, cozy, and relaxed – as if you never left your bed. It's made from 350GSM, 100% Turkish cotton, so it's breathable, fast-drying, and lightweight. Throw it on when you jump out of the bath or shower, or simply lounge around and relax – it's ideal for both.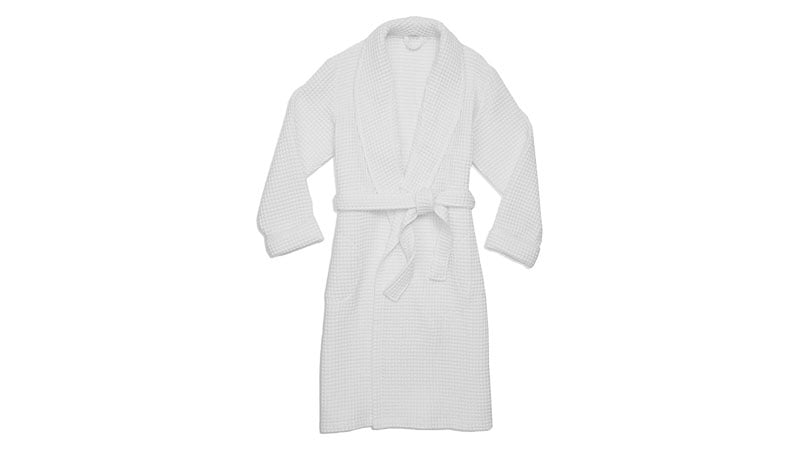 14. Olivia Von Halle Capability Velvet-trimmed Floral-print Silk-satin Robe
You'll feel like you're in a pretty English garden in this robe from Olivia Von Halle. The colors are sublime, mixing navy with rich golds, olive greens, and peaceful blues in an intricate floral pattern. It's made from the highest quality silk and is completed with contrasting velvet cuffs. Define your waist with the detachable belt and keep your essentials safe in the patch pockets on the front. Best of all, it's a full-length robe, which provides adequate coverage from shoulders to ankles.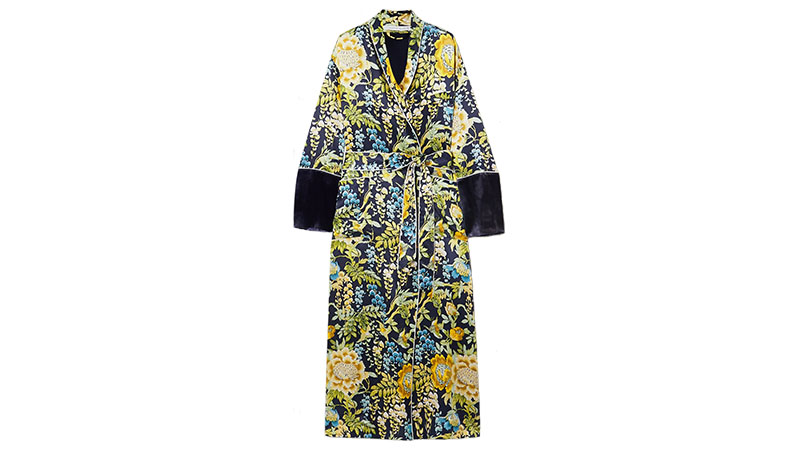 15. Fleur Du Mal Bunny-embroidery Long Robe
Fleur Du Mal is known for its collection of sensual lingerie, sleepwear, and loungewear. This particular robe is a little bit sexy and a little bit cute. The sheer silk is made for seduction, while the shawl lapels and satin-finish belt add some extra glamour. However, the embroidered bunnies create a level of playful fun that lets your personality shine. This is the perfect choice for women who enjoy the finer things yet don't take life too seriously and know how to enjoy the simple pleasures.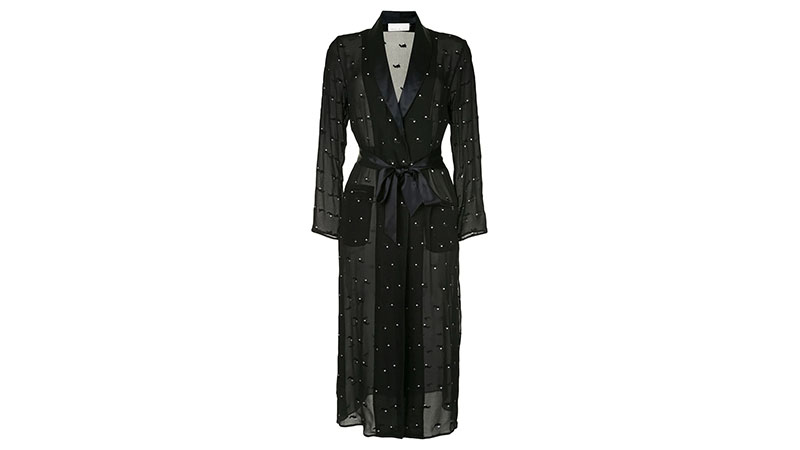 16. Parachute Cloud Cotton Robe
The luxurious Cloud Cotton Robe from Parachute is one of their most iconic designs. Choose from beautiful shades, including deep mulberry, earthy amber, soothing surplus, ethereal grey, and soft rose. The fabric consists of double-ply gauze made from 100% long-staple Turkish cotton and is exceptionally soft. You also have the convenience of two hidden pockets and a waist tie. It's designed to be a loose and comfy fit, so it's ideal for relaxed lounging with a good book and a cup of tea.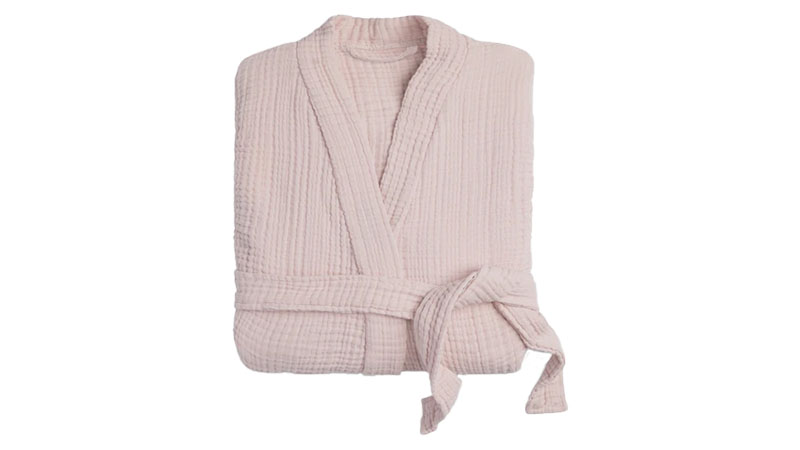 17. Skin Cotton Terry Robe
Skin is all about simple, natural, and versatile loungewear. Throw this cotton terry robe on as soon as you get out of bed, or once you've washed the workday off and are ready to relax. It ties at the waist and has convenient pockets. The material is 100% organic cotton and is lightweight enough to move easily yet it is sufficiently snuggly. Wearing this, you'll feel like you've spent a few hours at the day spa!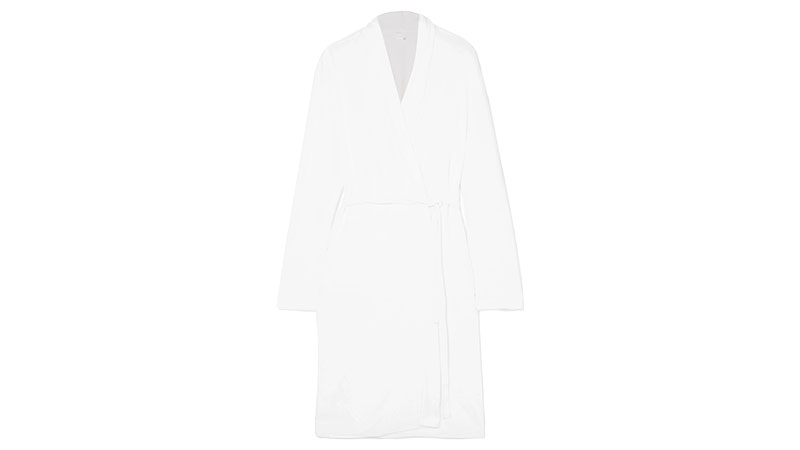 18. Skin Double Layer Tie-waist Robe
Indulge in the luxury feeling of 100% Pima cotton fabric in this double layer robe from Skin. Pima cotton is not only really soft but also's incredibly durable, resistant to pilling, and is less prone to wrinkles and creases. The two layers give you that extra bit of modesty, ensuring no part of your robe is sheer. The relaxed fit also ensures you're comfortable and that it layers over your pajamas easily. Extra convenient features include a waist tie to give you some shape and two handy pockets.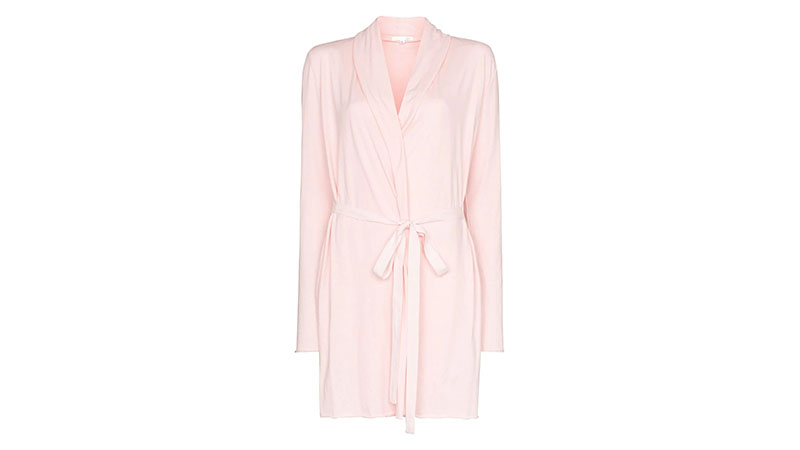 19. Parachute Waffle Robe
Parachute is one of the trendiest brands in premium bedding, towels, and robes. Their luxurious fabrics set them apart and let you make your home a happy place. The Waffle Robe is ideal for wearing post-shower as you get ready for the day, or relaxing around the house on weekends. Enjoy the feeling of the lightweight and super-soft 100% long-staple Turkish cotton, which, as a natural fabric, breathes really well. It's also very absorbent and quick drying. Extra details include a folded color and waist tie. Plus, there are two hip pockets to keep your necessities close by, whether that's your phone, snacks, or hair ties.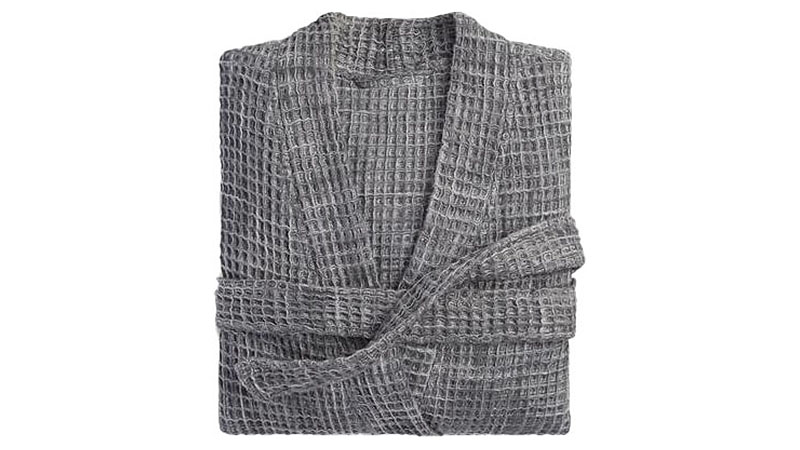 20. Sleeper Belted Linen Robe
You'll never want to take off this stylish robe from Sleeper. The material is 100% linen, which is labeled Standard 100 by OEKO-TEX® for safety. Linen is also incredibly light and breathable, making it perfect for wearing in warmer locations. Plus, it comes with a matching belt and features two deep and generous pockets. While it's designed for casual hang-outs at home, you could easily rock this as a leisurewear accessory when out and about. Simply pair it with loose-fitting linen trousers, a comfy t-shirt, and relaxed energy!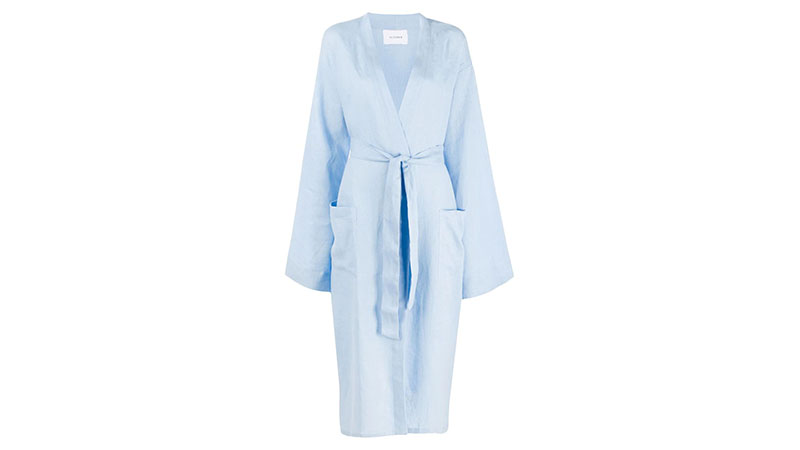 21. Alexander Del Rossa Women's Plush Fleece Robe with Hood
You'll be extra toasty and warm wearing this hooded robe from Alexander Del Rossa. The 350GSM plush coral fleece is perfect for cold winter nights. Tie it tight at the waist, pull the hood up, throw on some bedsocks, and you'll be ready for a quiet evening on the couch. An ankle-length hem also means there's plenty of coverage. Of course, it's also stylish enough for ducking out to the letterbox or answering the door for your latest Amazon delivery. Lastly, there's a range of colors, depending on the energy you want. Select from block colors like black, pink, and teal, or go all out with vibrant rainbow patterns and plaid.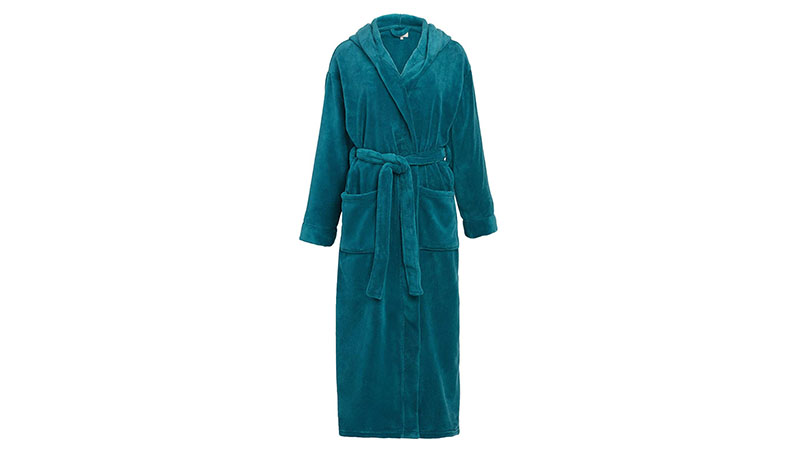 22. Parachute Speckled Waffle Robe
Level up your Parachute Waffle Robe with this speckled style. It's longer than the classic cut and features a shawl collar, generous pockets, and a looped waist tie. The honeycomb weave is even smaller than the original but just as soft and lightweight. It comes in ivory, and grey colorways, both of which have flecks throughout, inspired by the falling leaves of autumn. Finally, the 100% Turkish cotton is also OEKO-TEX® Standard 100 certified.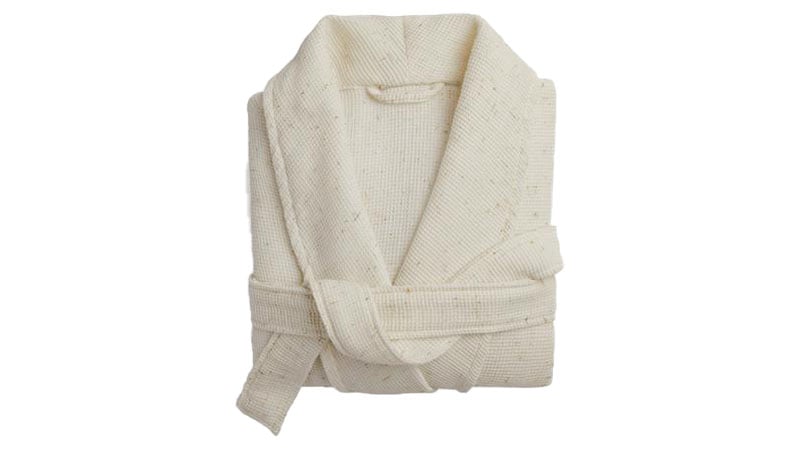 23. Brooklinen Linen Robe
Belgian and French flax come together in this linen robe from Brooklinen. This mix, combine with stonewashing, makes for an irresistible, lightweight, and soft fabric that caresses your skin like a feather. It also makes it ideal for use in every season, keeping you warm when it's cold and cool when it's hot. The kimono collar is effortlessly stylish, and the pockets add extra convenience. You'll be able to throw this on once you jump out of the shower, pool, spa, or even bed to continue your relaxed vibes.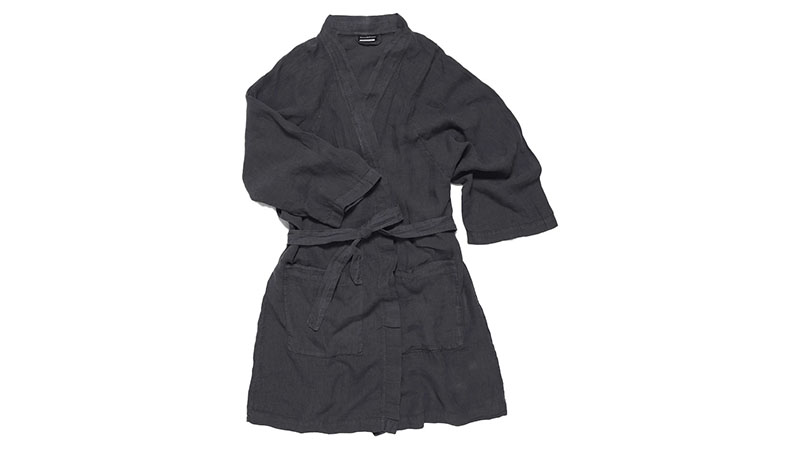 24. Richie House Women's Plush Soft Warm Fleece Bathrobe
Opt for a traditional and cozy look when buying a robe with this design from Richie House. It's ideal for cold climates and snowy winter days. The plush fleece will keep you warm and toasty, insulating you from any drafts or chilly breezes. Additionally, you'll be spoilt for choice when it comes to colors and textures. Choose grey, pink, blue, patterned, or opt for a textured finish for something different. Some options also come with a hood to keep your ears and head warm.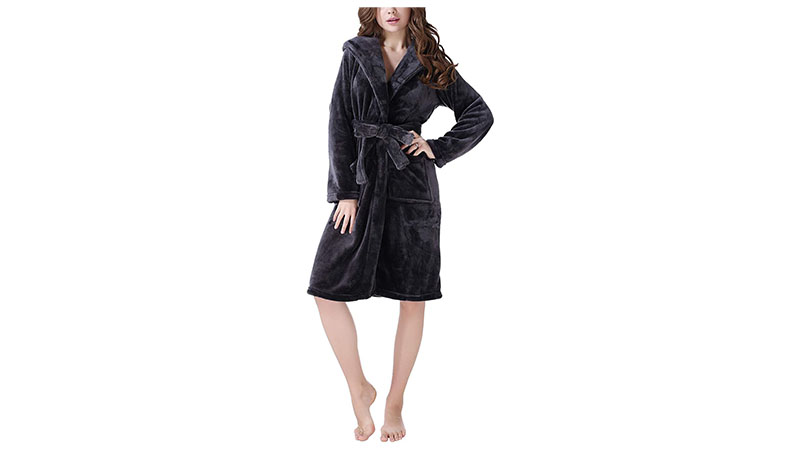 25. Parachute Classic Bathrobe
If you want to feel like a giant stuffed teddy bear is snuggling you, then get yourself this Classic bathrobe from Parachute. It's a relaxed fit, so it's extra comfortable. It's also made from the softest long-staple Turkish cotton terry. The huge pockets will fit your phone and all the snacks you need for a movie marathon (and maybe even a cheeky bottle of wine!). Plus, if you plan on wearing it post-shower, the material is super absorbent, so you'll be dry in no time. It's a timeless choice that's made to match the Classic Slippers perfectly. Different color options beyond white include stone, mineral, and blush.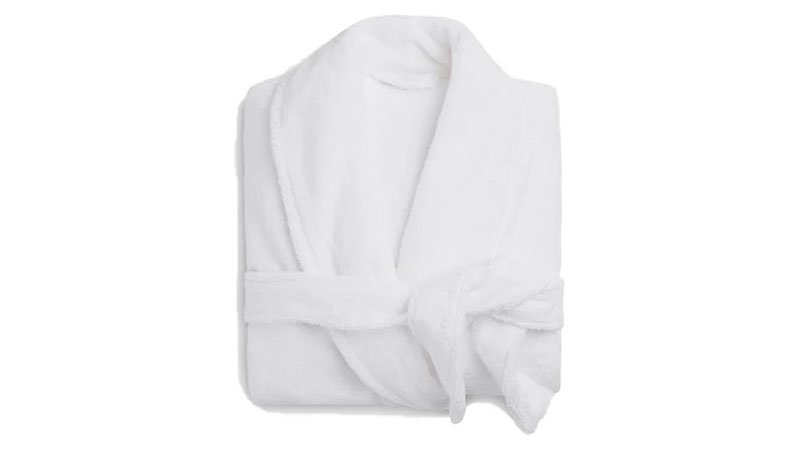 How to Choose the Best Robe
Choosing the best robe for you will come down to a few factors. First off, what are you planning to use it for most? If it's to help dry off after a shower, then something absorbent is ideal. However, if it's more for lounging around, then a lighter-weight style might be a better fit. The next question is, how cold does it get where you live? If you get frigid winters and snow, something snuggly and warm (perhaps with a hood) is a must. However, if you're in the tropics or summer months, a light, breathable fabric such as cotton or linen is ideal. You'll also need to decide if you prefer natural or synthetic materials. Finally, your budget also plays a factor, with prices ranging from as little as $20, up to more than $20,000 in some cases (looking at you, Gucci!).
Robe Styles
Shawl Collar
A robe for women with a shawl collar has extra fabric around the neck the gently turns down. This fold generally extends toward the lapel as well. It's a very stylish detail to have in your garment. Beyond robes, you can also commonly find shawl collars on men's tuxedo jackets.
Hooded
A hood is a great way to add extra warmth to a robe. You'll more likely find hooded designs made from warmer, more snuggly materials like terry cotton, velour, or flannel.
Kimono
A kimono-style robe takes silhouette inspiration from traditional Japanese clothing. They'll generally feature wide sleeves, large sash belts, and shawl or banded collar. It's a very elegant look that can take your lounging aesthetic to another level.
Robe Materials
Cotton Terry
Cotton terry is very common in bathrobes. Along with waffle, it's what you'll most commonly see when you go to fancy hotels or day spas. This material is generally made from long-staple Turkish or Egyptian cotton. This means the actual fibers are longer, making the end fabric smother, stronger, and softer. The key difference between regular cotton and terry is that the latter is woven with protruding loops of thread. This makes it softer and gives a larger surface area, and therefore more absorbency. As such, it's the perfect choice as a post-shower or bathrobe.
Silk
Silk is a natural fabric that comes from the protein fiber that makes silkworm cocoons. As such, it's not vegan. It's one of the most luxurious feeling options for robes. It's incredibly lightweight, soft to the touch, and glides over the skin. Not to mention, it looks very sexy on. If you're wanting an option for lounging around or wearing while you get ready, silk is perfect. It's also ideal for warmer climates. Just keep in mind, though, that it's not very absorbent, so it is less effective after a shower.
Satin
Satin refers to a weave rather than a specific fiber. Consequently, you can have satin that's made from both natural and synthetic components. Satin's main feature is that it has a high shine side that is smooth and slippery, then a matte finish on the back. Silk-satin is a common fabric in robes for women and uses natural silk fibers, in a satin weave, for that shiny look.
Velour
Velour is a knitted fabric that is exceptionally plush. It looks similar to velvet or velveteen; however, the texture is generally softer. It's commonly made with cotton yet, can be done with synthetic fibers as well. It's the ideal choice if you're looking for something warm and snuggly for the long, cold winter nights.
Waffle
Similar to satin, waffle is a weave, not a fiber. Cotton is generally most commonly used to create this effect, but synthetics also work too. This fabric is easily identified by its square-shaped pattern that resembles the breakfast food kind of waffles. Day spas and five-star hotels often have waffle robes for their guests, so it can be a great way to emulate that fancy feeling at home. The increased surface area of the fabric also means it's very absorbent, so it's excellent for post-bath chilling. However, it's also really soft, so if you want to lounge about in one, it's also a brilliant choice.
Flannel
Flannel is a lovely, comforting option for bathrobes and a classic option. You can get both natural and synthetic flannels, and its defining feature is one fuzzy or napped side and a smoother side. This effect occurs from either brushing or a loose spun weave. It's used regularly in men's pajamas and sheet sets; however, it is also an excellent choice for women's robes. The warm nature of the fabric makes it ideal for cooler locations.
Bamboo Fiber
You may not automatically think bamboo when it comes to robes, but it's a great alternative. Like cotton and silk, it's a natural fiber and is made from the starchy pulp of bamboo stems and leaves. It's known for its excellent absorbency and moisture-wicking ability. As such, it's regularly used in sportswear. However, when it comes to robes, it's soft and lightweight, so it's perfect for warmer weather and throwing on post-shower.
FAQs
What is the best women's bathrobe?
Some of the best bathrobes for women include Brooklinen Waffle Robe, Parachute Cloud Cotton Robe, and Parachute Classic Bathrobe. When it comes to dressing gowns, pick a sexier style like the Carine Gilson Belted Chantilly Lace-trimmed Silk-satin Robe or Fleur Du Mal Bunny-embroidery Long Robe.
What is the most comfortable robe?
The most comfortable robe will be soft, loose-fitting, and won't itch or scratch. Natural fibers such as cotton, silk, and bamboo will breathe better than synthetics, so they'll keep you warm without sweating. Extra softness can come from weaves such as waffle, terry, or satin that breaks up the texture of otherwise flat material.
What is the best fabric for a bathrobe?
The best fabric for a bathrobe will be something really absorbent. Natural materials such as cotton and bamboo are the most effective. However, if you can get one of these in a terrycloth or waffle weave, that is even better. The great surface area will absorb even more moisture!
What is the softest material for a robe?
Most fabrics used in robes are very soft. However, if it's your main priority then silk is the best choice for warmer areas, and terry cotton or velour are ideal for a more snuggly and toasty option.
What is the Difference Between a Dressing Gown and a Bathrobe?
Dressing gowns and bathrobes are very similar. The purpose of a bathrobe is to be worn post-shower or bath to help absorb the extra water from your wash. If you're the kind of person who wears their towel around the house, a bathrobe can be a great (and more secure!) option. They're generally very absorbent materials. Conversely, you wear a dressing gown in lieu of real clothes. For example, it's perfect for wearing over your pajamas in the morning before you change, or as a relaxing option when you get home when the work pants come off. It's also great for wearing over your underwear as you put on makeup and do your hair. That way, stray powder or hairspray doesn't get the clothes you're planning on wearing all day.
SUBSCRIBE TO OUR NEWSLETTER
Subscribe to our mailing list and get interesting stuff and updates to your email inbox.