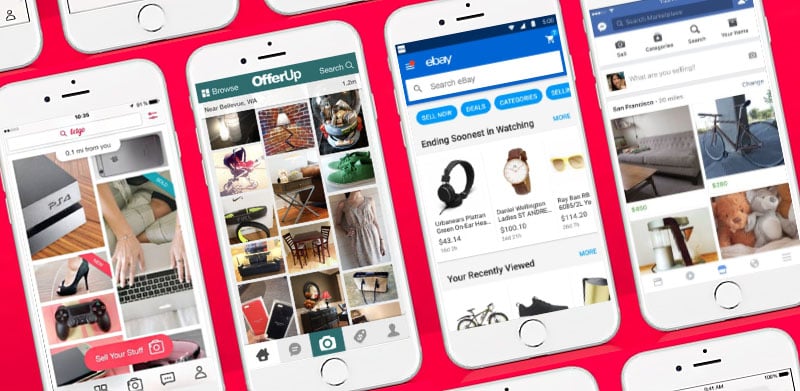 Whether you are after designer gear or want to support small businesses and services in your neighborhood, resale apps are appealing for buyers and sellers. It can be a wonderful way for you to declutter and get rid of things that you no longer want or use. These platforms are user-friendly; it only takes a few seconds to list your items, and most are completely free. Plus, it's a nice hobby and a way to earn some extra cash. Cleaning out your closet may be something you are inspired to do now that you know you can put those items to good use. Keep reading for all the information you need about the top resale clothing apps for decluttering your life.
1. Letgo
Just as the name suggests, LetGo is an online marketplace to help you declutter and let go of the things you no longer need. This includes big items like used cars and furniture to smaller preowned pieces like video games and electronics. With over 200 million listings and millions of individuals who use the platform, it is a great way to earn some money for your second-hand items. Plus, it's an opportunity to clear out your home!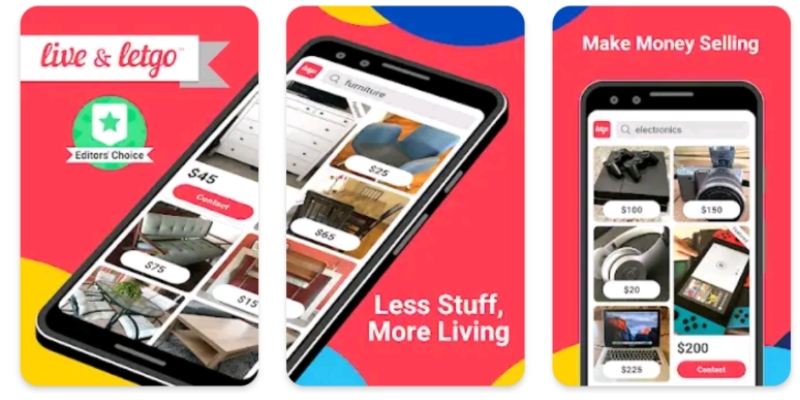 2. OfferUP
If you want to connect with local buyers, OfferUp provides you with a platform to do so. The app is free and has been downloaded more than 50 million times. There is a wide range of products on sale, so you can list everything from home decor to electronics and find a buyer for your goods. It also keeps people accountable by using transaction history and ratings, so you can browse profiles and make sure you're selling to or buying from reputable individuals.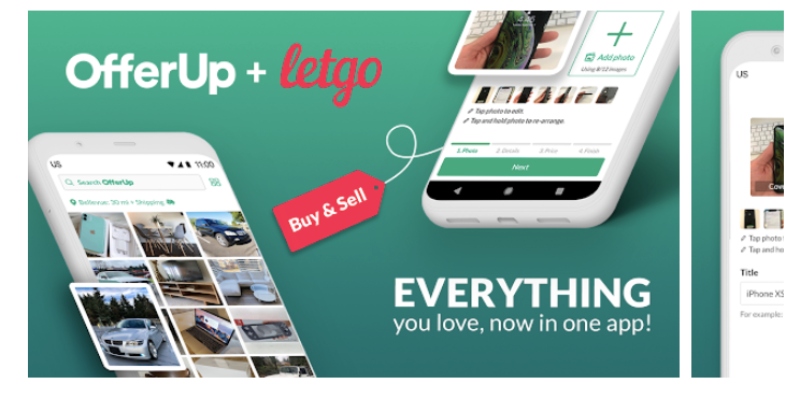 3. eBay
If you have used or unwanted goods, eBay is the place to sell them. The ecommerce site is the perfect place for consumer-to-consumer selling. It gives you several options for doing this; list with a set price or do an auction-style listing that allows people to bid on the item. There are also multiple payment options and the chance to establish a great reputation and become a trusted and highly-rated seller.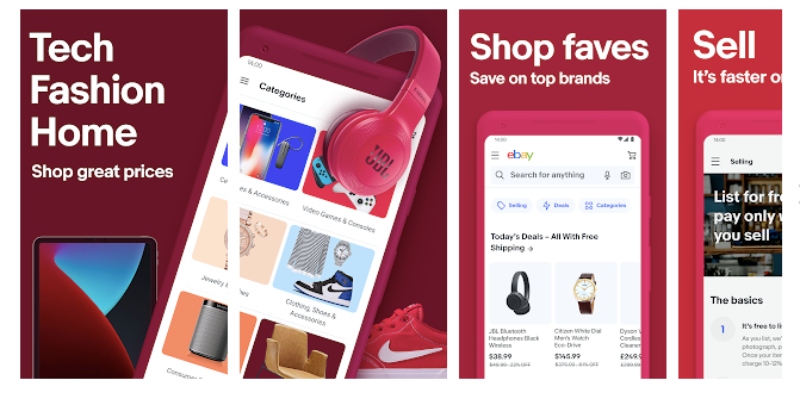 4. Facebook Marketplace
If you want to get rid of an item or have a specific purchase in mind, then Facebook Marketplace could be the solution. It is available through the Facebook app, and you can use your account to list your items or buy goods in your area. The pro of this platform is that you have to have a profile to use it, establishing a sense of buyer security. That said, you should still be careful and diligent about who you buy from or sell your goods to.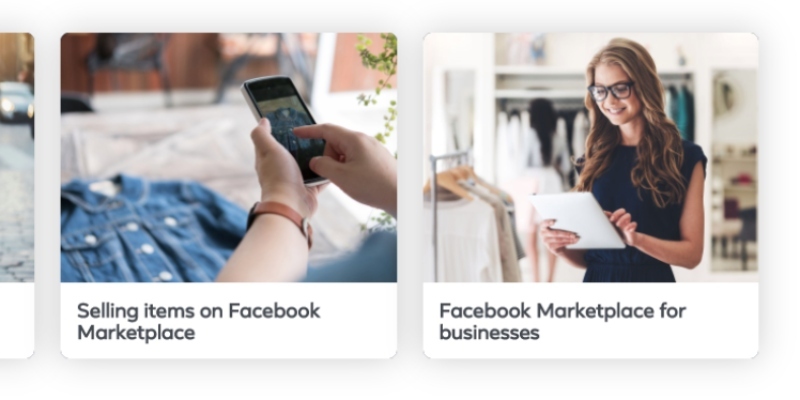 5. Craigslist
Craigslist is an American classified advertisement website that allows buyers to purchase pre-owned goods locally. Since the company was first established in 1995, it has expanded to countries worldwide, with continents including Europe, Africa, Oceania/Australia, and Asia. Here you will find just about everything, so it is a fantastic opportunity to declutter your home and make some extra cash. There are also filters you can use to make the process of finding what you're looking for much easier. In addition to the goods you can buy or sell, there is also the option of finding jobs, local businesses and services, gigs, and even a discussion forum platform. The downside with Craigslist is that there is a lot of spam, and you need to be exceptionally diligent about who you are buying from or selling to.

Apple Store
Google Play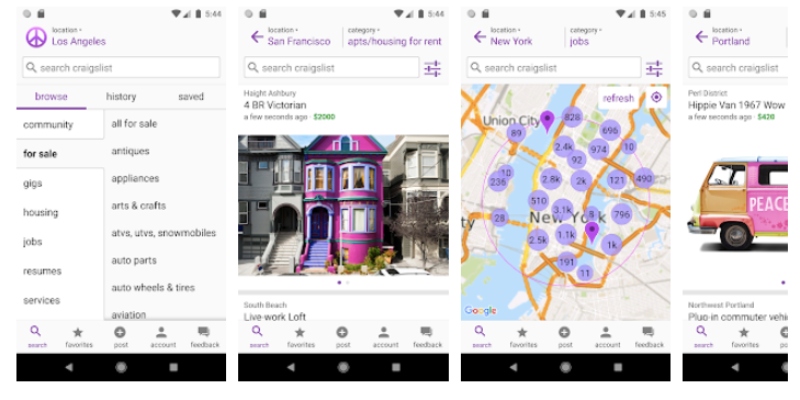 6. Gumtree
Gumtree is a British online classified and community website that was founded in 2000. In the last two decades, the company has grown significantly and expanded with sites dedicated to various countries worldwide. It is used by over 14 million people each month and has become a great place to buy and sell just about anything locally, whether that is a used car or pre-owned furniture. You can create a free ad to sell your unwanted goods and include photos and descriptions. Potential buyers are then able to contact you through an in-app message, which helps protect your personal details. There is also the opportunity to make an advertisement for jobs or services, which could be a way to support local businesses and those in your community.

Apple Store
Google Play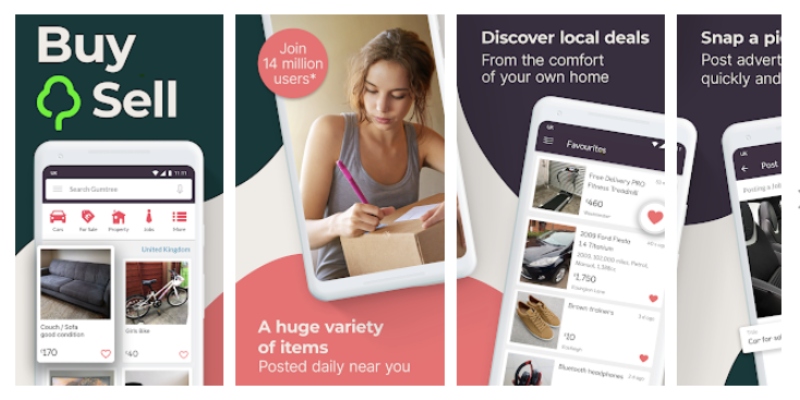 7. Instagram
You may think of Instagram primarily as a photo-sharing platform, but it is so much more. It is a fantastic place to buy and sell clothing. The Instagram Checkout option was launched in 2019 and has become a way for sellers to sell their products. It is also a really convenient way to sell because although you can create an account dedicated to selling your merchandise, you can also use your personal account or stories to do so. If you're searching for something cool or want to feel inspired by how to sell, consider browsing hashtags like #previouslyowned, #secondhand, and #secondhandfashion, which will give you millions of results.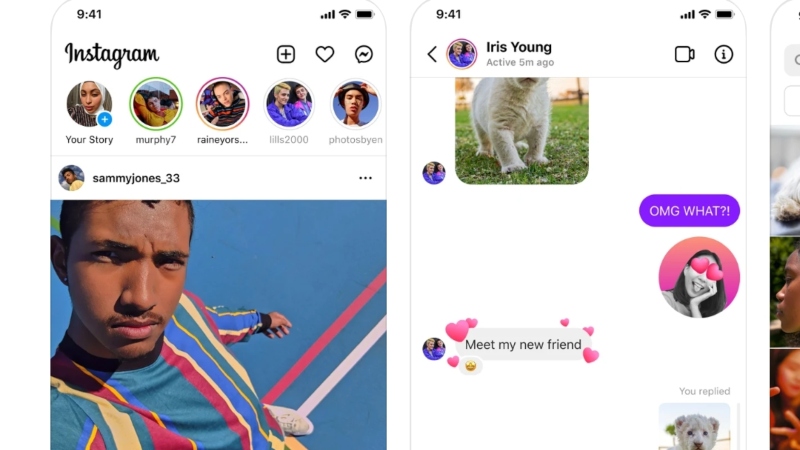 8. Nextdoor
A few decades ago, it was common for neighbors to pop across to each other's houses and ask to borrow their items, or perhaps they needed a cup of sugar or flour. Nextdoor is the modern approach to this idea because you can communicate with the people in your neighborhood and receive recommendations on goods and services. It is also a chance to support local businesses and services and purchase from sellers just around the corner from you. Not only is this super convenient, but it is also a great way to make connections and bring people together.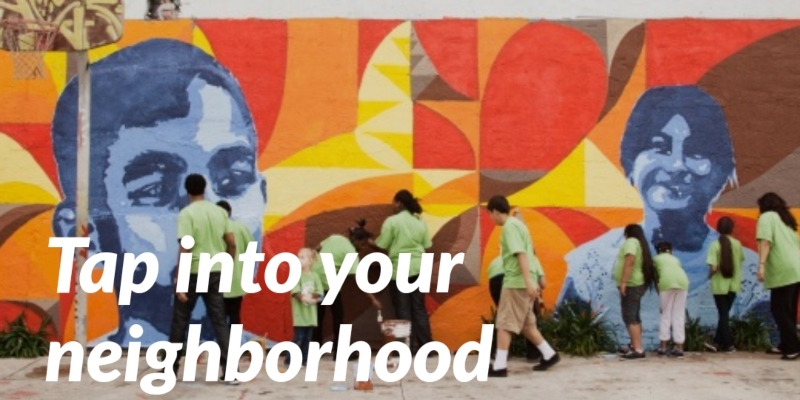 9. Poshmark
Love fashion? Well, then there's a good chance you will love Poshmark. The app provides an online marketplace for those wanting to buy and sell garments. The platform is free to use and has been downloaded over 10 million times. There are thousands of brands available, multiple sizes and styles, and something to appeal to every budget. You can also shop by category and brand, which makes the process so much easier. So, next time you're spring cleaning, you should keep this app in mind.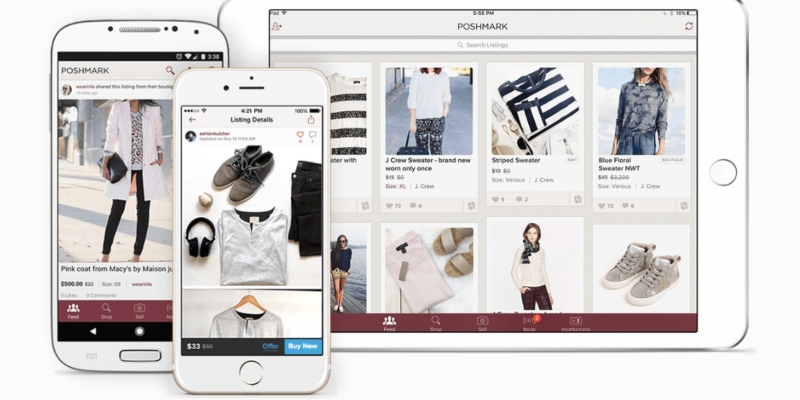 10. Tradesy
If you are a fan of designer brands, then Tradesy is a great place to pick up some luxury labels at discounted prices. Fashion lovers use the app, and those wanting to purchase can opt-in to get notifications for new arrivals or information on sales or sold items. It is an easy process for sellers to use. Photograph the item you want to list, and upload it. You will then be able to add, edit, and receive messages from buyers.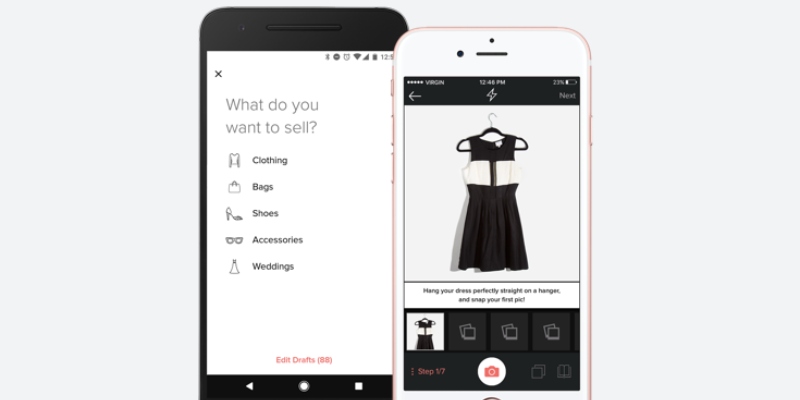 11. Depop
The U. K. based company, Depop, is such a popular marketplace that it even has a meme account dedicated to the hilarious transactions between buyers and sellers. If you are unfamiliar with this app, though, then you will be interested to learn that it's a fantastic place to buy or sell just about anything, but specifically clothes and accessories. As a buyer, it's an opportunity for you to find cool items, sometimes at discounted prices, and for a seller, it is a great way to get rid of stuff you no longer want, need, or use. Plus, it gives you the chance to make some money on the side. There is no listing or subscription fee, but Depop does charge sellers a 10 percent flat rate for each item they sell.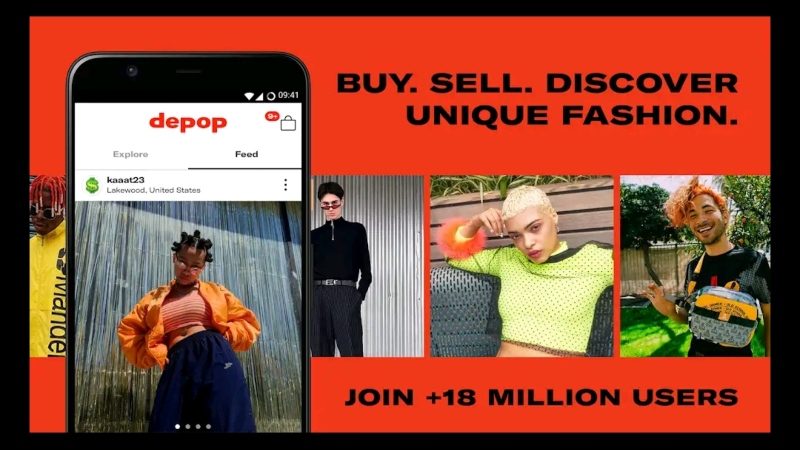 12. ThredUp
Yet another go-to place for those wanting to sell their used clothes is ThredUp. It is an online consignment and thrift shop filled with wonderful used garments and sought-after brands. Buying second-hand clothes is also a greener option. For the seller, it is one of the easiest ways to get rid of the stuff you no longer use or want. You can send the company your clothes to sell or request that a donation be made with the profits. They have high standards and only accept around 40 percent of the average kit, but if you want to declutter and make space for some new gear, this platform should definitely be something to consider.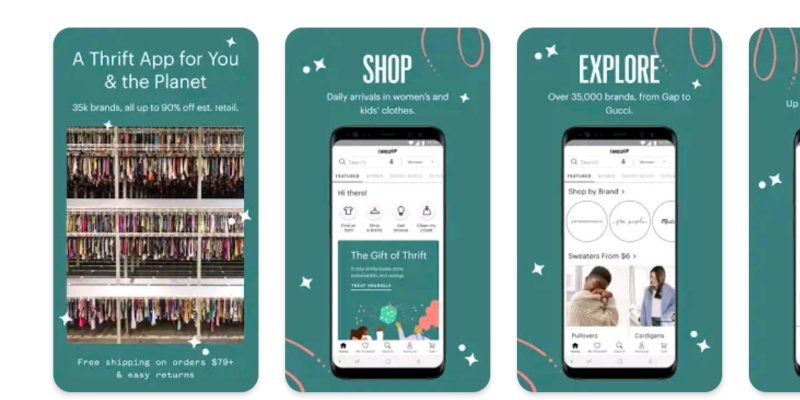 13. Mercari
Mercari is a Japanese app and will become your go-to place to buy or sell loads of different items. Various goods are on offer, so, if you want to get rid of used clothes, or even electronics, this is the marketplace to use. There is also an offer to list your first item and get $5, and if that's not an incentive to start your decluttering process, we don't know what is! There is a downside to the many pros; As with all purchases made from private sellers or buyers, you need to be diligent to avoid scammers. Often, if a deal seems too good to be true, it is.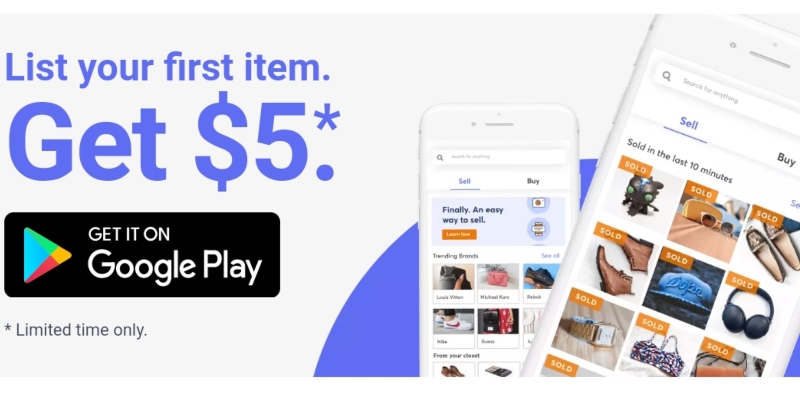 14. Vinted
Vinted is an online marketplace that brings lovers of pre-owned fashion together. The app is simple and user-friendly and has over 34 million users, ensuring that you have a wide range of styles and brands to choose from. This is also great from a seller's perspective because you're more likely to find a buyer for your items and earn some extra cash. List your garments for free, and when it is sold, you have 5 days to ensure it is shipped. Vinted won't take anything when you receive payment because it prides itself on having zero selling fees.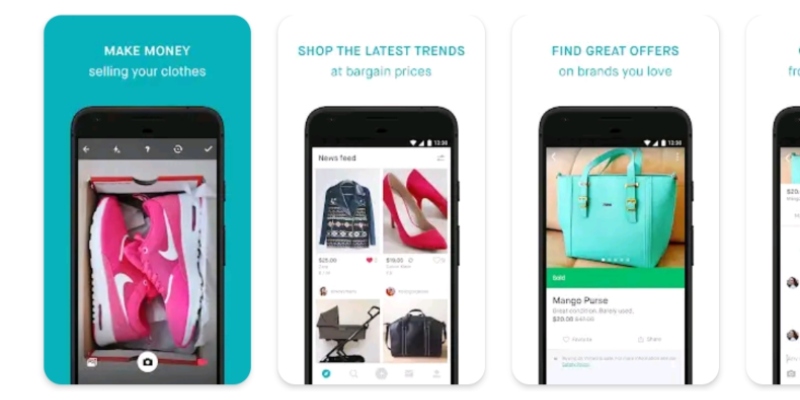 15. Decluttr
Do you have CDs or books lying around? Maybe some old DVDs or video games? Well, you've heard of the saying 'one man's trash is another man's treasure,' and this idea applies quite literally with Decluttr. The app is easy to use and free, making it a popular option for both buyers and sellers. Next time you are cleaning the house, gather up the items you think would sell quickly and give this online platform a try.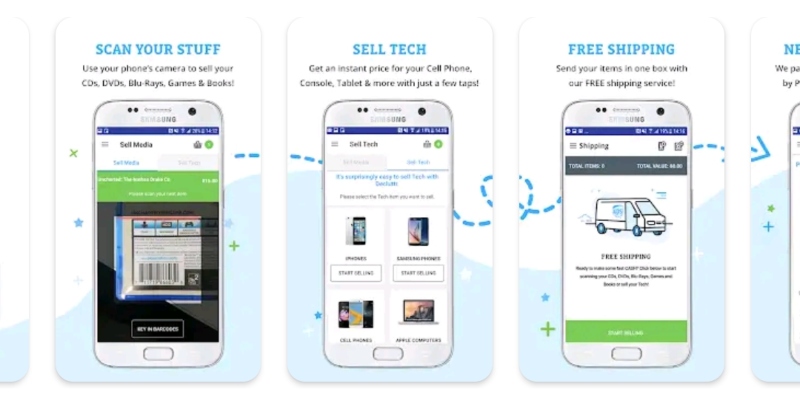 16. 5Miles
Buying and selling locally is made simple thanks to apps like 5Miles. This platform's concept is for individuals to browse classifieds from their areas using their phone's GPS location. It helps you find a wide range of new or used goods or services in your area and prides itself on being free and safe. It also has an auction feature, allowing you to bid for items. The best part is you can do all of this while lying on your sofa with your phone in your hand.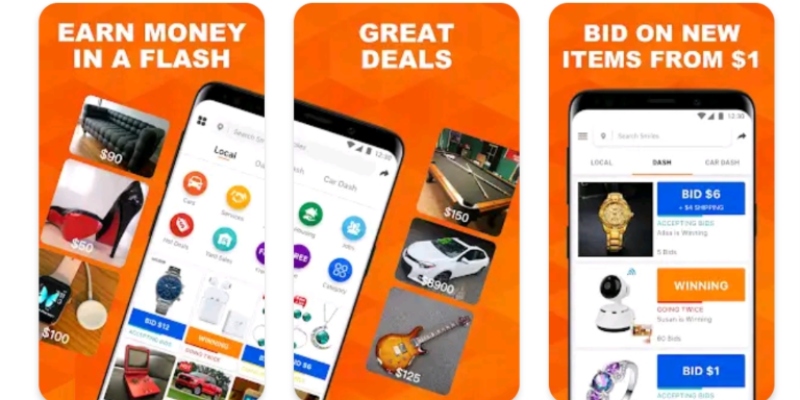 17. TheRealReal
TheRealReal is a great app to sell your luxury goods, and we all know that designer gear still retains its value. It is also one of the most reputable consignment stores for authentic merchandise because experts evaluate and undergo a multi-point process. This makes it more trustworthy for buyers and ensures that sellers adhere to certain policies and have standards. Browse top brands, including Chanel, Cartier, and Louis Vuitton. You have to pay a commission fee, but you will probably find that it's worth it. If your items don't sell after a year, you can opt to get them back or donate them to charity.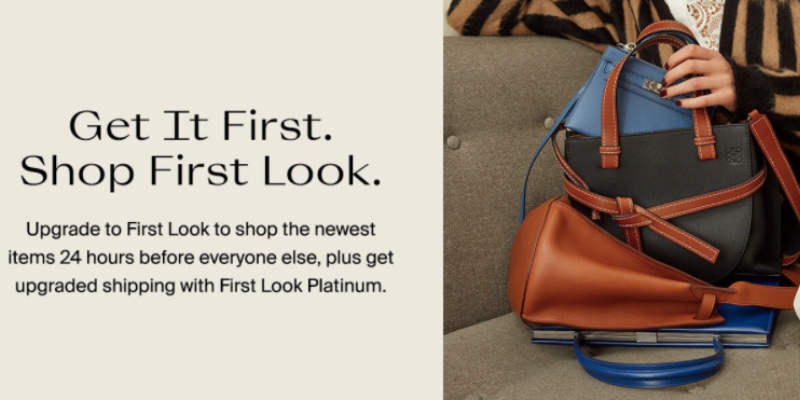 18. Vestiaire Collective
If you want a platform where you can sell your luxury pre-loved items, then Vestiaire Collective is the app you need to know about. Here you will find a wide range of high-quality brands to choose from, including Celine, Gucci, and Louis Vuitton. There are also vintage garments and accessories, as well as other unique second-hand finds. The site has high standards, and you are required to send in a photo of the items you wish to sell, along with a description. If approved by their team of experts, you can begin selling. You should know, though, that there is a payable commission.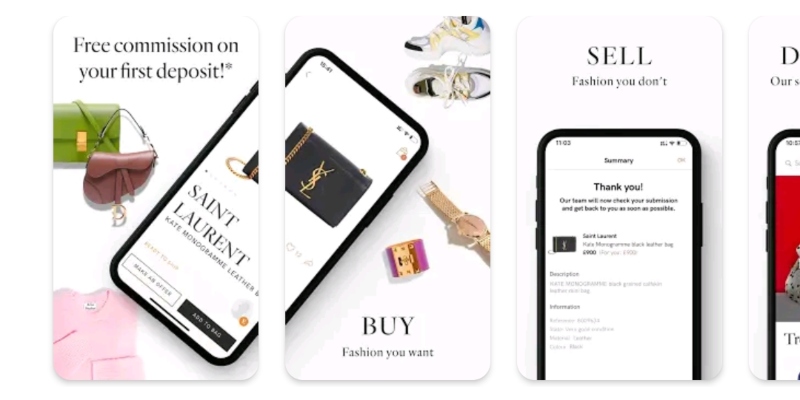 19. Worthy
If you have jewelry and watches you would like to sell, Worthy is one way to do it. You can choose to ship the items you want to get rid of, and a team of gemologists will inspect them for authentication. The company will also clean the piece and photograph it in HD. Then it goes up for auction, and they will help you set up the right reserve price based on the item's value. When it finds a new home, you get paid. Worthy will do most of the work and then charge a commission, which is a percentage of the price the item sold for.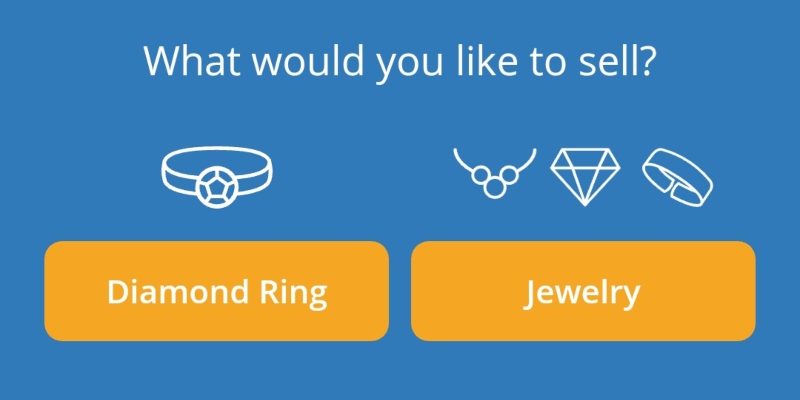 20. ShopWellSuited
ShopWellSuited is a consignment store dedicated to men's fashion. There is both an online site and physical stores in California and Arizona. You can find sought-after brands like Prada and Missoni for discounted prices. It is also a platform for stylish gentlemen to sell their pre-owned items, including designer clothing, luggage and briefcases, and shoes. They are looking for items that retailed for at least $75 and are no more than 5 years old and in a like-new condition. There are also the stores My Sisters Closet for clothing for women and My Sister's Attic for luxury home consignment.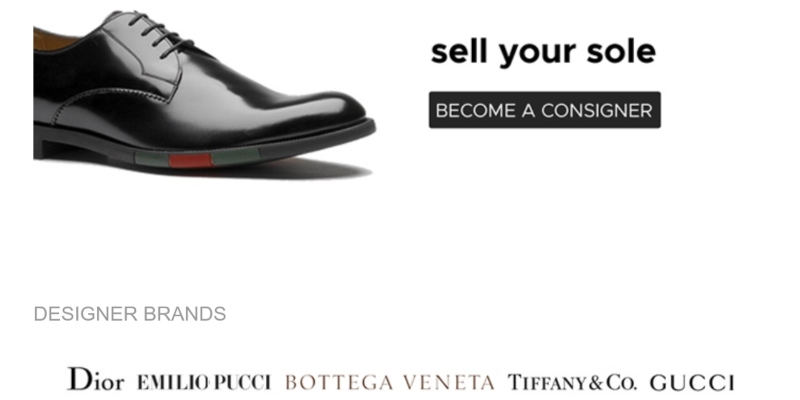 FAQs
What is the best app for selling things?
There are several great apps for selling things, depending on what products you want to sell. A few of the most well-known and trusted include eBay, Facebook Marketplace, and OfferUp. Nextdoor is also fantastic for local sales, and apps like Poshmark and Vinted are good options for selling and buying high-quality clothes and accessories.
Which resale site is best?
It is hard to name just one resale site as the best because there are many factors to consider. For selling designer preowned clothing, TheRealReal, Vestiaire Collective, Tradesy, and ThredUp are all great. If you want to buy locally, then apps like Nextdoor and 5Mile will help connect you with sellers and services in your area. The next time you are cleaning your home and want to declutter, you can use platforms like eBay, Facebook Marketplace, and LetGo, all of which are a good way to earn some extra money for your second-hand items.
Is LetGo better than Craigslist?
When comparing LetGo and Craigslist, there are certain things you want to consider. For starters, are the platforms safe to use? Is there a lot of spam? Are the sites user-friendly? These are all things you should ask yourself before purchasing or selling anything, and most people would agree that LetGo does a better job in all of the aforementioned categories.
What's better, OfferUp or LetGo?
OfferUp and LetGo are two resale apps that are very similar. They both can be used on your mobile phone, both offer a marketplace to help you declutter and let go of the things you no longer need, and there is a wide range of items that be sold so that you can list everything from home decor to electronics. In terms of popularity, LetGo and OfferUp both have over 50 million downloads. That said, LetGo is considered by some to be a safer option.
SUBSCRIBE TO OUR NEWSLETTER
Subscribe to our mailing list and get interesting stuff and updates to your email inbox.