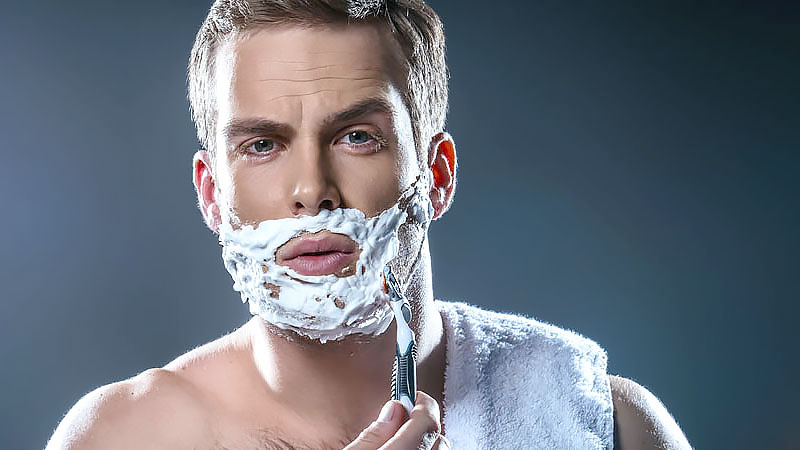 It's time gents to unplug your electric shaver and master the ritual of lathering up. Since the invention of the safety razor over a hundred years ago, shaving supplies have diversified. There are many ways today to maintain a modern, masculine look. Our guide to the best razors on the market offers the trusted traditional alongside the latest innovations in shaving technology. If you're after a revitalizing, slick shave, read on and take your pick!
RELATED: 10 Best Electric Shavers for Men
1. MERKUR Futur Adjustable Double Edge Safety Razor
Combining brains and beauty in a finely crafted exterior, the MERKUR Futur is a perfect razor for the discerning gent. It offers a high-quality shaving experience that can be fine-tuned to suit your needs. Featuring six levels of adjustment, plus a dial to control the blade gap, it's a cinch to define the closeness of your shave. The long handle also allows a good grip for larger male hands or for those who prefer their shaving equipment with latitude.
2. VIKINGS BLADE The Chieftain Double Edge Safety Razor
For the gents who tend towards sensitive skin, this VIKINGS BLADE razor is a must for his grooming kit. The premium chrome finish undoubtedly gives this razor a smart look and a superb, heavy-duty feel. Especially popular with men seeking a mild, comfortable shave, this well-loved wet razor is a great all-round performer no matter what your experience level. Perfect for gifting and occasions, The product also comes with a handy leatherette travel case and five complimentary platinum blades.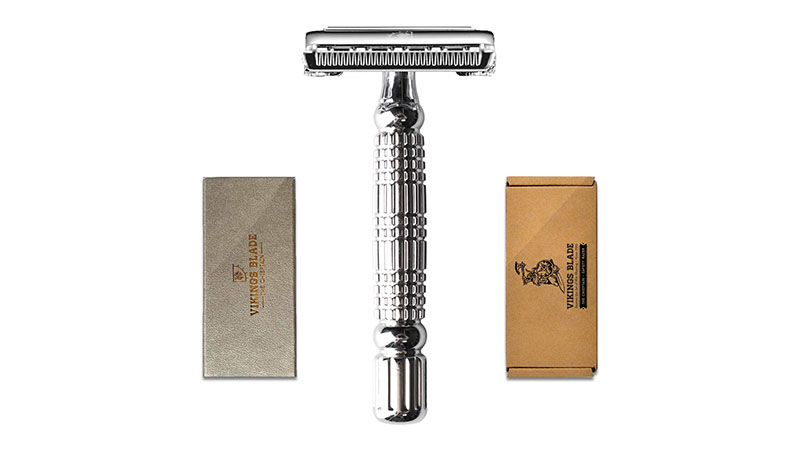 3. Baxter of California Three Blade Cartridge Razor
Baxter of California has succeeded in creating a covetable object in their Three Blade Cartridge Razor. Defined by a lightweight handle and made of high-grade resin, this gorgeous instrument promises premium without the pretension. Whether you're after a full shave or just a quick general touch-up, it's completely designed with the everyday shaver in mind. Multiple protective features are also built in to prevent common shaving problems. The skin-guarded blades will hinge and follow your facial contours to avoid cuts and irritation. Plus a gel strip provides a protective cushion, for less friction and more comfort overall.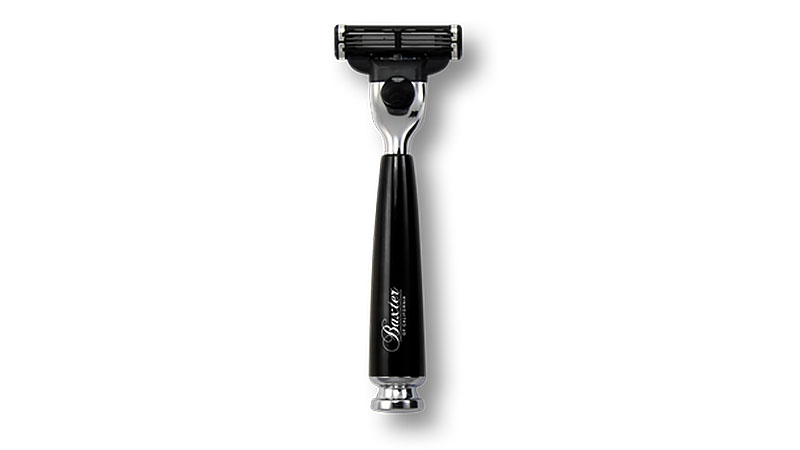 4. MERKUR Black Handled Double Edge Safety Razor
The first thing you'll notice about the MERKUR Black Handled DE Safety Razor is its sleek appearance. This one is a versatile beauty! An excellent choice for both beginners as well as wet shave aficionados seeking a lightweight razor. Pick up this model by MERKUR and you'll notice how well designed it is. Enjoy the pleasing balance between its weightier head and the stunning black textured handle. The non-slip grip of the signature handle comes in two lengths, according to your preference. This two-piece razor features a classic MERKUR closed-comb head, compatible with all standard double-edge blades. The Black Handled DE Safety Razor delivers the closest shave without multi-blade skin irritation.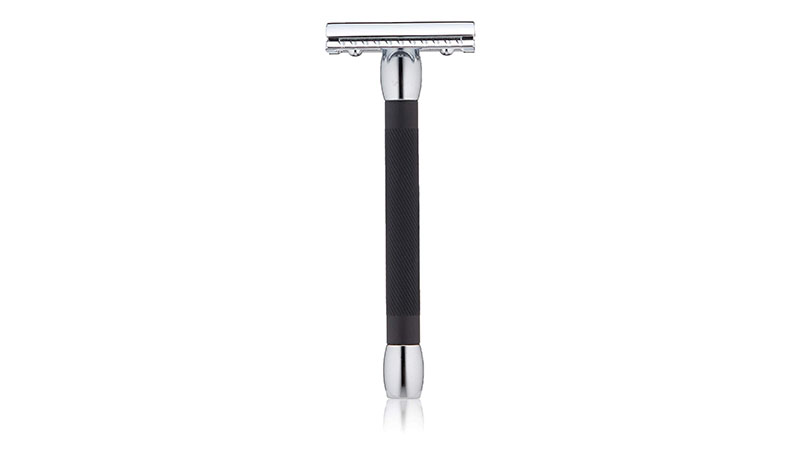 5. Gillette Mach3 Turbo Men's Razor
An outstanding and time-proven option is the extremely popular Gillette Mach3 Turbo Razor. This classic cartridge system first arrived in the late 90s and still consists of three individually angled blades delivering great coverage. Engineered in a material that's stronger-than-steel, it stays sharper for longer. To be precise, we're talking a comfortable 15 shaves per cartridge here. The unique Mach3 Turbo design is renowned for requiring fewer strokes to achieve the closest, most rapid shave possible. You'll also love the long-lasting lubrication strip that provides incredible glide, minus the irritation. Another built-in feature is its Microfin guard that stretches the skin before precision cutting. The three blades also clog up less than five, making this razor so much easier to clean. An affordable and reliable choice, if you haven't tried the classic Gillette Mach3 Turbo Razor, we suggest that you do.
6. Weishi Nostalgic Long Handle Butterfly Open Double Edge Safety Razor
There's no doubt that it does take some time and practice to get the hang of a safety razor. If you're starting down the path of wet shaving and would like to gain more experience, the Weishi Nostalgic DE Safety Razor may be the perfect place to start. A butterfly head makes it a snap to change blades. But while fast, it's not too furious on a light beard; great for beginners and for gents preferring a mild shave. The long handle is suitable for a range of hand sizes and grips. What it lacks in robustness it makes up for in lightweight style and fuss-free performance.
7. VIKINGS BLADE The Emperor Adjustable Safety Razor
When first impressions matter, look no further than this fine contender. VIKINGS BLADE has created a shave for champions with The Emperor Augustus Adjustable Safety Razor. This heavyweight, the hefty-handled razor is a substantial option that's pleasingly solid to hold. Beyond its rugged good looks, The Emperor is undeniably top-notch equipment. The outstanding design allows you to vary the level of aggression with ease. Featuring multiple micro-settings at your fingertips, it also offers dual-head versatility. On one side, the scalloped comb is ideal for aggressive shaves; while the other side sports a smooth bar that's perfect for sensitive skin. The Emperor has a unique Anti-Misalignment Mechanism which traps the doors if you happen to botch-up when loading the blade. This sophisticated feature puts your safety first, plus prevents uneven cuts.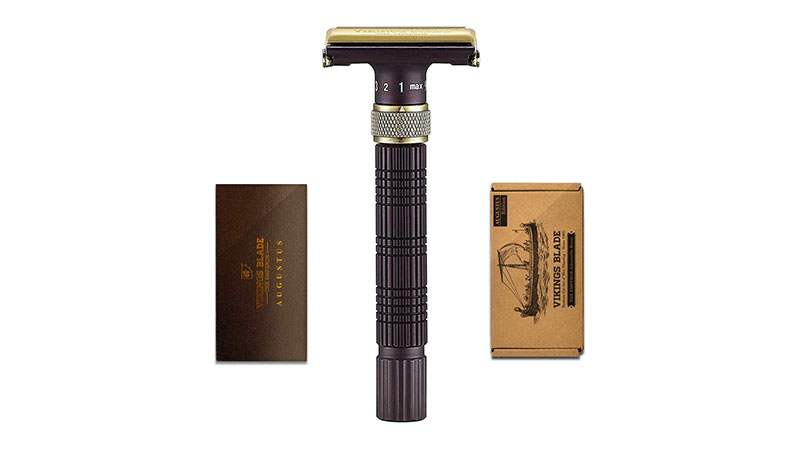 8. Schick Hydro 5 Disposable Razor for Men
The Schick Hydro 5 Disposable Razor has a host of benefits beyond expedience and value for money. Its five Ultra Glide blades with bar guards are designed to reduce friction significantly. Plus they stretch the skin for a closer, smoother shave. Being super-hydrating, you'll also never have to worry about irritation. With tons of moisture to spare in a reservoir of seven gel pools, this is a razor that promises to hydrate throughout each shave. In fact, it supplies double the moisture of the lubrication strip on your regular razor. Additionally, the Schick Hydro 5 is the only disposable with a flip-back trimmer for tricky areas. Its ergonomic design also allows for better grip and control. So if you're a guy that's always on the go, Schick's Hydro is the prime disposable razor you'll want to check out.
9. MUHLE R41 Safety Razor Open Comb
If you think that you've mastered the art of shaving, then the Muhle R41 Safety Razor may be the ideal weapon for you. A high-quality razor in the traditional style, this one best suits the seasoned pro and is not for the beginner. To say that the Muhle R41 provides a close shave is an understatement. With its classic tooth-comb style, this extremely aggressive shaver cuts through the thickest of beards in very few passes. The shaving enthusiast will be smitten with this elegantly designed three-piece razor. Others may find its jutting blade a little more intimidating. No guard rails, no protective strips – this is a tool best handled by the confident shaver. Not for those with faint hearts or sensitive skin. Muhle's consummately crafted razor will leave you with a soft, silky finish and a sharp, clean look.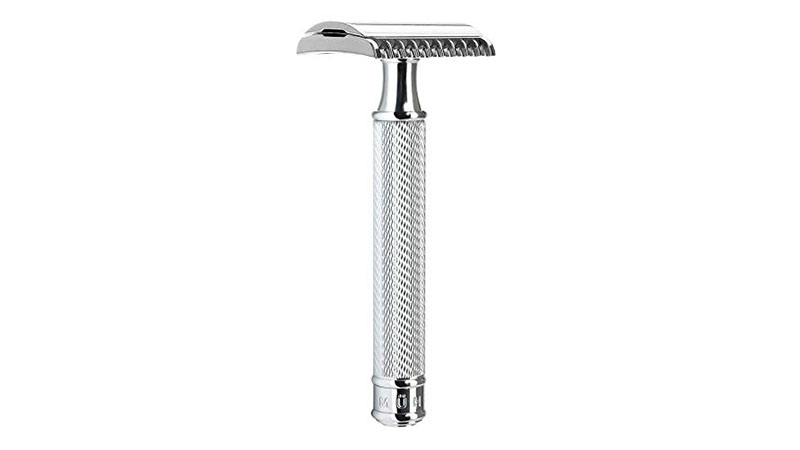 10. Made For YOU by BIC Shaving Razor
The Made for YOU by BIC Shaving Razor is a perfect fit for any travel kit. It also performs sensitively in hard-to-reach places. In regards to features, you can forget the basic BIC. Made for YOU charters new territory in the evolution of this disposable classic. A comfortable ergonomic handle offers a non-slip, textured grip. The pivoting head adapts to the contours of your skin. While a lubed strip of aloe and vitamin E glides along smoothly for a fresh, long-lasting finish.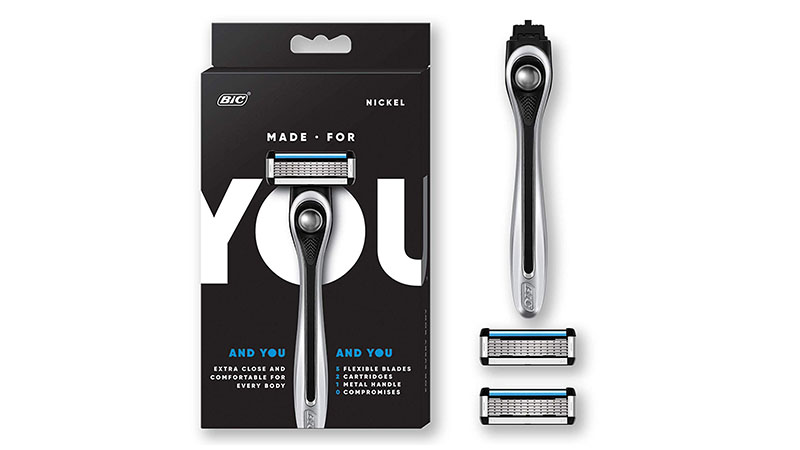 FAQs
What is the best razor for men?
The best razors for men are the MERKUR Futur Adjustable Double Edge Safety Razor, VIKINGS BLADE The Chieftain Double Edge Safety Razor, and Baxter of California Three Blade Cartridge Razor.
What is the best razor for the closest shave?
Some of the best razors for a really close shave are the MERKUR Black Handled Double Edge Safety Razor, Gillette Mach3 Turbo Men's Razor, Schick Hydro 5 Disposable Razor, and MUHLE R41 Safety Razor Open Comb.
What razor is best for beginners?
If you're new to shaving, try the Weishi Nostalgic Long Handle Butterfly Open Double Edge Safety Razor, or MERKUR Black Handled Double Edge Safety Razor.
Is one blade razor better?
A single-blade razor is better for sensitive skin, as it's cuts flush with the skin and reduces the amount of friction. This means you'll get less irritation, ingrown hairs, or rashes. However, multi-blade razors can cut closer because the first blade pulls the hair out a little bit, allowing the second blade to cut it even shorter, which is why you're more likely to get ingrown hairs.
SUBSCRIBE TO OUR NEWSLETTER
Subscribe to our mailing list and get interesting stuff and updates to your email inbox.