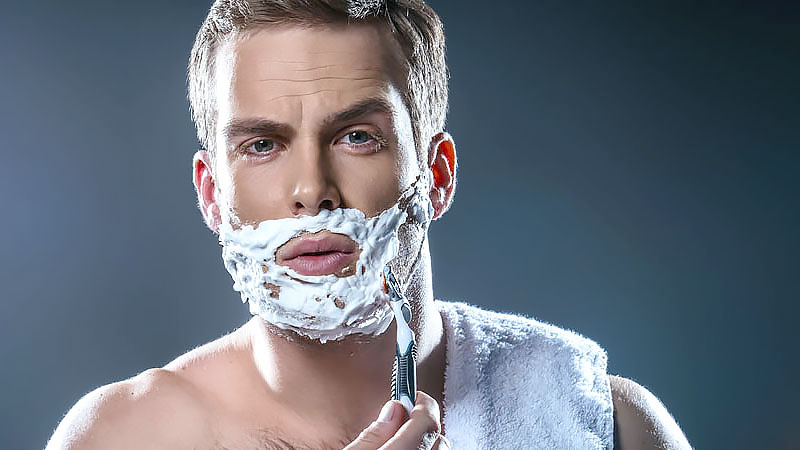 It's time gents to unplug your electric shaver and master the ritual of lathering up. Since the invention of the safety razor over a hundred years ago, shaving supplies have diversified. There are many ways today to maintain a modern, masculine look. Our guide to the best razors on the market offers the trusted traditional alongside the latest innovations in shaving technology. If you're after a revitalizing, slick shave, read on and take your pick!
RELATED: 10 Best Electric Shavers for Men
Best Razors for Men
1. MERKUR Futur Adjustable Double Edge Safety Razor
Combining brains and beauty in a finely crafted exterior, the MERKUR Futur is a perfect razor for the discerning gent. It offers a high-quality shaving experience that can be fine-tuned to suit your needs. Featuring six levels of adjustment, plus a dial to control the blade gap, it's a cinch to define the closeness of your shave. The long handle also allows a good grip for larger male hands or for those who prefer their shaving equipment with latitude.
2. VIKINGS BLADE The Chieftain Double Edge Safety Razor
For the gents who tend towards sensitive skin, this VIKINGS BLADE razor is a must for his grooming kit. The premium chrome finish undoubtedly gives this razor a smart look and a superb, heavy-duty feel. Especially popular with men seeking a mild, comfortable shave, this well-loved wet razor is a great all-round performer no matter what your experience level. Perfect for gifting and occasions, The product also comes with a handy leatherette travel case and five complimentary platinum blades.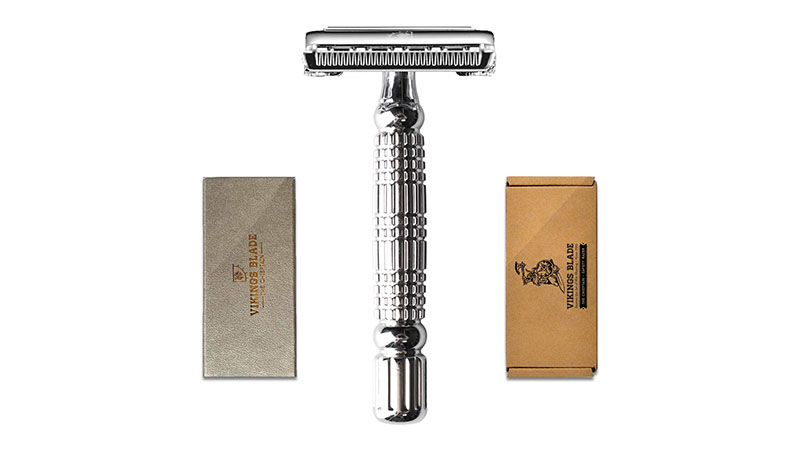 3. Baxter of California Three Blade Cartridge Razor
Baxter of California has succeeded in creating a covetable object in their Three Blade Cartridge Razor. Defined by a lightweight handle and made of high-grade resin, this gorgeous instrument promises premium without the pretension. Whether you're after a full shave or just a quick general touch-up, it's completely designed with the everyday shaver in mind. Multiple protective features are also built in to prevent common shaving problems. The skin-guarded blades will hinge and follow your facial contours to avoid cuts and irritation. Plus a gel strip provides a protective cushion, for less friction and more comfort overall.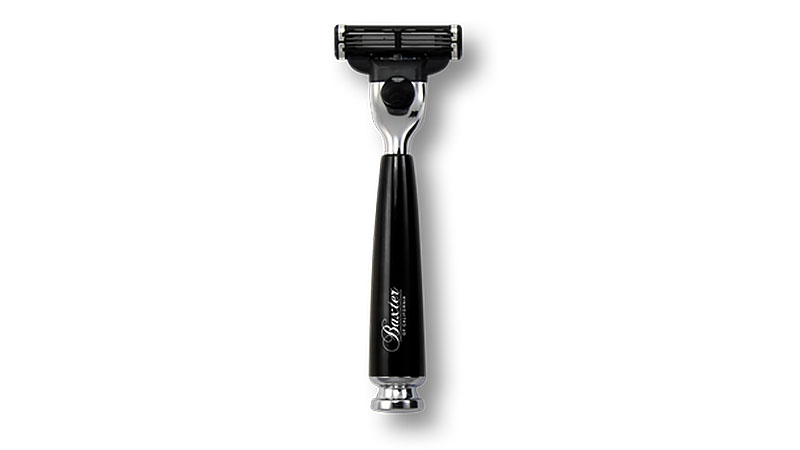 4. MERKUR Black Handled Double Edge Safety Razor
The first thing you'll notice about the MERKUR Black Handled DE Safety Razor is its sleek appearance. This one is a versatile beauty! An excellent choice for both beginners as well as wet shave aficionados seeking a lightweight razor. Pick up this model by MERKUR and you'll notice how well designed it is. Enjoy the pleasing balance between its weightier head and the stunning black textured handle. The non-slip grip of the signature handle comes in two lengths, according to your preference. This two-piece razor features a classic MERKUR closed-comb head, compatible with all standard double-edge blades. The Black Handled DE Safety Razor delivers the closest shave without multi-blade skin irritation.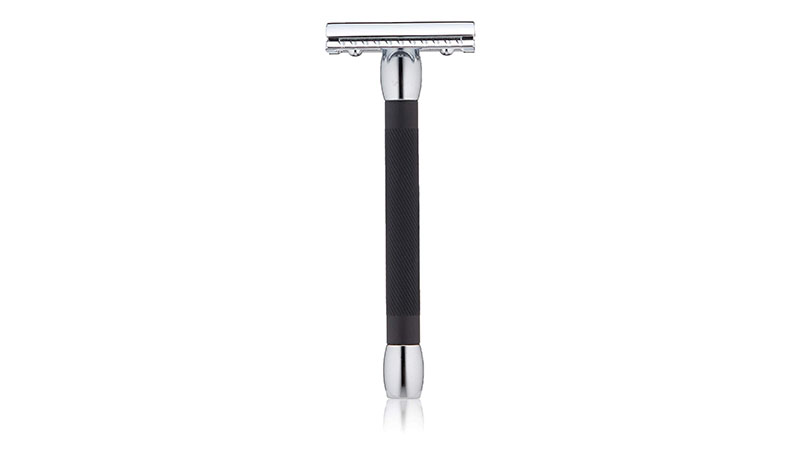 5. Gillette Mach3 Turbo Men's Razor
An outstanding and time-proven option is the extremely popular Gillette Mach3 Turbo Razor. This classic cartridge system first arrived in the late 90s and still consists of three individually angled blades delivering great coverage. Engineered in a material that's stronger-than-steel, it stays sharper for longer. To be precise, we're talking a comfortable 15 shaves per cartridge here. The unique Mach3 Turbo design is renowned for requiring fewer strokes to achieve the closest, most rapid shave possible. You'll also love the long-lasting lubrication strip that provides incredible glide, minus the irritation. Another built-in feature is its Microfin guard that stretches the skin before precision cutting. The three blades also clog up less than five, making this razor so much easier to clean. An affordable and reliable choice, if you haven't tried the classic Gillette Mach3 Turbo Razor, we suggest that you do.
6. Weishi Nostalgic Long Handle Butterfly Open Double Edge Safety Razor
There's no doubt that it does take some time and practice to get the hang of a safety razor. If you're starting down the path of wet shaving and would like to gain more experience, the Weishi Nostalgic DE Safety Razor may be the perfect place to start. A butterfly head makes it a snap to change blades. But while fast, it's not too furious on a light beard; great for beginners and for gents preferring a mild shave. The long handle is suitable for a range of hand sizes and grips. What it lacks in robustness it makes up for in lightweight style and fuss-free performance.
7. VIKINGS BLADE The Emperor Adjustable Safety Razor
When first impressions matter, look no further than this fine contender. VIKINGS BLADE has created a shave for champions with The Emperor Augustus Adjustable Safety Razor. This heavyweight, the hefty-handled razor is a substantial option that's pleasingly solid to hold. Beyond its rugged good looks, The Emperor is undeniably top-notch equipment. The outstanding design allows you to vary the level of aggression with ease. Featuring multiple micro-settings at your fingertips, it also offers dual-head versatility. On one side, the scalloped comb is ideal for aggressive shaves; while the other side sports a smooth bar that's perfect for sensitive skin. The Emperor has a unique Anti-Misalignment Mechanism which traps the doors if you happen to botch-up when loading the blade. This sophisticated feature puts your safety first, plus prevents uneven cuts.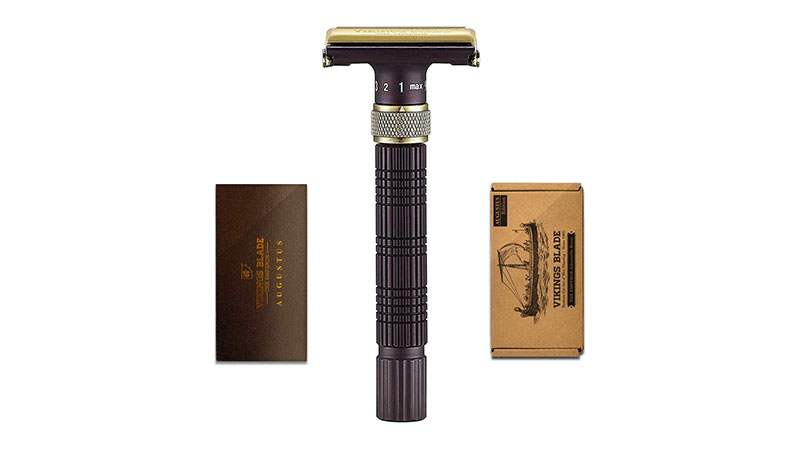 8. Schick Hydro 5 Disposable Razor for Men
The Schick Hydro 5 Disposable Razor has a host of benefits beyond expedience and value for money. Its five Ultra Glide blades with bar guards are designed to reduce friction significantly. Plus they stretch the skin for a closer, smoother shave. Being super-hydrating, you'll also never have to worry about irritation. With tons of moisture to spare in a reservoir of seven gel pools, this is a razor that promises to hydrate throughout each shave. In fact, it supplies double the moisture of the lubrication strip on your regular razor. Additionally, the Schick Hydro 5 is the only disposable with a flip-back trimmer for tricky areas. Its ergonomic design also allows for better grip and control. So if you're a guy that's always on the go, Schick's Hydro is the prime disposable razor you'll want to check out.
9. MUHLE R41 Safety Razor Open Comb
If you think that you've mastered the art of shaving, then the Muhle R41 Safety Razor may be the ideal weapon for you. A high-quality razor in the traditional style, this one best suits the seasoned pro and is not for the beginner. To say that the Muhle R41 provides a close shave is an understatement. With its classic tooth-comb style, this extremely aggressive shaver cuts through the thickest of beards in very few passes. The shaving enthusiast will be smitten with this elegantly designed three-piece razor. Others may find its jutting blade a little more intimidating. No guard rails, no protective strips – this is a tool best handled by the confident shaver. Not for those with faint hearts or sensitive skin. Muhle's consummately crafted razor will leave you with a soft, silky finish and a sharp, clean look.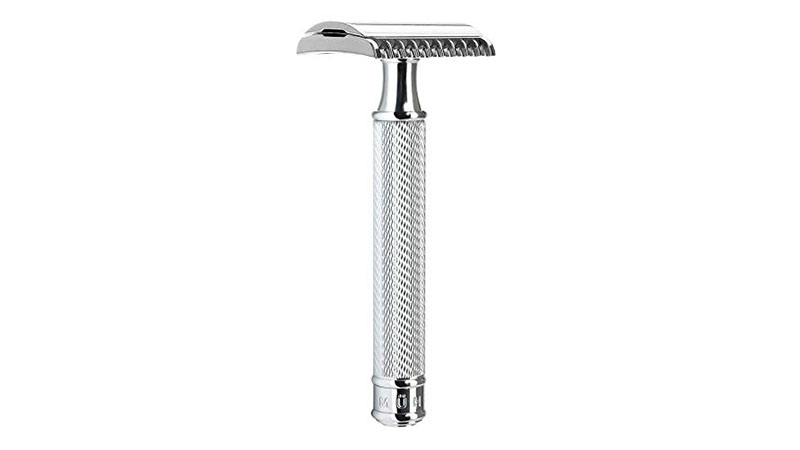 10. Made For YOU by BIC Shaving Razor
The Made for YOU by BIC Shaving Razor is a perfect fit for any travel kit. It also performs sensitively in hard-to-reach places. In regards to features, you can forget the basic BIC. Made for YOU charters new territory in the evolution of this disposable classic. A comfortable ergonomic handle offers a non-slip, textured grip. The pivoting head adapts to the contours of your skin. While a lubed strip of aloe and vitamin E glides along smoothly for a fresh, long-lasting finish.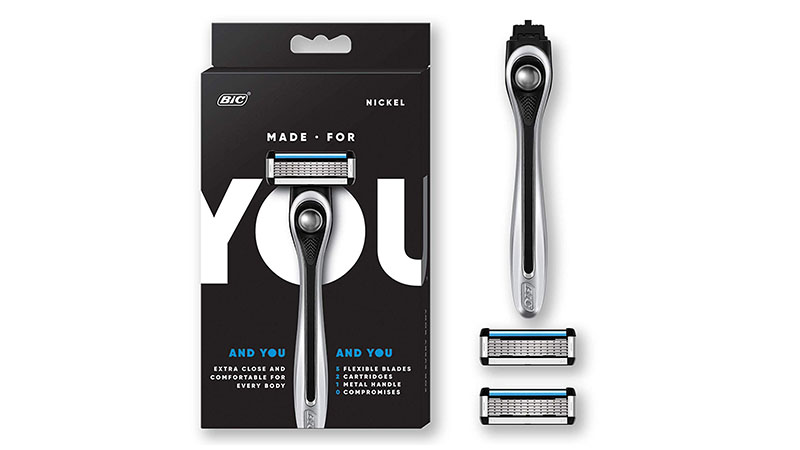 11.

DORCO Pace 6 Sport System
The Dorco Sport razor gives users unmatched comfort and control. Boasting six top-grade blades, a safety trimmer and an ergonomic and multifaceted angled blade as well as a rotating head; every manscaping endeavour is made to be quicker, smoother and cleaner. Its open flow cartridge design gives an open flow blade that is easy to clean and rinse hair. The advanced lubricating strip with natural extracts addedly help soothe and prevent irritation.
12. King C. Gillette Double Edge Safety Razor Chrome Plated Handle
Made for a monarch. The heritage-inspired design of the King C. Gillette razor makes it more of the ritzier razors of our listicle. The double-edged safety razor bears a single blade razor designed for getting a crisp and smooth look. Boasting five fine-grade platinum-coated stainless steel double-edged razor blades, a closed comb head and patented durability, it's impossible not to fantasize about getting your hands on this premium shaving aid.
13. Shaving Revolution Long Handle Double Edge Safety Razor
Precision. Durability. Finesse. The trifecta of elements that the Shaving Revolution have mastered with the Long Handle Double Edge Safety Razor. Featuring fine-grade stainless-steel safety razors, the double edge razor blades provide a soothing and close shave. Its uniquely long handle produces a better grip and easier manoeuvring for the perfect shave.
14. Schick Xtreme 3 Sensitive Skin Disposable Razors for Men
The bellwether of the shaving world is back at it with the Xtreme 3. Equipped with skin-sensitive and disposable razors, its three flexible blades manoeuvre eloquently with the contours of your face for a smooth and clear cut. The razor also includes a lubrication strip that's essential for comfort and a crisp finish. The Schick's redesigned handle provides a non-slip grip for a tenacious grip so you won't have to worry about any slippery misfortunes.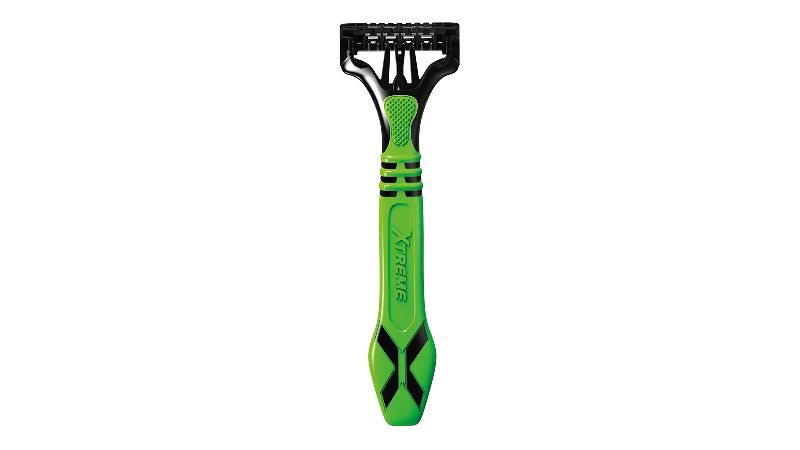 15. Pink Woolf Classic DE Safety Razor (Chrome) CC87
Just to clear things up, Pink Woolf is not a female grooming utensil: it's a superlative label meant for men. Once you get past its name, you'll see its striking deftness and finesse in design. The Pink Woolf CC87 provides users with a medium shave and its close comb design works efficiently as an everyday razor. The Classic razor is perfect for a close and comfortable shave that's free of all sorts of shaving pitfalls: whether it's irritation, razor bumps, razor burns, or cuts — it's the acme safety razor.
16. The Art of Shaving Men's Razor
The Art of Shaving brings to you the Lexington Collection Power Razor. The series of these manscaping appliances are a mix of artistry in design and finesse in performance; for exceptional results. The sumptuous design of this powered razor boasts an LED power indicator, an aluminium finish, as well as a chrome-plated frame. By dint of its Flexball design, maximum blade contact is made with the contours of your skin to ensure a closer and clean shave and a crisp outcome.
17. Gillette Gillettelabs Heated Razor Starter Kit
Roll out a red carpet, because Gillette brings to the grooming world the first-ever heated razor. Designed to stimulate your senses, the heated razor is svelte and sleek in profile and provides users with comfort and warmth with each stroke. Retaining a waterproof frame, the razor has four heat sensors that enable it to preserve a safe degree of warmth, while its five blades give you a healthy mix of precision and comfort with every shave.
18. Gillette SkinGuard Men's Razor Flex Handle + 4 Blade Refills

The Gillette SkinGuard is set to soothe your face. Its unique Flex Ball technology manoeuvres superbly with the contours of your face for an easy shave. Forged for gents with sensitive skin, the razor's bears a lubrication strip atop and below the blades to reduce skin irritation when shaving. With the SkinGuard's flex handle, your every shave will be precise and exceptional; free from irritation, razor bumps, razor burns, cuts, and ingrown hairs.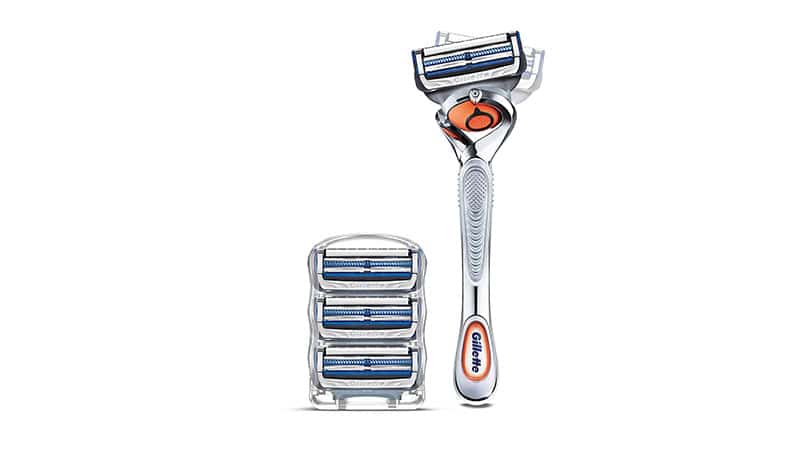 19. Leymiga Butterfly Double Edge Safety Razor
Whether you're seeking to preen the face, arms, legs or body, the simplistically styled Leymiga Butterfly is a top-grade razor that guarantees outstanding results. The simple twist open structure of this razor is easier and safer to use when changing the blade than most razors on the market. This razor provides a safe, smooth, close shaving experience, sans cuts, burns, irritation by dint of its fine and durable materials.
20. BullDog Original Bamboo Razor
The Bulldog Bamboo Razor gets you that crisp barber shave-feel. The razor's flexible head enables it to manoeuvre gently with the contours of your face and provide a cut-free shaving experience. The brushed metal of the head is sure to glide over your skin with every stroke all while diminishing chances of irritation. The kit swaggers two cartridges as well as four steel blade cartridges. The Bamboo Razor is part of the label's ethos in being eco-friendly in design.
21. Bambaw Black Metal Safety Razor with Razor Stand
The Bambaw Metal Safety Razor is an all-black beast. The eco-friendly razor is made of top-grade and sturdy material. Thanks to the safety razor's only unique and cut-grade blade, your next shave will be more precise and efficient; and it minimizes the spawn of ingrown hairs. The men's sleek safety razor includes a bonus digital user manual, detailing preferable and optimal ways of its use. All you need is the Bambaw to achieve that perfect shave.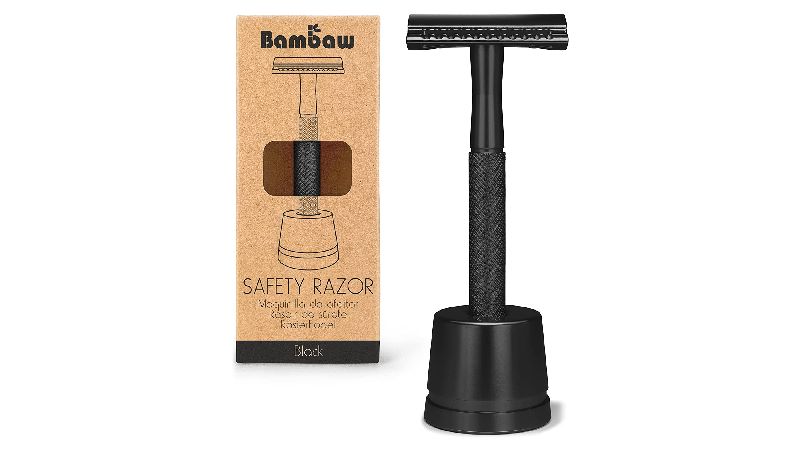 22. Standard Razors Aluminum Series Double Edge Safety Razor
Standard Razors is a premium label that never upsets. The Aluminum Series Double Edge Safety Razor is a modern design primed for a smooth and sleek shave. Fashioned from cut-grade aluminium, the classic 3-piece double edge safety razor bears a novel top cap and base plate to ensure a more consistent grip than its predecessors. It's lightweight and manoeuvres swiftly with every glide, to give you a crisp appearance.
If you're gonna shave, you're gonna need a premium men's razor that's durable. Harry's award-winning razors bear German-engineered blades and are ergonomic in design for proper grooming care. This men's razor retains a navy-blue rubber handle for a tenacious grip, six sleek razor blades and lubricating strips for a smooth finish. Harry's meticulously crafted razor is all you need for an optimal, cut-free shaving experience.
24. Easace Long Handle Double Edge Safety Razor Razors for Men Women
The Easace razor is all you need. Equipped with a whopping ten stainless steel double edge safety razor blades, a stand, and a cleaning brush you can bet that your next shaving experience will be exceptional. One of the highlights of Easace's razor is its ability to reduce irritation and bumps when shaving. With its long-knurled handle, this metal shaving razor provides a tenacious grip for precision and a soothing finish.
25. Gillette ProGlide Men's Razor Handle
Looking to properly groom and style your facial hair? Then the Gillette ProGlide is all you need. Boasting patented FlexBall technology that manoeuvres deftly with skin contours ( even those hard-to-reach areas) five of the finest anti-friction blades as well as an enhanced Lubrastrip that helps the blades sashay with your skin for ultimate comfort and sleek results.
26. Philips Norelco OneBlade Hybrid Electric Trimmer and Shaver
The Norelco does it all. This trailblazing hybrid electric trimmer and shaver can traverse, trim and stylize facial hair of all types and lengths. While this Norelco looks a lot different from its classmates, its performance is of distinction-standard. It has a uniquely long profile, a dark body with light green boundaries. The OneBlade comes with three combs, so you can trim to your preferred stubble length. Whether it's its click on combs, dual-sided blade or fast-moving cutters, the OneBlade is sure to ease and enhance your every shave.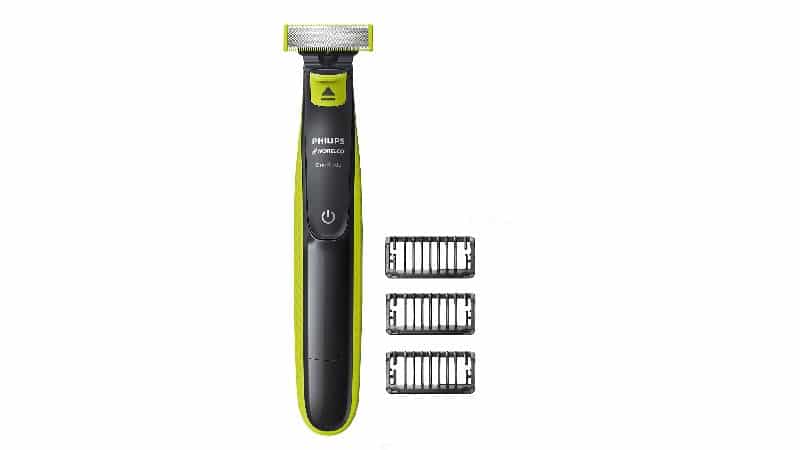 How to Choose a Razor
Trying to navigate your way to a perfect razor for a close and comfortable shave that's free from irritation, razor bumps, razor burns and cuts can be an arduous undertaking. But have no fear, our professional advice is here. When shaving, there are two preferences to the type of razor: the conventional style and the electric. There are a myriad of razors to pick from and each will offer a somewhat different shave. But no matter what type of razor you settle for, just ensure that its cardinal feature is that it's free from bluntness.

Multi-blade
A multiple-blade razor is a jack of all trades. This breed of razor blades can shave greater amounts of hair with less effort. Now there's a common notion that these blades give a close shave — not really. The thing is, multi-blade razors usually cause greater friction and irritation than single and couple blades.

Electric Shaver vs Manual Razors

The razors on shelves today can feature up to five blades. And before you make any rash decisions, dip your toes with a plethora of types of blades. But if you're seeking advice on the most used manual razor, it's the ones with double and triple-edged blades — and the brands usually picked need no introduction. As with electric razors, they're best in getting things done quickly, comfortably and cleanly. They're also much pricier but work wonders in grooming the hair on your mug.

Lubricating strips
The lubrication strip on a razor is located at its head. The strip holds a gel-like formula that reduces friction between the blade and the skin and gives you a cut-free shaving experience with each stroke. The lubricated strips are addedly great gauges for when the cartridge needs replacing.

Trimmer blades
Razor blades that boast a trimmer atop the cartridge are excellent for those hard-to-reach spots and precision shaves. Trimmers are typically used for sideburns, hairs under the neck, nose and checks.

Cost
From our list, the medium cost of a razor is AUD$32. And the medium cost of a shaver is AUD$250. These prices are predicated on the premium list of top-grade grooming utensils for men, proudly brought to you by The Trend Spotter.
FAQs
What is the best razor for men?
The best razors for men are the MERKUR Futur Adjustable Double Edge Safety Razor, VIKINGS BLADE The Chieftain Double Edge Safety Razor, and Baxter of California Three Blade Cartridge Razor.
What is the best razor for the closest shave?
Some of the best razors for a really close shave are the MERKUR Black Handled Double Edge Safety Razor, Gillette Mach3 Turbo Men's Razor, Schick Hydro 5 Disposable Razor, and MUHLE R41 Safety Razor Open Comb.
What razor is best for beginners?
If you're new to shaving, try the Weishi Nostalgic Long Handle Butterfly Open Double Edge Safety Razor, or MERKUR Black Handled Double Edge Safety Razor.
Is one blade razor better?
A single-blade razor is better for sensitive skin, as it's cuts flush with the skin and reduces the amount of friction. This means you'll get less irritation, ingrown hairs, or rashes. However, multi-blade razors can cut closer because the first blade pulls the hair out a little bit, allowing the second blade to cut it even shorter, which is why you're more likely to get ingrown hairs.
SUBSCRIBE TO OUR NEWSLETTER
Subscribe to our mailing list and get interesting stuff and updates to your email inbox.