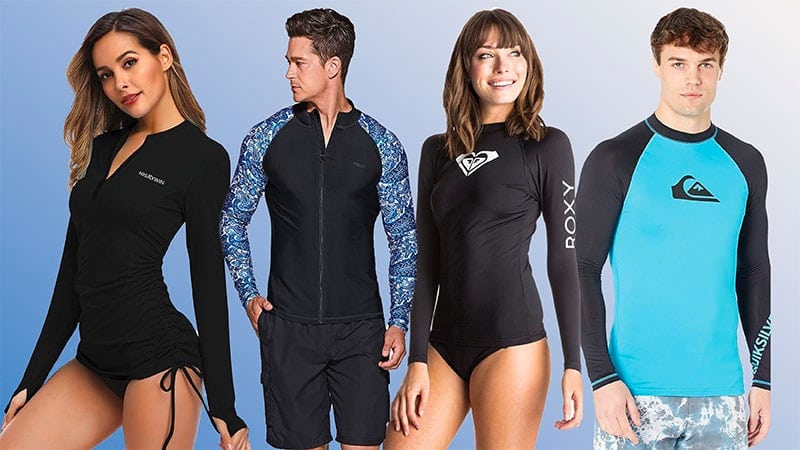 Rash guards are the must-have beach and watersports accessory. Initially designed to prevent chafing when surfing, rash guards also provide excellent sun protection, which a lot of people use them for. They come in different cuts and styles for various uses. Plus, they provide extra benefits like quick-dry fabrics, sweat-wicking abilities, and in some cases, thermal protection. You can also kit out the whole family, with options for men, women, and children available. Next time you're heading to the coast, make sure you have yours packed so you can make the most of your time in the sun and the water.
Best Rash Guards in 2021
1. Kanu Surf Men's Cb Rashguard
Stay safe from the sun's harmful rays with this rash vest from Kanu Surf Store. It uses 100% polyester with a UPF 50+ rating and comes in various colors, including black, white, blue, green, orange, red, and yellow. The cut is looser than more traditional rash guards, so it's perfect for laidback days on the beach or more chilled water sports like paddleboarding or swimming with the kids. You can also wear this running, thanks to sweat-wicking technology and quick dry fabric.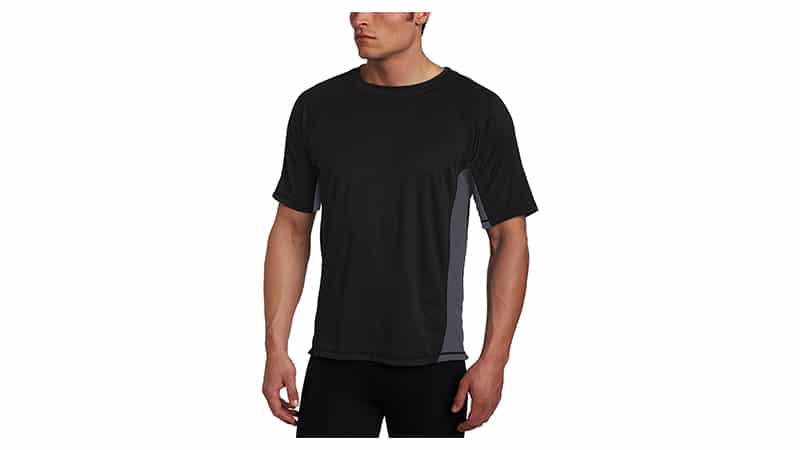 2. isnowood Women's UPF50+ Long Sleeve Rash Guard
Head out for a run or hit the beach for a relaxing day by the water. This long-sleeved women's rash guard will keep you sweat-free and protected. The 100 percent polyester fabric is rated UPF 50+, blocking harmful UVA and UVB rays. Plus, it's quick-drying, lightweight, and has excellent moisture-wicking properties while being wonderfully breathable. It also boasts a tag-free design and flat-lock seams, so there's no chafing or irritation. Not only will you feel good, but you'll also look great too — the slim fit cut highlights a feminine figure.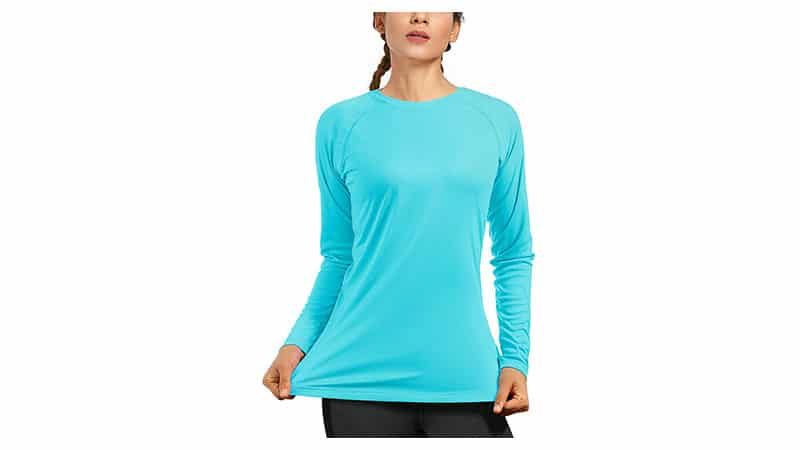 3. O'Neill Men's Basic Skins UPF 50+ Long Sleeve Rash Guard
O'Neill uses four-way stretch for the perfect, form-fitting rash guard that moves with your body. This means it's great for wearing for additional warmth under your wetsuit and is excellent for more vigorous water sports such as surfing. Enjoy the added benefit of strategically seamless paddle zones through the center of your torso, so there's no chafing or rubbing as you paddle. This design is Skin Cancer Foundation recommended thanks to the UPF 50+ polyester and spandex blend that protects your skin from harmful UV damage. The higher cut neck also provides additional coverage, yet the shirt remains breathable, letting excess body heat escape.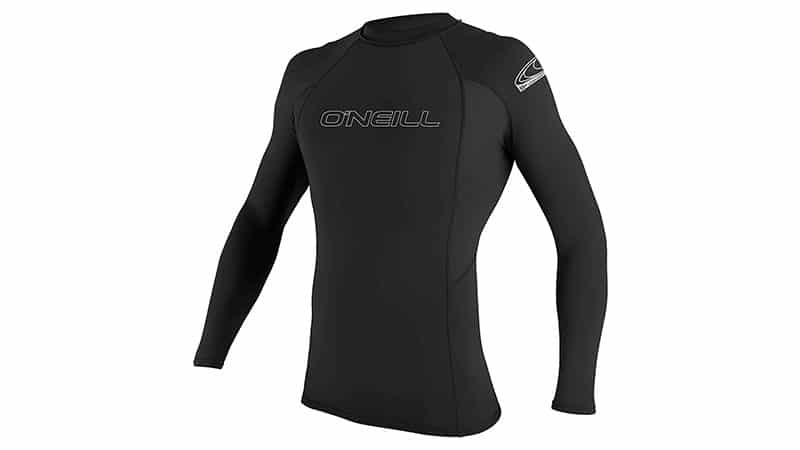 4. AXESEA Women's Long Sleeve Rash Guard
This one-piece rash guard and swimsuit combo is perfect for ladies who like to keep it simple. The mix of UPF 50+ fabric, long sleeves, and high neck protect the most exposed parts of your body from sun damage. Plus, it feels like a second skin, thanks to four-way stretch and flatlock seams that don't chafe. Lastly, it's quick-drying and chlorine resistant, so it's the ideal choice for lazy days at the beach or by the pool.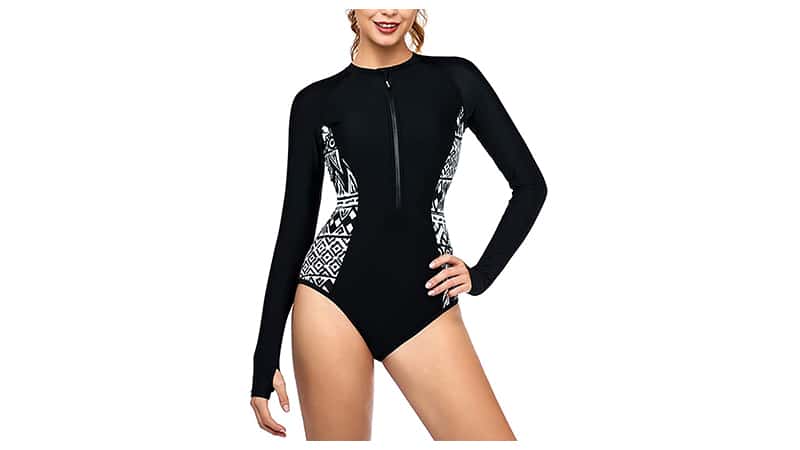 5. LAFROI Men's Long Sleeve UPF 50+ Compression Rash Guard
Gents, if you prefer a little more attitude in your look, then the LAFROI rash guard is an excellent choice. The form-fitting shirt boasts a sleeve-tattoo vibe, with a selection of bold and intricate designs. The design uses 80 percent nylon and 20 percent spandex, so it absorbs moisture while maintaining breathability. Plus, it has compression properties that aid movement, recovery, and muscle control, yet it still very comfortable. It's an excellent choice for a range of water sports like surfing and land activities such as martial arts or running. You'll stay safe outside in the sun thanks to UPF 50+ UV protection.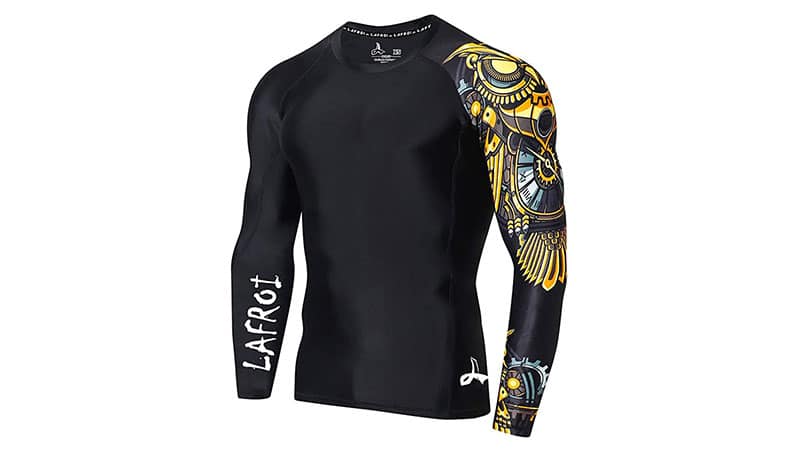 6. Daci Women Rash Guard
Upgrade your beach wardrobe with this two-piece set from Daci. Not only does it include a rash guard, but you also get a matching pair of boy short bathing suit bottoms. The raglan cut of the shirt adds interest and ensures the paddle zone is seam-free for perfect surfing conditions. Meanwhile, the material is UPF 50+, so you'll feel confident that your skin is protected from sun damage. Finally, select from a range of fun and vibrant patterns, including the vintage blue leaves, black with pineapples, pink sunsets, and geometric patterns.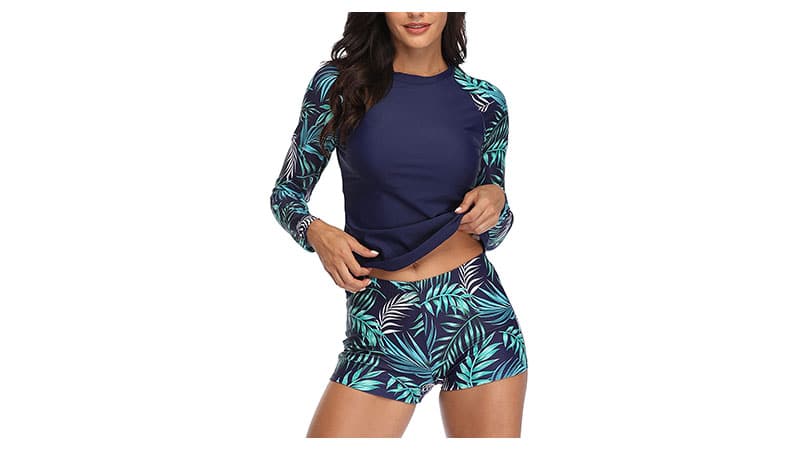 7. TSLA Men's Long Sleeve Zip Rash Guard
Feel confident in the water wearing this men's long sleeve rash guard from TSLA. Not only is it UPF 50+ rated to protect you from the sun, but it also uses four-way stretch fabric for ultimate comfort, moisture-wicking to disperse sweat from your body, and hydrophobic fabric the dries quickly and stays odor-free. Plus, you'll enjoy optimized movement with the twisted 3D design pattern that lets you move more freely for swimming and surfing. Finally, the long length of the body and snug fit prevents the rash guard from riding up throughout the day.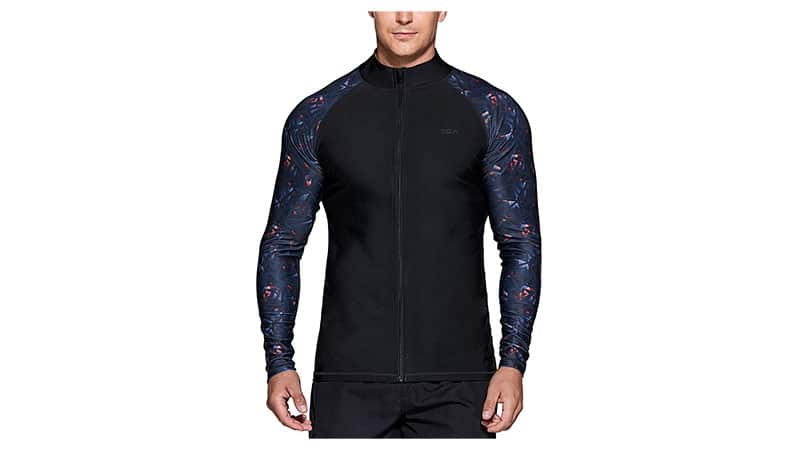 8. HISKYWIN Women's Long Sleeve UV Sun Protection Rash Guard
Versatility is key in this long-sleeve rash guard for women. The design is unique in that side drawstrings let you adjust the length of the shirt to meet your needs best. Wear it long for extra coverage, or ruche the sides to bring the hem up to sit higher. The lightweight fabric mixes polyester and spandex, creating the perfect balance of breathability, quick-dry action, moisture-wicking, and abrasion resistance. As such, it's the ideal choice for a range of activities both in and out of the water. Wear it running, to yoga, swimming, or surfing. You'll stay protected with UPF 50+ fabric, plus thumb-holes to help keep the sleeves down. Lastly, this rash guard also features flat-lock stitching and a half-chest zipper to make getting it on and off simple.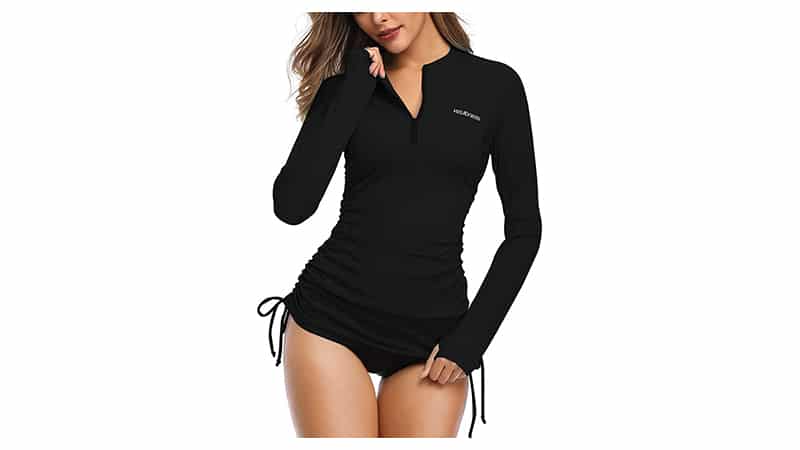 9. BALEAF Men's Short Sleeve Rash Guard
The BALEAF Men's Short Sleeve Rash Guard is a great choice for surfing. It's a slim fit, so there's no excess fabric to get in the way, and it features a boardshorts connector loop to prevent it from riding up. The four-way stretch fabric is a nylon-spandex blend with excellent sun protection, flat-lock stitching, and a stand-up crew neck that adds coverage and won't chafe. A raglan-sleeve design also adds to the range of movement and looks stylish at the same time with contrasting panels.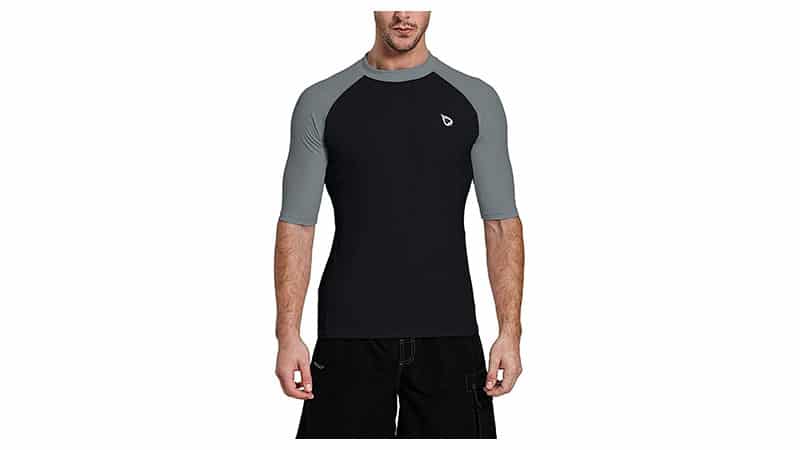 10. ATTRACO Women's Rash Guard
The ATTRACO Women's Rash Guard is easy to put on and take off, thanks to a full-length zipper. This makes changing before or after an epic surf session or day at the beach a cinch. It provides plenty of sun protection with long sleeves and UPF 50+ fabric. Plus, the skin-friendly material boasts four-way stretch, flat-lock stitching, moisture-wicking, and quick-drying for after swimming and sweating. As such, it's the ideal choice not only for water sports like surfing or paddleboarding, but other land-based activities as well like running, hiking, or cycling.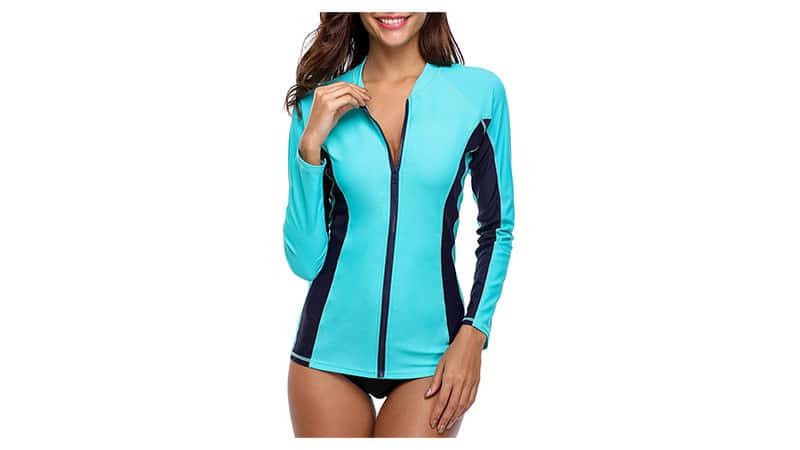 11. Kanu Surf Men's Long-Sleeve Platinum UPF 50+ Rash Guard
Enjoy excellent coverage in the Kanu Surf Men's Long-Sleeve Platinum rash guard. It's a slim-fit style with flat-lock stitching and raglan sleeves for the ultimate flexibility and comfort that won't ride up with movement. Plus, it has a UPF 50+ rating, blocking out most of the sun's harmful UVA and UVB rays. Wear it surfing, building sandcastles with the kids, or even out running. You'll also benefit from the breathability and quick-dry capacity to keep you feeling cool and fresh throughout the day, regardless of your activities.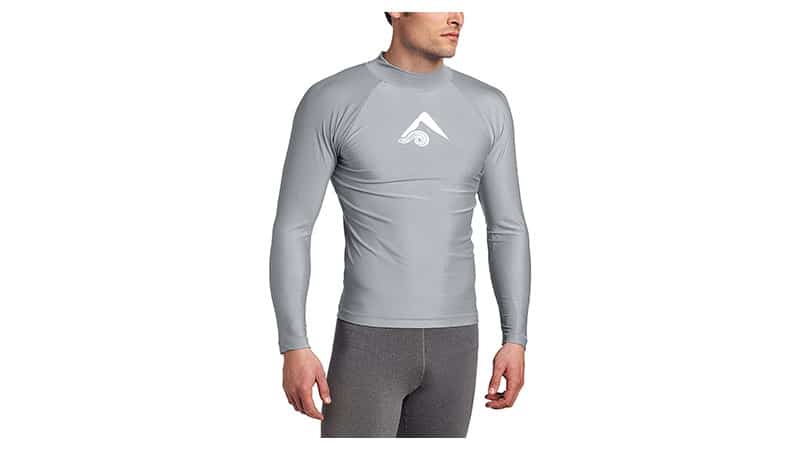 12. Roxy Women's Whole Hearted Long Sleeve UPF 50 Rashguard
Roxy makes a great rash guard for women. This classic silhouette features long raglan cut sleeves and a high neck, giving you a large range of movement, plus excellent coverage for sun protection. The combination of 92 percent polyester and eight percent elastane makes it's super soft, comfortable, stretchy, and breathable. It also features the Roxy heart logo at the pride of place in the center of the chest. Select from an array of fabulous colors, including white, black, navy, mint green, teal, and rose.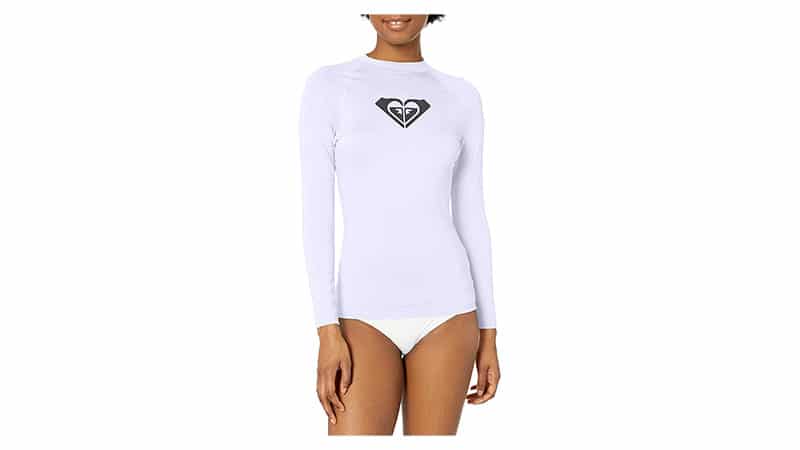 13. Hurley Men's One and Only Short Sleeve Sun Protection Rashguard
Hurley's short sleeve rash guard with relaxed fit easily doubles as a casual shirt. As such, you can wear it surfing, to the beach, playing a sport, or just kicking around on the weekends. It uses four-way stretch for extra comfort and boasts UPF 50+ sun protection — just remember to apply sunscreen to your forearms! Finally, it features Hurley's striking One and Only branding across the chest.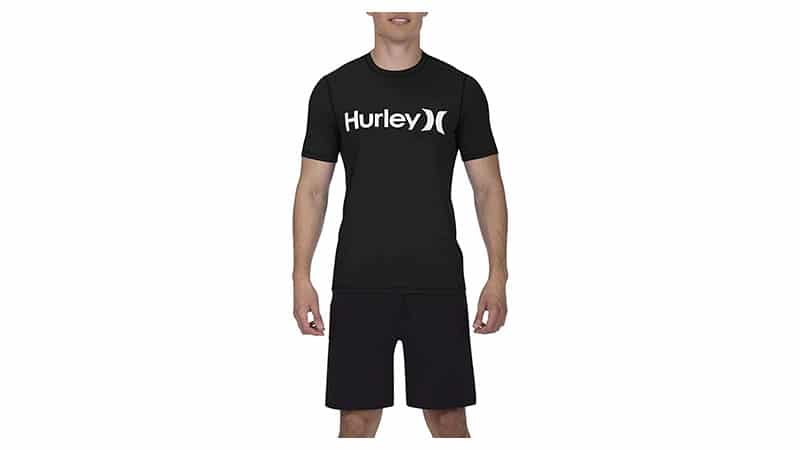 14. Speedo Men's Uv Swim Shirt
Take it easy with this relaxed fit men's rash guard from Speedo. The legendary swimwear brand knows what it takes to stay safe and comfortable in the water. This particular design uses 100% polyester that is water repellant and dries fast, so you're not left feeling damp and soggy for long periods. It also boasts UPF 50+ sun protection, reducing the risk of sunburn and other damaging effects of US rays so you can stay out in the water for longer.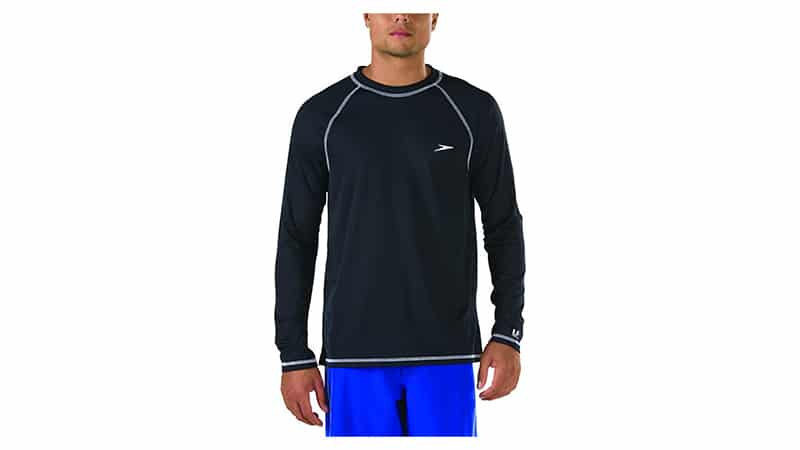 15. TSLA Women's UPF 50+ Rash Guard
TSLA's original rash guard is designed specifically for swimming and surfing. As such, it uses high-density fabric that not only protects against abrasions and chafing but also guards you against the sun with UPF 50+ protection. The flat-lock stitching combined with a twisted 3D pattern ensures your arms and torso have free movement for uninhibited paddling. Other handy features include quick air-dry time, two-way air circulation for excellent breathability, and moisture sensing and wicking to keep you cool and dry.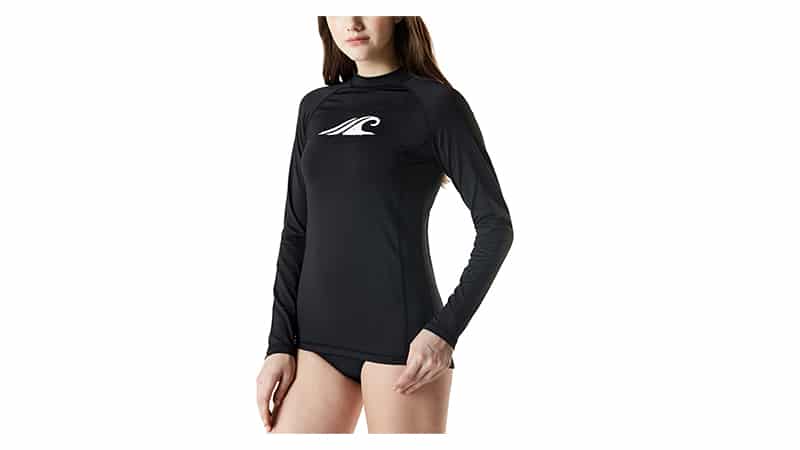 16. Amazon Essentials UPF 50+ Men's Rashguard
Opt for some classic basics with the rash guards from Amazon Essentials. The simple design features long sleeves with a raglan cut. It's also made from a polyester and spandex blend, which boasts quick-drying capabilities and UPF 50+ sun protection. Enjoy the high-level performance and all-day comfort thanks to the fitted design that hugs your frame without riding up or excessive movement. It's perfect for both lazy beach days or getting active with water sports like windsurfing, paddle boarding, swimming, or regular surfing.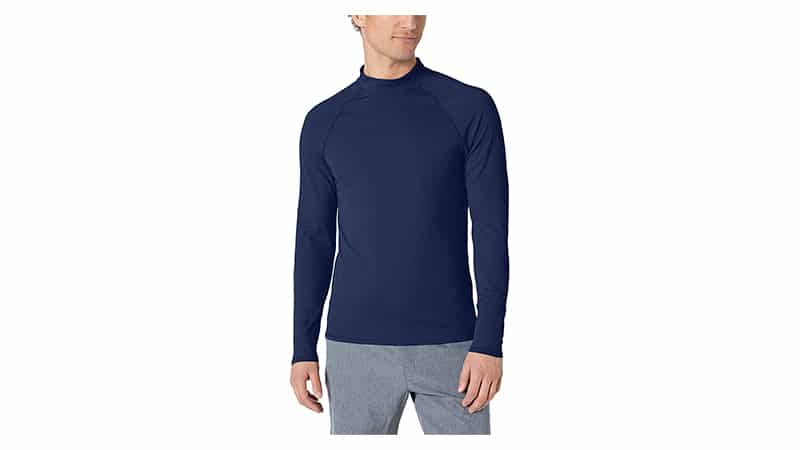 17. CharmLeaks Women's Long Sleeve Rashguard
Color blocking mixed with striped sleeves gives this women's rash guard from CharmLeaks a unique appeal. Other great features include a banded crew neck, long sleeves, and UPF 50+ protection, all of which keep your skin safe from UV damage. Additionally, you'll get flexibility and comfort with four-way stretch, moisture-wicking to keep you cool, and flat-lock seams that won't irritate or rub. This is the perfect choice for water sports like rafting, canoeing, swimming, surfing, or paddleboarding. Alternatively, it's just as good for lazing in the sun, relaxing on the beach as you read a book.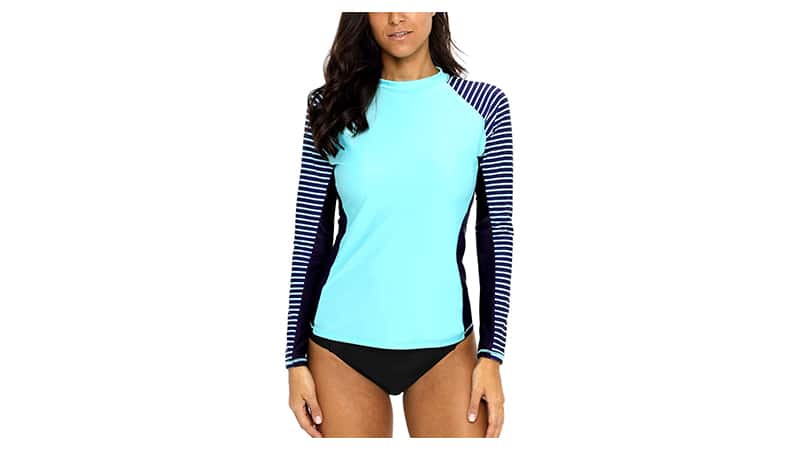 18. Quiksilver All Time Long Sleeve Rashguard Swim Shirt UPF 50+
Surf brand Quicksilver makes an excellent rash guard for men. This design has all the best features you'd expect, including flatlock stitching and a seam-free paddle zone to minimize skin friction while surfing. The slim fit stays put even with lots of action, and the raglan sleeves let you move your arms freely, without limitation. Finally, you'll stay protected from the sun's harmful UV rays thanks to UPF 50+ rated fabrics.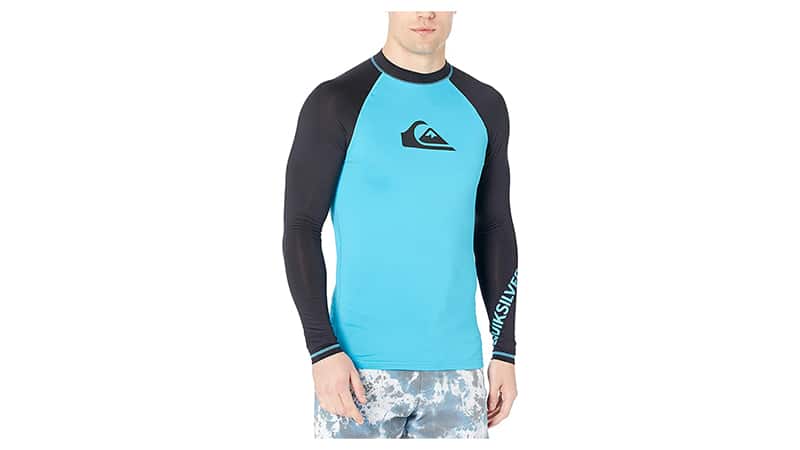 19. American Trends Women's Athletic Long Sleeve One-Piece Swimsuits
Ladies will love the stylish silhouette of this one-piece swimsuit that provides all the same benefits as a rash guard. The central zip makes getting dressed simple and easy, while the chest pad provides extra, invisible support through the bust. The high-density fabric wears really well and blocks the sun's VU rays, yet is soft and stretchy for the ultimate comfort. Plus, it comes in nearly 30 different color and pattern options in a range of floral, abstract, and color-blocking designs.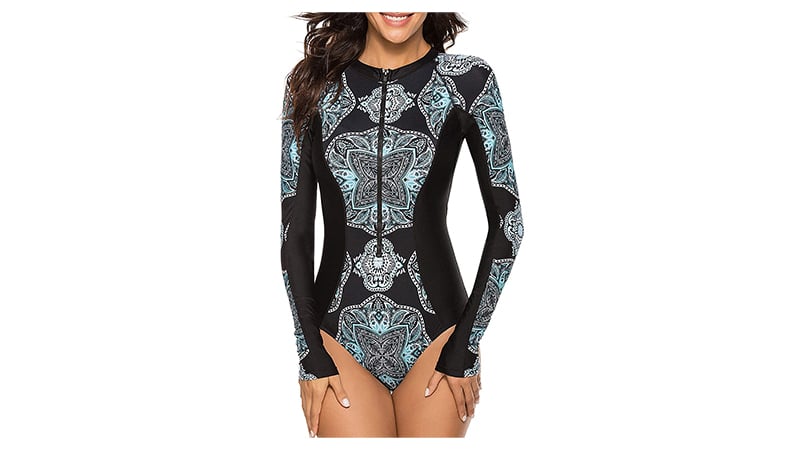 20. O'Neill Women's Basic Skins Upf 50+ Long Sleeve Rash Guard
O'Neill's women's long sleeve rash guard is a Skin Cancer Foundation recommended product thanks to its coverage and UPF 50+ protection. The form-fitting shape feels like a second skin and is ideal for surfing, as well as boating, beach days, and other water sports. Enjoy minimal and strategic seam placement that reduces the chance that it will irritate. Lastly, choose from a selection of fun colors from basics like black and white to forest green, fox pink, and sea glass green.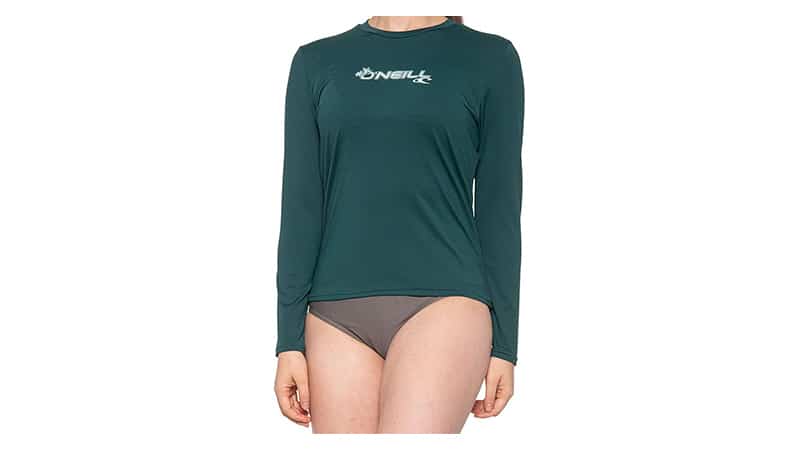 What is a Rash Guard?
A rash guard is a shirt made from a unique material, often polyester, elastane, lycra, nylon, spandex, or neoprene. They're stretchy, comfortable, and quick-drying. Surfers initially wore rash guards to prevent the chafing and rash that could sometimes come from lots of paddling on their boards. However, their use has expanded, and they are often used for sun protection and for more water sports than just surfing. They provide excellent coverage with UPF sun blocking and come in different cuts and styles to suit various activities.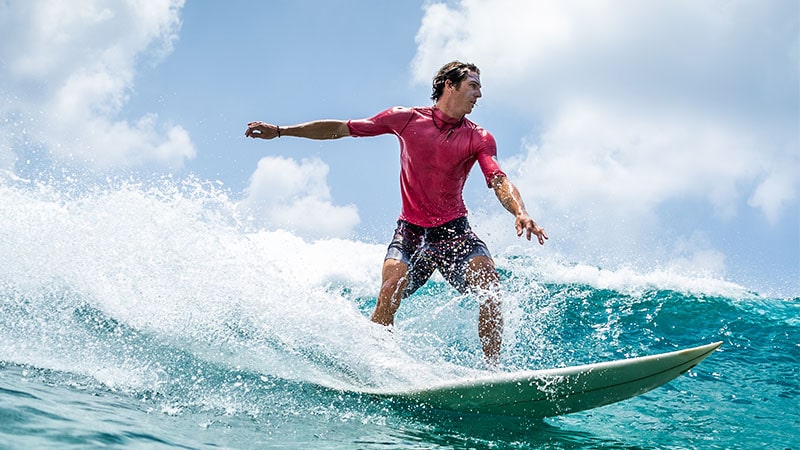 Rash Guard Buying Guide
There are a few things to consider when buying a rash guard. While looks are important, you'll also need to make sure the fit, fabric, sleeves, sun protection, and thermal protection meet your needs. Ideally, you'll also want one that's quick-drying, with thoughtful and intentional design features.
Fit
Rash guards tend to come in two different kinds of fits. The first is a slim fit that hugs your body and acts as a second skin. It's ideal for surfing and other more interactive water sports as it won't ride up or move, and the excess fabric doesn't get in the way. Then the second style is a looser, more relaxed fit. This is the perfect choice for lazy days on the beach, swimming with the kids, taking the boat out, or paddleboarding. Which kind you choose will depend on your intended use and activities. Of course, you can also own more than one to cater to all your recreational endeavors!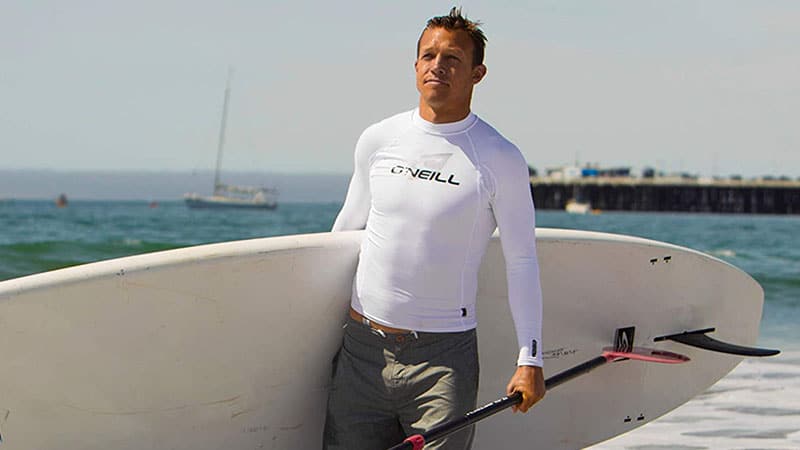 Fabric
Often rash guards will be made from polyester, elastane, lycra, nylon, spandex, or neoprene. These materials give the best combination of thermal protection, rash prevention, breathability, and quick-dry capabilities. However, the most important thing to look for is that the fabric provides sun protection. Rash guards marked with UPF 50+ are the best option. This protection might be knitted into the material itself, or it might be a treatment applied to the finished garment. Either way, these will do the best job of stopping the sun's harmful UVA and UVB rays from hitting your skin.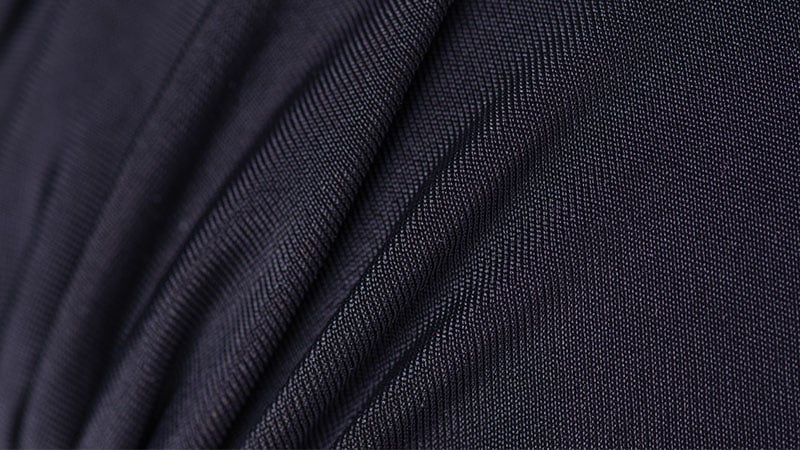 Style
Rash guards come in all kinds of styles and colors, so you'll want to choose one that appeals to you and that suits your needs. Some options have short sleeves, while others have long sleeves. Different cuts can give greater movement, while the higher the neckline, the more sun protection you'll enjoy. Many styles come in classic colors such as black, white, and grey, while aquatic-inspired palettes and patterns are also very popular.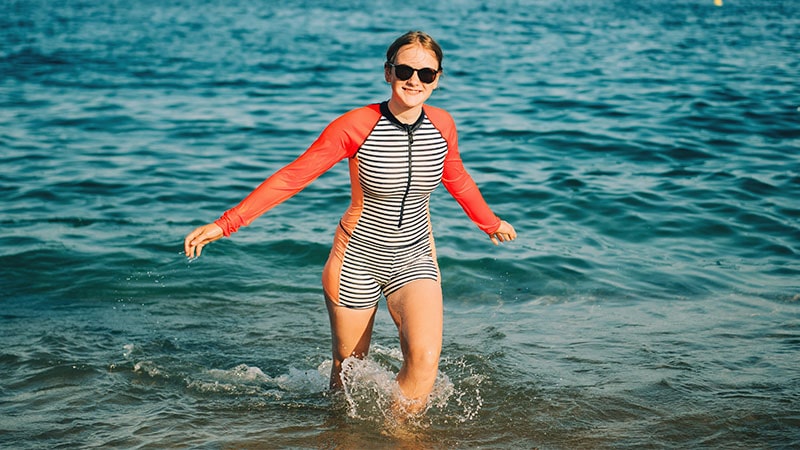 How Fast Does it Dry?
It's best to look for quick-dry fabrics when choosing your rash guard, so you're not sitting around in wet gear for hours on end. Not only can it give you a chill, but the damp fabric is more likely to chafe and feel uncomfortable. Most polyesters and nylons have a quick-dry capacity, as well as moisture-wicking and hydrophobic elements that aid in getting you dry fast.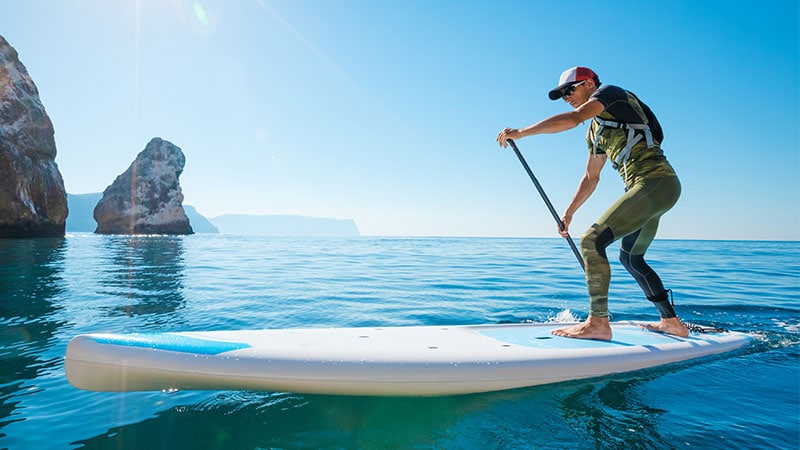 Long Sleeve vs. Short Sleeve
Long sleeves versus short sleeves will depend a bit on the climate where you live. If it's really hot, short sleeves offer the benefit of more airflow around your arms, keeping you a bit cooler. However, they won't protect you from the sun as much, so it's essential not to forget the sunscreen. Long sleeves are ideal for all-over sun protection and for when it's a bit cooler. They're also great on a boat, where the breeze can pick up quite a bit, bring a chill to the day.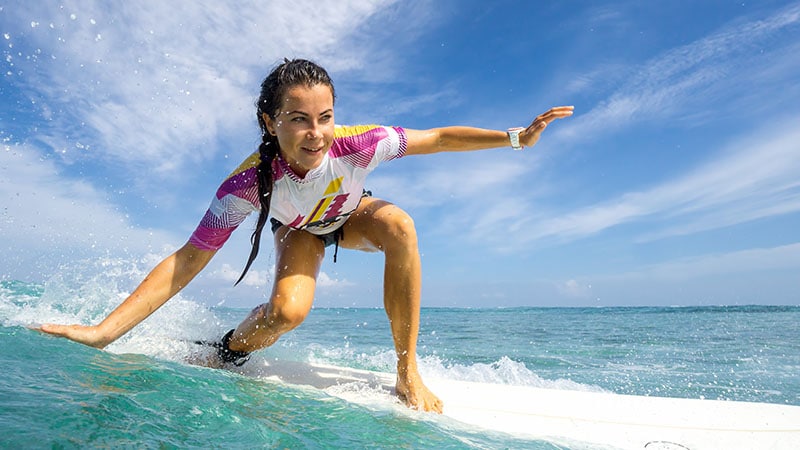 Sun Protection
Sun protection is the second main benefit of a rash guard after preventing surfing rash. Look for fabrics rated UPF 50+ to ensure the best results, as this will stop the sun from damaging your skin and last longer than alternatives. Long sleeves and high necks will also give better protection but will also keep you a bit warmer. Be wary of skin exposure sites, especially at the back of your neck and wrists, as sunburn is a guaranteed way to ruin a fun beach day or vacation. Double down on the sun protection on these areas with quality sunscreen.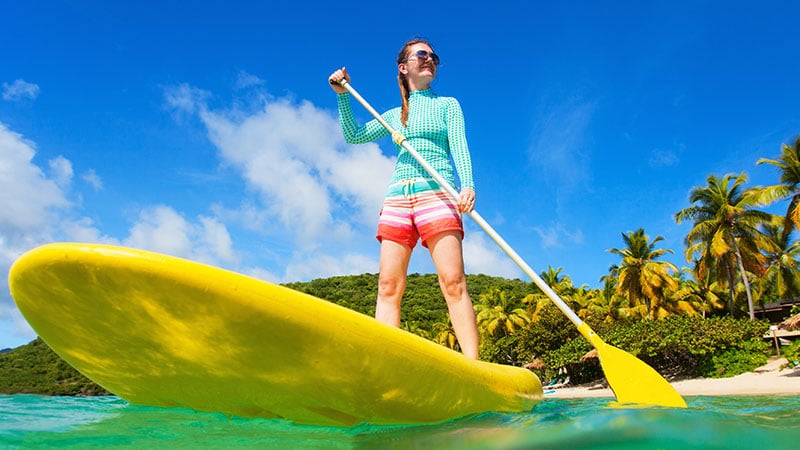 Thermal protection
While many rash vests are all about keeping you cool, some options offer a level of thermal protection instead. Thicker alternatives are specially designed with lining to help keep your body heat in. However, regular rash guards, particularly snug-fit ones, are ideal for layering under a wetsuit when surfing in colder climates for additional warmth.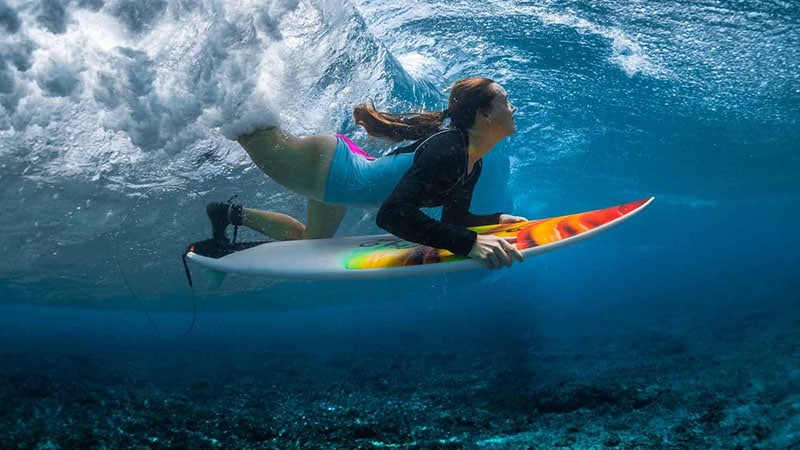 Features/Details
Keep an eye out for thoughtful details and extras. Seam-free paddle zones are ideal for surfers, as there's nothing to catch or rub on your torso as you paddle. Flat-lock seams are another thing to look for, as they sit flush against the skin rather than into it. Next, high collars add extra sun protection, while raglan cut sleeves let won't inhibit the movement of your arms and shoulders. Finally, you'll need to consider access. Pull-on shirts are great because there are no extra zips or seams but can be trickier to get in and out of (especially when wet). If you opt for a zipper at the back, just make sure there's an accessible pull string, so you don't dislocate a shoulder trying to zip yourself in.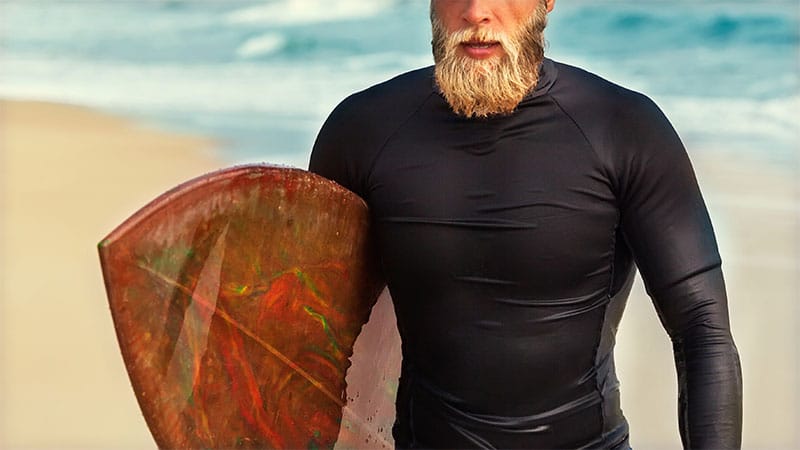 FAQs
What is a rash guard used for?
Rash guards were first used by surfers to protect their torsos from the chafing that often came from paddling on rough boards. However, their other key purpose is sun protection, making them great for all kinds of water sports and land-based activities set in the outdoors.
Can you wear a rash guard for swimming?
You definitely can wear a rash guard for swimming. It's a great way to protect your skin from sun damage.
What is the best rash guard brand?
The best rash guard brands include O'Neill, Quicksilver, Roxy, Kanu Surf, and TSLA.
How tight should a rash guard be?
The snugness of your rash guard will depend on what activities you're planning on doing. If you're heading for a surf, a tighter fit is best, so there's no excess fabric to get caught, and it won't ride up. However, for more chill activities like paddleboarding, swimming, and just chilling on the beach, a more relaxed fit is fine.
What is the difference between a rash guard and a swim shirt?
A rash guard generally refers to a garment with a tighter fit, like those traditionally used by surfers. Meanwhile, a swim shirt typically references a looser cut rash vest that resembles the shape and fit of a regular t-shirt. However, a lot of the time, the two phrases are used interchangeably.
Do you wear anything under a rash guard?
It's a personal preference if you want to wear something under your rash guard. Most guys generally won't; however, ladies might choose to wear a bikini top for extra support, especially those who are well-endowed in the bust area.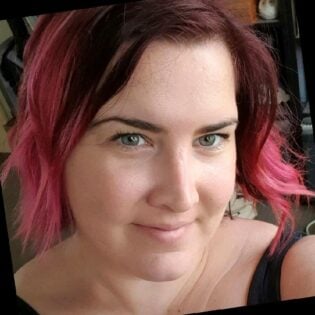 Alexandra Linde is an experienced writer holding a bachelor's degree in Journalism. She is the owner of Alexandra McKiterick Creative and has expertise in travel, fashion, fitness and lifestyle. Alex has previously written for Flightcenter, Travello, and Backpacker Deals.
SUBSCRIBE TO OUR NEWSLETTER
Subscribe to our mailing list and get interesting stuff and updates to your email inbox.