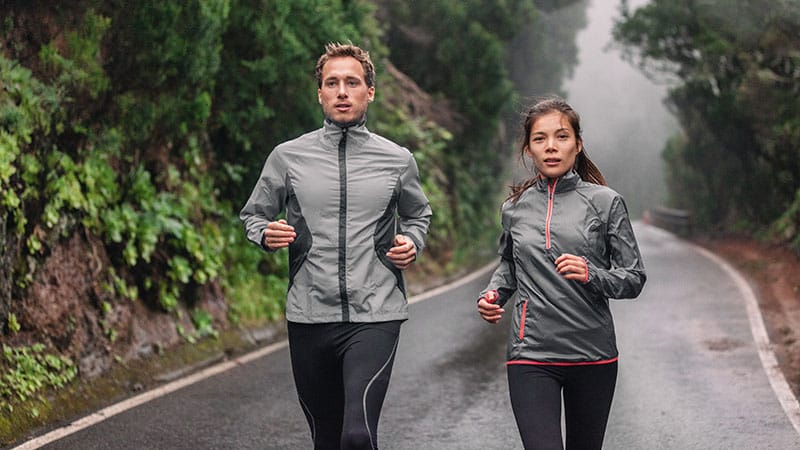 Bad weather can't be helped, but you don't have to delay your plans if you're well-equipped with quality protection. These best rain jackets will keep you dry, warm, and comfortable on any adventure, whether you're hiking a mountain, tearing up the trails on your bike, or simply heading to the office for a day at work. They're durable, breathable, and pack up small, making them ideal for traveling and all kinds of escapades.
RELATED: 33 Best Rain Jacket Brands to Know
1. Patagonia Men's Torrentshell 3-Layer Jacket
Patagonia is one of the leading outdoor adventure brands, so their Torrentshell 3-Layer Rain Jacket is an excellent choice for protecting yourself from wet weather. Enjoy all-day comfort thanks to the three-layer H2No® Performance Standard technology. This material offers excellent breathability and long-lasting waterproof durability, while the design has other convenient features like an adjustable hood, venting zips, and a microfleece-lined neck. It also has a drawcord hem and hook-and-loop cuff closures, and you can roll it up into its pocket for compact storage and carrying. Finally, choose from a range of excellent colors, from Classic Navy to Metric Orange.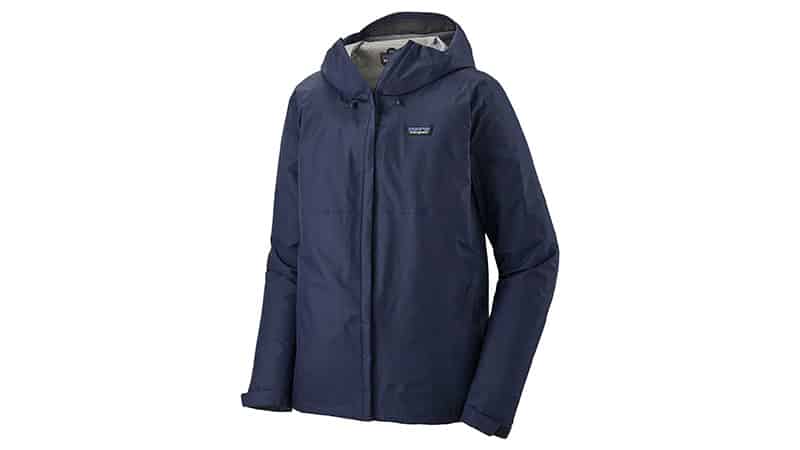 2. Tropicfeel NS40
Pack like a traveler with the Tropicfeel NS40 Jacket. This rain jacket is a perfectly integrated two-piece design that provides the ultimate flexibility with waterproof protection. One piece is a vest, while the other is a long sleeve layer. It means you can mix and match no matter the conditions. It uses the latest Graphene technology and Thermofibre insulation for warmth and waterproofness. Other design elements include a roll-up hood, thumbholes in the cuffs, a hidden pocket, sealed zippers, and a self-packing pocket, so you can roll and go with its lightweight and compact size.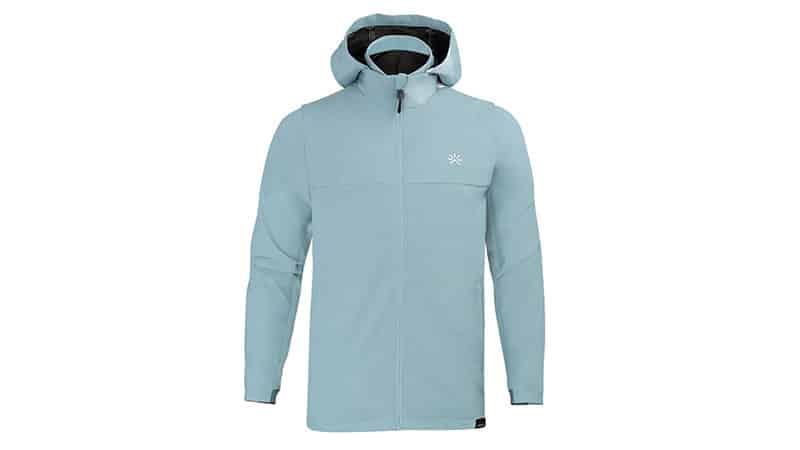 3. Mountain Hardwear Stretch Ozonic™ Jacket
Whether you're exploring the outdoors, on vacation somewhere rugged, or just commuting to work, the Mountain Hardware Stretch Ozonic™ Jacket is a great rain jacket. With a range of colors, including Surplus Green, Fern Glow, and Caspian, there are choices for every aesthetic. In terms of features, it uses sustainable, 100% recycled Dry.Q® 50D Stretch Ripstop fabric, which is soft and quiet. Hook-and-loop adjustable cuffs, zippered hand pockets, and dual drawcord hem adjustment ensure no water gets in. Meanwhile, underarm vents, an adjustable hood, and a packable design add to both comfort and convenience.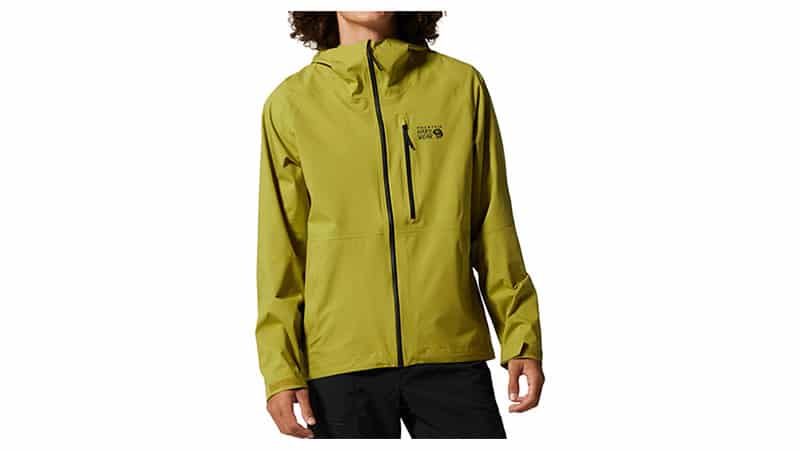 4. The North Face Flight Lightriser FUTURELIGHT™ Jacket
The North Face is known for its quality and innovative outdoor gear, so they're a sensible option for adding a new rain jacket to your wardrobe. This Flight Lightriser FUTURELIGHT™ Jacket is an excellent choice with an ultralight, breathable, yet waterproof design. The seam-sealed FUTURELIGHT™ 3L shell keeps you dry and is 100% recycled for the ultimate in sustainability. Additional features include a non-PFC durable water-repellent finish, an adjustable hood, and reflective logos for low-light safety. It also self-stows in its own inbuilt mesh pocket, folding up to a compact size for easy traveling.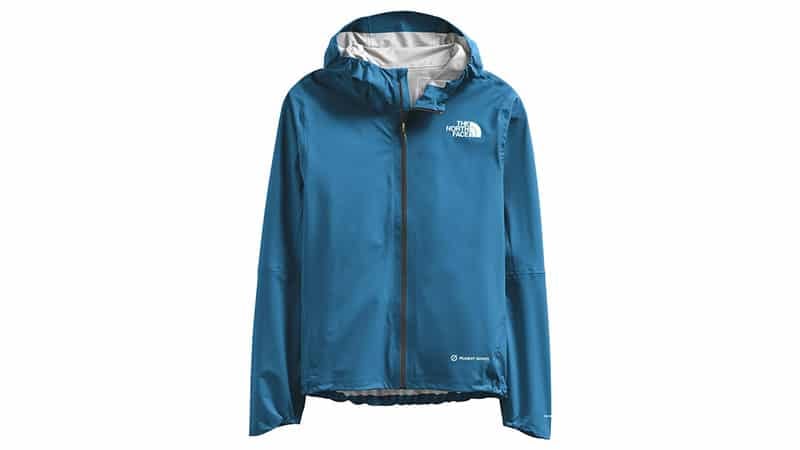 6. Black Diamond Equipment Stormline Stretch Rain Shell
If you're looking for the ultimate rain jacket, look no further than the StormLine Stretch Rain Shell. Boasting BD.dry™ 2.5L materials with a DWR finish, it's rated as 10,000mm waterproof. At the same time, it's also incredibly breathable, with pit zips for excellent ventilation. Added movement and comfort comes from underarm gussets and two-way stretch. It also has an adjustable hem, cuffs, and hood, the latter of which is also helmet compatible for sports that need extra safety. The regular fit allows for layering while the whole design packs down into the right-hand pocket for easy storage and travel.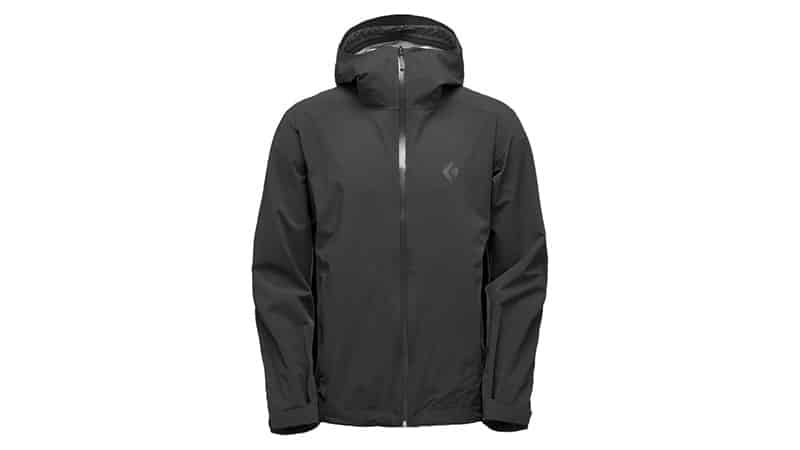 7. Marmot Precip Eco Jacket F22
Windproof, waterproof, and breathable – this rain jacket from Marmot ticks all the right boxes. With more than 15 colors to choose from, you'll find one that not only looks great but works a treat. It's a two-and-a-half-layer jacket equipped with advanced NanoPro Eco coating. Taped seams, adjustable cuffs and hood, and zippered pockets add extra functionality, while the Angel Wing movement cut helps improve mobility. As such, it's an excellent option for your daily commute, traveling adventures, and outdoor adventure sports.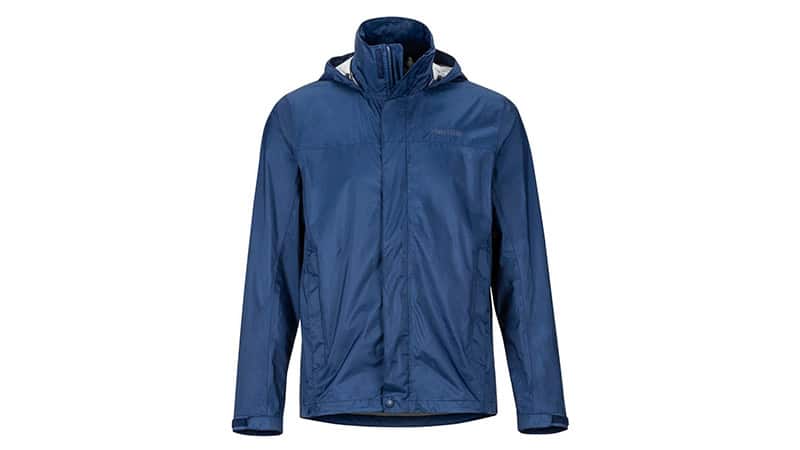 8. Arc'teryx Zeta SL Jacket
You'll be prepared for any weather if you're rocking the Arc'teryx Zeta SL Rain Jacket. It's compact and ultralight, weighing in at only 310 grams, yet it is incredibly durable. Features include Gore-Tex with New Pact life Plus technology for improved comfort and taped seams for additional waterproofness. Gusseted arms allow for better movement, while the StormHood keeps your head dry without compromising visibility. Lastly, WaterTight zippers, adjustable cuffs, and a drawcord hem also help keep the rain and sleet out, so you stay warm and dry.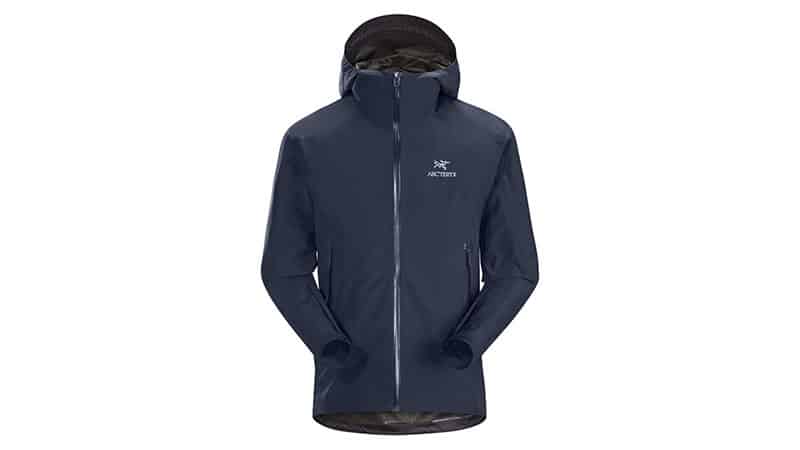 9. Columbia Rain Jacket
A Columbia rain jacket is an excellent investment for keeping you dry and comfortable in all conditions. Made with proprietary Omni-Tech material, it's waterproof yet breathable. Convenient features of this design include an adjustable storm hood with a chin guard to keep even the biggest squalls out. It also has a drawcord hem, zippered hand pockets, and adjustable cuffs. Finally, it also packs up small and light into one of the pockets, so it's compact and convenient for hiking, traveling, and storage.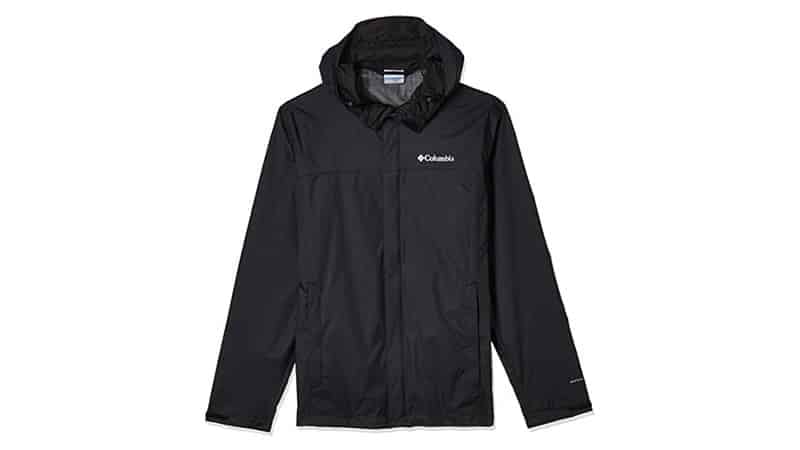 10. Carhartt Dry Harbor Jacket
Carhartt is known for its rugged, reliable workwear, making it a great choice for rain jackets too. The Dry Harbor Jacket is a classic option, with waterproof yet breathable Storm Defender® shell fabric. All the seams are taped, while the attached hood has a visor to keep the rain out of your eyes. Meanwhile, the front pockets have zips and storm flaps, the cuffs are adjustable, and a drawcord at both the hem and hood. Lastly, internal drop pockets mean you can easily store your phone, keys, and wallet without the risk of moisture getting into them.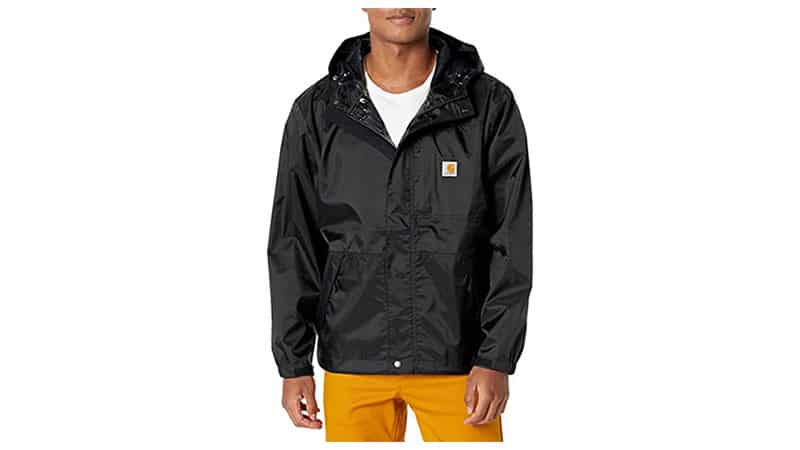 11. Outdoor Research Helium Rain Jacket
Add an Outdoor Research Helium Rain Jacket to your wardrobe, and you'll never worry about bad weather again. Originally released in 2010, it's a tried-and-true design that offers lightweight protection while packing down to the size of your palm. The Pertex® Shield with Diamond Fuse Technology is tear resistant and breathable. Plus, with taped seams, YKK® Aquaguard® Zippers, an adjustable hood, elastic cuffs, and a drawcord hem, you'll be sealed and dry. It also has a reflective logo for improved low-light safety and stuffs into the zippered chest pocket for storage and travel.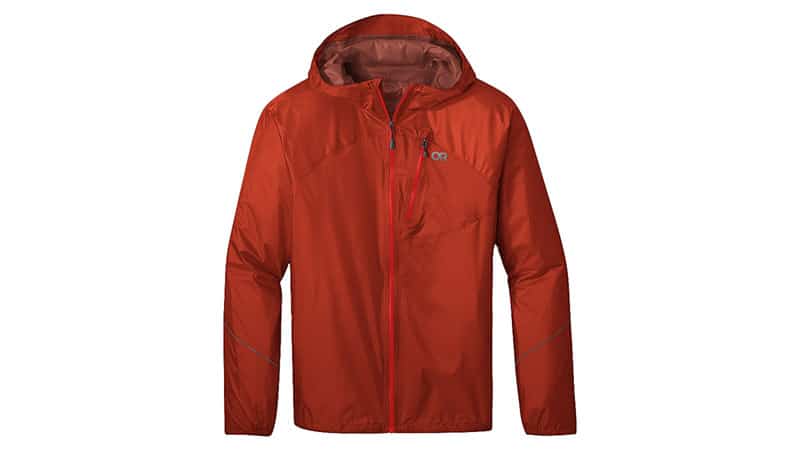 12. Montbell Versalite Jacket
Stay dry with the Montbell Versalite rain jacket. The ultralight design uses the Gore-TEx Infinium Windstopper membrane to stop rain from soaking through. With sealed seams, zippered hand pockets, a drawcord hem, and adjustable alpine cuffs, you'll be comfortable no matter where your adventures take you. The design is also super breathable, with ventilation to ensure you never overheat. It's the ideal choice for adventurers, explorers, and travelers who are keen to travel light.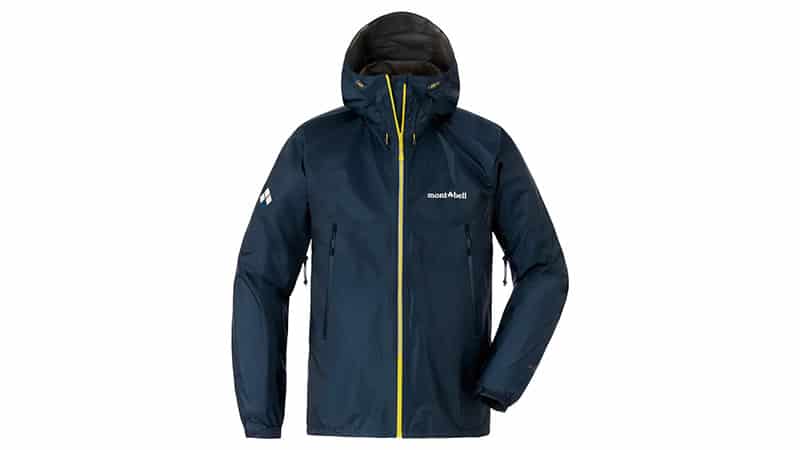 12. Rab Kinetic 2.0 Jacket
Combine the best of hard and soft shell jackets with this hybrid from Rab. The Kinetic 2.0 rain jacket uses three-layer Proflex laminate for waterproofness without compromising breathability. Plus, it's also 100% recycled polyester, so it's good for the environment too. Beyond the material, you'll also find adjustable hem and cuff locks, a hood that works under a helmet, and a brushed tricot chin guard that's warm and comfortable. Finally, choose from four classic colors: Aspen Green, Beluga, Nightfall Blue, and Oxblood Red.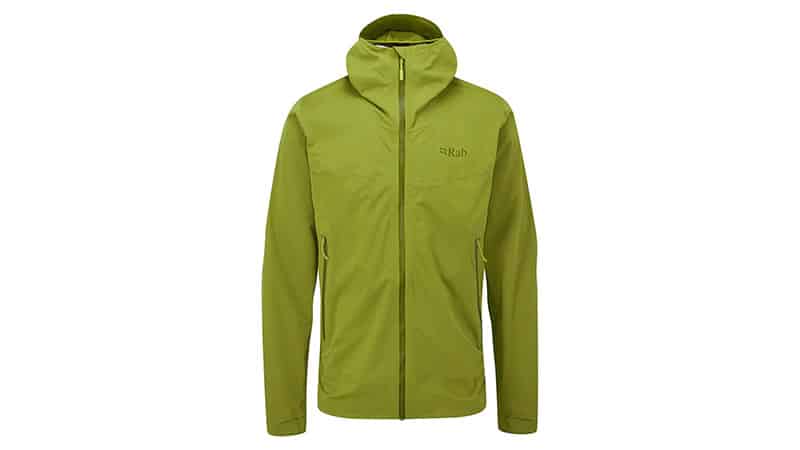 Rain Jacket Buying Guide
Buying a rain jacket requires many considerations. This includes where you're going to wear it, what kind of activities you'll be doing, and what type of weather you might be facing. Your needs for a rain jacket to wear to an office job will be very different from your requirements when mountaineering somewhere cold and wet. There are also a lot of design elements to consider, including seam taping, zippers, the hood, vents, how the jacket adjusts, pockets, and how well it packs (which is especially important for traveling). Then, there's the style of shell, the waterproofness, and the wind protection – all important for keeping you dry, comfortable, and safe!
Rain Jacket Features
Seam taping
When it comes to waterproofing, the seams are one of the weakest links on a rain jacket, thanks to the joined material and needle holes where the stitching runs. As such, water can get through, making it not waterproof. To prevent this and ensure you stay dry and protected, waterproof rain jackets will feature seam taping. This application of tape over the seams will seal all needle holes and joins. Just make sure to check all the seams are taped, not just common areas like the hood and shoulders.
Zippers
Like seams, zippers are one of the least waterproof elements of a rain jacket. Consequently, they need either a rubberized coating to help them seal or a storm flap. There are pros and cons to both. The former is harder to zip up and down, requires a zipper garage, and will wear off over time, reducing its effectiveness. However, storm flaps add extra weight and bulk, which can be a deal breaker if you're a particularly weight-conscious traveler.
Hood design
There are a variety of hood designs available in rain jackets. Many have the capacity to adjust for the perfect fit and to keep the rain out. Some have brims or visors for extra protection, while others can come off entirely if you don't need them. If you're partaking in sports that require a helmet, such as climbing or skiing, look for hoods designed to fit under a helmet, so you have the perfect safety combination.
Vents
Even if you choose a jacket made with breathable material, you can still work up a sweat if participating in strenuous activities. Many designs will have zippered vents in the armpits to help release some heat and cool you down. Some also have mesh-lined torso pockets that can act in a similar way.&
Adjustment features
A well-fitting rain jacket is important for both protection and comfort. As such, design elements that allow you to adjust the fit will make your life better. These can include wrist closures, hem drawcords, and hood adjustments. You can pull them tighter to keep the cold and wet from seeping in or loosen them if you start overheating.
Pockets
From a practical perspective, pockets are essential in a jacket. However, they will add weight and cost (especially when the zips are waterproofed). Pocket design can be creative and convenient. Some rain jackets will have enough pockets that you may want to ditch your backpack, while others are designed for easy access, and some prevent pickpocketing while traveling.
Packability
Whether you're traveling or out on a day adventure, you don't want to be weighed down by extra bulk. That's why packability is important. Many rain jackets use technical fabrics that can be compressed to a very small size. Some are even designed to pack down into their own pockets, so you don't need to worry about carrying a storage bag with you. These lightweight and compact designs are both practical and effective.
Types of Weather Protection
There are different levels of weather protection when it comes to rain jackets. What you choose will depend on the kind of weather you're facing, the activities you have planned, and the environment you're exploring.
Waterproof/breathable: If you're out and about on adventures, then a waterproof yet breathable rain jacket is your best choice. These designs keep rain and water out while also wicking away sweat and heat, so you stay dry from both precipitation and perspiration.
Water-resistant: Water-resistant rain jackets will keep a small about of light rain out but won't stand up to persistent drizzle or downpours. As such, they're a better choice for urban use, where you can get out of the rain if you need.
Waterproof/nonbreathable: A non-breathable waterproof rain jacket is generally made of plastic-type material but doesn't allow for any kind of heat or sweat distribution. While they're effective, they're best suited for non-intensive activities.
Windproof vs. wind-resistant
When you're out in the elements, you'll be facing more than just rain – wind also impacts your comfort. As such, choosing a windproof or wind-resistant jacket is also a factor to consider.
Windproof: As a general rule, if you're jacket is waterproof, it will also be windproof thanks to the materials used to prevent water seepage. You'll stay warm and protected from driving winds of more than 60 mph, so even with the worst weather forecasts; you can still take on adventures.

Wind-resistant: Meanwhile, wind-resistant jackets don't offer as much protection and are better suited to light wind or good weather. These tend to be a little lighter weight, though, so they are a good option for short trips.
3-in-1 Jackets
If you really want to tick all the weather protection boxes but still want flexibility, then a three-in-one jacket is a good option. This is a waterproof outer with a warm fleece or insulated jacket or vest that zips into the outer shell. This means you can wear each component individually, depending on the condition, or combine them to keep you dry and toasty even in the harshest weather.
Types of Weather Shells
The words weather shell in the context of rain jackets refers to the materials used in the construction of the garment. The most common are hard and soft shells (not to be confused with tacos), which offer different levels of protection and comfort.
Hard shell: Hard-shell jackets are the most waterproof and generally are breathable. However, they will be a stiffer-feeling material and won't be insulated or lined to keep you warm, so if it's cold weather you're tackling, then you'll need base or mid-layers for warmth.
Softshell: Conversely, softshell jackets feel more pliable and are a little more comfortable to wear. However, they are more likely to be only water resistant. It essentially combines the mid and outer layers of an outfit into one, with better breathability. These are great for more strenuous activities where you'll expect to sweat.
Hybrid shell: As the name suggests, a hybrid shell combines elements of both hard and softshell jackets. This might be a combination of different panels for the perfect mix of protection and comfort or the use of innovative technical fabrics.
Insulated shell: If you're heading to the snow or somewhere very cold, then an insulated shell is a must-have. These jackets tend to be puffy and are filled with down or synthetic fill that will keep you warm and toasty. Most will be water-resistant and breathable. However, you can get some that are waterproof – just remember to check they have sealed seams.
Durable water repellent (DWR)
Jackets with durable water repellent (DWR) have an added layer of protection, even if they're already waterproof. A DWR is a coating added to the exterior that causes water to bead up and roll off the fabric rather than sink in. It will wear off over time, so it's important to reapply regularly or when you notice water stops rolling off and the rain leaves damp spots on the outer.
Best Rain Jackets FAQs
What Is the Best Waterproof Rain Jacket?
The best waterproof rain jackets are the Patagonia Torrentshell 3-Layer Jacket, Tropicfeel NS40, and Mountain Hardwear Stretch Ozonic™ Jacket. 
How do you pick a good waterproof jacket?
There are a few things to look for in a good waterproof jacket. First is the waterproof rating to ensure it's waterproof, not just water resistant. Secondly, look for seam-taping, sealed or storm flap-covered zippers, and adjustable cuffs, hem, and hood. You'll also need to consider whether you want it to be breathable, as this can affect your comfort levels when participating in various activities. 
How do I choose a rain jacket size?
Rain jackets are often the outermost layer of an outfit, so you want to make sure you choose a size that not only fits your body but allows for that layering. Many designs are made a little larger to allow for this, especially as many (especially hard shell styles) don't have much stretch. You will need to consider how many layers you're planning on wearing – after all, what you wear around town compared to cross-country skiing will vary greatly. The safest bet will be to try the jacket on or check the sizing guide for each garment when shopping online. 
Is a waterproof jacket the same as a rain jacket?
Not necessarily. Rain jackets can refer to both waterproof and water-resistant jackets, so make sure you check the product meets your requirements before buying!
SUBSCRIBE TO OUR NEWSLETTER
Subscribe to our mailing list and get interesting stuff and updates to your email inbox.