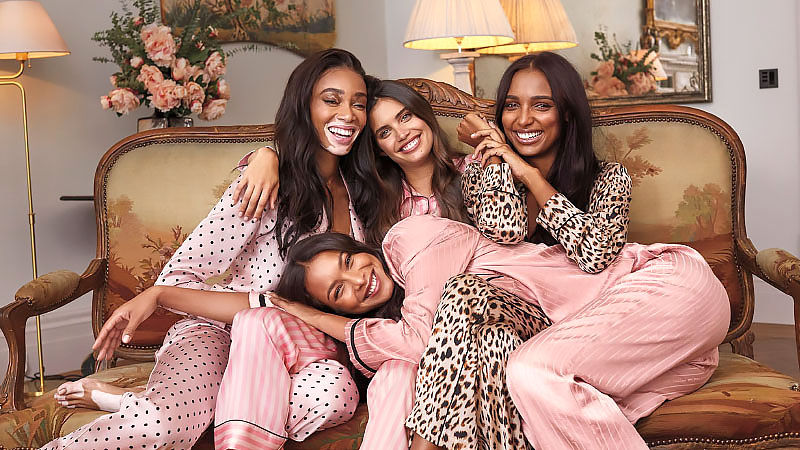 Whether you're working from home and you want to keep comfy, or you're just looking out for your new favorite pajama set, you can't go wrong with a cute pair of PJs. From silk to jersey and everything in between, there's the perfect combo for you and your style. Mix and match with new colors and textures, and grab something funky for every season of the year. No matter if it's a lazy afternoon or the end of a hectic night, you'll put the 'beauty' back into 'beauty sleep' with these stylish pajamas for women.
1. Desmond & Dempsey Soleia Pyjama Set
This Desmond & Dempsey pajama set is sure to give you pleasant dreams, thanks to its soft organic cotton and stunning design. The tigers and flowers printed on the crisp white background offer a funky twist on the classic style. These materials are ethically-sourced, meaning you can sleep easy at night, knowing you're looking gorgeous and helping the planet.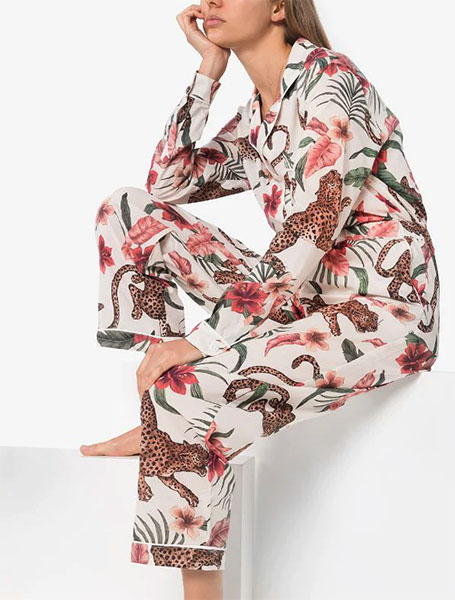 2. Bluebella Wren Kimono Pyjama Set
It's silky, it's effortlessly beautiful, and it's sultry, what more could you want? The Bluebella Wren pajama set features satin-touch fabric with a seductive kimono tie waist. The classic design of navy blue with white piping offers a timeless feel while feeling modern. The elastic band around the pants will keep you comfy, and the wide legs will give you a high fashion feel.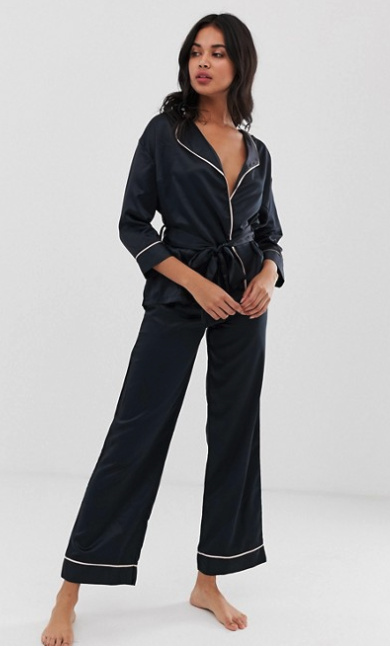 3. Homebodii Olivia Cami Set
Keep cool while you sleep in this sleek and stylish pajama set from Homebodii. The Olivia cami set boasts lace touches on the singlet and shorts and is tailor-made to suit your body. It's available in two shades, meaning you can have a different pair of cute PJs to wear on different days. It is the perfect option for warmer months, so you can keep fresh and look stunning while you sleep.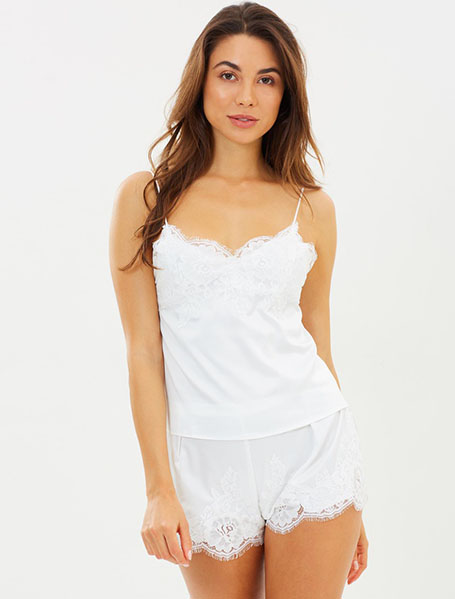 4. Fleur of England Piped Pajama Set
Combine the timeless structure of classic pajamas with modern flourishes, and you've found your next ensemble. This Fleur of England set is crafted from 100% silk, with piped edges for a flawless finish. The V-neck allows your skin to breathe while you're asleep, and the delicate button finishes keep you feeling gorgeous as you dream. From a lazy Sunday morning to a wild Friday night, these PJs will be your new best friend.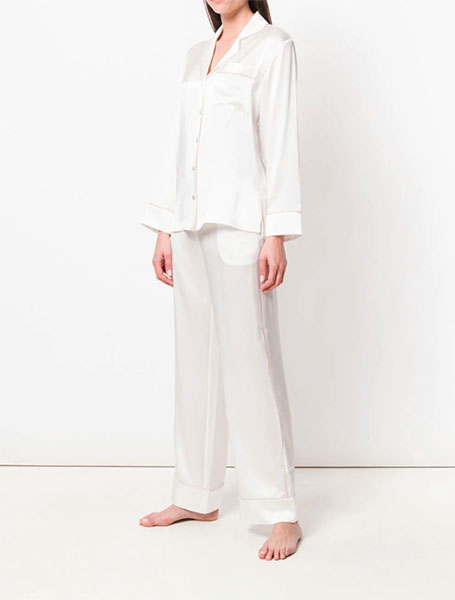 5. Eberjey Giselle Jersey Pajama Set
Is this your new dream set of PJs? The Eberjey Giselle pajamas are crafted from jersey, meaning it will stretch and breathe with you as you sleep. The classic design of the ensemble is timeless, but the added shorts give it a modern touch. It's available in three colors and works perfectly in any season so that you can stay cute throughout the entire year.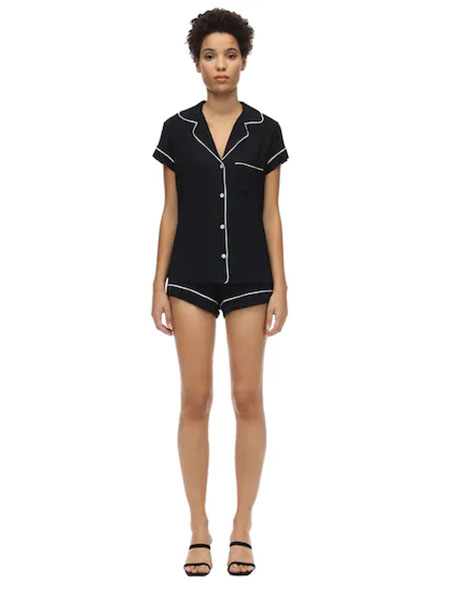 6. La Perla Silk Pyjama Set
Look good and feel gorgeous in La Perla. This pajama set feels as soft as it looks, thanks to its silk construction. The delicate fabric glides over your body, and the stretchy elastic waist keeps you feeling comfy all night. Let the shirt hang off one shoulder or have it slightly unbuttoned for a seductive finish. These PJs are a fantastic choice as a gift for a friend or yourself – you'll be having sweet dreams with this beautiful set.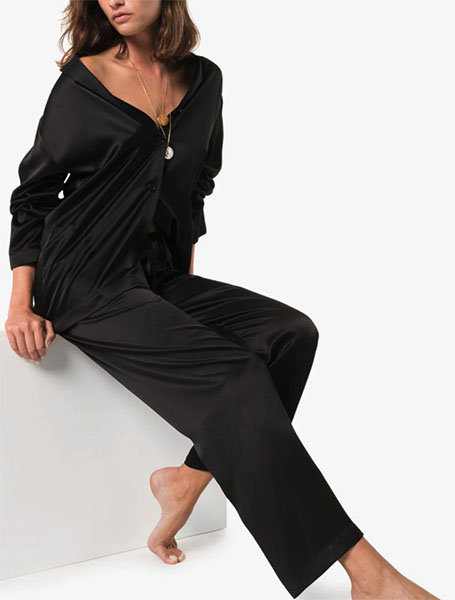 7. Modern Romantique Aubrey Pyjama Set
Mix and match some of the hottest colors of the season in the Modern Romantique Aubrey pajamas. This ivory and lavender combo is a delicate choice, and the satin finish fabric is soft to the touch. With a button-down silhouette and a pair of shorts to match, it's the best PJ set to wear when it's warm outside. The relaxed French seams help you relax during the evening, and the stunning design will have you feeling chic all night long.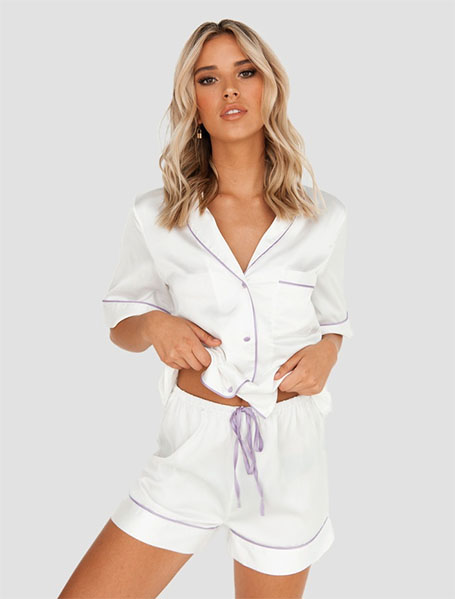 8. Annalie Cami and Short Set
Keep it short and sweet in this stunning cami set. The flippy singlet features a scoop neckline, allowing your skin to breathe even during the warmest nights. The bottoms are cut at the top of the thigh with a flounce hemline for the ultimate flirty finish. You can rock this with a silky kimono or a bathrobe, and the stylish black color makes it an excellent option for everyone. Once you put these on, you'll never want to take them off!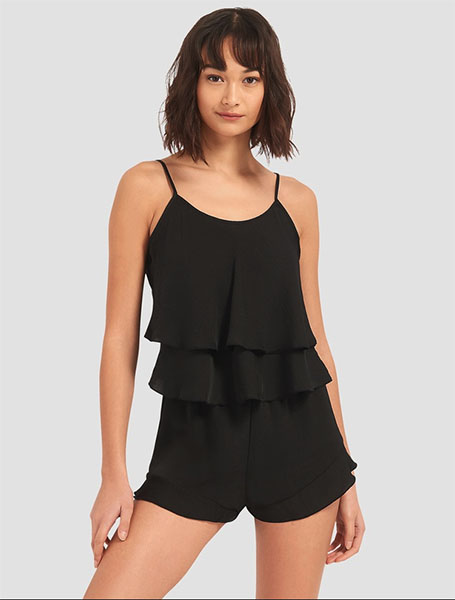 9. Ginia Pick & Mix Cami
Add a feminine touch to your wardrobe by wearing this Ginia cami set. The classic French-inspired camisole features delicate lace across the neckline, with flourishes of it along the hem of the shorts. The pajamas are cut from soft and lightweight satin, keeping you feeling fresh and lovely while you sleep – the bias cut of the top will drape elegantly across your chest for the perfect finishing touch. Choose from three stunning colors, and you'll be the next sleeping beauty.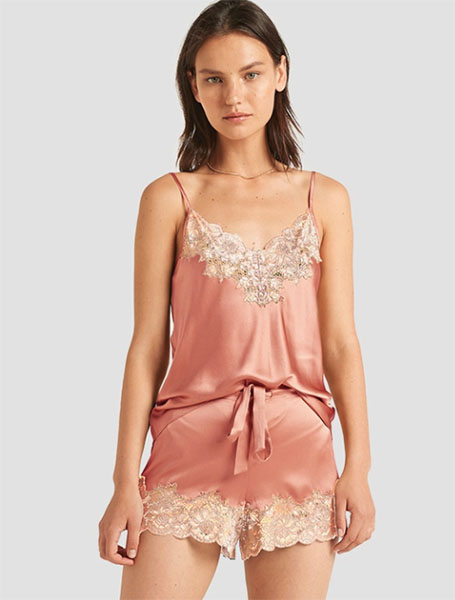 10. Olivia Von Halle Lila Striped Pyjama Set
Make every dream come true with the Olivia Von Halle striped pajama set. This black and ivory combination looks like it's straight out of Candyland, and the finishing touches on the ensemble are just as sweet. Its extra pocket on the shirt and contrasting pattern across the hems add a high fashion touch. Featuring a tailor-made silk construction and an open collar cut, you'll be so comfortable that you'll ever want to wear anything else.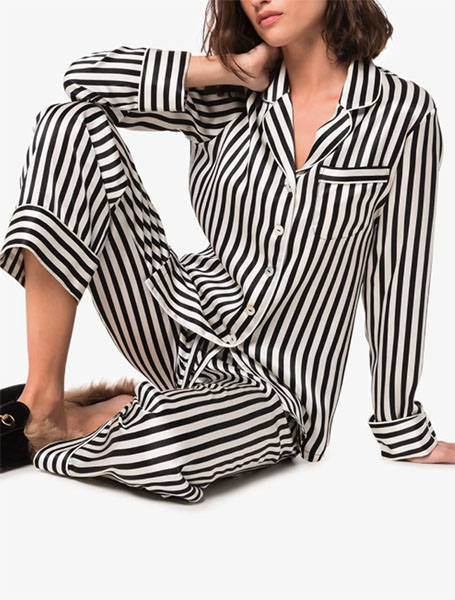 11. Olivia Von Halle Lila Zebra Print Two-Piece Pyjama Set
Go on Safari in your own living room with this stunning zebra two-piece set. These pajamas from Olivia Von Halle feature a silk construction and is complete with a traditional design. The pattern is striking and delicate at the same time, combined with the magnificent finishes on the upturned sleeves. The black piping across the hems are a smooth finish to these stunning PJs and are so luxurious that you'll forget you're in your own home!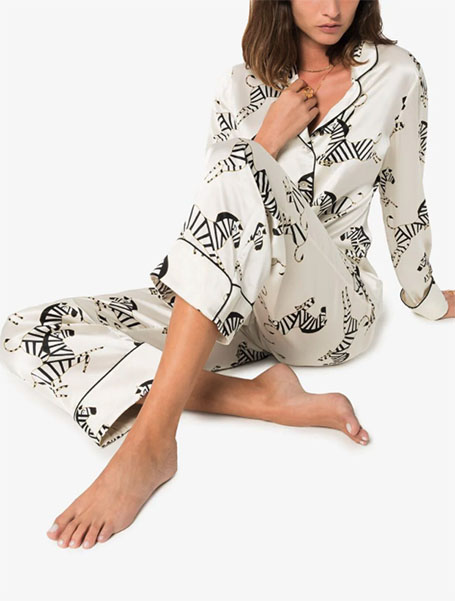 12. Satin Cami & Short Set
Make your bedroom your runway with this fashionable satin cami set. With two of the hottest colors of the season and one of the comfiest designs, you'd be hard-pressed finding anything else this cute. The pink and red combo is sweet like candy, and the short and singlet mix will have you feeling fresh as a daisy. Throw in a cherry red dressing gown, and you'll be ready to slay the day.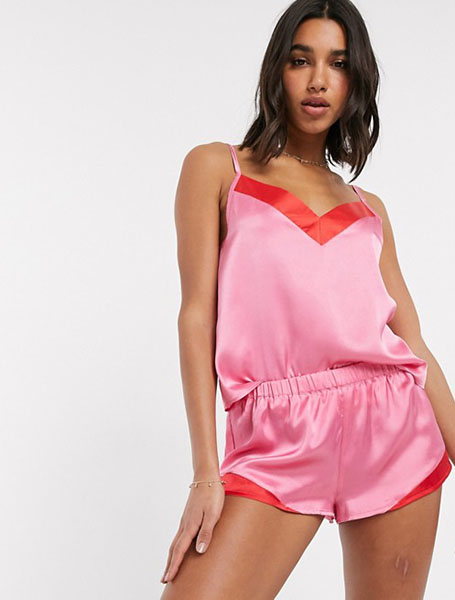 13. Olivia Von Halle Two-Piece Pyjama Set
Sometimes you can't go wrong with the classics. These traditional pajamas come in a jewel-tone color, meaning you'll feel like royalty every time you wear them. The silk construction and piped edges are effortless in design, and the wide, long pants will keep you comfy all night long. With PJs this stunning, you'll be catching some serious Zs with ease.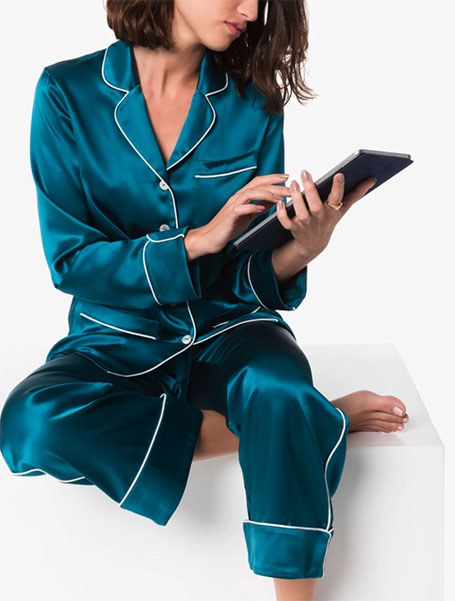 14. Bluebella Atalanta Cami and Trouser Set
Add a sultry twist to your traditional pajama with the Atalanta cami set. The Plisse-look trousers are beyond comfortable to walk and sleep in, and the sexy lace insert of the camisole is a fresh take on the classic design. The fabric is breathable, and the baby lock hemlines are stunning – you'll be having the sweetest of dreams when you wear these gorgeous pajamas.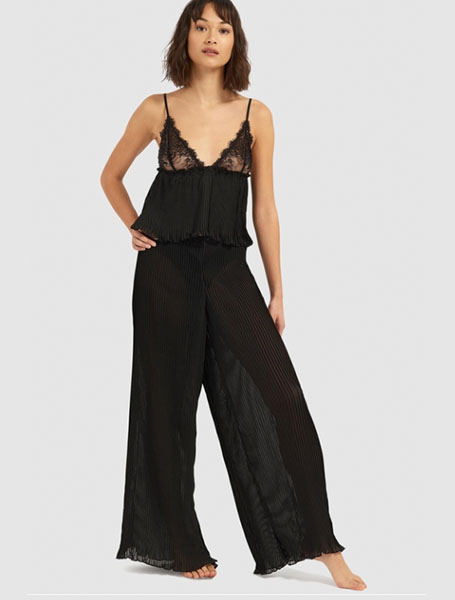 15. Tilijay Coco Cami
Keep it cute and elegant with this Tilijay Coco cami. This pinstripe set is available in two colors, and it is as sweet as a candy cane. The frilled shorts are micro in size, but keep you feeling free with every step. The camisole offers adjustable straps with a tassel at the end, and the buttons down the front add a sexy twist. You'll be sleeping like a queen every time you wear these gorgeous pajamas and will never want to take them off.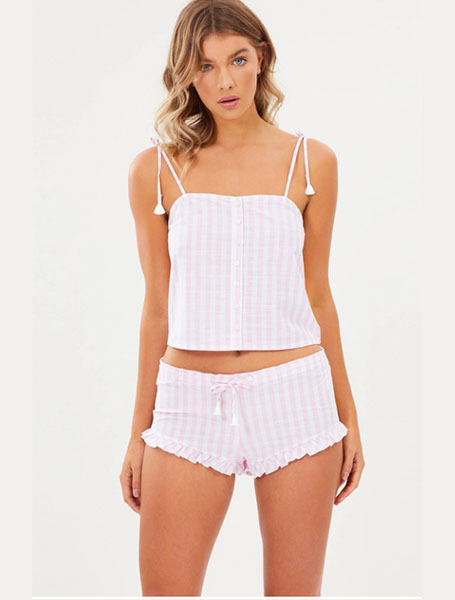 SUBSCRIBE TO OUR NEWSLETTER
Subscribe to our mailing list and get interesting stuff and updates to your email inbox.