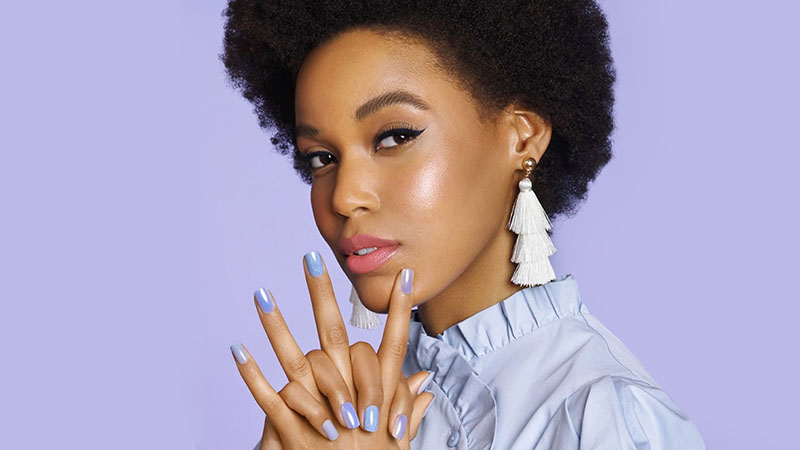 Press-on nails are a wonderful way to glam up your look without committing to a permanent manicure. They're easy to both apply and remove. Additionally, some options are even reusable so that you can break them back out for the next special occasion. Select from standard-size, ready-to-wear options, or splash out for custom press-on nails, that are made to fit your fingers. You can apply them with adhesive tape, or nail glue, depending on how long you want them to last. Finally, there's a world of designs available, from glitter and rainbow to decals or a classic French manicure. The best thing about press-on nails is that it's versatile and incredibly easy to change your look.
1. Kiss Ab FabGel Fantasy Nails
Bring the salon home with you with the Kiss brand Ab Fab Gel Fantasy Nails. These press-on nails are fantastic and affordable and look like a gel manicure. The matte pink is unobtrusive, versatile, and stylish. The pack comes with 24 medium length nails in various sizes. Additionally, it contains adhesive tabs and glue, so you can decide how you prefer to apply them. You'll get up to seven days wear depending on which application method you choose.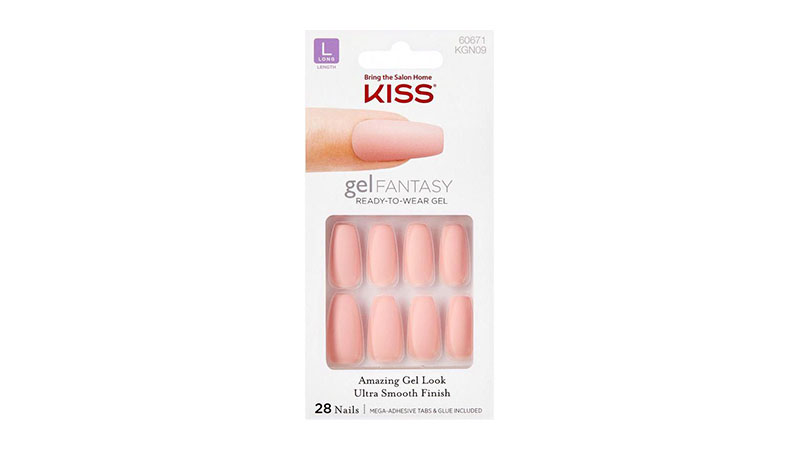 2. Kiss Revolutionary Natural Nails
Give yourself an elegant but natural-looking French manicure with ease. The Revolutionary Natural Nails from Kiss is made with acrylic-infused technology, so they're strong and durable. Plus, the tapered cuticle edge allows a seamless look. You can wear these as is, for a natural look, or customize the nails by painting them with your favorite polish. The set comes with glue, a file, a manicure stick, and 28 medium length nails.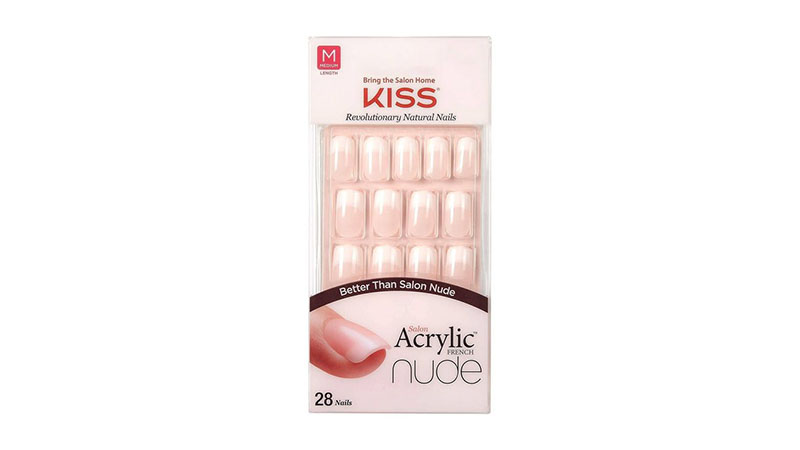 3. SOSU By Suzanne Jackson False Nails Life's a Beach
You might as well be in a tropical paradise with the island vibe of these cute nails from SOSU by Suzanne Jackson. You will feel like you are on a vacation with the pastel pink, gold, and palm leaf designs, and high-gloss finish. The mix of short oval and square nails are practical and flexible, to suit most hands. The file, manicure stick, and glue make application as easy as lying on the beach under the tropical sun.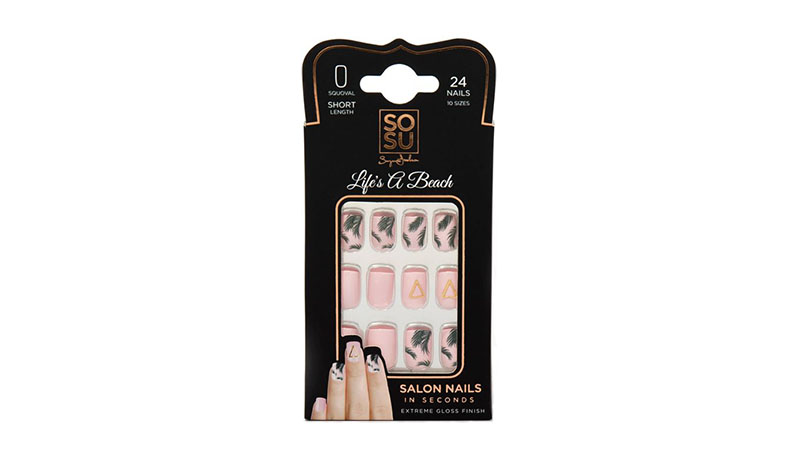 4. Dashing Diva Magic Press-On Gel Nails
Get a gel manicure in just a few seconds. Dashing Diva's Magic Press-on Gel Nails come with patented SuperHold technology, so there's no need for glue. Simply prepare your nails, peel the backing off, and press them on. The Gold Standard color option combines the joy of gold glitter with the fierceness of matte black. Plus, there's some additional bling on a number of the nails to level up your look.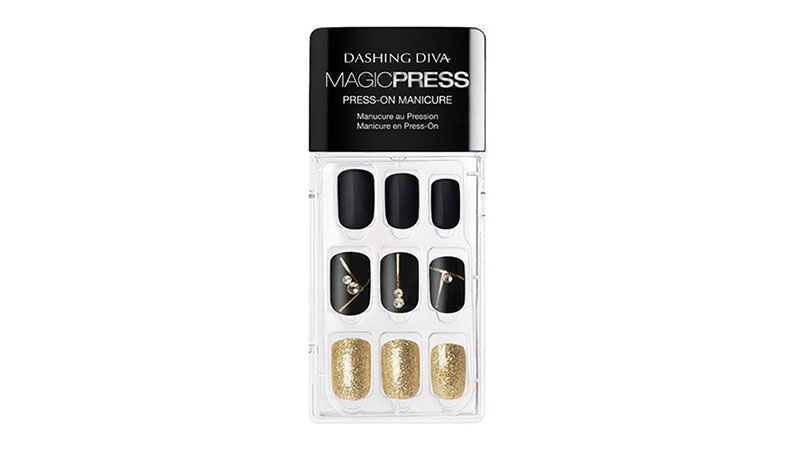 5. Kiss Le French Pop Impress Nails Rebecca Minkoff
Teaming up with New York City-based designer, Rebecca Minkoff, Kiss has created a fashion-forward press-on manicure set in their Impress range. These nails come with three colors – vibrant canary yellow, subtle pastel pink, and striking powder blue. The design not only has the color on the tip, like a traditional French manicure but at the cuticle base as well, for a modern and fun design. Consequently, it's the perfect pop of color for any look. The rounded tip is easy to wear, and the SuperHold technology makes application simple. The set comes with 30 nails, a prep pad, a file, and a manicure stick.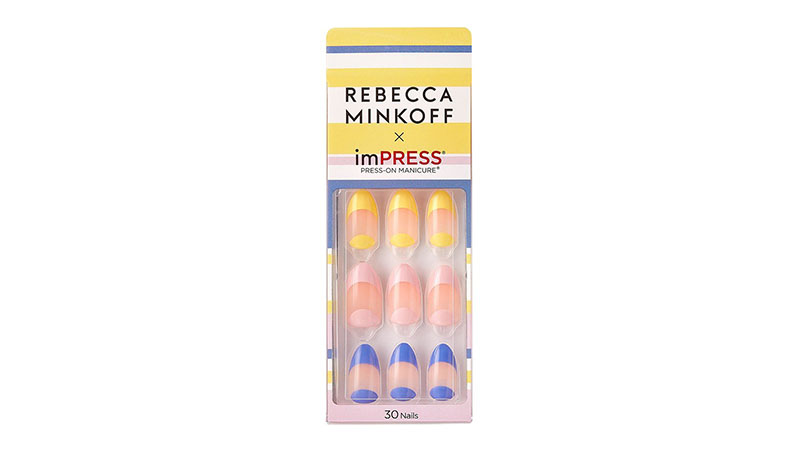 6. The Nailest Soph Pink And White Ombre Nude Blend
Enjoy a perfect fit with these beautiful ombre nails from The Nailest. The store has sizes varying from extra small to large, plus custom options, so you'll get the ultimate fit, and you can choose your favorite shape. The options include almond, coffin, stiletto, square, and oval shapes, in different lengths. The Soph pink to white ombre is a unique perspective on the French manicure, and there are other color combinations available, including beige and pink. When you're not rocking this set of press-on nails, you can keep them in their stylish storage box.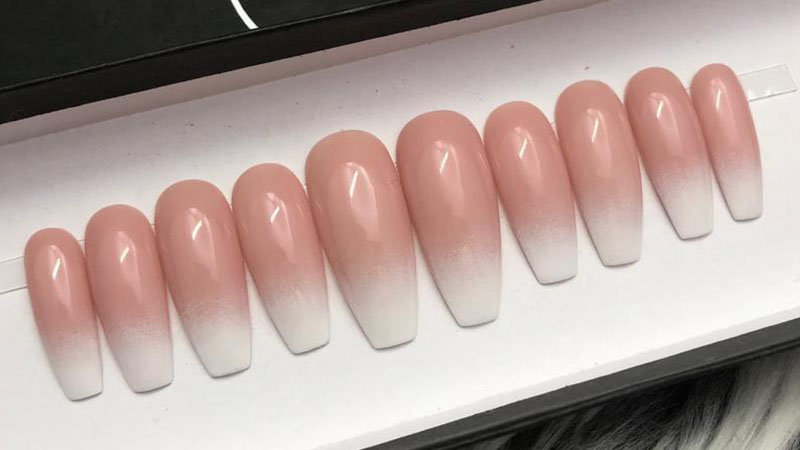 7. H&M Press On Nails Ladyship
Grab a budget-friendy set of press-on nails from fashion giant H&M. Go for a vampy look with the deep plums of the Ladyship, or select the soft greys of Dove Story. Alternatively, there's the classic French Mani option, or plain black, which is always in style, and sophisticated. The pre-glued nails simply press on, and you're ready to go.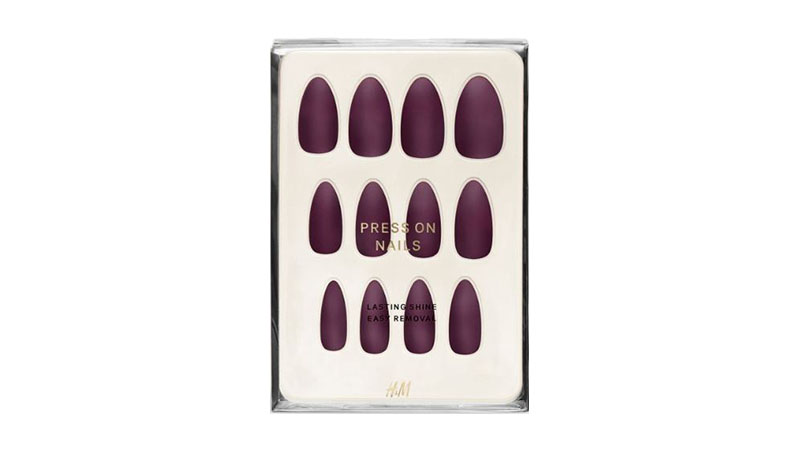 8. Ardell Nail Addict Nails Glass Deco
Ardell Nail Addict Nails in Glass Deco offer a unique and magical look. The clear press-on nails resemble glass and are decorated with stunning Art Deco prints and sparkly glitter. It's a look that would perfectly match Cinderella's glass slippers, and have you ready for a royal ball in no-time. The set comes with professional glue, a nail file, and cuticle stick, so even if your fairy godmother is late, at least you can have your nails done in five minutes.
9. jsfrnNailArt Pressed Dried Flowers on White Press-On Nails
If you like to surround yourself with nature and stroll through beautiful flower gardens, these are the press-on nails for you. They feature real dried flowers, on a white background, and are reusable so you can wear them over and over. They are a little pricier than some of the other options, but the reusability and uniqueness are worth the price tag. Simply choose your favorite nail shape, preferred length, and glossy or matte finish, then get ready to sit by the mailbox anticipating their arrival.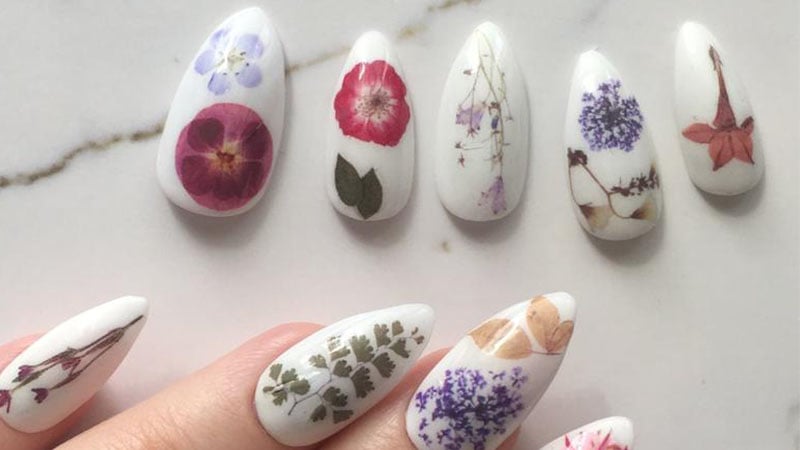 10. OutlinedAU Holo There Metallic Silver Nail Wraps
Make a striking statement with silver chrome nail wraps. Unlike other press-on nails, these don't add length but just sit on your natural nail. It's nail polish, but easier. The application is simple, just peel the backing off, apply it to the nail, add some gentle heat, then file to your preferred length and shape. You can also add a clear topcoat for results that can last up to two weeks. It's a chic look that's perfect for drinks with the girls or a night on the town.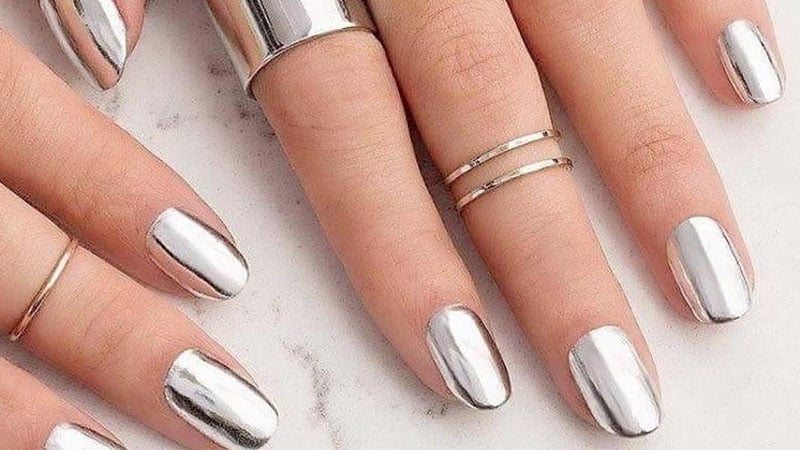 11. jsfrnNailArt Jelly Press-On Nails with Holographic Sequins
Remember jelly shoes? These are essentially the press-on nail version of them. Fun, youthful, sparkly — what more could you want? Choose from seven colors, including bright red, Candyland pink, or gummy bear blue. Each color has holographic sequins in stars, hearts, and dots. Plus, the effect is transparent, which adds another level of cheer. Finally, these press-on nails are also reusable, and you can select your shape and length for the perfect look.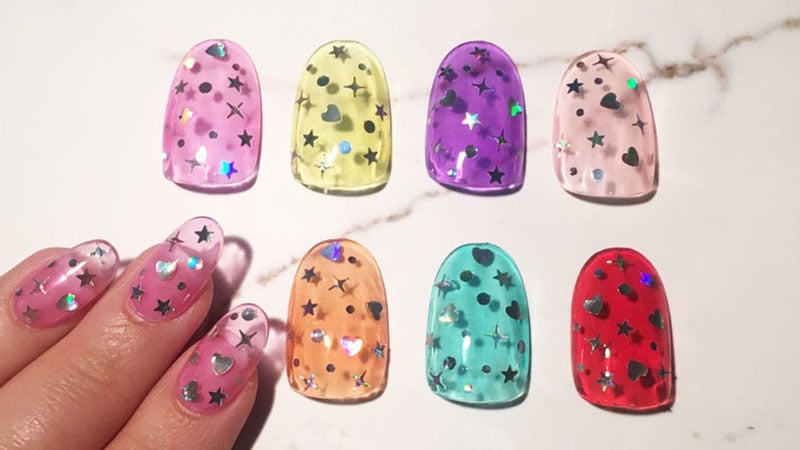 12. SilverseStudio Short Coffin Lilac Light Purple Press on Nails
Keep it simple with these stunning lilac short coffin nails. You get 24 press-on nails per kit, which also includes two lots of adhesive tabs so you can reuse the nails. Plus, you get a nail file, an alcohol preparation pad, and a manicure stick. Select from a matte finish or a high gloss alternative, whatever tickles your fancy. They're also made from acrylic, so they're durable and won't chip.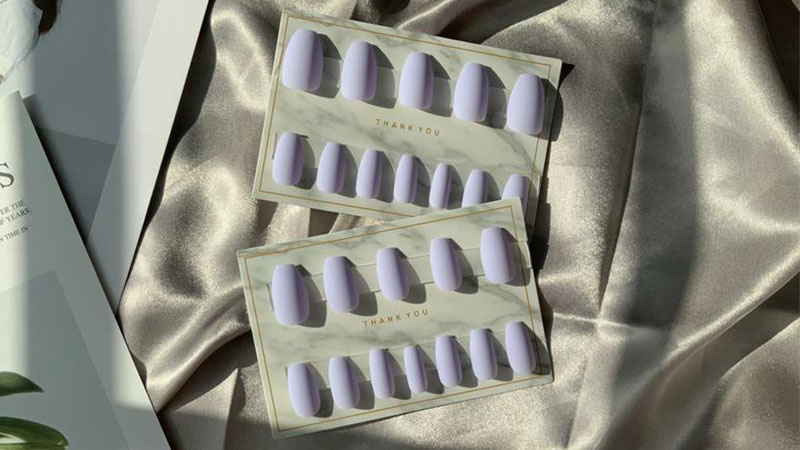 13. NailedByNicolette Rose Gold Chrome Fake Nails
If you believe that the time and place for glitter and shine is everywhere and always, then glittery chrome press-on nails are for you. However, the rose-gold shade of these tones it down for any everyday look, so it's as much at home kicking it on the couch, as it is on a girls' night. This set comes in a stylish box with a nail file, nail glue, a manicure stick, and instructions. Select your favorite shape, from the long coffin to short round, and everything in between.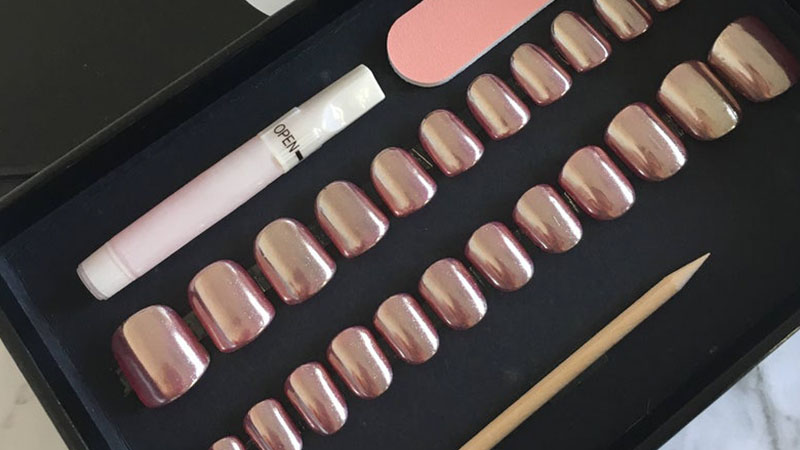 14. jsfrnNailArt Holographic Rainbow Jelly Glass Press-On Nails
Be a ray of sunshine through the clouds with rainbows on the tips of your fingers. These holographic rainbows are another fun variation of reusable press-on nails from jsfrnNailArt on Etsy. The holographic finish diffracts the light to create depth and variation of colors, so it's like a double rainbow all the way. With all their nails, you'll get to choose your ideal shape and size for the perfect fit. Simply press them on, and you're ready to go.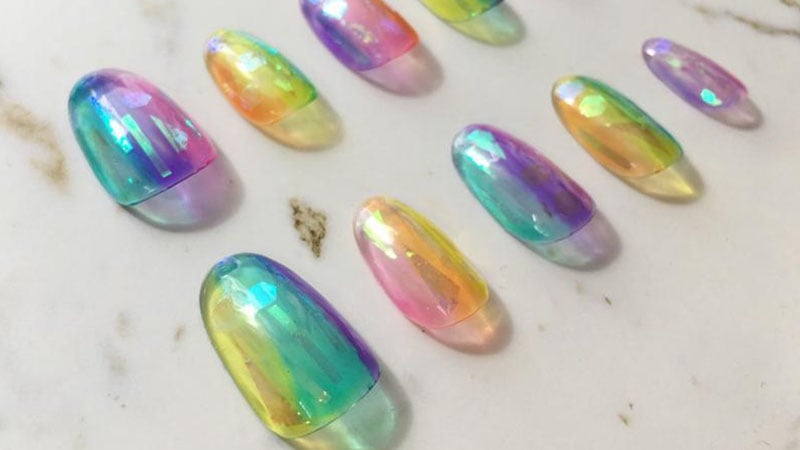 15. My Nail Box Star Press On Nails
Live your best life in a pretty pastel universe with these star press-on nails from MyNailBox on Etsy. The combo of plain pastel and star-studded nails is cute but classy. Plus, the stars are handpainted and finished with sugar-effect glitter. When you buy, you can select from sizes ranging from extra-small to extra-large, or get a custom-made set by sending in your nail measurements. Then, decide on what shape you like. The options include square, oval, coffin, stiletto, and almond shapes, all of which come in both regular and long.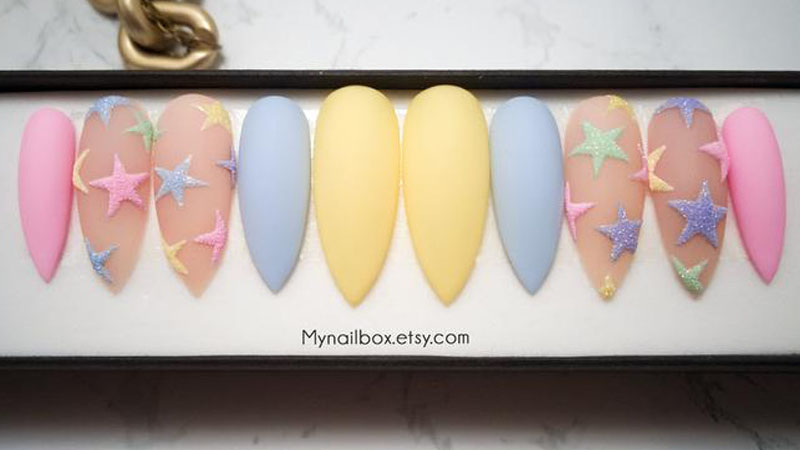 Press On Nail Glues
Many press-on nail sets come with adhesives and glue; however, buying a separate bottle of glue can be a good idea. Often the quality will be better, meaning a longer-lasting press-on manicure. Additionally, if you've invested in a reusable set of nails, you'll eventually need to replenish your glue stock. Finally, nail glue has alternate uses. It's handy to have around for general life repairs, such as fixing your favorite dinosaur pen that you dropped or gluing a broken earring back together.
Press-On Nails FAQs
What does press on nails mean?
Press-on nails are artificial nails made of an acrylic resin, although the formula may differ depending on the brand you choose. They are super easy-to-wear and can be applied with adhesive tape or nail glue. This option is great for those who want a temporary manicure that is easy to do at home.
Do press on nails damage real nails?
Press-on nails should not cause any damage to your real nails if you take care during the application and removal process. Over time, the glue used to secure the nails could weaken your own, so it is advisable to have a break between applying them. Purchasing high-quality and durable press-ons from a reputable company will also help lessen the chance of any damage.
What is better to press on or glue on nails?
To press on nails with an adhesive tape or glue is, in general, a much better option for your natural nails than an acrylic or gel manicure. Don't be too rough with the glue and your nails during the removal process. It is very unlikely that you will experience any damage, making this one of the most popular options for women concerned about removing artificial talons.
SUBSCRIBE TO OUR NEWSLETTER
Subscribe to our mailing list and get interesting stuff and updates to your email inbox.