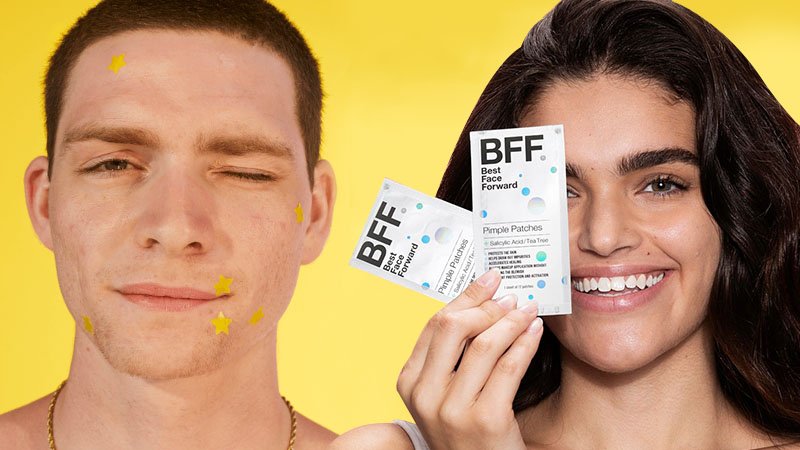 Bust your blemishes by using a pimple patch. These spot treatments are perfect for both men and women who experience spots or breakouts and want an effective but gentle way to tackle them. Pimple patches generally come in two forms — hydrocolloid stickers or patches that contain active ingredients such as salicylic acid and tea tree. Hydrocolloid draws gunk and impurities out of your skin, absorbing it in the patch while providing a protected and healing environment. The active ingredient kinds do the same, but also exfoliate and hydrate. You'll see results fast with both types. Many patches come in a clear or neutral color so that you wear them throughout the day. Alternatively, you can opt for a fun design to inject some levity into your spotty situation. Best of all, they're easy to use and can work while you sleep so that you can wake up fresh-faced!
1. Peter Thomas Roth Acne-Clear Invisible Dots
Clear up spots and acne quickly and painlessly with the Acne-Clear Invisible Dots from Peter Thomas Roth. It combines a potent mix of active ingredients, including salicylic acid, tea tree oil, hyaluronic acid, and volcanic ash. Together, they clean and exfoliate the skin, draw out impurities, improve the moisture and hydration, and kill bacteria while calming inflammation. All you need to do is clean and dry the area before applying an appropriately sized patch and leaving it on overnight or throughout the day. They're clear, so you'll barely notice them, but you do need to avoid applying makeup, moisturizer, or sunscreen over the top.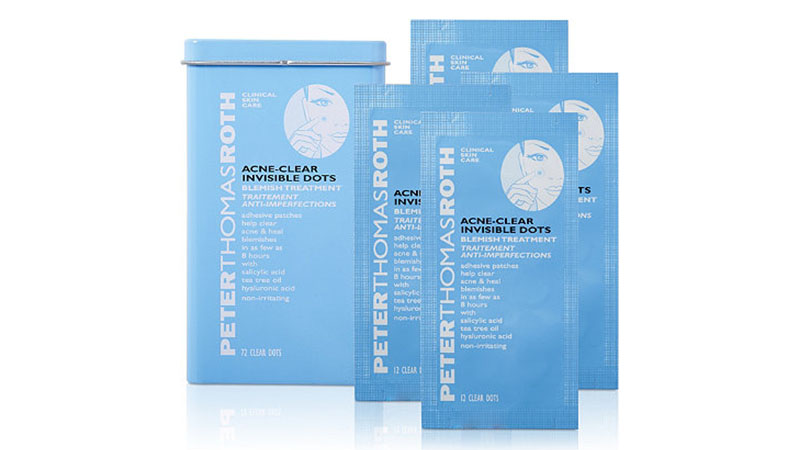 2. ZitSticka KILLA Kit 8 pack
Tackle deep zits before they even reach the surface of your skin. The KILLA zit patch is designed to do just that, with the signature micro-dart technology from ZitSticka. Its targeted ingredients include sodium hyaluronate, oligopeptide-76, niacinamide, sodium hydroxide, salicylic acid. They penetrate the emerging pimple and get rid of it before it fully forms. Plus, it has a calming and hydrating effect to reduce any redness or inflammation. The kit comes in a stylish box with individually wrapped foil packs that contain a cleansing swab and the patch. Not only do they look cute on your bathroom counter, but you can also easily tuck a couple in your bag when you're on the go.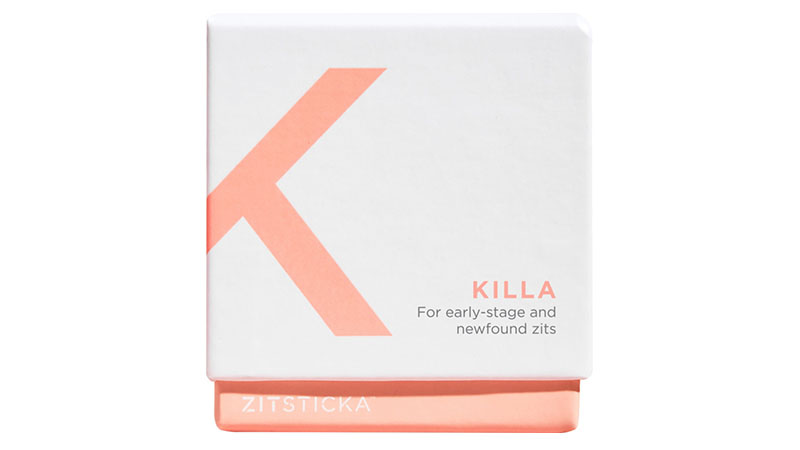 3. COSRX Clear Fit Master Patch — Day Care
If you're heading out and about for the day, but need to cover a zit, then choose the COSRX Clear Fit Master Patch — Day Care. It's super thin so that you can wear it under make-up or sunscreen, and it disguises the appearance of blemishes, so you won't feel self-conscious. The design of these hydrocolloid pimple patches allows the spot to heal independently and protects it from bacterial infection and environmental inflammation. Plus, they're dermatologist tested and hypoallergenic, making them a good investment, even if you have sensitive skin.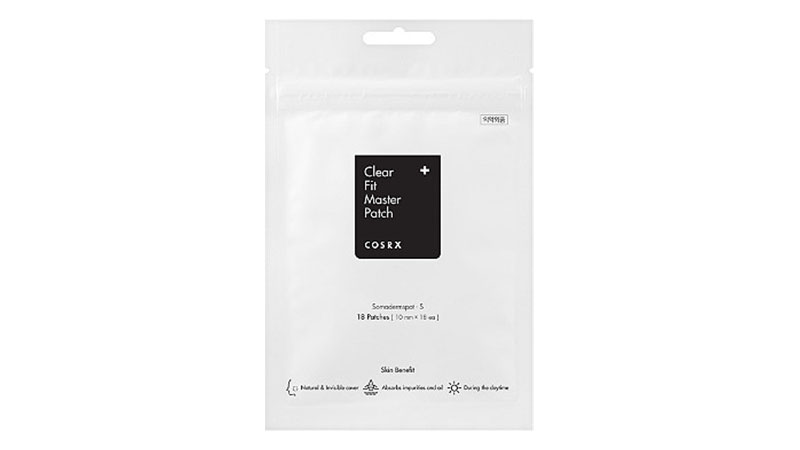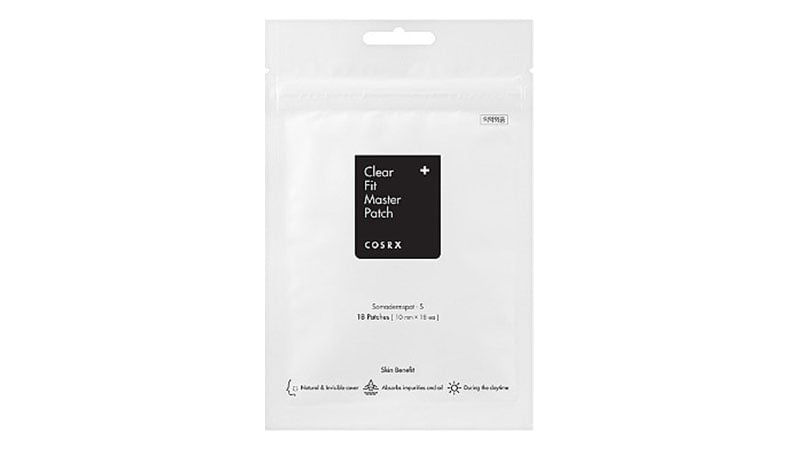 4. skyn ICELAND Blemish Dots
Fight your blemishes with these pimple patches from skyn ICELAND. Each patch floods the zit with effective and efficient acne-fighting ingredients to shrink the size, reduce inflammation, and prevent infection. The active ingredients include salicylic acid, a beta-hydroxy acid (BHA) that cleans deep into the pores, while tea tree oil is a powerful antimicrobial that kills bacteria. Volcanic ash draws out impurities and absorbs liquids, while ceramides help to rebuild the skin's barrier. These patches work best overnight, meaning you can wake up with clear, blemish-free skin.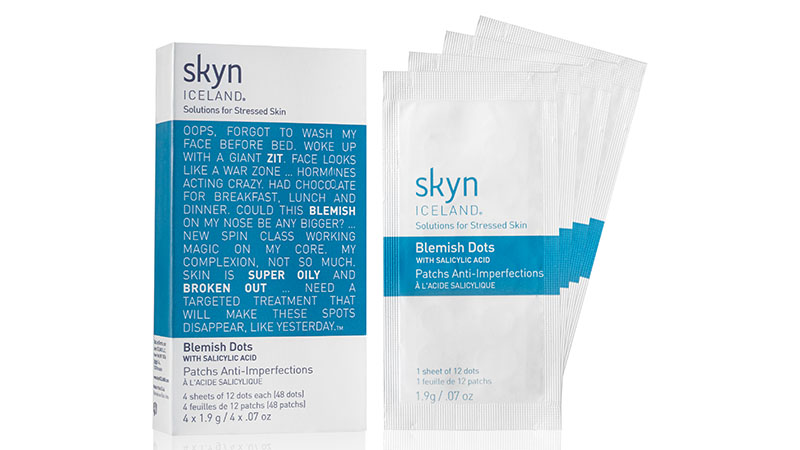 5. Spalife Hydrocolloid Pimple Patches
These butterfly shaped pimple patches from Spalife are perfect if you want something fun to help kill acne and breakouts. You can wear these gentle patches for up to 10 hours, so they're perfect for sleeping in. They also won't dry your skin out as they perform their magic. It works by drawing and absorbing impurities from the skin while maintaining your natural moisture levels. Plus, they're simple to use. Just wash and dry your face before applying a new, clean patch covering the problem area. Leave it on for eight to ten hours, and voila — clear skin.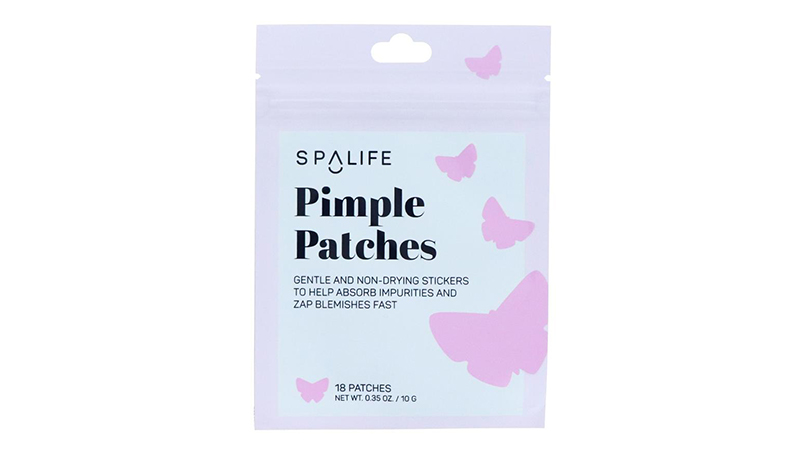 6. Squish Flower Power Acne Patches
Channel some flower power while you tackle your acne. These ridiculously cute patches are made from hydrocolloid, which draws infection to the surface and helps heal and protect your skin from environmental damage, including yourself if you're prone to picking. While acne can be a bit of a bummer, this gives you the opportunity to inject some fun into your skincare routine. Not to mention, each flower has a diamante in the center of it, and everyone knows a bit of sparkle can make most things better.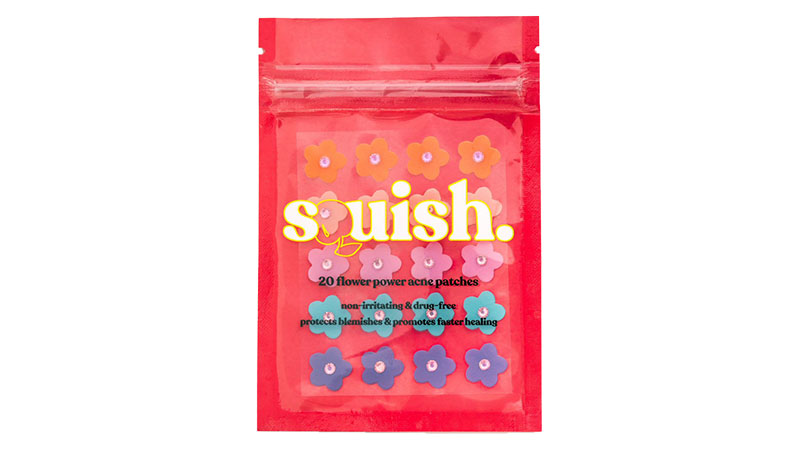 7. Nexcare Acne Cover
Nexcare is an excellent pharmacy brand that's super affordable. Their pimple patches come in two different sizes, so no matter what your blemishes are doing, you'll be able to cover them with ease. They act like a sponge to absorb oil and impurities from congested, clogged, and infected pores. Make sure to start with a clean, dry face and hands, apply a single cover to the center of the zit, and seal the edges well. You'll know it's working when it turns white. Wear them overnight or during the day. The material is also breathable and suitable for sensitive skin, so it won't cause any additional irritation.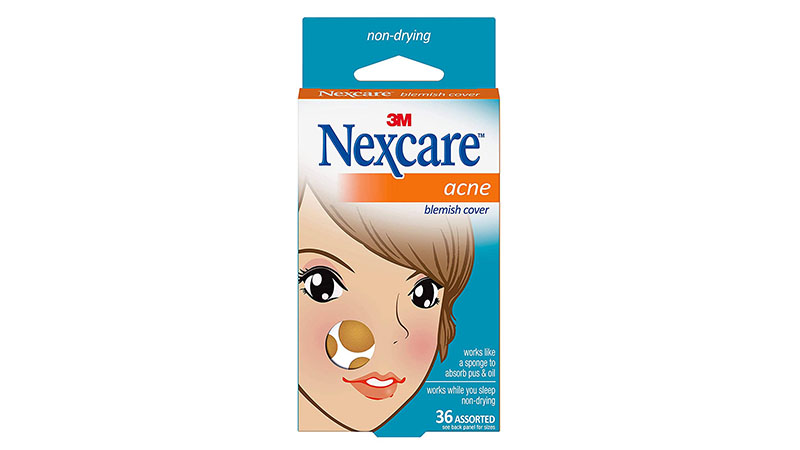 8. Truly Hemp Acne Patches
Salicylic acid and hemp combine to create effective results with these pimple patches. The salicylic acid gets right down into the pores to clean out and exfoliate the skin, eliminating impurities and infection. Meanwhile, hemp is an anti-inflammatory that will reduce redness and inflammation, leaving your skin feeling calm and speeding up the healing process. Apply a patch to clean dry skin before getting a good night's sleep, and you'll wake up with considerably improved results.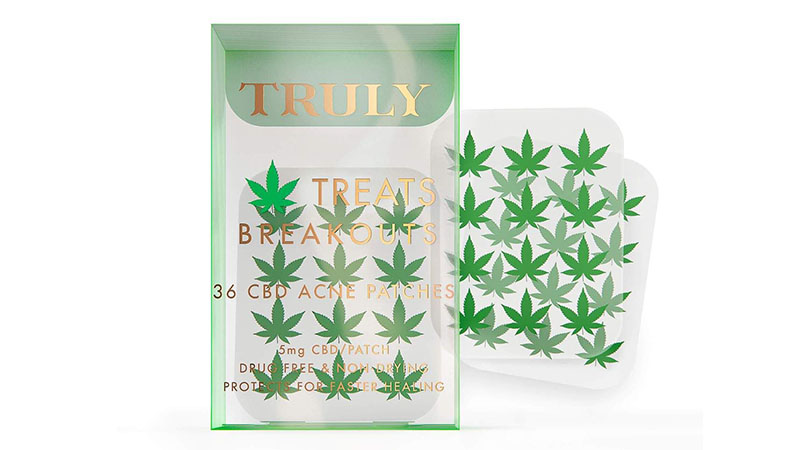 9. C&C by Clean & Clear Over Zit Spot Patches
Stop the temptation to pick at your spots and zits with these fun pimple patches from C&C by Clean & Clear. They come in different sizes, so you're covered no matter how large your zit is or where it's located on your face. Your pack also contains a mix of patterned patches and clear ones, so you don't have to draw attention to your face if you don't want to. The hydrocolloid material absorbs fluid that's brought to the surface, drawing out pollution in the pores. It also creates a calming and healing environment for your skin to repair, keeping away dirty fingers and environmental contamination.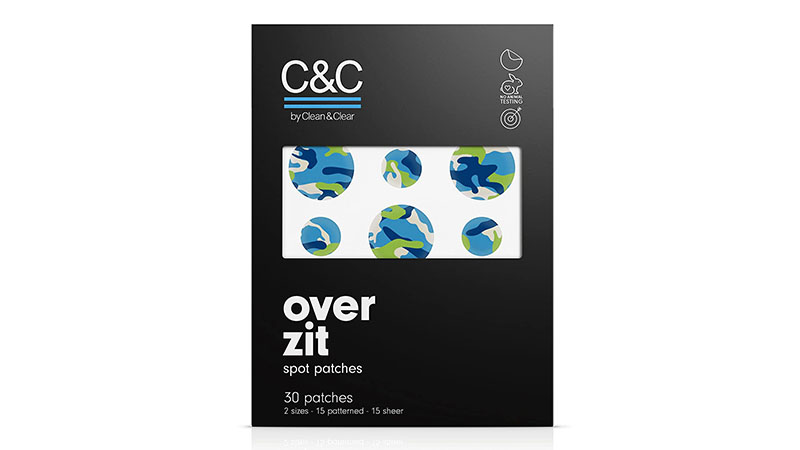 10. Mighty Patch Original
You can watch the original and award-winning Mighty Patch at work while it draws out infection and pollution that causes breakouts. As it turns white, you'll know it's doing the job. The sticker is made with hydrocolloid, a common material in pimple patches. Not only does it draw out impurities, but it also helps disguise blemishes and reduce redness, so they're not as noticeable. While you can wear these during the day, you can also wear them at night while you're sleeping. The adhesion is strong, so you don't need to worry about waking up to the patch stuck on your pillow, not your face.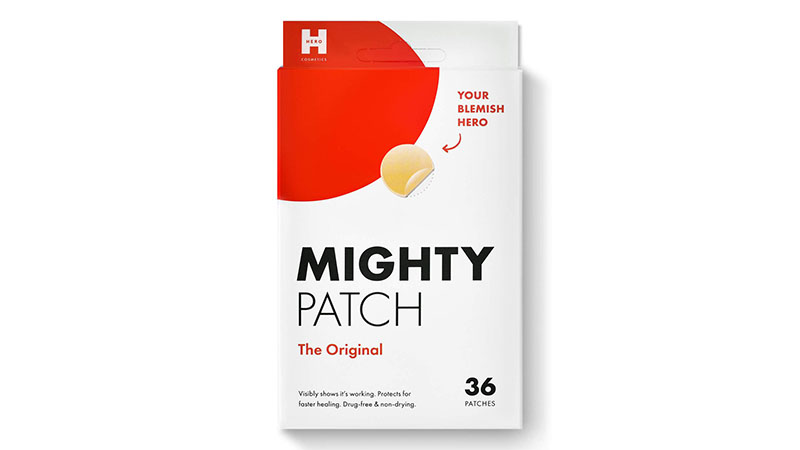 11. BFF Best Face Forward Pimple Patches
These pimple patches from BFF will indeed be your best friend forever as well as letting you put your best face forward. It's a gentle yet effective formula that contains both salicylic acid and tea tree for their cleaning, anti-bacterial, and healing properties. Using these patches will draw out any gunk and liquid while protecting your zit from further pollution from things such as makeup or your dirty fingers. Plus, if you want to use them during the day, they are thin enough to allow for makeup application over the top without getting into the blemish.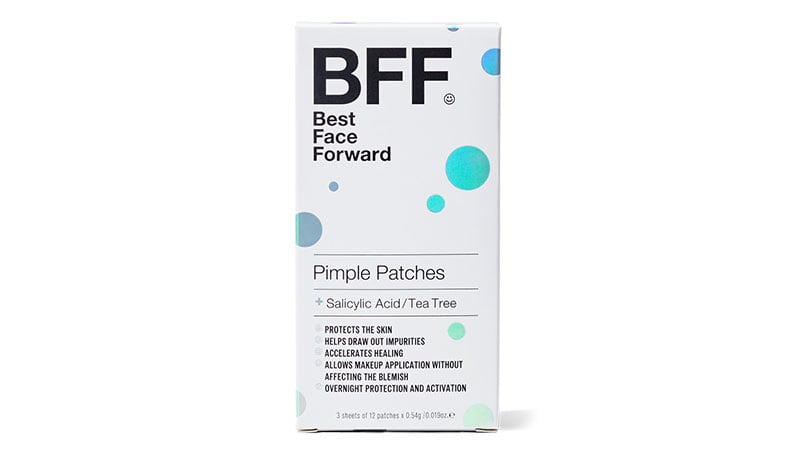 12. Rael Acne Pimple Healing Patch
These miracle patches from Rael are basically invisible once applied to your face. The thinly beveled edges of the clear stickers blend right into your skin, no matter your shade. Plus, you'll get two different sized patches in the box for the perfect fit. The hydrocolloid won't dry your skin out as it absorbs all the impurities and liquid from within the zit, drastically reducing the size and any inflammation. You'll see it start to work in as little as four hours.
13. Basic Concepts Acne Patches
Buy in bulk with these Basic Concepts acne patches. If you have particularly active acne or breakouts, this is a great cost-effective product for tackling those blemishes. The adhesive stickers are made from hydrocolloid to draw out debris and pus while protecting the area. They also contain anti-bacterial tea tree oil to calm the skin reducing redness, scarring, and inflammation. Plus, you'll get to choose from three different sizes for the ideal fit. Simply apply them firmly to clean dry skin with clean fingers. Lastly, they're ultra-thin, waterproof, and sleep proof, so you'll start to see results in just one night.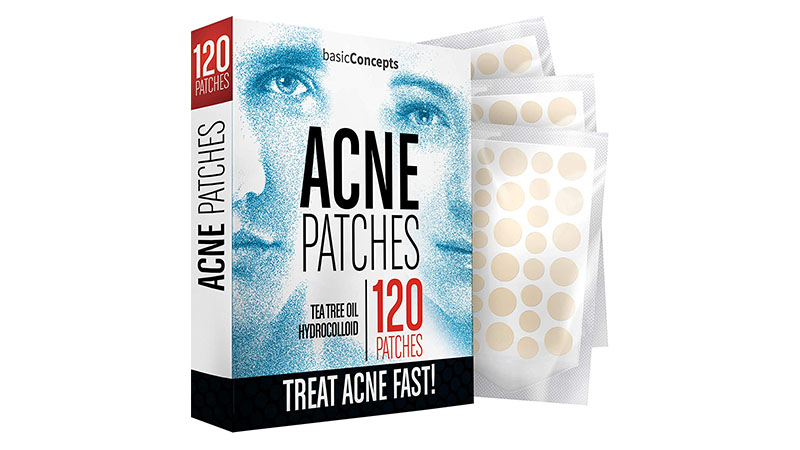 14. NIP+FAB Salicylic Fix Spot Patches
Nip your spotty issues in the bud with NIP+FAB's Salicylic Fix Spot Patches. You'll get fast results thanks to the combination of salicylic acid and tea tree oil. The salicylic penetrates deep in the pores to clean out debris and build-up that causes breakouts. Then, the tea tree fights the bacteria that cause inflammation while also soothing and calming the skin. Plus, you get to choose from two sizes to ensure maximum coverage and flawless results.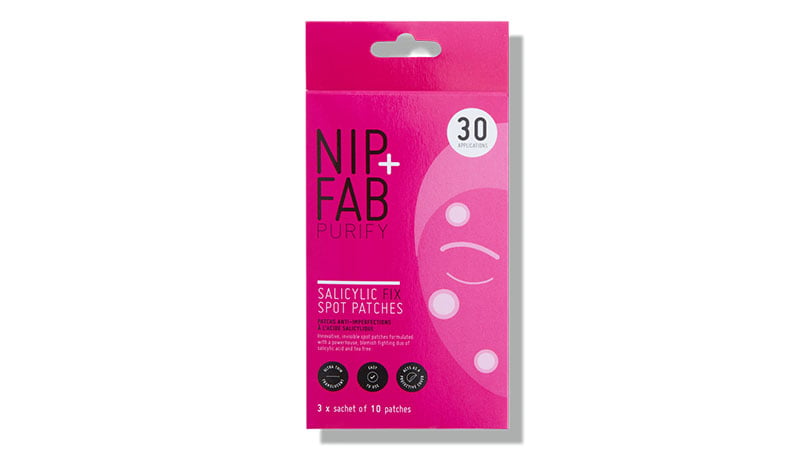 15. Clearasil Stubborn Acne Control 5in1 Pimple Patch
Clearasil is a well-known brand that focuses on giving customers clear, blemish-free skin. As such, it makes sense that they have a range of advanced pimple patches. Your acne will heal faster thanks to the protective environment created by the hydrocolloid, which also draws out the gunk, debris, and infected fluids. It also creates a seal to prevent additional bacteria from getting in. Plus, these patches help to reduce inflammation and the risk of permanent scarring. To get the best results, simply clean your hands and face, then apply the spot and leave it on overnight.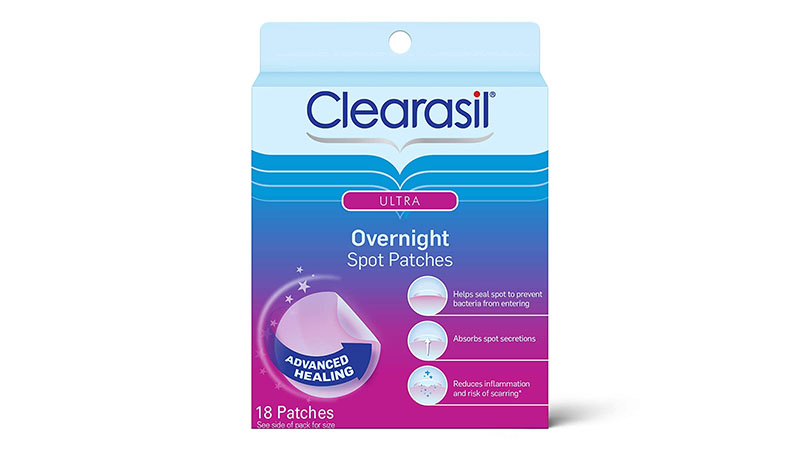 16. DERMAKR Discreet Acne Pimple Patch
Tell your pimples to stick it with one of these pimple patches from DERMAKR. They're super discreet, so you won't feel self-conscious, and they work quickly and effectively. The hydrocolloid creates the perfect healing environment while also drawing out all the infected oils and liquids in the zit. It also prevents additional bacteria from getting to the blemish, which helps reduce the risk of scarring. You get 36 patches in a pack, which is thin and easy to slip into your bag or pocket when you're out and about.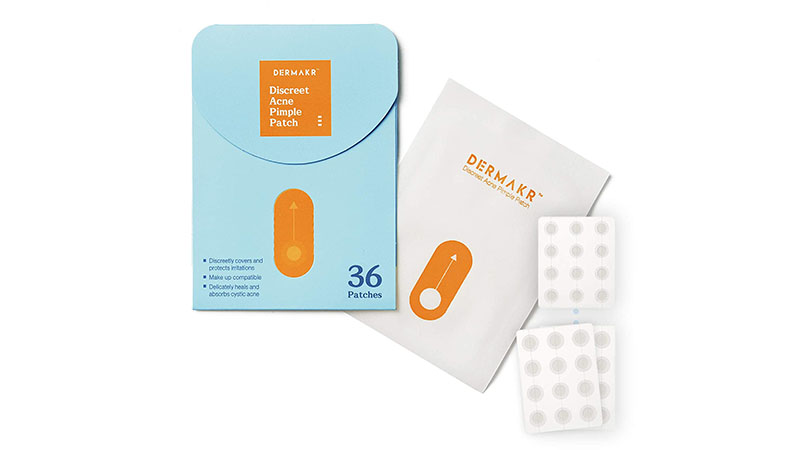 17. Cover Dot Acne Care
These ance dots come in a range of packet sizes from 24 to 120 patches. As such, no matter how active your breakouts or acne are, there's a suitable pack size. The dots themselves are very discreet and are perfect for overnight use but can be worn during the day. They feature hydrocolloid to draw out pus and liquid from the pimple without drying out the surrounding skin. This also prevents the temptation to poke, prod, and pick at your zits, which is a bad habit that introduces new bacteria, causing inflammation and scarring.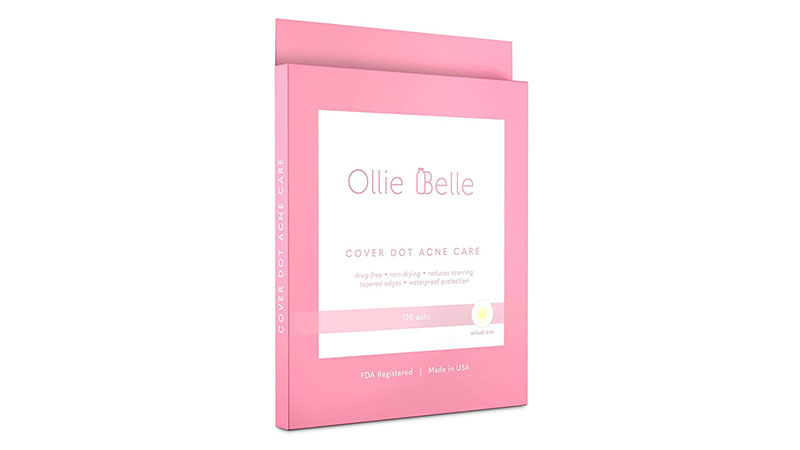 18. Key Concepts Acne Patches
Choose from three sizes of pimple patches in this bulk pack from Key Concepts. The stickers are made from hydrocolloid materials to significantly reduce acne spots and zits without drying the skin. It also creates the perfect healing environment. Inflammation and bacteria are reduced thanks to the tea tree infusion, which also calms redness and irritation. Apply it at night, sleeping soundly for six to ten hours while the patch works, and wake to a fresh, blemish-free face.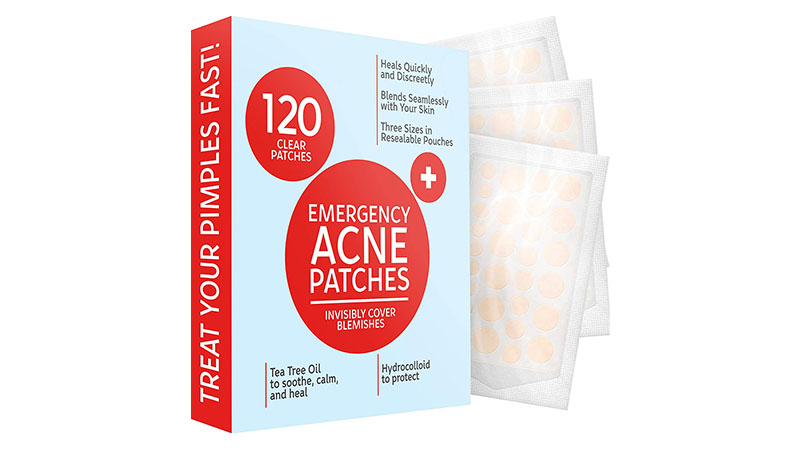 19. Avarelle Acne Pimple Patch Absorbing Cover Blemish
Catch up on your beauty sleep in more ways than one with these pimple patches from Avarelle. Designed specifically for use at night, these hydrocolloid patches are thicker and more durable to withstand restless sleeping and pillow face. They feature easy to peel backing and stick securely to your skin. As you sleep, the patches will draw out impurities and liquids while creating the perfect healing habitat. Plus, they're infused with a soothing, nourishing combination of tea tree, rosehip seed, and calendula oils to maintain the moisture and reduce redness.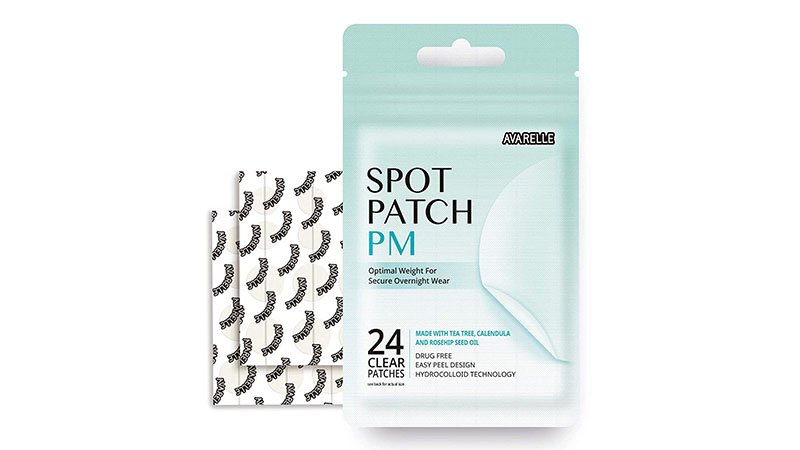 20. Hanhoo Blemish Patch
These easy-to-use pimple patches from Hanhoo are great for ditching zits overnight. Super absorbent hydrocolloid draws infection to the surface while letting the skin heal and repair. Choose from 10mm or 12mm patches, depending on the size of your blemish. Then pop it on during the day or night — they're barely noticeable thanks to the thin construction, so you'll hardly notice it's there.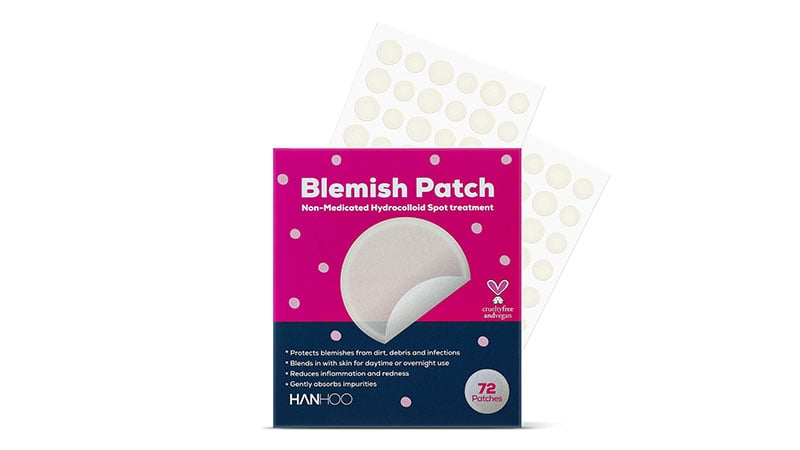 FAQs
Do pimple patches really work?
Pimple patches do work on regular breakouts and whiteheads; however, they will be less effective on blackheads or really deep cysts. They're also intended to treat pimples and zits as they appear but won't prevent acne from occurring.
What is the best acne pimple patch?
Some of the best pimple patches include Mighty Patch Original, Avarelle Acne Pimple Patch Absorbing Cover Blemish, ZitSticka KILLA Kit, and C&C by Clean & Clear Over Zit Spot Patches.
Where can I get pimple patches?
You can purchase pimple patches from online retailers, pharmacies, beauty stores, and even some big-box retailers that stock other skincare and beauty items.
Can pimple patches make it worse?
If you have an allergic reaction to the pimple patches, it can cause irritation. However, for the most part, they're generally hypoallergenic, suitable for most skin types, and make things much better. Not only do they reduce the size of the zit and inflammation, but they also remove the temptation to pick, which is a considerable factor in infection and scarring.
SUBSCRIBE TO OUR NEWSLETTER
Subscribe to our mailing list and get interesting stuff and updates to your email inbox.