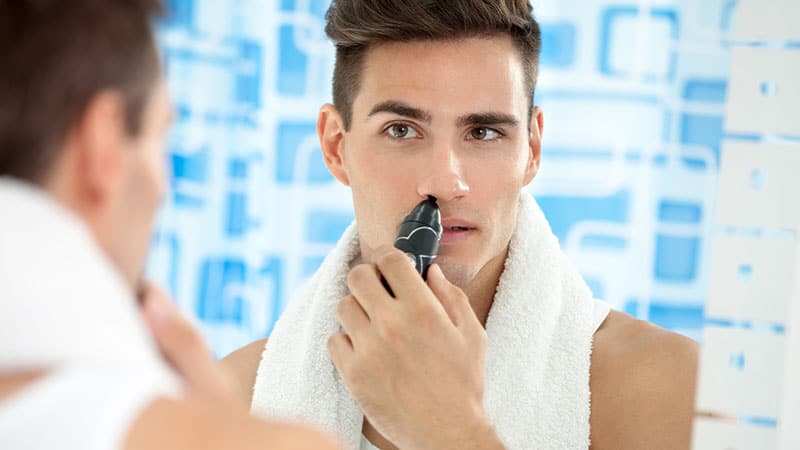 Nose hairs are a regular issue for many men, especially those who are middle-aged or older. But, while they're often unsightly and a little embarrassing, these nasal strands can also be taken care of swiftly and comfortably. All you need is the right tool for the job. So, what are you waiting for? It's to get grooming gents, and we can help you on your way to a more polished appearance. Here's our selection of the best nose hair trimmers that won't cause any pain.
1. ToiletTree Professional Water Resistant Heavy Duty Steel Nose Trimmer
One of the most lightweight yet high-quality trimmers on the market, the ToiletTree Professional Nose Trimmer clips away unwanted nose hairs with ease. The heavy-duty steel trimmer features an LED light so you can quickly get to those hard to see hairs to achieve a smoother and closer trim. The rotary cutting system also means you can get the trimmer tip to the top of your nose. Additionally, this helpful trimmer is also useful for stray hairs on your eyebrows, beard, and even ears. It is water-resistant to make cleaning simple and operates using a single AA battery, meaning it's cost-effective in the long run.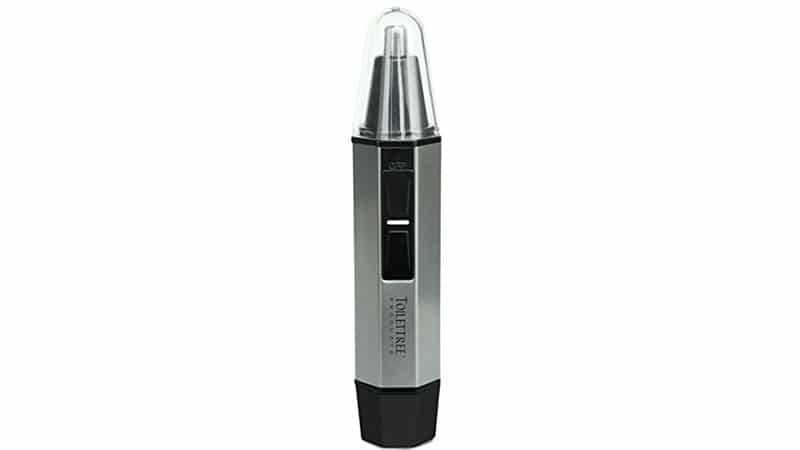 2. SUPRENT Nose & Ear Hair Trimmer
With a quiet motor, the Suprent Nose & Ear Hair Trimmer offers a very discrete clip, making it ideal for night owls. The 6500 RPM motor propels the stainless steel blade in 360 degrees to avoid clamping your nose hair and harming your nasal cavity. But, your nose isn't the only place this trimmer can be used. It's also suitable for your ears, eyebrows, and sideburns. Additionally, it features an LED light and energy saver mode and is waterproof.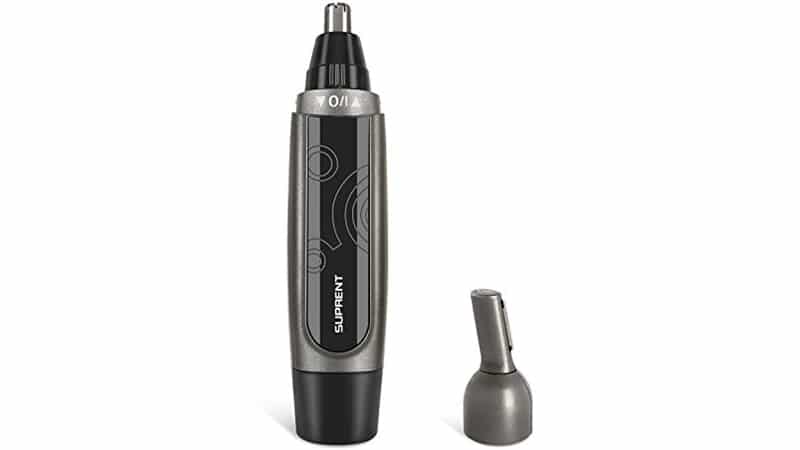 3. Panasonic ER-GN30-K Nose Ear Hair Trimmer
The wet/dry feature of the Panasonic ER-GN30-K Nose and Ear Hair Trimmer makes it one of the most convenient clippers on the market. You can trim away in the shower or over the sink and still achieve a smooth, practical, and comfortable cut. Equipped with an ultra-sharp dual-edge blade, this men's grooming tool makes maintaining your clean-cut look a breeze. It swiftly trims unwanted hair and is ideal for more delicate details like eyebrow shaping. The hypo-allergenic stainless steel blade also means you don't have to worry about pesky skin irritations.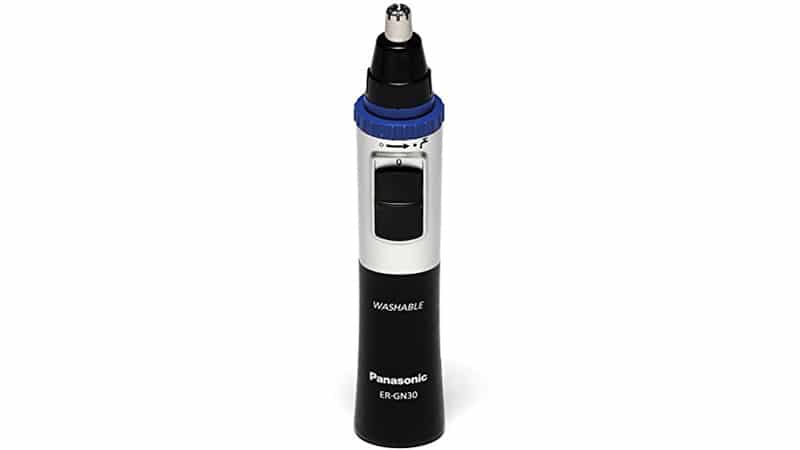 4. Breett Electronic Ear Nose Trimmer
If you're a little bit clumsy, the Breett Electronic Ear Nose Trimmer features a non-slip surface on the body, minimizing the risk of slipping and cutting yourself with the device. The high-end ABS plastic surface is super durable, safe, and comfortable to hold while trimming away unwanted hair. The 60-degree beveled blade is sharp yet gentle, meaning it can be used safely on the nostrils and earhole. The washable and removable cutter head also makes this a convenient and easy-to-use device. It comes with a protective cover for the cutter head, so you don't have to worry about damaging it in your drawers, suitcase, or glove compartment.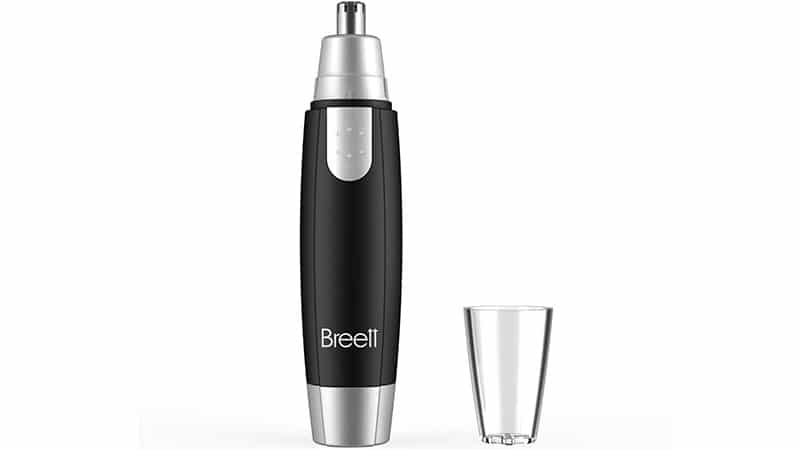 5. Braun EN10 Ear and Nose Hair Trimmer
The ergonomic design of the Braun EN10 Ear and Nose Hair Trimmer makes this lightweight trimmer easy and comfortable to handle. It also features body grip and is ideal for those who are prone to hand cramps. When using it, you can expect a clean and precise trim thanks to the high-performance stainless steel blade. It is also entirely safe to use and promises not to pull or scratch. To keep it clean, just rinse the entire machine under running water.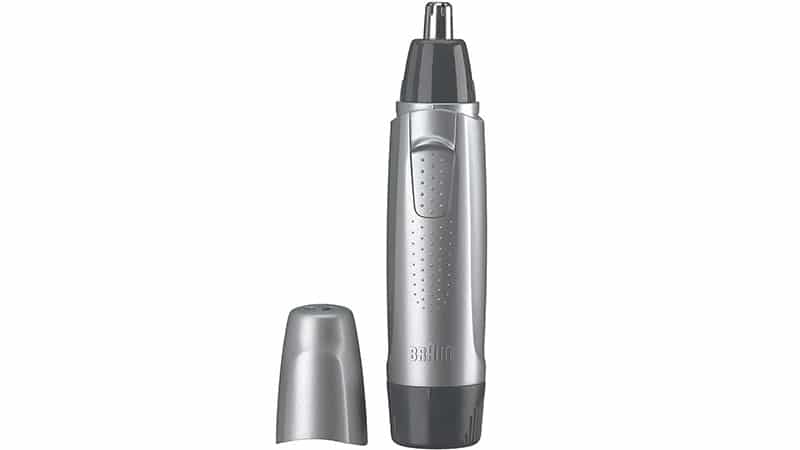 6. Nose Hair Trimmer Foraco 2-in-1 Professional USB Rechargeable Electric Epilator
If you're looking to save time or don't want to spend extra cash on beauty products, you can use the Nose Hair Trimmer 2-in-1 on your nose, body, and face. It delivers fast and painless results no matter the area and is also portable and very convenient to charge. The USB charger port means you can connect it to a portable battery, car, computer, or mobile phone charger. Its small size means you can carry it in your briefcase or jacket pocket discreetly and makes it ideal for travelers and commuters.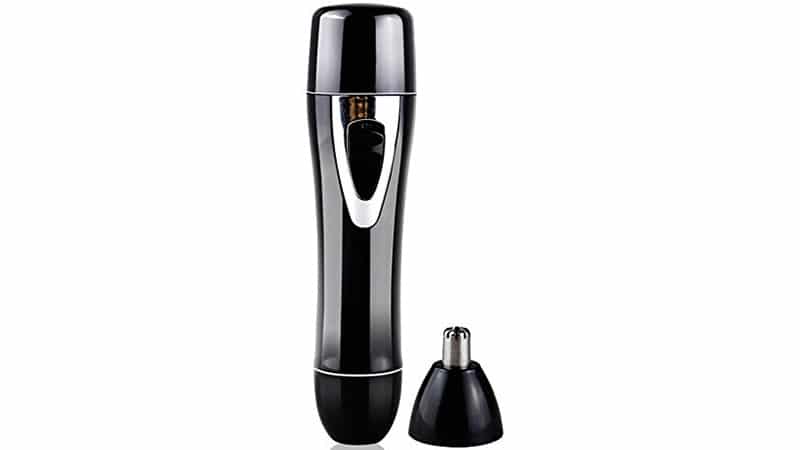 7. Liberex Electronic Nose and Ear Hair Trimmer
Many men don't want all the bells and whistles that come with high-tech grooming tools, so the simple and effective Liberex Electronic Nose and Ear Hair Trimmer is for them. The best thing about this multi-function tool is you can use it everywhere. It will remove unwanted hairs from your nose, ears, mustache, beard, sideburns, and even eyebrows. The dual-edge spinning blades rotate 360°, eliminating hairs without any pain or unpleasant pulling. The LED light also means you can remove hard to see hairs easily while the removable cutter head makes cleaning effortless.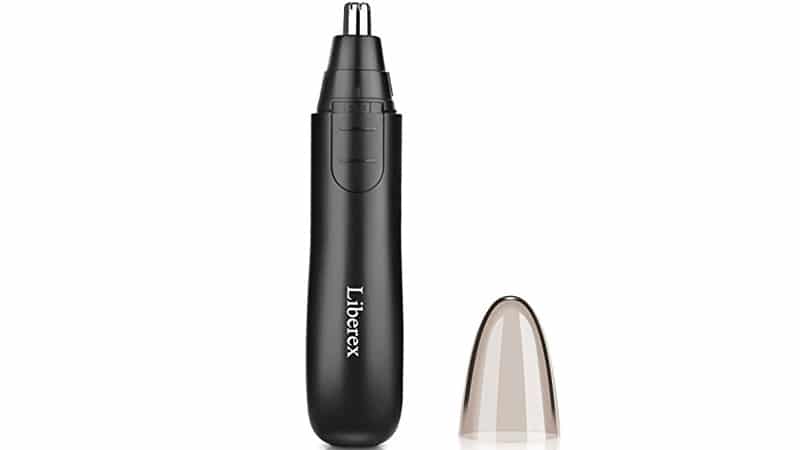 8. Philips Norelco Nose Trimmer 1500
If you're prone to nicking yourself, the Philips Norelco Nose Trimmer 1500 might be the clipper for you. It features an advanced trimming system, which shields the skin from the blades to completely protect you from cuts, scratches, and pulling. The entire machine is washable under the tap, so there's no need to waste time messing around removing the head. It's safe to use on the nose, ears, and eyebrows, for which it features a guard for quick and even results. Philips is the top global manufacturer of trimmers, so you know you're getting a top-notch product.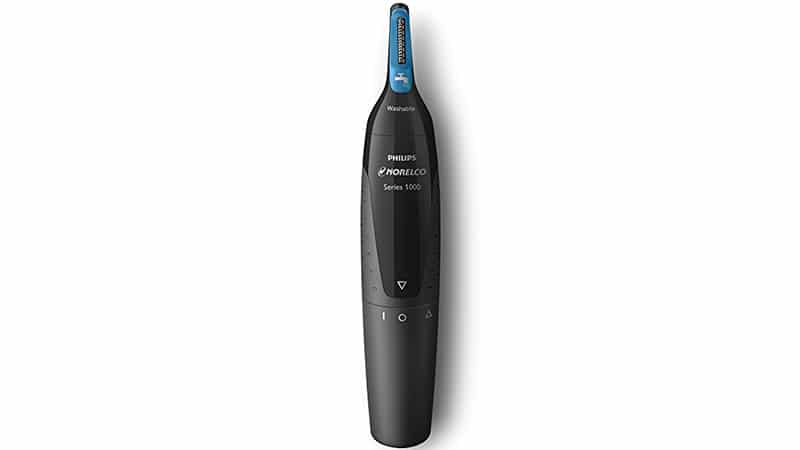 9. Remington NE3250B WETech 100% Waterproof Nose, Ear, & Eyebrow Trimmer
With this trimmer, you will never have to worry about stray hairs building up in the blades. It features a washout system that flushes hairs from the inside out. Also, it can be used in or out of the shower and comes with two trimmer heads that are safe for the nose, ears, and eyebrows. The comfort trim technology uses bi-directional blades and a blade guard, meaning you can quickly and safely remove unwanted hair without risking nicks and skin irritation.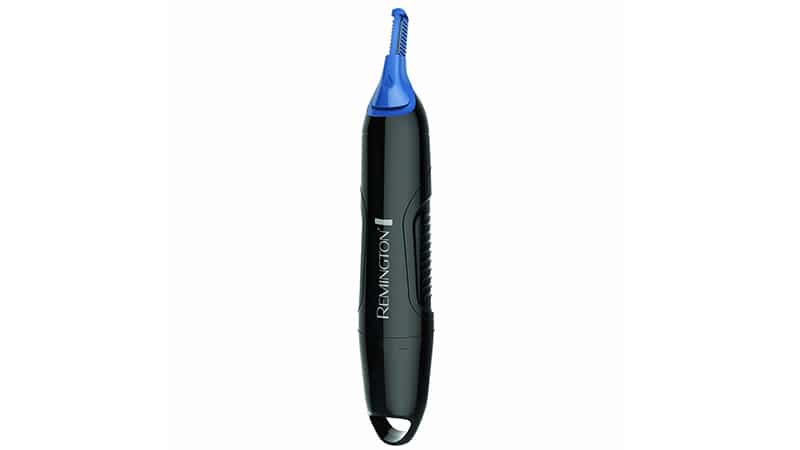 10. Panasonic Washable Vacuum Nose/Facial Hair Trimmer
If you hate cleaning up hair, the Panasonic Washable Vacuum Nose/Facial Hair Trimmer is what you've been looking for. The vacuum feature effortlessly whisks away clippings, so you don't have to. This nose/facial trimmer boasts a rotary system with a circular blade action, which allows for efficient hair trimming with zero pullings. The curved blade also matches the contours of your nostrils, so it glides much more comfortably over the surface.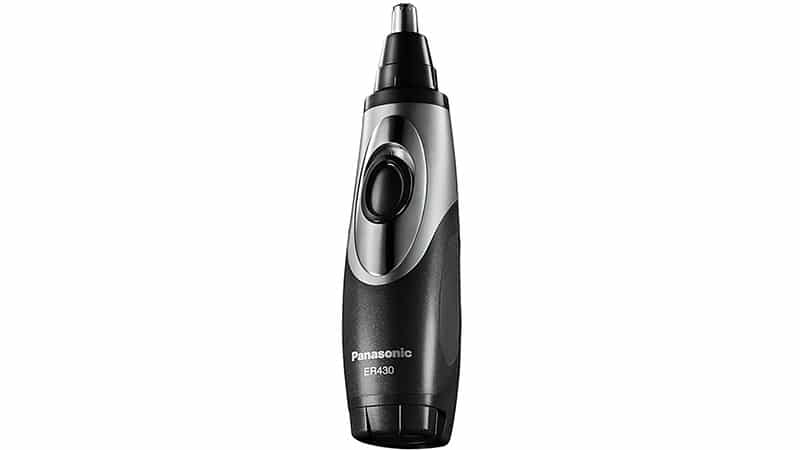 11. ToiletTree Products TTP-TRIM-4 Sleek Design Nose Hair Trimmer
The ToiletTree Sleek Design Nose Hair Trimmer is a high-quality tool that is built to last. It looks, feels, and functions like an expensive product for a very affordable cost. It is manufactured with the highest quality blades and will never cause you pain from pulling. In the unlikely event that you need to replace your trimmer, ToiletTree offers a lifetime replacement guarantee.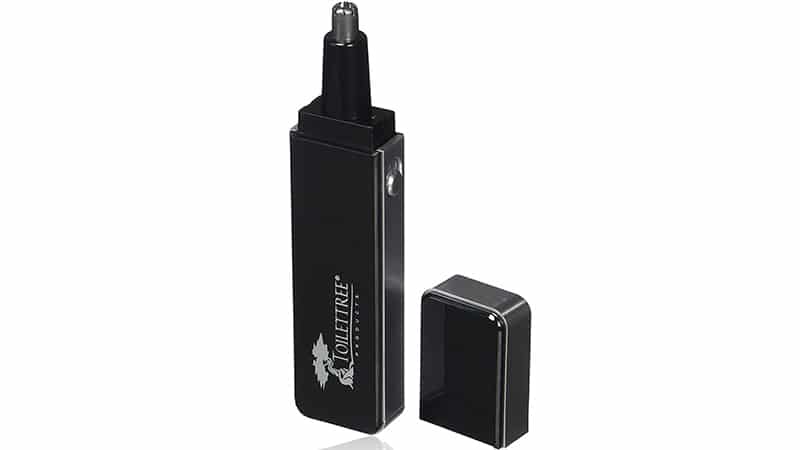 12. Wahl Lithium Micro Groomsman Trimmer
The Wahl Lithium Micro Groomsman Trimmer comes with two trimming heads to suit your hair removal needs. With power and precision, this trimmer can tackle even the toughest nasal and eyebrow hairs. Also, while we all know that brow shaping is no easy task, this tool's special eyebrow attachment makes it much more stress-free. On top of that, it is water-resistant and can be used wet or dry, and features a sleek stainless steel appearance, and won't scratch or dent.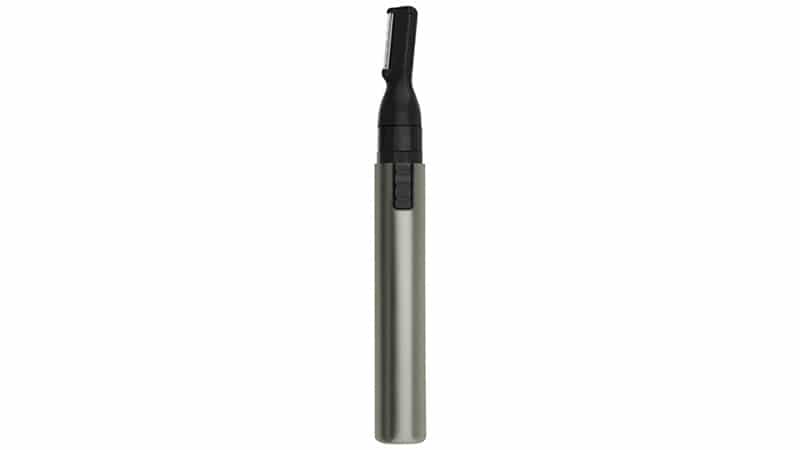 FAQs
What's the best way to trim nose hair?
Several nose trimmers on the market are of good quality and decided for each of use and precision. Some top brands include the ToiletTree Professional Water Resistant Heavy Duty Steel Nose Trimmer, which includes a LED light for a closer and more accurate shave. If you want a quiet motor, then consider SUPRENT Nose & Ear Hair Trimmer, and Panasonic ER-GN30-K Nose Ear Hair Trimmer is a product that can do it all.
Are nose trimmers worth it?
For individuals who want to remove unwanted nose hair without pain, a nose trimmer is definitely worth it. Trimmers can also reduce the risk of germs and particles getting inside the hair follicles. There are many great, high-quality products on the market, so once you purchase one to your liking, you won't have to replace it for a good few years.
Is it bad to pull nose hair?
Not only is pulling nose hair painful, but it can also cause infection if germs or particles get into the hair follicle. It can also damage the skin inside the nose and even result in ingrown hairs. A much better option to remove unwanted hair is to use a trimmer.
What is the best-rated nose and ear hair trimmer?
There are many great nose and ear trimmers on the market, with some of the best-rated, including the Panasonic ER-GN30-K Nose & Ear Hair Trimmer, ToiletTree Professional Water-Resistant Nose Trimmer, and SUPRENT Nose & Ear Hair Trimmer. The best decision for you is based on what you want from your device and your budget.
SUBSCRIBE TO OUR NEWSLETTER
Subscribe to our mailing list and get interesting stuff and updates to your email inbox.