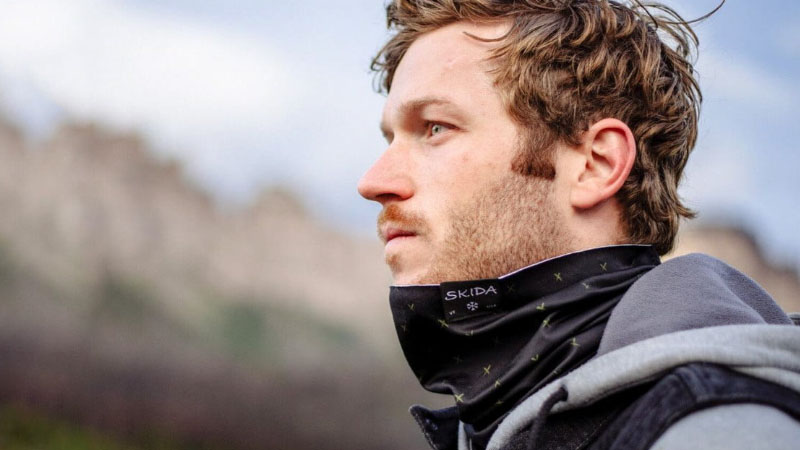 In times like these, protecting yourself and others is an important part of everyday life. Face covering such as the traditional mask is a great way to prevent droplets and microbes from spreading. As the temperature changes, your body requires a different way to stay safe. Enter this alternative. This is a stretchy scarf that you can pull up to your ears, leaving only your eyes exposed to the elements. While they're not quite as effective as traditional face coverings, they're an excellent option for days when you need to complete daily exercises. Whether it's a scorching hot day or a freezing night, these are the best neck gaiters that will protect you from the elements.
1. Copper Fit Guardwell Neck Gaiter in Blue
Walk around in public with peace of mind thanks to this neck gaiter. Not only is it easy to pull on, but it provides easy to breathe functionality and moisture-wicking fabric. The smart technology simultaneously keeps you warm and toasty while drawing droplets away from your skin, leaving you dry and secure. No matter the weather outside, you'll continue feeling protected from the outdoor elements.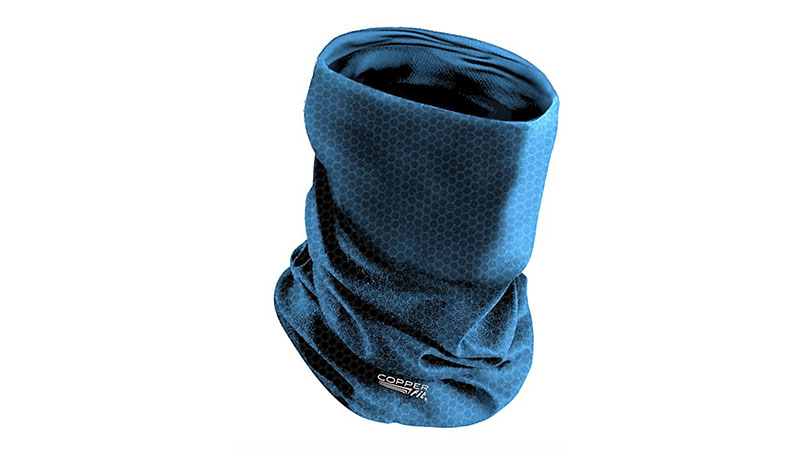 2. Geyoga UV Protection Neck Gaiter
Set yourself up for a cold winter with this pack of neck gaiters. Whether you're going on a hike with friends or heading to the shops for the week, you can defend yourself and others from microbes and the outdoor elements with ease. The multi-functional design allows you to wear this accessory in a myriad of different ways. The UV protection within the fabric allows you to stay in the sun without worry, and the breathable fibers keep you feeling fresh and moisture-free.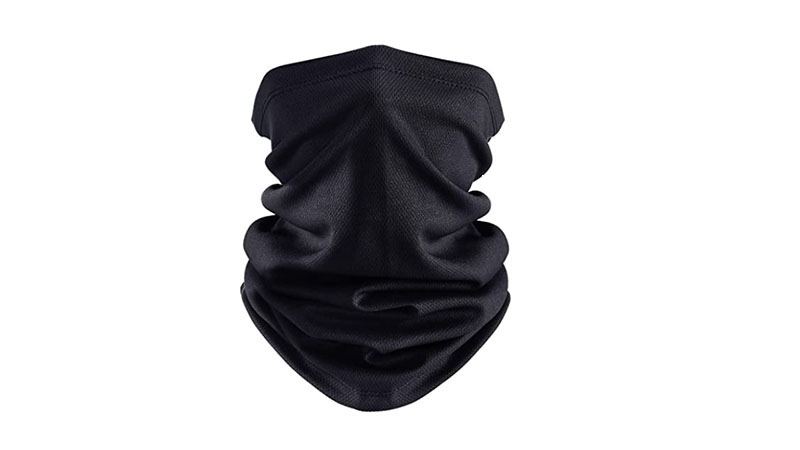 This neck gaiter from Colosseum is unlike others – its multifunctional design allows you to wear it in many ways. From a face mask to a sun guard or hood, you can stay warm and protect yourself from the elements outdoors. The polyester and spandex blend allows you to breathe freely and stay snug. The navy color and logo is stylish enough to wear at a wide range of events or on your adventure.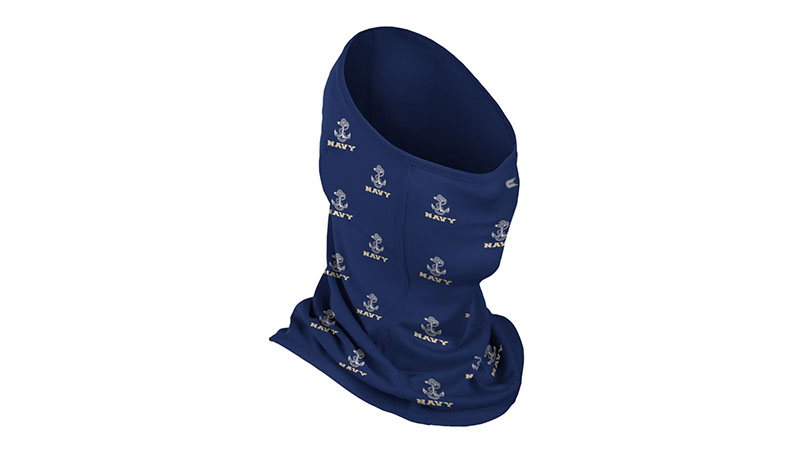 4. Original Turtle Fur Fleece
From the ski slopes to fishing in the cold, stay truly warm and protect yourself and others from outdoor conditions with this fleece face covering. The Turtle Fur neck gaiter offers a double layer to shield from the cold on your neck and face – it's the perfect accessory for your next winter venture. Even if you're out walking the dog or heading to the shops, this is the best way to guard yourself against the elements.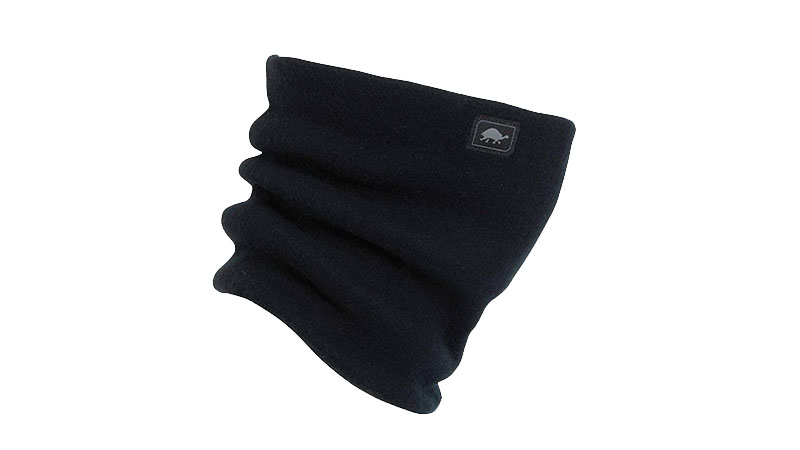 5. 6 Pieces Unisex Magic Neck Gaiter
Be prepared every time you leave the house with this six-pack set of neck gaiters. The unisex styling is perfect for any occasion or event – whether you're heading to the office or you need to take your kids to school, it's the best accessory for you. The seamless design is ultra-comfortable and feels soft on the skin. Don't worry about feeling sticky or sweaty; this face covering is moisture-wicking and breathable, meaning you can wear it all day.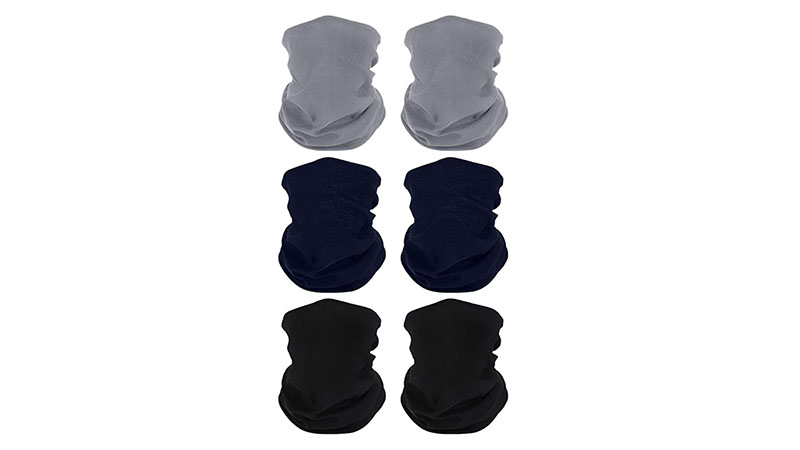 6. EXIO Winter Neck Warmer Gaiter
Stop your glasses from fogging up by wearing a neck gaiter. The covering from EXIO is designed to stay secure on your face and is windproof, meaning you can wear it indoors and outdoors. The seamless design is comfortable enough for daily use, and the special air hole function makes it easier to breathe, even in the coldest conditions.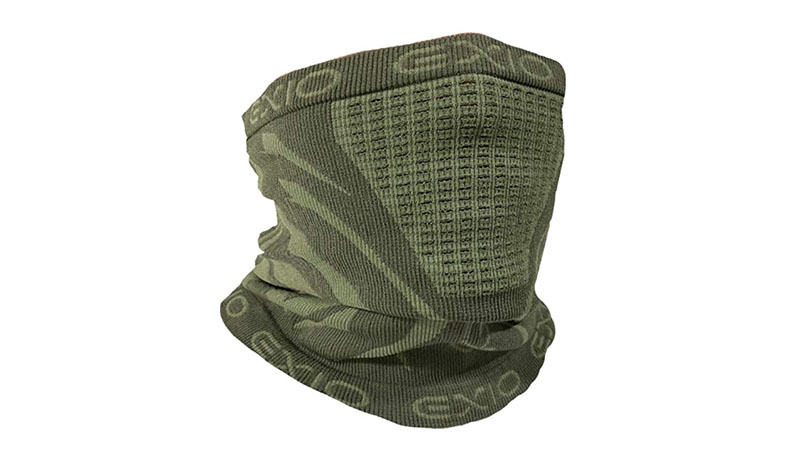 7. The North Face Winter Seamless Gaiter
Tackle the wildest adventures and stay toasty warm with this neck gaiter from The North Face. This soft and durable, it features a seamless design to fit comfortably over the neck and face. You won't feel the chill on your skin thanks to this accessory – it is made from a lightweight knit that wicks moisture away and is designed to stay close to you. It's the perfect finishing touch for your next outdoor activities, no matter the conditions.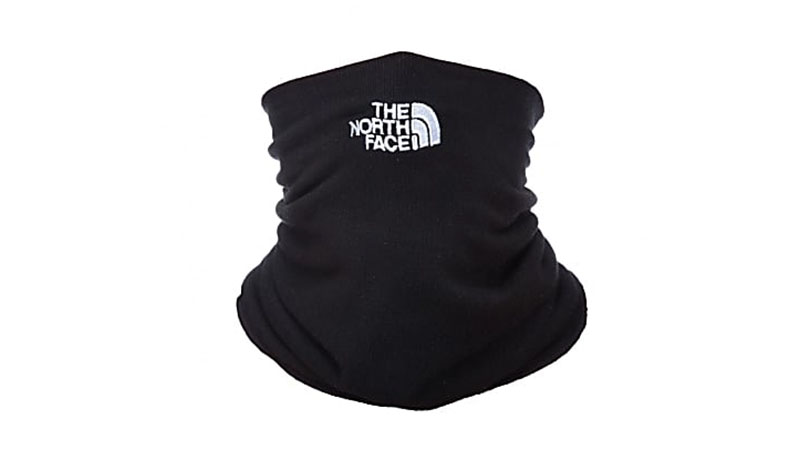 8. Copper Fit Guardwell Face Cover
Stay comfortable while protecting yourself and others from the air and elements with this Guardwell face cover. Made with copper and anti-odor technology, it's designed for outdoor and indoor use. The snug fit prevents your glasses from steaming up and is breathable for all-day use. The classic black color is ideal for every day and is perfect for the office or casual wear.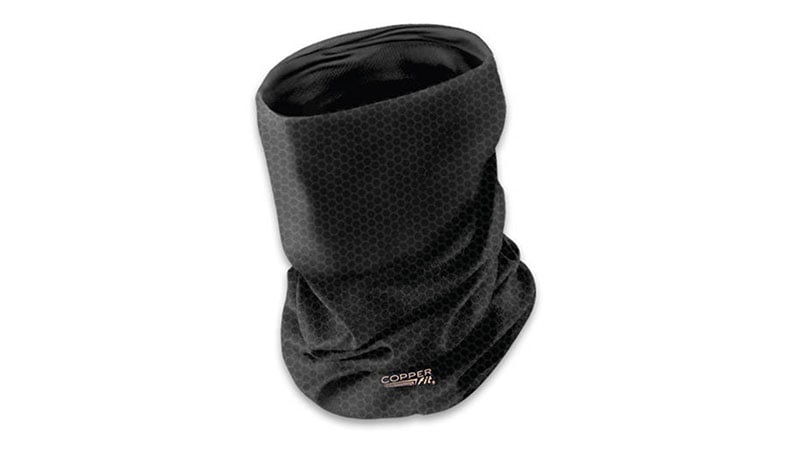 9. Columbia Trail Shaker Neck Gaiter in Red
Stay secure all day and prevent the cold from seeping in with this neck gaiter. The adjustable toggle will have you feeling secure, even in the coldest temperature. Its soft fleece construction provides warmth, whether you're checking out the slopes or walking the dog. The bright red color is great for outdoor use, and its Omni-heat reflective technology allows water vapors and microbes to escape while keeping you dry.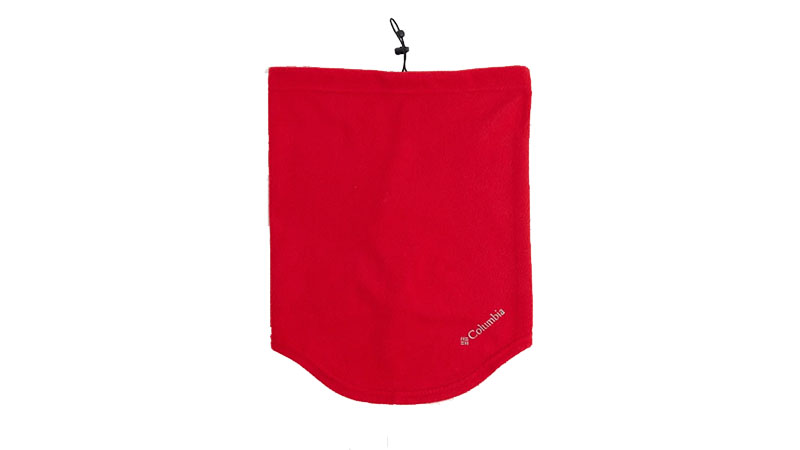 10. VCZUIUC Gaiter for Outdoor Sports
Why wear a standard face covering you can wear something eye-catching? This selection of bright and colorful neck gaiters are the perfect accessory for a cold winter's day at work or outdoors. These coverings keep dust away, prevent microbes from coming near you, and will have you feeling warm and toasty. The high UV protection is perfect for a day with the skis, and the multifunctional design allows you to wear it however you please.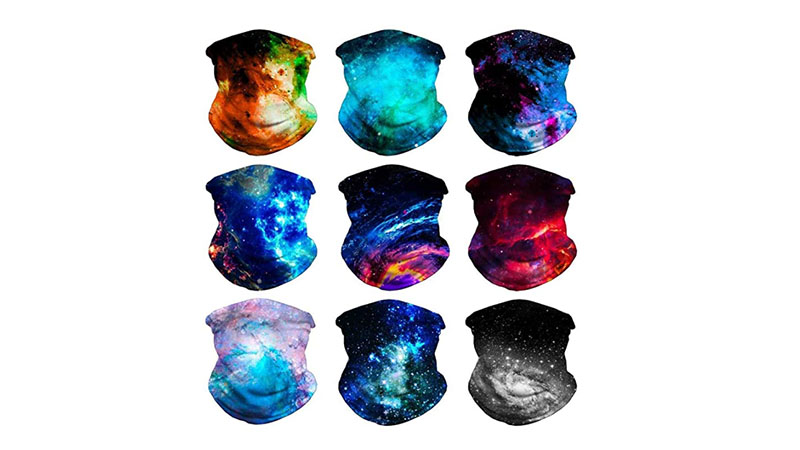 11. BULA Double Layer Printed Tube
Feel in control of your surroundings and stay protected from the elements with this double layer neck gaiter. With an insulating Polartec fabric construction and stretchy spandex, it can wick away moisture and remain comfortable enough to wear for hours. There's a wide variety of colors and patterns to choose from, so you can find a pair that matches every outfit. The snug fabric will stay up without re-adjustment and will provide warmth for the cooler conditions.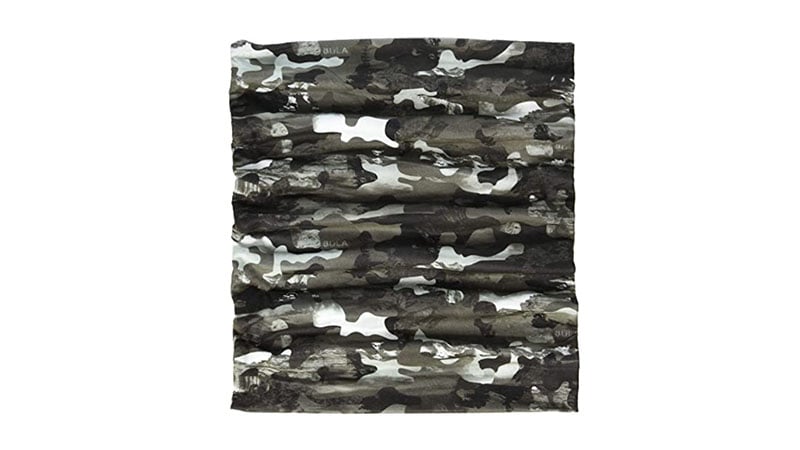 12. Outdoor UV Protection Windproof Neck Gaiter
Breathe new life into your classic face covering with this bold gaiter. The multitude of ways you can wear this accessory will keep you secure all year round. Try it s a face covering, a neck warmer in the cooler months, or a headband when you work out. The breathable fabric is moisture-wicking and windproof, meaning you can rock it in outdoor or indoor settings. The camouflage design is funky enough to wear for a wide range of events and occasions, leaving you looking stylish and feeling safe.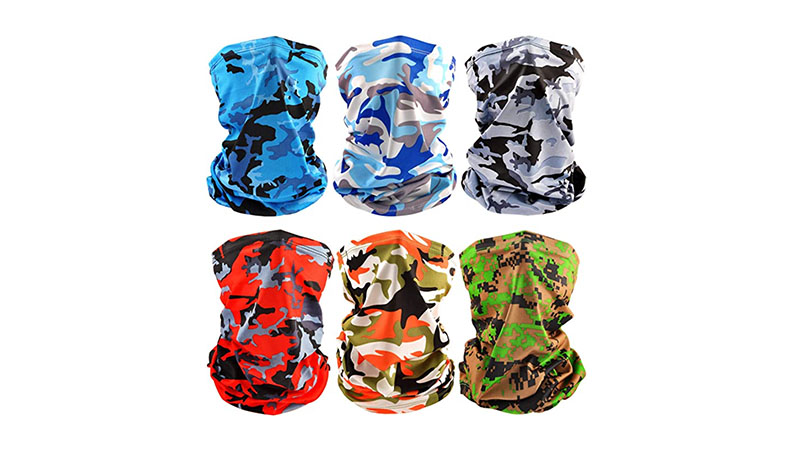 13. Carhartt Fleece Neck Gaiter
Enjoy the coldest weather with ease, thanks to this neck gaiter from Carhatt. The fleece construction will stop the harsh elements from touching the skin, and the stretchy fabric keeps you comfortable for hours on end. The classic black color is suitable for daily wear and flatters a huge variety of outfits. This is the best companion for all outdoor adventures, from skiing in the mountains to clearing snow from your driveway.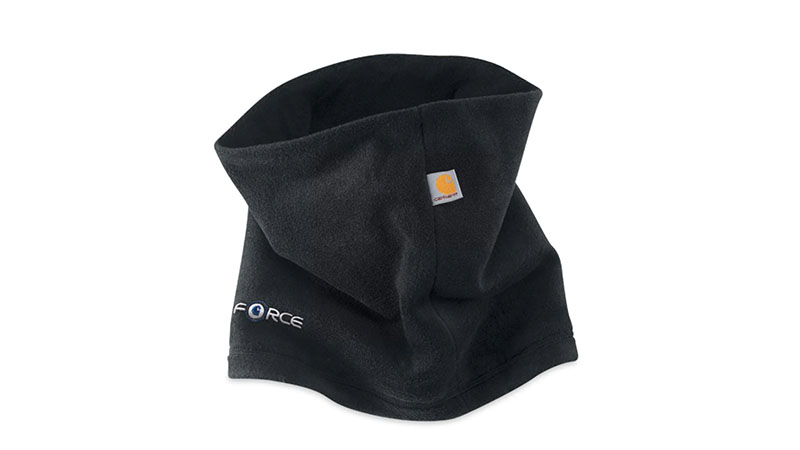 14. TICONN Neck Gaiter
Take your adventure to the next level with this gaiter from Ticonn. No matter if you're on a run in the sun or heading to work for the day, you can stay dry and feeling safe with this neck covering. The funky design will have you looking your best, and the thin and cool construction allows you to feel fresh and breathe easy. Wear it as a mask, headband, or for your neck – the options are endless.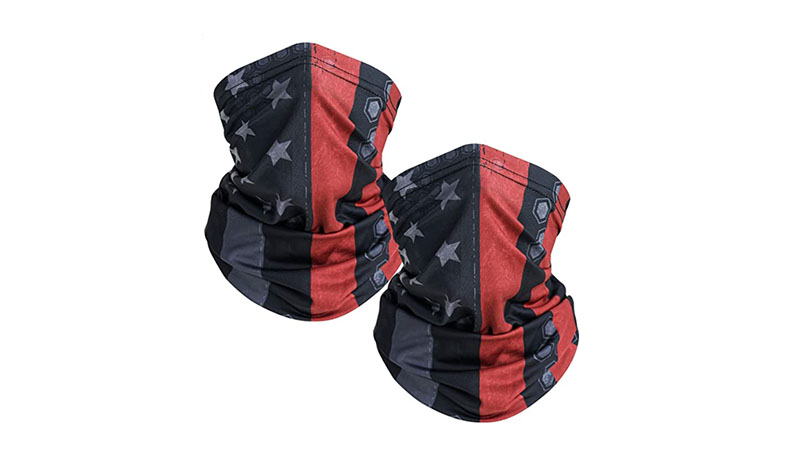 15. Printed Seamless Neck Gaiter
Reveal your personality, even while covering your face, with this printed seamless neck gaiter. It helps keep you warm and prevents any vapors or microbes from coming near you. There are 12 ways you can wear this accessory – from a scarf to a face covering and hoodie, it's a daring and excellent option for the person out and about. Opt for a classic black design or a rebellious skull. There are so many options to choose from – you could wear a new style every day of the week.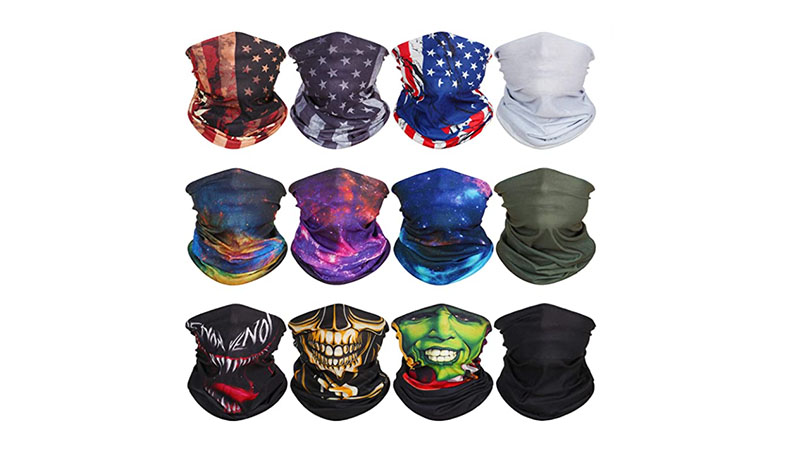 16. Helly Hansen Polartec Neck Gaiter
Keep yourself protected from the conditions outside and stay secure with this neck gaiter. Its lightweight construction provides ample movement for your adventures but wicks moisture away and keeps you warm, even in the coldest temperatures. The face-covering from Helly Hansen is made using Polartec, a microfleece, ideal for days on the alps or walking through the rain.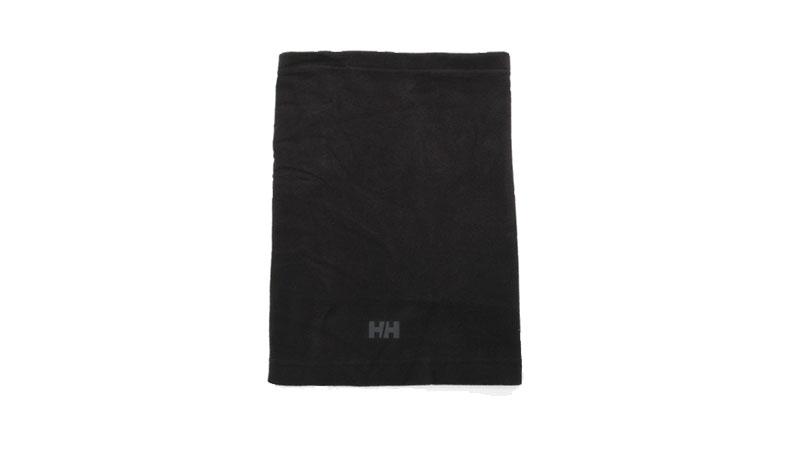 17. Mission Neck Gaiter
Stay protected from every element outdoors with this versatile neck gaiter. This accessory from Mission provides a cooling fabric that will draw any moisture away from the skin while preventing droplets from entering. If the temperature starts to rise, simply add some water to the face-covering and watch as you feel cooler almost instantly. This is a great option for a tennis game, a run, or a hike up the mountains. There are many colors to choose from, so you can find something that flatters your daily outfits perfectly.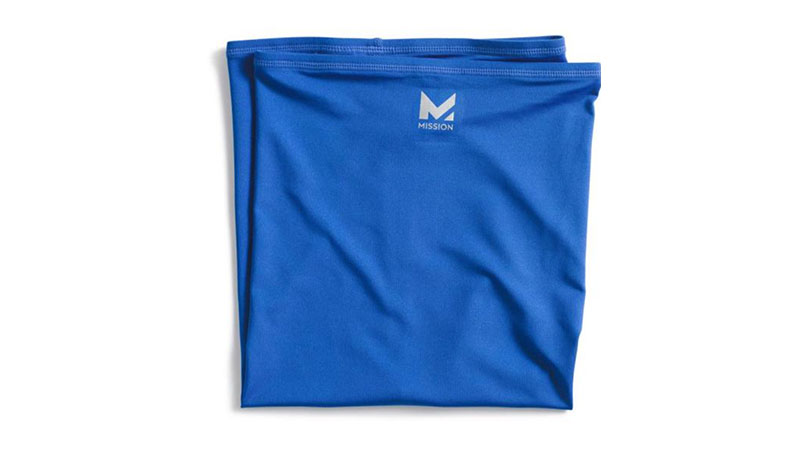 18. Hurley Multipurpose Neck Gaiter
If you're going to protect yourself from the elements, you may as well do it in style. This Hurley neck gaiter features a durable and seamless construction. With moisture wicking fabric and funky design, you can prevent irritations on the skin and allow airflow in a wide range of conditions. The tie-dye design is perfect for those who love to add a bit of color to their outfits and want to make the ultimate statement.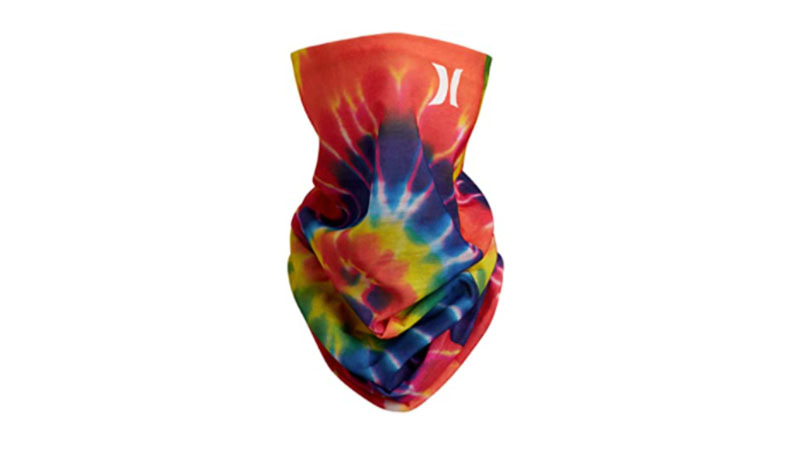 19. Oakley Neck Gaiter in Blue
If you enjoy exercising outside but want to protect yourself from the cold air and elements, this is the neck gaiter for you. With multifunctional use, you can opt to wear it as a scarf or as a face covering. The reflective logo is a perfect way to keep yourself seen if you're running at night, and the smooth, stretchy fabric keeps you feeling safe and able to breathe. Its antibacterial properties also prevent the growth of odor-causing microbes, so you can wear them for hours and feel comfortable.
20. Rock Bros Cooling Neck Gaiter
Take your outdoor protection to the next level while guarding yourself and others with this cooling neck gaiter. This versatile and protective half balaclava provides an instant cooling effect, so you can keep yourself safe and sound while spending time outside, no matter the temperature. The elastic construction fits perfectly on the face, leaving you with the freedom to breathe and be enclosed. Try to wear it in different styles – opt for a classic facemask, a headband, or hood. You can rock this throughout the year without hesitation.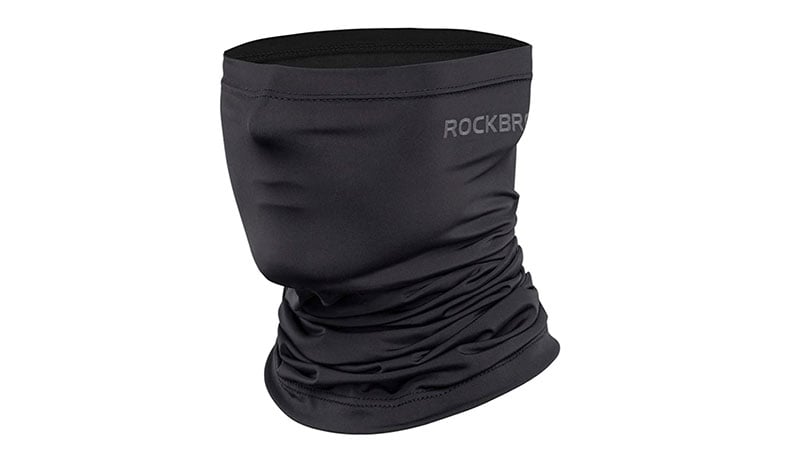 FAQs
Are Neck gaiters hot?
There are different types of neck gaiters that suit everyone's needs and flatter varying seasons. Neck gaiters offer warmth and comfort during the colder months, but they can also help keep you cool during the warmer parts of the year. Typiclly, neck gaiters offer moisture-wicking materials, keeping you feeling fresh and cool while you are on the go, and preventing the outside particles from entering. 
Are Neck gaiters comfortable?
As neck gaiters sit across the bottom half of the face, they don't restrict the skin or breathing capacity for its wearer, and is therefore a comfortable alternative to other face coverings. Neck gaiters are typically very comfortable for use during the warmer and cooler months, as they provide moisture-wicking fabrics and stay secure abover or around the ears. 
Do neck gaiters come in sizes?
Typically, neck gaiters come as 'one size fits most' - however, the stretchy fabric allows a lot of movement for varying head sizes and needs. Typically, these face coverings come in widths of 8-10 inches, making it easy to pull over your head and over the face. When looking for a neck gaiter, make sure you check the type of fabric and materials used in its construction. Opt for a stretchy fabric that can adjust to different sizes, and offer moisture-wicking functionality to keep you feeling cool in summer and warmer in winter. 
How can I make my neck gaiter tighter?
Each gaiter is sized to fit over the average diameter of the head, so they will stretch to accommodate to each person. For those who prefer a higher feel, opt for a gaiter that provides stretch throughout and isn't wider at the top. This way, you can keep the fabric against the skin and prevent particles from entering. 
Where can I buy a neck gaiter?
There are many places you can buy a neck gaiter online, such as Amazon, Target and ASOS. Depending on the type you wish to purchase, you can find neck gaiters specific to outdoor wear, casual styles and designed for different types of climates. Stores such as adventure-related retailers, fashion brands and sports brands also provide face coverings that can suit your needs. 
Are Neck gaiters allowed at Disney?
Neck gaiters are not allowed at Disney World, alongside open-chin triangle bandanas. This is because, although the neck gaiter protects against particles, it is often not fitted enough compared to a traditional face mask. At Disney World, face coverings must fit comfortably and snugly on the sides of the face, and neck gaiters can often sit below the required placement.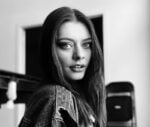 Alexandra Feiam is an experienced fashion writer who holds a degree in journalism. She has an impressive portfolio and expertise working as the Editor at Power Retail and Commercial Content Editor at Newscorp. Ally has been writing for The TrendSpotter since 2018, and her work has been featured in notable publications such as The Herald Sun, Arirang TV South Korea, Kidspot, The House of Wellness, and The Daily Telegraph.
SUBSCRIBE TO OUR NEWSLETTER
Subscribe to our mailing list and get interesting stuff and updates to your email inbox.