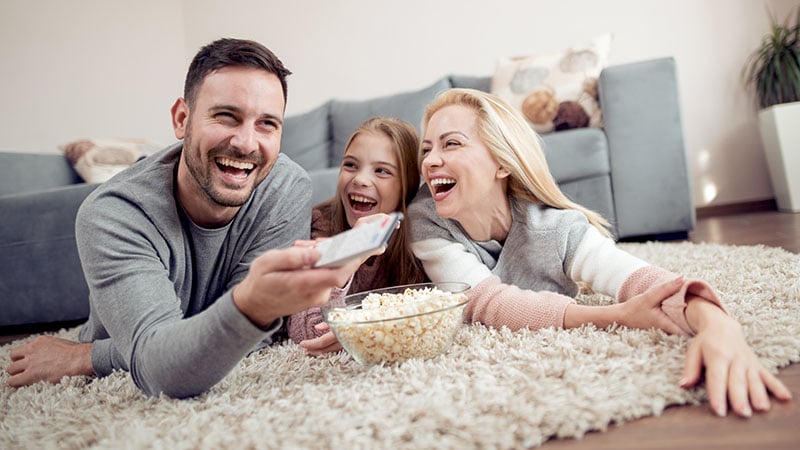 With many of us spending time at home in self-isolation, it's a perfect opportunity to curl up and watch a movie. Feel-good films are heartwarming, inspiring, and uplifting – or just plain hilarious. Whether you're looking to revisit some childhood classics with the kids, finally watch that Oscar-winning flick, or just chill out with a fun comedy, add these movies to your Netflix queue and get your popcorn ready!

1. Crazy Rich Asians
One of the biggest movies of the past few years, Crazy Rich Asians stars Constance Wu as Rachel, a young economics professor who discovers her fiancé is the heir to a massive fortune in Singapore. The fantastic locations and lavish parties will transport you to another world, while the classic tale of love conquering society's divides will warm your heart.
2. Yes Man
Based on a true story, Yes Man is a wacky comedy that explores the consequences of saying 'yes' to every request, opportunity, and invitation for a whole year. Starring Jim Carrey and Zoey Deschanel, it also has a cute love story. If you need some light-hearted fun, Yes Man will make you smile.
3. To All The Boys I've Loved Before
Based on Jenny Han's novel of the same name, To All The Boys I've Loved Before was a smash hit Netflix original movie in 2018. If you missed watching adorable teens Peter and Lara Jean fall in love back then, you should check it out now. Sweet, funny, tender, and moving, it's the perfect rom-com to lift your spirits. Even better, its sequel To All The Boys… PS I Still Love You was just released.
4. Get Him To The Greek
An underrated spin-off of Forgetting Sarah Marshall, Get Him To The Greek follows British rocker Aldous Snow and hapless music agent Aaron Green, as they attempt to revive his career with one last concert. There are too many great one-liners to count in this wild – and surprisingly heart-warming – movie, as well as a scene-stealing supporting performance from Sean 'Puff Daddy' Combs as Aaron's boss Sergio.
5. Step Brothers
Will Ferrell and John C Reilly play hilarious adult step-brothers Brennan and Dale in this 2008 comedy. It's all about the pair's bizarre antics, off-beat jokes, and super-quotable lines. If you love movies like Anchorman, Blades of Glory, or Zoolander, Step Brothers should be on your Netflix list.
6. As Good As It Gets
As Good As It Gets tells the story of obsessive-compulsive writer Melvin, his artist neighbor Simon, and local waitress Carol. The trio's crazy relationship will make you laugh and cry – while cute dog Verdell steals every scene. Funny, emotional, and moving, you'll see why Empire magazine ranked it among the greatest movies of all time.
7. The 40-Year-Old Virgin
It's hard not to be charmed by The 40-Year-Old Virgin, which combines raunchy jokes with hilariously awkward situations and heart-warming lessons about love and relationships. It stars household names Steve Carell and Seth Rogen before they were famous. Funny and dirty, yet surprisingly honest and tender, The 40-Year-Old Virgin is a great movie to watch with your other half.
8. Always Be My Maybe
A Netflix original, Always Be My Maybe stars comedians Ali Wong and Randall Park as Sasha and Marcus, two childhood friends who reconnect by chance as adults. As funny as it is romantic, the movie also explores deeper themes about life, family, culture, and success. Don't miss Keanu Reeves – playing himself – as Sasha's boyfriend!
9. The Big Sick
The Big Sick is based on the unconventional true love story of Kumail Nanjiani and Emily V Gordon, who wrote the movie together. Emily fell into a coma shortly after her relationship with Kumail began, leaving him to spend weeks at a hospital with her parents. Holly Hunter and Ray Romano give great supporting performances in the comedy-drama, which was nominated for an Oscar.
10. Jerry Maguire
The 1996 comedy Jerry Maguire stars Tom Cruise, Renee Zellweger, and Cuba Gooding Jr. Nominated for five Oscars, it combines drama and sports with a sweet and romantic love story – making it perfect for a cozy date night. With classic lines like, 'Show me the money!' and 'You had me at hello,' it's one of the most iconic movies of the '90s and a real crowd-pleaser.
11. I'll See You In My Dreams
A heartwarming drama, I'll See You In My Dreams, follows widow Carol, who has been stuck in the same routine for years after her husband's death. Several chance meetings give Carol the chance to start living again – and maybe even fall in love. Don't forget the tissues when you add this movie to your Netflix queue.
12. The Notebook
The Notebook is one of the all-time classic girls' night movies for a reason. The complicated and beautiful love story of poor lumberjack Noah and upper-class Allie is touching. Plus, the chemistry between Ryan Gosling and Rachel McAdams – who fell in love while filming the movie – makes it unforgettable.
13. Back to the Future
One of the defining movie trilogies of the '80s, the Back To The Future films, were instant classics and are still at the top of many people's lists to this day. If you're feeling nostalgic and in the mood for a fun adventure, start your movie marathon with the original film. It stars Michael J Fox as time-traveling teenager Marty McFly, who is sent back to the 1950s to help his parents fall in love.
14. Groundhog Day
Groundhog Day follows a TV weatherman (Bill Murray) who gets caught in a one-day time loop while reporting on the annual Groundhog Day tradition in the tiny town of Punxsutawney, Pennsylvania. As philosophical as it is funny, Groundhog Day has become one of the most popular movies of all time and is just as entertaining to re-watch as it is the first time.
15. The Princess Bride
As fun for kids as it is for adults, The Princess Bride combines witty humor with adventure and love. Featuring a cast of classic characters, played by the likes of Andre The Giant and Robin Wright, the movie has been named one of the best comedies and love stories of all time. Putting a unique twist on the fairy-tale formula, the movie's twists and turns are as fun today as they were in 1987.
16. Midnight in Paris
Woody Allen's 2011 film follows American writer Gil Pender as he time-travels back to 1920s Paris, meeting legendary artists and authors like Pablo Picasso and Ernest Hemingway, as well as an intriguing woman named Adriana. Entertaining, uplifting, and romantic, it's the ideal choice for culture lovers and Woody Allen fans. Plus, you'll get to soak up the Paris atmosphere from the comfort of your couch.
17. Interstellar
Christopher Nolan's epic sci-fi movie will take you on a twisting journey through space and time as retired astronaut Cooper attempts to save humanity from a dying planet Earth. However, the heart of Interstellar is the relationship between Cooper and his daughter Murphy. Matthew McConaughey and Jessica Chastain give incredible performances in this fascinating and touching film.
18. Coming to America
Coming to America is one of Eddie Murphy's best movies and shows off his legendary comedy skills. He plays Prince Akeem, a spoilt African royal who breaks with tradition and goes to the US to find his true love. He's accompanied by his hilarious sidekick Semmi, played by Arsenio Hall. Refresh your memories of this comedy classic before the sequel, Coming 2 America, is released in December.
19. About Time
Fans of movies like Love, Actually and Four Weddings & A Funeral will love About Time. Written and directed by the king of British rom-coms, Richard Curtis, it centers on a young man who learns he has inherited his father's supernatural ability. Along the way, he falls for an American girl and begins to discover the meaning of life. Moving and tender, with an uplifting message at its heart, About Time is one of the best feel-good movies of the past few years.
20. Hugo
Legendary director Martin Scorsese's only family film, Hugo, tells the tale of a young orphaned boy in 1930s Paris. Hugo is obsessed with cinema pioneers, the Méliès brothers. When he discovers a strange toy and meets a girl named Isabelle, he is thrown into a mysterious journey to discover the truth. A beautiful period adventure, Hugo is perfect for movie lovers of all ages.
21. Something's Gotta Give
Looking for a movie you and your mom will love? Try Something's Gotta Give. A witty script and A-list cast – including Diane Keaton, Jack Nicholson, and Keanu Reeves – makes for a smart and entertaining rom-com that only gets better with age. Plus, it's set in the beautiful Hamptons, meaning it feels like you're taking a mini holiday when you watch it.
22. Zack and Miri Make a Porno
Seth Rogen and Elizabeth Banks play broke friends Zack and Miri, who decide to film a porn movie to make money quickly. While the plot is raunchy, Zack and Miri Make a Porno has a sweet message about love and relationships – and it has a happy ending, too.
23. Silver Linings Playbook
Silver Linings Playbook explores love, loss, and family from the perspective of Pat Solitano (Bradley Cooper), a recently divorced teacher who has bipolar disorder. He develops a complicated relationship with widow Tiffany (Jennifer Lawrence), who is also suffering from a mental illness. While its themes seem heavy, the movie is warm and light-hearted and shows how love can set you free even if you are feeling broken.
24. Shrek
One of the most quotable movies of all time, re-watching the original Shrek, will take you back to your childhood in seconds. Join Shrek and the outrageously lovable Donkey as they search for Princess Fiona and bring her back to Lord Farquaad. The many jokes still hold up all these years later.
25. Mamma Mia!
Are you dreaming of sun, sand, and sea while you're stuck in the house? Mamma Mia! will transport you to a fabulous Greek island in seconds. Based on the hit musical featuring ABBA's hits, the movie stars Meryl Streep and Amanda Seyfried as mother and daughter Donna and Sophie. As Sophie's wedding day approaches, she sends three letters to the men who might be her long lost father – and plenty of drama and laughs follow.
26. Legally Blonde
Legally Blonde never fails to put a smile on your face. The movie has become a comedy classic for a reason, and it's just as entertaining nearly 20 years after it was first released. Reese Witherspoon plays the iconic Elle Woods, and her optimistic outlook is infectious. Log into Netflix, put on your favorite pink outfit, and enjoy.
27. The Nutty Professor
Eddie Murphy plays seven different roles in The Nutty Professor, which follows kind but overweight Professor Sherman Klump. When he takes an experimental weight-loss drug, he transforms into a handsome, yet evil alter ego. This '90s flick keeps the laughs going and is a must-watch for Eddie fans.
28. The Wedding Singer
The Wedding Singer is a charming and quirky romantic comedy starring Adam Sandler and Drew Barrymore. They play wedding singer Robbie and waitress Julia, who are kept apart by Robbie's broken heart and Julia's controlling fiancé. Not only is it sweet, funny, and heartfelt, it also has a killer soundtrack full of '80s hits by the likes of Billy Idol, New Order, and Hall & Oates.
29. Knocked Up
From the same team behind Superbad and The 40-Year-Old Virgin, Knocked Up follows slacker Ben and hard-working presenter Allison who fall pregnant after a one-night stand. Packed with humor and heart, the movie also has a hilariously quirky supporting cast, including Ben's friends and Allison's family.
30. The Incredibles 2
Fans waited more than a decade for a sequel to the 2004 Pixar hit The Incredibles. Revisit the superpowered Parr family in The Incredibles 2, where they face a devilish new supervillain and continue to explore their capabilities. Edna Mode is back too – as is the fantastic animation that is Pixar's signature.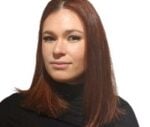 Arabella Roden is a skilled writer and sub-editor with over ten years of experience across print, digital, and B2B. She holds a Bachelor's Degree in Journalism and specializes in beauty, hairstyles, fashion, tattoos, and lifestyle topics. Arabella is currently the Chief Sub Editor at Mecca Brands and has been writing for The Trend Spotter since 2019.
SUBSCRIBE TO OUR NEWSLETTER
Subscribe to our mailing list and get interesting stuff and updates to your email inbox.