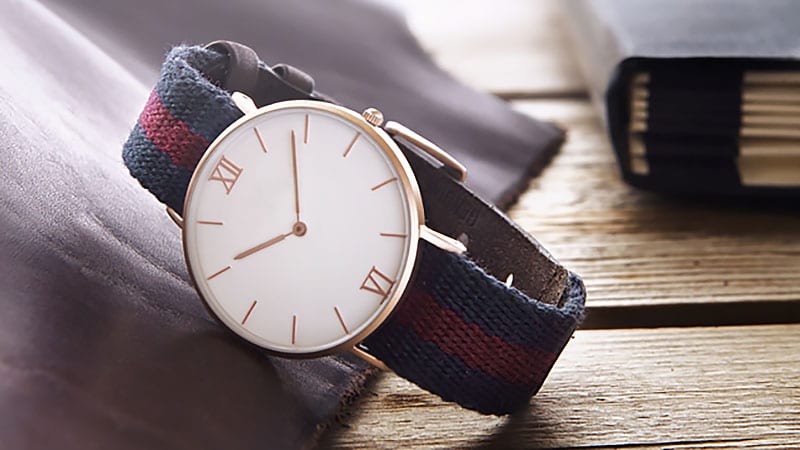 They were invented to tell time but let's face it, watches these days can be valued more for their aesthetics than their activity. And why shouldn't they be? Watches add distinction to a great outfit. Versatility, however, is one of the most alluring elements most gents look for in a staple watch. The best way to find an adaptable timepiece is to search for minimalism. Simplistic, classic and timeless pieces are what you should look out for. here are the best minimalist watches for men that will ensure you get the most out of your next time-telling purchase.
1. Nordgreen Philosopher
For a highly sophisticated look, the Nordgreen Philosopher designed by Jakob Wagner and CSR programme is a great minimalist dress watch. The stainless steel timepiece with a silver dial and black leather strap harnesses a Quartz movement and is water resistant to 3ATM. Its conically shaped case has a wider base than the face, creating a sharp two-piece dial that draws the eye to the centre of the watch. The elevated case and tugging lugs provide the finishing touches to the watches unique design. Its interchangeable straps allow you to customise your Philosopher to suit every style.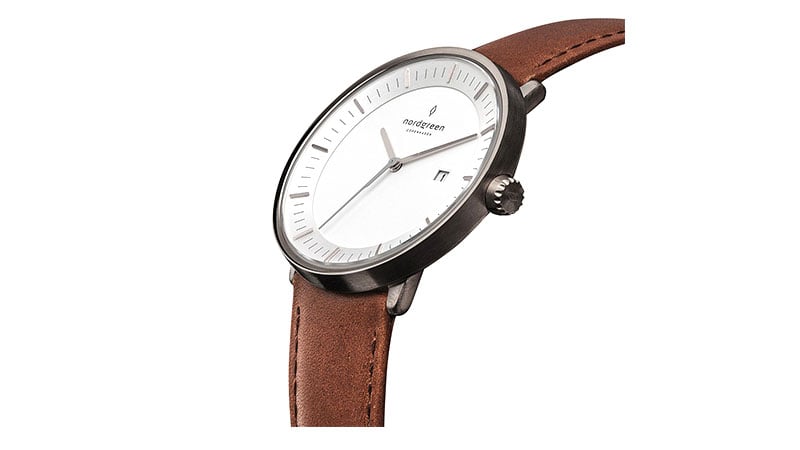 2. Mondaine Classic
Mondaine has created a minimalist watch; their Classic model is certainly eye-catching with its distinctively bold hands. The Swedish brand describes this timepiece as "straightforward", with an unadorned case shape and sapphire crystal. The colour combinations of the Classic model are also incredibly versatile, making pairing this watch with different pieces very easy. Black, white with touches of cherry red, the timepiece is an ode to nineties style. The aesthetic is also fun and boyish, making it perfect for casual wear.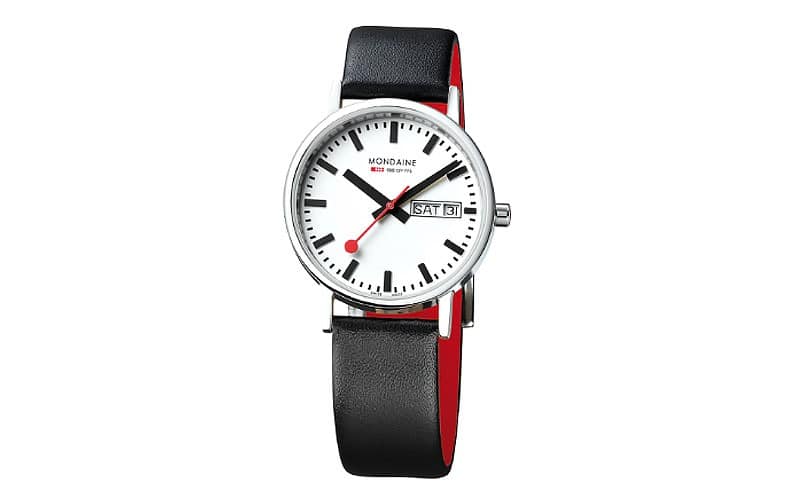 3. Junghans Max Bill Quartz
German brand Junghans have kept things simplistic and stylish with the sleek Max Bill Quartz. The model is water resistant and boasts a calfskin strap with a stainless steel buckle. Not only splash proof, but the Max Bill Quartz also features convex hard Plexiglass with Sicralan coating. The watch face also has sunray brush dark grey, minute track and hands with environmentally friendly luminous substance. The date function is also handy and fits in with the minimal aesthetic of the timepiece. One of our more modern picks, this Junghans model is great for corporate wear and casual days alike.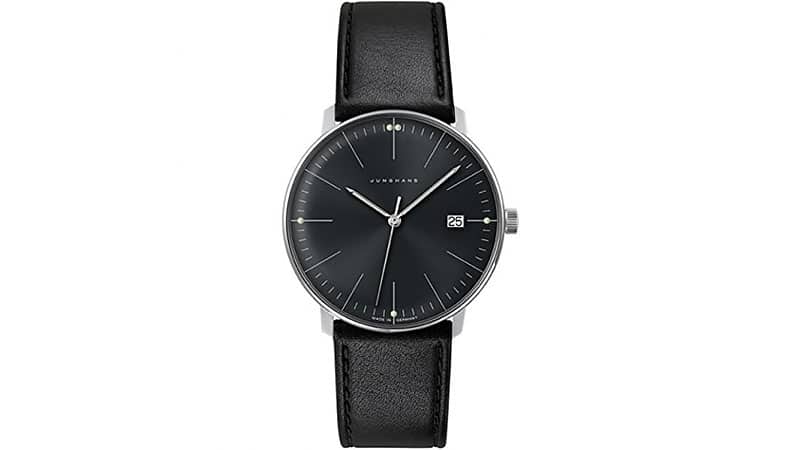 4. Daniel Wellington Classic St Mawes 36mm
The Daniel Wellington Classic St Mawes 36mm is a slim model, with a simple round dial and refined casing. The brown strap is the perfect colour for different tonal combinations, and it complements the rose gold hands and the edge of the watch dial perfectly. Is rose gold not your thing? Luckily, this watch also comes in a version with silver finishes. The dial is also simple and won't date, with minimalist numerals, and eggshell white colouring is true to the identifiable aesthetic of the recognisable Daniel Wellington brand.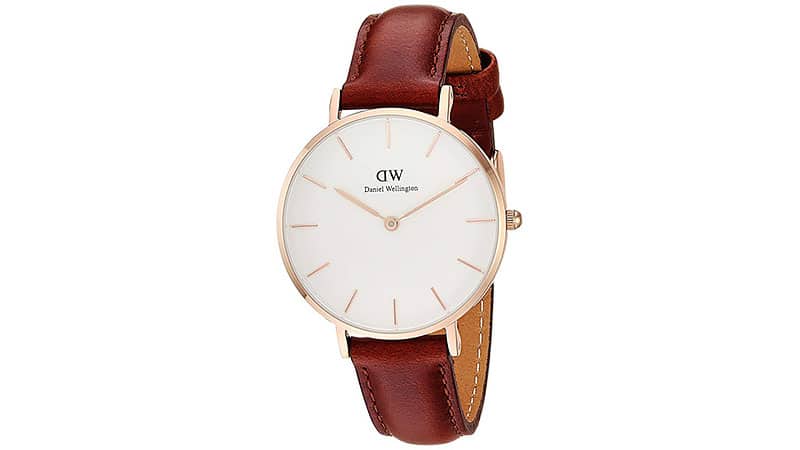 5. Jack Mason Nochikaru Nautical
For a watch that combines tradition with modern design, the Jack Mason Noxhikaru Nautical is the perfect timepiece for the classic man. Protected by a 42mm stainless steel case, the watch features an easy-to-read dial, SuperLuminova markings and applied indices. The traditional dark brown Italian leather strap is interchangeable with any 22mm Jack Mason straps, making the Nochikaru Nautical as versatile as it is stylish.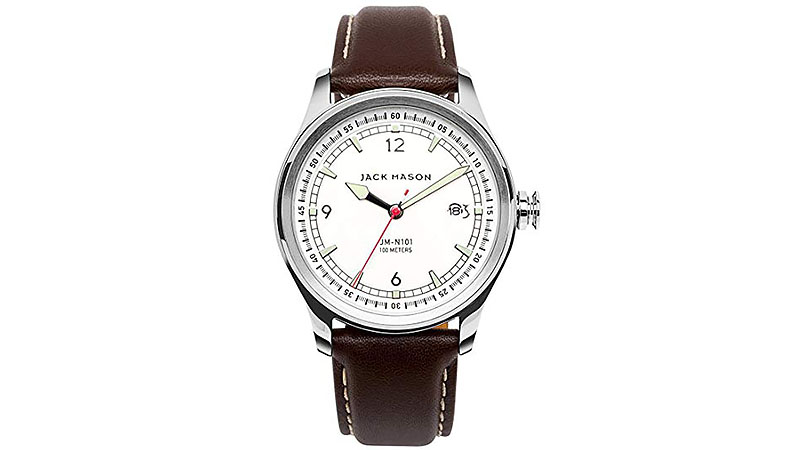 6. Alessi Men's AL8004
Alessi watches are designed to express a mixture of eccentricity and style, playfulness and culture, irony and elegance. While the AL8004 may seemingly fall most heavily on the side of elegance, it certainly does contain all these characteristics to some degree. The design is sharp and classic but simultaneously hosts a cool, contemporary vibe. Its round case is featured in suave stainless steel and its stylishly minimal face is design in black with silver stick hour markers and rounded hands. Its band is equally as impressive, featuring a unique shape that starts subtly wider at the case before tapering into its standard width.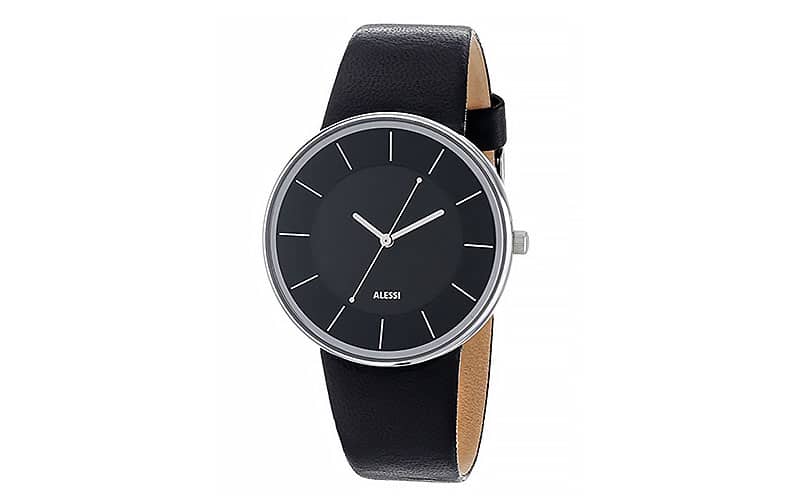 7. Braun BN0032WHSLMHG
This minimalist watch by Braun features a sleek, brushed stainless steel case and stylish metal mesh band. While the band undoubtedly adds a unique textural appearance, which isn't often found in minimal watches, the overall look is kept clean and clear with its light silver tone and the addition of the face. The face, which sits inside a 40mm case, is light, bright and clear with a white background and black numbers. The addition of a yellow second hand and small, red-topped date display add just the right amount of fun to this timepiece, making it ideal for both the office and the weekend.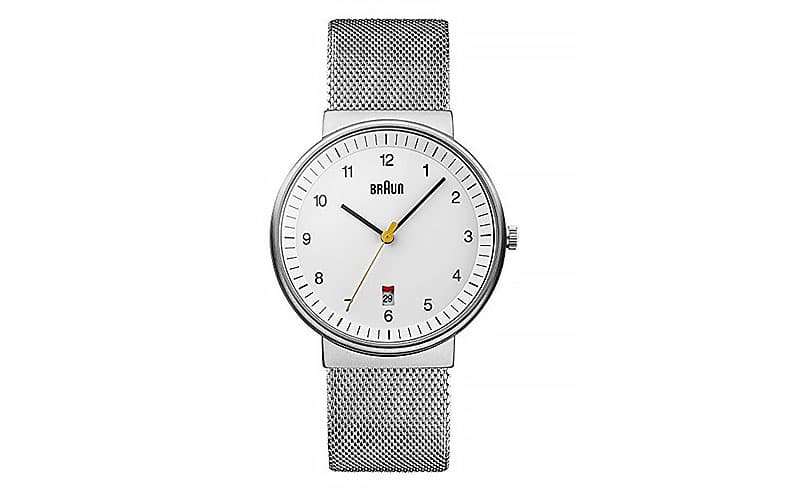 8. Tsovet JPT-PW36
Tsovet's JPT-PW36 was designed "with the purist in mind". Created in Japan, the colours of this watch are striking yet still classic. Tsovet has combined white indexing with a mint-green second hand that contrasts perfectly against the black dial. The overall aesthetic is masculine and athletic, making it a perfect everyday watch. The packaging of the watch is also refined; it comes in a canvas pouch and presentation box.

9. Timex Easy Reader Grande
The Timex Easy Reader Grande is the epitome of minimal style. A gentlemanly watch with a classic aesthetic that features a 35mm brass case with protective mineral crystal dial window and Quartz movement with analogue display, make for a timeless watch that works for men of all ages. This model is also 30m water resistant, has a genuine leather strap and comes with the Timex Originals 2-year guarantee.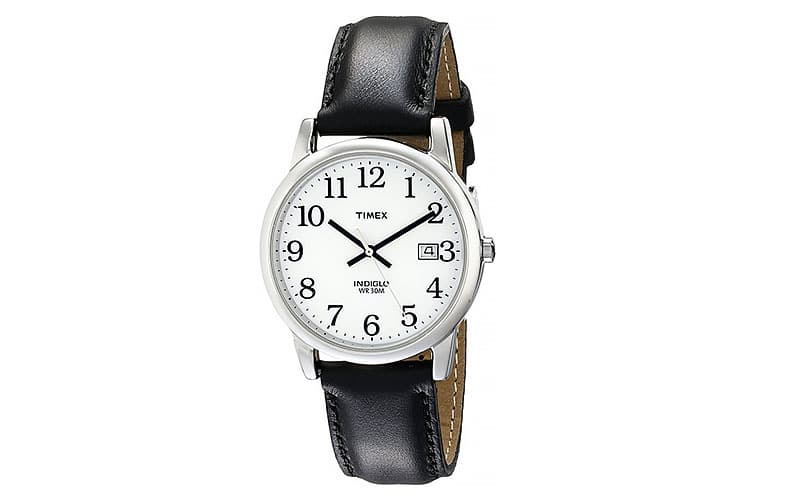 10. Shinola S0100026
Green and tan, this Shinola model is perfect for layering and complementing classic colours and prints. The battery runs on EOL technology, and it also features a double curve sapphire crystal. Three hands and a 41mm case size also make this a great option for practicality. We would recommend this pick for the gentleman who prefers a minimalistic design with a twist.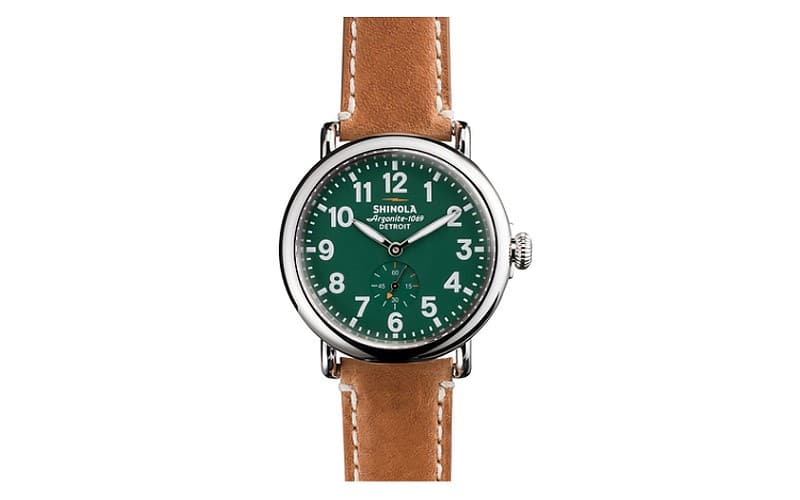 11. Uniform Wares M35
Instantly recognisable with its modern case design, the Uniform Wares M35 is a beautifully Swiss made, modernist model. The strap on this timepiece is an adjustable buffed cordovan leather strap in black with pin-buckle fastening. Mirror-polished aluminium hands, water resistant up to 50m and markers in gunmetal-tone contribute to making this a durable watch for men on the go.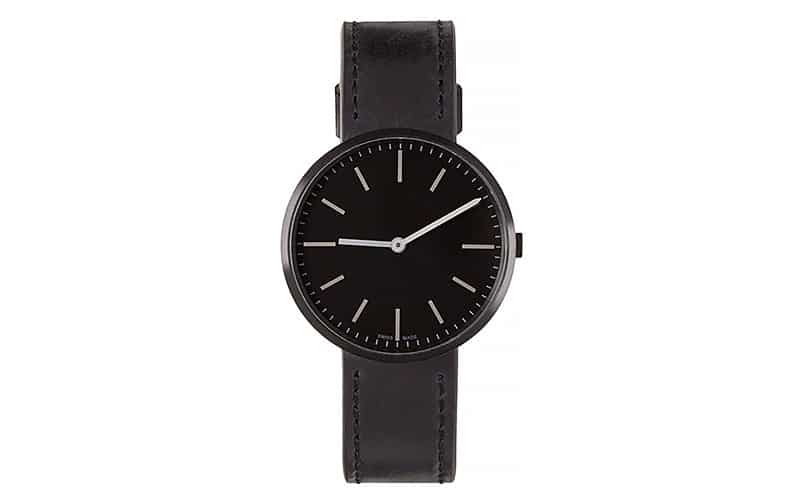 12. Skagen Holst
Described by the brand as a "subtly sophisticated statement ", the Skagen Holst Ancher is without a doubt a minimalistic and bold watch. A slim profile and soft leather black strap contribute to the understated appeal of this model. With a chronograph 60 and 30-second timer, date keeper, cobalt dial and silver finishes provide the versatility that makes its styling timeless.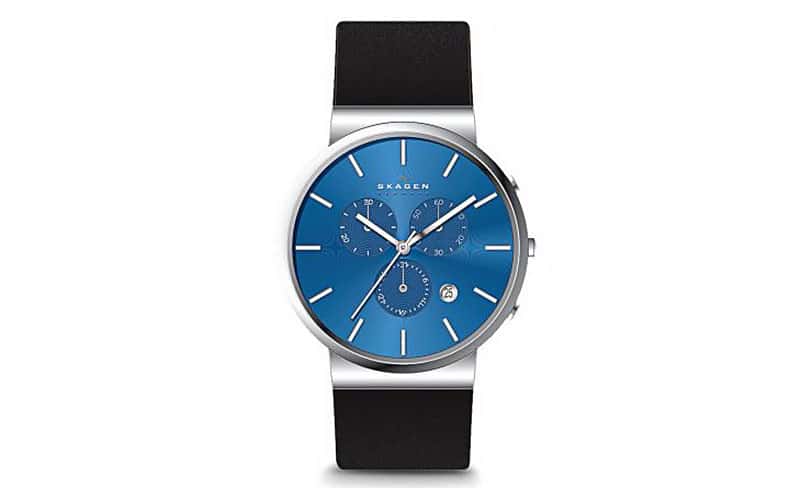 13. KOMONO KOM-W1904
Komono is a business rooted in the Belgian tradition of fierce dedication to quality and craft, so you know its watches are made to high standards for both function and design. The label's The One Watch is a shining example of this notion and features a polished, modern aesthetic and Japanese quartz movement. While it's all-black design is intended to provide its wearer with stealthy style, its generous 46mm case is bold and eye-catching. A genuine leather strap is also a great addition to this timepiece, lending it a luxurious feel.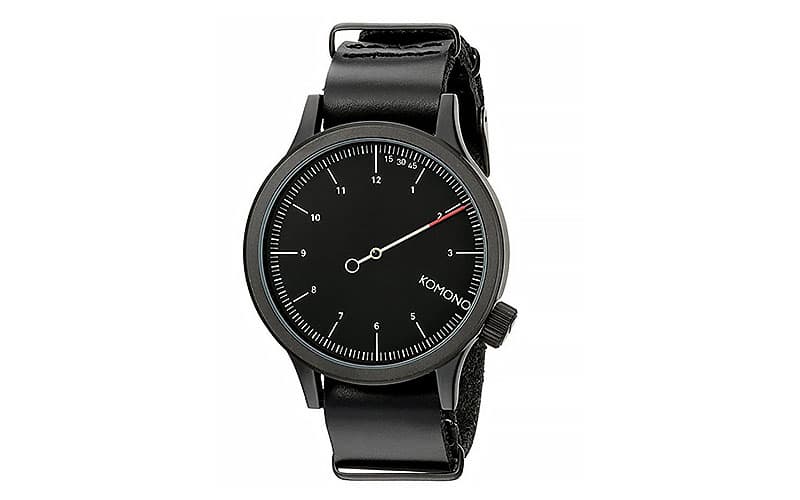 SUBSCRIBE TO OUR NEWSLETTER
Subscribe to our mailing list and get interesting stuff and updates to your email inbox.