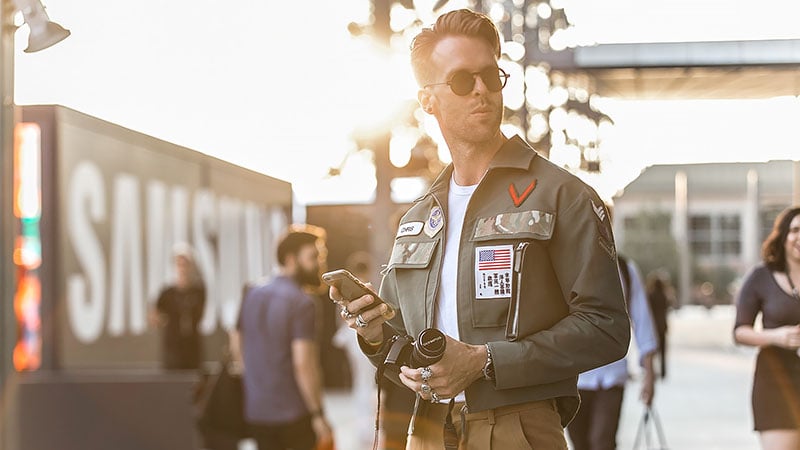 Whilst we all love a classic watch, we should also consider adding a military watch to our collection due to its distinctive rugged aesthetic, features, and durability. The military should be respected for their greater purposes of defense and protection, but army attire has also distinctively influenced our society's sartorial trends for centuries. Practical, athletic, and durable, military and tactical watches are a tougher breed of watches and are able to withstand the messiest of conditions. here are the best military and tactical watches that can withstand any zombie apocalypse.
1. Timex Expedition Shock XL Watch
The Timex Expedition Shock XL Watch is a classic. Its black coloring and distinguishing green digits make it simplistic and showcase its range of features clearly yet distinctively. Its quartz movement, resin band material and water resistance depth of up to 200 meters play a big part in making it an appealing choice. Looks-wise, this model is reminiscent of a nineties aesthetic, playing off the era with its chunkier proportions and minimalist color scheme. This is a watch that is sure to please most gentlemen, given its versatility in terms of color and function.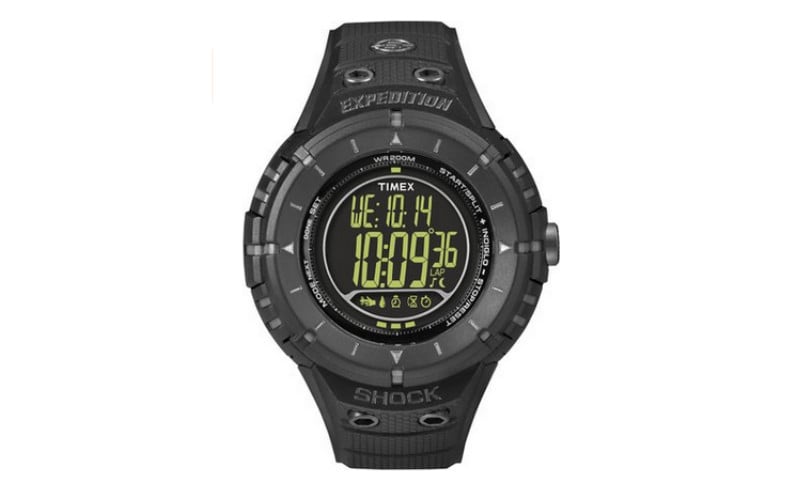 2. Suunto X-Lander Military Watch
The Suunto X-Lander Military watch has an accurate altimeter, a complete barometer, and a precise electronic compass. It also has an aluminum case with mineral glass as well as a tough metal case, lending to its durability. The design is classic and simplistic, which is true to the Suunto brand and perfect for those who just want something minimal and failsafe. The user-replaceable battery, multiple date and alarm functions, weather trend indicator, and altitude log are also great bonuses for those wanting a lot more features with their timepieces. Its rubber strap is also durable and perfect for outdoor wear and tear.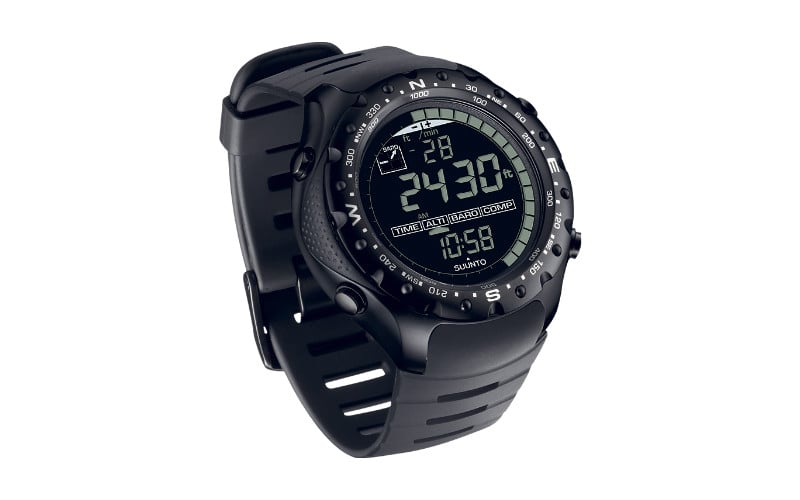 3. G-Shock GWG-1000GB-1A Watch
With its powerful function and signature aesthetic, the G-Shock GWG-1000GB-1A watch was engineered to work on the land, sea, and in the air. Whilst it was designed to battle the elements, its look is anything but plain. The new matte black coloring adds to its grown-up character. The buttons, buckle, band loop, crown, bezel, and other metal parts are plated in black ion. If you're a fan of the G-shock brand, this watch is its reinvented model, yet the brand also describes it as maintaining the original toughness of its predecessors. Tough solar also aids the timepiece to work with stable operation regardless of the use of the functions, making it a power effective choice.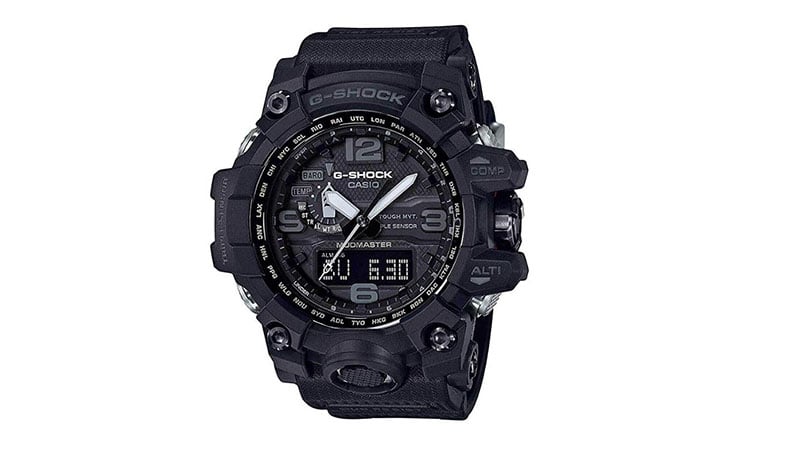 4. Timex Expedition Gallatin Watch
The classic model by Timex, the Expedition Gallatin was inspired by the northern edge of the U.S Rockies. It is a classic analog clock and flaunts a raised top ring, tactical dial, and mixed materials. The matte black case finish is a nice touch and the band's nylon material makes it a watch you won't be afraid to get dirty. One of its more playful features is its Indiglo Night-Light, which will make evening adventures a lot easier to keep track of. This model is also water-resistant up to 50 meters and has a quartz analog movement.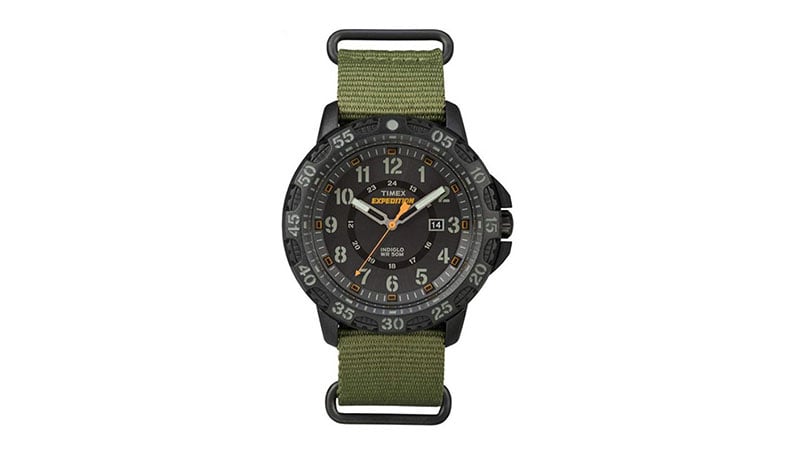 5. Luminox Recon Point Man 8820 Watch
The Swiss brand Luminox has designed the Recon Point Man 8820 watch to address the needs of military personnel for analog watches. The watch's high scratch-resistant anti-reflective sapphire crystal, graduated turning bezel and contrast-color countdown quadrant of the dial are handy features. Interestingly, the Swiss brand designed this watch in collaboration with Andrew Micheli, a former Swiss Army Military Security NCO. The internationally recognized military journalist aided the company in producing this model which was intended to satisfy the specific requests from professional military personnel.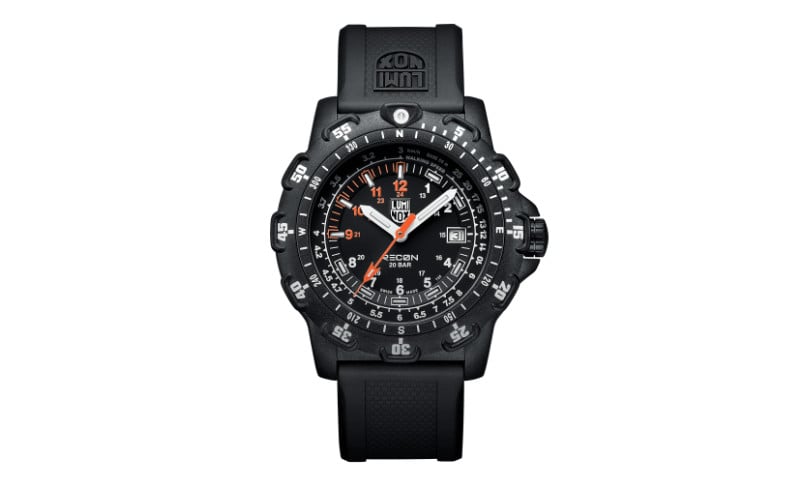 The Marathon Military Navigator Quartz watch is most appealing for its versatile neutral coloring and minimalist design. This model by Marathon was built to strict military specifications and was in fact designed for pilots, parachutists, and those working in law enforcement. It is made from a specialized fiber shell case that is water-resistant to 6 atmospheres and is sweat and shock-resistant. Adding to its appeal is the fact that this gadget is super lightweight. This Swiss-made model also flaunts a 3 jewel ETA, high torque, and a high degree of accuracy in its timekeeping.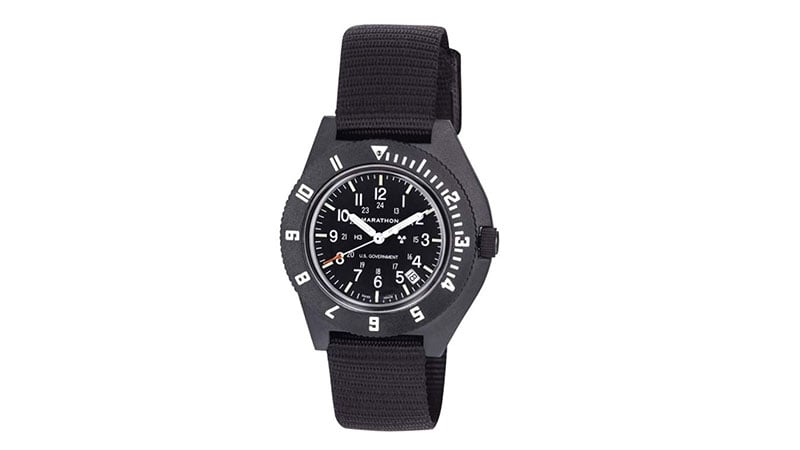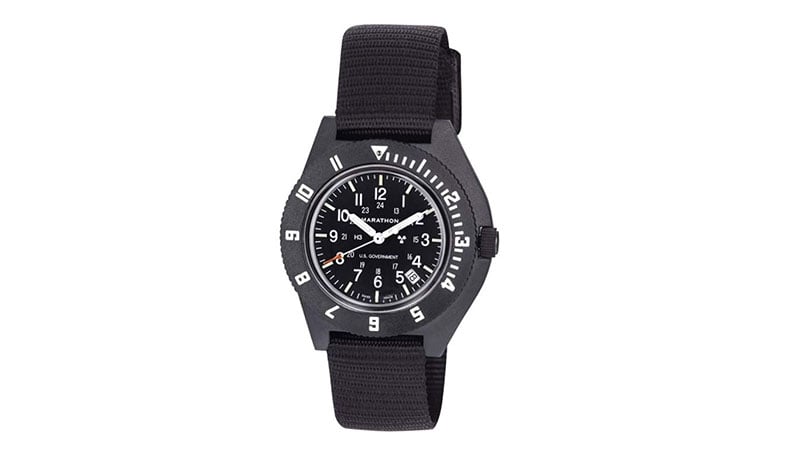 7. G-Shock GD-X6900MC-3 Watch
If you are after a true, army aesthetic, the G-Shock GD-X6900MC-3 watch ticks all the right boxes. The watch's case, band, and face's camouflage pattern is distinctive and a playful nod to its environmentally compatible features. With estimated 10-year battery life and super illuminator, high-brightness auto LED backlight, and shock resistance, the latest in the Camouflage Series of the G-Shock lineup is an appealing choice. Combined with its full auto-calendar, regular timekeeping, and 200-meter water resistance this watch's military standard quality has been put through chamber test methods that replicate the effects of environments on the equipment.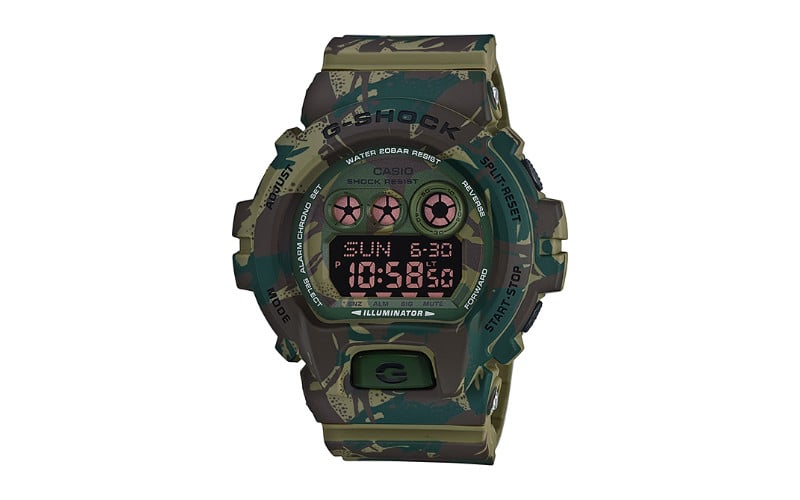 8. Bell & Ross WW1-92 Military Watch
Bell & Ross have combined the best of both worlds with one of their latest models. The WW1-92 Military watch pays tribute to the first wristwatches that pilots sported in the 1920s. The timepiece plays off these references, embodied through its simplistic yet novel charm. The rugged leather strap is also a nice neutral shade that can easily be worn throughout the day and night. It is thinner but is sturdy and reliable. The matte grey steel case is also another novel touch. The traditional military aviator watches inspired this model and is particularly evident with its emphasized minutes and overall user-friendly functions.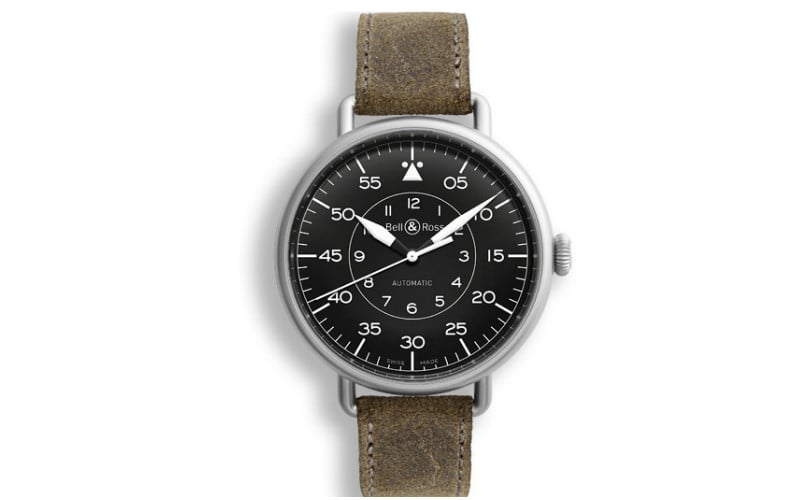 9.

MWC US Military 1969 Vietnam Era Field Watch Black
Don't be fooled by its smaller proportions, the WC US Military 1969 Vietnam Era Field Watch Black is a nifty tool for its function and look-alike. Ironically, this watch camouflages as a classic everyday watch, making it a more classic choice for those wanting a timepiece they can wear to places other than the outdoors. The black strap with its yellow indent coloring works well alongside different athletic wear and is handy for its versatility. Also, quite useful is the screw on case back which operates to improve water resistance. The actual glass is used as a material in this model, which unlike the typical perspex crystals used in other brands' models, works to improve the scratch resistance and aids in its streamlined look.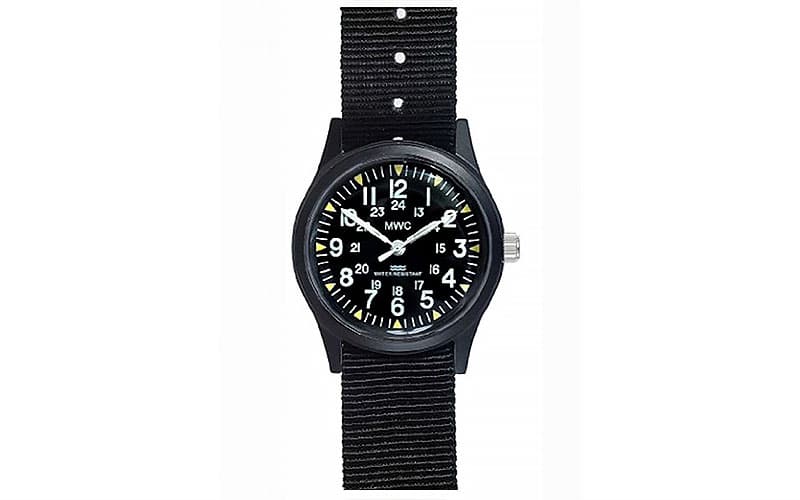 10. Infantry Co. IN-059
Forget about the army, the Infantry Co. IN-059 watch has all kinds of sci-fi references. It's black coloring with alien green digits make it playful yet still masculine. The stainless steel case and strap are helpful for durability and its other features include digital movements, dual-precision Japanese Quartz movement, and a push/pull crown. As one of Infantry Co's newest arrivals, this model is also appealing for its authentic laser engraved logo case back and anti-scratch watch front glass. Also, keep in mind that if this model's color is not right for you, it comes in several other versions.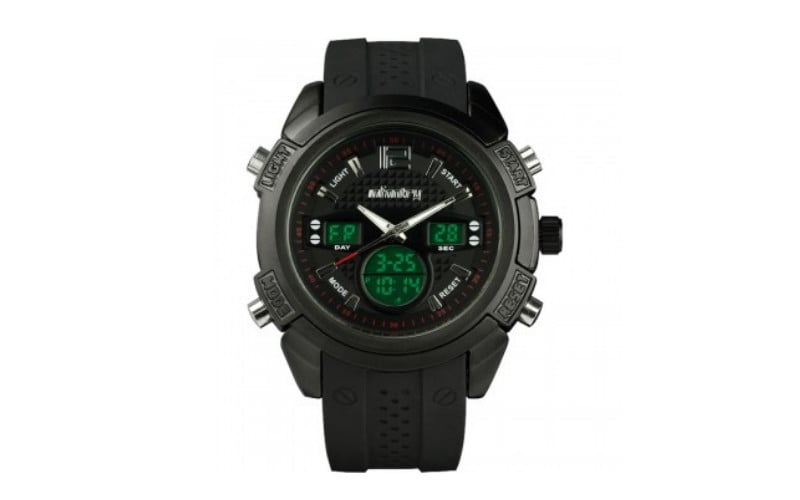 FAQs
What is a tactical watch?
A tactical watch is a rugged style favored by the military, security forces, and extreme athletes. They tend to be exceptionally durable, featuring scratch-resistant sapphire crystal lenses with an anti-reflective coating, plus a hard-wearing case material such as stainless steel. They'll also have luminescent hands and numbers, quartz movement for accuracy, and a water-resistance rating of at least 10ATM. Finally, the band is generally silicone, nylon, and canvas, so it won't warp or rust when wet.
There's no official Navy SEAL watch, but the preferred styles include the Casio G-Shock DW-6600, Luminox Navy Seal Watch, and Suunto Core.
What Can A Tactical Watch Do?
A tactical watch can do a lot of practical things beyond telling the time. This includes GPS tracking, altitude measurements, weather indications, and some smart styles even come with topographical map features. They have a long battery life, solar charging, are water-resistant and shock-resistant.
SUBSCRIBE TO OUR NEWSLETTER
Subscribe to our mailing list and get interesting stuff and updates to your email inbox.