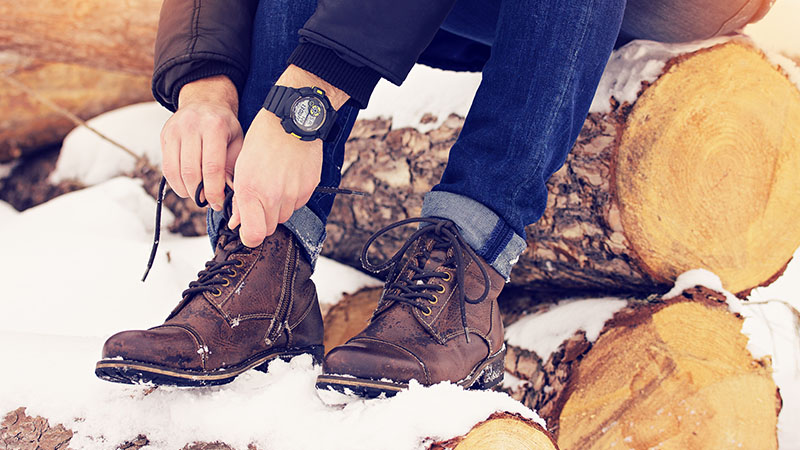 As the winter months close in, it's time to think about your footwear wardrobe. Ideally, a stylish gent has a couple of pairs of winter boots in rotation. You want comfortable, durable styles that will keep your feet warm and dry while letting you stay as fashionable as ever. That way, you're less likely to succumb to the dreary moods that can accompany cold, harsh winter days. Think rugged boots that are waterproof, with lots of traction, so you don't end up with soggy socks. You could also choose sleeker styles for milder days and dressier occasions such as the office or after-work drinks. Whatever you choose, you also want to make sure they're good quality, as not all boots are created equal, and some brands offer better options than others.
What to look for in Winter Boots
Quality Materials
Winter boots can take an absolute beating over the cold months, especially when combined with rain, mud, snow, and salt. Consequently, if you want your shoes to last more than one season, it's best to invest in a quality product. The best winter boots are made with good quality, genuine leather. Look for full-grain hide which hasn't been sanded and will have all its beautiful, natural imperfections. It's also the most durable and naturally water-resistant. Plus, it adapts to the shape of your foot, molding to an exceptionally comfortable fit. Regarding soles, try to avoid leather, as it wears quicker and is less suitable for slippery and wet conditions. Rubber is the most appropriate choice, as it has a lot of grip and is waterproof. Technology has come a long way, though, that rubber soles don't necessarily mean they have to be big and chunky.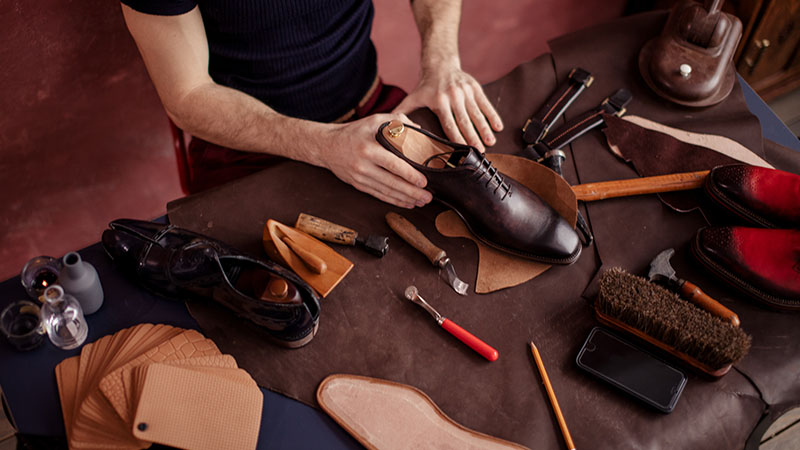 Practicality
You want to make sure you're mixing both form and function when it comes to your winter boots. While you may only be wearing your boots around town or to the pub, you still want them to be practical. Rubber soles are the best options for staying surefooted. Of course, you can opt for a chunky sole with lots of tread. However, many manufacturers recognize the need for more slimline options and have released suitable alternatives. If you live somewhere considerably wet and snowy, you'll also want to look for water and snow-proof options with warm lining to keep your toes toasty.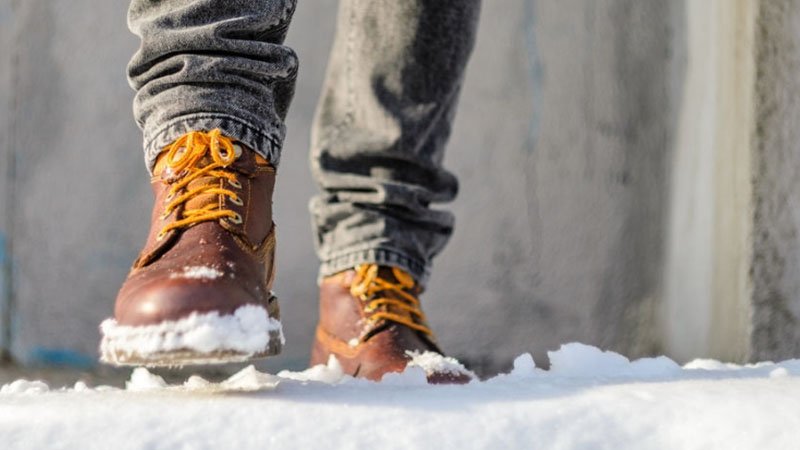 Goodyear-Welted Soles
Goodyear-welting is often considered the gold-standard of shoe construction. It's brilliant because it stitches the upper and soles together using a rib-like strip of leather or canvas. This has many benefits, especially for winter boots. It makes repairs much easier because the sole can be removed without damaging the upper. Goodyear-welted shoes are also the most waterproof, as there's no avenue for moisture from the ground to get up through the sole. Finally, they're also really comfortable because the middle is filled with a cushioning component like cork. Of course, every shoe construction type has cons as well. These kinds of soles can be less flexible, take longer to wear in, and tend to be more expensive. Spot this type of welting by checking the shoe's sole for a line of stitching, which matches stitching on the top around the welt (or lip) of the sole.

Men's Winter Boots Styles
Hiking Boots
You don't need to be training for Mount Everest to wear hiking boots in the winter. The increase in popularity of utilitarian fashion means they're much more stylish and commonplace than ever before. Plus, by design, they're an excellent option for facing all kinds of miserable weather while keeping you ever-so comfortable and warm. They're kind of the winter equivalent of trendy dad sneakers. Look for thick soles, sturdy ankle support, and cushioned lining and soles. Then, keep it modern, stylish, and not too over-the-(mountain)top by choosing premium leather finishes. Obviously, it's a more rugged and casual style, so don't chuck them on with your favorite suit. Instead, go for a lumber-snack vibe and opt for raw denim, flannel shirts, and cable-knit sweaters.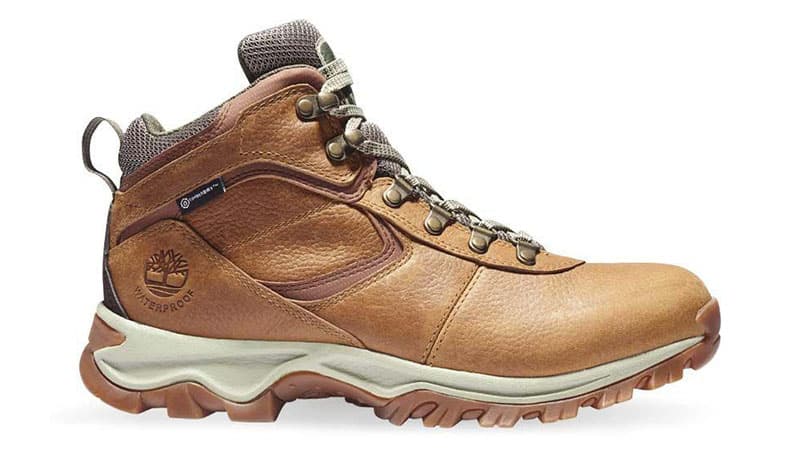 Brogue Boots
Gaelic farmers pioneered broguing as a practical way to drain swampy water from their shoes while out in the fields. However, nowadays, the holes are entirely decorative yet maintain that heritage feel. Brogue boots are an excellent smart-casual style for winter. As a general rule, you can wear them with the same kinds of clothes that you'd wear brogue shoes with. Match it with your wool suit for work, rock chinos and a cable-knit sweater, or mix it up with a more rugged combination of rolled-up jeans, a white tee, and a bomber jacket. The same rules apply with brogue boots as shoes — the more holes, the more casual a style. Additionally, the darker the shade, the more formal the boot, so you can wear a black boot more dressily, while a tan one is best reserved for casual outfits.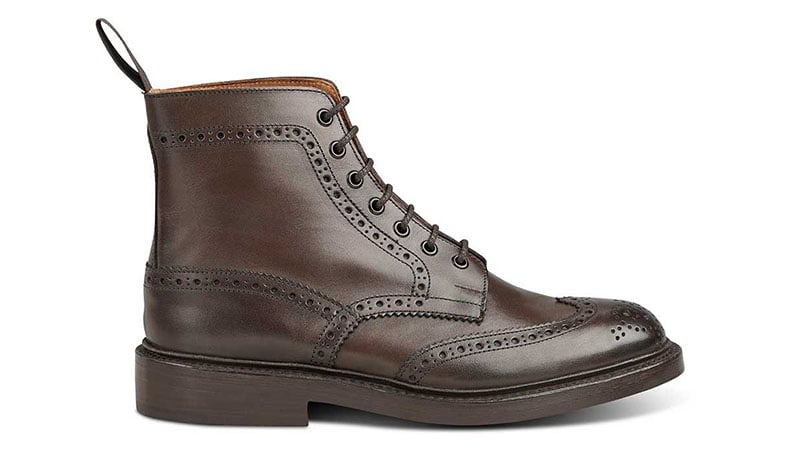 Work Boots
Similar to hiking boots, work boots are a practical style that has made a successful transition into the world of fashion. While some features, such as steel-caps, are less prevalent, others such as padded ankles, plentiful cushioning, grippy soles, and waterproof finishes remain. It's everything you'd want in a comfortable, durable, and warm boot for winter. Timberland's iconic Yellow Boot is one of the original styles that made its way into mainstream popularity. However, plenty of companies offer stylish work boots that can be worn in casual offices, on weekend adventures, or for Sunday sessions at the pub. Channel your inner Drake by rocking a pair of work boots with chino-style joggers and a hoodie. Alternatively, embrace an 'I-work-on-a-ranch-in-the-Rockies' vibe with selvage denim and a flannel shirt or cozy parka.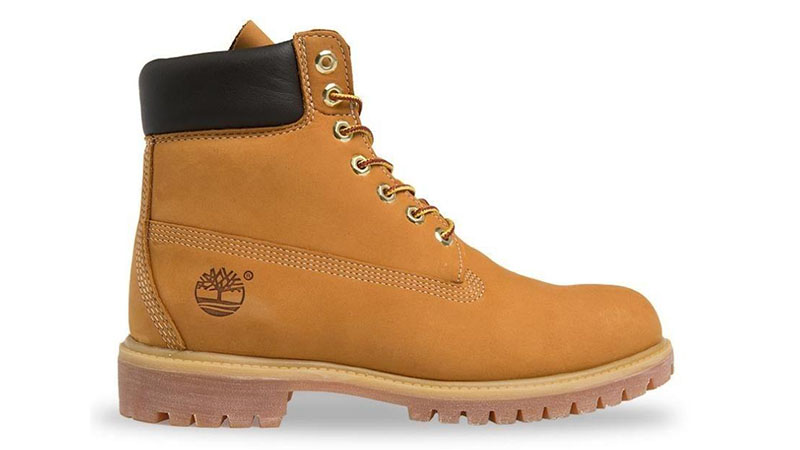 Chelsea Boots
If you only want to buy one pair of boots for winter, then the king of versatility, the Chelsea boot, should be your pick. The 19th-century design was originally an alternative to lace-up riding boots. Modern Chelsea boots look just as good with a suit as they do with skinny jeans and a leather jacket. It's the perfect all-rounder. Black is the most classic option; however, browns and tans are also great. For winter wear, avoid suede, as it's more prone to water absorption and requires much more dedication to cleaning and care. Ideally, choose a pair with a rubber sole and good quality elastic sides that won't distort with regular use. A round toe is also more flexible than a pointed one, and a good quality brand will have a helpful pull tab.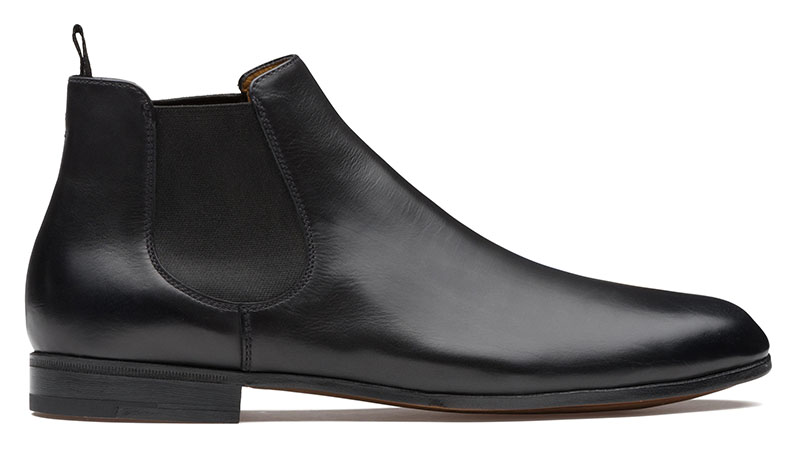 Ankle Boots
Ankle boots are an elegant style and an excellent alternative to other low-cut designs such as chukkas or sneakers. Look for classic cuts such as jodhpur or monk-strap boots for the ultimate in winter sophistication. These go well with wool trousers and a well-cut blazer for the office, or chinos and a pea coat for the weekends. Leather will offer the most durability and resilience and are easily polished to remove any signs of winter wear. If you can find options that have thicker rubber soles, that will give you more stability and traction in the wet.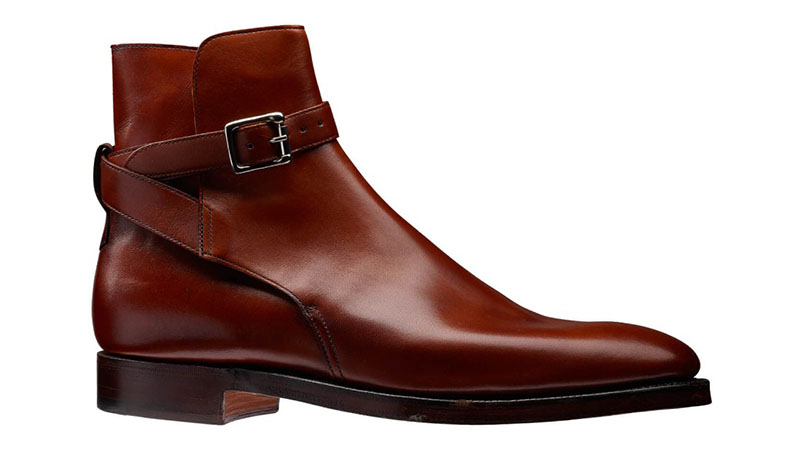 Combat Boots
Combat boots have a long military history. From war trenches of Europe to the rice paddies of Vietnam, combat boots have always been a sturdy, hard-wearing style that still protects the feet of the modern-day armed forces. Of course, they're also a fashion statement and the perfect choice for winter boots for stylish gents. The rubber soles with deep tread and reinforced leather uppers make them exceptionally durable. They also have a rough 'don't mess with me' vibe, which has made them popular among the punks, rockers, and metal-heads of the music scene. When it comes to styling, combat boots are really versatile. Keep it simple with jeans and a bomber jacket, or take a post-apocalyptic neo-sci-fi approach with a statement overcoat. Alternatively, if you're feeling bold, take inspiration from London-based designer Charlie Casely-Hayford and contrast your combat boots with classic tailoring.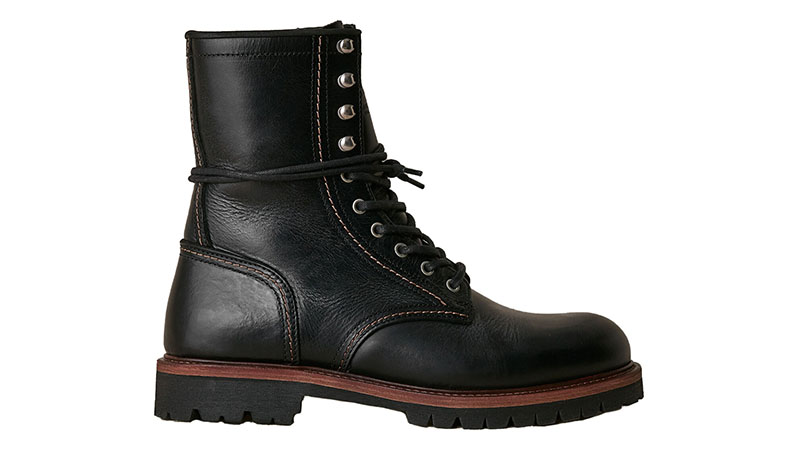 Chukka Boots
Another boot with military history is the chukka. While it's more common to see them as a spring or fall boot, they're still an excellent choice for a winter option. They're exceptionally versatile and suit most smart-casual and casual outfits. Rock them at the office with chinos, a button-down, and bomber jacket, or on the weekends with jeans, a field jacket, and a t-shirt. While suede is the most ubiquitous option, it's better to opt for smooth leather for winter. This will wear better and be much easier to maintain and keep clean. The cousin of the chukka, the desert boot, is also a great option because it has a crepe rubber sole that can provide extra traction.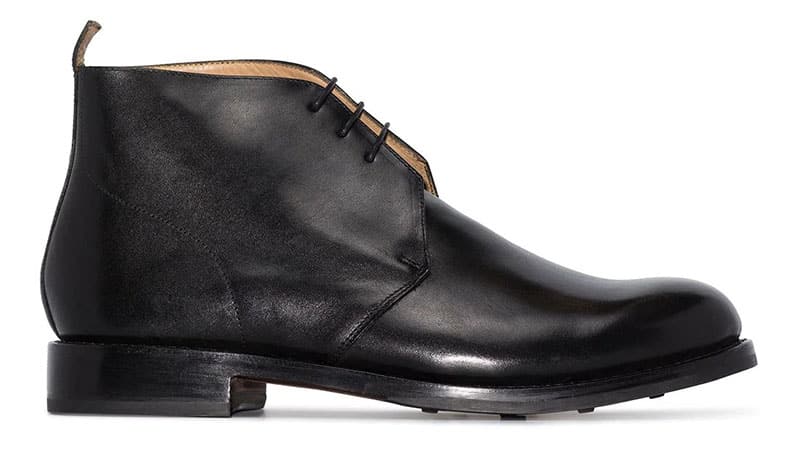 The Best Winter Boot Brands
Grenson
Every pair of winter boots from British brand Grenson is made with Goodyear-welted soles. This age-old method involves over 200 processes but results in robust, long-lasting designs. When it comes to the uppers, Grenson only uses the finest leathers, creating high-quality, luxury, and natural finishes that only get better with age. The brand dates back to 1866, when William Green started the company. During both the First and Second World Wars, Grenson made boots for the British soldiers and Allied Forces. Since then, the brand has continued to innovate, launching a women's collection in 2011 and the iconic "triple welt" shoe in 2014.
Timberland
Timberland is iconic when it comes to winter boots. The journey began in 1952, when founder, Nathan Swartz, bought half of the Abington Shoe Company. Eventually, he bought his partner out and moved the company to New England. This region is famous for its majestic landscapes full of mountains, forests, rivers, and lakes, where a love of the outdoors inspires most designs. The original Timberland waterproof boots launched in 1973, and the company changed its name in their honor in 1978. The design used innovative injection molding technology to create exceptional waterproof performance and set the industry standard. Since then, the sturdy and practical style has found favor among everyone, from outdoor enthusiasts and trade workers to hip hop icons and the fashion elite. Of course, there are more styles than just the Original; however, each of them boasts the unique and rugged aesthetic that makes Timberland popular.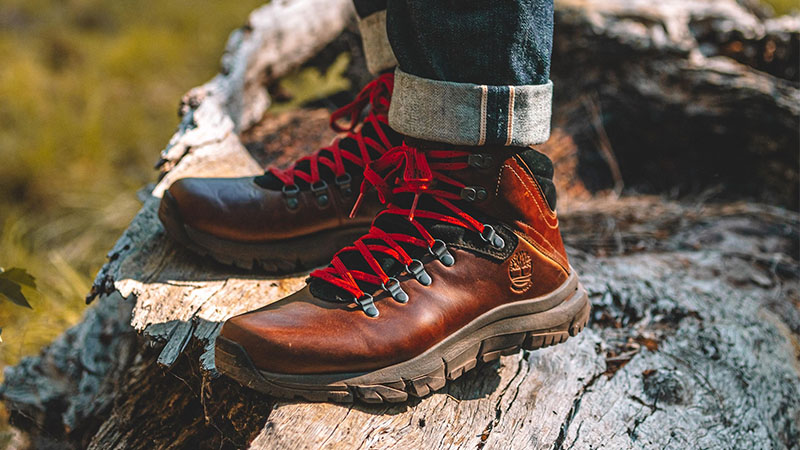 Tricker's
Tricker's is all about rich heritage for modern men. It's the longest standing shoemaking company in England, established in 1829. Early on, the brand specialized in country boots for hardworking farmers. They became renowned for their comfort, durability, and practicality. Since then, while the original design hasn't changed much, it has been adapted for both country walking and town boot styles, increasing the appeal even further. The iconic use of heavy broguing also gives each style personality and character. If you're looking for winter boots that balance both timeless style and undeniable quality, then Tricker's is the brand for you.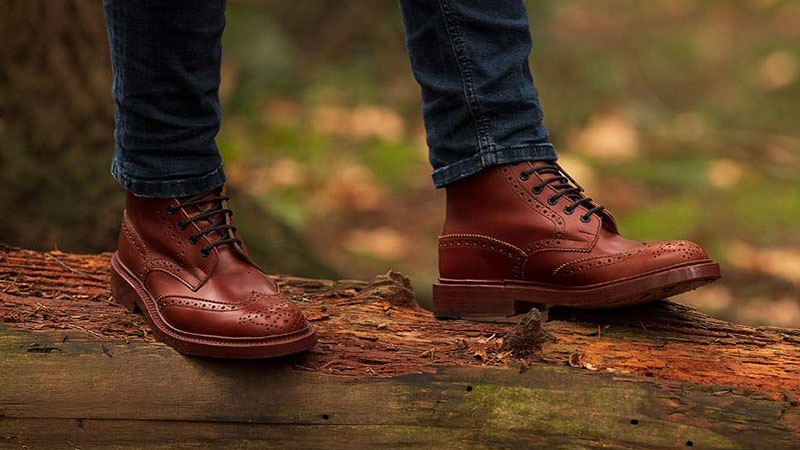 Belstaff
Motorsports and Belstaff are inextricably linked through a long history. Under the leadership of Eli Belovitch, Belstaff launched in 1924. Eli had had success in a previous business producing waterproof fabrics for use in the Great War. He used this expertise to produce waterproof garments, with a focus on motorcyclists. Famous customers like TE Lawrence, Joseph 'Joe' Wright, Amy Johnson, and Amelia Earhart cemented the brand's reputation as rugged and cool early on. While the brand started with outerwear such as the bomber, field, and leather jackets, the range now includes all manner of clothing, accessories, and footwear. You can snag a great pair of winter boots in styles such as combat, biker, and Chelsea. Continued celebrity adoration from stars like David Beckham and James Norton, plus Hollywood involvement through films like Inglorious Basterds and Oceans Twelve, has ensured the brand remains a refined gentlemen's choice.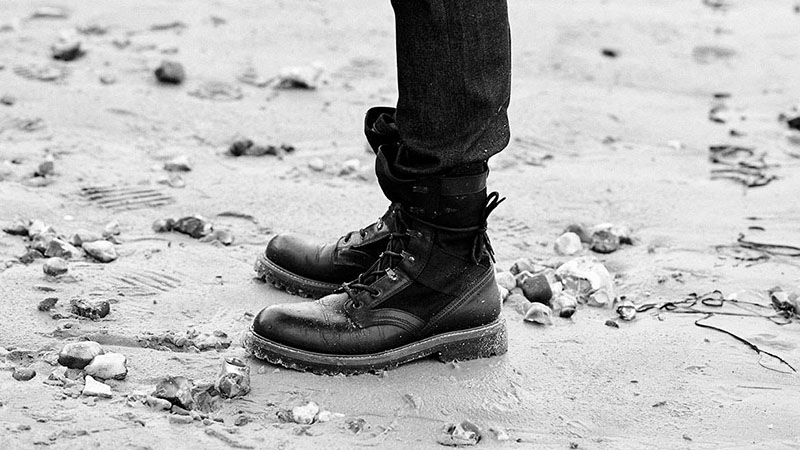 Church's
Established in 1873, Church's began in a modest workshop in Northhampton. Innovation was important from the beginning, and Church's was one of the first brands of modern shoes to introduce left and right feet with their "Adaptable" model. Over the centuries, they continued to innovate, creating a thriving export business taking their classic, timeless designs worldwide. In 1999, the Prada Group acquired the company, fitting it easily into their family of luxury brands while maintaining its quintessentially English identity. When it comes to winter boots, stylish gents can choose anything from vintage-inspired derby boots and universally wearable Chelseas to rock-influenced lace-ups and rugged mountain boots.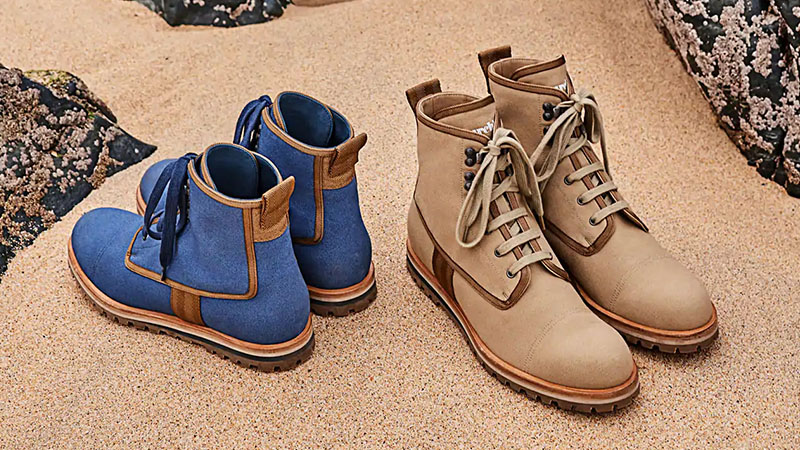 UGG
If ever there was a brand that is synonymous with warm and snuggly, it's UGG. Brian Smith, a young Australian surfer, founded the brand on the beaches of Southern California in 1978. These sheepskin boots quickly found a home and popularity in California's relaxed surf culture. However, it was Oprah's declaration of UGG boots as one of her "Favorite Things" in 2000 that really made the world take notice. It snowballed from there, with UGG taking the New York fashion world by storm and creating a cult following. Now customers can enjoy a range of winter boots, slippers, sneakers, moccasins, chukkas, and outerwear boots, plus UGG clothing. Every item boasts an uncompromising approach to quality and craftsmanship, featuring components like grade-A Twinface Sheepskin, natural woven wool, Treadlite by UGG, and leathers from historic, family-run tanneries.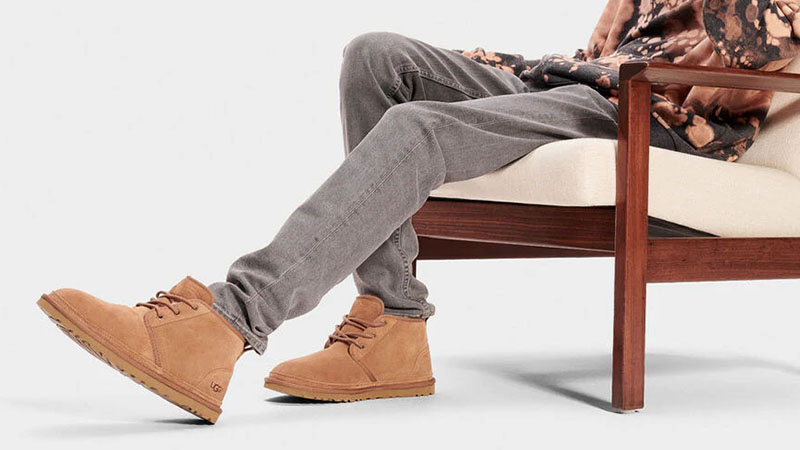 Wolverine
Wolverine is masculine and hardworking. Its all-American range of workboots has been in production since 1883 and is famous for both comfort and toughness. The 1000 Mile boot is one of the original designs and embodies the soul of the brand. The soft yet long-lasting leather outers guaranteed the customer 1000 miles of wear. Today there's a full range of styles for both men's and women's work and casual wear. Each pair of winter boots and shoes is handmade in the United States, using premium leather from the Horween Leather Company, which is more than 100 years old. They also use manufacturing techniques such as Goodyear welting, which allows your boots to last even longer.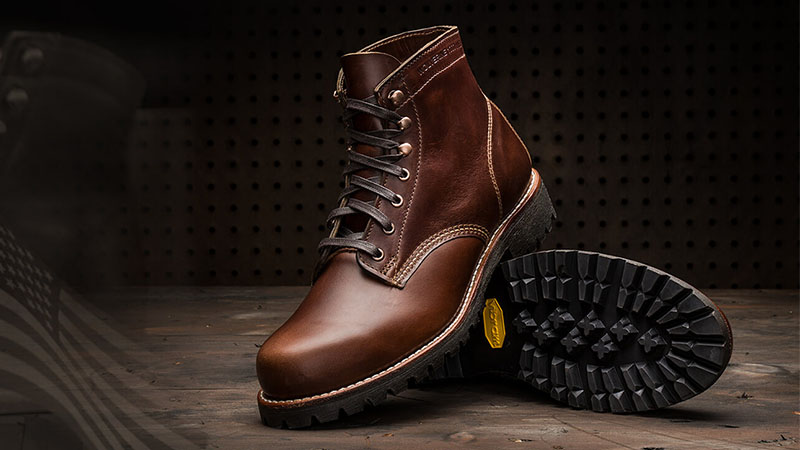 Alden of New England
Pick from a range of quality dress shoes and boots from Massachusetts company, Alden of New England. Established in 1884, the family-owned brand is one of the original shoemakers of New England. There is a focus on high-quality components and manufacturing. Each style is Goodyear-welted and boasts supple leather lining, as well as full leather uppers, sourced from the finest tanneries in the world. The designs are unfussy and timeless, fitting easily into existing fashion-conscious wardrobes. This means your winter boots will last for more than one season, and you'll be looking stylish for years to come.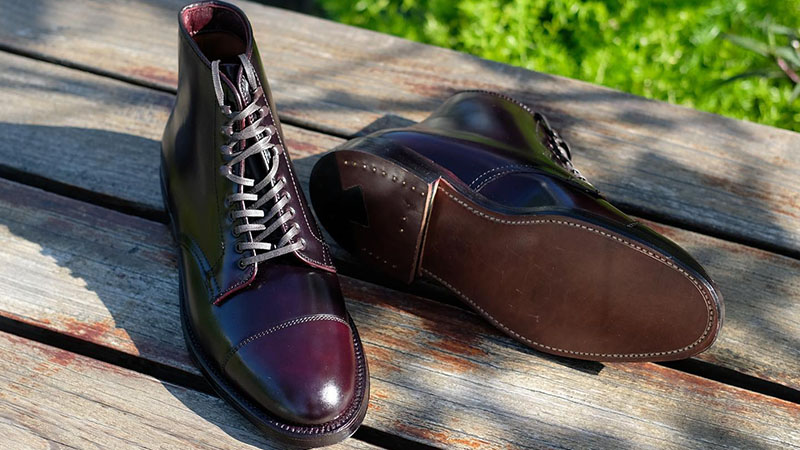 Crockett & Jones
Crockett & Jones has specialized in quality Goodyear welted shoes since 1879. The brand was used in the second Shackleton Endurance Expedition and manufactured boots for the British Army in World War 1. Crockett & Jones also supplied shoes for the Skyfall, Spectre, and No Time To Die James Bond films, cementing the company as a modern style icon. Each design is elegant and timeless, befitting the most refined gentlemen. There's a focus on premium components and expert craftsmanship to ensure quality and consistency. Their winter boots a must-have for every wardrobe.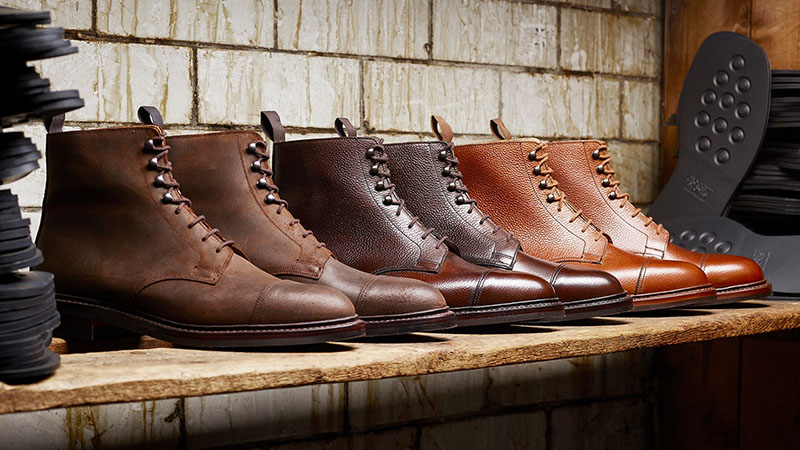 FAQs
What are the warmest winter boots?
The warmest winter boots will have a warm lining and the ability to keep your feet dry. Look for styles that have Goodyear welted soles and waterproof uppers. Try work or hiking boots from Timberland, Wolverine, UGG, and Belstaff.
Who makes the best men's winter boots?
Some of the best winter boots come from Belstaff, Timberland, and Grenson.
What are the best waterproof winter boots?
The best waterproof winter boots include Timberland's Original Yellow Boot, Harkland Weather from UGG, and the I-90 EPX™ Insulated 6" boot from Wolverine.
What are the best cold weather boots?
It's hard to go past a snuggly pair of UGGS in cold weather. They even have a range of waterproof styles that are perfect for street styling.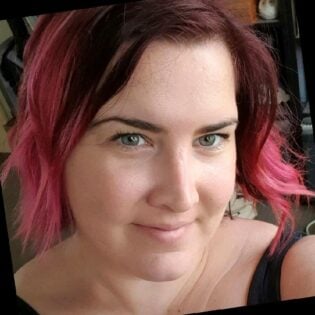 Alexandra Linde is an experienced writer holding a bachelor's degree in Journalism. She is the owner of Alexandra McKiterick Creative and has expertise in travel, fashion, fitness and lifestyle. Alex has previously written for Flightcenter, Travello, and Backpacker Deals.
SUBSCRIBE TO OUR NEWSLETTER
Subscribe to our mailing list and get interesting stuff and updates to your email inbox.