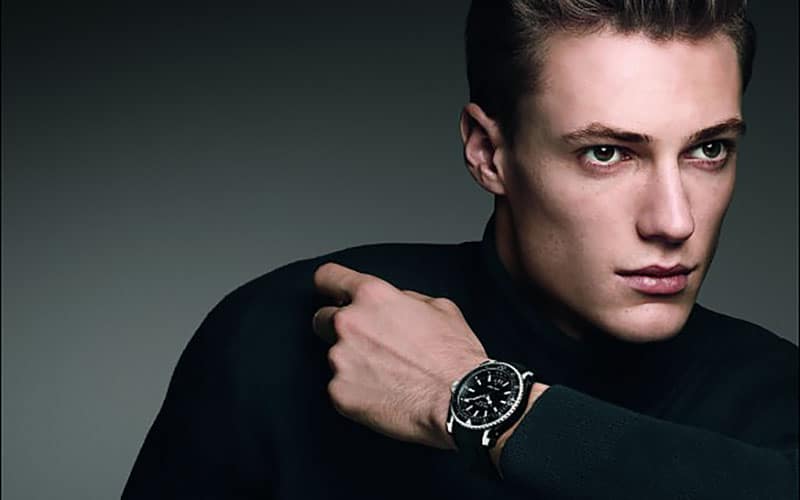 While there's nothing quite like owning a Rolex or Audemars Piguet, there are plenty of excellent watches out there for a lot less money. So, there's no need to spend a small fortune for a terrific timepiece that you'll be proud to wear. Whether you're after excellent design, a quality movement or special functions, you can find it all at a reasonable price, and we can prove it. From stylish steals to mid-priced marvels, we've curated a list of smart and fashionable watches that won't break the bank. Here is our selection of the best men's watches under $2000.
1. Maurice Lacroix Masterpiece Automatic White Dial Men's Watch
Maurice Lacroix challenges modern design conventions with their avant-garde Masterpiece Gravity. Bearing a silver-tone stainless steel casing and bracelet, a white dial with silver-tone spade-shaped hands, a 60 seconds sub-dial and 25 precious jewels; it's quite an ideal time for watch enthusiasts to get their hands on this superb worldly good. The Masterpiece's unique finishing, advanced materials showcase the brand's capabilities, with a cleaner, more classical look.

Brand: Maurice Lacoirx
Size: 40 mm
Movement: Automatic
Price: US$1,150.00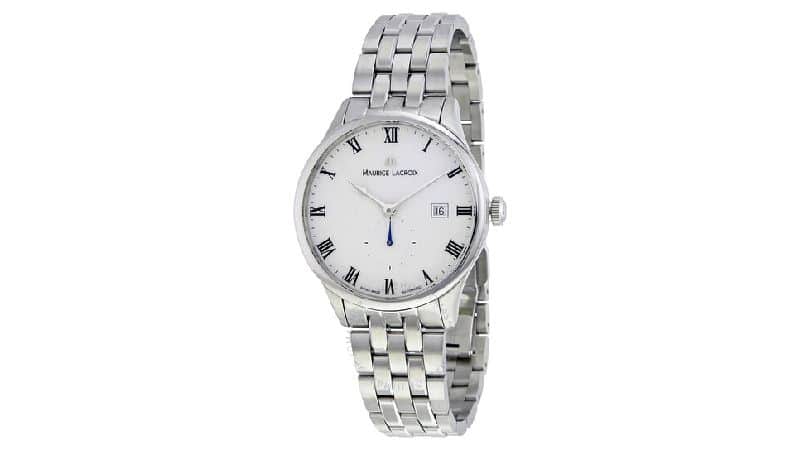 2. Meistersinger Perigraph Automatic Men's Watch
The MeisterSinger Perigraph is extraordinary. From its finely crafted mechanics to its transparent case back and outside comes a version of its unique dial and brown calfskin strap. Its highly noticeable case is exceptionally thin. And the automatic movement with its mechanics looks cleanly finished. As case material, stainless steel is used, which is polished and the already very high-quality impression is even strengthened. The use of polished stainless steel is again found in the bracelet of the buckle, which bears the logo of the brand. And its bracelet has a white seam and is uber-comfortable to wear.

Brand: Meistersinger
Size: 43 mm
Movement: Automatic
Price: US$1,499.99

BUY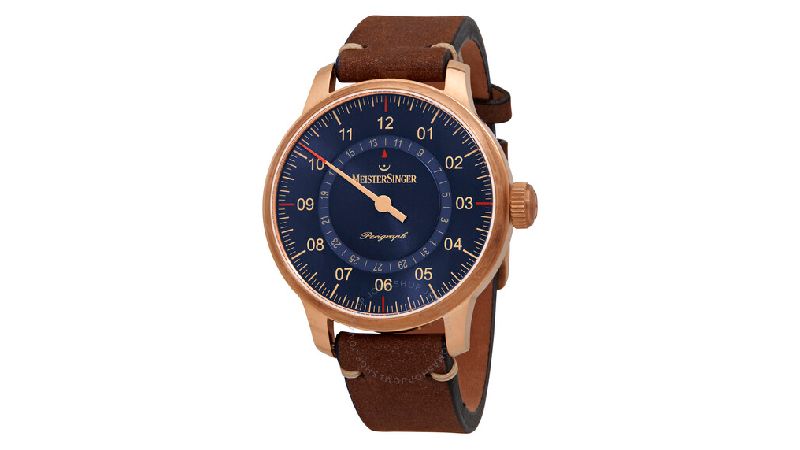 3. Montblanc Heritage GMT Automatic Silvery White Dial Watch
Whether you're on a hike, in a meeting or at dinner, the Montblanc Heritage GMT will augment your appearance. This is one of those cases of first impressions being correct. Fashioned from a grey alligator leather strap, stainless steel bezel & a sleek silvery-white dial, this timepiece will jump out at you at first glance. So if you're looking for a non-pricey GMT watch that can accompany you on your next holiday or business trip, then check out the Montblanc Heritage GMT.

Brand: Montblanc
Size: 40 mm
Movement: Automatic
Price: US$1,885.00
4. Oris Big Crown ProPilot Automatic Blue Dial Men's Watch
The very sporty Big Crown ProPilot has dressier options that offer a brand-new look and fashionable versatility to an otherwise straightforward watch. Rocking a silver-tone stainless steel case, dark brown crocodile-embossed leather strap, blue dial and a whooping 26 jewels; it's a great new pilot offering for those who are lovers of the genre. Dial luminant is also terrific and while the watch face offers decorative flair, it's an excellent all-purpose dressy-style timepiece.

Brand: Oris
Size: 41 mm
Movement: Automatic
Price: US$1,149.00
5. Rado Coupole Classic XL Automatic Black Dial Men's Watch
Combining craftsmanship and high-tech materials, the Coupole Classic Automatic takes the design of a traditional wristwatch and adds the distinctive Rado element of a surgical-grade stainless steel case, a bracelet & sapphire crystal, ensuring brilliant shine, easy readability and ultimate protection for its beautiful dials. The Coupole Classic is a sensibly sized dress watch with an aesthetic that neatly marries Swiss tradition with the chic industrial design Rado is often associated with and is a solid option for everyday wear.

Brand: Rado
Size: 41 mm
Movement: Automatic
Price: US$1,159.00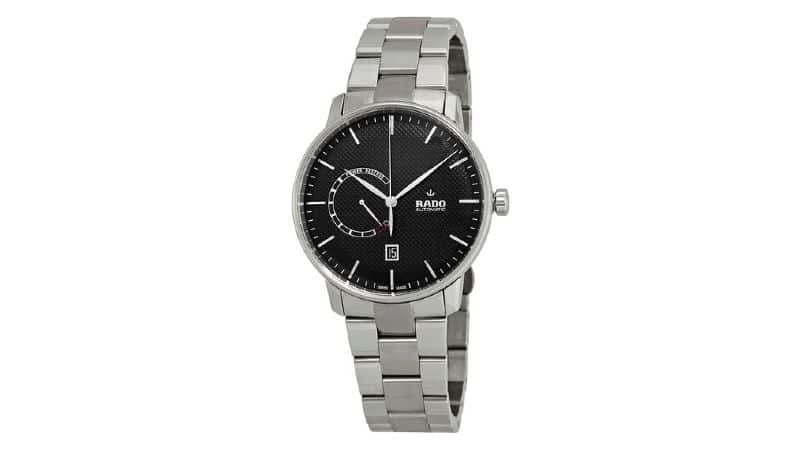 6. Raymond Weil Freelancer Chronograph Automatic Men's Watch
The Raymond Weil Freelancer is a very alluring model. It meshes some very fashionable design features with simple case elements. Setting itself apart with a combination of good looks and functionality, Raymond Weil have meticulously cranked out a masterwork. The Freelancer is a stainless steel case, brown leather strap, rose gold-tone hands and a sub-dial watch that looks and feels a lot more expensive than it is.
Brand: Raymond Weil
Size: 42 mm
Movement: Automatic
Price: US$1,195.00
7. Stuhrling Original Tourbillon Hand Wind Men's Watch
Although Tourbillons are becoming increasingly common, it's still uncommon to find a fine tourbillon watch for under 5 figures. And the Stuhrling Original Tourbillon affirms ideal looks and fascination by the magic of its mechanics. For many buyers, that's enough reason to snap up this timepiece. Bearing a stainless steel case, black alligator leather strap, tourbillon display dial with blue diamond-shaped hands & tourbillon sub-dials; it's a sumptuous and comfy fit for formal attire.

Brand: Stuhrling Original
Size: 40 mm
Movement: Automatic
Price: US$1,595.00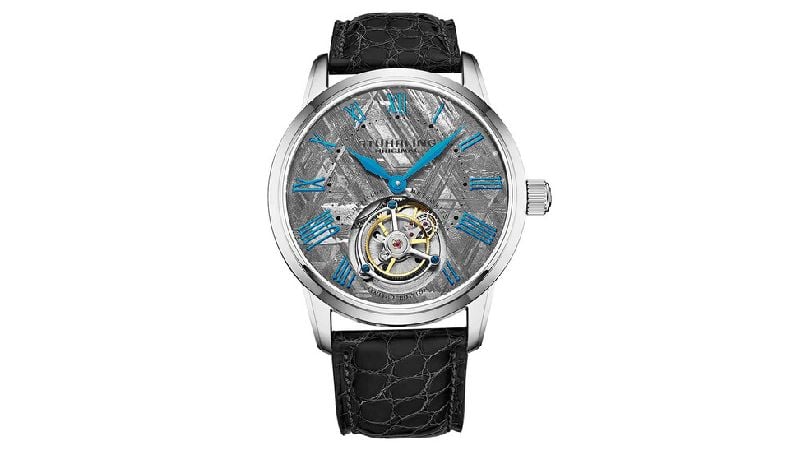 8. Tag Heuer Aquaracer Brushed Black Dial Men's Watch
The new Aquaracer is the complete package. Bold innovation with contemporary design, the stainless steel case and bracelet and crown screw-down ensures 300m of water resistance and beholds a charming historical diver depicted on the caseback. It's the watch you could wear every day and never lament about another. So if you're in the market for an everyday accoutrement, or simply a beach watch for your summer holidays, this is the timepiece that should be in your crosshairs.

Brand: Tag Heuer
Size: 41 mm
Movement: Quartz
Price: US$1,150.00
9. Tissot Bridgeport Chronograph Automatic Silver Dial Men's Watch
Albeit a casual style watch, the Tissot Bridgeport is chiefly for more formal attire. Call it 'timeless' if you will, the stainless-steel case, black leather strap timepiece is inlaid 18kt rose gold ring making it quite modern – but it is for people who want a spruced-up look to go with contemporary times. The Bridgeport Automatic Chronograph watch is a decent classic daily wear from Tissot that's also modestly priced.

Brand: Tissot
Size: 37.7 mm
Movement: Automatic
Price: US$1,154.89
10. Tudor Style Automatic Silver Dial Stainless Steel Watch
The Tudor Style was designed to induce at a first glance. The polished case and dial reflect light from almost any direction. Bearing a stainless-steel case & bracelet; a silver dial with gold-tone hands and holds 25 jewels, the timepiece comes across as quite dressy. For under $2,000, the watch is a solid contender in its category. And while the finishing is on par with other options in this price range, the dial execution and details blend the vintage feel with excellently modern finishing aspects.

Brand: Tudor
Size: 38 mm
Movement: Automatic
Price: US$1,828.89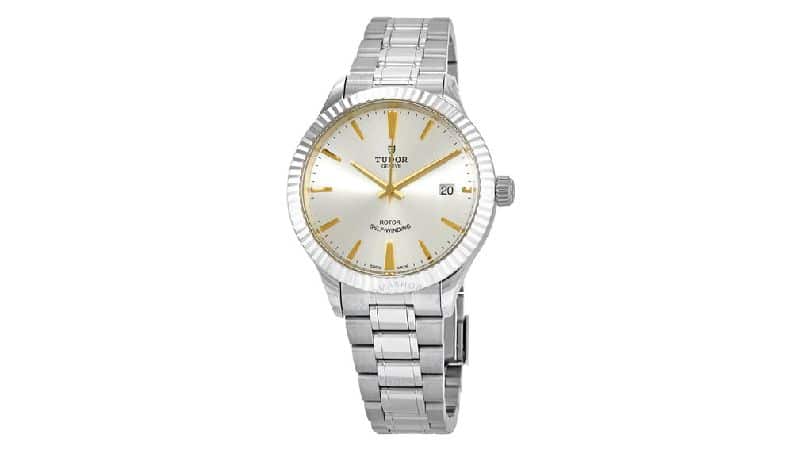 11. Junghans Max Bill Stainless Steel Watch
Minimalism is a beautiful thing, and the Junghans Max Bill stainless steel watch is simplicity defined. With a polished 38mm stainless steel case, Swiss-made automatic movement, silver dial, and luminous markers, this German engineered watch is a true master class in modern design. It is also water-resistant, has a leather strap for durability, and flaunts a plexiglass composition with Sicralan coating. Perfect for men who want a reliable and stylish watch that retains its value and isn't a throwaway.
Brand:Junghans
Size: 38 mm
Movement: Automatic
Price: US$1,121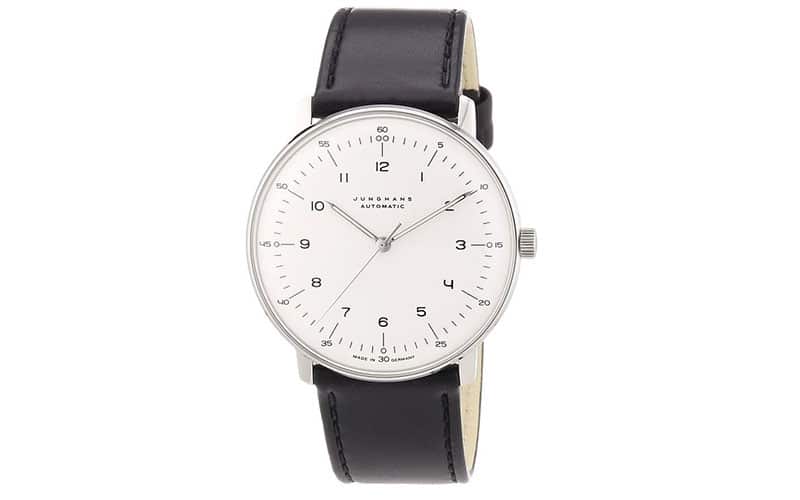 12. The Longines Master Collection Automatic
With its crocodile strap detailing and traditionalist elements, the Longines Master Collection 38mm automatic looks like it's from a forties period drama. It has a water resistance of 30m, automatic Caliber L619.2 with 21 jewels movement, date display at 6 o'clock, 42mm sapphire glass case, stainless steel elements, and a round face. The silver detailing is unexpected with the dark chocolate brown strap, making it a watch suitable for men who prefer to mix up their sartorial tonal palettes.
Brand: Longines
Size: 38 mm
Movement: Automatic
Price: US$1,530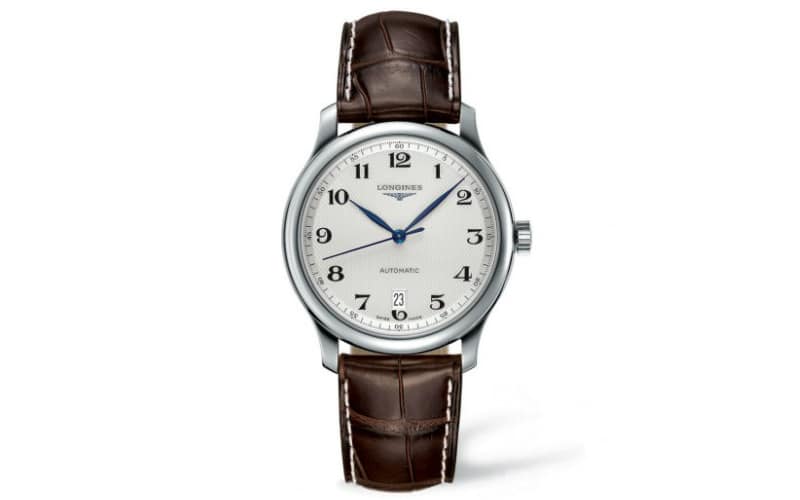 13. Oris Big Crown Small Second Pointer Date Automatic Watch
The overall aesthetic of this wristwatch from Oris is a nostalgic nod to the nineties. Featuring a black dial with luminous hands and Arabic numeral hour markers, this is a playful and stark watch. Pair that with its deep brown leather bracelet with contrast stitching, 44mm scratch-resistant sapphire crystal case, 100m water resistance, self-winding automatic movement and you have a timepiece for everyday wear.
Brand: Oris
Size: 44 mm
Movement: Automatic
Price: US$1,154.89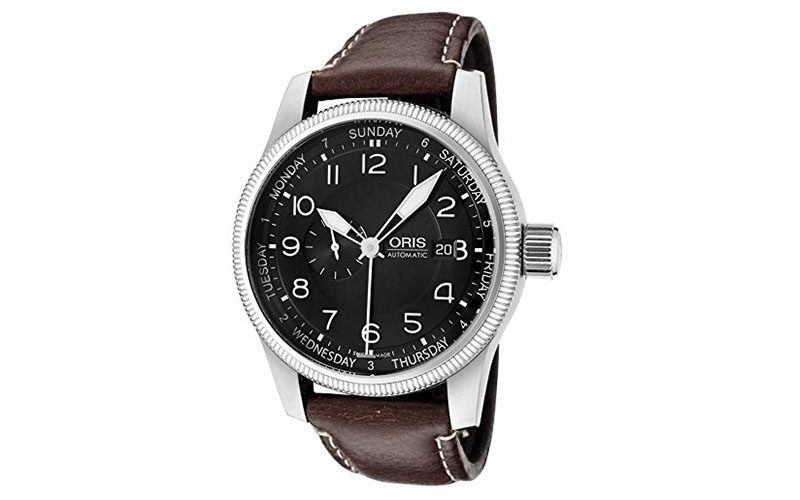 14. Tag Heuer Formula 1
A clear front-runner for the most versatile of our top watch choices, the Tag Heuer Formula 1 is a very visually appealing model. A black titanium carbide coated steel case and bezel and black perforated rubber strap work well together, making this a stark model that is great for all-day use. This model also features polished hand-applied indexes and oversized "12" and "6" numerals, red tip second hand, monochrome "TAG Heuer" logo, 200m water resistance, and an angled date window at 3 o'clock.
Brand: Tag Hueuer
Size: 41 mm
Movement: Automatic
Price: US$2,000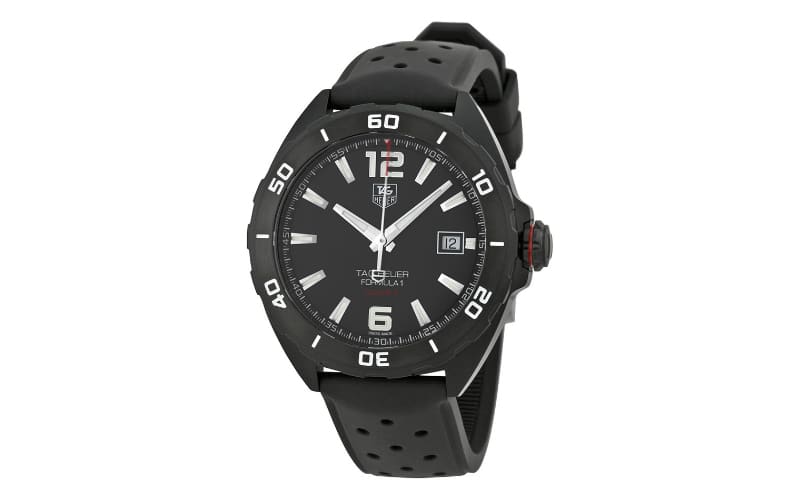 15. Tissot T-Complication Chronometer
Tissot describes their T-Complication Chronometer as a remarkable fusion of modernity and precision with luxury finishes and details. A wheel inspired the shape of this model, and a mechanical hand-wound movement is visible through the transparent case back. A black leather strap with butterfly clasp and push-buttons are also functional touches that will help out with durability and everyday use.
Brand: Tissot
Size: 43 mm
Movement: Automatic
Price: US$495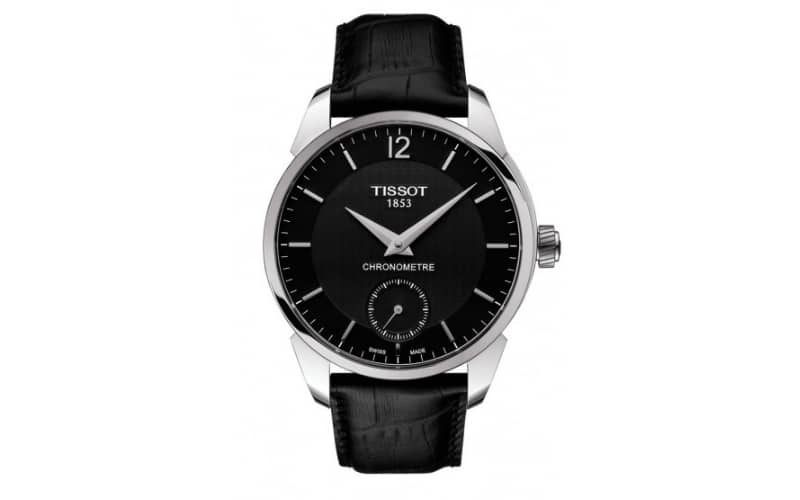 This watch is a homage to the Marine Chronometer that Hamilton produced for the US Navy in World War II. Inspired by marine influences and a '40s aesthetic, the Hamilton brand has worked with symbolism to design this timepiece. Featuring a white dial with blue hands, automatic movement, 100m water resistance, scratch-resistant sapphire crystal case, this model will surely have you looking stylish in no time.
Brand: Hamilton
Size: 44 mm
Movement: Automatic
Price: US$1,341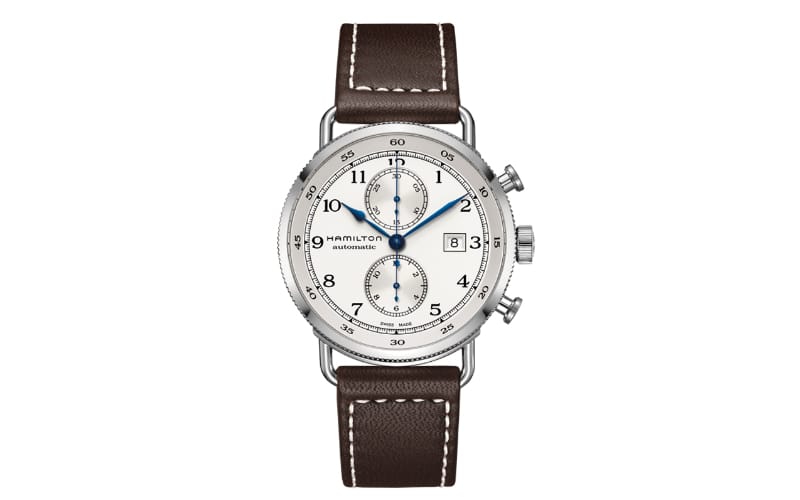 17. Citizen Stainless Steel Eco-Drive Satellite Wave Watch
You'll love the sombre blue tone of this watch's face, mixed with the steely kick of silver. Citizen describes this model as inspired by the creativity and imagination of dedicated craftsmen, bringing a classic look to a timepiece equipped with some nifty precision mechanics. This watch is also an excellent model for efficiency, drawing power from any light source even in complete darkness, and maintains a seven-year power reserve. It also includes GPS timekeeping technology with adjustment available in 40 time zones, worldwide reception, perpetual calendar, D.S.T. indicator, universal coordinated time display, dual time, and 100m water resistance.
Brand: Citizen
Size: 43.5 mm
Movement: Japanese Quartz
Price: US$1,154.89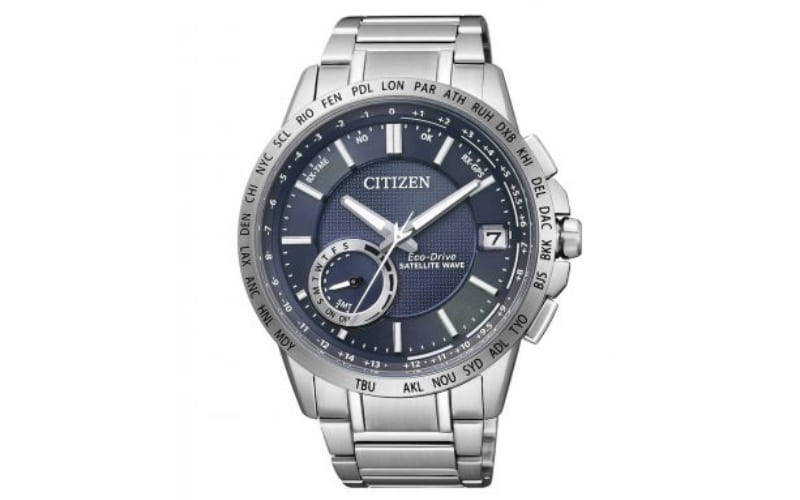 18. Alpina Chronograph Automatic Self Wind Watch
One of the most tonal choices we have seen in a timepiece, the aquatic, deep-sea blue of the Alpina Chronograph is teamed with a latte inspired sand tone of its bracelet. It's not just all about the looks, though; this model boasts a scratch-resistant sapphire crystal "glass box", applied indexes, a dome-shaped dial, telemeter function, 46hr power reserve, 50m water resistance, and an engraved case back. The brand recommends this watch for the gentleman "alpinist" who values understated elegance but does not want to compromise on intrinsic watchmaking content.
Brand: Alpina
Size: 41.5 mm
Movement: Automatic
Price: US$500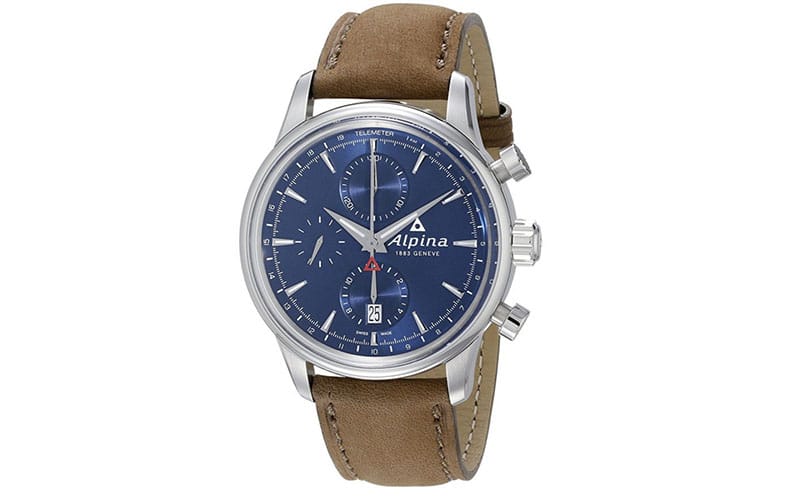 19. Mercier Classima
Featuring a date function, quartz movement, and a durable black alligator leather strap, the Classima 8485 is an excellent choice for functionality. Slim, understated silver hands and Roman numerals at the 3, 6, and 9 o'clock blend in well with the chalk-white face. Minimalism was essential for this design, which features a simplistic strap alongside a clean, round 42mm case. This timepiece is perfect for corporate attire and would work perfectly with a well-tailored suit and a precisely styled quiff.
Brand: Mercier
Size: 40 mm
Movement:Quartz
Price: US$695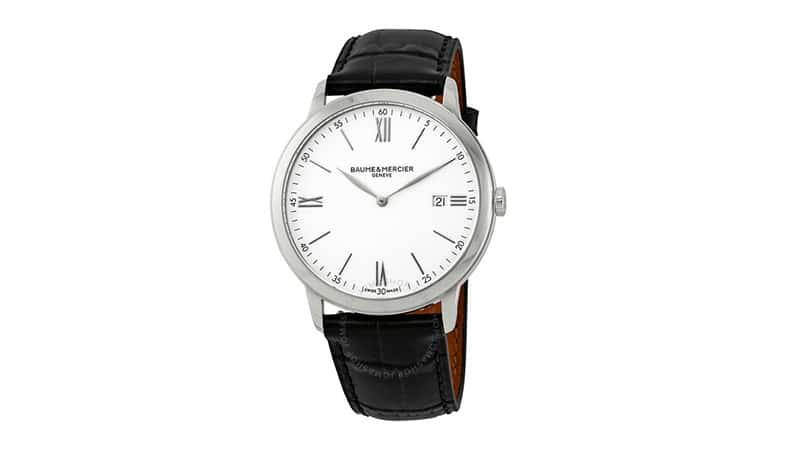 20. Bell & Ross BR S Ceramic Matte
This matte model dubbed by Bell & Ross as the BR S Ceramic Matte is a great little touch to most casual outfits. Bell & Ross have kept this excellent model true to its aeronautical origins, reimagining its iconic model with a sleeker and thinner creation. The ceramic 39mm case is resistant to scratches, unalterable in color, 100m water resistance, and is exceptionally lightweight.
Brand: Bell & Ross
Size: 39 mm
Movement: Automatic
Price: US$1,900
FAQs
What are the most respected watch brands?
The most respected watch brands are generally high-end luxury watchmakers such as Patek Philippe, Audemars Piguet, Vacheron Constantin, Jaeger-LeCoultre, Rolex. However, there are plenty of well-respected watch brands in a much more affordable category. These include Longines, Tag Heuer, Tissot, Citizen, and Hamilton.
Where Can I Get a Watch Under $2,000?
You can purchase watches under $2,000 from plenty of places, including online and bricks-and-mortar retailers. Online, look at places like Amazon, Jomashop, and individual brand stores. Alternatively, if you want to see and try the watch before you buy it, most independent and chain jewelry shops, as well as watch retailers, will have an excellent selection.
What are the best watches under $2,000?
Some of the best watches under $2,000 include Junghans Max Bill Stainless Steel Watch, The Longines Master Collection 38mm Automatic, and Oris Big Crown Small Second Pointer Date Automatic Watch.
SUBSCRIBE TO OUR NEWSLETTER
Subscribe to our mailing list and get interesting stuff and updates to your email inbox.