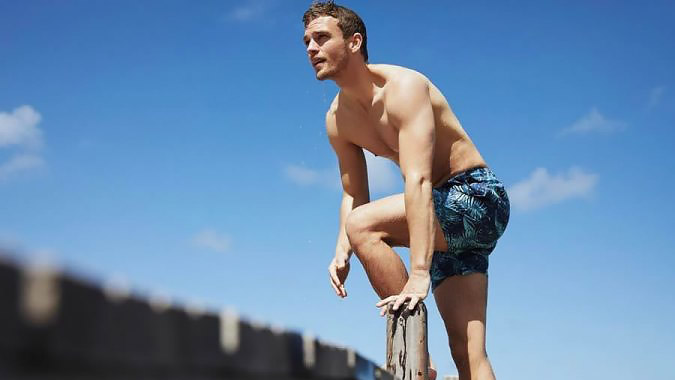 Whether you're on a vacation in the Maldives or stopping by the pool after a day at work, a great pair of swim trunks is a must. From wild and patterned prints to traditional and classic designs, we've got you covered. No matter if you're chilling on the sand or you're ready to play some beach volleyball, these are summer essentials that belong in every man's wardrobe.
1. Gucci Wide-Leg Long-Length Striped Logo-Print Swim Shorts
Take a dip in style with these super cool trunks. The cherry-colored shorts were made to stand out, and the signature "GG" logo is sure to turn a few heads. Made from a comfortable and stylish shell fabric, they dry fast and are perfect for a day out on the beach. With roomy leg length, they allow you to keep it active all day in style.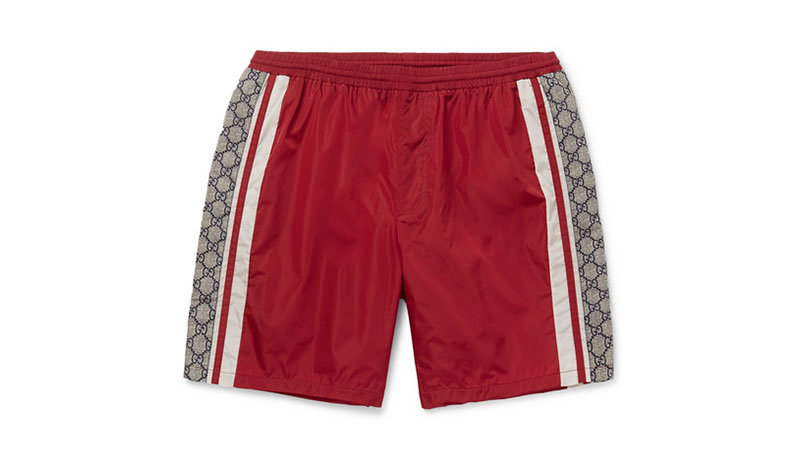 2. Orlebar Brown Bulldog Mid-Length Swim Shorts
For the man who likes to keep things looking slick, these are the swimming trunks for you. The mid-length shorts offer a clever waistband, allowing you to adjust the tightness to fit you. With a stylish black design, you can work these into any summer ensemble and look like $1 million. Pair these with a t-shirt and sneakers, and you'll be ready to go from pool-side to courtside in no time.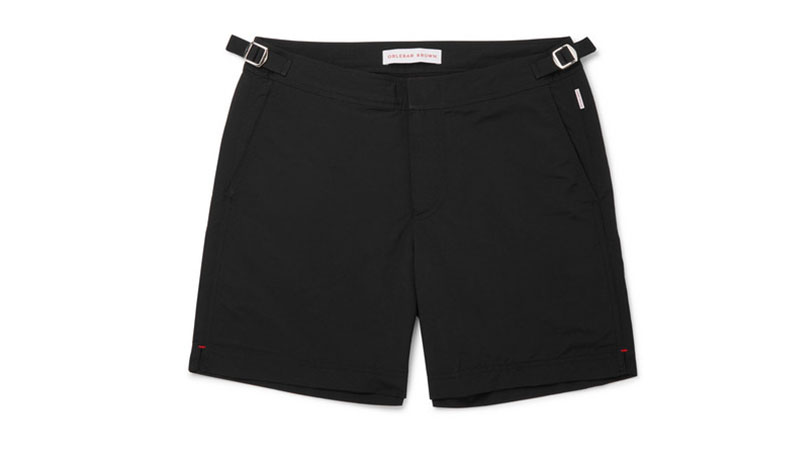 3. Thom Browne Mid-Length Striped Seersucker Swim Shorts
Get stripy in this pair of seersucker shorts. The classic nautical aesthetic will attract a lot of attention, and for all the right reasons. These preppy trunks offer a flattering waistband with the signature Thom Browne tri-colour drawstring and an internal mesh lining, so you have optimal comfort and movement. What more could you want?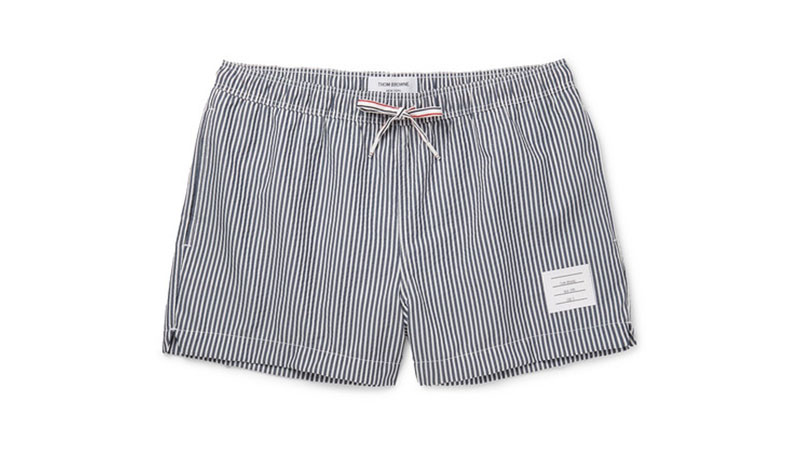 4. Tod's Mid-Length Printed Swim Shorts
Let yourself hit the waves in this pair of printed shorts. Not only do these trunks look super slick, but they're also incredibly comfortable so you can wade in them all day. Featuring a sharp print of crashing blue waves and an assortment of internal pockets, you'll never want to take these bad boys off.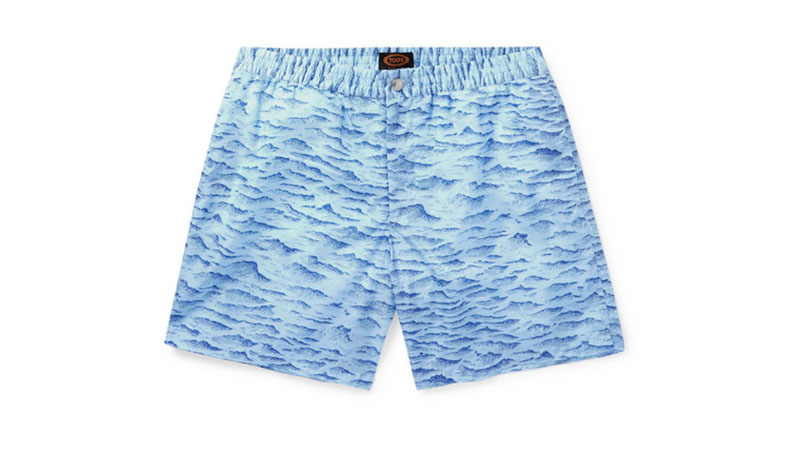 5. Frescobol Carioca Angra Slim-Fit Short-Length Printed Swim Shorts
Take a dip on your trip with this printed swimwear. With a slim fit and short length, you can rock these trunks with a linen shirt and some boat shoes for the ultimate beach aesthetic. The ocean-inspired blue and white combination is the perfect pairing for all skin tones and looks great anywhere you go.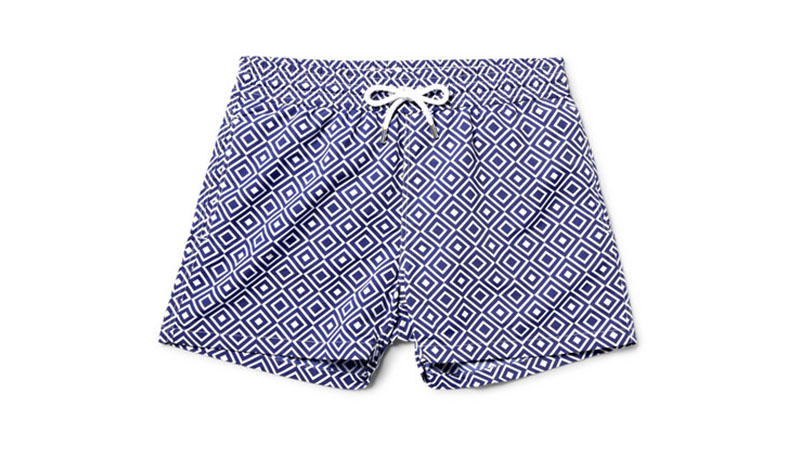 6. Vilebrequin Mokami Mid-Length Embroidered Swim Shorts
Feel weightless in and out of the waves in these Vilebrequin swim shorts. The ingenious trunks are cut from a quick-dry shell fabric, allowing you to slip them off and wrap them up without worrying about carrying around a pair of wet bathers. Complete with a small turtle embroidered on the lower leg, these are an essential piece of swimwear for every guy's closet.
7. YMC Wide-Leg Mid-Length Printed Swim Shorts
When on holiday, why not go all the way with your prints? This feline-themed swimwear is the perfect combination of an edgy and classic design, featuring a cool blue and white color pairing. The cool shell fabric keeps you dry once you've left the water, and the comfortable wide leg ensures that you'll have enough movement to surf the waves all day.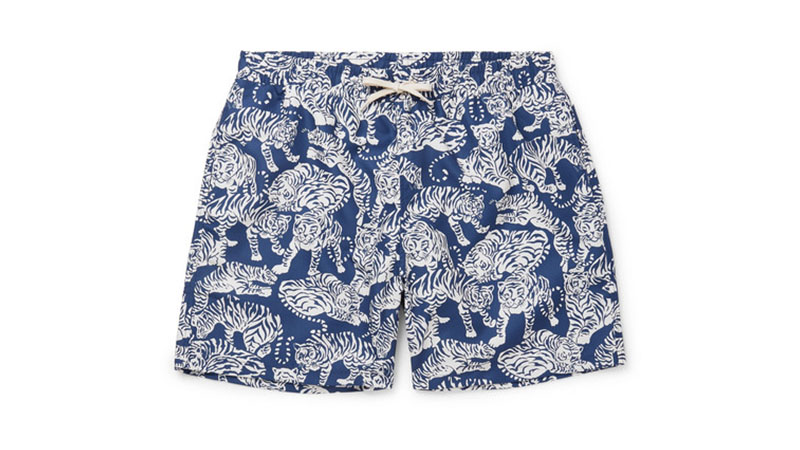 8. Versace Long-Length Wide-Leg Swim Shorts
No one does it quite like the Italians, and this Versace swimwear is here to prove just that. Featuring the signature Medusa's head in the center and the geometric pattern on the waistband, you'll feel like you're worth your weight in gold in a pair of these shorts. The simple style of the trunks offers you the versatility of riding the waves to hitting the streets effortlessly.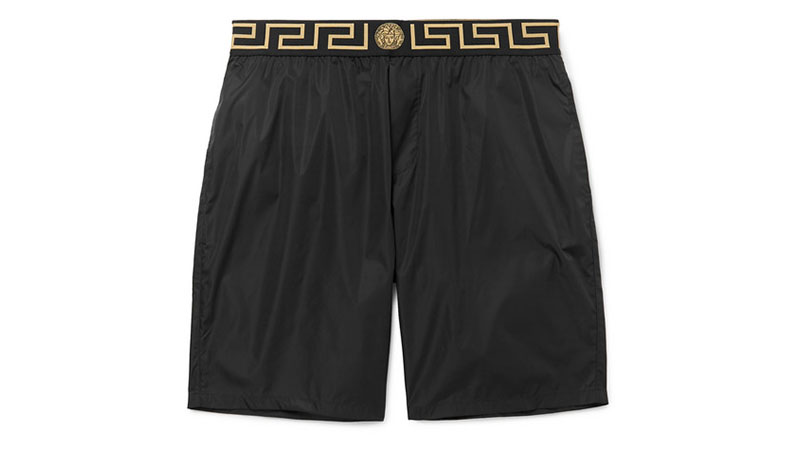 9. Tom Ford Mid-Length Camouflage-Print Swim Shorts
Stand out, don't blend in with these Tom Ford swimming trunks. With a distinctive camouflage print and adjustable waistband, this swimwear is sure to attract some attention. The comfortable and breathable mesh support and mid-length shorts make swimming and beach activities a breeze, so you can focus on having boat-loads of fun while looking super slick.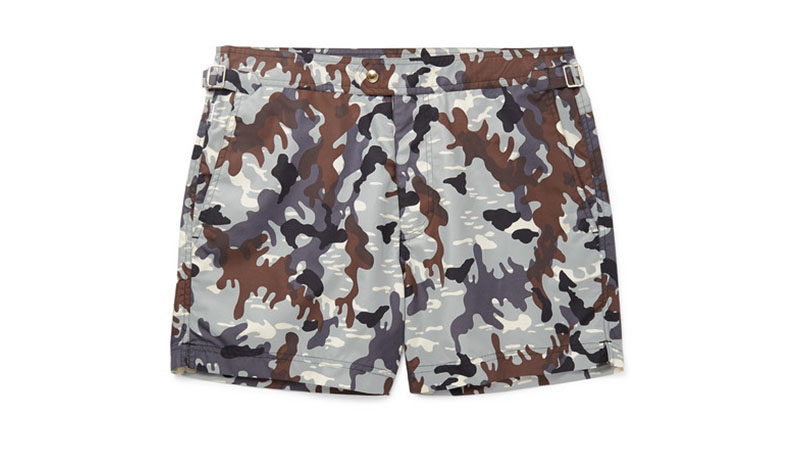 10. Neil Barrett Slim-Fit Short-Length Printed Swim Shorts
Shine bright and catch the best waves in these Neil Barrett swimming shorts. Featuring a knockout lightning bolt design these trunks have the classic cut, with a slim fit and hidden pockets for a slick feel. Cut from a lightweight shell fabric and with a drawstring waist, you'll never want to wear any other swimwear!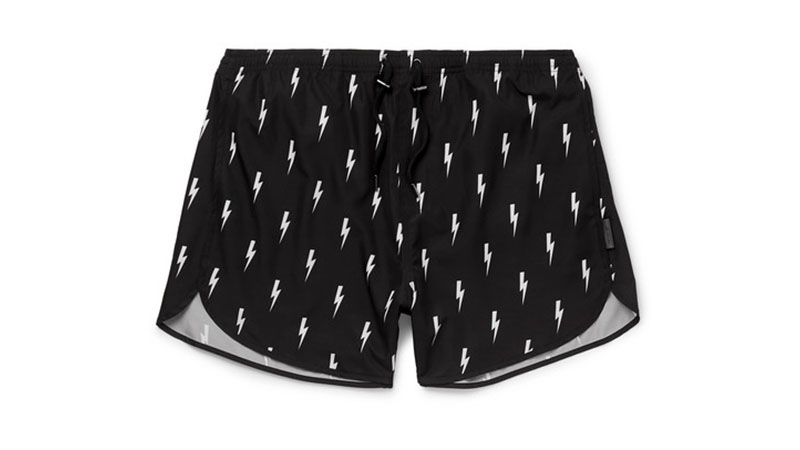 FAQs
What are swimming shorts called?
Swimming shorts are also often referred to as swimming trunks. Style-wise they look similar to regular shorts but are made of quick-drying fabric with mesh lining to replace the need for underwear. They can also vary in length and design but generally sit above the knee.
Why do men's swim trunks have netting?
The net lining is to act as a replacement for underwear and give you support. There's not much point in wearing quick-dry swimming trunks that fit well if you're wearing your tighty whities underneath that take forever to dry and bulk things out.  
What is the difference between swim trunks and swim shorts?
Swim trunks and swims shorts are just different names for the same thing. Boardshorts, on the other hand, are slightly different in that they tend to be longer than swimming trunks, sitting around or below the knee.
Why are swimming trunks banned in France?
Swimming trunks are not permitted to be worn by men in public pools and water parks for hygiene reasons. The rule, which has been around since 1903, exists because shorts can be worn elsewhere than the pool, potentially bring dust, dirt, and grime into the water. Consequently, only swimming briefs (speedos) are permitted, so make sure you pack a pair if you're heading to France.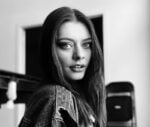 Alexandra Feiam is an experienced fashion writer who holds a degree in journalism. She has an impressive portfolio and expertise working as the Editor at Power Retail and Commercial Content Editor at Newscorp. Ally has been writing for The TrendSpotter since 2018, and her work has been featured in notable publications such as The Herald Sun, Arirang TV South Korea, Kidspot, The House of Wellness, and The Daily Telegraph.
SUBSCRIBE TO OUR NEWSLETTER
Subscribe to our mailing list and get interesting stuff and updates to your email inbox.