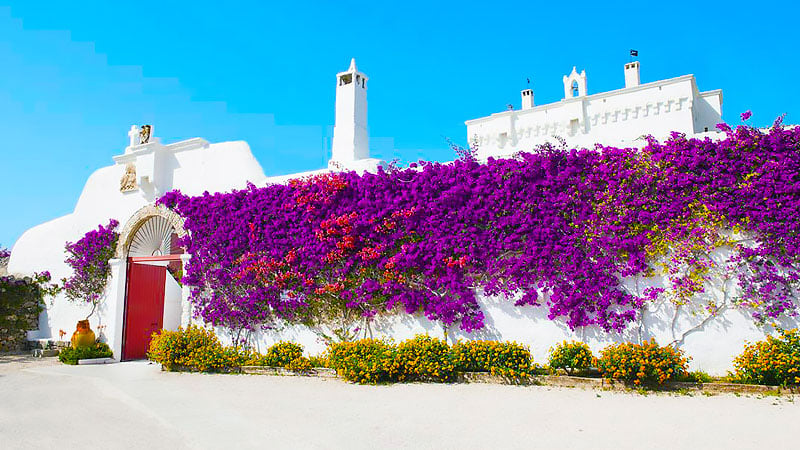 If you're looking for a luxurious yet unconventional place to stay while visiting Puglia, then a Masseria could be just what you're looking for. The term "Masseria" is the Italian word for a country house on an estate; landowners would store their food and possessions dating back to the 16th century. Today, Masseria's have been refurbished into luxury accommodation and bed and breakfasts. Read on to discover the best Masseria's to stay in Puglia for an unforgettable experience.
1. Masseria Torre Coccaro
Masseria Torre Coccaro has been voted as one of the best hotels in the world. Surrounded by the olive groves, carob and almond trees, this five-star accommodation is a favorite for many. The luxury hotel has an Aveda spa, Turkish baths, three restaurants, an outdoor pool, a beach and golf club, and a yacht, which guests can book. There's also plenty of special events for kids. But it's not all about modern indulgences. Torre Coccaro's limestone walkways, wells, and tower were built centuries ago, and the olive oil mill has stood for a thousand years. There's also a working chapel that was built in 1730. The light-filled, romantic rooms overlook the water and gardens, while suites have private pools. It is truly the ultimate Puglia getaway.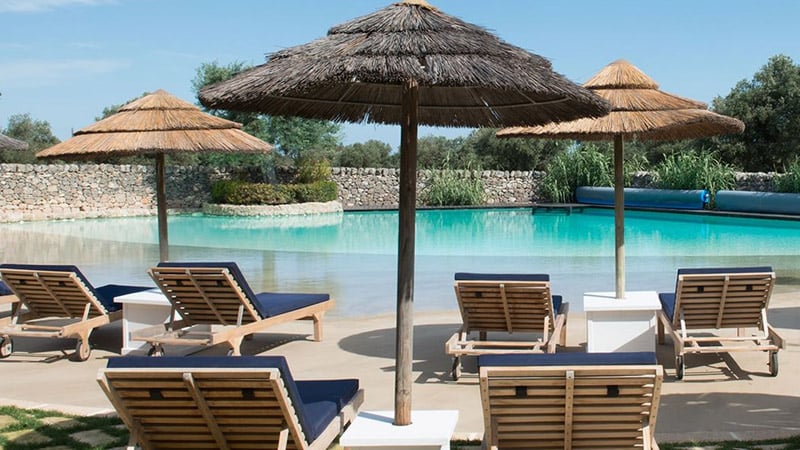 2. Masseria Il Frantoio
Masseria Il Frantoio has been a working country farm since the 15th century. Located in the peaceful Alto Salento region, its beautiful grounds are home to thousand-year-old olive trees and native plants all year round. Incredibly warm and inviting in winter or summer, Masseria Il Frantoio has cozy rooms and common areas decorated with antiques. Masseria has a library with over 1500 books, an outdoor pool, and a ping pong table. Meanwhile, local women from the surrounding areas, rather than chefs, run the restaurant, so you'll get a genuine taste of Pugliese cooking. Plus, all your meals are prepared from produce grown on-site. The property still has an original olive mill that produces quality olive oil that the guests are welcomed to enjoy during their stay. While you probably won't want to leave, the Masseria is just a short drive from the beach, the lighthouse of Torre Canne, and the village of Ostuni.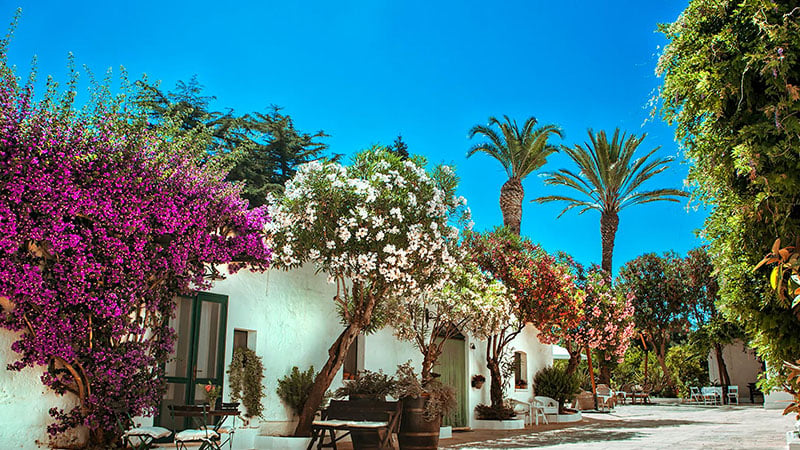 3. Masseria Torre Maizza
One of the most glamorous Masseria in Puglia is Torre Maizza, near Savelletri di Fasano resort. Part of the Rocco Forte Hotels group, Torre Maizza dates back to the 16th Century. During the recent renovation, interior designer Olga Polizzi added unique, contemporary touches. It's the ideal holiday spot for those who enjoy the best things in life. Sip sunset cocktails on the rooftop bar or treat yourself to the world-class spa. When it comes to your stay, relax in one of the 40 rooms and suites featuring king-size beds, private gardens, and fireplaces. For those wanting the ultimate experience, a stay in the Torre Suite – located inside the tower of the Masseria – is a must.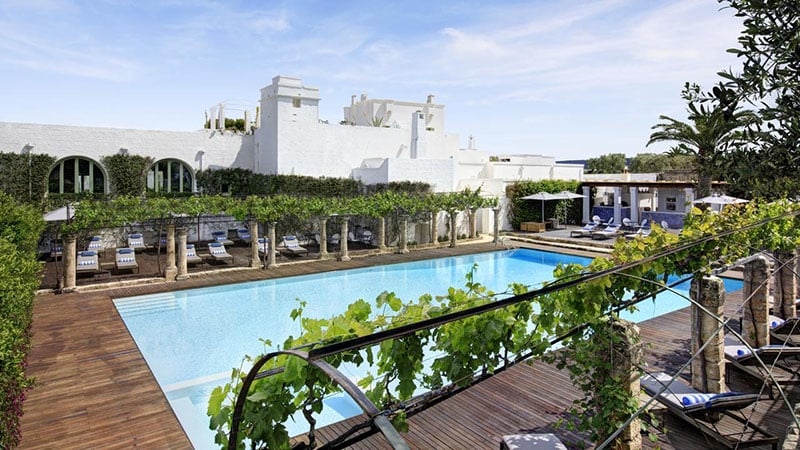 4. Masseria Alchimia
One of Puglia's most romantic Masserias is Alchimia, which can accommodate 20 guests. Ultra private and stylish, its ten self-catering studios are like your hideaway on the Puglia coast. A rotating collection of modern art from a local gallery decorates each room. The ideal choice if you want to 'live like a local' on holiday, Alchimia is located in the village of Fasano. It's full of Mediterranean charm and trendy shops. The friendly staff will be more than happy to book you in for activities like horse-riding, golf and tennis, beach clubs, cooking classes, and even Pilates with a personal trainer.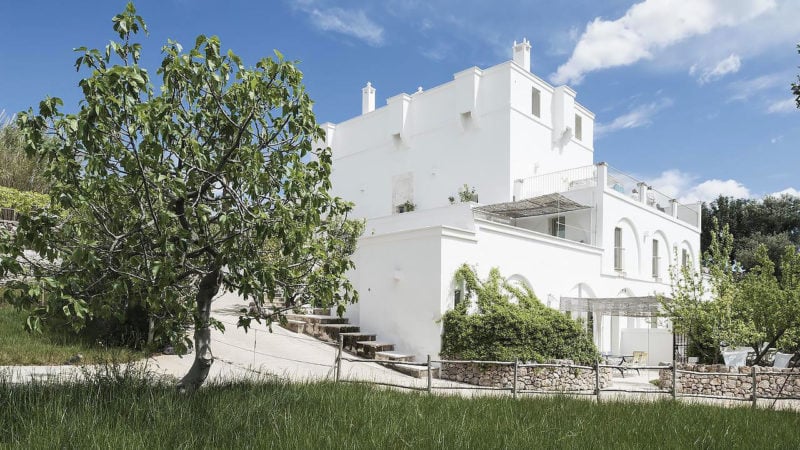 5. Masseria Cervarolo
A charming hill-top Masseria Cervarolo was built around 400 years ago and kept much of its original character. It is an eco-friendly holiday spot; the estate runs on solar power, uses only green products, and serves local organic produce. One unique feature is that you can stay in its on-site Trulli – traditional domed, stone homes. Inside, you'll find modern conveniences like TV, air-conditioning, and Wi-Fi, combined with rustic charm. As you explore the grounds and gardens, you'll discover another amazing historical feature; a beautiful fresco-filled church from 1798. Cooking classes, mountain biking, and wine tasting are also on offer for Cervarolo's guests.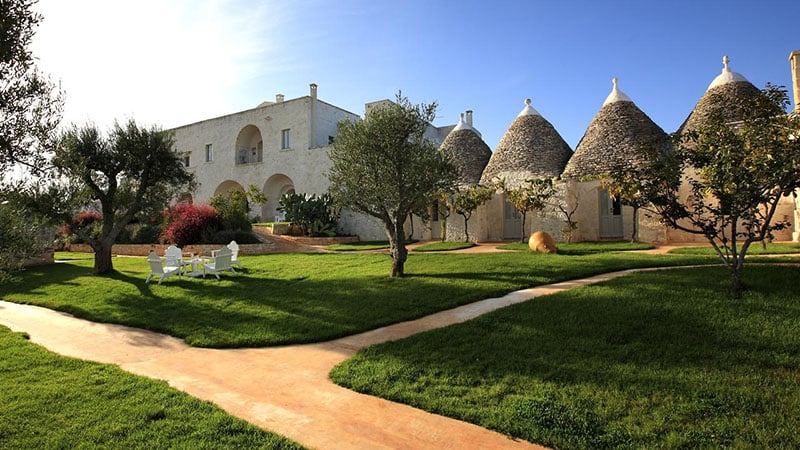 6. Masseria Salinola
Cozy and cute, Masseria Salinola is a home away from home. Located near Ostuni, its warm hospitality is evident in every room. Salinola is perfect for a relaxing couple's getaway or family break. Start your day with a delicious buffet breakfast of local delicacies, before exploring the countryside on a bike tour or olive oil tasting trip. Olive harvesting, cooking classes, and a round of golf – with a private instructor – are also available. In the afternoon, you can sunbathe by the pool, enjoy Aperitivo on the Terrazza, or curl up by the many fireplaces with a good book. Finally, enjoy an intimate, candlelit dinner in the restaurant, which also has more than 50 local wines in its cellar.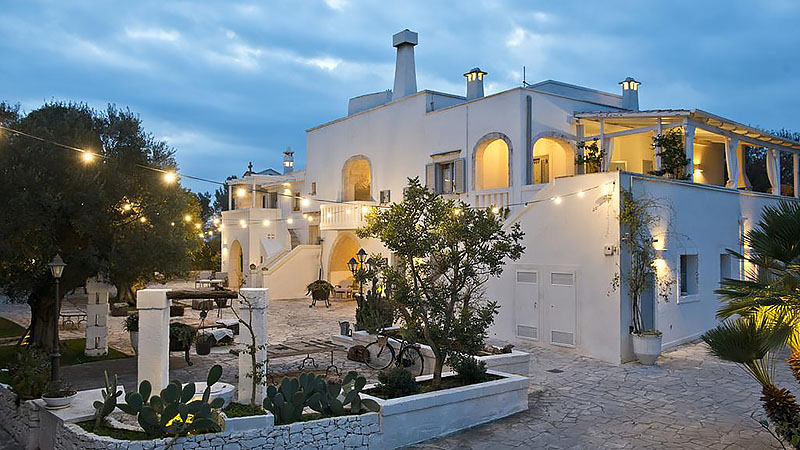 7. Il Melograno
Il Melograno is one of the first Masserias to open its doors to the public. The 400-year-old estate is a haven of Pugliese hospitality. The property is located on the Adriatic coast near the fishing village of Monopoli. Nearby you'll find the Roman ruins of Egnazia, the Trulli of Alberobello, and the Polignano a Mare cliff. A truly luxurious experience, your stay at Il Melograno wouldn't be complete without a visit to the on-site Petramare Spa. It has a sauna, plunge pool, and aromatherapy treatments by Decléor. Beach fans will get the best of both worlds with a visit to the private beach club, Tamerici. Meanwhile, food lovers won't be able to resist the traditional Italian delights of restaurant Mùmmulo. Think pasta, wild veal, and buffalo mozzarella enjoyed right by the pool and citrus groves.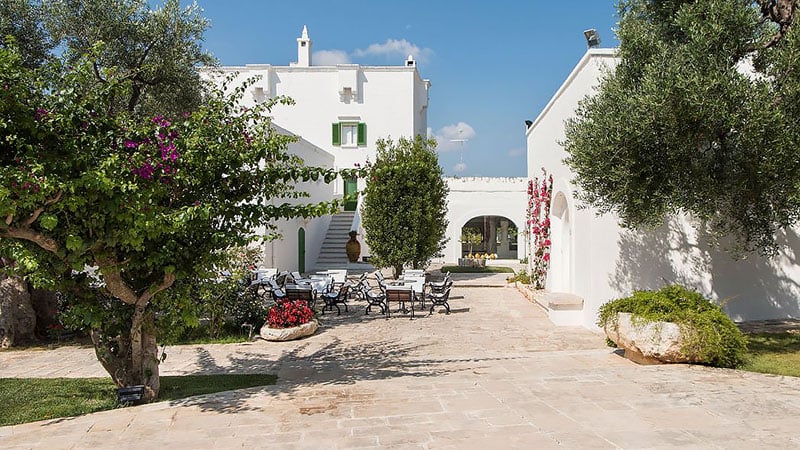 8. Masseria Le Carrube
Located 6km from the white-washed town of Ostuni, Masseria Le Carrube is picture-perfect. Tradition meets modernity in its spacious rooms and halls, and the vegetarian kitchen of chef Massimo Santoro. His nightly tasting menu will take you on a delicious plant-based journey featuring seasonal dishes from the local region. However, Le Carrube isn't just about food – it's also the perfect location for weddings and special occasions. The Mediterranean gardens, orange groves, and ancient olive oil mill make a stunning backdrop for photos.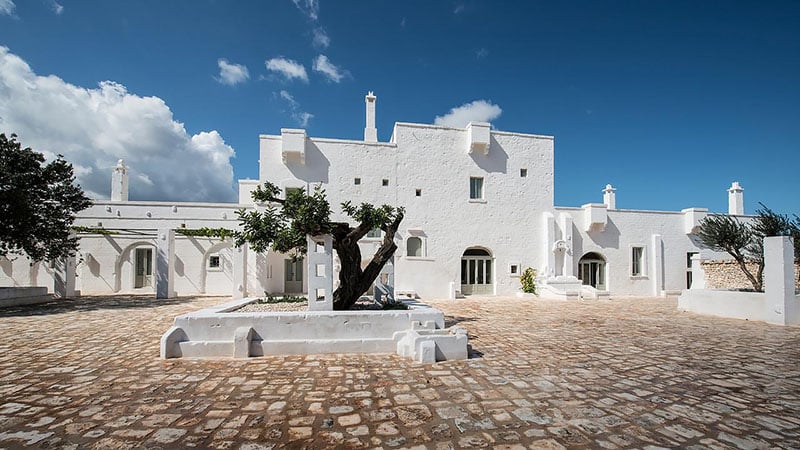 9. Masseria San Domenico
The five-star Masseria San Domenico is the perfect place to unwind. Now a luxury accommodation, the estate was restored from a 15th Century watchtower used by the Knights of Malta. Today, it has a charming Mediterranean vibe and maintains its historic character. Because of its coastal location 500m from the beach, the San Domenico spa is designed around thalassotherapy. Thalassotherapy is an ancient wellness and beauty philosophy based on the rich minerals of seawater. The Masseria also has several seasonal restaurants where you can enjoy first-class meals made with local produce all year round. Plus there are two tennis courts, an 18-hole golf course, and a large outdoor pool.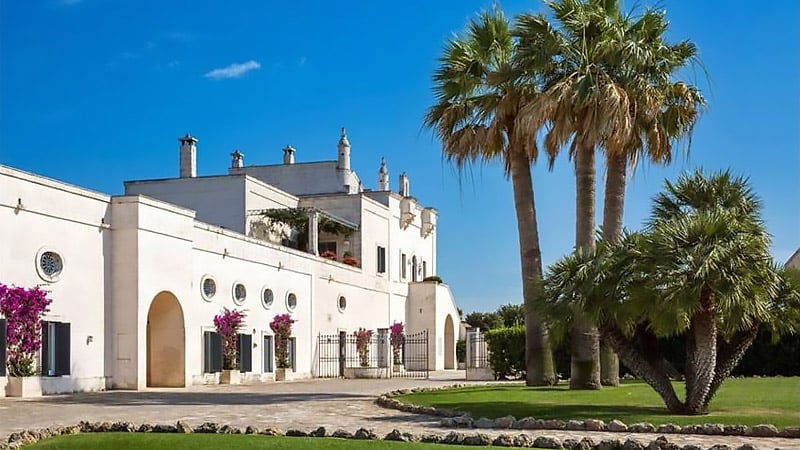 10. Masseria Moroseta
A modern interpretation of the traditional Masseria, Moroseta was built on a ridge overlooking the Adriatic Sea, near the town of Ostuni. You will fall in love with its white sandstone walls, courtyards, and sprawling olive groves. Tranquil and secluded, the rooms and suites – many of which overlook the swimming pool – combine rustic simplicity with luxury. At the same time, Moroseta is also home to a working kitchen farm and a restaurant, which combines traditional Pugliese cuisine with global influences. There are also themed dinners held throughout the summer. For those looking for a wellness retreat, Moroseta hosts a yoga course. It combines sunset and sunrise sessions with Mediterranean cooking classes.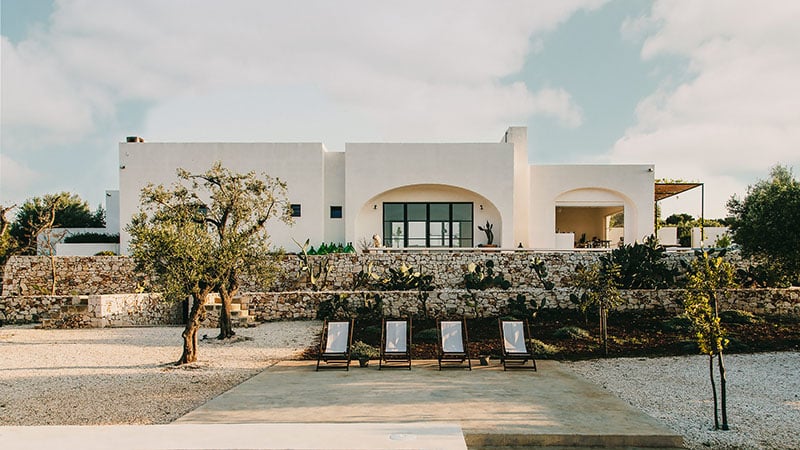 FAQs
What is a Masseria Hotel?
Masseria is the Italian word for country house. These properties are essentials farmhouses that sat upon large estates and were used for storing food and possessions. They've since been upgraded into luxury hotels offering a unique and authentic vacation experience. Some of the buildings date back to the 16th century, so it's a wonderful way of incorporating some rich Italian history into your stay. You'll find many of them in the Puglia region.
Do any Masseria hotels in Puglia have a pool?
Many Masseria hotels in Puglia have had pools installed as part of the upgrade from farmhouse to hotel. As such, you'll definitely be able to soak up the warm Italian sun with a cheeky glass of vino in hand. Check out Masseria Torre Coccaro, Masseria Il Frantoio, Masseria Salinola, Il Melograno, and Masseria San Domenico.
What is the most famous Masseria hotel in Puglia?
Some of the most famous Masseria hotels in Puglia are  Masseria Torre Coccaro and Masseria Torre Maizza. They're both incredibly beautiful, with plenty of features, including pools, a rooftop bar, and a day spa.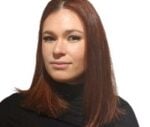 Arabella Roden is a skilled writer and sub-editor with over ten years of experience across print, digital, and B2B. She holds a Bachelor's Degree in Journalism and specializes in beauty, hairstyles, fashion, tattoos, and lifestyle topics. Arabella is currently the Chief Sub Editor at Mecca Brands and has been writing for The Trend Spotter since 2019.
SUBSCRIBE TO OUR NEWSLETTER
Subscribe to our mailing list and get interesting stuff and updates to your email inbox.