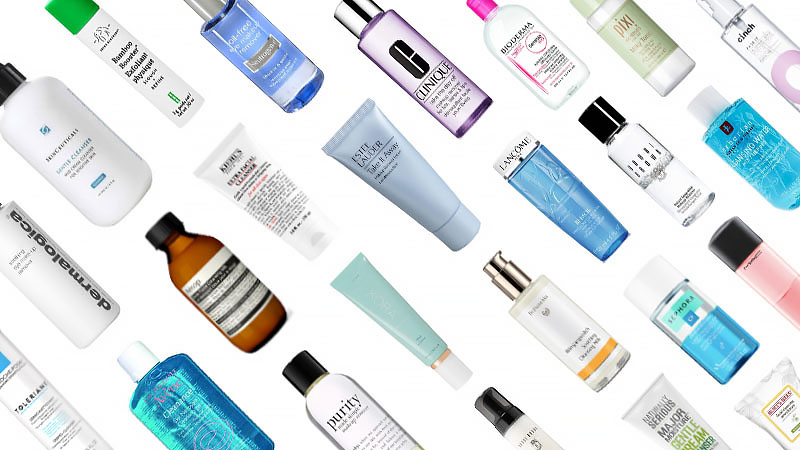 We all know you should never go to sleep with your make-up on. That's because removing make-up is one of the most critical steps in skincare. Leaving your cosmetics on overnight can cause breakouts and irritation, not to mention, ruin your pillow! It's also essential to take your make-up off when flying, and a make-up remover can also come in handy for quick changes – or fixes – to your beauty look. Smudged mascara, uneven eyeliner, and patchy lipstick will be a thing of the past. When choosing a make-up remover, look for products that suit your skin type – whether it be oily, dry or combination – and the type of make-up you wear.
1. SkinCeuticals Gentle Cleanser
This ultra-gentle cleanser from SkinCeuticals is formulated especially for those with dry and sensitive skin. The calming lotion won't leave your face feeling tight or stripped of moisture. If your complexion is prone to itching, irritation, and redness with most cleansers, this one is the answer to your prayers. It's so gentle you can use it several times a day. A soothing, hydrating and conditioning cleanser, this formula is also an excellent choice for winter. It can also be teamed with other products if you are a fan of Korean-style double-cleansing.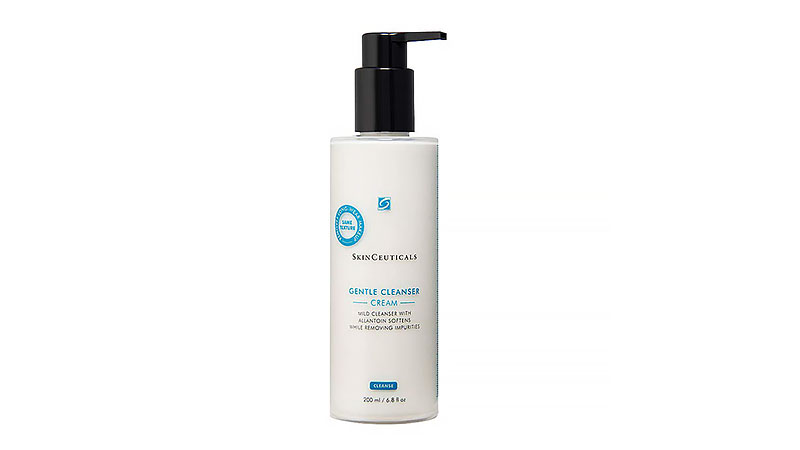 2. La Roche-Posay Toleriane Dermo-Cleanser
A French pharmacy favorite, La Roche-Posay is found in the bathroom cabinets of Paris' top models, actresses and style stars. The Toleriane line is designed for dehydrated and sensitive skin. As a result, the Dermo-Cleanser is exceptionally gentle and has a calming formula that won't make your face feel tight or look red. However, it's still effective enough to remove stubborn waterproof make-up. It has a soothing creamy texture and is also a rinse-free formula, so it's ideal for travel.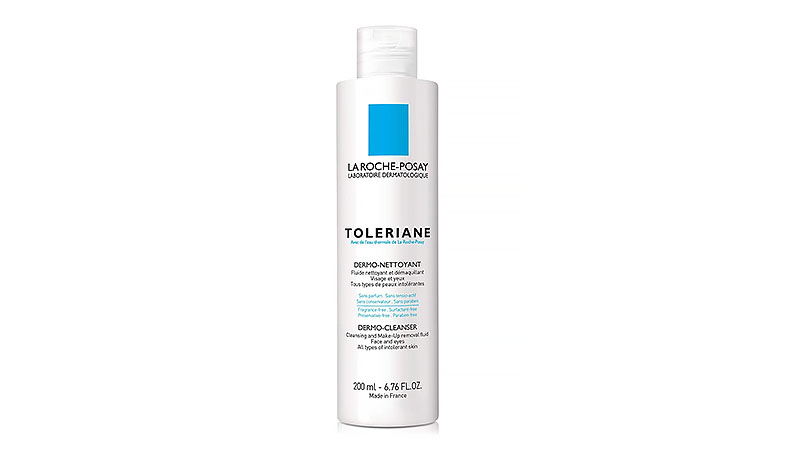 3. Dermalogica Soothing Eye Make Up Remover
American skincare brand Dermalogica is a favorite among facialists for their super-effective formulas. The Soothing Eye Make Up Remover does what it says on the label. The gel will instantly dissolve stubborn eye and lip make-up – no matter how pigmented it is. Even better, it feels fresh and gentle on your face's most delicate skin. It's oil- and alcohol-free so it won't irritate your eyes, and is enriched with amino acids to add an extra level of conditioning. The formula is safe for contact lens wearers and is cruelty-free too, so it's suitable for vegans.
4. Dr. Hauschka Soothing Cleansing Milk
Certified organic, cruelty-free, and vegan, the Soothing Cleansing Milk from Dr. Hauschka is as kind to the environment as it is to your skin. Ultra-calming and nourishing, the formula suits those with a sensitive complexion. Both dirt and make-up will melt away under the power of this formula's botanical extracts and oils. Your face will be left feeling fresh, clean, and moisturized – no redness, dryness, or irritation.
5. Lancôme Bi-Facil Double-Action Eye Makeup Remover
Lancôme Bi-Facil Double-Action Eye Makeup Remover has a cult following for a reason. It's super gentle and lightweight while taking care of the most stubborn waterproof make-up. The award-winning formula is made up of an oil phase that lifts off the makeup, while the water phase cleans up any leftover residue. Ideal for sensitive skin types and easily-irritated eyes, the Bi-Facil gently takes off mascara and eyeliner without any rubbing required.

6. Bioderma Sensibio H2O Micellar Water
One of the most iconic make-up removers, Bioderma Sensibio, is a classic for a reason. Many consider the product to have kicked off the micellar water trend. Plus, it's a staple in the kit of professional make-up artists all over the world. So, why is it so popular? It's the only micellar water with a formula similar to the skin's natural composition, so there's no chance of irritation. Plus, the active micelles thoroughly cleanse the skin, whisking away make-up and impurities in a flash.

BUY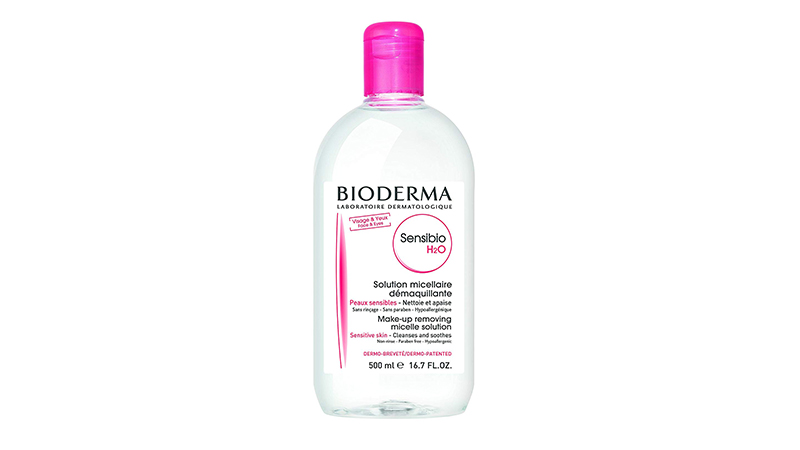 7. Burt's Bees Sensitive Facial Cleansing Towelettes
Many people find make-up remover wipes drying on their skin. However, even the most sensitive of complexions will love Burt's Bees Sensitive Cleansing Towelettes. Each one is soaked in cotton extract, rice extract, and aloe vera. As a result, your skin will feel lightly moisturized, refreshed, and balanced – not dry. The cleansing liquid is fragrance-free and hypoallergenic, too. Meanwhile, the towelettes are made from natural cloth. These wipes allow you to remove all your make-up – as well as dirt and oil – without rinsing, making them ideal for those on the go.
8. M.A.C Cosmetics Gently Off Eye and Lip Makeup Remover
M.A.C Cosmetics Gently Off Eye & Lip Makeup Remover is one of the best products for prepping your skin before make-up, as well as taking it off. The bi-phase formula whisks away waterproof mascara and matte lipsticks in a flash while leaving skin feeling refreshed. There's no rinsing required, and cucumber extract and rosewater give it a divine scent. It's also dermatologist tested and suitable for acne-prone complexions.

9. Drunk Elephant Slaai Makeup-Melting Butter Cleanser
Drunk Elephant skincare has a cult following for a reason. The brand harnesses the power of plants to deliver amazing results that your face will love. The Slaai Cleansing Balm combines antioxidant-rich kiwi and strawberry seed extracts with virgin Marula oil to leave your complexion feeling super clean as well as hydrated. Ideal for dry skin, this cleansing butter melts away make-up as well as dirt. When combined with the Bamboo Booster, it becomes a gentle exfoliator that will leave you glowing.
BUY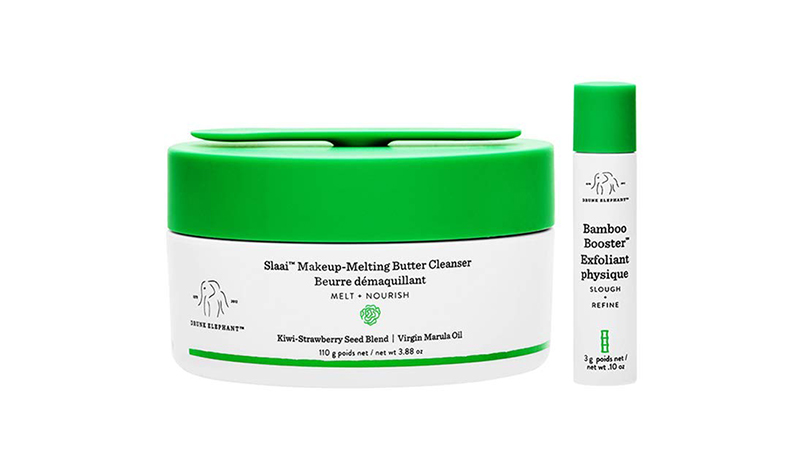 10. Avene Eau Thermale Cleanance Cleansing Gel
Those with acne-prone skin will love this soap-free cleanser from Avene. It ensures your face will be deeply cleansed of make-up, dirt, and excess oil without stripping away moisture. Additionally, it's formulated to maintain the skin's natural pH level. It has three active ingredients to soothe skin, regulate oil, and stop inflammation. It can be combined with acne medication and treatments; plus, it is hypoallergenic and non-comedogenic, so you won't have to worry about blocked pores.
11. Aesop Gentle Facial Cleansing Milk
Australian hair, skin, and body company Aesop is beloved around the world for its simple and effective products that smell divine. The Gentle Facial Cleansing Milk ticks all the boxes, using botanicals and essential oils to create a make-up removing cleanser that's suitable for all skin types. Perfect for both your morning and night-time routines, the cleanser melts away foundation, eye make-up, and lipstick as well as dirt, grime, and oil. It's non-foaming so it won't dry out sensitive skin, and the woody, herbal scent is delicious. Plus, who doesn't love having that iconic brown bottle on their bathroom counter?
12. Kiehl's Ultra Facial Cleanser
New York skincare brand Kiehl's began as a pharmacy back in 1851. Ever since Kiehl's products have been praised for their gentle and effective formulas. Ultra Facial Cleanser has been one of the brand's best-selling products. It's designed for all skin types – though best suited for oily and combination complexions – it focuses on maintaining natural moisture. For that reason, the ingredients include hydrating actives like squalane, apricot kernel oil, vitamin E and avocado oil. The cleanser melts away face make-up and impurities in a flash, leaving skin feeling fresh without over-drying.
13. Neutrogena Oil-Free Eye Makeup Remover
While Neutrogena is a drug-store brand, it's still a favorite with many high-end make-up artists and facialists. When it comes to melting away waterproof mascara and eyeliner, you can't go past the brand's Oil-Free Eye Make-up Remover. The dual-phase formula activates when you shake it and is so effective you won't need to pull or tug the cotton pad over your eyes. Soothing aloe vera and cucumber extracts ensure your eyes will feel fresh, and there's no oily residue left behind. Plus, the formula is ophthalmologist tested and safe for contact lens wearers.
14. Philosophy Purity Made Simple Makeup Remover
The Philosophy Purity Made Simple Makeup Remover is designed to work on all skin types. Like all Philosophy products, it has a high-performance formulation that's super effective. Those who wear heavy-duty waterproof make-up will love this bi-phase cleanser that makes light work of the most stubborn and pigmented products. It also contains soothing botanical extracts that leave your skin feeling hydrated and refreshed.
15. Estée Lauder Take It Away Makeup Remover Lotion
It's essential to keep your skin clean when traveling and there's nothing more luxurious than this cleanser from Estée Lauder. The citrus-scented Take It Away Makeup Remover Lotion smells as refreshing as it feels on your skin. The water-based formula is suitable for all skin types and quickly and gently removes make-up without leaving it greasy or oily. Frequent flyers will love the convenient four-pack version, as each tube is just 30ml so you can easily squeeze it into your carry-on.
16. KORA Organics By Miranda Kerr Cream Cleanser
Australian beauty company KORA Organics was founded by supermodel Miranda Kerr ten years ago. The brand has come a long way since then but has always stayed true to its natural and plant-based ethos. The Cream Cleanser is made for sensitive skin, combining Tahitian noni extract with aloe vera and sandalwood to gently buff away make-up and impurities. Meanwhile, moisturizing rosehip, avocado, and macadamia oils keep the complexion from drying out. If all that wasn't enough, it also contains super soothing certified organic chamomile extract, lavender oil, and vitamin C.
17. Clinique Take The Day Off Makeup Remover
A long-standing favorite, Clinique's Take The Day Off Makeup Remover works hard to remove the most stubborn and pigmented of eye and lip make-up without tugging or pulling. Gentle and efficient, the two-way formula quickly dissolves away waterproof products. Even foundation is no match for this make-up remover, and a little goes a long way. It won't leave any residue behind and feels soft and calming on the skin. Those who hate scented skincare will love this formula as it's 100 percent fragrance-free.
18. Sephora Collection Original Waterproof Eye Makeup Remover
Those looking for an environmentally-friendly cleanser will love the Sephora Collection Original Waterproof Eye Makeup Remover. The product is formulated from 92 percent natural ingredients, and the bottle is made from 100 percent recycled plastic. It's also vegan. The active ingredient is cornflower floral water which means it's soothing and gentle on the skin. It's suited to normal, dry, oily, and combination skin. Meanwhile, it removes all types of make-up – not just eyeliner, mascara, and shadow.
19. Naturally Serious Major Moisture Gentle Cream Cleanser
Combining a make-up remover, cleanser, and exfoliator in one, the Naturally Serious Major Moisture Gentle Cream Cleanser is a true all-rounder. The creamy formula suits all skin types. It contains probiotics to balance the skin, pomegranate, and licorice root to exfoliate and increase cell turnover gently, and coconut oil to melt away make-up and nourish the complexion. Your face will look clean with a gorgeous glow after you use it. Plus, it's good for the environment: the cleanser is vegan and cruelty-free, and the packaging is recyclable.
20. Bobbi Brown Instant Long-Wear Makeup Remover
Bobbi Brown's Instant Long-Wear make-up range will stay in place for as long as you need it. But when it comes to the end of the night, you need an equally hard-working make-up remover to do the job. The brand's Instant Long-Wear Makeup Remover dissolves waterproof mascara, gel eyeliner, and lipstick in seconds while being gentle on eyes and skin. It's dermatologist and ophthalmologist tested. Meanwhile, it feels instantly refreshing on the skin. Finally, contact lens wearers can use it without problems.
21. Pixi Hydrating Milky Makeup Remover Milk
If you love Pixi's cult-favorite Glow Tonic exfoliator, you'll love the Hydrating Milky Makeup Remover Milk too. Formulated with coconut and probiotics to nourish skin, it melts away make-up and dirt. It works on eye, lip, and face make-up, including waterproof and long-wear products. For extra convenience, the make-up remover has a pump-top, so you never use too much. Plus, it's free of parabens and is vegan. Your skin will feel squeaky clean without drying out.
22. Erborian Cleansing Micellar Water
Erborian combines Korean skincare with French beauty principles. The brand's products are all about active herbal ingredients with a luxurious feel. The three-in-one formula of Erborian Cleansing Micellar Water does it all. It removes make-up, cleanses the skin, and leaves it feeling brightened and refreshed. The product combines seven botanical actives – tiger grass, rosemary, chamomile, Japanese knotweed, licorice, Baikal skullcap, and green tea – with the cleansing power of micelles to create a gentle yet effective make-up remover for all skin types.
23. Bobbi Brown Makeup Melter & Cleanser
The Bobbi Brown Makeup Melter & Cleanser is ideal for oily skin types. It melts away long-wear make-up using the power of cranberry, blueberry, and goji berry extracts. Those who enjoy the extra clean feeling of a foamy cleanser will love the formula's lightweight bubbles. However, it won't strip your skin of moisture; caffeine and algae prevent your complexion from feeling tight or dry. Instead, the result is soft, smooth, and clean skin that's ready for your serum and moisturizer.
24. Cinch Face It 5 in 1 Cleanser + Glow
The Cinch Face It 5 In 1 Cleanser + Glow is a great multi-tasking make-up remover. Not only does it take care of eye, skin, and lip products, it also removes excess oil, impurities, and dead skin cells. It will tone and balance your complexion while gently exfoliating and moisturizing it. The result is a super clean face with a hydrated glow – all in one go! It's suitable for all skin types, and the no-rinse formula means it's a quick and convenient addition to your routine.
FAQs
What is the best makeup remover?
Some of the best makeup removers include SkinCeuticals Gentle Cleanser, La Roche-Posay Toleriane Dermo-Cleanser, and Dermalogica Soothing Eye Make Up Remover. Each of these is gentle and nourishing on your skin yet effective at removing makeup and debris.
What removes makeup easily?
A gentle cleanser and warm water are one of the easiest ways to remove makeup. However, you may need to use a soft facial brush if you're wearing an extended stay foundation. Specially formulated make-up removers are also great for quick cleansing, especially after a long day. Steam is excellent for opening up the pores for easier penetration and cleaning. Meanwhile, an oil-based product is the best option for removing waterproof mascara and long-stay lipstick as it helps to break down the product where water doesn't.
What's the best makeup remover wipes?
Some of the best makeup remover wipes include Burt's Bees Sensitive Facial Cleansing Towelettes, Clinique Take The Day Off Face & Eye Cleansing Towelettes, and Face Halo PRO reusable makeup wipes.
What is the best eye make up remover?
Some of the best eye makeup removers include Dermalogica Soothing Eye Make Up Remover, Lancôme Bi-Facil Double-Action Eye Makeup Remover, and M.A.C Cosmetics Gently Off Eye and Lip Makeup Remover. They all work well at removing even the toughest, most pigmented shadows, mascaras, and liners.
How can I remove makeup naturally?
There are some natural approaches you can take to remove makeup. Try combining some milk and almond oil and massaging it into your skin before removing it with cotton pads. Baking soda and honey is another kitchen combo, but don't be too vigorous, as the baking soda can be abrasive. Coconut oil is also another choice, which works particularly well for waterproof makeup. Finally, opt for a reusable microfibre makeup cleaning cloth that works with just water to remove everything, including mascara.
SUBSCRIBE TO OUR NEWSLETTER
Subscribe to our mailing list and get interesting stuff and updates to your email inbox.