Whether you own just a handful of close to a ton, makeup products have the power to suddenly turn your designated styling time chaotic as you search the corners of your house for that one particular mascara. If this situation sounds familiar and you're tired of continually losing your beauty favorites, it might be time to get organized and take back control of your makeup cabinet. We've rounded up the best makeup organizers to help you declutter your life and lift your beauty routine to new heights.

1. Samtour Travel Makeup Case
If you're looking for something compact yet spacious for when you're on-the-go, this Samtour Travel Makeup Case might be the solution for you. Adjustable padded dividers are completely customizable so you can arrange the compartments to match the sizes of your products. The top features separate pockets to hold several makeup brushes in place at once.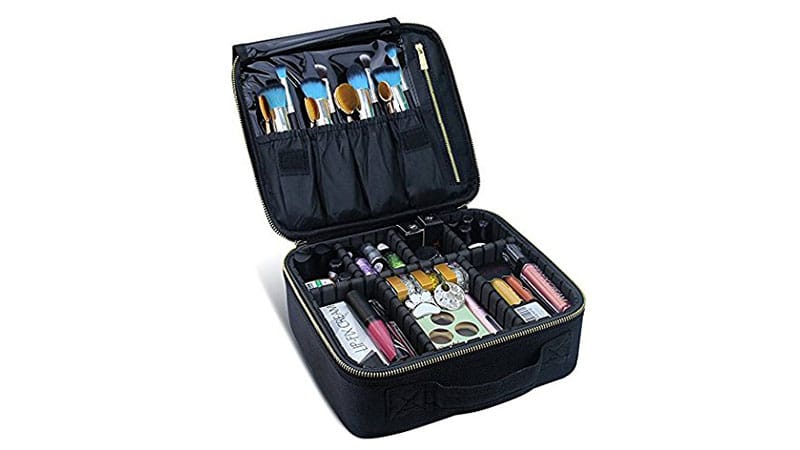 2. Eloki Makeup Organizer
The Eloki Makeup Organizer is a rotating storage dream for makeup addicts. Its smart and compact design won't take up much space in your home and yet, it easily holds up to 30 makeup brushes, 20 beauty products, and other makeup related knick-knacks. The 360-degree design places every single product right at your fingertips.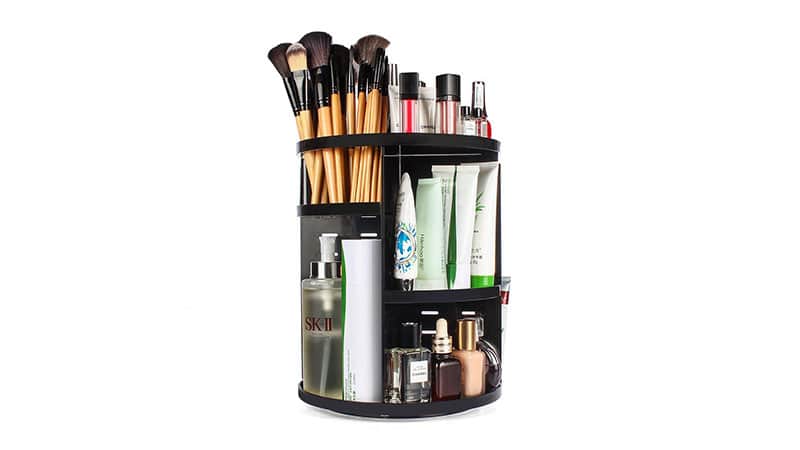 3. Kryllic Clear Makeup Organizer
The Kryllic Clear Makeup Organizer combines vintage-inspired design with modern functionality. At one glance, its transparent exterior reveals everything on the inside, so you'll never have to dig through the depths of your makeup bag again. The sleek and elegant look of this case turns re-arranging your beauty products into a decorative endeavor.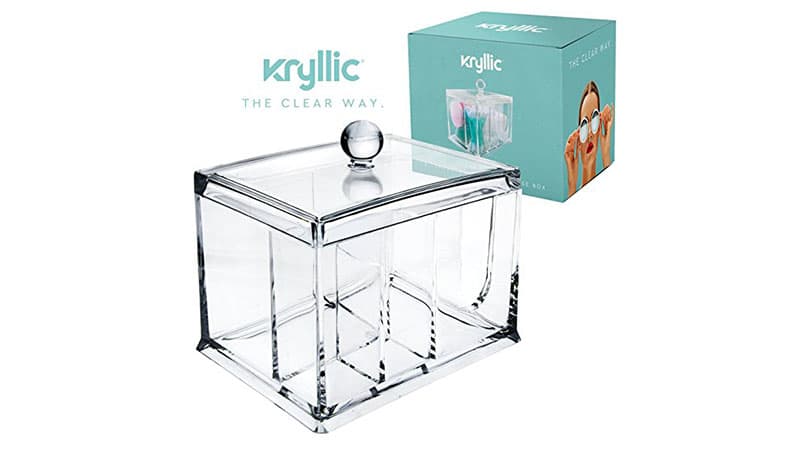 4. Stori Makeup Organizer
The Stori Makeup Organizer will display your products as if it was a professional beauty counter. 15 cleverly positioned compartments hold everything from lipstick to nail polish, powder, brushes, and hair accessories. With the Stori in your home, you'll long to show off your makeup collection.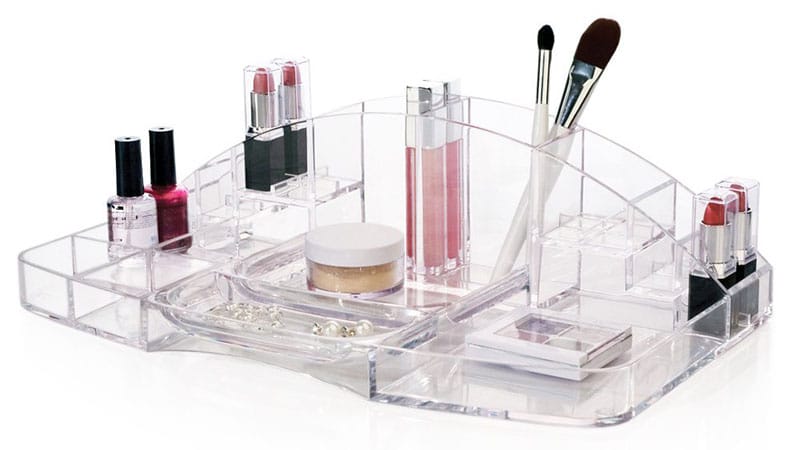 5. Jerrybox Makeup Organizer
The compact and efficient design of the Jerrybox Makeup Organizer makes it a great addition to small bathrooms. The 360-degree rotatable stand features multiple trays that will hold an array of items to save you tons of cupboard space.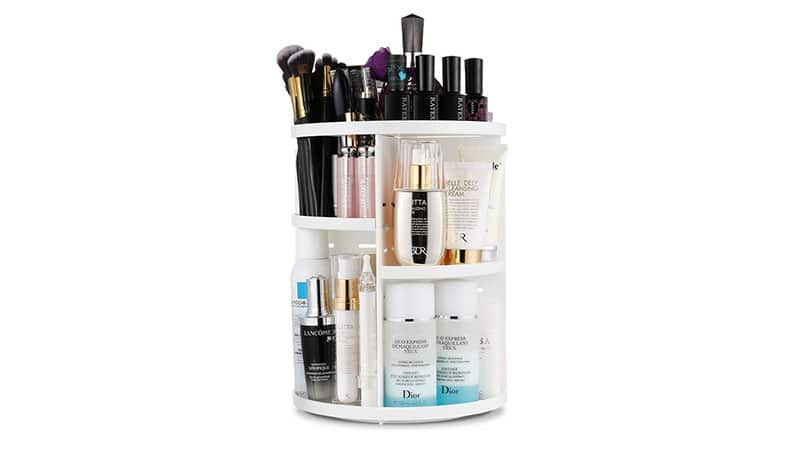 6. Songmics Professional Cosmetic Organizer
If makeup is more than just a hobby for you, you might want to consider equipping yourself with something more robust, like the Songmics Professional Cosmetic Organizer. Four inner storage trays and an additional deep storage compartment on the bottom provide sufficient space for all your styling equipment while its floral aluminum finish provides a durable yet chic exterior.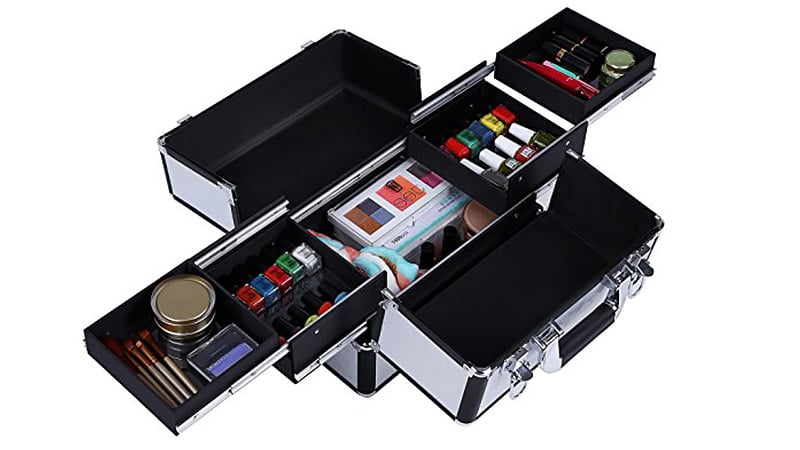 7. Cq Acrylic Makeup Storage Cube
The Cq Acrylic Makeup Storage Cube consists of four different compartments that can be used as a whole or individually. Thus, it offers a tremendous amount of storage space for your makeup favorites and even the essentials you may not use quite as much.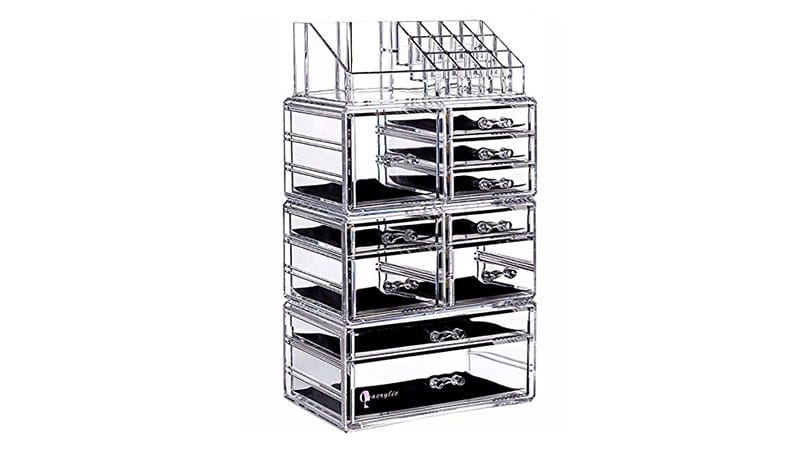 8. MVPower Professional Makeup Case
If you're after something with a little more street style flair, the MVPower Professional Makeup Case should be on your list. This organizer will disguise your products as a fashionable bowler bag in either hot pink or black with red accents. The inside reveals a generous space with seven compartments across three levels.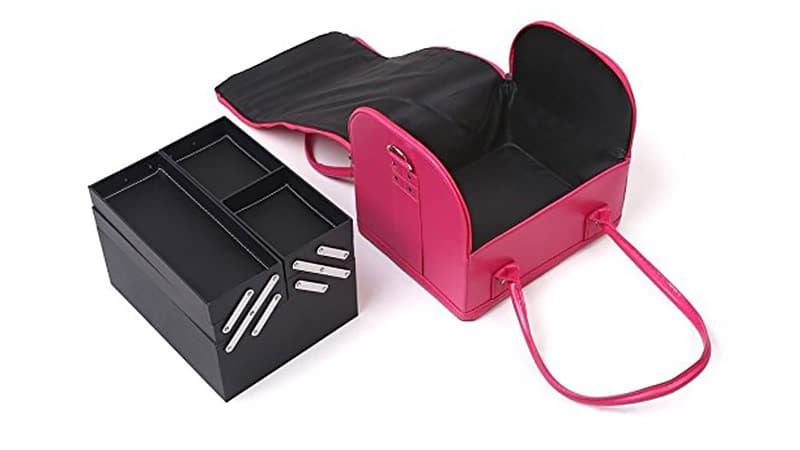 9. Alegory Makeup Brush Organizer
The Alegory Makeup Brush Organizer is a chic and space-saving option to store your brush collection at home. It's made from a single mold of acrylic, providing storage for up to 12 makeup brushes of different sizes. A discreet silicon plug in each hole prevents your tools from sliding out when not in use.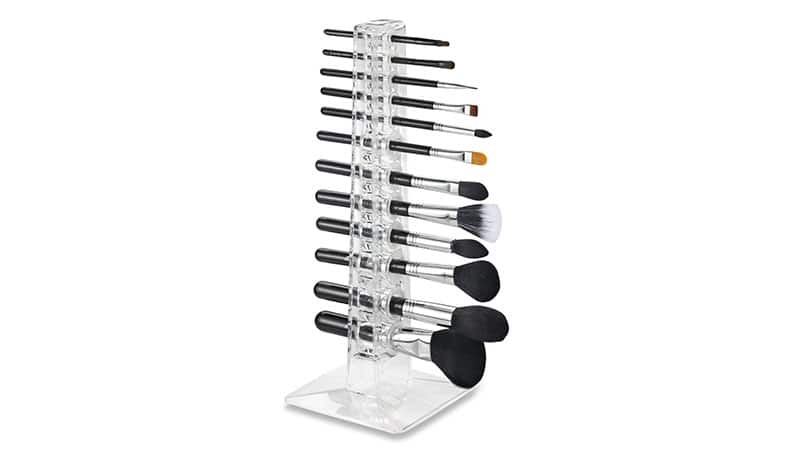 10. N2 Makeup Co. Organizer Cube
If you own a larger-than-average makeup ensemble, the N2 Makeup Co. Organizer Cube will have you covered. With five spacious compartments, you can fit everything from your gloss collection to foundations, primers, and contouring kits. The discreet, clear-crystal design will blend seamlessly with the interior of your home without drawing too much attention to it.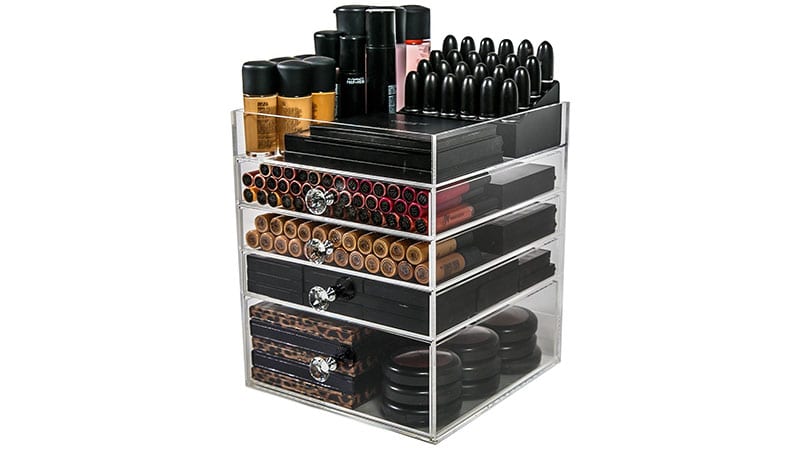 11. Flymei Makeup Case
The water-resistant fabric and padded interior of the Flymei Makeup Case make it a reliable accomplice when you're out and about. It provides decent space for your everyday beauty products and is made from a sturdy oxford fabric that is easy to clean. You can also use it as a camera bag or storage for other small items and accessories.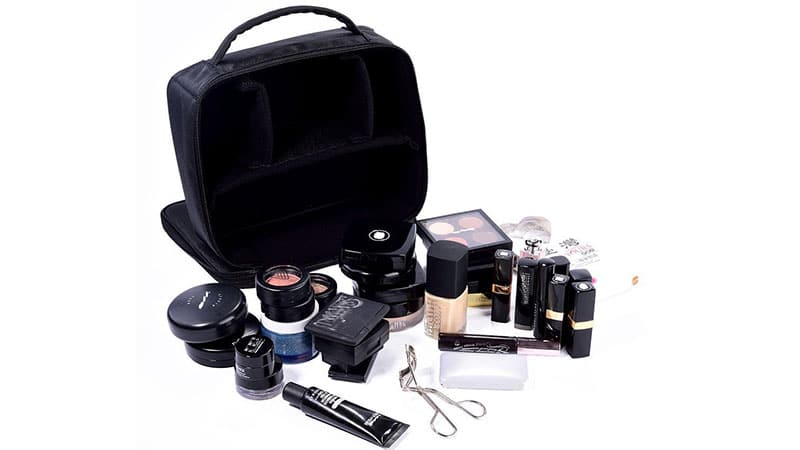 12. Acrylic Cosmetic Organizer
This stylish acrylic organizer offers a generous amount of space for your large and small beauty items. While the bottom three drawers conveniently store eyeshadow and contouring palettes away, the more modest upper compartments present the ideal stand-up space for gloss, lipsticks, blushes, and mascaras.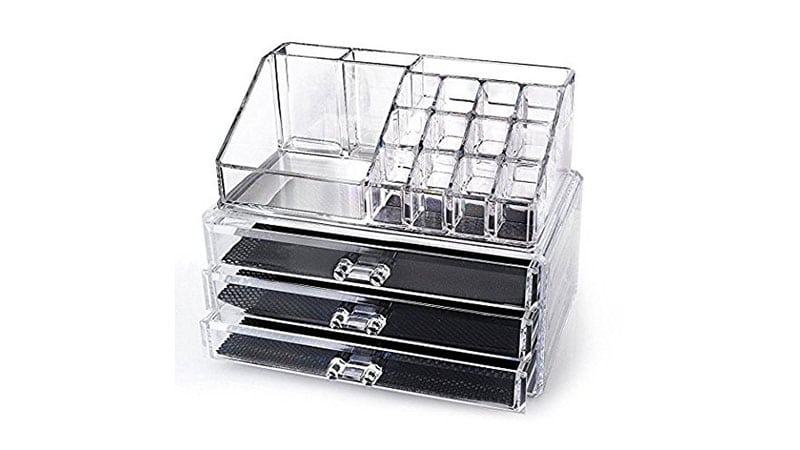 13. Daisi Makeup Mirror and Organizer
The Daisi Makeup Mirror is a nifty little tool that will serve your beauty needs on three different levels. The adjustable swivel stand will hold all your daily makeup essentials, while the magnifying mirror will help you apply a flawless face. The LED ring light also comes in handy while getting ready for a night out.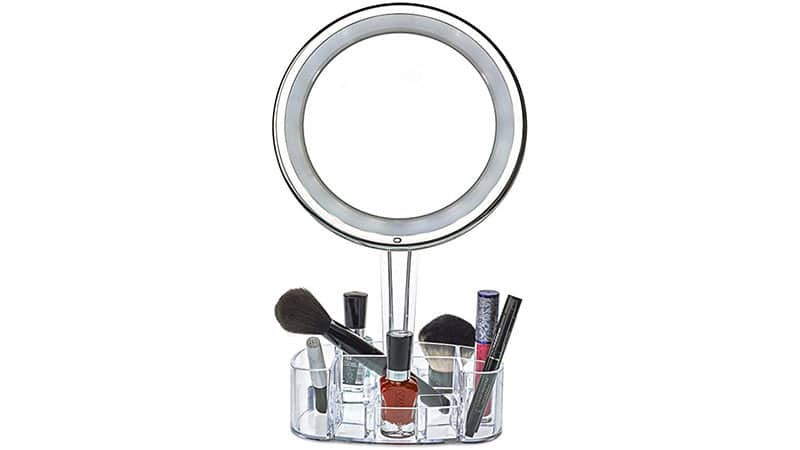 14. Wodison Foldable Cosmetic Organizer
This low-key Wodison Foldable Cosmetic Organizer is all about practicality and convenience. Featuring a hanger on top, three pockets in the first row, two in the second, and a larger one below, it will fit all your makeup needs while taking up minimal space in your luggage.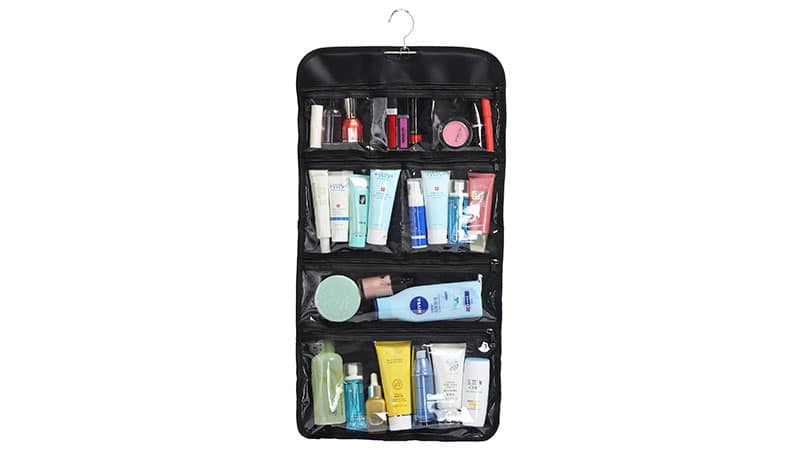 15. Mr.Pro Makeup Travel Bag
The cute design is not the only thing that's appealing about the Mr.Pro Makeup Tavel Bag. Its lightweight, foldable design makes it a perfect adventure companion while the water-resistant and fast-drying fabric prevents bacterial growth caused by residual moisture. In addition to multiple, spacious compartments, this travel-friendly organizer also features a sturdy hanging hook to make your products more accessible when in use.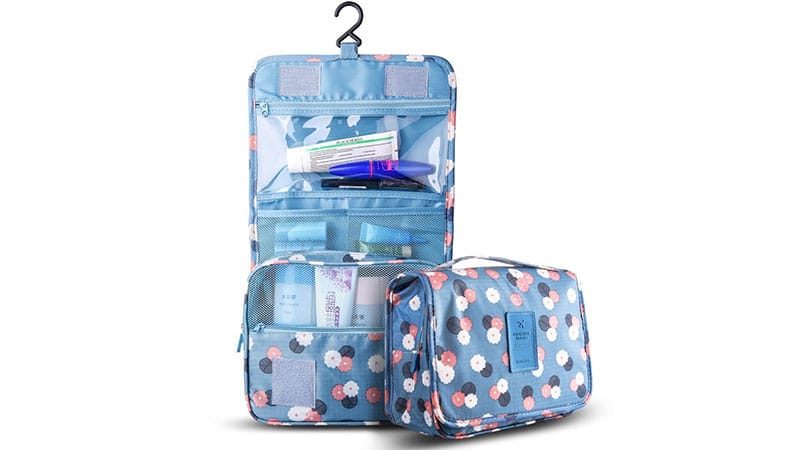 FAQs
What is the best way to organize makeup?
The best way to organize makeup will depend on the space you have and how much makeup you own. Clear acrylic containers with dividers or draws are great if you have a lot of bench space, while tall rotating organizers make use of vertical space. If you find you're on the go a lot, try using a travel or train case. Finally, if your makeup collection is minimalist, you can get smaller organizers perfect for your bedside table.
How do you organize makeup in a deep drawer?
The best way to organize makeup in a deep draw is to invest in some clear dividers in different sizes and shapes. This way, you can store like items together and pick the shape that works best. Try jars for holding makeup brushes and vertical stackers for your palettes. Buy a draw organizer with different sections for smaller items like hairpins, single eyeshadow colors, or lipsticks. Depending on how deep the draw is, you might even fit stackable storage in. Just make sure you keep it clear and easy to see, so things don't get forgotten.
How can I arrange my makeup at home?
Arranging your makeup at home will depend on how much space you have, where you usually store it, where you put it on, and how much product you own. Use travel or train cases if you keep your makeup away from where you use it, as this makes moving between spaces easy. If you have lots of bench space, clear acrylic makeup organizers are perfect for keeping things easy to access but neat and tidy. Finally, make use of vertical space with stacked storage or vertical rotating holders. Another tip is to keep your most frequently used items easily accessible to speed up your morning routine.
Should makeup be stored in bathroom?
Most people do store their makeup in the bathroom as it's where there's room and often where you put your makeup on. However, it's not the ideal location due to the ever-changing temperatures and high moisture levels in the air. These factors can spoil your makeup much quicker and create breeding grounds for bacteria. Try to keep makeup stored in a dry space at room temperature. You can also consider separating your most used items into a separate storage unit to easily transport them to and from the bathroom each morning. Otherwise, splash out on a vanity unit for your bedroom!
SUBSCRIBE TO OUR NEWSLETTER
Subscribe to our mailing list and get interesting stuff and updates to your email inbox.