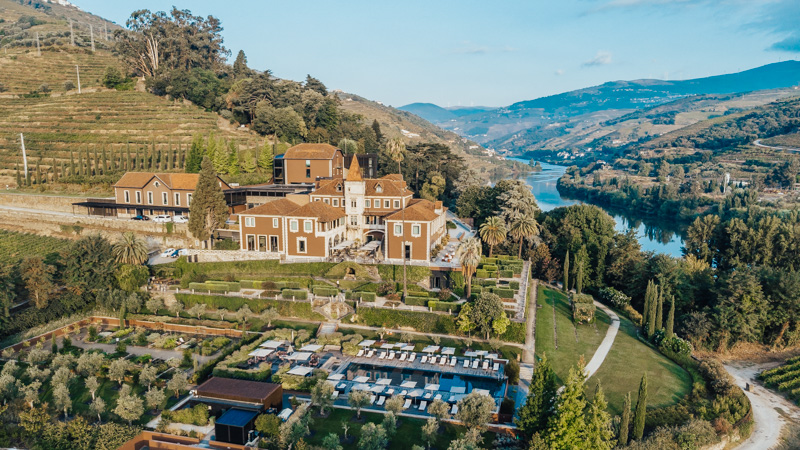 Portugal is renowned for its history, coastal beaches, and incredibly scenic views, making it an ideal destination for a holiday. Its fine wines, superb cuisine, and hospitable people make it a tourist paradise of the highest quality. With an incredible range of different landscapes just a short distance away, lots of leisure activities and unique cultural heritage, this country is home to a number of luxury getaways. To help you find the perfect place to stay, we've rounded up the best luxury hotels in Portugal.
1. Six Senses Douro Valley
Set on a hill overlooking the Douro Valley is the breathtaking luxury hotel Six Senses. Join in a variety of activities including tile painting, areal yoga, pranayama, tree climbing, bike riding, wine tasting, and river cruises. With a range of dining options available to accommodate any dietary requirements, you can't go past the fantastic cuisine. Nourish your body and surrender to healing saunas and spa treatments for a truly holistic experience. Six Senses is committed to being part of a sustainable environment, pledging to improve their ecological and carbon footprint in any way they can.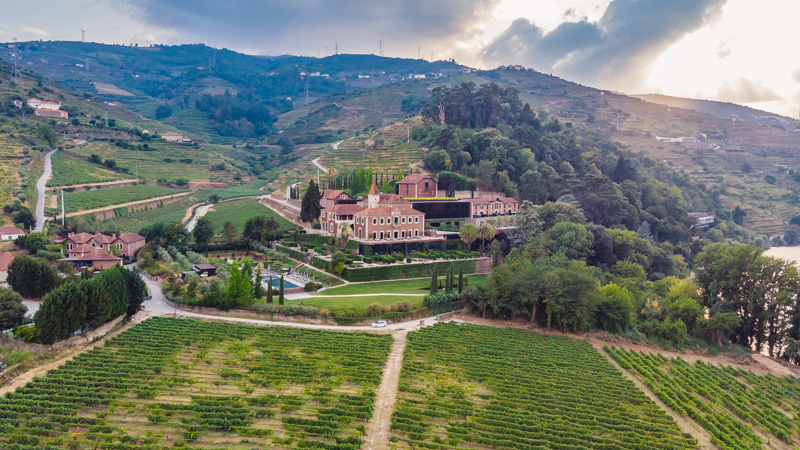 2. São Lourenço do Barrocal
Situated just a short 5-minute drive from the beautiful town of Monsaraz is the stunning São Lourenço do Barrocal. Bask in the history and culture of an ancient farming village, which has been brought back to life as a hotel of luxury and style. Start off the day with hot air ballooning, horse riding or walking around the property. Later, enjoy a wine tasting after exploring the vineyards, but don't miss the free afternoon tea available between 5-6pm! Finally, finish off the day with some delicious local cuisine at the hotel restaurant.
BOOK: São Lourenço do Barrocal

3. Casa Holstein Quinta Sao Sebastiao
The lovely Casa Holstein Quinta Sao Sebastiao is a perfect location to view the historical sites of Sintra. Embedded in a park and surrounded by several hectares of private gardens including their own forest, there is no other place in Sintra like this. From the pool terrace, you have a beautiful view of Castles Of The Moors and the old town of Sintra. Amenities include an outdoor pool, concierge services, airport transfer, free WiFi and onsite parking.
BOOK: Casa Holstein Quinta Sao Sebastiao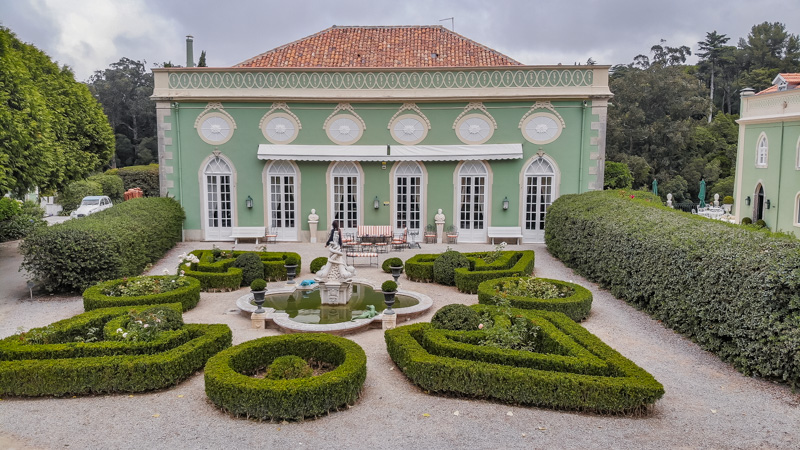 4. Vila Vita Parc Resort & Spa
At the elegant Vila Vita Parc Resort & Spa, guests can expect warm hospitality and endless luxury. From roomy villas with private pools to stylish suites with ocean-view balconies, there is a variety of accommodation to choose from. The resort spa features a range of health and wellbeing services including treatments and massage, a hair and nail salon, health club and gym. Also, there's plenty to do with the family, from sea life exploration to family yoga sessions.
BOOK: Vila Vita Parc Resort & Spa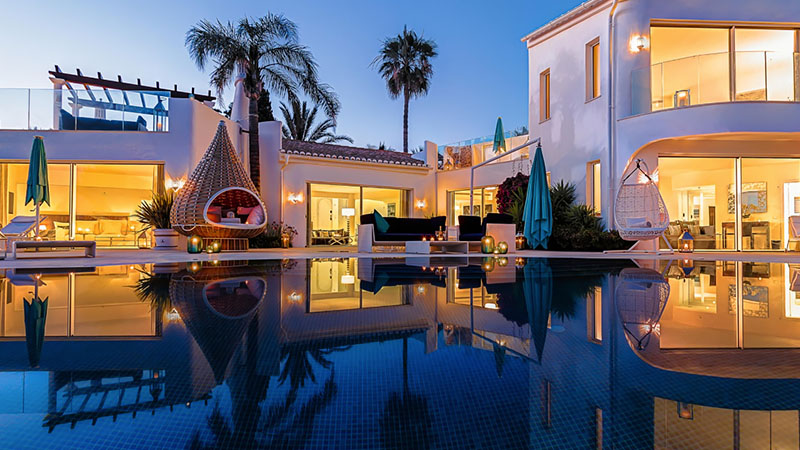 5. Pestana Palácio do Freixo
Located in the city of Porto lies the luxurious Palácio do Freixo. The 5-star hotel offers stunning views of the River Douro. Bursting with history, the Palácio do Freixo is well-known for its rich eighteenth-century architecture. You'll be sure to enjoy the classic decor and gold and chestnut hues. With rooms and suites boasting picturesque views, the palace is ultra-sophisticated and full of contemporary comfort.
BOOK: Pestana Palácio do Freixo

6. Casa do Sorro
Expect to encounter warm hospitality and a high level of service from the family-run Casa do Sorro which overlooks the old town of Silves. The wonderful hosts will do anything to make you feel comfortable and at home. Situated within a 30 minutes drive from Lagos, Casa do Sorro is a great location to explore the Algarve region. Relax in the indoor pool or have a glass of wine while watching the sunset from your private terrace. Amenities include free WiFi, pool, garden, library, chapel, and free onsite parking.

7. Quinta Das Lagrimas
Step into the fantasy world of Quinta Das Lagrimas, a 5-star establishment conveniently located in Coimbra. Each day and night, be spoilt for choice as you dine at the spectacular Michelin star restaurant. The hotel has a state-of-the-art fitness center, equipped with weight machines and even more, accessible to all guests. Other amenities include a 24-hour reception, bar, pool, gift shop, jacuzzi, laundry, and dry cleaning service. In close proximity to many attractions including Convento de Santa Clara a Nova, Portugal dos Pequenitos and Igreja e Mosteiro da Santa Cruz, Quinta Das Lagrimas is the perfect accommodation for the adventurous type.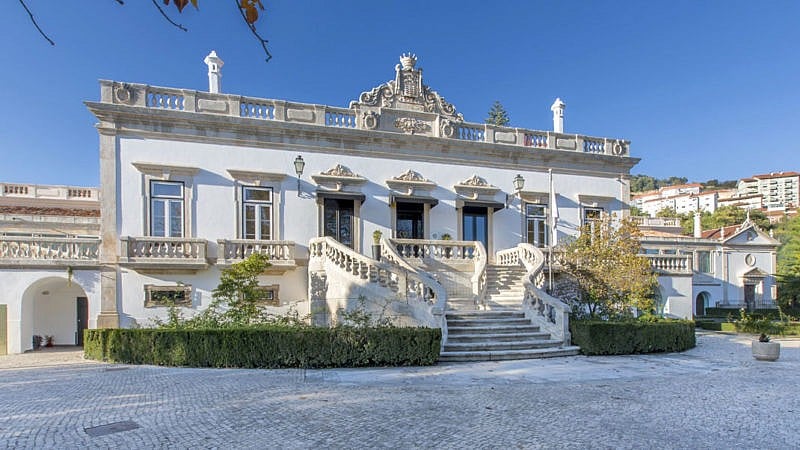 8. Olissippo Lapa Palace Hotel
Nestled on a hilltop with a gorgeous view of the Tagus River, the Olissippo Lapa Palace Hotel is set in a stunning sub-tropical garden. The hotel is separated into three different sections, the Garden Wing, Palace Wing, and Villa Lapa. No matter which section you choose, you'll be treated to luxury and comfort, with newly redecorated Portuguese style fabrics and furniture. During your stay, pay a visit to the spa, where you can treat yourself to hours of relaxation, or sunbathe on a lounger in the pool area. Or if those aren't enough, take a trip down to the sauna and Turkish bath. After a visit to the Lapa Palace, you'll certainly come home feeling relaxed and rejuvenated.
BOOK: Olissippo Lapa Palace Hotel

9. Belmond Reid's Palace
If you're a lover of nature, then the Belmond Reid's Palace in Maderia is the perfect place for you. This contemporary style accommodation offers stunning island views. Enjoy the fresh sea breeze from your private terrace and get lost in the picturesque views. After a bit more adventure? There are a number of things to do in Madeira! Hike mountain trails, sail the coastline or try your hand at windsurfing. Whether you choose aquatic adventures or lazy days by the pool, Belmond Reid's Palace is an island worth experiencing.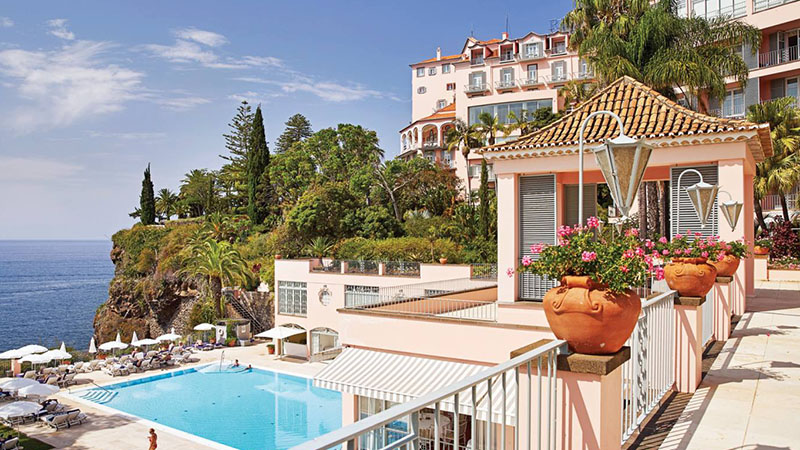 10. Areias do Seixo
Areias do Seixo is a place to pause and savor every moment, cradled by dunes, sea and pine trees. Perfect for couples or families wanting to escape the hustle and bustle of everyday life, the hotel offers gorgeous views and private comfort. Sit back, relax, and enjoy organic cuisine prepared by expert chefs at the restaurant on site. Areias do Seixo also features a vegetable garden, spa, outdoor swimming pool, and cinema room. Plus, there are many experiences available to guests including a yoga class, chi kung, pilates and more.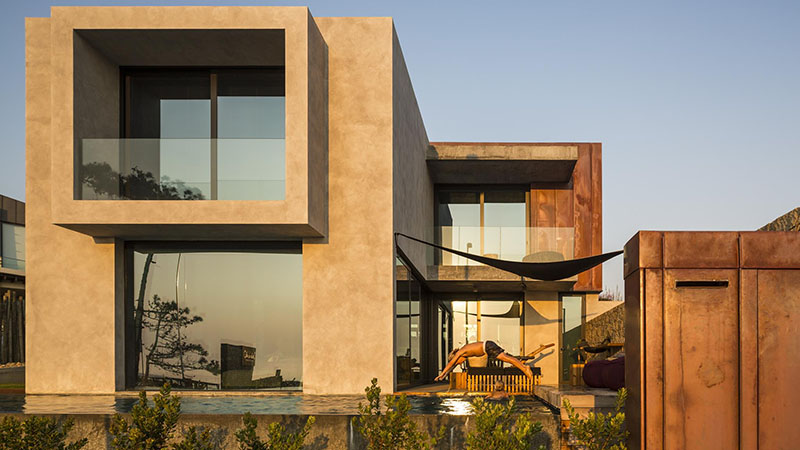 SUBSCRIBE TO OUR NEWSLETTER
Subscribe to our mailing list and get interesting stuff and updates to your email inbox.