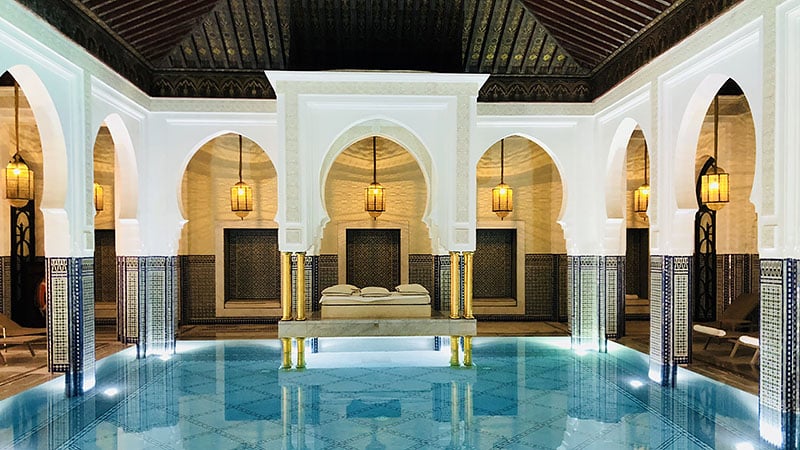 In Northern Africa lies the ancient, exotic kingdom of Morocco, which for centuries, has been seen as a symbol of mystery, magic, and seduction. Amongst this cultural backdrop is the stunning city of Marrakech, which bursts with color, history, and life. There, the streets form a maze, with historical medinas and palaces found around each corner. At the world heritage site of Djemaa El Fna square, storytellers, acrobats, musicians, and snake charmers take center stage. Meanwhile, beyond the city walls, the snow-capped peaks of the Atlas mountains look out over the hot sand dunes of the desert. It is no surprise, therefore, that Marrakech has become a bucket list destination for travelers and the home of many luxury resorts. To help you find your way out of the maze and choose where to stay in Marrakech, we're here to reveal the city's best luxury hotels.
1. La Sultana
Step back in time in the luxurious oasis that is La Sultana. This UNESCO World Heritage-listed medina holds over a thousand years of history and exemplifies traditional Moroccan architecture. It's a prime location, within walking distance of the Jemma El Fna square, Saadian Tombs, Royal Palaces and Bahia Palace makes La Sultana one of Morocco's best luxury hotels. There, all of the modern-day amenities sit alongside breathtaking remnants of antiquity. From the antique furniture to the expertly sculpted ceilings, around every corner is a work of art. In the morning, take part in a Moroccan cooking class to learn the culinary secrets of the Orient. Later, relax on the rooftop, which overlooks the Kasbah district and Saadian Tombs. Finally, pack your camera and venture out to explore the famous neighboring palaces, squares, and landscape.

2. Riad Be Marrakech
Immerse yourself in the colors, culture, and lifestyle of Morrocco at the unique Riad Be Marrakech. Spread across two traditional private houses known as riads, this hotel includes ten luxurious rooms ensconced within an open-air patio and lush foliage. At Riad Be, guests are spoilt for choice to pick between 'The Oasis' riad and 'The Essence' riad. In the 'Oasis', verdant, exotic plants and traditional patterns and colors enrich the sensory experience. Meanwhile, 'Essence' provides a more simplistic approach to life, with handcrafted woodwork and traditional Moroccan tiles forming the spectacular interior. While there, learn the tips and tricks of creating richly flavored cuisine with a Moroccan cooking class. If, however, you're seeking a different form of indulgence, relax with a massage and Hammam cleansing ritual.

3. La Mamounia
The word luxury conjures up stunning images of palaces and tantalizing cuisines. At La Mamounia, each of these elements come together to create a refined, beautiful Moroccan experience. Walk amongst the eight hectares of gardens, once given as a wedding gift to the Prince Al Mamoun, and experience the fragrant jasmine, orange blossom, and other exotic plants. Marvel at the intricate blue, green and orange tilework throughout the palace then look outwards to the snowcapped Atlas Mountains. With a guest list that includes Winston Churchill, Marlene Dietrich, Elton John, and Yves-Saint Laurent, incredible stories and historical moments have taken place within the Arabic-Andalusian architecture of La Mamounia.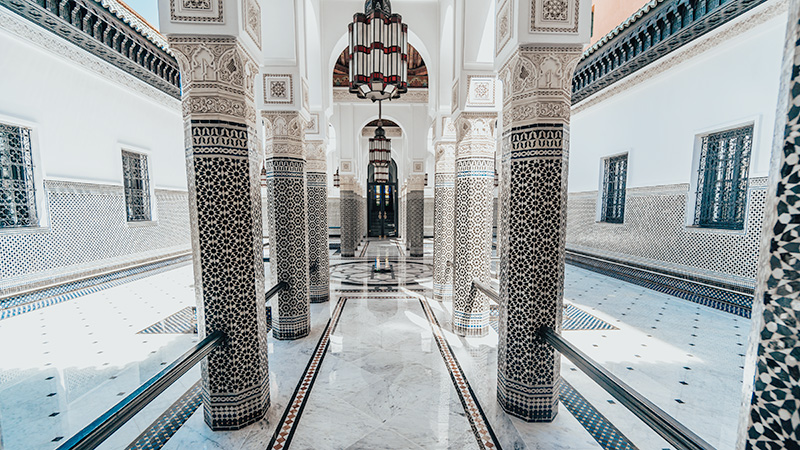 4. El Fenn
Hidden just a stone's throw away from the famous Djemaa el Fna square and souk, El Fenn provides a tranquil home away from home. Formerly a private residence, this grand riad has been renovated and expanded to include 28 rooms and suites, lush courtyards and a sprawling rooftop terrace. There, guests may escape the Moroccan heat with a dip in one of the three pools. The most spectacular, however, is the rooftop plunge pool, which offers a panoramic view of the Atlas mountains and the Koutoubia mosque. During your stay, indulge in traditional beauty rituals at the spa or sample some of Morocco's finest cuisine. Finally, if you're able to turn away for a moment from the breathtaking surrounding landscape and stunning historical architecture, take note of El Fenn's art. Keen art observers will notice a rich array of artwork expertly placed throughout the rooms.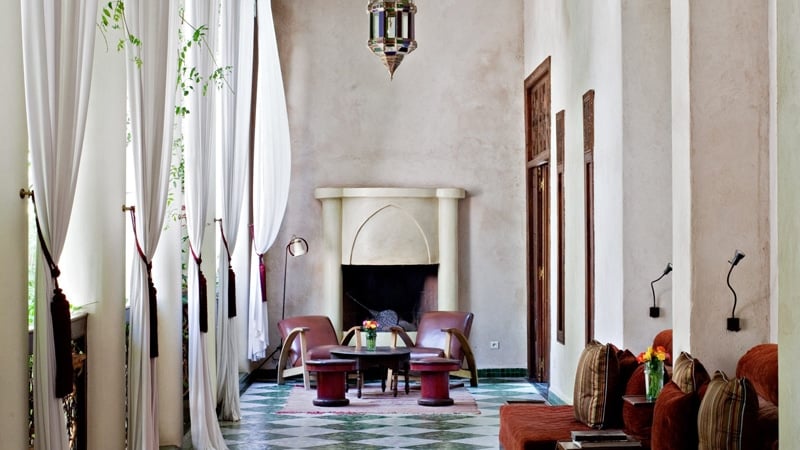 5. Mandarin Oriental
Whether you're planning a wedding, a honeymoon, a family holiday or a business meeting, the Mandarin Oriental is the place to be. This dream, 5-star destination is found just minutes from the heart of Marrakech and offers something for everyone. While there, relax in an opulent eight-bedroom penthouse, a panoramic suite or an exotic villa. Each day and night, be spoilt for choice as you dine at one of the four spectacular restaurants then step out into the colorful, surrounding world of Moroccan life. A key distinctive feature of this hotel, however, is the stunning spa center. Drawing inspiration from Andalucían cathedrals and mosques, it encompasses high arched ceilings and a sun-bathed ornamental pool. Additionally, it holds six treatment rooms and numerous packages to immerse guests in pure bliss.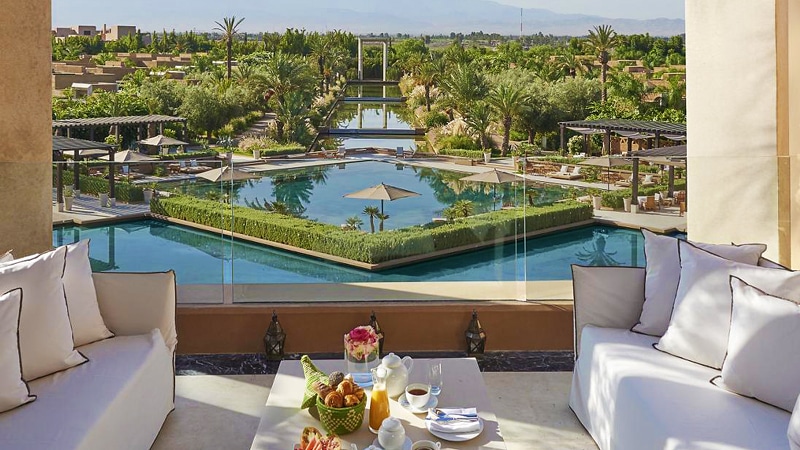 6. Dar El Sakada
Step into the magical, fantasy world of Dar El Sakada, that lies in Morocco's palm oasis, Palmeraie. Designed by French artist Jean-François Fourtou and refurbished by Philippe Forrestier, this fully staffed private villa is filled with unique and unexpected features. Some of the sculptural and architectural pieces that guests may encounter include Fourtou's lifesize giraffe peering over the dinner table as well as the 'House Fallen from the Sky' and many other wonders. Alongside these contemporary pieces, the villa is renowned for its traditional Moroccan cuisine and hospitality. While this villa is only available for private hire, it sleeps up to 20 guests and is an unforgettable destination for a holiday with family or friends.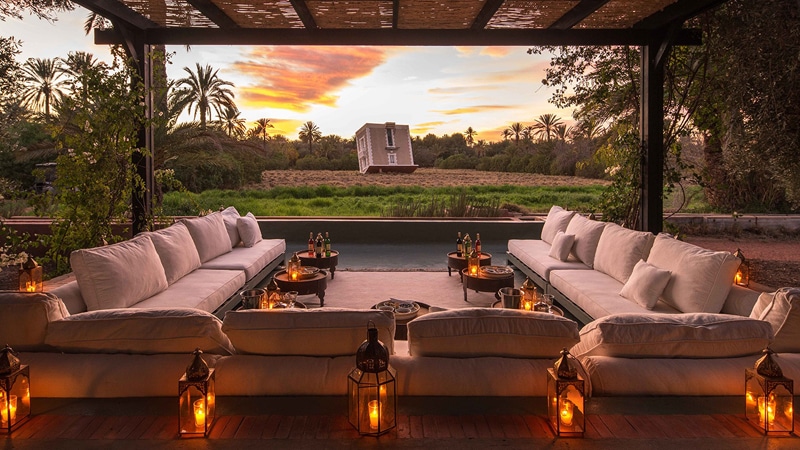 7. Selman Marrakech
At the elegant Selman Marrakech, guests can expect to encounter warm hospitality and endless luxury. However, it is the unique presence of Arabian thoroughbred horses, wandering through the gardens, which make the Selman Marrakech magnificent. First introduced to Morrocco in the 7th century, the Arabian thoroughbreds are renowned as a distinguished, coveted horse breed. Guests may visit the stables or ride through the grounds on these award-winning beauties. Designed by Jaques Garcia, Selman Marrakech has 55 rooms and suites and 5 private villas. Spend your nights at the mystical purple lounge Bar Selman, where pendant lights and electro-lounge jazz create a baroque atmosphere. For authentic Moroccan cuisine, make your way to Assyl. This ornate restaurant decorated with gold leaf and carved wood transports guests to an Ottoman palace. Finally, La Pavillon provides a sunlit setting to enjoy fresh, flavorsome dishes and watch horses frolic through the paddocks.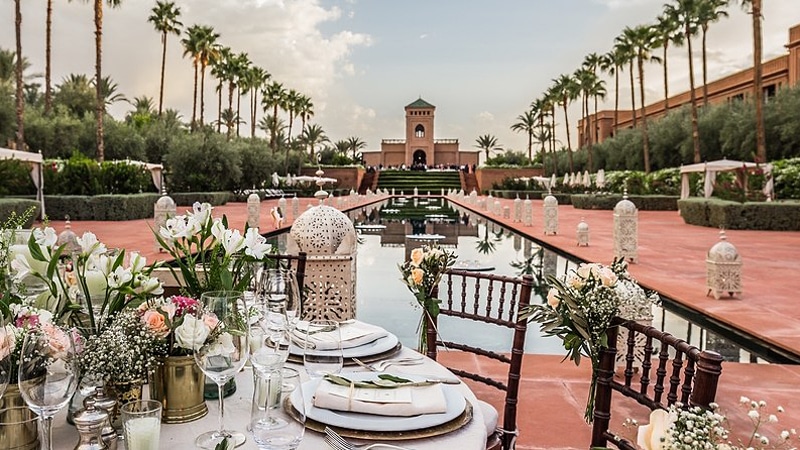 8. Royal Mansour
Throughout history, Morocco has imprinted its culture and craftsmanship on North Africa, Spain, and Portugal. In the Spanish city of Granada, the Moors created the exquisite, intricate Alhambra Palace. It is from this wonder that the Royal Mansour draws its inspiration. Encapsulating the essence of Morocco, the palatial hotel features lace-embedded plaster, as well as carvings upon the walls, floors and even the ceiling. In the labyrinthine gardens, palm trees, citruses, and other exotic flora and fauna form perfect symmetry. The lifegiving presence of water is given a spotlight in the numerous ponds, waterfalls, and fountains. During their stay, guests may take part in a range of unforgettable experiences. These include hot air ballooning, a dinner in the desert and a Hamman treatment in the spa. Finally, for those seeking adventure, fly across the Atlas mountains in a helicopter, ride a camel and more with a Sahara Desert excursion.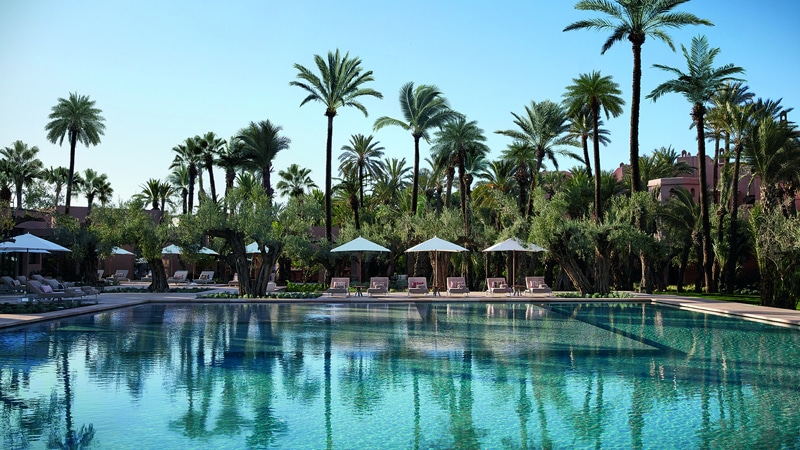 9. Four Seasons
Located next to an ancient medina, the Four Seasons resort is a luxurious sanctuary. While exploring the gardens or bathing in the pools, guests are enveloped by the sweet scents of Jasmine and Rose. With 139 rooms, a 24-hour concierge, Kids Club and a host of activities, the Four Seasons provide a tailor-made experience. Select a spacious room overlooking the Atlas mountains or opt for a pavilion suite with a private pool. For those traveling on business, the hotel also features stunning Riad style conference facilities. When you're ready to explore Marrakech's charm, venture into the desert for camel riding, dining under the stars or playing golf amongst the dunes. Then, pump up the adrenaline at the Atlas Mountains with canyon ziplining, mountain scootering or horseback riding. Finally, at sunset, make your way to the nearby Jemaa El Fna to witness the musicians, fortune tellers, and snake charmers weave their magic.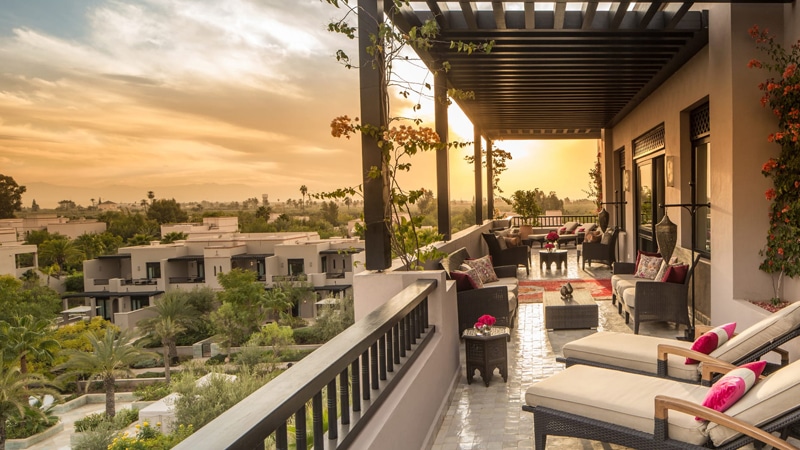 10. Fairmont Royal Palm
Epitomizing grandeur and exotic elegance, the Fairmont Royal Palm is fit for kings and queens. Overlooking the famous Atlas Mountains, this 231-hectare hotel resides amongst palm, olive and orange trees. As well as a colossal 2,000 sqm swimming pool, it features six restaurants and bars, a spa and a fitness center. Additionally, the Kids' Club keeps little ones entertained so parents can enjoy the tranquillity. With 134 majestic rooms, suites and villas, there is something for everyone. Each room features a terrace that opens out onto the mountains, the gardens or the spectacular 18-hole golf course. For the ultimate luxury experience, however, check into a Prince Villa. These spacious two-bedroom villas house ensuite bathrooms, a private swimming pool, landscaped garden, and a private Hammam. Finally, for those seeking adventure, take part in a quad bike desert tour, a hot air balloon ride or hiking in the Atlas mountains.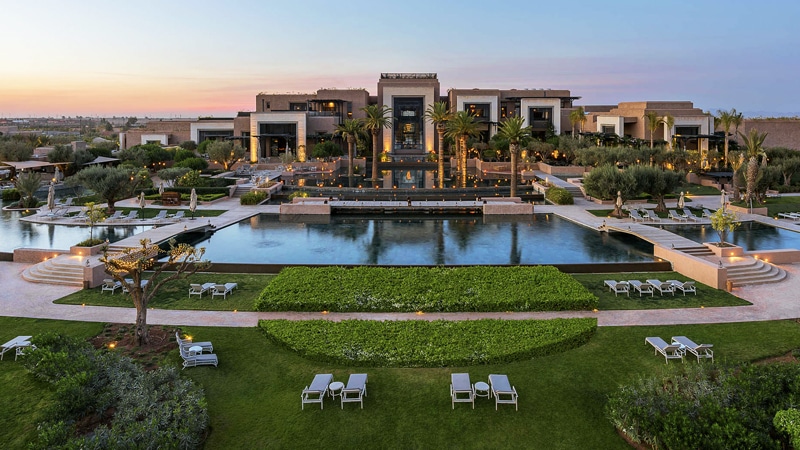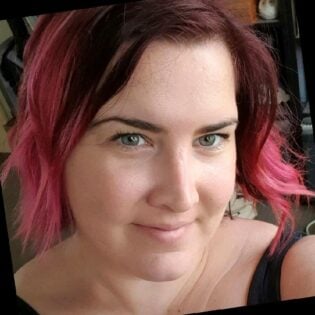 Alexandra Linde is an experienced writer holding a bachelor's degree in Journalism. She is the owner of Alexandra McKiterick Creative and has expertise in travel, fashion, fitness and lifestyle. Alex has previously written for Flightcenter, Travello, and Backpacker Deals.
SUBSCRIBE TO OUR NEWSLETTER
Subscribe to our mailing list and get interesting stuff and updates to your email inbox.