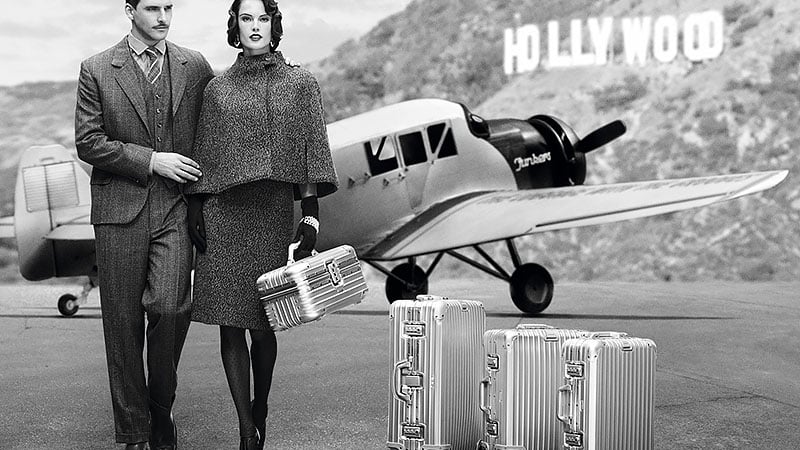 Whether you're traveling the world for business or pleasure, having the right luggage is essential. Owning a good suitcase or travel bag as opposed to the cheap one can be the difference between enjoying your holiday and regretting it. After all, you don't want to get stuck lugging a heavy bag through foreign streets when the zip bursts open. If you're after something lightweight and durable, need extra space, or looking for fashion with function, then look no further. Here are the best luggage brands that you need to know before you travel.
1. Victorinox
If you think that the name Victorinox sounds familiar, but you don't know its luggage, you may be thinking of its knives. The brand, which has been around since the late 1800s, is the original inventor of the Swiss Army Knife. Jump forward to 2016 and Victorinox is now a global company with six product categories; Swiss Army Knives, household and professional knives, watches, apparel, fragrances, and, of course, travel gear. Like all its products, Victorinox's travel gear is made to high standards with a strong focus on quality and functionality. Its luggage is sturdy and will stay looking nice no matter how far you travel while providing you with all the packing space and maneuverability that you need.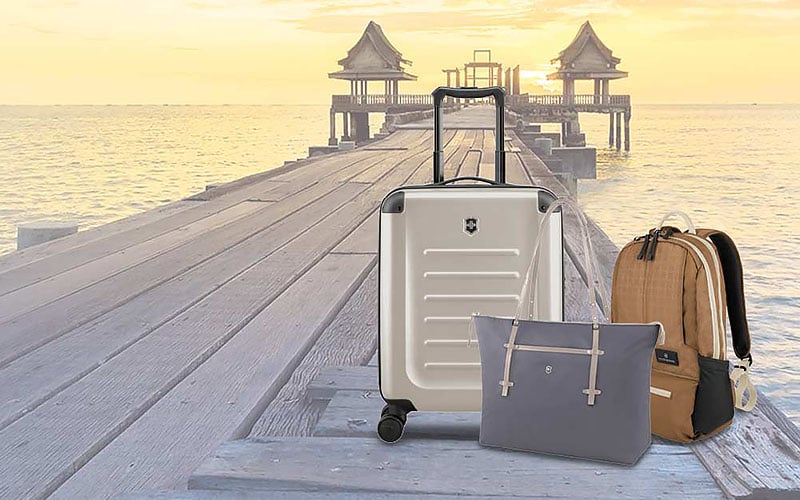 2. Samsonite
Samsonite is probably the most famous luggage brand in the world, and for a good reason. For more than 100 years Samsonite has designed, created, and refined luggage, bags, and accessories for those with on-the-go professional lifestyles. Now, in 2016, the brand is a global leader in the travel bag market with innovative products that are far superior to the majority. Samsonite products are of excellent quality and feature sleek and minimal design. One of the brand's most recognizable range of goods is its collection of lightweight, hard-shell luggage. Featuring four spinner wheels, these handy travel companions make navigating busy airports a breeze.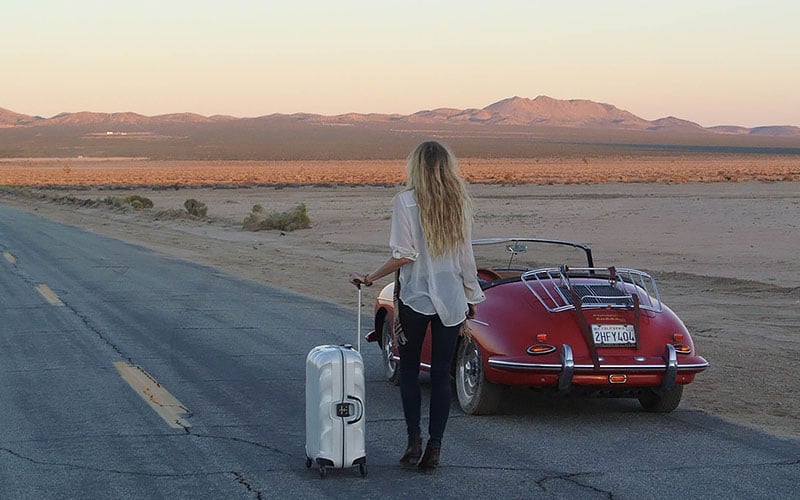 3. American Tourister
American Tourister was born in the U.S. in 1933. While the brand, like many of the other top luggage labels on this list, makes a high-quality and durable product, it also allowed itself to have more fun in the design department. Today, a lot of luggage brands tailor themselves toward the business traveler with plain black and navy designs that are nearly impossible to tell apart at baggage claim. American Tourister breaks free from this mould and embraces bright colors, unique design features, and even prints. As the official luggage of Walt Disney World and Disneyland, you can also expect to spot a few of your favorite childhood characters popping up on the luggage.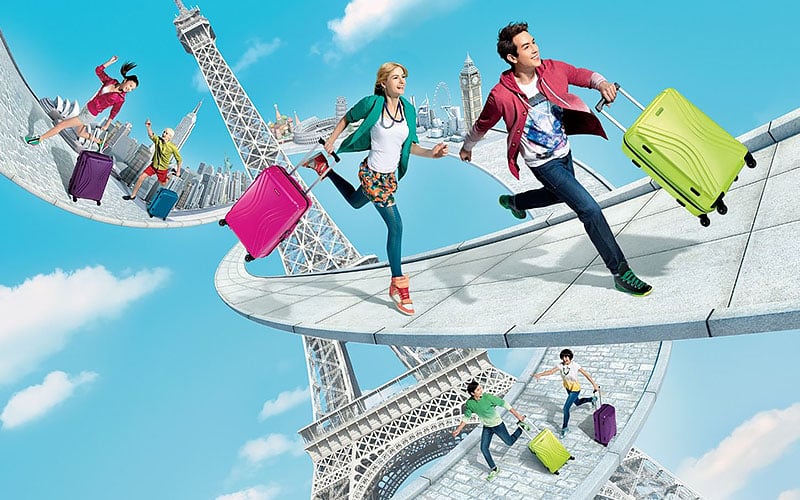 4. Briggs & Riley
A relatively young luggage brand, Briggs & Riley, was established in 1993. Its parent company, U.S. Luggage LLC, is much older, it introduced the first wheeled luggage in 1970. Innovativeness and forward-thinking is at the heart of Briggs & Riley. Just one example of this is the brand's patented "Outsider" handle that allows travelers a completely flat luggage base for easier packing and wrinkle-free clothes. Offering a range of specialty luggage and travel bags, this brand is recognized today as a leading manufacturer in the industry with excellent customer service. Briggs & Riley even offers a unique lifetime guarantee that means if your bag is ever broken or damaged, even if the airline caused it, that they'll repair it free of charge. Who doesn't love that?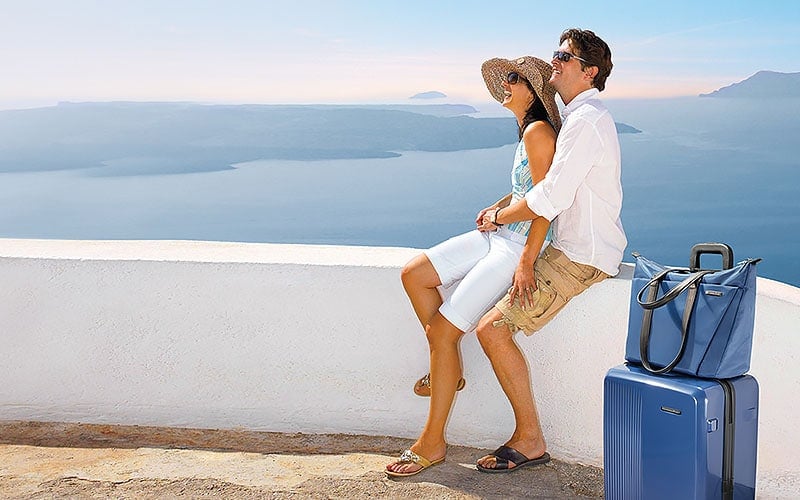 5. Delsey
Delsey is a Parisian label that began in 1946 making leather cases for cameras and photographic equipment. It wasn't until 1970 that Delsey took its first steps in the world of travel luggage, with the Delsey Airstyle, its first range of rigid bags. Since that time, the label has continued to grow and adapt, offering ever more innovative, light and functional products. Delsey's luggage stays true to its French origins and features a unique and stylish aesthetic that is easily identifiable. The brand's signature curved edges and jellybean-shaped logo let all jealous travelers know that its products are without-a-doubt Delsey.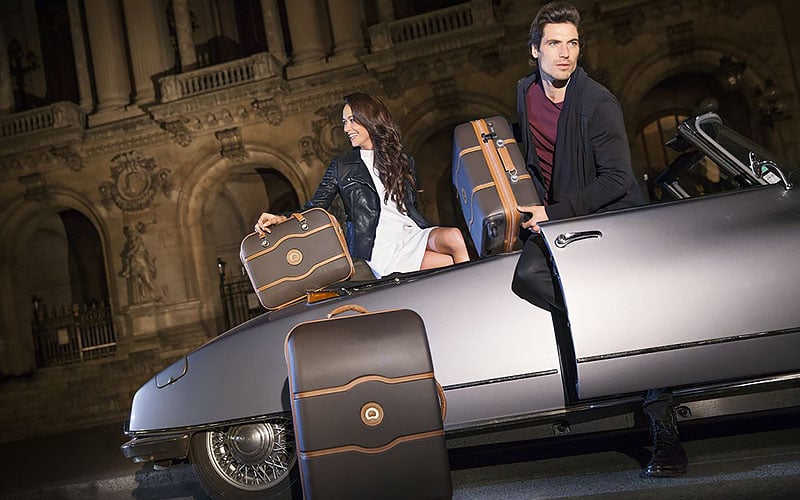 6. Hartmann
Hartmann is a luggage brand with a genuine air of luxury and class to it. The brand has been around for 135 years and focuses on making exquisitely crafted luggage, travel cases, and fine leather goods. Although you may pay a premium for a set of Hartmann luggage, you'll be rewarded with truly stylish products of the utmost quality. The brand's vision has always been to build "luggage so fine it will stand as a symbol of excellence", and that's exactly what it's done. With sturdy and elegant products like this, it's no wonder that this heritage luggage brand is a favorite of affluent travelers around the world.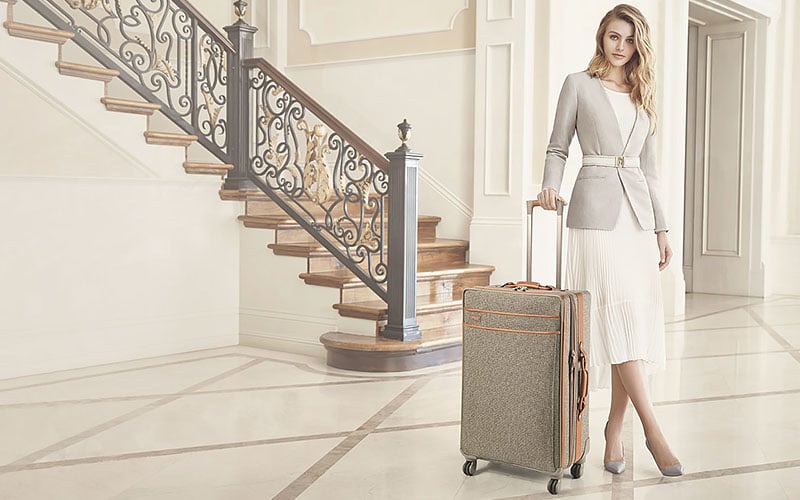 7. Rimowa
Rimowa is a worldwide leader when it comes to luxury travel luggage. A favorite of both business travelers and jet-setters alike, the German brand has been at the forefront of luggage innovation for the past 100 years. In 1937, Rimowa launched the first-ever aluminum trunk, revolutionizing durable and lightweight luggage. The brand's unmistakable grooves were then added in the 1950s and quickly became a style signature for this fashionable brand. Since then, the brand has also introduced polycarbonate cases to the travel market, which countless brands now use for hard-shell luggage.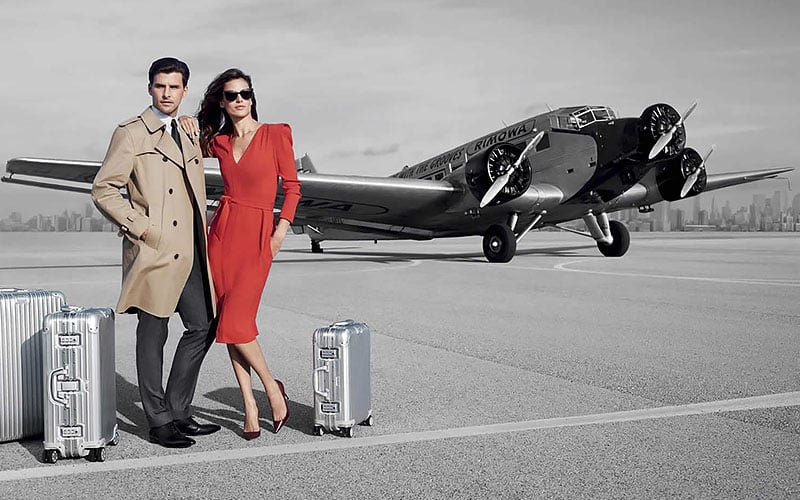 8. Kipling
Born in the '80s, Kipling is a quirky and fun brand that creates items of luggage, designer handbags, backpacks, and lifestyle accessories to lighten up your day. The brand's products are lightweight, lasting, and functional with an emphasis on playful design. Kipling's signature fabric is crinkled nylon which it uses to create a variety of products in bold and stylish, colors and prints. Priding itself on products that transcend the usual fashion trends, Kipling's products are distinct and desirable. Standout from the crowd by purchasing your own Kipling bag and you can even have it monogrammed for a truly personal touch.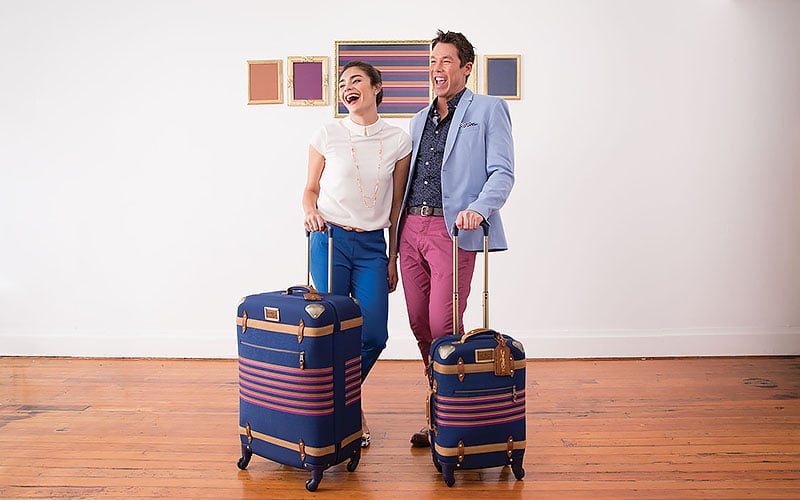 9. Bric's
Does anyone do style better than the Italians? Bric's is an Italian luggage label that creates exceptionally stylish luggage that perfectly marries the rich history of luxury travel with current fashion trends. The brand consistently creates products that reflect refined cosmopolitan style while staying true to its mission of providing customers with image and functionality at a quality price. While remaining practical and functional, Bric's luggage is trendy and chic, utilizing stylish materials, shapes, and colors to create pieces that you'll be incredibly proud to wheel around the airport.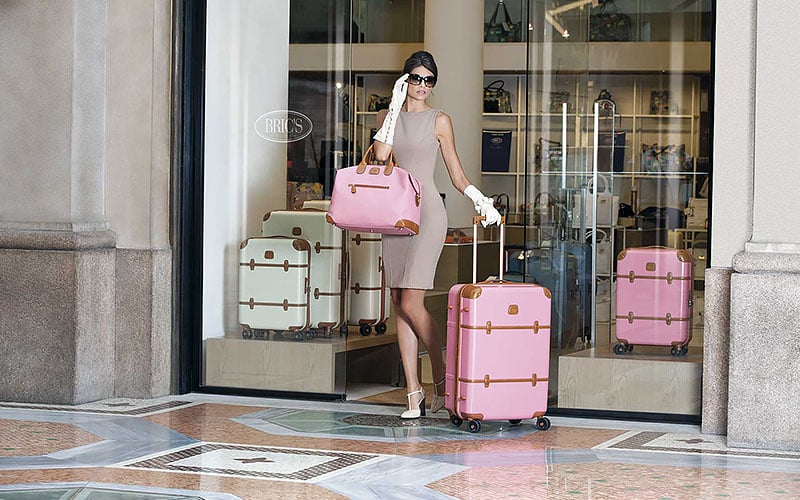 10. Lipault
If you're on the hunt for fashionable luggage, you can't go past the chic Parisian label Lipault. The brand's gorgeous designs are like nothing else on the market, turning traditional bags and suitcases into incredible fashion accessories. Lipault's philosophy is that the modern woman should be able to change her bags and luggage as she does in her dresses and shoes to coordinate outfits. With Lipault, luggage is no longer just a place to store your clothes; it's a statement. The brand offers a range of high-quality products in beautiful styles and bold colors, making it practically impossible to choose just one!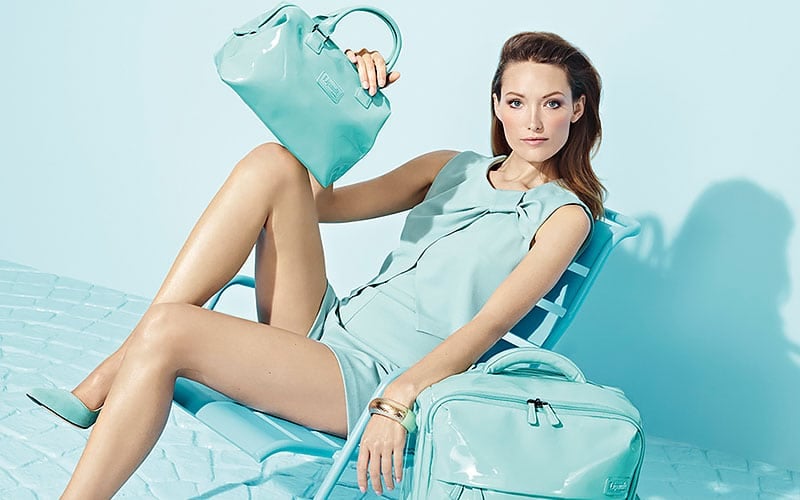 11. Genius Pack
The very name of this luggage brand tells you exactly what you need to know about it and why you should buy its products. Genius Pack is more than just words for this brand, it's a real philosophy. Founded by Alfred Chehebar, Genius Pack aims to revolutionize the luggage industry to bring it in line with the current age of technology and innovation. With a sole focus on extreme functionality, it's the mission of this brand to create travel products that eliminate the hassles of travel. The label currently has 17 patents pending for creative and exciting new luggage features, including laundry compression technology, organizational interior panels with category designated compartments, and integrated mobile phone chargers.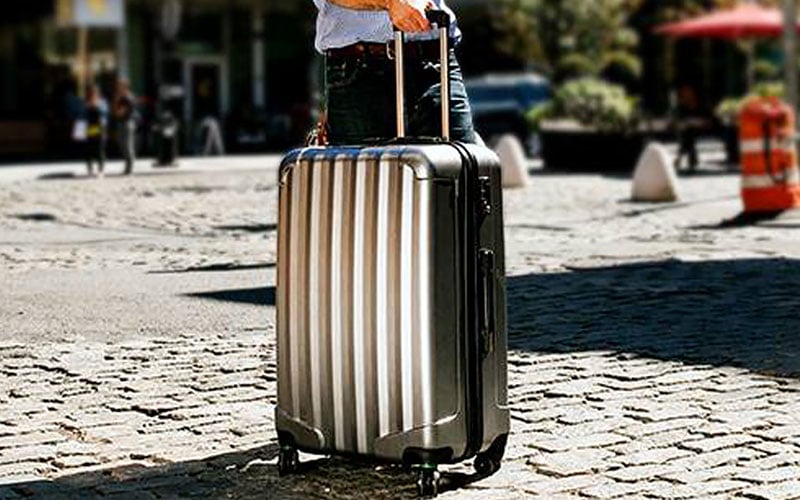 12. Globe-Trotter
It's all about the Golden Age of travel with Globe-Trotter. This luxury luggage brand was established in 1897 in Germany, and since its inception, the classic and timeless designs have barely changed. Each bag is handmade in England, using the brand's revolutionary and patented Vulcanised Fibreboard — the material that started this epic voyage. Famous faces that have used Globe-Trotter bags over the years include Queen Elizabeth, Winston Churchill, and Sir Edmund Hillary. While the company's heritage is incredibly valued, Globe-Trotter has set its sights firmly on the future by collaborating with famous brands such as 007 (James Bond), Hermes, Tiffany & Co, and Aston Martin.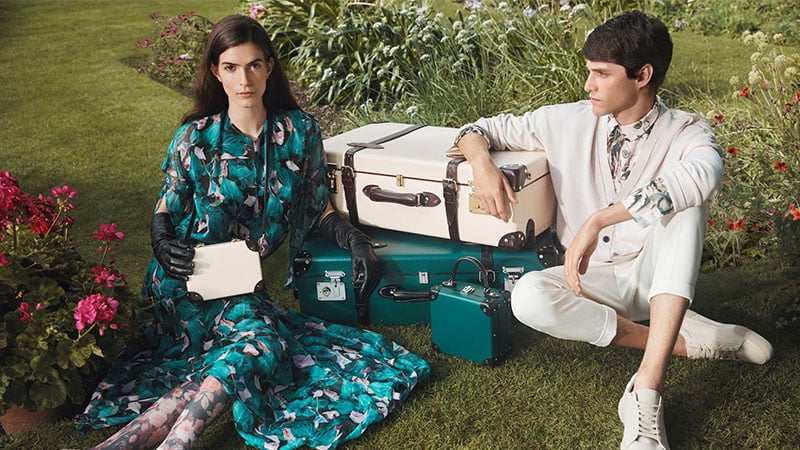 13. Montblanc
At Montblanc, it's all about tradition, storytelling, elegance, and preservation. This shows in every category of the business, from writing instruments and timepieces to leather goods and luggage. The travel collection includes rolling bags, carry on, backpacks, toiletries bags, passport holders, and duffels. Each is designed to endure and accompany you on all life's adventures. The various suitcase styles are made from durable polycarbonate and feature a Transport Security Administration (TSA) lock, telescopic handle, and four-wheel design. If you're looking for luxury luggage with an air of subtle sophistication, then Montblanc is the ideal choice.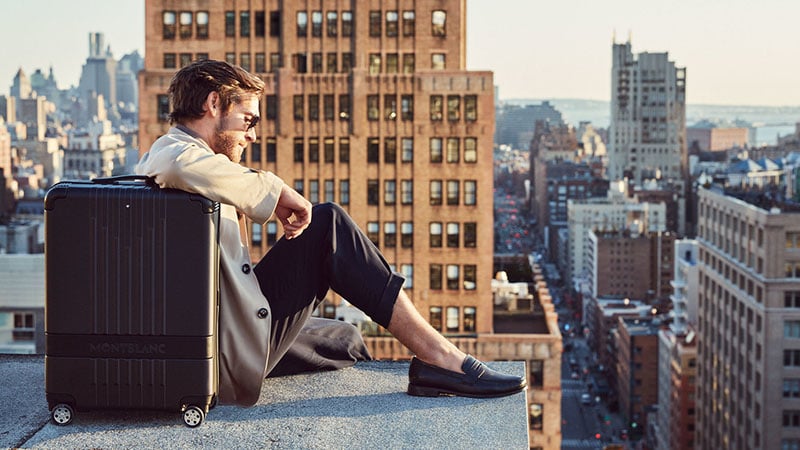 14. Louis Vuitton
As the world's most valuable luxury brand, Louis Vuitton is an excellent choice for luggage. Louis Vuitton began his illustrious career at just 16-years old, where he became a master craftsman in the trade of travel boxes and trunks at the atelier of Monsieur Marechal. After 17 years, he launched his eponymous brand that clients today are familiar with. In 1886 Louis and his son George developed a revolutionary lock system to keep belongings safe. This design is still used today. Nowadays, a Louis Vuitton bag, recognizable by the LV monogram, symbolizes status and success. Select from modern, rolling suitcase designs in hard or soft finishes, as well as duffel bags and holdalls. Alternatively, you can splash out and order a traditional trunk that harks back to the original Parisian designs made for the back of horse carriages.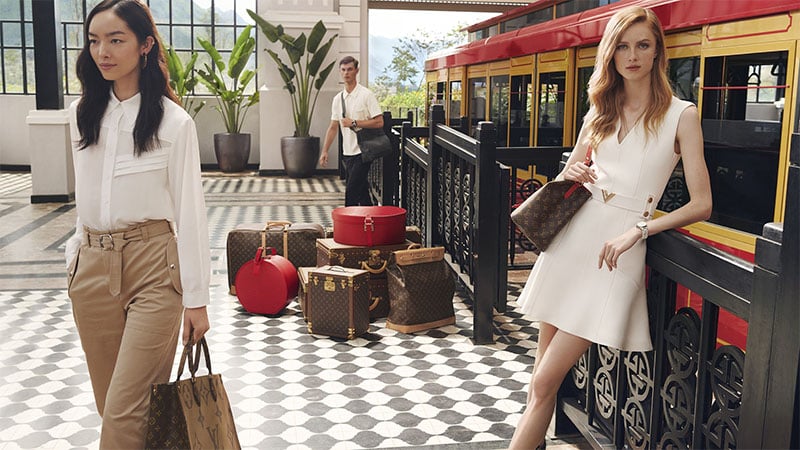 14. Smythson
Smythson began in 1887 as a provider of luxury stationery. Since then, the brand has grown to incorporate more products such as bags, diaries, jewelry boxes, business accessories, and luggage. A dedication to unrivaled craftsmanship and the desire to create the extraordinary shows in every new line or design. Many of the travel collection bags are made from butter-soft leather for their durability and beautiful finish. Another central tenet of Smythson is personalization. Whether you're purchasing for yourself or as a gift, you can add beautiful gold hand-stamping to any luggage for that extra touch of elegance.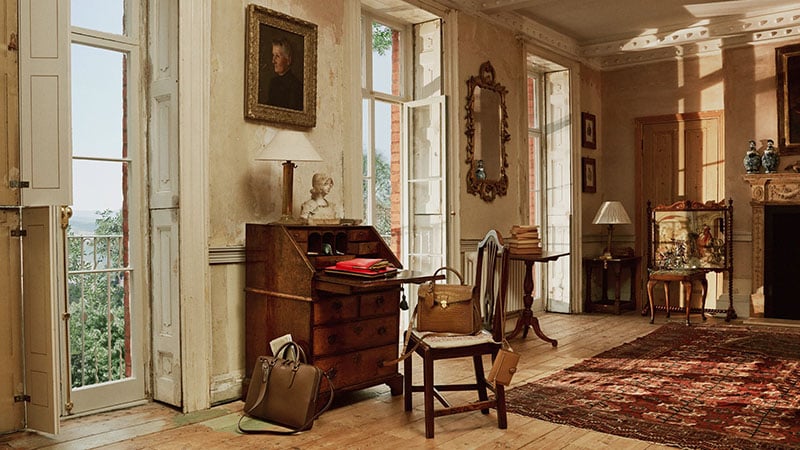 15. Bottega Veneta
Bottega Veneta has long been celebrated for its luxury leather goods. The company was founded in Vicenza in 1966 and became synonymous with a confident and unique style. Intrecciato woven leather is the brand's signature look. This method can take days for the leather artisans to perfect by hand. Beyond master craftsmanship, there's also a focus on quality materials and inspired innovation. If you're looking for luggage that is sophisticated, elegant, and functional, Bottega Veneta is the ideal choice.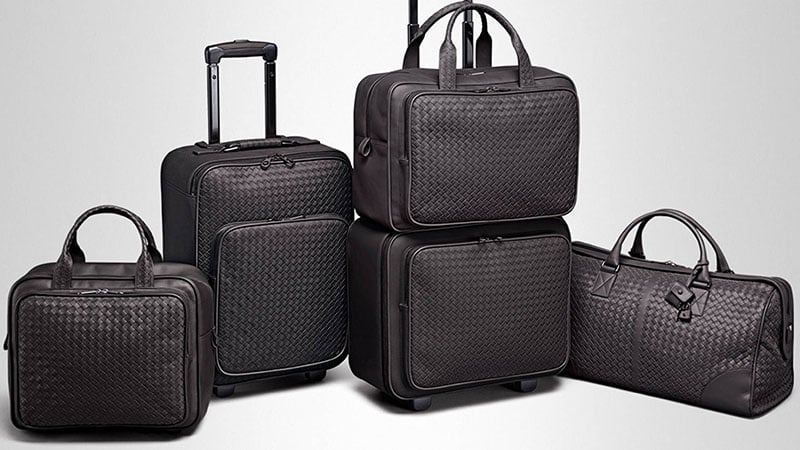 16. Mulberry
Mulberry is a quintessentially British brand. It utilizes the contrasts of country versus city, heritage versus rebellion, creating what's become known as "Le Style Anglais." The luggage collection features weekenders, holdalls, backpacks, and passport holders. Beautiful scotch grain leather makes up 90% of the materials used. It boasts a beautiful texture and feel, as well as natural durability. The leather is sourced to ensure the highest levels of animal welfare and traceability while maintaining incredible quality. Mulberry also signed the UN Fashion Industry Charter for Climate Change and has a carbon-neutral goal for 2025. Over 26,000 square meters of woodland was planted in 2019 with the current offset efforts.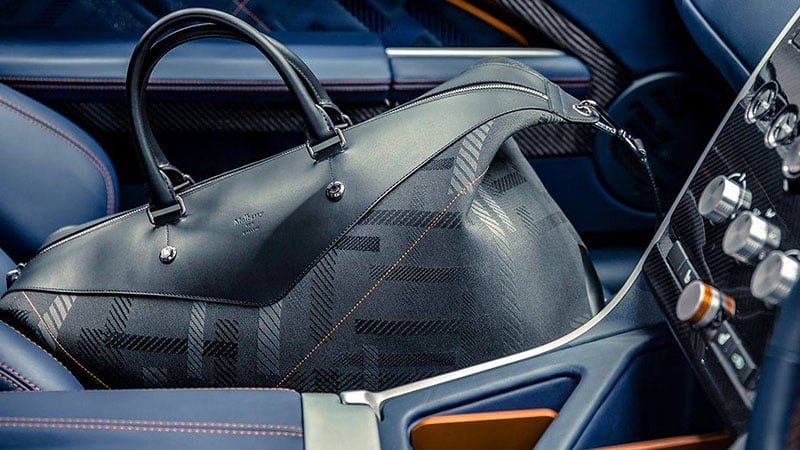 17. Prada
If iconic luxury is what you want in your luggage, then Prada is a brilliant option. The Italian fashion powerhouse has been in the business for over 100 years. As such, they're very good at what they do. You can select from a range of trolley suitcases, semi-rigid styles, duffel bags, and suitcases. Plus, there's a more extensive range of travel accessories, including pouches, passport holders, and garment bags. All the styling is kept minimal and elegant across the spectrum, ensuring each design's longevity. After all, you want your luggage to accompany you for years of adventure and escape.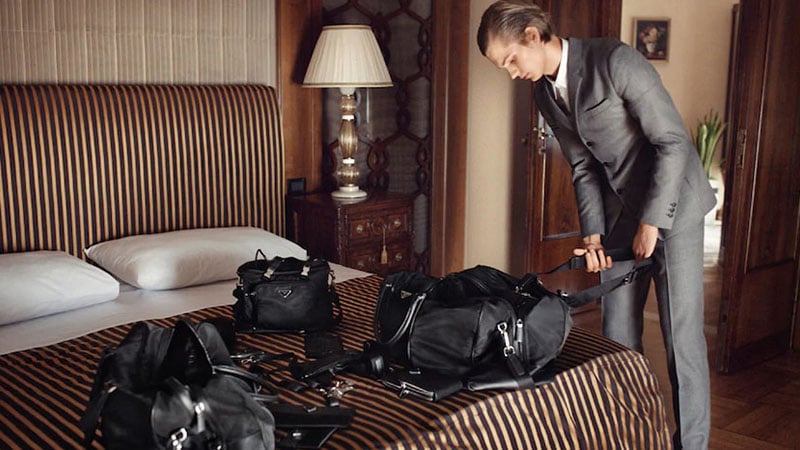 18. Gucci
Gucci represents the highest quality Italian craftsmanship. As a progressive and influential brand, it redefines modern fashion. Most of Gucci's iconic luggage features the immediately recognizable GG Supreme monogram. However, other designs also feature the GG motif in different formats, such as subtle black. Select from suitcases, duffel bags, carry-on, beauty cases, totes, and accessories pouches. The travel collection also includes collaborations with iconic brands like Globe-Trotter and Disney. The result is a mixed edit of classic elegant styling and eclectic, vibrant elements.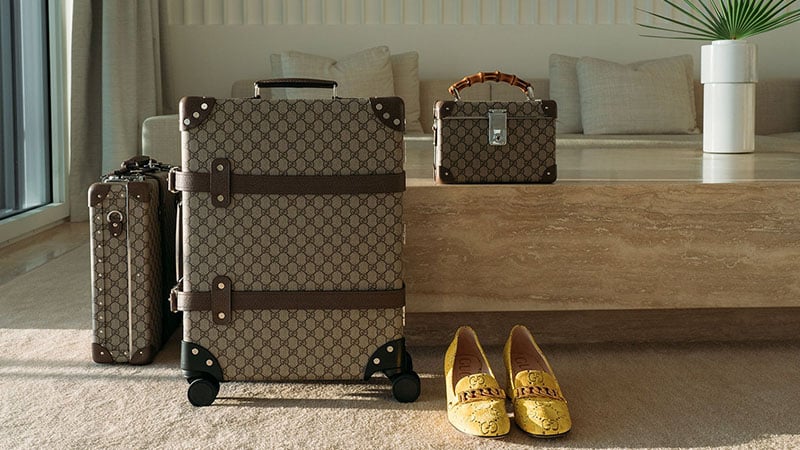 19. Thom Browne
Thom Browne is an American designer known for his reimagination of the classic men's suit. Consequently, the aesthetic of his namesake brand is timeless and dapper, with a twist. When it comes to luggage and travel bags, you'll find beautiful, clean lines, crisp details, and the label's tri-color palette of red, white, and black. However, if you are looking for something different, you can also opt for one of the eye-catching bags from the animal icons range. These include leather bags in the shape of pigs, giraffes, hippos, zebra, rabbits, and sheep, among others. They're less practical than traditional carry-on styles, but you'll have no trouble identifying which one is yours!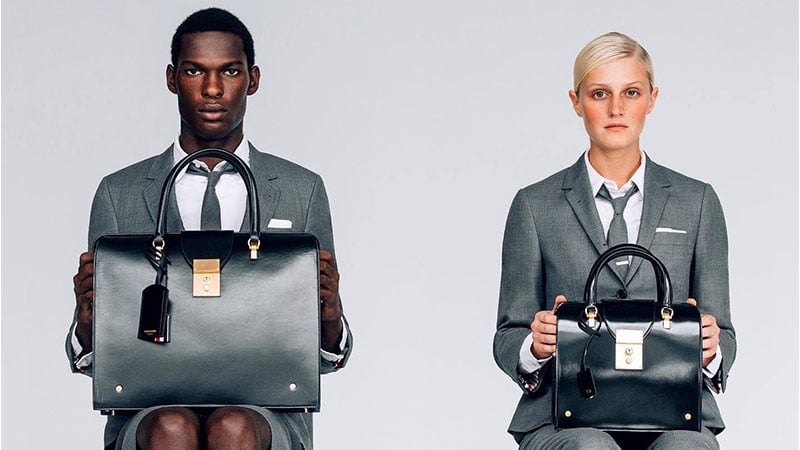 20. Saint Laurent
French luxury reigns at Saint Laurent. Established in 1961, with headquarters in Paris, Saint Laurent is one of the world's most prominent fashion brands. It pioneered the idea of ready-to-wear high fashion and changed the way women dress. Subsequently, Saint Lauren is known for its modern and iconic pieces. The travel and luggage collection consists of duffel bags, bowling bags, and totes of varying sizes. Some are ideal for a night away, while others are best suited for long weekends with loved ones. You'll also find lots of classic and elegant black, strong, sharp lines, soft and durable leather, and textured canvas.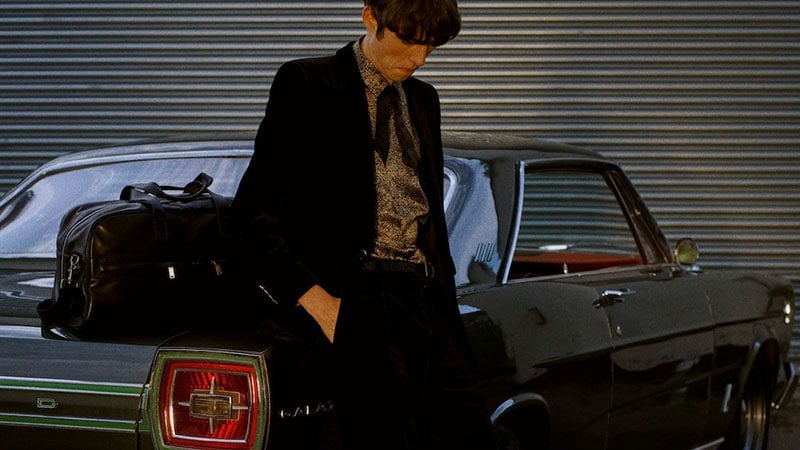 21. Brunello Cucinelli
Fashion is about more than the clothes, shoes, and bags for Brunello Cucinelli – it's about the people and community. This namesake Italian fashion brand is based in Solomeo, Italy, and began in 1978 with cashmere wool sweaters. Since then, the brand has expanded to full lines of handmade and expertly crafted men's and women's clothing, shoes, and bags. For your travel adventures, choose beautiful leather suitcases, weekend bags, duffels, backpacks, and garment bags. Every purchase contributes to charity, with 20% of the company's profits going to the Brunello Cucinelli Foundation. Some of the benefits from this include the revitalization of the Solomeo area, including the restoration of roads, churches, squares, and theatres.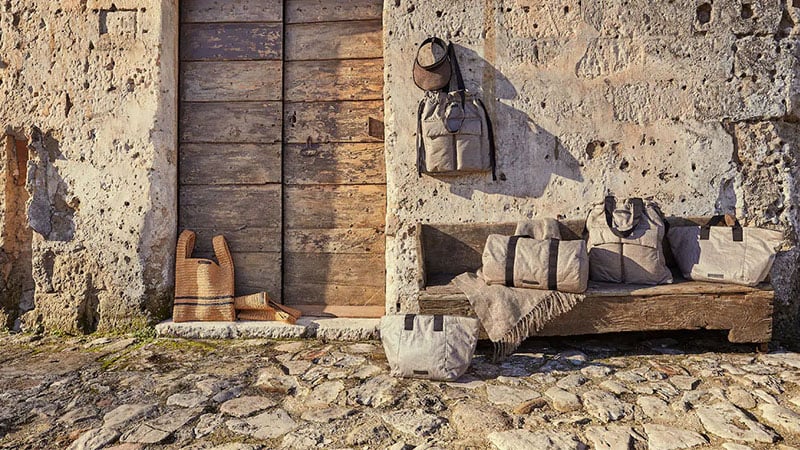 22. Ermenegildo Zegna
Up the ante on your travel style with luggage from Ermenegildo Zegna. Choose from a range of backpacks, briefcases, rolling bags, duffels, and garment bags. Many of the designs are made using PELLETESSUTA™, an innovative material exclusive to Ermenegildo Zegna. It uses intricately woven strips of lamb nappa leather that replicate traditional cloth. The result is a light, longer-lasting, and exceptionally soft product that's like nothing else on the market. The Italian company has been producing innovative and luxury fabrics for use in its various collections since 1910. As such, a piece of luggage from their range will set you apart from other travelers in the best way possible.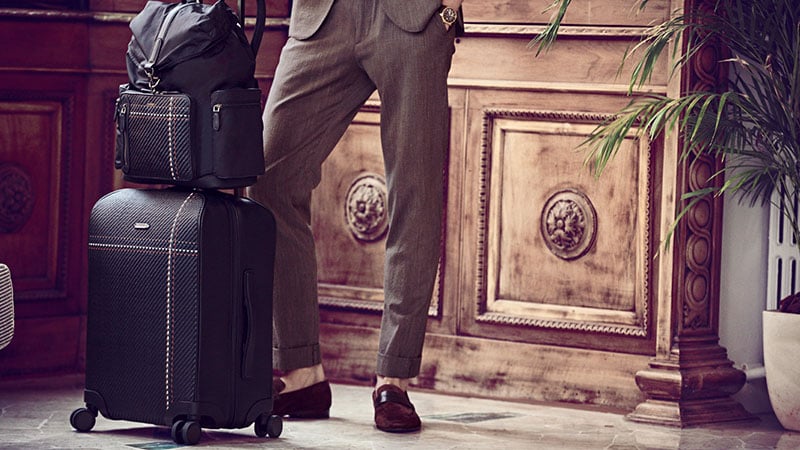 23. TUMI
TUMI is a leading lifestyle brand made for travelers. The five guiding principles of business operation are Superior Quality, Design Excellence, Technical Innovation, Functional Superiority, and World Class Customer Service. As such, you'll find a range of items that exceed your expectations. Their luggage boasts state-of-the-art features such as the Omega Closure System, X-Brace 45 handles, exclusive Tegris case material, and FXT Ballistic nylon fabric. Sustainability is also important. TUMI has a global repair network, so you can fix rather than replace any broken bags. They also invest in continual research into recycled materials, and every bag is built to last.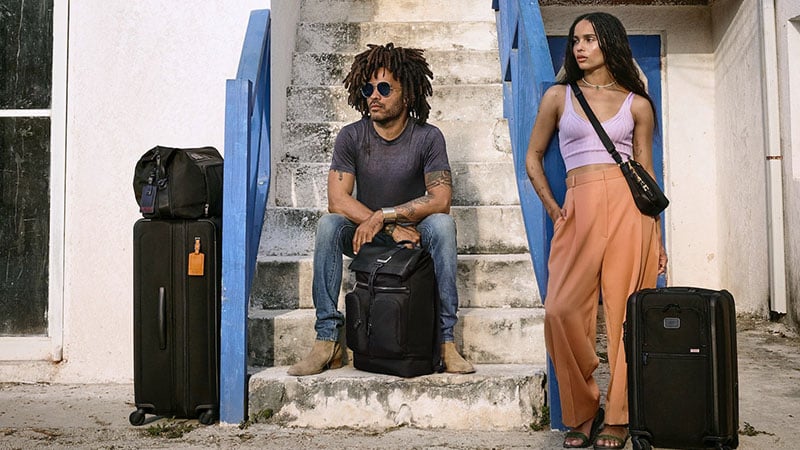 24. Arlo Skye
If style is just as important as functionality, then Arlo Skye is the luggage brand for you. It's a travel brand for design lovers. The materials used in each piece is either virgin polycarbonate or aircraft-grade aluminum alloy. This allows for excellent quality as well as good looks. The interiors also boast an anti-microbial lining that helps prevent mold growth and smells. You can also pick up a pet carrier for your furry friend that will keep them safe in transit. The brand's founders, who worked at TUMI and Louis Vuitton, bring with them extensive knowledge and experience. However, the key difference is the goal of bringing joy to what can sometimes be a boring industry. They do this through fun collaborations with brands like Sight Unsee, Dusen Dusen, and Mauna Lani Auberge Resorts.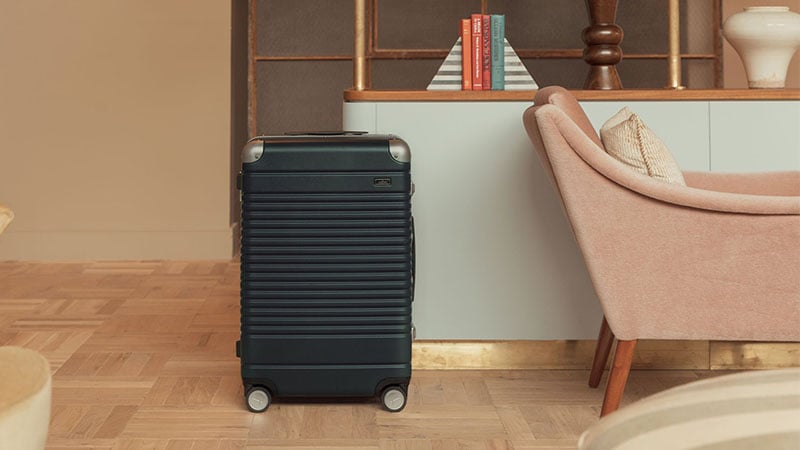 25. Bric's
Bric's is a family-owned Italian company that started in 1952. Based in Tuscany, they've been producing luxury leather goods for over 60 years. The distinct aesthetic of their products comes from vegetable-tanned leathers. It's a traditional process that alters the skin as little as possible, resulting in warm, vibrant shades that allow the leather's natural texture to show and age gracefully. Vegetable tanning is also much better for consumers and the environment as it uses fewer chemicals. In addition to leather, you'll find options made with polypropylene, nylon, PVC, and coated canvas. Explore over a dozen different collections that range from the modern and youthful B|Y ULISSE and elegant Firenze to full-grain leather Life Pelle and ultra-urban Monza.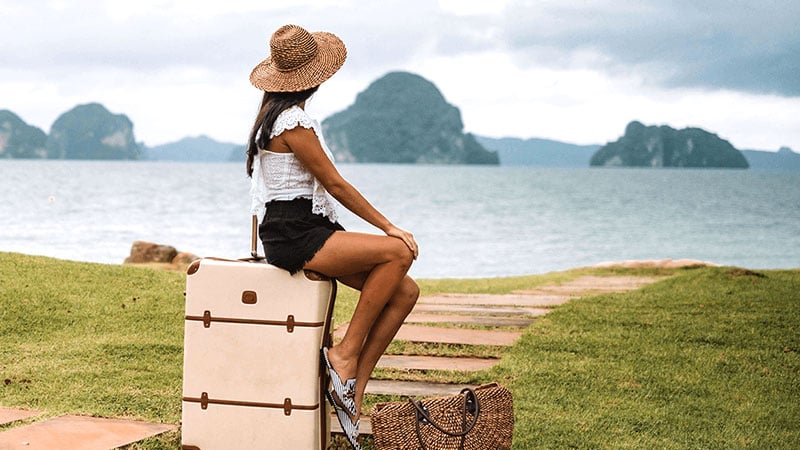 26. Valextra
Make your luggage easier to spot at the carousel with the distinctive shapes and designs from Valextra. This Milan company, founded in 1937, specializes in leather products for both men and women. It's a brand that is synonymous with luxury and timeless style. Some of the designs, like the Costa luggage set, have stood the test of time, having been released decades ago. It reflects the glamour of early air travel and the subdued simplicity of elegant design. Other options for the modern traveler include collapsible travel bags, duffels, passport holders, shoulder bags, totes, and briefcases. Of course, Valexta's leather goods don't stop at travel. You can also enjoy a selection of handbags, clutches, backpacks, and the iconic Tric-Trac wrist bag for men.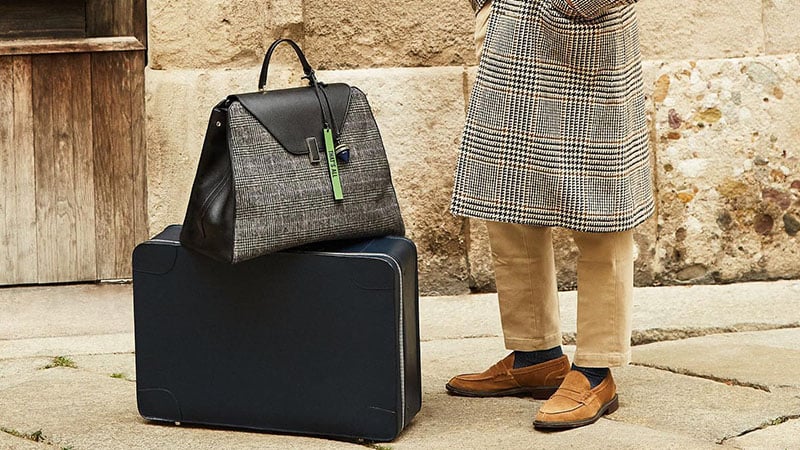 27. Briggs & Riley
It's all about innovation that solves problems at Briggs & Riley. Some of the greatest achievements include the Outsider®handle design that allows for flat-packing and more space inside the suitcase. There are also two revolutionary expansion systems. The NXpandable®system expands the capacity of your case with zipperless, one-touch activation. Then the newest CX expansion compression system adds up to 33% extra space and then compresses everything back down to the original size – it's basically magic! Despite these incredible physical innovations, it's s a customer service promise that really makes them stand out from the crowd. They offer a unique lifetime guarantee to repair your bag, no matter what. It even covers you for airline damage and transfer of ownership.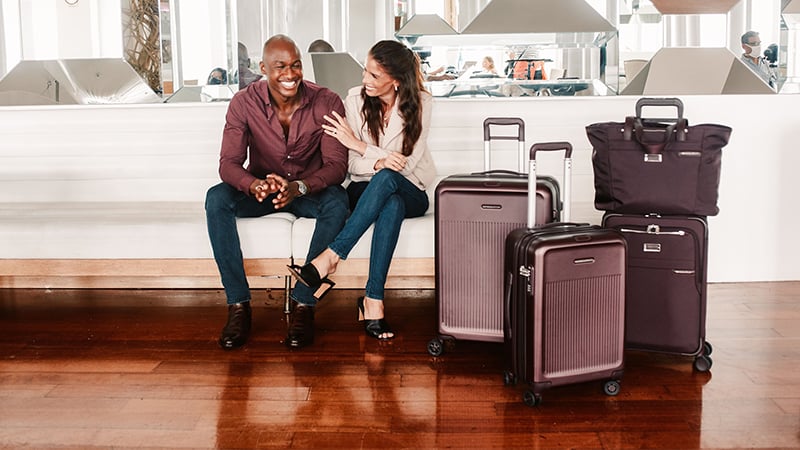 28. Hartmann
If you want to shop American, look no further than Hartmann. Born and bred in Wisconsin, the brand was established in 1877. It views luggage as the perfect accessory for discerning travelers. As such, the philosophy and styling reflect this. Practical trunks and Pullmans were the beginning of the collection and ideal for rail and steamliner travel at the time. When air travel became commercial, the designs evolved, becoming smaller and even more stylish to fit the updated travel styles. The collection of rolling bags, weekenders, garment bags, and carry-ons is ideal for the modern jet set, who appreciate the innovative designs, elegant appeal, and practicality.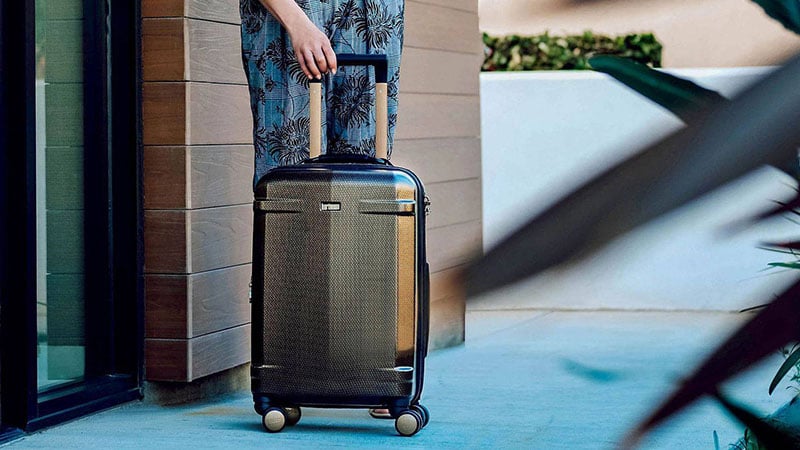 29. Mark Cross
Mark Cross has come a long way since designing the finest leather goods for horse and buggy riders in 1845. Despite various ownership changes and a brief closure in the 1990s, the brand was resurrected in 2011. Now, in the 21st century, it's a leading American lifestyle brand. Explore the range of luggage, including duffels, totes, overnight bags, folios, and luggage tags. The current collection is inspired by the archives and designs from the Golden Age of travel. Beyond travel, there are also handbags, clutches, and cross-body bags for women, and backpacks, briefcases, and messenger bags for gents.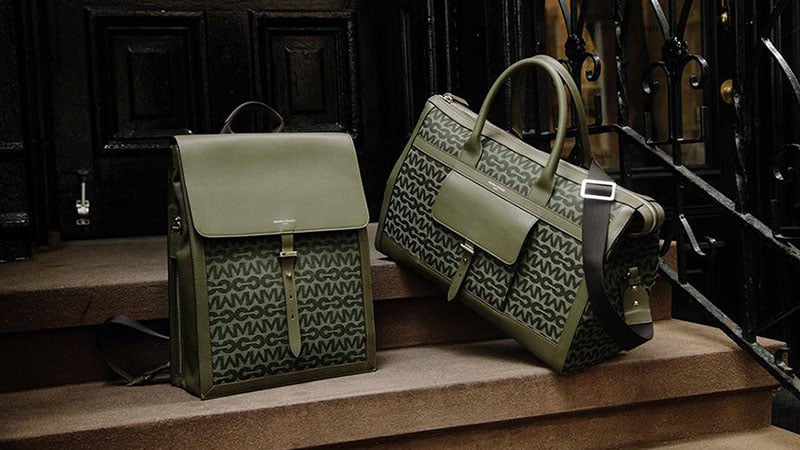 30. Ghurka
The rugged leather luggage from Ghurka takes inspiration from the bravery, loyalty, and cheerful indifference to adversity that the Ghurkas, some of the toughest soldiers in the world, show. The company was started in 1975 and boasts unparalleled craftsmanship. Choose from rolling luggage, duffel bags, backpacks, totes, and garment bags to make your traveling life as easy as possible. All the items are crafted by artisans who are experts in the art of leather goods. This is what gives them such a high-quality, luxury feel. Plus, every product is covered by the Ghurka Guarantee for its lifetime. An investment in Ghurka will last you for years.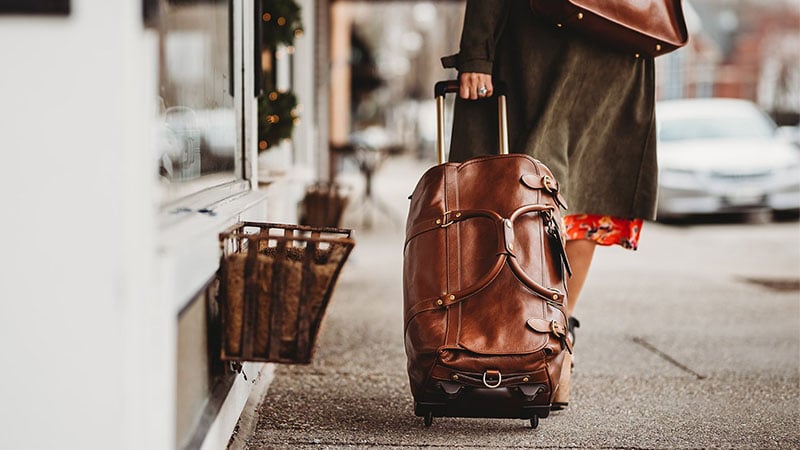 What to Look for in a Suitcase
Weight
Most airlines have very strict weight restrictions on both checked and carry on luggage. Frustratingly, this can vary between companies. It's essential to ensure your bag weighs less than the limit of the airline you're flying, so you're not hit with exorbitant excess luggage fees. As such, the lighter your bag weighs empty, the more you can pack or bring home as souvenirs. There are exceptionally light options that start around six pounds, while heavier bags can be up to 14 pounds. Many brands will list the weight in the item description, so keep an eye out for that when shopping.
Size
When choosing the best-sized suitcase, you need to find a balance between room and practicality. Ideally, you want to check the volume rather than dimensions, as this takes into account the wheels and pull-handles that can take up internal space. You also want to think about if the bag will fit in the trunk of a car or if you will be able to maneuver it upstairs or onto the top luggage shelf on the bus. In terms of cabin cases, most airlines have size restrictions so that they can fit in the overhead bin. Check with your chosen airline before you leave to ensure your case is correct. If you're a regular traveler, it may be beneficial to have a different suitcase or bag options for different travel occasions.
Security
You should always lock your suitcase to prevent tampering and thieves. The best option for this is a TSA approved lock, especially when traveling in the United States. These locks have a master key that the TSA can use for random inspections. Otherwise, they may damage your bag and belongings if you don't have one and they need to get in.
Sturdy construction
Luggage can cop a battering, especially when flying. Consequently, you want to choose a bag that is sturdy. Look for good construction that has the handles and wheel firmly secured to the body. These can be the weakest points and most likely to break. Generally, hard cases are considered better for both wear and content protection, but you don't benefit from external pockets. However, soft cases can have more flexibility with expandable panels and pockets for more organized storage. Other features to consider are sturdy zippers and thick yet flexible materials on the outers.
Handles
More is more when it comes to handles on suitcases and luggage. Having options on the top and sides is excellent because it means no matter how and where you need to move the bag, you can. Plus, some airlines like to put the tag on one or the other and get annoyed if that's not an option. Trolleys, of course, should have a telescopic pull handle, while duffels and holdalls also benefit from a shoulder strap.
Wheels
The wheels on your suitcase can make or break the experience. It's like when you go to the supermarket, and the trolley has one uncontrollable wheel, it makes life much more difficult. The same goes for luggage. As such, look for good quality, sturdy wheels. Most case styles will have either four wheels, known as spinners, or two wheels for pulling. Spinners can move 360-degrees and are generally the easiest to maneuver, and are more versatile. However, two wheels are great for traversing curbs and uneven terrain.
Storage
When it comes to storage, you need to balance enough room for the essentials without giving yourself too much space to overpack. Choose the smallest case your comfortable with, as this will also help with weight restrictions. When buying a new case, try to look for the volume rather than dimensions. Wheels, telescopic handles, and other structural elements can take up room internally, which will affect how much you can fit. The exception for volume over dimension is carry-on due to the strict limits on the size for cabin storage.
Zips
The zips on your luggage should glide smoothly and not snag or get caught. You also want large tabs for easy grabbing and holes that allow you to use a padlock for security.
Internal straps
Internal straps for large cases are ideal for keeping the contents secured. Your bags will probably be in every position known to man during loading, flight, and unloading, so you want to avoid loose items from moving about. This will ensure your case isn't a shambles when you arrive at the destination and that your belongings don't get damaged. Ideally, the straps will either be adjustable or elastic, so they fit securely no matter what you packed.
Water resistance
The weather certainly doesn't care about your vacation wardrobe, so it's best to choose something water-resistant. When flying, bags can sit on the tarmac for a while before loading, so rain can easily get in. Hard cases are the better option when looking at waterproofing; however, water can still get in at the zip. Alternatively, leather and soft-cases can soak up moisture more easily, though many designs will have a waterproof lining. Just keep in mind that no bag is fully waterproof, so valuables are best stored in your cabin bags.
Expandability
Expandable bags are great, especially if you plan on shopping while on vacation. This feature is most common in soft-shell suitcases. There'll be an extra panel that's zippered the whole way around, so when unzippered, you can get up to 10% more room. Just remember that if you're close to the airline's weight limit, packing souvenirs into this extra space could push you over!
Cost
While cost is a factor in buying new luggage, it shouldn't be the primary concern. Think about how often you'll use your bag, how long you want it to last, and what you'll be using it for. If you're a regular traveler or fly a lot, it can be beneficial to pay more upfront for a quality piece of luggage that will last for years. Alternatively, spending top dollar if you only vacation once in a blue moon may not be worth it. Generally speaking, the more expensive the case, the better the product. However, it's best to do your research and read reviews before purchasing. Always buy from reputable brands that have good customer service in case anything does go wrong. Pricing for luggage can range from $100 to several thousand dollars.
FAQs
What is the best quality luggage brand?
Some of the best quality luggage brands include Victorinox, Samsonite, American Tourister, Briggs & Riley, and Delsey.
What are the top luggage brands?
Some of the top luggage brands include Victorinox, Samsonite, and American Tourister. They focus on quality and durability at an affordable price.
What is the most expensive luggage brand?
Louis Vuitton has some of the most expensive luggage, as does Globe-Trotter and Away.
What is the best size luggage for international travel?  
The best luggage size for international travel adheres to airline weight and size limitations and finds the balance between being practical to move around and storing enough gear. A rolling suitcase between 25-30-inches tall is ideal for checked-in luggage, though 28-inches and above can be a bit large for shorter people. When it comes to carry-on, generally, your bag should be less than 22-inches long. If you're opting for a backpack, it might be tempting to go as large as possible, but don't forget you have to carry it and ideally don't want lasting back issues.
What size luggage do I need?
The size of your luggage will depend on where you're going and how long for. If you're just heading away for the weekend, a holdall, cabin case, or duffel bag is sufficient. However, for longer trips, a suitcase is more likely to serve your needs. The ideal size for checked luggage is between 25-30-inches tall, as this should keep you within the weight range and be easy enough to move. Of course, destination plays a role too. You'll probably need more room for bulky clothes if you're heading somewhere cold, whereas swimmers take up less space when heading somewhere warm. Preferably, you'll choose the smallest size your comfortable with. This will keep you under the weight limits, remove the temptation to overpack, and still be maneuverable. Having a few different suitcase and bag options will make this easier. 
Should I choose 2 wheeled or 4 wheeled luggage?
Generally, four-wheeled luggage is easier to maneuver, is more versatile, and better balanced. However, two wheels tend to be more robust, less prone to damage, and better on uneven terrains such as cobblestones or grass. 
Should I choose soft side or hard-shell luggage?
There are pros and cons to both soft and hard shell luggage. Hard shells tend to be more durable, have better water-resistance, and be lightweight. However, they don't have external pockets or the ability to expand. On the other hand, most softshell cases can expand for extra room and have multiple exterior pockets for extra storage. Keep in mind; external pockets will need separate locks. Finally, softshells are less waterproof, but many do have a water-resistant lining. Ultimately, the choice can come down to personal preference and experience. 
Do airlines prefer hard or soft luggage?
Airlines typically don't care what your bag is made of, so long as it doesn't exceed weight limitation. 
What's the best color for luggage?
Bright colors can make it far easier to find your bag at the luggage carousel; however, they will show wear and tear much quicker than black. A classic black is a great option, but also the most common. If you go for black, add a brightly colored accessory, such as a scarf tied around the handle, to make it easier to identify as yours. 
Which extra features should I consider?
Shopping for luggage isn't always comparing apples with apples, as there are often lots of optional extra features. Some are built into the bags, while others you can buy separately. Good things to consider include inbuilt USB chargers so that you can power your phone or laptop on the go. You can also get some fantastic tech advancements such as GPS or Bluetooth tracking to keep an eye on your luggage's location. Then there's the option of increased security through a biometric or fingerprint lock. However, if you choose this option, look for a TSA approve one, so they don't have to damage your bag when doing random checks. Finally, you can also look at extra storage such as pockets and pouches to separate your belongings. 
SUBSCRIBE TO OUR NEWSLETTER
Subscribe to our mailing list and get interesting stuff and updates to your email inbox.