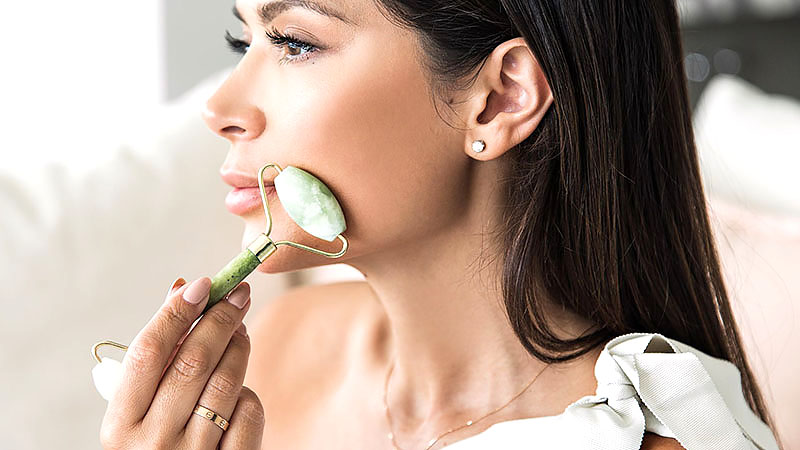 The use of jade rollers dates back to early Imperial China when it was used among the elite as an anti-aging and beauty tool. It has been used in the West since 2016, thanks to the increasing popularity of contouring, beauty influencers, and society's never-ending search for youthfulness. Incorporating rolling into your daily beauty routine has many benefits. Jade has a wonderful cooling effect, as well as revitalizing and calming properties to reduce redness. The gentle massage of rolling is excellent for lymphatic drainage and improved blood circulation, as well as reducing puffiness, releasing toxins, and relaxing your muscles. All of this results in firmer, brighter skin. You can keep your jade roller in the fridge for extra cooling and can use it when applying moisturizer for better absorption.
1. NSOSAUE Natural Jade Roller
The NSOSAUE jade roller and gua sha tool arrive at your door in a beautiful gift box, making it the perfect present for yourself or a loved one. Both the roller and gua sha stone are made of authentic jadeite, which brings with it metaphysical peace and harmony. The zinc-alloy frame of the roller is designed to eliminate squeaking as you're massaging. Meanwhile, the heart-shaped gua sha tool is optimized to hug the contours of your face. Enjoy tighter, firmer skin, as well as reduced fluid retention, improved elasticity, and better product absorption.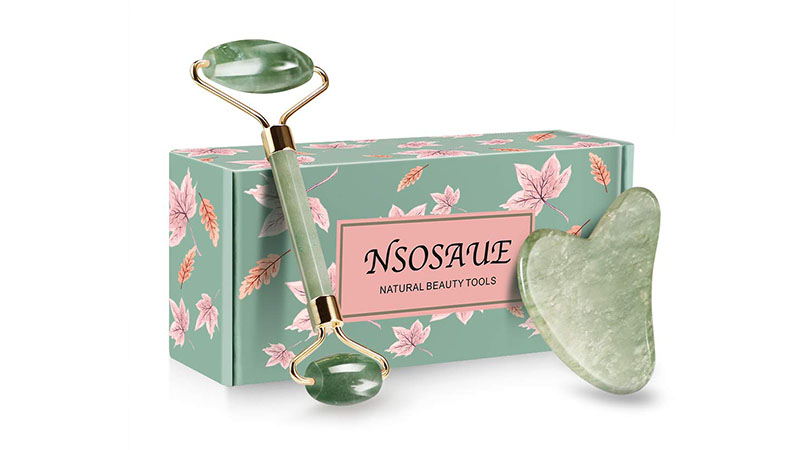 2. Herbivore Botanicals Jade Roller
Use this beautiful tool from Herbivore Botanicals to relax and de-stress at the end of a long day. The jade roller is made in the USA and comes with a compact storage box to keep it safe when not in use. Regular facial massage will help to detoxify the skin and support the lymphatic system. Plus, you'll enjoy a firmer-looking face, smaller pores, and reduced lines and wrinkles. Lastly, jade can also bring both peace and harmony and lower stress levels.
3. Atahana Jade Roller
This beauty set from Atahana is perfect for jade roller beginners. It comes with both a roller and a gua sha tool, made from genuine, authentic Xiuyan jade, from China. Plus, you'll also have access to an esthetician-led video tutorial and an ebook to learn the perfect rolling technique for lymphatic drainage. Additionally, the gua sha tool is also used for facial massage and drainage, as well as massage for other areas of your body. With regular use, you'll see reinvigorated skin, reduced wrinkles, and tightened pores.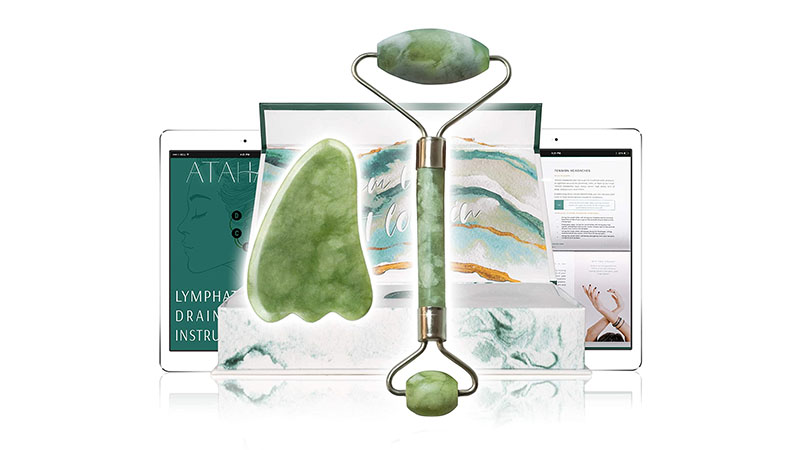 4. Ethons Jade Roller
Enjoy the luxurious and cooling feel of jade against your skin with both the gua sha tool and roller that comes in this set from Ethons. Both the small and large stones roll smoothly across your face, allowing easy pressure control, so your massage feels fantastic. Not only will you relieve general tension, but this jade roller can also help alleviate headaches and jaw pain with its calming and relaxing effect. Use the gua sha tool for extra pressure, or neck and upper back massage. Combine your rolling with the application of your night cream or oil for the perfect at-home-facial feel.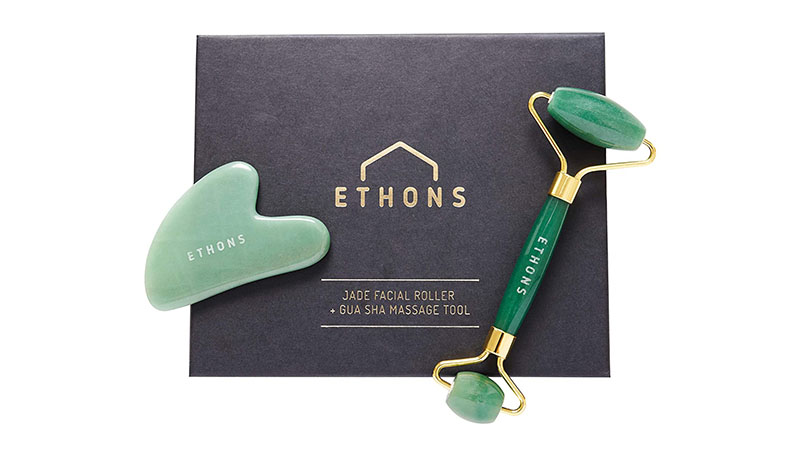 5. Skin Gym Jade Workout Set
Even the muscles in your face need a regular workout to get them looking and functioning at their best. This set from Skin Gym features both a premium jade roller and a gua sha stone. Combine the use of both to remove negative energy, release facial tension, and give your skin a beautiful radiance. Tackle your eye area with the small stone in the roller, and cheeks and forehead with the large end. Then, the shape of the gua sha stone is ideal for sculpting along your jawline and forehead, removing fluid build-up and toxins. You can use both on a clean face or with your daily serums or moisturizer for improved slide and product absorption.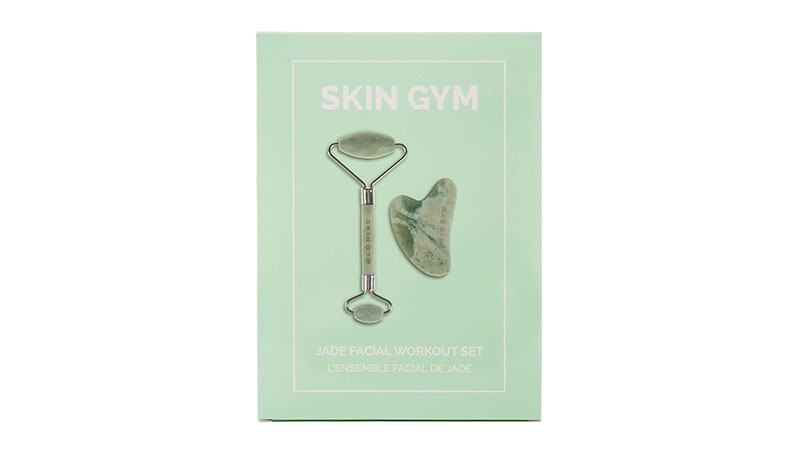 6. RoselynBoutique Jade Roller
The RoselynBoutique roller is made from genuine, natural Xiuyan jade. As such, it feels cool and refreshing against your skin. Start and end your day just right with 10 minutes of gentle rolling massage. You'll experience benefits such as reduced puffiness, increase collagen production that plumps fine lines, and toned skin. Finally, you can use it in conjunction with beauty products such as serums and moisturizers, or simply by itself.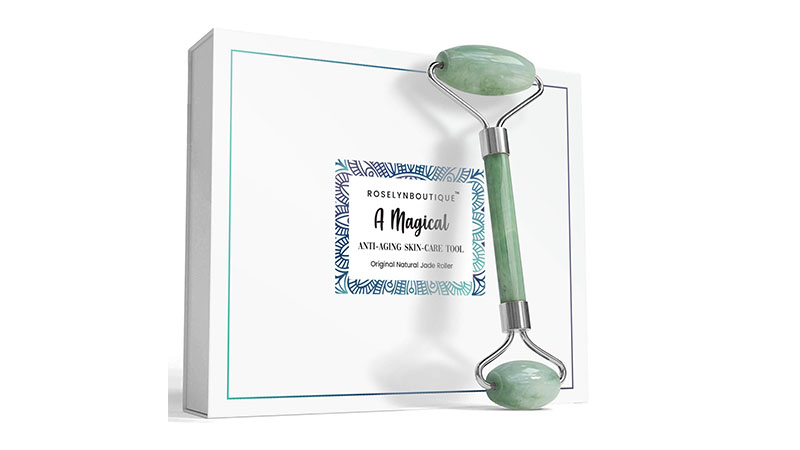 7. EcoTools Jade Roller Duo
This duo from EcoTools includes a jade roller as well as a massage stick, specifically for the eye area. Both products are designed to reduce puffiness and encourage the breakdown and drainage of toxins in the face muscles and skin. The roller works like many others. Use a gentle, outward movement across your forehead, cheeks, chin, and jawline. Additionally, you can pop it in the fridge for extra revitalization, or use it in sync with your favorite beauty products. Then, to use the eye tool, apply your favorite eye cream and use a gentle sweeping motion from the inner corner outwards. Finally, all EcoTools are cruelty and tree-free, using renewable bamboo in the place of wood and a cotton-bamboo blend for paper packaging.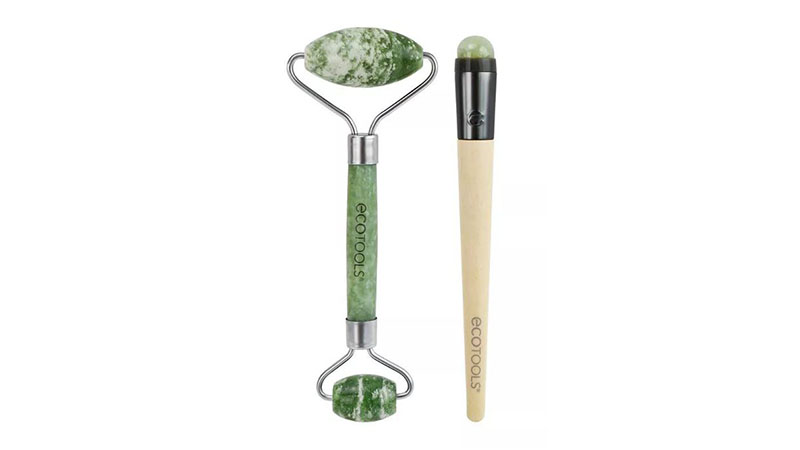 8. Province Apothecary Dual Action Jade Roller
Unlike other jade rollers, this one from Province Apothecary has both a studded and a smooth stone end. As such, you've got twice the benefits. The studded end provides extra stimulation to the skin, boosting elasticity and circulation while decreasing puffiness and fine lines. On the other hand, the smooth stone has a beautiful calming effect and encourages lymphatic drainage and muscle relaxation. Because the studded end is more rejuvenating, it's best to use it at night only. However, the smooth stone is perfect for adding to both your morning and evening beauty routines.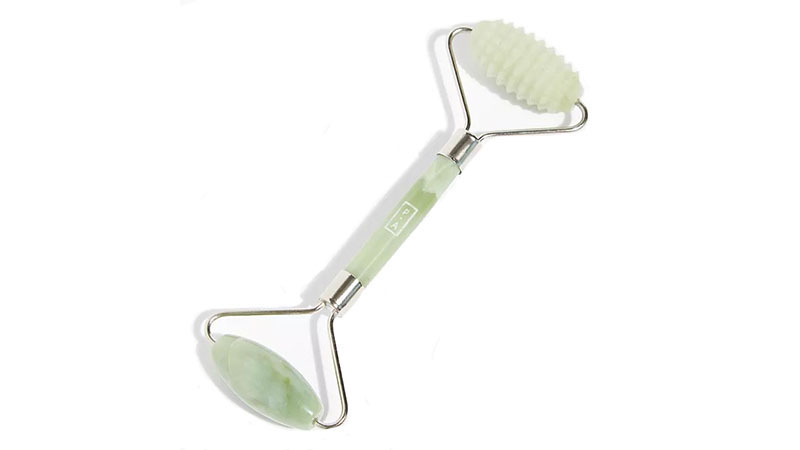 9. Gracious Om Jade Roller
Gracious Om, which is a female-owned company, approaches skincare to promote self-love and acceptance. Therefore, you can roll away your worries and embrace your inner zen with this jade roller made from Hsiuyen jade. Relax your facial muscles, and encourage collagen production with regular massage. Plus, you'll also benefit from the reduction of fine lines, and increased firmness. The combination of a large and small stone means this tool is great for use on the face or neck and around the eyes.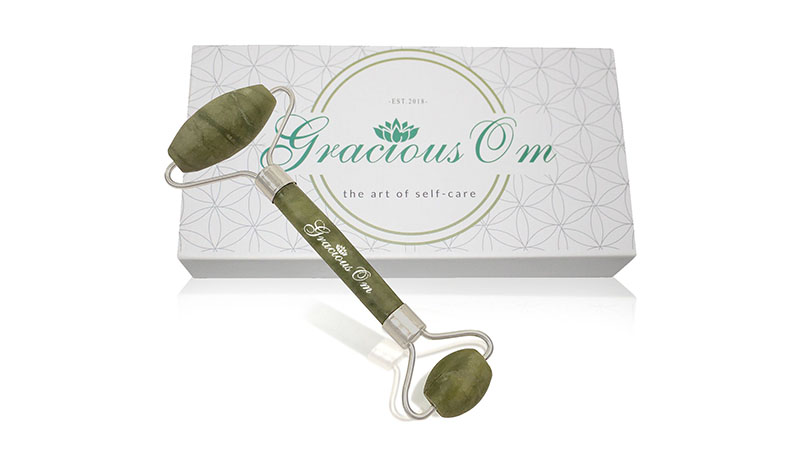 10. Well Done Crystal Jade Roller
Jade is not only a cooling stone; it's associated with youth and well-being. As such, using it in a facial roller like this one from Well Done promotes health and detoxification. The small roller is perfect for reducing puffiness and fluid retention in the eye area. Meanwhile, the large stone works best in outward motions across your forehead, cheeks, and jawline. With regular use, you'll enjoy a reduction in wrinkles, as well as an increase in natural collagen production and better skin elasticity for a more youthful appearance.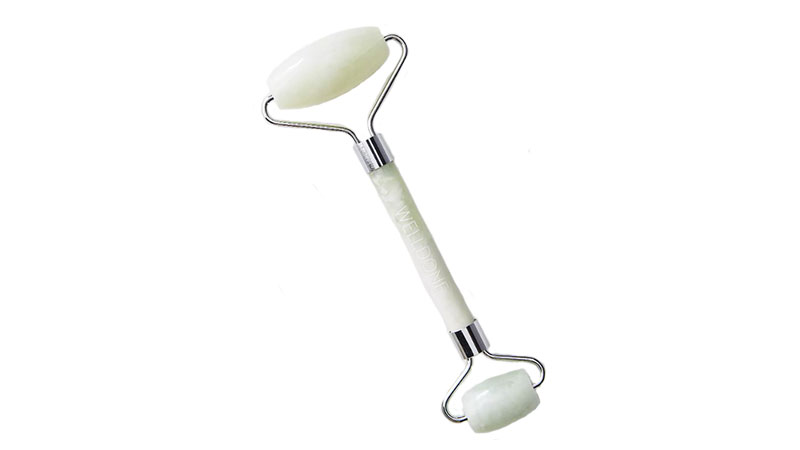 11. Lebeaut Jade Roller
Incorporate both a gua sha stone and jade roller in your beauty regime to double the benefits to your skin. To use the gua sha stone, hold it at a 15-degree angle as you run it firmly, but gently across your face. Then, for the roller, apply light pressure and outward movement to experience muscle relaxation and improved, radiant skin. Both of these methods help with lymphatic drainage and skin elasticity while feeling fantastic at the same time. Finally, these two tools also come in a protective box for convenient storage.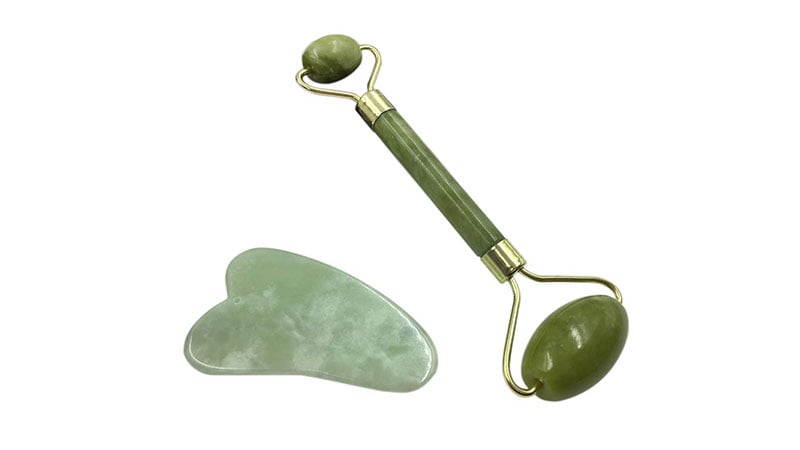 12. Beauty by Earth Jade Roller
Improve your self-care routine by adding daily facial massage using this high-quality roller from Beauty by Earth. Plus, be confident in your purchase, knowing the company offers a 30-day moneyback guarantee. This tool is a pure delight to use. Roll it across your face with your moisturizer or serum to experience reduced facial tension and puffiness, plus an increase in overall relaxation. Additionally, you can cool the roller down in the fridge before use for an invigorating feeling that leaves you refreshed and awake.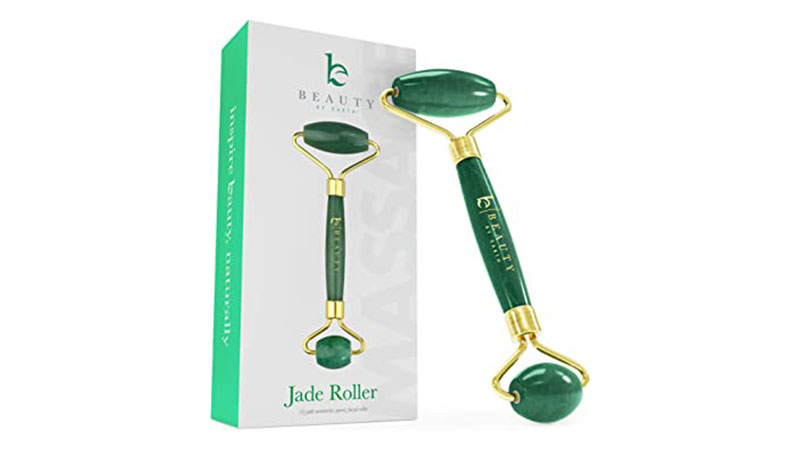 Jade Rollers FAQs
What are the benefits of a jade roller?
Incorporating rolling into your daily beauty routine has many benefits. Jade has a beautiful cooling effect, as well as revitalizing and calming properties to reduce redness. The gentle massage of rolling is excellent for lymphatic drainage and improved blood circulation, as well as reducing puffiness, releasing toxins, and relaxing your muscles. All of this results in firmer, brighter skin.
Which is better jade roller or rose quartz?
Both jade and rose quartz are good in different ways. Rose quartz is very cooling, has minerals such as magnesium and iron, and is great for wrinkle reduction. It's also a bit more durable as it's a harder rock. Jade, on the other hand, is more adaptive to the skin and is better for contouring as it's not as smooth as other gems, so it grips more. When it comes to more spiritual crystal properties, rose quartz is an emotional healer, while jade is calming and carries healing energy.
Do jade rollers really work?
Jade rollers have a similar effect to any facial massage in that it will boost circulation and make your skin brighter and less puffy. The cooling effect also reduces redness but won't improve conditions such as eczema. Of course, consistency is key with any beauty treatment, and you should regularly roll to see results. You also need to be wary of bacteria build-up in your roller and disinfect it often; otherwise, you risk infection and irritation.
How can you tell a fake jade roller?
The best way to tell if a jade roller is genuine is to look for natural imperfections and color variations in the stone. It should be a forest or milky green with paler or white swirls, cracks, or black dots — not one smooth shade. Real jade is also cool to the touch and is scratch-resistant, so it won't mark if you gently scratch it with a pair of scissors. It also feels heavier than it looks and sounds like glass when tapped. Finally, if it's less than $20, it's probably not authentic.
Do you use a jade roller after moisturizer?
Yes, it's good to use a roller after moisturizer to better help the stone glide across your skin and promote better absorption of the products.
How do you sanitize a jade roller? 
The best way to clean your jade roller is with warm water, a gentle soap such as your regular face cleanser, and a soft cloth. Just dip the material in the soapy water and gently wipe the tool over, removing any product or oil. Don't use any harsh chemicals like alcohol or acetone, as this can damage it. Then leave it to sit on a clean, fresh towel to completely dry before putting it away.
SUBSCRIBE TO OUR NEWSLETTER
Subscribe to our mailing list and get interesting stuff and updates to your email inbox.