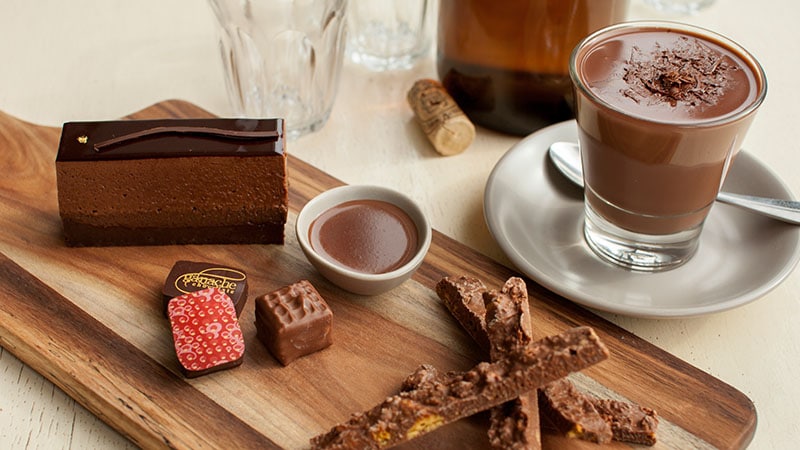 While it may not have seemed possible, the hot chocolate just keeps getting better, and Melbourne boasts some of the best around. Although the city is typically known for its incredible coffee, it can cater just as well to those who prefer their hot beverages on the sweeter side. From classic creations made with the finest cocoa to innovative options featuring smoke, chilli, and sometimes even cheese, Melbourne's hot chocolate scene is a delicious melting pot of flavours and ideas. To sample the best cups, you just need to know where to go. As such, we've rounded up the top hot chocolate cafes that the city has to offer so that you can start sipping straight away.
RELATED: 30 Best Cafes in Melbourne
1. Mörk Chocolate Brew House
When it comes to getting a great hot chocolate in Melbourne, nowhere beats Mörk Chocolate Brew House. The North Melbourne cafe, which is also an on-site cacao roasting facility, it serves up some of the best hot chocolates that you'll ever taste. In fact, Mörk's hot drinks are so delicious that the business also supplies other Melbourne cafes with their fantastic chocolate. But why go elsewhere when you can visit the source? While the cafe serves up plenty of great hot chocolate options, the Campfire Chocolate is a must. The innovative beverage is served with a smoke-filled stemless wine glass, a jug of 70% drinking chocolate, and a charred marshmallow.
Website: www.morkchocolate.com.au
Location: 150 Errol St, North Melbourne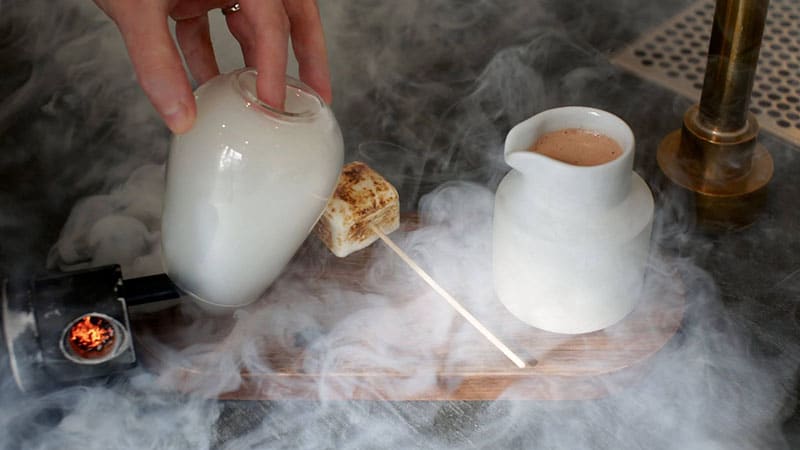 2. East Elevation
East Elevation shares its Brunswick East space with the artisanal chocolate makers of Monsieur Truffe, so you can trust that the cafe creates exceptional hot chocolates. Served in a terracotta mug with a small wooden paddle, every East Elevation hot chocolate is delicious and indulgent. While the ultra-rich 70% Monsieur Truffe Couverture house blend is a must for first-timers, there are other unique and exciting options to keep you coming back. The Peanut Hot Choc is certainly one to try, as is the Jaffa Hot Choc, which features a cheeky shot of triple sec and a candied orange peel to garnish.
Website: www.eastelevation.com.au
Location: 351 Lygon St, Brunswick East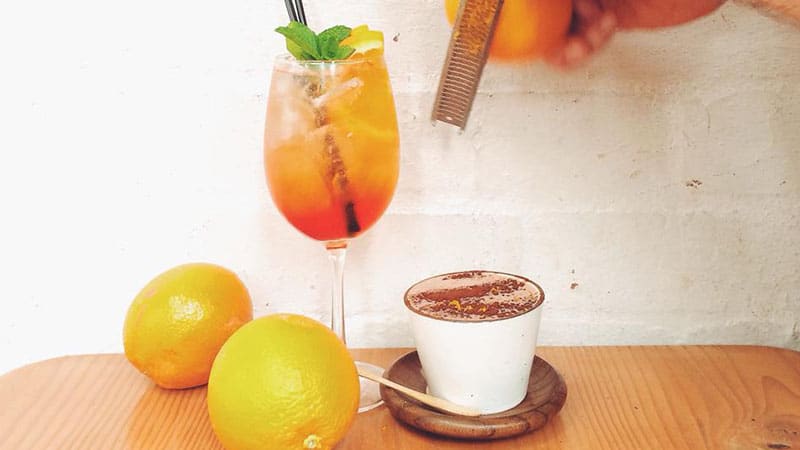 3. Sonido
You can experience hot chocolate the traditional Colombian way at Sonido. The South American cafe in Fitzroy serves up imported Corona drinking chocolate for an authentic Colombian experience. The chocolate is mixed with almost boiling milk and served in a jug-shaped saucepan. You're also provided with a wooden whisk to make it extra frothy. While the standard option is delicious and divine, don't hesitate to try it "con queso" or with cheese. Adding cheese to hot chocolate is a typical Colombian act and one you've got to try. The creamy, white cheese softens slowly in your mug as you pour the hot chocolate over, creating a unique and extraordinary flavour.
Website: www.sonido.com.au
Location: 69 Gertrude St, Fitzroy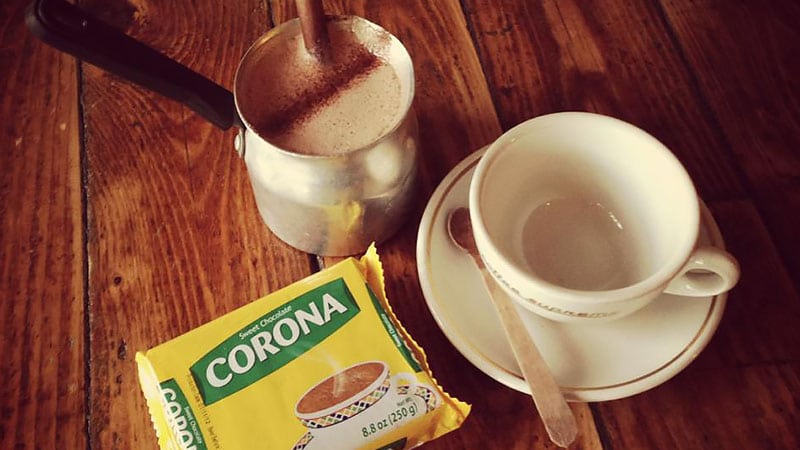 4. Koko Black
With locations all over Melbourne, Koko Black provides countless locals with exquisite chocolates and hot chocolates every week. The artisan chocolatier's hot chocolates are blended and brewed over two hours to achieve a smooth, velvety texture. Each signature flavour is made fresh daily and combines a balanced blend of 54% dark couverture chocolate and milk. On offer is not only a great Belgian Hot Chocolate, but also mocha, orange, cinnamon, and hazelnut options. For those extra cold days, you can also warm up with Koko Black's sweet and spicy, Chilli Hot Chocolate.
Website: www.kokoblack.com
Locations: CBD, Chadstone, Doncaster, Highpoint, and Carlton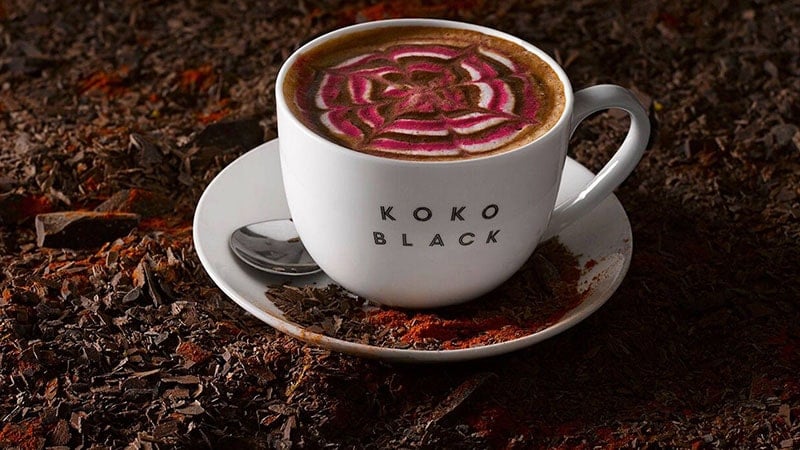 5. Brunetti
You can't call yourself a true hot chocolate lover if you've never been to Brunetti. The must-visit Melbourne cafe, which has locations in Carlton and the CBD, offers the best Italian-style hot chocolate in town. Head there on a winter's day when you need a pick-me-up, and you won't be sorry. The decadent drink has an intense flavour and is incredibly thick, making it perfect for those with a serious sweet tooth. After just a few sips, you'll instantly be feeling warmer and happier.
Website: https://brunettioro.com.au/
Location 1: 380 Lygon St, Carlton
Location 2: Level 3, Myer Melbourne, Bourke St, Melbourne
Location 3 (coming soon): 250 Flinders Ln, Melbourne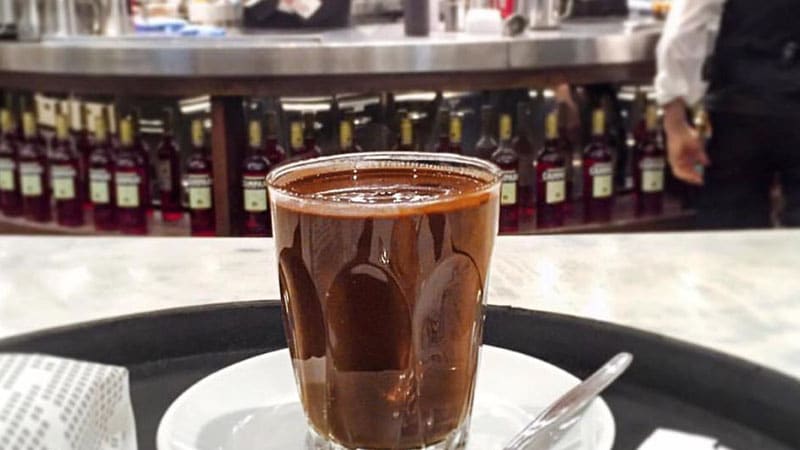 6. Hash Specialty Coffee and Roasters
If you're looking for a hot chocolate with a point of difference, Hash Specialty Coffee and Roasters is the place to go. The cafe is located on Melbourne's Hardware Street and serves up a hot chocolate that's part beverage and part science project. Upon ordering the unusual drink, you'll receive a beaker of Mörk hot chocolate and a cup of towering milk-flavoured fairy floss. Then, all you need to do is pour away. As soon as the hot chocolate hits the top of the fairy floss, the floss will melt away into the mug below. The result is a combination of the two that makes for a delicious and decadent hot chocolate.
Website: www.facebook.com/hashcoffeeroasters
Location: 113 Hardware St, Melbourne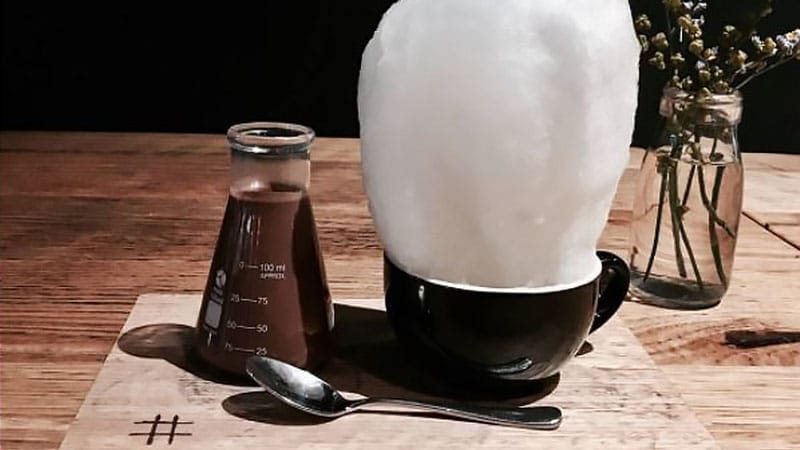 7. Ganache Chocolate
Ganache is known for its beautifully crafted chocolates, and its hot chocolates are just as good. The options available are also excellent, meaning that you'll find yourself spoilt for choice when visiting. While there's always a classic choice for the traditional hot chocolate lover, there's also cinnamon, chilli, mint, hazelnut, salted caramel, white, milk, white chai, espresso, and vegan-friendly options available. When heading to Ganache's South Yarra location, don't forget to check out the liqueur hot chocolates. Created with 60% dark couverture chocolate and infused with a shot of Frangelico, Cointreau, Kahlua, or Baileys, these drinks are devilishly good.
Website: www.ganache.com.au
Location 1: 250 Toorak Rd, South Yarra
Location 2: 245 Collins St, Melbourne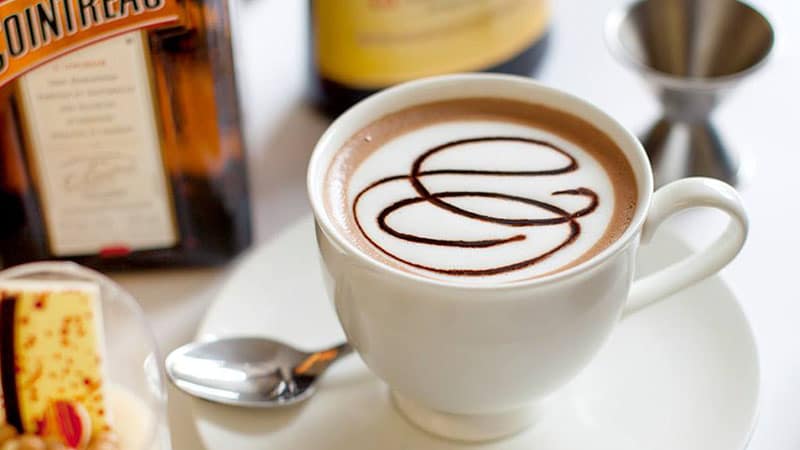 8. Hardware Societe
Hardware Societe is one of Melbourne's most beloved spots to eat for a good reason. The French cafe/restaurant dishes up some of the best food and drinks in the CBD, including its high-quality hot chocolate. Served in a generous jug for the ultimate sweet fix, Hardware Societe's hot chocolate features homemade ganache with cream and 54% dark Callebaut chocolate. The drink is so delicious that it'll even make waiting for a table on a cold day well worth it.
Website: www.facebook.com/Hardware-Societe
Location: 120 Hardware St, Melbourne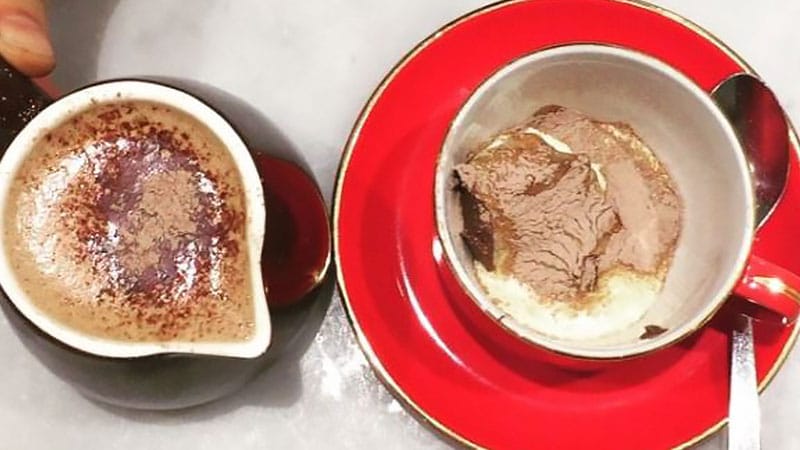 9. Bowery to Williamsburg
When the craving for a sweet sip of chocolatey goodness arises, Bowery to Williamsburg has you covered. The CBD cafe offers an incredible peanut butter hot chocolate that you must try. The beverage is created with peanut butter caramel syrup and peanut butter ganache. But don't worry if you think it'll be too decadent for your taste buds. The caramel and high-quality chocolate tone down the sweetness, leaving an excellent flavour with a subtle, nutty taste. The drink is also served with a mini Reese's Peanut Butter Cup to complete the palatable purchase.
Website: www.facebook.com/bowerytowilliamsburg
Location: 16 Oliver Ln, Melbourne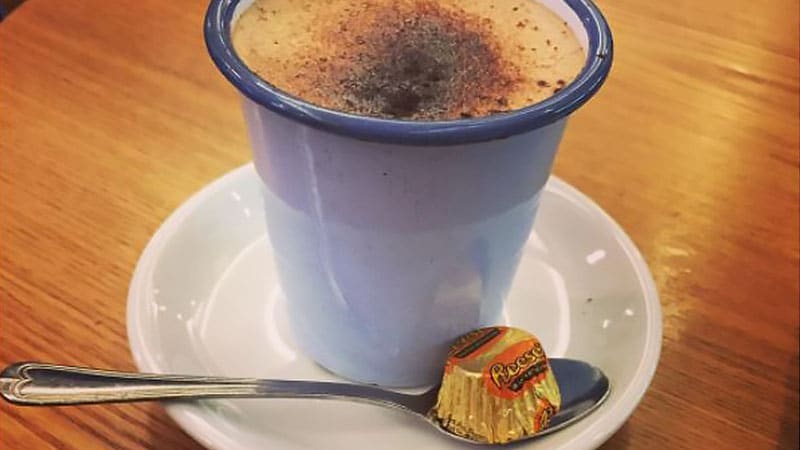 10. Seven Seeds
While many Melburnians head to Seven Seeds for the excellent coffee, the Carlton cafe also serves up some seriously good hot chocolate. The flavour is the perfect level of sweetness while the mug size is just right. Like a lot of great hot chocolates, Seven Seeds' option includes delectable Mörk cocoa. Although that already makes for a great cup, the cafe masterfully finishes off its hot choc with a thick bar of chocolate. Then, all you need to do is watch it melt, stir it in, and sip away in blissful happiness.
Website: www.sevenseeds.com.au
Location: 106-114 Berkeley St, Carlton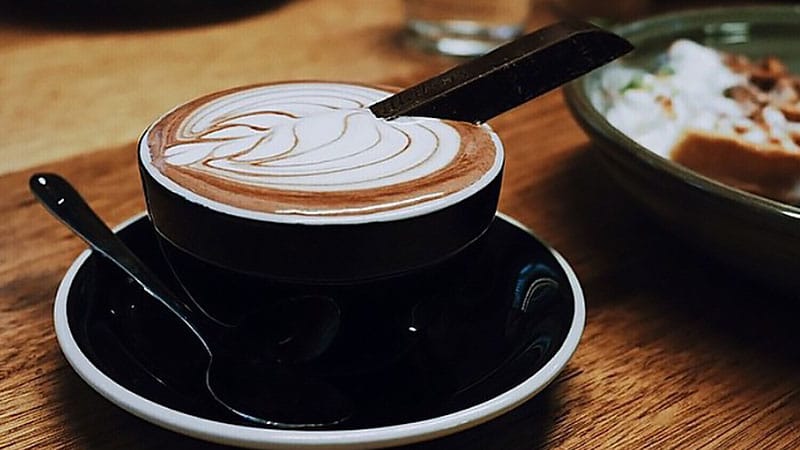 FAQs
Where can I find the best hot chocolate in Melbourne?
If you're looking for the best hot chocolate in Melbourne, head to Mörk Chocolate Brew House, East Elevation, or Sonido.
What is the best hot chocolate brand?
Some of Melbourne's best hot chocolate brands include Monsieur Truffe, Mörk, and Koko Black.
SUBSCRIBE TO OUR NEWSLETTER
Subscribe to our mailing list and get interesting stuff and updates to your email inbox.