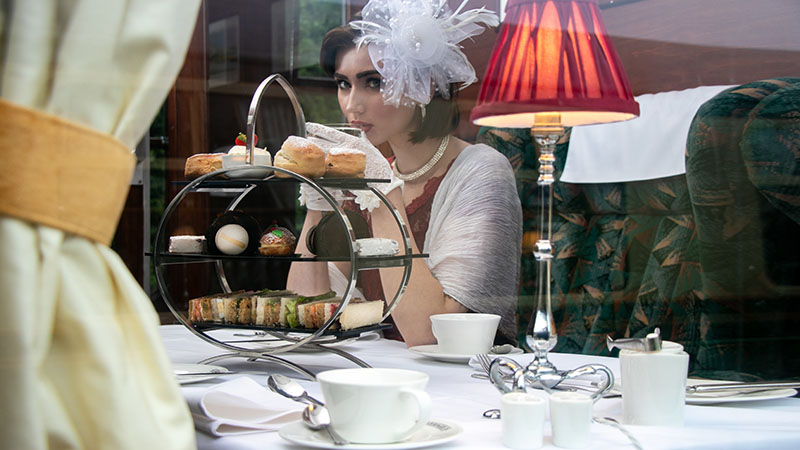 High tea is an English tradition like no other. Invented in the 1840s by Duchess of Bedford, Anna Maria Russell, high tea was afternoon tea, enjoyed by the masses of the English upper class. Today, this tradition is for all, and Sydney has some of the best places to indulge in the traditional affair. With jaw-dropping views, mouthwatering desserts, vegan options, and modern twists, there's something on this list for everyone. There's nothing quite like high tea, and these locations are so exquisite, they'll make you feel like royalty.
1. QVB – The Tea Room
Indulge in a European high tea experience while in the heart of Sydney at the Tea Room. Located in the Queen Victoria Building, you can enjoy world-class cuisine and ultra European-inspired dining. With mouthwatering selections of petits fours presented on Royal Albert fine china and British silverware settings, you'll feel as if you've stepped into a royal banquet. Whether you're celebrating a birthday or a great week at the office, any excuse is a good reason to visit the Tea Room.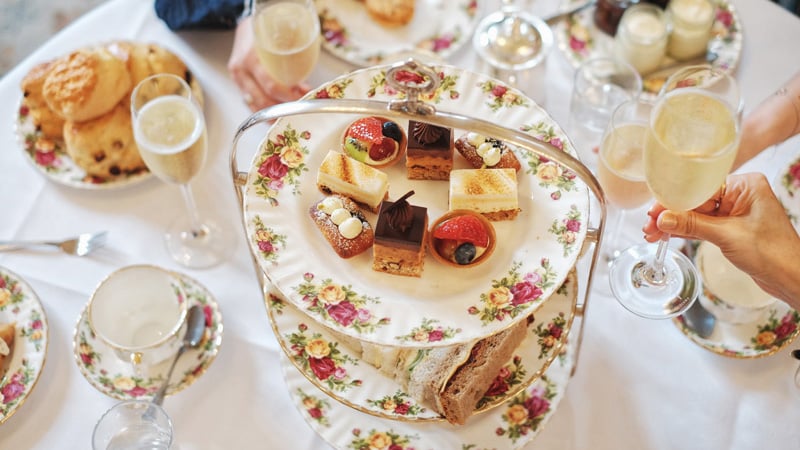 2. High Tea Cruise on Sydney Harbour
Taking a cruise of Sydney Harbour is always a fun experience, but you can make it extra memorable by opting for an experience that also offers high tea. The High Tea Cruise on Sydney Harbour will let you see Sydney Harbour's main attractions and offers 360-degree waterfront views. At the same time, you are enjoying a delicious selection of sweet and savory delicacies, including chocolate-coated strawberries and blinis with prawns. Plus, a glass of sparkling wine and teas and coffees. It departs from Circular Quay, Sydney, NSW, and lasts approximately an hour and a half.
VISIT: High Tea Cruise on Sydney Harbour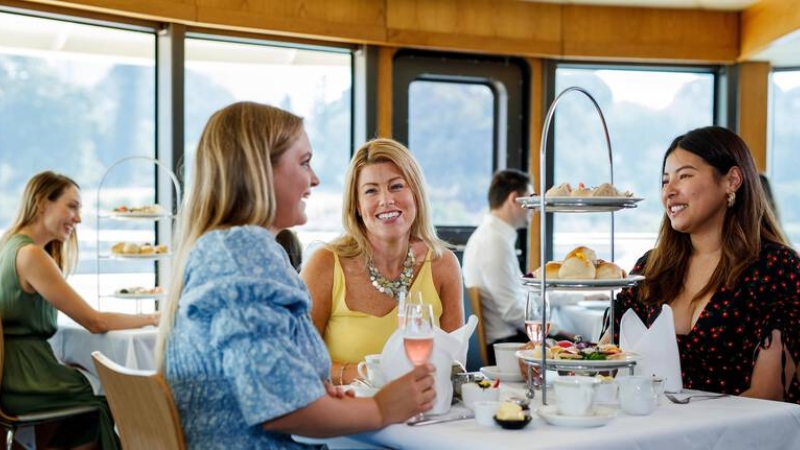 3. Gunners' Barracks
One of the most spectacular and stunning views Sydney has to offer, it's no surprise that Gunners' Barracks has such a spectacular high tea. The historic Gunners' Barracks has breathtaking views of Sydney Harbour, nestled amongst the luscious greenery of the North Shore. An array of sweet and savoury sandwiches and petit cakes are just the beginning at Gunners' Barracks; enjoy freshly baked scones served with clotted cream and jam and a glass of sparkling wine or a cocktail. With 41 different tea selections on offer, and a view of this spectacular, you'll never want to leave!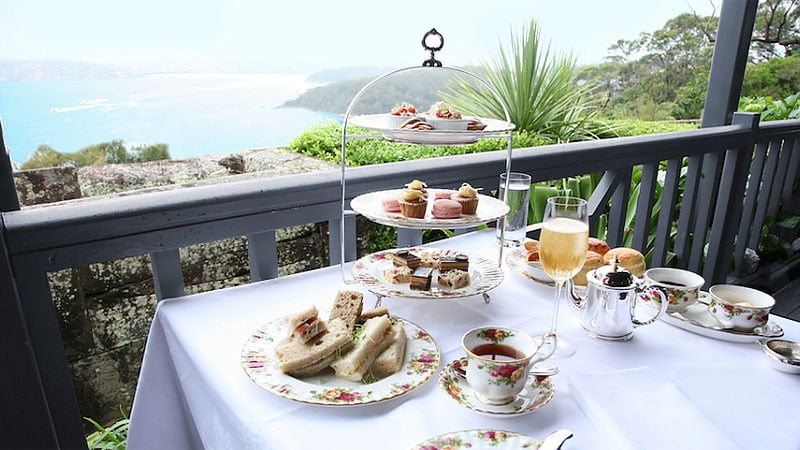 4. Alice in Wonderland Cocktail Tea Party Adventure
Alice in Wonderland's most memorable scene includes a tea party, and if you want to recreate this, why not visit the Alice in Wonderland Cocktail Tea Party Adventure. Located at Potts Point, NSW, this 90-minute immersive experience is your opportunity to feel like a character straight out of a Disney movie, letting you create your own cocktails and try your hand at solving riddles. It is also the perfect opportunity to try an 'Eat Me' cake and play croquet with a flamingo. It is strictly for those who are 18 years and older.
VISIT: Alice in Wonderland Cocktail Tea Party Adventure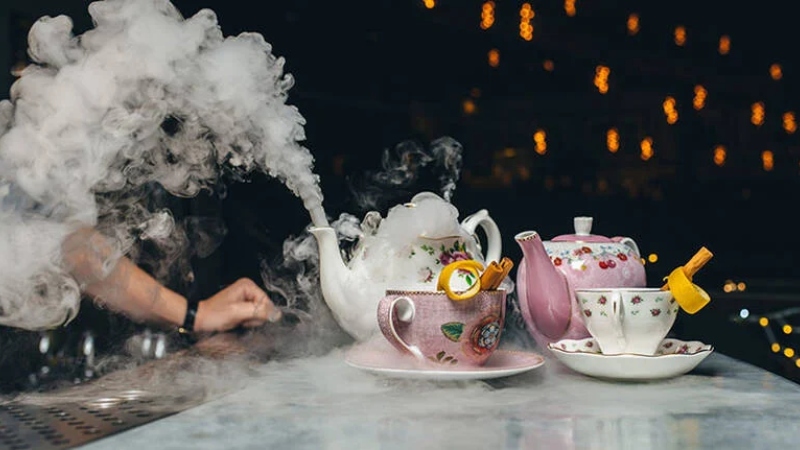 5. Cafe Birkenhead
Unlimited tea and coffee, in addition to endless fun, is what you will experience during your trip to Cafe Birkenhead. You will be welcomed with a glass of Australian sparkling wine and can enjoy an impressive selection of sweet and savory foods presented on a three-tiered stand; these include mini macaroons, scones, and finger sandwiches. Some of the highlights of the experience include views of Drummoyne Harbour and three hours of free parking, making this the perfect spot to celebrate any special occasion. The experience is available seven days a week and is kid-friendly. They can cater to dietary requirements if mentioned at the time of booking.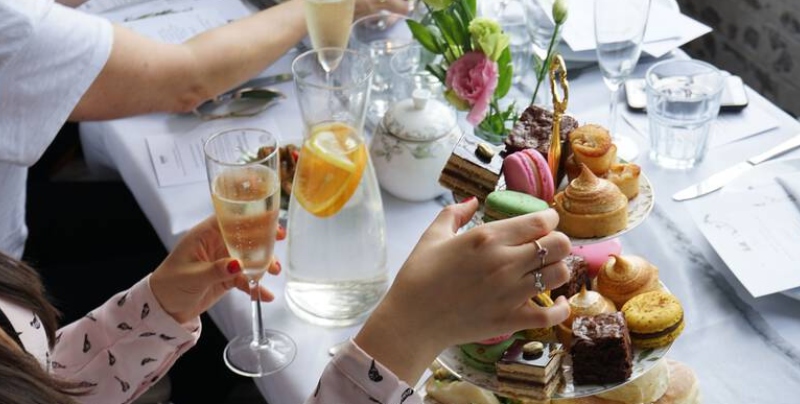 6. Langham Hotel – Afternoon Tea with Wedgewood
Indulge in the beauty and decadence of high tea in the prestigious Palm Court at the Langham. Famed as one of the most beautiful spots in Sydney for high tea, Afternoon Tea with Wedgewood is filled with delightful food; it'll be a day you won't forget. On the menu, you can expect magnificent homemade pastries and tea cakes, such as hibiscus and guava tart and their signature cream, jam, and scones. Bathe in the natural light at Palm Court and experience a high tea like no other.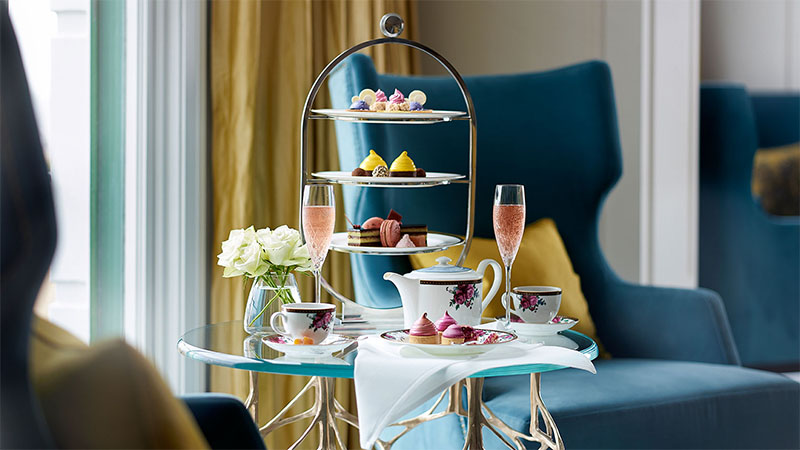 7. Gallery on the Park – High Tea Experience
Taking inspiration from Hyde Park, this amazing high tea is one you shouldn't miss. A traditional event with a modernist twist, the High Tea Experience at Gallery on the Park tells the story of two worlds. Celebrating the natural surroundings of Hyde Park, enjoy a blend of modern cuisine, with references to nature and the ultra-modern art of the Gallery. Mouthwatering food and beautiful views are just the beginning at Gallery on the Park.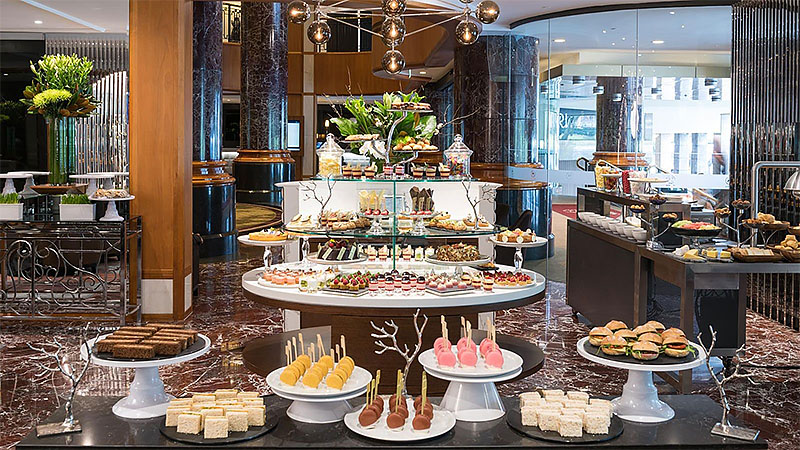 8. InterContintental Sydney
Dubbed as Sydney's most iconic high tea, the high tea at InterContinental is a magnificent way to spend an afternoon. Keeping with the English tradition this decadent and extravagant event is filled with delicate, fruity, and chocolatey treats that are sure to leave you wanting more. With food as delicious as this and insanely lavish, this traditional and beautiful high tea experience is iconic for a reason!
VISIT: InterContintental Sydney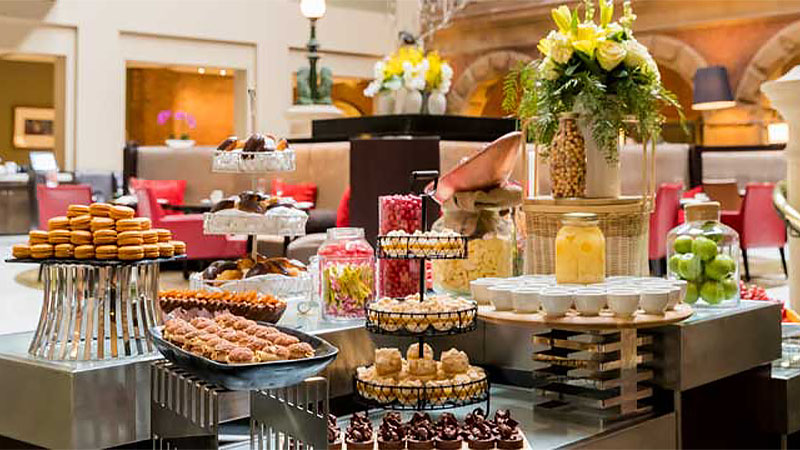 9. Vaucluse House
Enchanting and peaceful, high tea at Vaucluse House is a sight needed to be seen to be believed. Located on a former-colonial estate the Tea Rooms are surrounded by luscious gardens rolling down to Sydney Harbour. Enjoy a glass of sparkling wine, something savoury and something sweet, relaxing, and taking in the oasis of Sydney's beautiful greenery. This high tea is ideal for weddings, christenings, or just a relaxing afternoon.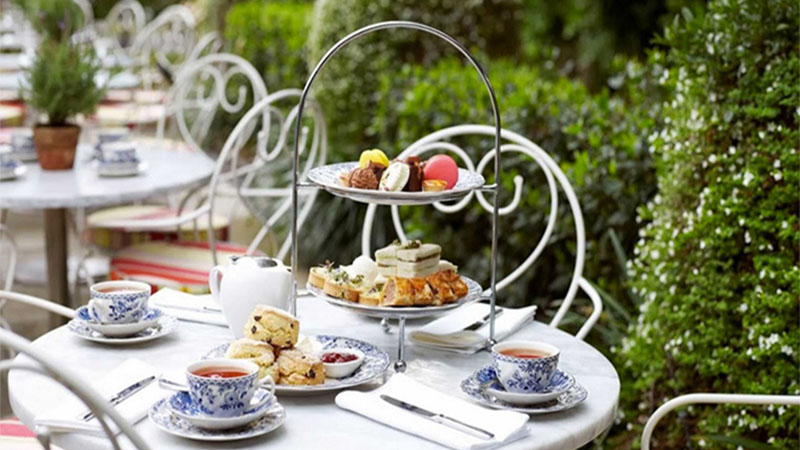 10. Marriott
Spend an afternoon dedicated to luxury and pampering at high tea at the Marriott. Served with a glass of champagne or a cocktail, you can spoil yourself with tasty sweets, treats and savouries, beautiful flowers, and, of course, tea. Choose from three different high tea options, including the "Bubbly High Tea", "Premium High Tea" and the "Ladies Pamper Afternoon High Tea", where you can immerse yourself in a real pampering experience, complete with a mini manicure while you're eating cakes. An afternoon like this is one not to be missed.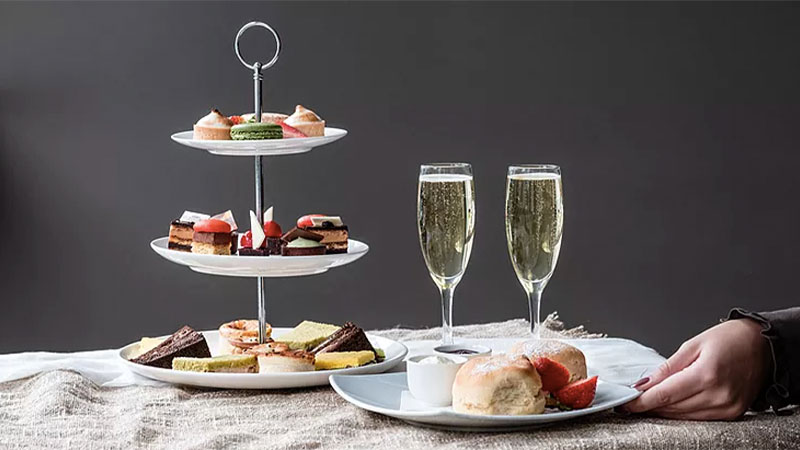 11. The Tea Cosy
Enjoy tea and scones like nan used to make at the Tea Cosy. Tradition as old as time, indulge with legendary Devonshire tea, world-famous scones, and jam, while tucked away at the heritage-listed building on the Rocks. With aromatic tea, Australian-made jams, and freshly baked scones, this high tea is perfect for an afternoon of relaxing and unwinding after a long day. Surrounded by fresh flowers and beautiful food, what more could you ask for?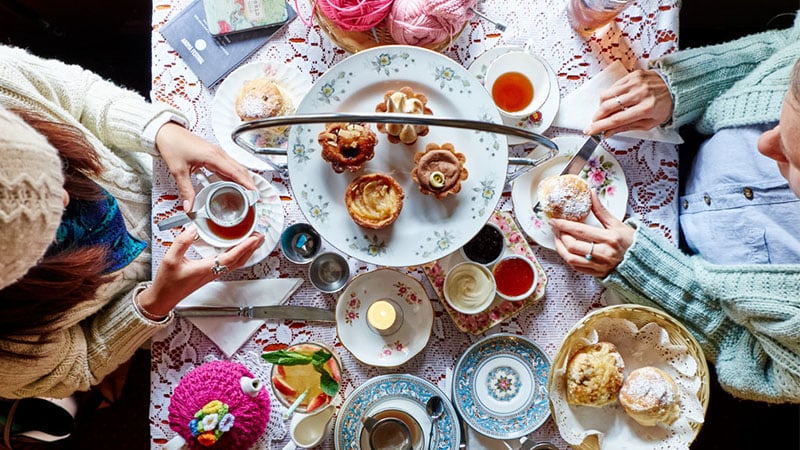 12. Stamford – Sir Stamford High Tea
Not all high teas are served with a side of guilt. For those who wish to have the enjoyment of a high tea afternoon, but who are health conscious, Stamford's high tea have you covered. Partake in fluffy scones, homemade jam, and cream, with fresh fruit, vegetables, and delicious healthy savoury options. For those who wish to experience an authentic, decadent high tea, Stamford also offers this service complete with French sparkling wine and mouthwatering treats. Even the kids can take part in the beauty of high tea with their own crafted menu. High tea at Stamford is perfect for anyone, any afternoon.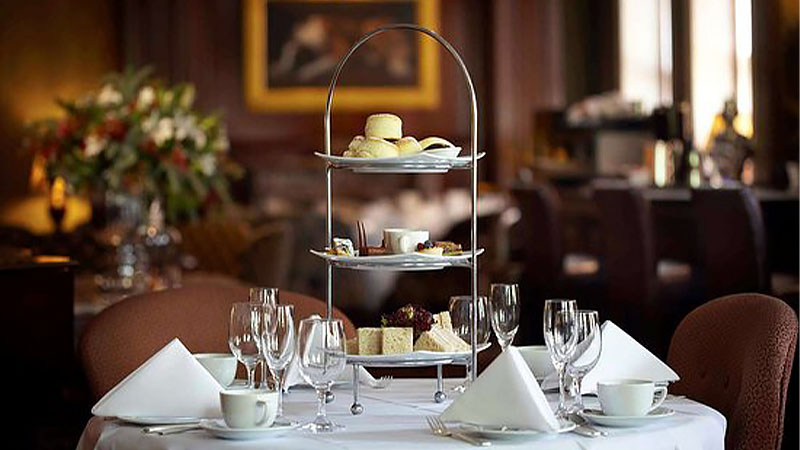 13. Alibi Bar and Dining – Your High Tea
Feel good about yourself and enjoy a sweet treat at Alibi Bar and Dining. A unique plant-based high tea, encompassing Matthew Kenney's philosophy, has reimagined clean eating for a high tea setting. The perfect combination of classical and innovative cooking has created a whole new subculture of high tea. Locally sourced, mouthwatering vegan delights and jaw-dropping beverages, this isn't just high tea, it's your high tea.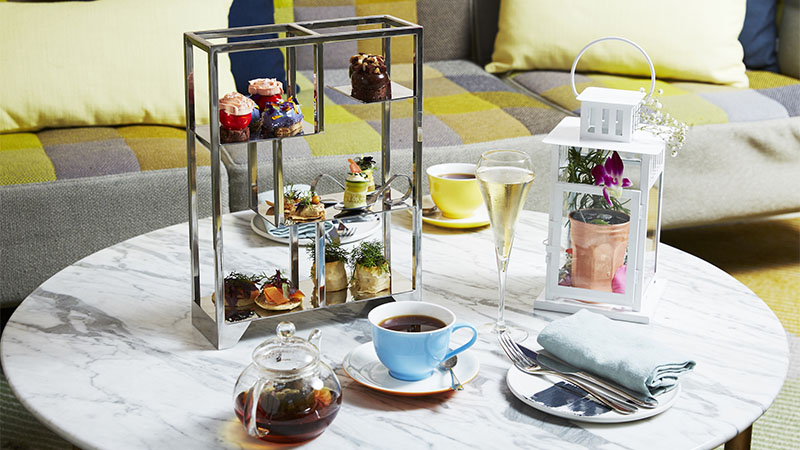 14. High Tea Delights
High tea, catered by High Tea Delights, is one of the most luxurious and decadent experiences that bring high tea to your location. Choose from three tea services, "Little Pleasures", "Sweet Indulgence" and "Marie Antoinette", perfect for groups of 15-30 people. Simply prepare the tables and chairs, which you can hire from High Tea Delights, and let them take care of the rest. Delicious food, bubbly beverages, and traditional tea, nothing is too much! Don't even worry about washing up; they handle that, too. This event is so extravagant that by the end of the day, you'll let them all eat cake!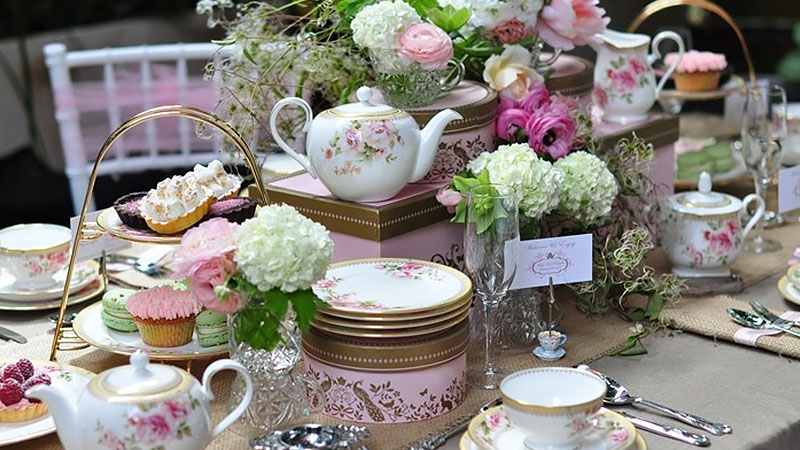 15. Shangri-La – Blu Bar High Tea
Take high tea to new heights at the Shangri-La. Descending over the beautiful views of Sydney, be mesmerised by the skyline and the eye-opening food on offer at this extravagant high tea. Located at the iconic Blu Bar, start with a pink mohawk cocktail and an array of colourful delicacies, crafted by Executive Pastry Chef, Anna Polyviou. You can't get much better than endless cocktails, spine-tingling and delicious food, now can you?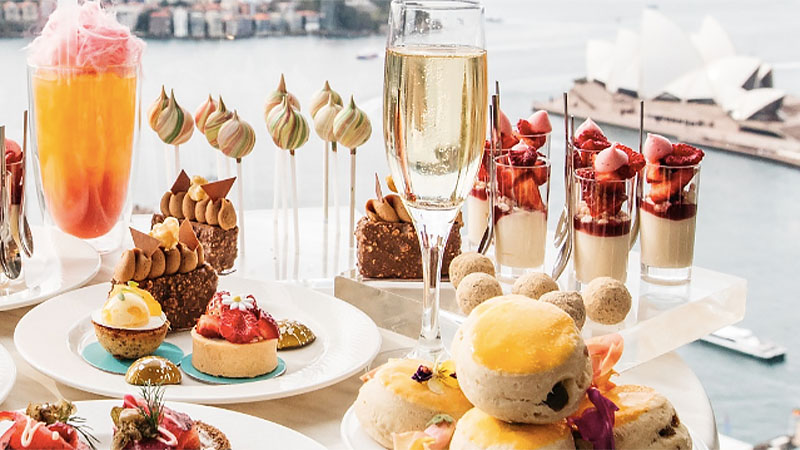 FAQs
Where can I go for high tea in Sydney?
There are quite a few places to go for high tea in Sydney. However, some of the best are at Langham Hotel, Passiontree Velvet, and Gallery on the Park. Alternatively, for a truly unique experience, jump aboard on a Captain Cook Cruises vessel for high tea on the high seas (Sydney Harbour).
What is high tea in Australia?
High tea in Australia is a fancy affair. It's an afternoon tea, with a menu that generally consists of a mix of sweet and savory items, such as finger sandwiches, scones with jam and cream, macarons, cakes, tarts, and vol-au-vents. It'll be served with a pot of freshly made tea or coffee and occasionally a glass of sparkling wine.
What tea is served at high tea?
Most venues will offer you a choice of tea. Black teas such as Assam, Orange Pekoe, and Earl Grey are popular choices that pair well with the food. However, herbal styles like mint, chamomile, and green tea are also generally available. If you're lucky, the venue may even have special blends available for high tea. Non-tea drinkers can also often request coffee instead.
What do you wear to a high tea?
Dress codes for high tea tend to be smart casual. As such, it's the perfect opportunity to break out a pretty floral day dress. Ensure you pick a style that's not too tight so that you can indulge in the delicious food. Avoid short dresses (and the potential to show too much) by selecting a style that sits just above or below the knee. If pretty dresses aren't you're style, try a sweater set instead, as you can pair it with a skirt or tailored trousers.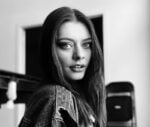 Alexandra Feiam is an experienced fashion writer who holds a degree in journalism. She has an impressive portfolio and expertise working as the Editor at Power Retail and Commercial Content Editor at Newscorp. Ally has been writing for The TrendSpotter since 2018, and her work has been featured in notable publications such as The Herald Sun, Arirang TV South Korea, Kidspot, The House of Wellness, and The Daily Telegraph.
SUBSCRIBE TO OUR NEWSLETTER
Subscribe to our mailing list and get interesting stuff and updates to your email inbox.