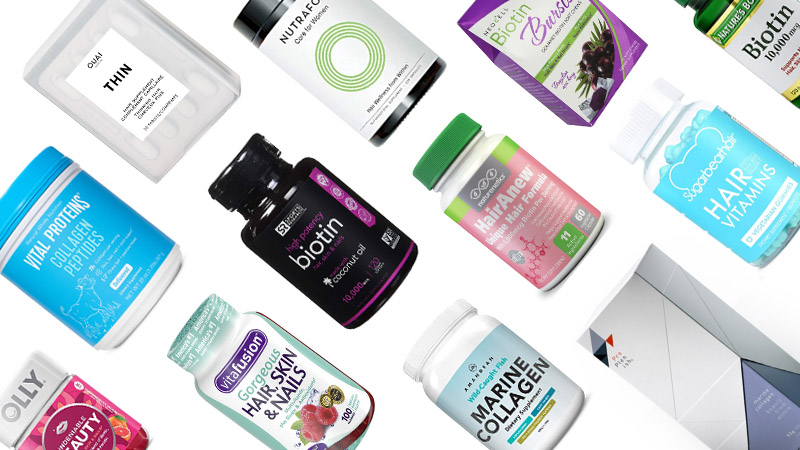 There are many causes of hair breakage, loss, thinning and slow regrowth, and vitamin deficiencies can often be the culprit. Going on a restrictive diet or intense stress – physical or emotional – can cause you to lose your hair or slow its growth. This is because your body redirects nutrients and energy to your organs. Your hair can also feel drier and more brittle, with no shine. As it can take three months for new hair to be visible, you might see the impact of a stressful period long afterward. To keep your hair looking its best, and to rule out vitamin deficiencies as the cause of hair loss and breakage, try taking one of these recommended supplements.
1. Amandean Wild-Caught Fish Marine Collagen
This marine collagen powder comes from sustainably caught wild North Atlantic fish, which are free of the hormones and antibiotics present in farm-raised fish. This factor makes it ideal for you if you're on a Paleo or pescatarian diet. Not only is this a more pure source of collagen, but it's also enzymatically processed to make it super easy for your body to absorb. Amandean Wild-Caught Fish Marine Collagen also contains glycine, which is known as the 'anti-aging amino' so your hair will get the power of two potent compounds! Plus, collagen has proven benefits for the skin, including improving elasticity. At age 30, your body begins to lose its ability to produce and maintain collagen. Taking a supplement like this one is an excellent idea if you want to keep both skin and hair looking healthy and youthful.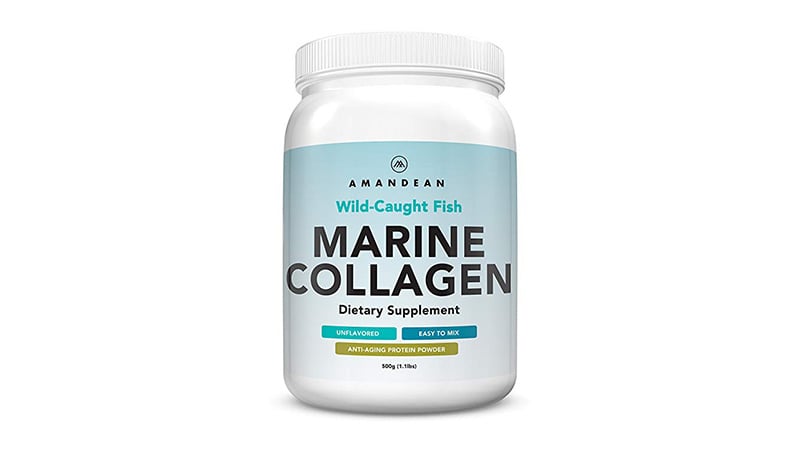 2. Sugarbearhair Hair Vitamins
If you struggle with swallowing pills or capsules, these chewable gummies are perfect for you. Real berries and a touch of sugar make these vitamins taste delicious. Most importantly, they are vegetarian-friendly – there's no marine, porcine or bovine collagen – as well as being free of soy and gluten. Even without collagen, this formula packs a powerful punch to get your hair longer and stronger than ever. It contains seven different vitamins as well as folic acid, iodine, zinc, and choline. Folic acid, in particular, is crucial for the production of new cells in the body and is associated with stronger and healthier hair and skin. Many people notice their hair thickening and growing faster during pregnancy, which could be because they've been taking folic acid as a prenatal and natal supplement.
3. Naturenetics HairAnew Healthy Hair Formula
These capsules contain a combination of 11 different ingredients to target three areas: hair loss, hair thinning, and slow regrowth. If you have any vitamin deficiencies affecting your mane, HairAnew will get you back on track. Vegan and cruelty-free, this formula contains silica (a key compound that assists your body in producing collagen) to help you grow longer, stronger hair. It also contains vitamin C, vitamin E, and zinc. Hair loss is one of the signs of zinc deficiency, as this element helps to keep your hair follicles healthy. Take two HairAnew capsules daily, and you should see results in one to two months, including thicker and fuller eyebrows and eyelashes.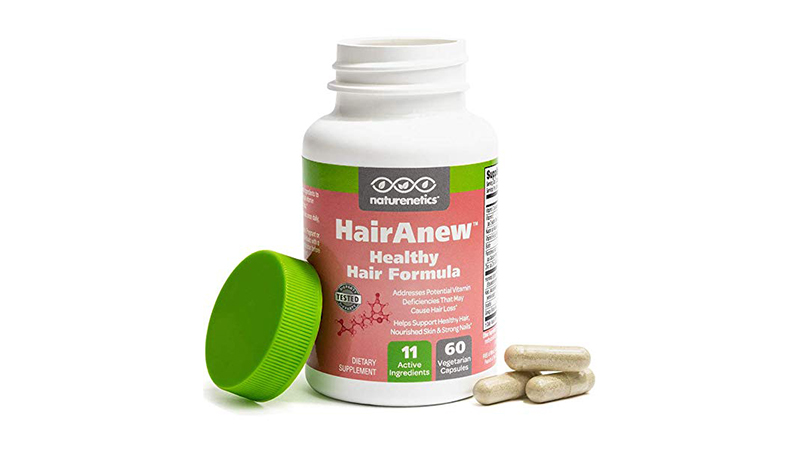 4. Vitafusion Gorgeous Hair, Skin & Nails
These vitamin gummies are a bestseller for a reason: they taste divine! The raspberry flavor has even won awards. Not only are they tasty, Vitafusion Gorgeous Hair Skin & Nails supplements are also full of goodness for your locks. Biotin, vitamin C, and vitamin E are the key ingredients to get your hair back to its best. Vitamin C is one of the essential vitamins in the human body. It's a fighter of free radical damage and is necessary for the production of collagen. Vitamin E has the same antioxidant properties and is also great for keeping your scalp healthy. This is because it helps in the production of your skin's natural oils, and may boost circulation. The Vitafusion formula also contains 12 other essential nutrients, so you can take this as your daily multivitamin too.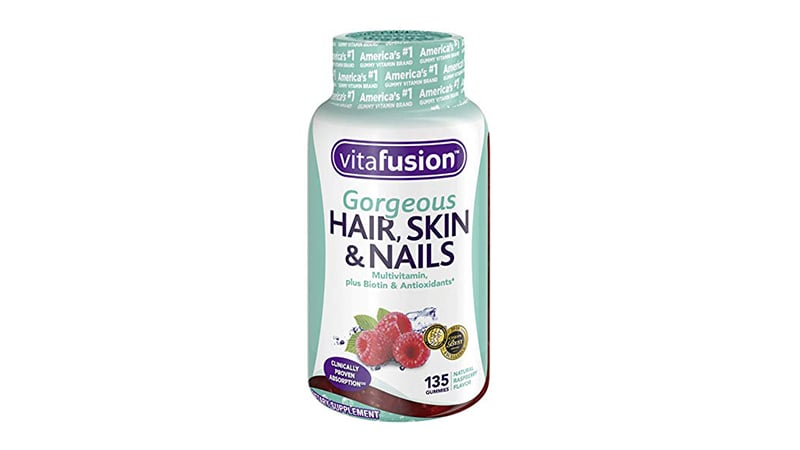 5. Sports Research Biotin Hair, Skin & Nails
Sports Research Biotin Hair, Skin & Nails contains both biotin and coconut oil, meaning your locks will get a double dose of goodness. Even better, it comes in softgels, which are easier to swallow than pills or capsules. Biotin is one of the best supplements for hair growth, while coconut oil is rich in scalp-loving healthy fats, lauric acid, and vitamin E. Many people apply coconut oil as a hair mask for its intensive moisturizing properties, but taking it in a supplement form can also have benefits for your locks. The nutrients in this oil help to condition your scalp, leading to stronger hair shafts. Fans of this supplement claim it's best for thinning hair as it promotes regrowth and thickness, and some saw results in as little as two weeks.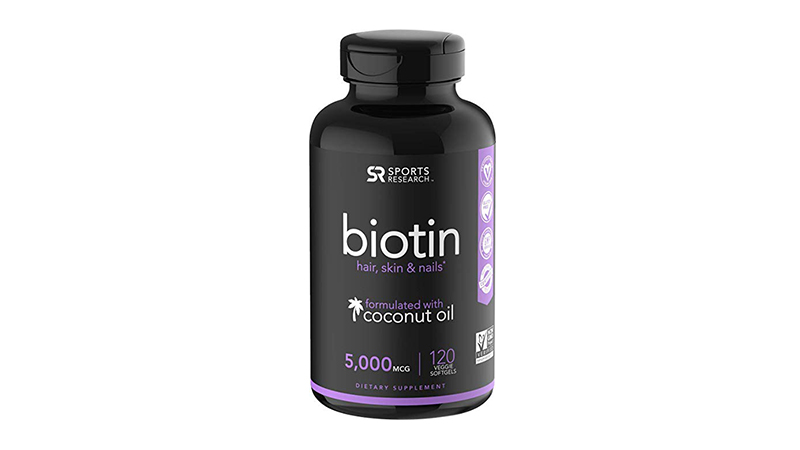 6. Vital Proteins Collagen Peptides
Vital Proteins Collagen Peptides are great for boosting not only your hair but also your skin, joints, tendons and bones. Each sachet contains 10g of collagen as well as 8g of protein, so it's great to mix this fine powder into your post-workout smoothie for muscle recovery. You can also add it to hot drinks, as it is flavorless and dissolves easily without clumping. Vegetarians and vegans should note that the collagen in Vital Proteins comes from a bovine source – cows – so it's not suitable for them. However, those on a Paleo diet can use this product as it comes from pasture-raised and grass-fed stock, as well as being dairy and gluten-free.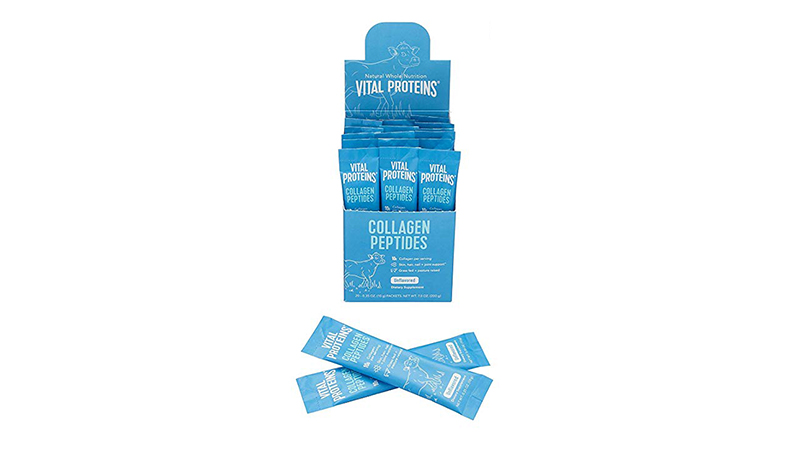 7. Ouai Thin Hair Supplement
Celebrity hairdresser Jen Atkin is the founder of Ouai and an expert in all things A-list haircare. Her supplement for longer, stronger locks contains a combination of biotin and amino acids, but the third essential ingredient is blackcurrant seed oil. There's a connection between hormone imbalance and hair loss, including those with male pattern baldness and female hair thinning. Blackcurrant seed oil can help to restore this balance, as it's rich in both omega-3 and omega-6 fatty acids. These acids convert into hormone-regulating acids when you digest them. Omega-3 and omega-6 are also essential for a healthy diet as you age, so taking this supplement is a win-win.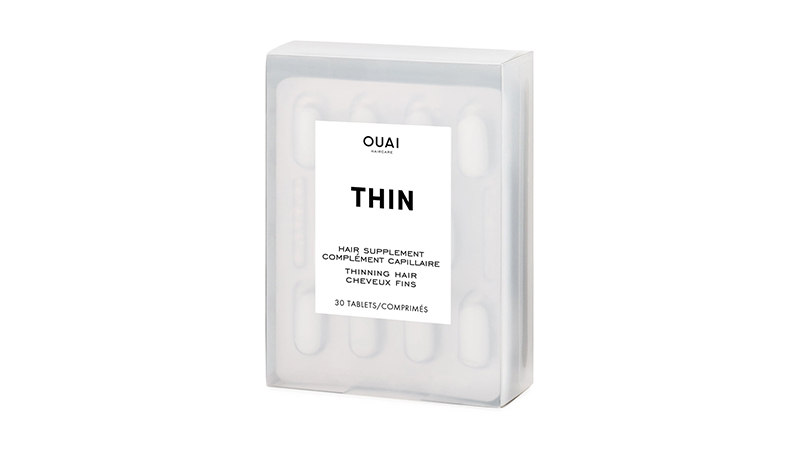 8. Nutrafol Core For Women
This supplement promises thicker, fuller hair by combating some of the underlying causes of hair loss and thinning: stress, hormone imbalance, ageing and damage from styling. The formula works during all phases of hair growth to promote length and density. To see optimum results, including better sleep and brighter skin, take four capsules per day for six months. Nutrafol Core For Women includes classic hair-loving vitamins keratin, marine collagen and vitamin E, plus stress-busting herbal ingredients like ashwagandha and curcumin. It's also totally plant-based, making it suitable for vegetarians, and has the support of medical specialists too.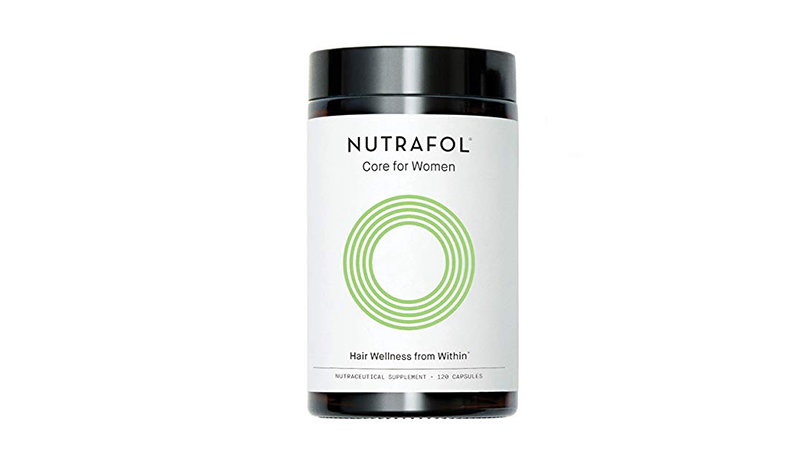 9. Neocell Biotin Bursts
If you're deficient in biotin, this is the supplement for you! These soft chews contain a whopping 10,000mcg of high potency biotin. It can make your hair grow faster, and you may also notice it getting stronger, with less breakage. Fans of Neocell Biotin Bursts rave about the taste of these individually-wrapped vitamins. Natural açai berry, a sweet, tropical Brazilian 'super' fruit that's rich in antioxidants gives these vitamins their flavour. Not only is it delicious, but it can also help fight free radical damage to your hair from the inside out. You only need to take one per day, but when your vitamins are as yummy as this, you might not be able to resist having more!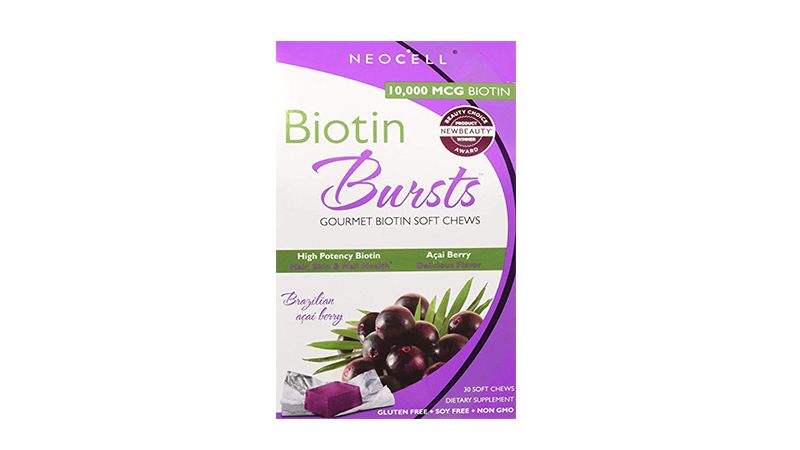 10. Olly Undeniable Beauty For Hair, Skin & Nails
These gummy supplements combine biotin with vitamin C and keratin to get your hair feeling stronger and silkier in a flash. Biotin is a powerful B-vitamin linked to hair growth, while keratin is the building block of both our hair and nails. Meanwhile, vitamin C helps you absorb the other ingredients, as well as fighting free radical damage to the hair follicles. All Olly vitamins come in chewable gummies with delicious fruity flavors, so you're more likely to stick to taking them. The Hair, Skin & Nails formula tastes like sweet grapefruit! However, vegetarians and vegans should note that this vitamin contains both porcine and bovine gelatin.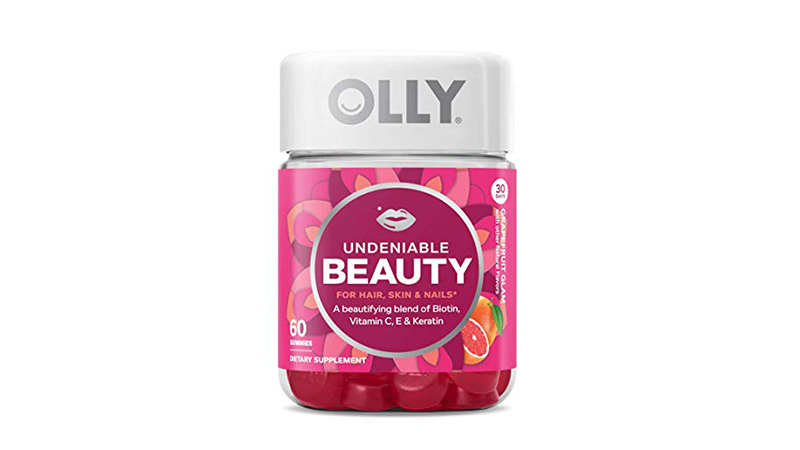 11. ProPlenish Original Marine Collagen
Collagen is one of the most important vitamins when it comes to hair growth, for two reasons. Firstly, it strengthens each hair follicle at the root because it's the main component of the dermis skin layer. With enough collagen, your strands will grow faster and thicker. Secondly, your body can harness the amino acids in collagen to produce more keratin – the fibers of your hair. Marine collagen, in particular, is also a potent antioxidant, meaning it can help fight free radical damage from pollution. Free radical damage is associated with hair loss due to aging. Add these convenient sachets to food, smoothies or hot drinks. They're odorless, tasteless, and colorless, so you won't get any fishy surprises!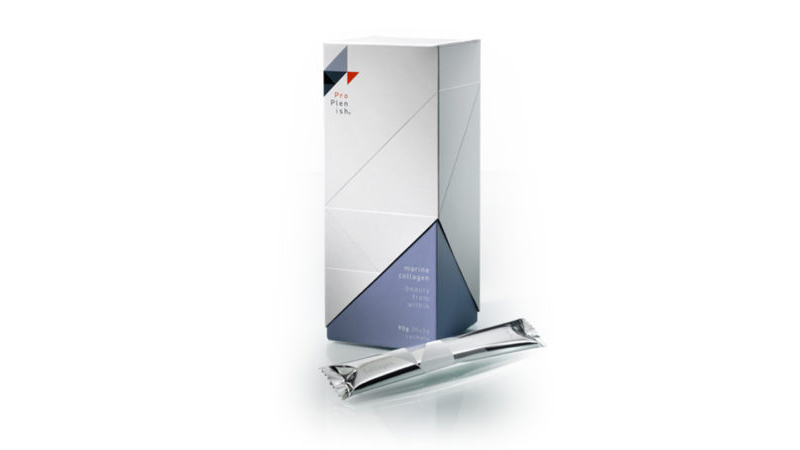 12. Nature's Bounty Biotin 10,000mcg
If you want a hair supplement without any of the bells and whistles, this is the one. Nature's Bounty Biotin 10,000mcg delivers a big dose of the strand-saving vitamin via rapid-release softgels, so it's easy to swallow. Plus Nature's Bounty has been around for 50 years and is a trusted supplement source. Frequently recommended by dermatologists and trichologists, a biotin boost – if you're deficient – will give you great results when it comes to growing out your hair. Your nails will also benefit, while those with dry skin may notice moisture coming back. However, this amount of biotin may not be suitable for those with oily skin as it can cause them to break out.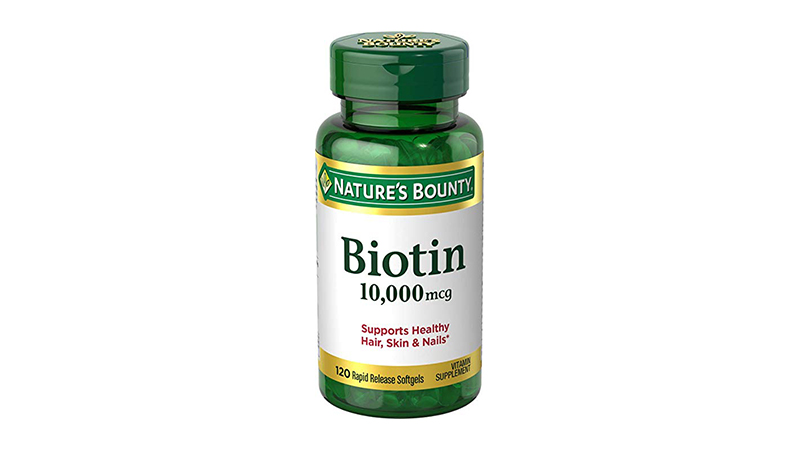 FAQs
Do hair growth vitamins work?
Hair growth vitamins can help improve your general health and hair quality if you're deficient in specific vitamins or minerals. However, if you're already living a healthy lifestyle with a balanced diet full of the required nutrients, they won't provide any additional benefit. Keep in mind that vitamins are not a regulated industry, and there's little in the way of standard ingredients, concentrations, and formulas.
What is the best vitamin for hair growth?
Some of the best hair growth vitamins are ProPlenish Original Marine Collagen, Amandean Wild-Caught Fish Marine Collagen, and Sugarbearhair Hair Vitamins.
What makes your hair grow faster?
Tricks to help your hair grow faster include maintaining a healthy diet full of protein, Omega 3, biotin, and vitamins A, E, and C. Increase your water intake, exercise, and add daily scalp massages to your routine to stimulate blood flow. It would be best to avoid damaging activities such as high heat styling and dyeing your hair. Lastly, avoid shampooing your hair every day, as this can strip the natural oils and sebum in your scalp, which can hinder hair growth.
How can I increase hair growth and thickness?
You can make lifestyle changes to help improve the thickness and growth rate of your hair. Start by drinking more water and increasing your intake of protein, biotin, Omega 3, and vitamins A, C, and E. Additionally, there are supplements you can take that can assist in hair growth. Exercise also increases blood flow around the body, which benefits everywhere. Next, wash with thickening shampoos and conditioners, but not every day — aim for two or three times a week. Lastly, look after your scalp, and avoid high-heat such as blow-drying or straightening.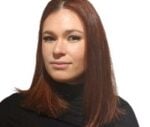 Arabella Roden is a skilled writer and sub-editor with over ten years of experience across print, digital, and B2B. She holds a Bachelor's Degree in Journalism and specializes in beauty, hairstyles, fashion, tattoos, and lifestyle topics. Arabella is currently the Chief Sub Editor at Mecca Brands and has been writing for The Trend Spotter since 2019.
SUBSCRIBE TO OUR NEWSLETTER
Subscribe to our mailing list and get interesting stuff and updates to your email inbox.