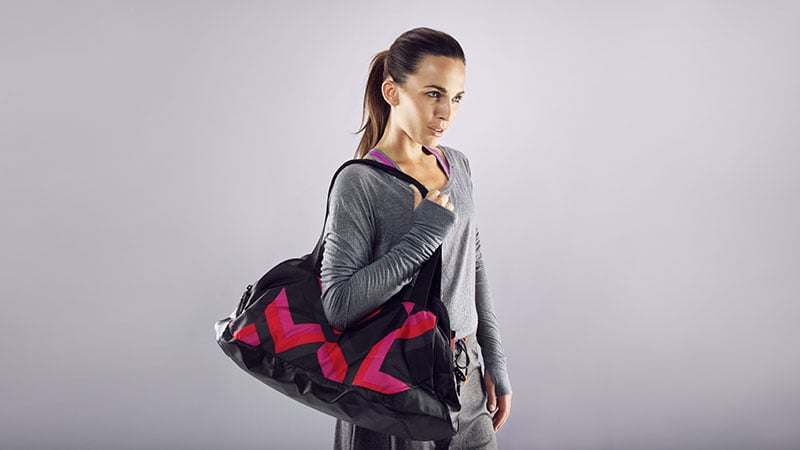 While the perfect workout often comes down to the right combination of determination, energy, and a banger playlist, it also relies on having the right gear. As such, it's essential to have a great gym bag so you're always adequately equipped to achieve your fitness goals. There are plenty of options available, including duffels, totes, backpacks, and bum bags. Plus, many have great storage options with separate compartments and valuable features like different carrying options. These are the best gym bags that have the right combination of space, storage, functionality, and style that you will want.
Gym Bags for Women
1. Adidas Graphic Duffel Bag
Adidas' Graphic Duffel Bag is a great all-rounder bag for the gym. It has plenty of room in the main compartment for everything, including joggers, a towel, a change of clothes, and toiletries so that you can freshen up after your sweat session. There are two smaller compartments for storing smaller items like your phone and keys. One is an internal zippered pocket, while the other is an external one also with zip closure. Plus, you can carry this duffel using either the double handles or adjustable shoulder strap. Select from a range of colors, including orange and pink, pale grey with coral and sage, or classic black and white.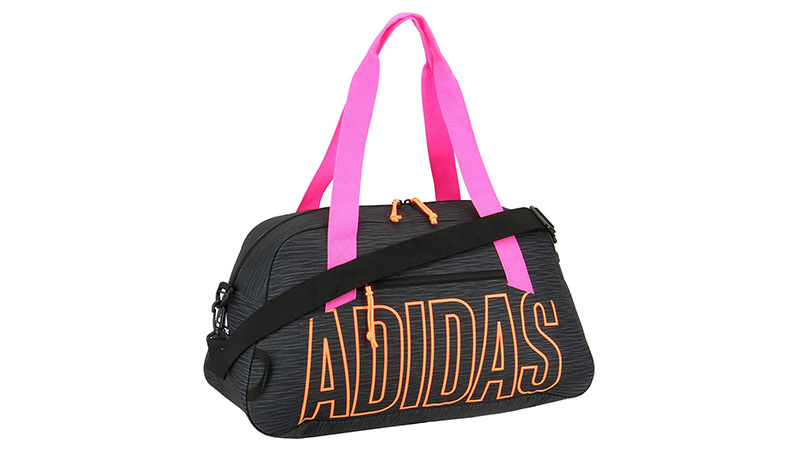 2. Under Armour Adult Undeniable Duffel 3.0 Gym Bag
Know your gear will stay dry and protected even in the worst weather with this gym bag from Under Armour. It utilizes UA Storm technology to deliver a waterproof finish. Other features include an abrasion-resistant bottom and side panels, padded and adjustable shoulder strap, and grab handles with comfortable velcro grip. Not only is there a large main compartment, but you'll benefit from smaller organizational pockets on both ends and the front. Finally, there's a massive choice of colors, including various patterns.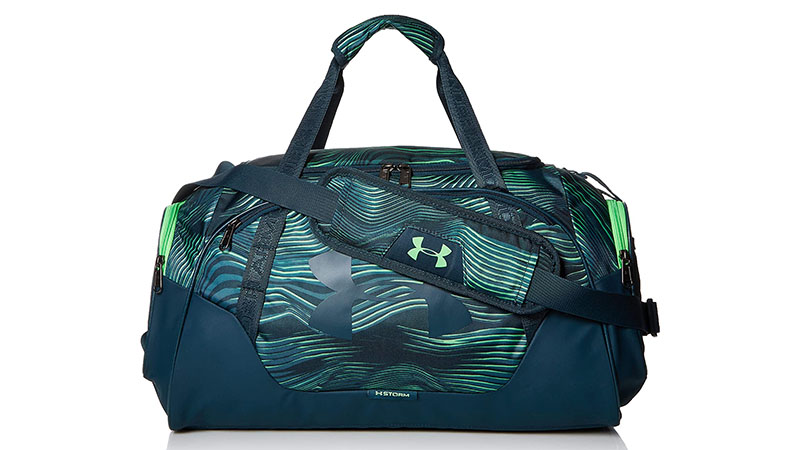 3. Speedo Unisex-Adult Deluxe Ventilator Mesh Equipment Bag
If you prefer a backpack as a gym bag, then this option from Speedo is excellent and comes in a dozen colors. It's specially designed with an open weave mesh for both strength and airflow. Consequently, your sweaty gym gear or even wet swimmers will dry much quicker without developing odors. You can store smaller items separately in the front pocket and a water bottle in the front mesh section that lets condensation dry. A drawstring closure ensures quick and easy access to your gear without compromising security. When it comes to carrying, the straps are fully adjustable for the ideal fit.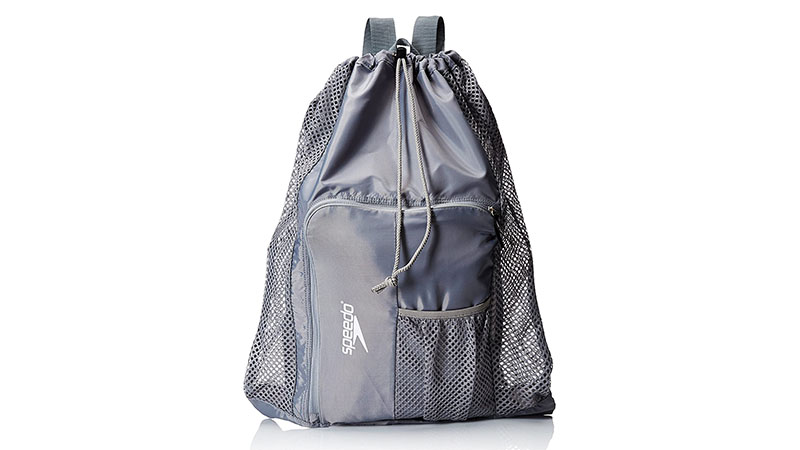 4. Adidas Alliance II Sackpack
The iconic Alliance II Sackpack is a brilliant choice for a gym bag. It takes up very little space when not in use yet fits all your workout essentials. Enjoy features like a front zipped compartment for smaller items such as keys and phone and two separate mesh water bottle pockets. The main section cinches closed via a drawstring, which doubles as the shoulder straps. The design is simple, classic, and excellent value.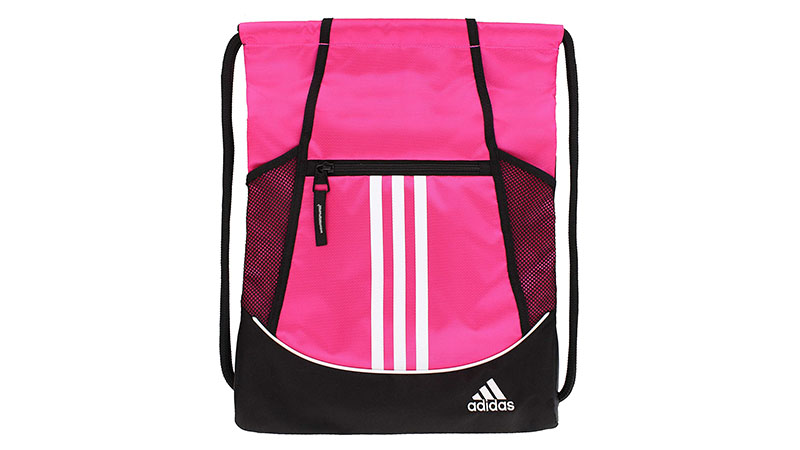 5. Puma Evercat Align Women's Duffel
Enjoy heaps of space in the Puma Evercat Align Women's Duffel. The large main compartment will fit all your gym bag essentials, including a change of clothes, shoes, and a towel. If you have wet items or even just your post-workout shoes, they can go in the large mesh pocket at the end, keeping them separate from the rest of your belongings. Meanwhile, keep smaller possessions like your car keys in either the internal or external zipped pockets, so they don't get lost. Finally, carry the bag with ease using either the double handles or the adjustable shoulder strap. While this bag is excellent for the gym, it also works excellently as an airline carry-on or a weekender.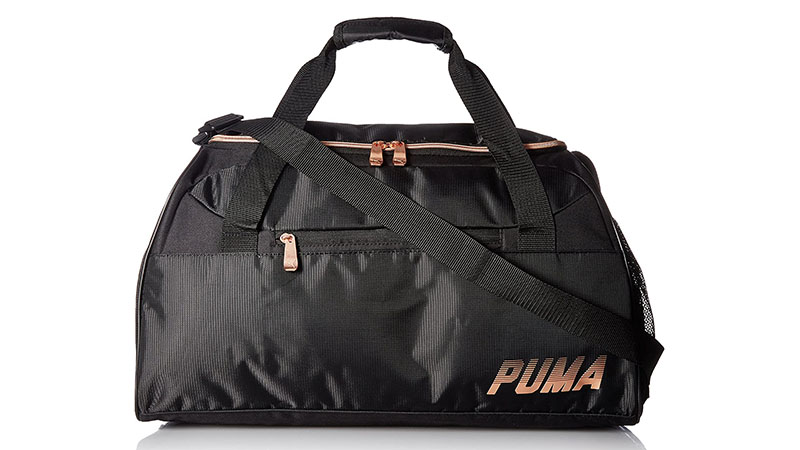 6. Nike Women's Gym Club
Just do it with Nike. This women's gym bag is an ideal choice for your everyday workout needs. The large, classic duffel shape fits all the essentials and is easy to carry with the adjustable shoulder strap or double handles. It features one large main compartment plus two smaller zippered pockets to help keep you organized. Plus, you can choose from a range of feminine colors to suit your athletic aesthetic. There are iconic black and white, pastel pink and gold, grey and ocean, grey and coral, and watermelon options.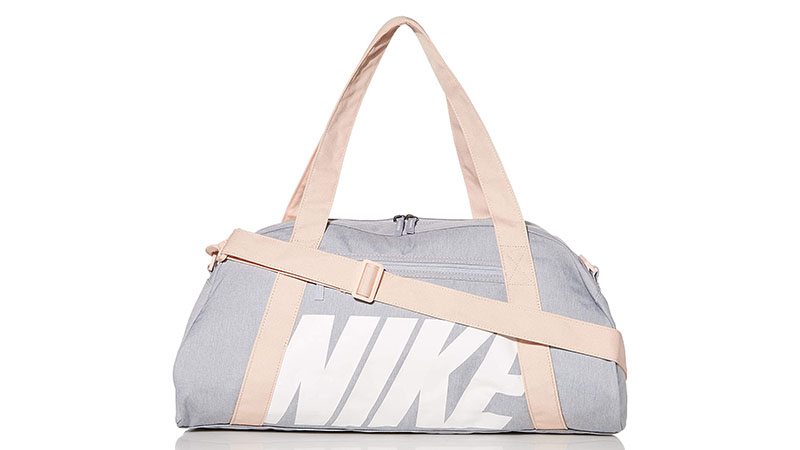 7. Adidas Training Bum Bag
Light travelers will appreciate the compact size and convenience of the Adidas Training Bum Bag. The front pocket is perfect for sunglasses and earbuds, while the larger main space will fit your phone and keys. There's even a slip pocket for bank cards so you can ditch your wallet entirely. The design can be worn traditionally as a belt, or you can sling it over your shoulder as a cross-body bag. It works if you're out for a run, heading to the gym for a class, or just want a comfortable way to carry your essentials through the day. Best of all, it's made with 100% recycled polyester, as part of Adidas' goal of reducing plastic waste.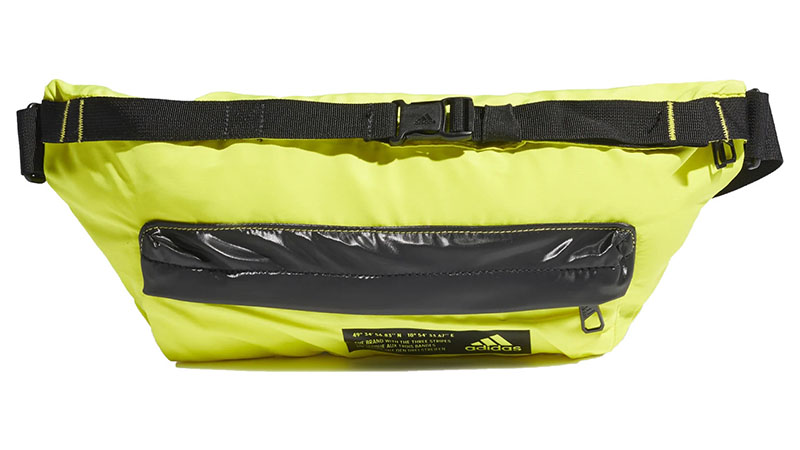 8. Reebok Training Essential Tote
Reebok's Training Essential Tote is large and in charge. This design is perfect for packing your workout gear and sports equipment, ready for an intense training session. Fit in your shoes, towel, and a change of clothes, with room to spare. Plus, there are carry handles and an adjustable shoulder strap to make it simple to grab and go. Finally, you can use an internal pocket to keep small items organized and prevent them from getting lost in the vastness of the main compartment.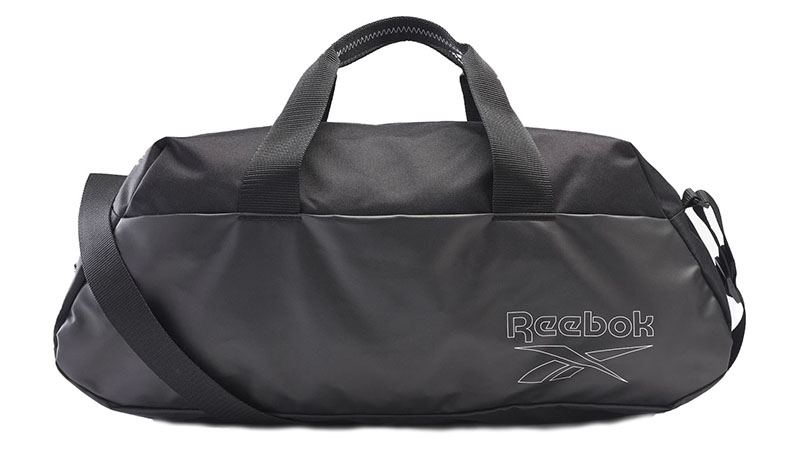 9. The North Face Base Camp Small 50L Duffel Bag
There's no mistaking which bag is yours with this bright red duffel from The North Face. As experts in the outdoors, this sturdy bag will withstand the most demanding conditions at the gym and beyond. It's also packed full of practical features. To start, there's a large main compartment, which boasts plenty of room, a D-zip opening with a weather-resistant flap, and an internal mesh pocket. Plus, there's a zippered end-cap pocket to keep small items secure. Carry it via the padded straps that double as a backpack, or use one of the many grab handles located on each side of the bag. Finally, the exteriors are made with the brand's legendary durable construction, featuring water-resistant Base Camp material, extra bartacks, and double stitching. This is the kind of gym bag that will last you for years.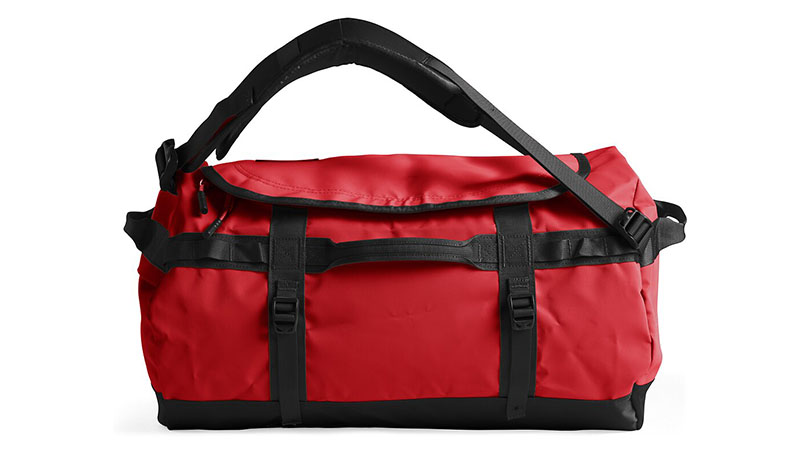 10. Adidas Training Street Tote
Adidas' Training Street Tote is pretty in pink. Its large size lets you fit in everything you need for a solid sweat session. Make use of the twin handles for a grab-and-go vibe. Alternatively, if it's heavy or you want your hands free, then the adjustable shoulder strap is an excellent alternative. Plus, the chunky zipper opening keeps your gear secured without the risk of snagging. Adding this brightly colored gym bag to your collection is sure to give you an energy boost on the way to your workout!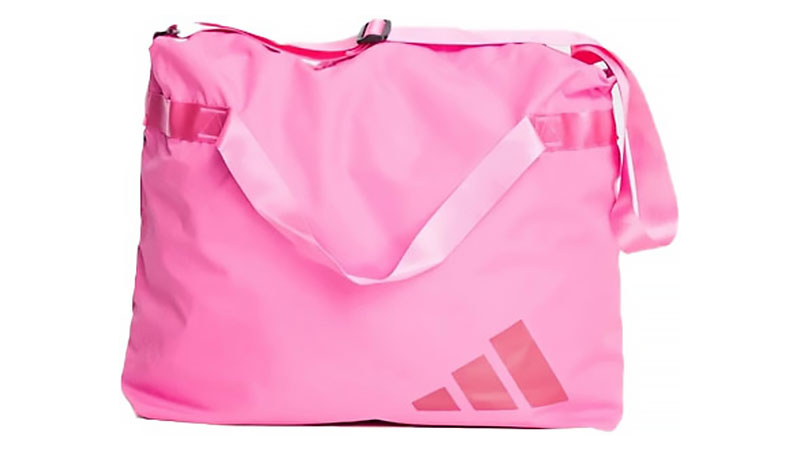 11. Reebok Training tote
A classic black tote bag is the perfect way to transition from office to gym. This design from Reebok is simple yet functional. Enjoy plenty of room in the main compartment, plus an extra, smaller pocket on the exterior. This helps keep smaller items easily accessible and organized. There are also two carry options. The first is classic twin tote straps that will sit comfortably on your shoulder. The second is two smaller handles on each end of the bag for a more convenient grab-and-go option. As soon as you're off the clock, you can race out the door and sweat off a busy day with a solid endorphin hit!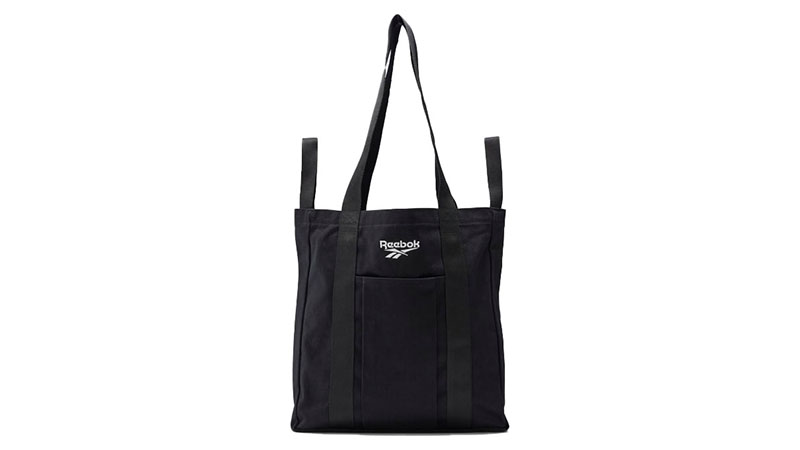 12. FocusGear Ultimate Gym Bag 2.0
A passion for fitness is behind the FocusGear brand. As such, the Ultimate Gym Bag 2.0 is built for athletes. There are ten different compartments in total, so you can stay incredibly organized. Make use of the large opening to pack your gear into the main section easily. Then, there are two wet pockets with water-resistant lining for wet and sweaty gear, including your shoes. Plus, there are two extra mesh pockets for a water bottle and protein shaker and multiple internal pockets for storing items like your phone and keys that can get easily lost. Finally, you can choose from a range of enticing colors, including teal, orange, navy, grey, black, and burgundy.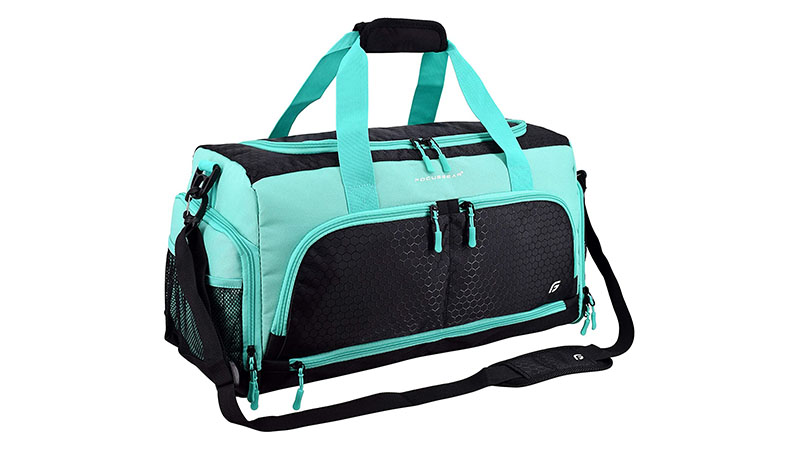 13. Only Play Sports Bag with Logo
Only Play is a fashion-infused sportswear brand that incorporates fun, femininity, and movement into its products. This logo gym bag is a classic and stylish option for any woman on the go. It features a large central compartment for most of your gear, including shoes, gym gear, towel, and water bottle. Then there are two open pockets on each end that make it easy to slip stuff into and a zippered side pocket for more valuable items. Utilize the adjustable shoulder strap, or use the grab handles if you don't need to keep your hands free.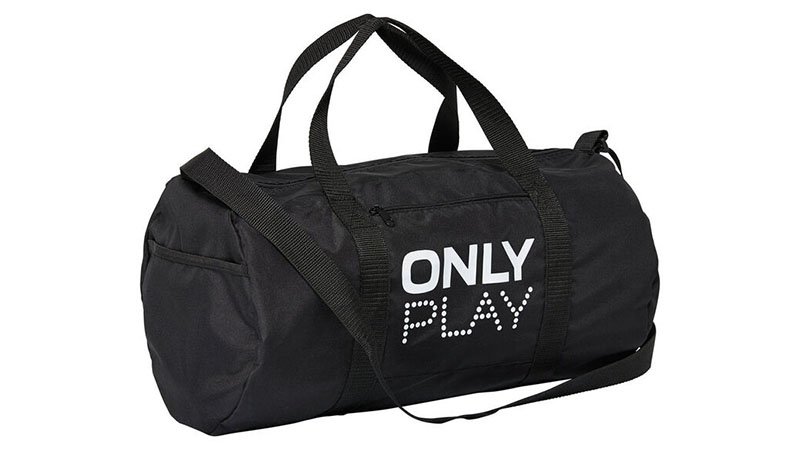 14. Champion Velocity Duffel Bag
Keep it classic with the Velocity Duffel bag from all-American brand Champion. It features twin webbing handles with a comfy velcro grip, plus an adjustable and removable shoulder strap, so you can choose your favorite way to carry it. In addition to a large central compartment, there's also a front zip pocket for small items that you want quick access to. Plus, you'll appreciate an interior zip and mesh pocket for extra organization.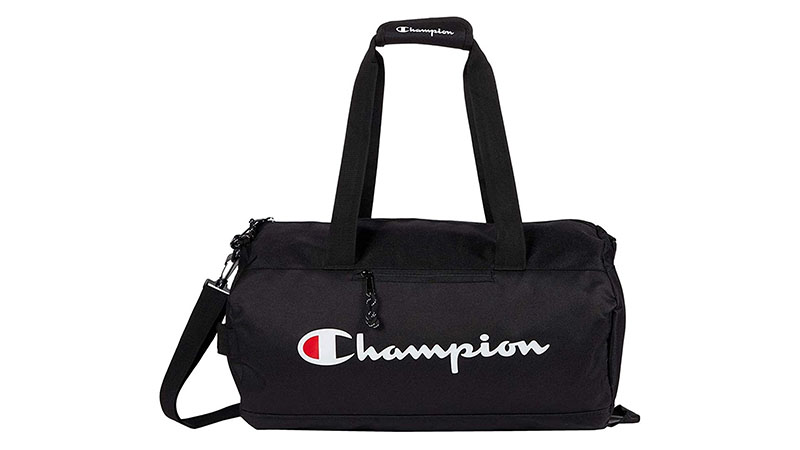 15. Kuston Sports Gym Bag with Shoe Compartment
Not only is the Kuston sports bag perfect for the gym, but it also makes a stylish weekender for short vacations. There's plenty of room in the main compartment for clothes and toiletries, plus a separate shoe compartment. Two front pockets and one inner pocket make organizing small items simple, and there's a mesh water bottle holder for that all-important hydration factor. Hang on with the double grab handles that have a padded grip, or use the shoulder strap that is both adjustable and removable. If the pastel pink is not your vibe, there's also a purple, grey, or black option.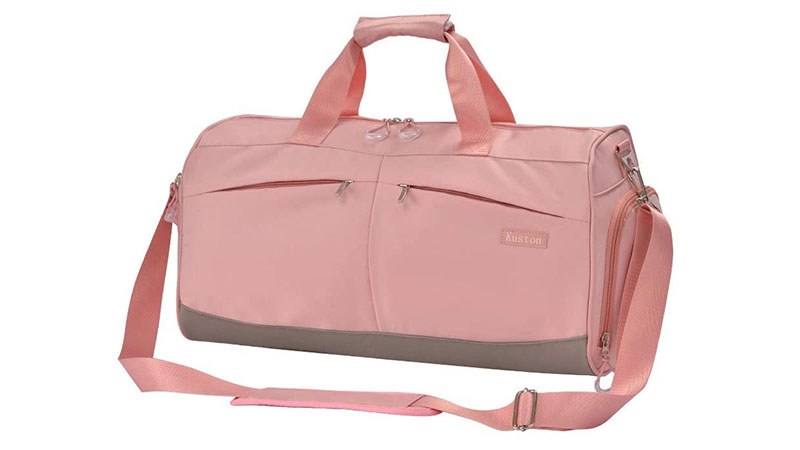 16. Leopard Foldable Small Gym Bag
Ladies with limited storage space at home will appreciate this folding gym bag. When it's folded, it forms a three-inch cylinder that weighs only three and a half ounces. Yet when unfolded, it is a massive 15 inches wide. That means there's heaps of space for all your gym essentials, including a towel and shoes. The double straps can be used as a backpack or as grab handles. This bag is also perfect for travel, especially when you're expecting to do some shopping. Pack it in your suitcase and fill it with the latest fashion and souvenirs on the way back home!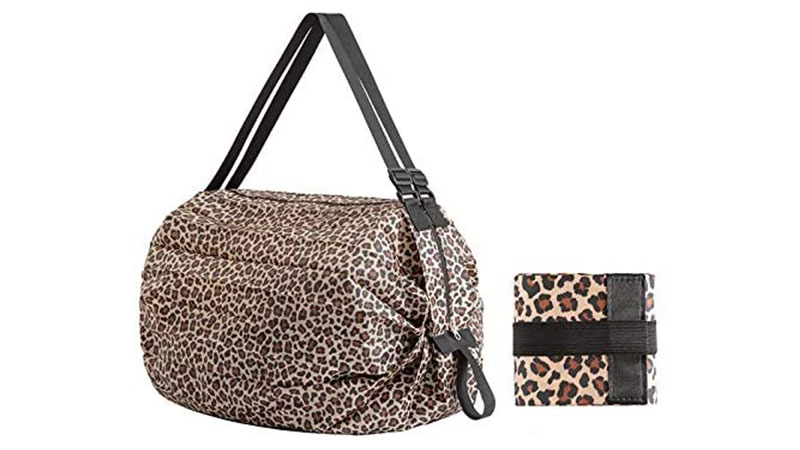 17. Wandf Foldable Travel Duffel Bag
Enjoy the best of small storage yet loads of useable space with this foldable duffel bag from Wandf. You'll get the choice of over 30 colors, so there'll be a style to suit your aesthetic. It's super tiny and lightweight when folded, weighing just under 10 ounces. However, it has a capacity of up to 40 liters, which is more than enough for all your workout essentials. It also features multiple carry options, with two adjustable grab handles, plus an adjustable shoulder strap. Not only is it brilliant for the gym, but it's also the perfect size for carry-on luggage for your next vacation.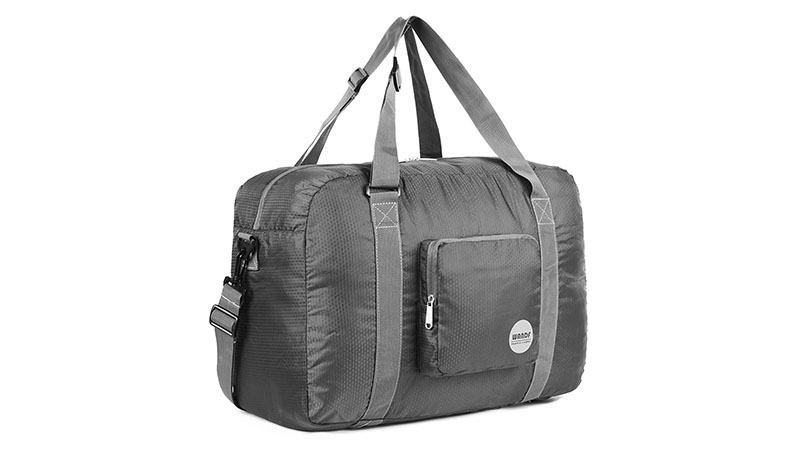 18. Love Gymnastics Gymnast Print Drawstring Backpack
Sometimes simple is all you need. This drawstring backpack is perfect if you don't need to carry a lot of gear. It's made from lightweight yet high-density nylon, which is tear and scratch-resistant. It also has a 15L capacity, which is excellent for daily use and leisure activities. Plus, it's exceptionally affordable, making it a brilliant gift, and comes in a variety of fun patterns and colors, so you could splash out on a couple of options!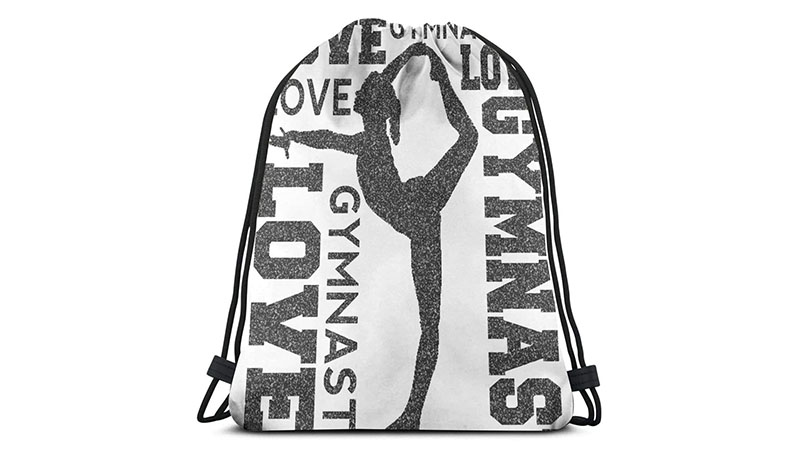 19. Ultralight Travel Duffel Bag
Take this ultra-light gym bag with you on vacation. It's made from military-grade parachute material, which is light, durable, and folds up extra small for storage. However, it has a capacity of 30 liters when unfolded. There's a large main compartment with two additional slip pockets inside. Choose to carry in one of three ways – as a backpack, with the grab handles, or with the adjustable shoulder strap. Each is reinforced for strength and durability and features quality hardware, including metal buckles. While it's perfect for travel, it's also great for taking your gear to your next training session.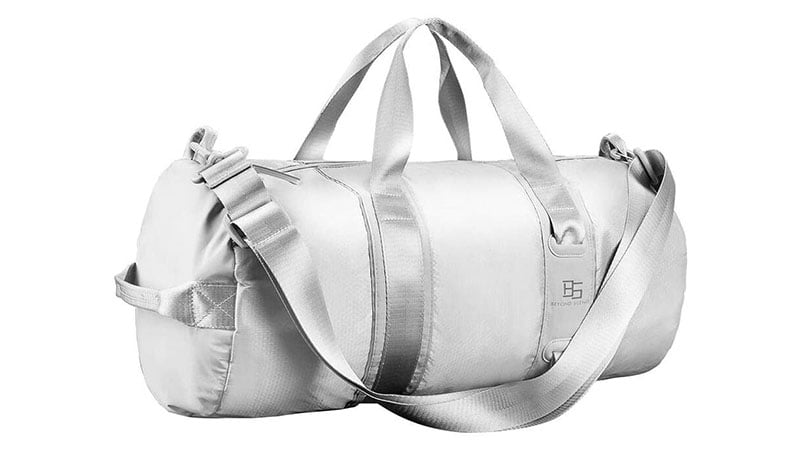 20. Gym Bags for Women Travel Bag with Shoes Compartment Duffel Bag
You can separate your sweaty shoes from the rest of your clothes with ease when you've got this gym bag. It has a compartment designed just for your joggers, plus an additional wet pocket for sweaty socks or swimwear. In addition to these and the main compartment, there are another three smaller pockets for organization. Keep your keys and phone in one, makeup in another, and wallet and gym pass in the last. Finally, this bag is also easy to carry, with three options available. There are soft padded grab handles, a removable and adjustable shoulder strap, plus an extra grab handle on one end. Select from four pretty colors, including classic black, pale green, blue/grey, and pink.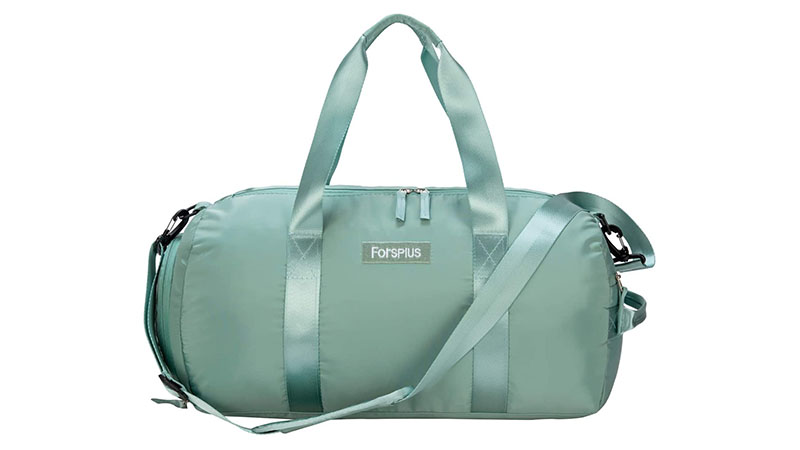 Gym Bag Buying Guide
Size
Large gym bags are ideal if you need to take a lot of stuff with you. If your schedule has you hitting the gym on the way to or from work, you'll need an outfit change, towel, shoes, and toiletries, so a big bag is ideal. A small bag is perfect if you don't need much more than your keys, phone, and headphones, so a bum bag or cross body would be perfect. The benefit of a larger bag is that many also make ideal weekenders for short vacations, just make sure you've aired it out thoroughly after your last sweat session!
Style
The three most common styles for gym bags are duffels, totes, and backpacks. Duffels tend to be the largest, have the most compartments for organization, and multiple carry options. They also make great bags for travel. Totes often just have shoulder straps but can still be quite large. They can also look quite stylish so are good for the workplace. Finally, backpacks are very convenient to carry, have great pockets and segmentation, and are brilliant for outdoor activities such as hiking and day trips. However, depending on the style you choose, you might have a limited capacity.
Functionality
A bag may seem pretty basic, but it can be very frustrating if it doesn't function in quite the way you need. There are many features, such as different handles, compartments, bottle holders, and wet pockets that add extra functionality. Consider what you'll be using your bag for, including how you're getting to and from your training session and if you'll need to carry anything else. This will help determine what kind of functionality and extra characteristics your gym bag will need.
Storage Space
It's essential to have the right kind of storage in your gym bag. While plenty of room can be excellent, compartments can be handy. They help keep smaller items from getting lost in the vast abyss of the main section. It can also help separate clean and dirty things. Like size, the kind of storage you need will depend on your schedule and activities, and different sports will need different types.
Materials
The best materials for a gym bag are generally polyesters. They're good because they're strong, durable, water-resistant, and often abrasion-resistant. They also won't absorb smells from your sweaty clothes or shoes and can be cleaned relatively easily (a must in the case of a protein shake spill!).
Price
Of course, your budget also plays a role in choosing a good gym bag. Average prices sit around $50-$60; however, they can be a low as $30 or as high as $200 depending on the brand. Try to find a balance between cost and quality. If you're shopping online, read reviews or opt for reputable brands with good customer service.
FAQs
What is the best gym bag brand on the market?
Some of the best gym bags come from sportswear companies like Nike, Adidas, Puma, Reebok, and Under Armor.
What should a woman pack in a gym bag?
The contents of your gym bag will vary between women and depend on your schedule. However, assuming you're heading to the gym before or after work, basics include your gym or work outfit and the relevant shoes. Then you'll also want toiletries like shampoo, conditioner, body wash, deodorant, perfume, and hair styling products. If you're on your way to work, pack your makeup and a toothbrush. Finally, a water bottle, towel, shower shoes, and headphones are a must!
How do I choose a gym bag?
Choosing a gym bag can be tricky, but there are things to consider to help you decide. Firstly, what does your regular gym schedule look like? Are you going on the way to or from work? In that case, a large bag is ideal so you can fit a change of clothes and toiletries. Extra compartments, especially wet ones, can be great if your sweaty gear is sitting for a while and helps keep you organized. However, if you just need the essentials, a small design like a bum bag is all you need. You should also consider whether a tote, duffel, or backpack is the right design, as they're all carried differently and have various capacities. Finally, aim for a durable material that will last and not absorb smells. 
Can I use a backpack as a gym bag?
A backpack is an excellent option as a gym bag. They may not always have the same capacity as a duffel but have the convenience of allowing you to be hands-free. They're also great if you walk a distance to your gym (which totally counts as the warm-up!). 
What size gym bag should I get?
The size you choose for your gym bag will depend on what you need to take with you. Heading for a workout on the way to or from work means you'll need space for an outfit change, toiletries, and a towel. However, if you have time to go home, you'll just need basics like a phone, earbuds, and keys, so a small bag will suffice. If you participate in sports that require equipment, a large bag will, again, be a better option so you can fit your gear. 
SUBSCRIBE TO OUR NEWSLETTER
Subscribe to our mailing list and get interesting stuff and updates to your email inbox.