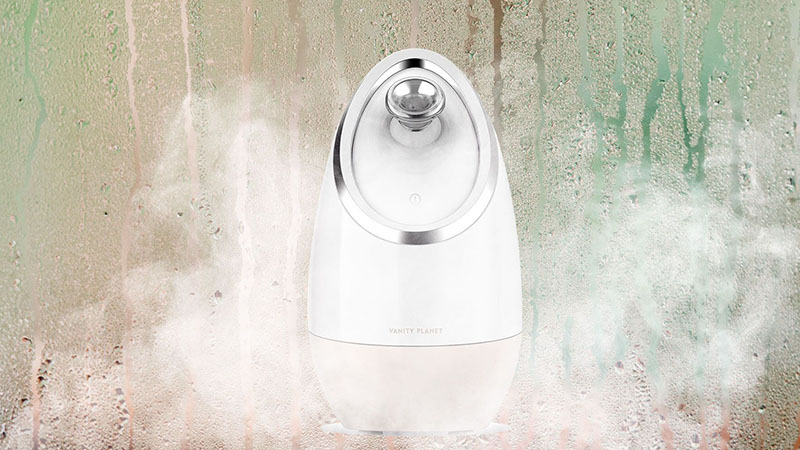 If you've ever had a professional facial with extractions, you will understand the power of steam. Facialists use a steaming device to gently warm and moisten your face, which in turn helps to dislodge the dirt and oils clogging your pores. As a result, your skin appears clearer and brighter – and there are other benefits too. But did you know you can steam your face at home? Read on to discover the best facial steamers on the market and find out why you should add this step to your routine.
1. Pure Daily Care NanoSteamer 3-in-1 Ionic Facial Steamer & Humidifier
The Pure Daily Care NanoSteamer is one of the most effective face steamers on the market. It uses an ultrasonic vaporizer to produce steam that deeply penetrates your skin and can run for a full 30 minutes so both you and your partner can use it without refilling. It also includes a humidifier function for your room and a towel warming chamber to give you the ultimate at-home facial experience. Plus, it comes with a five-piece stainless steel blackhead-and-blemish extractor kit.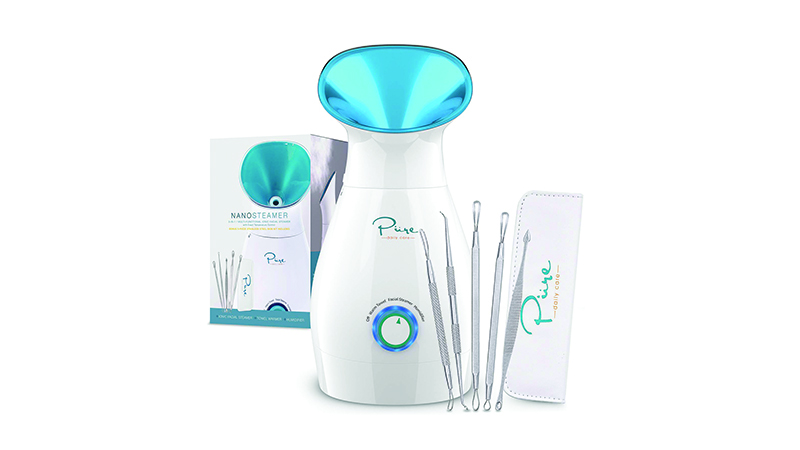 2. Amconsure Facial Steamer
The multi-functional facial steamer from Amconsure is ideal for both dry skin and acne-prone skin types. The powerful yet ultra-fine mist helps soften pores and improves blood circulation. Meanwhile, the gentle steam helps your cleanser and serum penetrate the skin more deeply. Use the accompanying five-piece extractor kit after steaming for even better results. Compact and lightweight, the other key benefit of this steamer is its quick start-up time – it's ready to use in less than one minute. Plus, it's simple to operate with a one-touch button.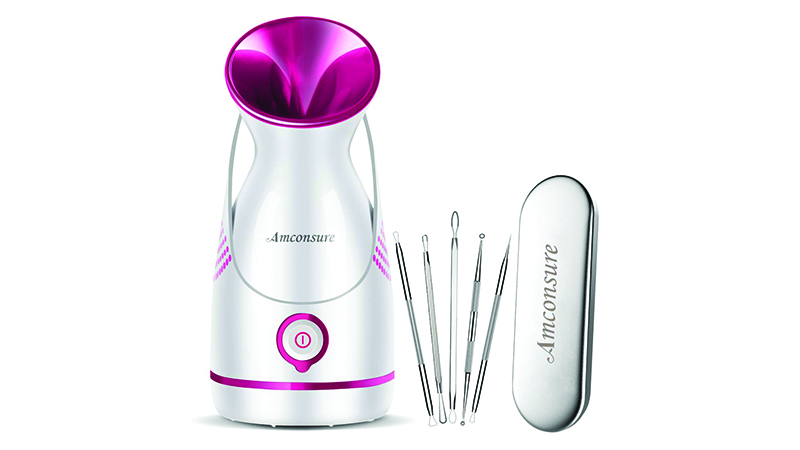 3. Diozo Facial Steamer
This ultra-quiet facial steamer is made from environmentally-friendly materials and is BPA-free; it also comes with a 12-month warranty. Fast and effective, it takes just 20 seconds to create a fine yet powerful mist and automatically turns off when the water tank is empty. The steam is ionically charged, meaning the water vapor particles are small enough to penetrate the skin. Even better, it comes with a headband, blackhead extractor kit, and a measuring cup, so you'll have everything you need to add a steaming step to your skincare routine.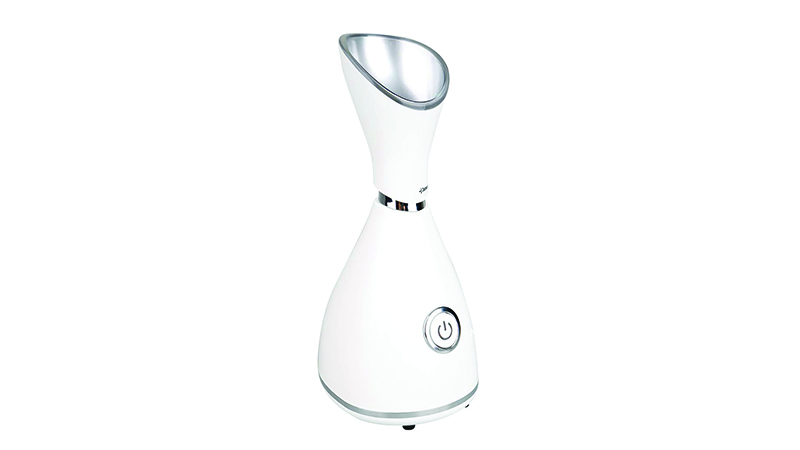 4. Lonove Facial Steamer
A lightweight and portable facial steamer, the Lonove model, is perfect for when you travel. The smooth, compact shape includes an in-built water tank that automatically turns off when empty, helping to avoid leaks and damage. Non-invasive and easy to use, it reaches its full steamy capacity in less than 30 seconds, so you won't need to wait long to get your skin glowing. Plus, it's BPA-free and features nano-ionic steam particles, which are small enough to quickly and effectively penetrate the skin.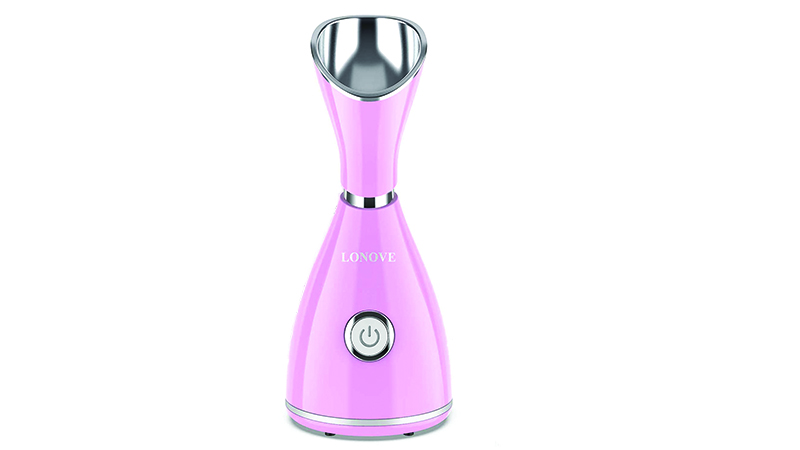 5. UrChoice Nano Mist Sprayer
For a quick burst of refreshment on the go, the UrChoice Nano Mist sprayer is a great choice. The mini hand-held model is designed to fit in your handbag or pocket and can be recharged with a USB port – making it perfect for travel, the office, or at the gym. Using ultrasonic vibration, the UrChoice Nano Mist Sprayer produces an extremely fine, gentle, and cool mist that gives your skin added moisture without ruining your make-up.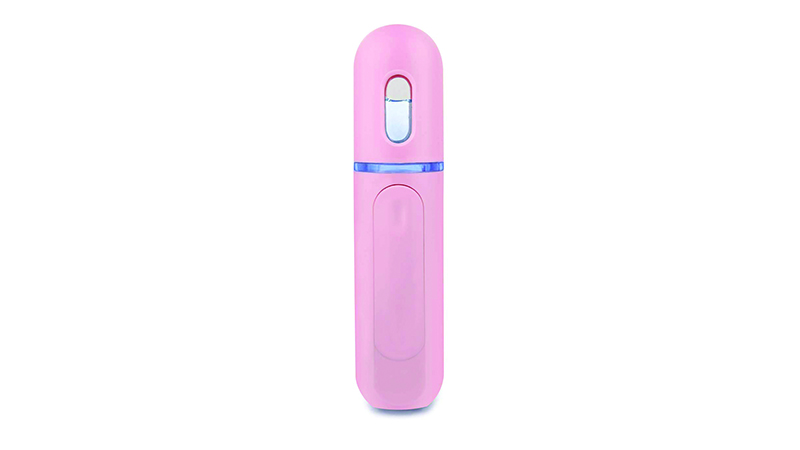 6. Vanity Planet Aira Facial Steamer
The Vanity Planet Aira Facial Steamer would be the perfect stylish addition to your bathroom counter. Cruelty-free and designed in California, it not only looks beautiful but also works wonders for your skin. The in-built ion generator enriches water molecules to create deep-cleaning steam that also hydrates and softens the skin's surface. For the ultimate spa detox experience, add a few drops of a calming essential oil – like lavender or tea tree – to the Aira's water tank and relax.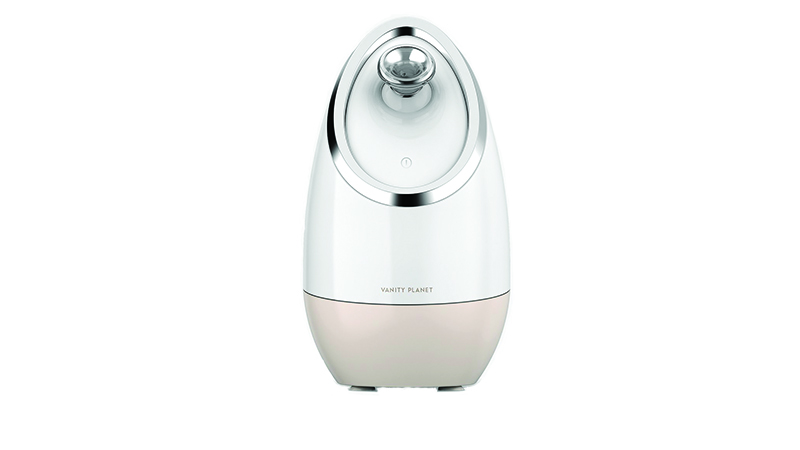 7. Zenpy Nano Ionic Facial Steamer
The Zenpy Nano Ionic Facial Steamer produces superfine steam to deeply hydrate your skin, soften and unclog pores, and help prime your face for make-up. It is ideal for all skin types, from dry to oily, acne-prone, and combination. The steamer begins producing a fine mist in 10 seconds and automatically shuts down when the water tank is empty using boil-dry detection technology. Compact yet powerful, the Zenpy Nano Ionic Facial Steamer is also sleek and stylish – making it the perfect addition to your bathroom vanity.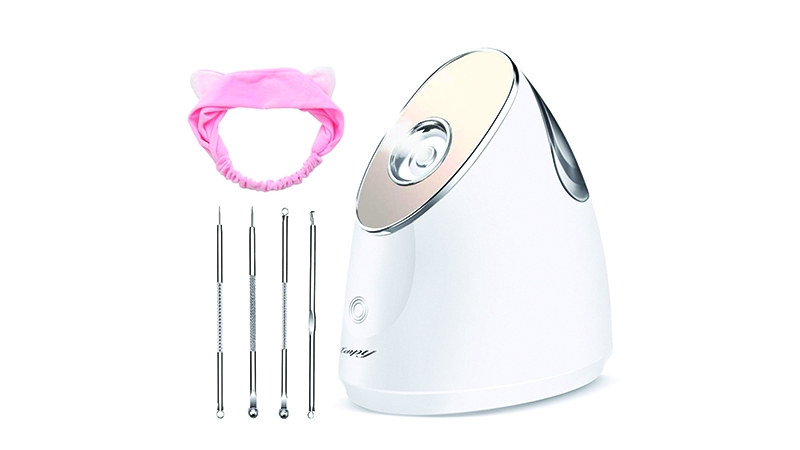 8. Villsure Nano Ionic Moisturizing Facial Steamer
Give yourself the ultimate at-home spa experience with the Moisturizing Facial Steamer from Villsure. It's not only one of the more affordable facial steamer options but is also both fast and simple to use with its one-touch programming. A 10-minute steam session is all you need to soften your pores, hydrate your skin, and prep your face for a deluxe face mask. The steamer itself comes with a headband and mask spatulas to complete your self-care ritual.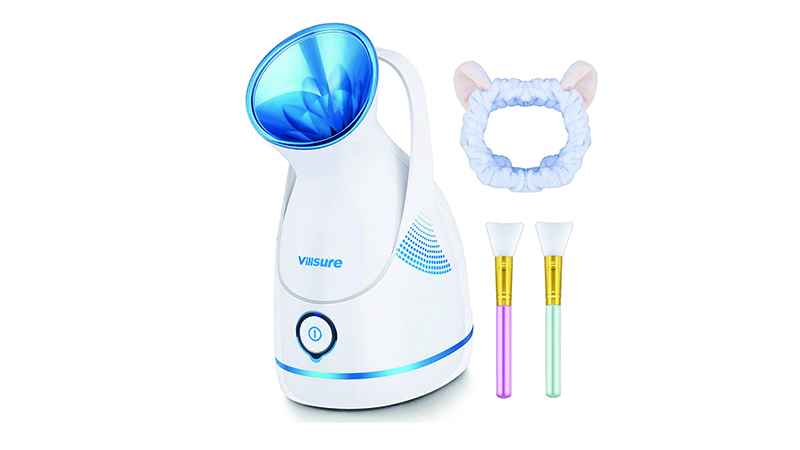 9. Dr Dennis Gross Skincare Pro Facial Steamer
Celebrities including Selena Gomez, Zoë Kravitz, and Jourdan Dunn swear by dermatologist Dr. Dennis Gross – and now you can treat yourself to his expert touch with this Pro Facial Steamer. The perfect product for fans of Dr. Gross' award-winning skincare line, it comes equipped with micro-steam technology that both hydrates and purifies your complexion in under 10 minutes. Add it to your routine twice a week after exfoliating and before your serum to supercharge your skincare.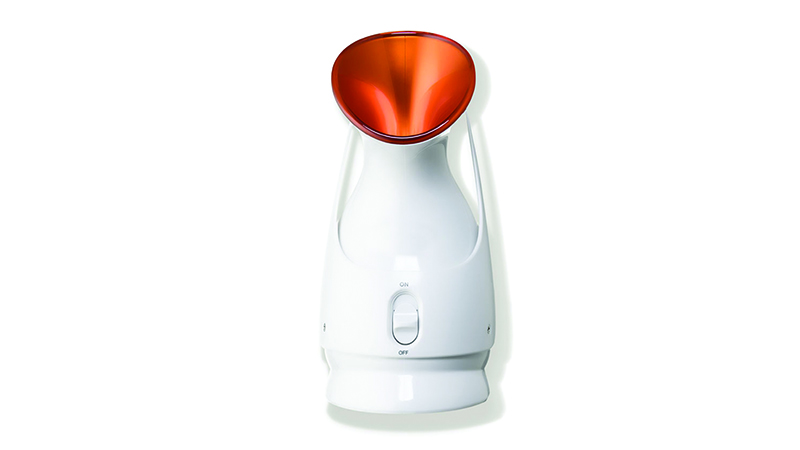 10. True Glow By Conair Moisturising Mist Facial Sauna System
Ultra-gentle and rejuvenating, the True Glow By Conair Moisturising Mist Facial Sauna System creates a super fine and soft steam bath for your face that won't irritate or cause redness. Plus, the cone design makes it easy to concentrate the mist on trouble areas like your nose. Designed to be used as part of a three-step skincare routine, the steamer comes with a facial cleansing brush with both exfoliating and moisturizing heads to help get your skin to tip-top condition.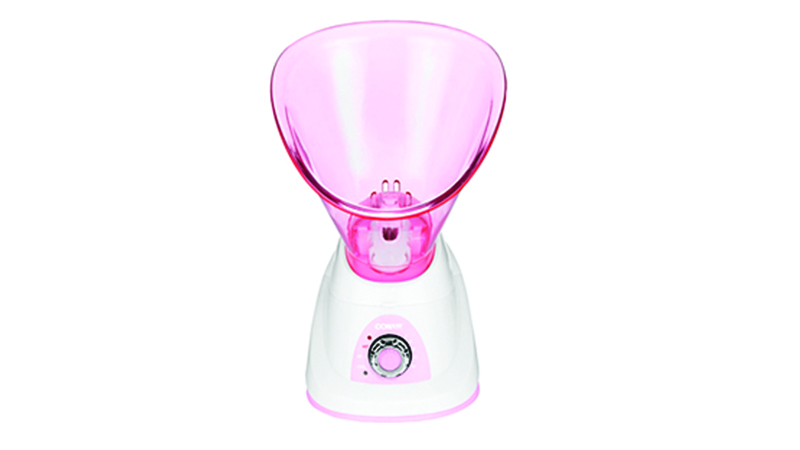 11. Hey Dewy Portable Facial Humidifier
There's nothing like a pamper session while you're on holidays – or at the end of the day while on a business trip. The lightweight and compact Hey Dewy Portable Facial Humidifier produces a fine, cooling mist that's perfect for hydration and doubles as an air humidifier as well as a glowing LED nightlight. Quiet and efficient, the steamer can also be charged through USB, meaning you can plug it into your laptop, car, or even your plane seat and have a soothing mist wherever you go.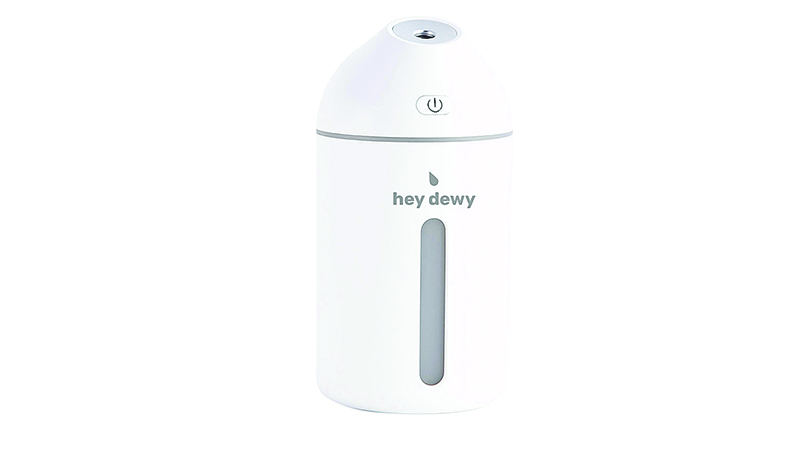 12. Okachi Gliya Facial Steamer
Simple yet effective, the Okachi Gliya Facial Steamer is one of the easiest steamers to use. It heats up with one touch of the power button and flashes when it's fully heated within one minute. Even better, it automatically switches off after a standard 15-minute steam session. The ceramic heating element means there's no metal or plastic smell, and the nano-ionic technology refines the water into micro-steam particles to deeply hydrate your skin. The steamer also comes with blemish extraction tools that keep your complexion clear and fresh.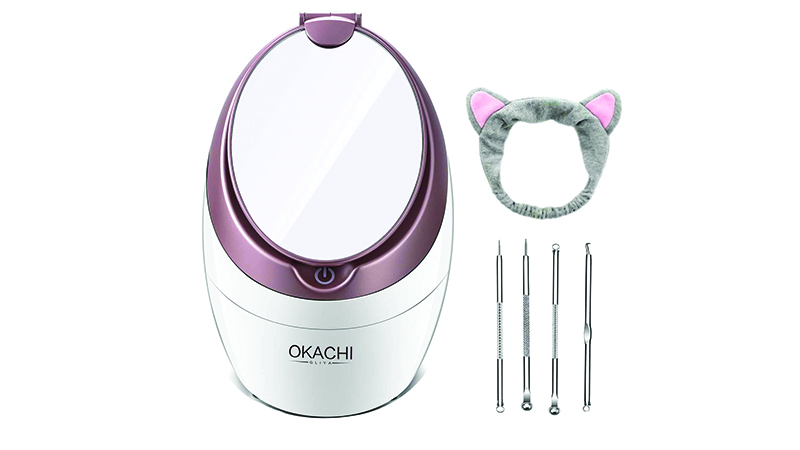 13. Panasonic Spa-Quality Nano Ionic Facial Steamer
Treat yourself to the luxury steam experience with Panasonic's Spa-Quality Nano Ionic Facial Steamer. The sleek unit generates micro-fine steam particles that help your skin absorb more moisture. At the same time, the gentle yet powerful mist deeply penetrates pores to send blackheads packing. One of the biggest benefits is how quickly the steamer heats up – you can complete your whole steam routine in just six minutes, making it ideal for those who want perfect skin without the time commitment.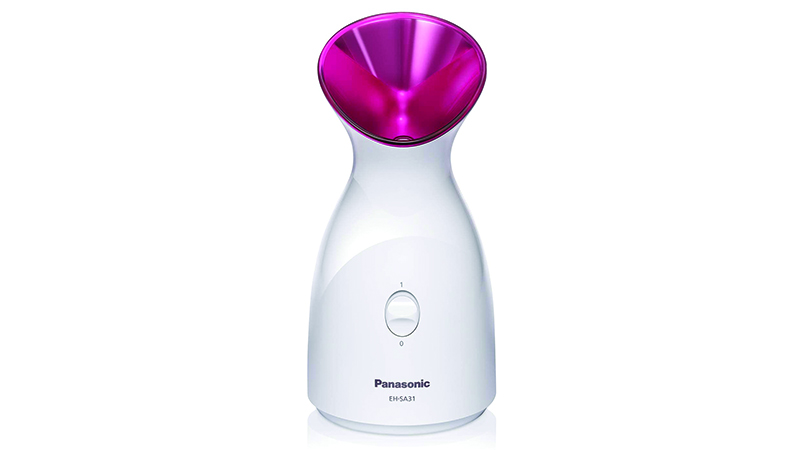 14. Newbealer 3-in-1 Nano Ionic Steamer
The Newbealer 3-in1 Nano Ionic Steamer can produce both hot and cold mist, meaning you can soften pores, cleanse your skin, and refresh your complexion all with one product. The jumbo tank means you can steam your face for 20 minutes at a time or enjoy cooling mist for more than an hour. Plus, it has a hidden aromatherapy basket to take your steam session to the next relaxing level. Adjust the nozzle to target your problem areas, and use the cleansing brush that comes with the steamer to give yourself a deeper skin treatment.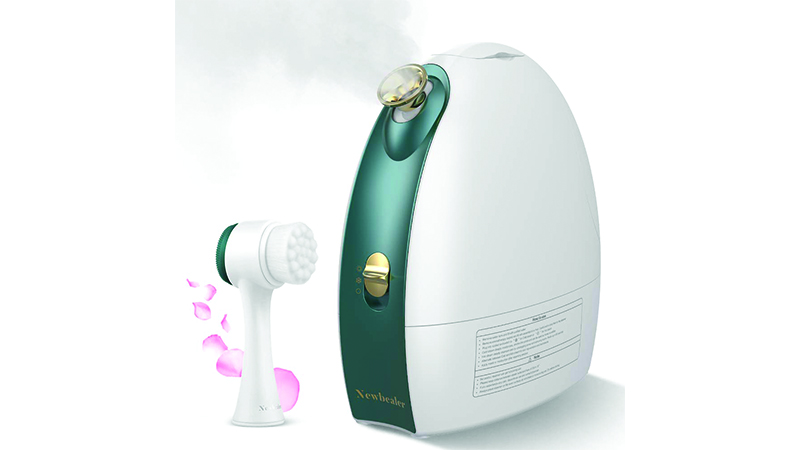 15. EZBasics Ion Facial Steamer and Hair Humidifier
Treat your hair and your skin at the same time with the portable EZBasics Ion Facial Steamer and Hair Humidifier. The facial steamer uses ceramic heating and ionization to create a fine, hydrating mist that will soften and help cleanse your pores. Meanwhile, the steam cone will help give your hair salon-quality results when used with treatments. The warm mist helps open the hair follicles to allow masks and oils to penetrate the shaft, making them more effective. Meanwhile, steam also opens pores and hydrates the scalp, which improves circulation and reduces dandruff.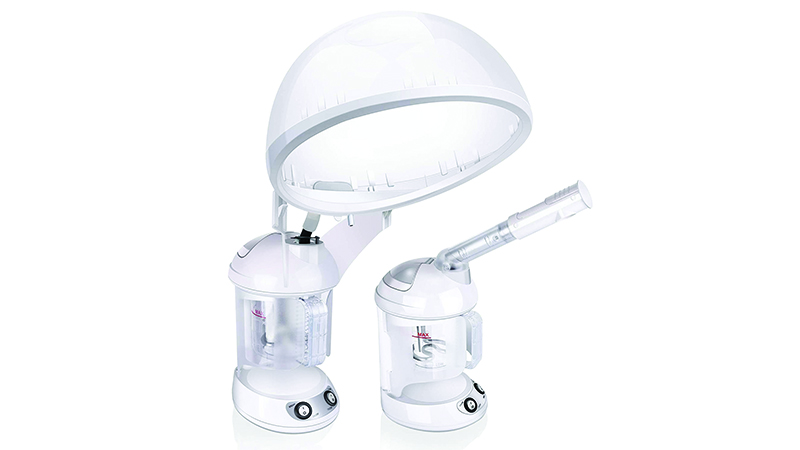 FAQs
How to use a facial steamer?
Facial steamers are easy to use. First, fill the water tank with filtered or distilled water, then place it in the steamer unit. Follow the instructions for securing the tank and switching the machine on. Then wait for it to heat up and start producing steam. 
What does a facial steamer do?
A facial steamer produces ultra-fine water mist. This mist may be warm or cool. Because the particles are so small, they can deeply penetrate your skin. Both types of mist help improve hydration and prep your skin for make-up or skincare. Meanwhile, warm mist has the added benefit of softening your pores, making it easier to perform extractions on blackheads and blemishes.
What are the benifits of facial steaming?
Face steaming is beneficial for most skin types, but you will see the most dramatic results if you are prone to blackheads, congestion, and dull skin. That is because using a facial steamer softens the debris in your pores, making it far easier to extract them manually. Doing so also helps to stop breakouts from forming as bacteria are cleared away in the process. But clearer skin isn't the only benefit; steaming your face warms the whole surface, making it easier for serums and moisturizers to sink in. Plus, your skin's brightness improves over time due to the increased blood circulation. Essentially, adding face steaming to your skincare routine prevents breakouts and makes products more effective.
How to do a facial steam?
Adding steam to your skincare routine once or twice a week is a great way to keep your complexion looking radiant. First, take off your make-up and cleanse your skin as usual. Use a gentle exfoliator next to remove dead skin cells and any other residue. Then, use your facial steamer. Check your skin after two minutes of steaming and if it looks calm – not angry, red, or irritated – continue to steam for a few more minutes, according to the machine's intructions. After steaming is the perfect time to apply a mask or gentle peel. After washing off and drying your face, apply your serum and moisturizer as usual.
How to clean facial steamer?
It's generally recommended to clean your facial steamer once a month to avoid bacteria build-up and mineralization. To clean your steamer, remove all water from the tank then replace it with distilled water and two tablespoons of vinegar. Let the machine heat fully and produce steam for 30 seconds, then switch it off and wait 15 minutes, with the remaining vinegar-water solution in the tank. Empty the steamer then refill with distilled water and run the machine until the water tank is empty, then wipe the machine down with a clean, damp cloth once it's cool enough to touch. 
SUBSCRIBE TO OUR NEWSLETTER
Subscribe to our mailing list and get interesting stuff and updates to your email inbox.