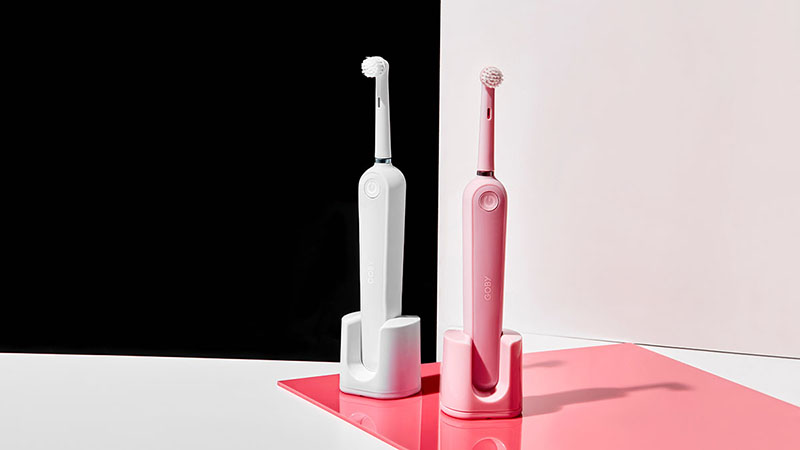 Flash your pearly whites with more confidence once you add an electric toothbrush to your oral care regime. Electric toothbrushes range from basic to tech-driven, but all give a superior clean when compared to manual brushing. The oscillating or sonic vibration brush heads break up debris and plaque far more efficiently. Many options also have a two-minute timer, which is the dentist's recommended duration to get a thorough clean. When it comes to dental health, electric toothbrushes are about working smarter, not harder.
1. Oral-B Genius Pro 8000
Enjoy whiter, brighter teeth and healthier gums thanks to the Oral-B Genius Pro 8000. This electric toothbrush is compatible with all Oral-B brush heads, so you can choose your favorite, or mix them up. Connectivity with your smartphone helps improve your cleaning habits, giving you real-time feedback using facial recognition. You can also choose from six cleaning modes including daily clean, gum care, sensitive, whitening, tongue cleaning, and pro-clean mode. Next, the customizable Smart Ring will let you know when it's time to change regions, or if you're being too enthusiastic with the pressure. The stylish Smart Travel Case is also brilliant because not only does it charge your toothbrush on the go, it charges your phone too. Best of all, this brush is great for multi-user bathrooms, as it comes in five different colors, avoiding potential toothbrush mix-ups!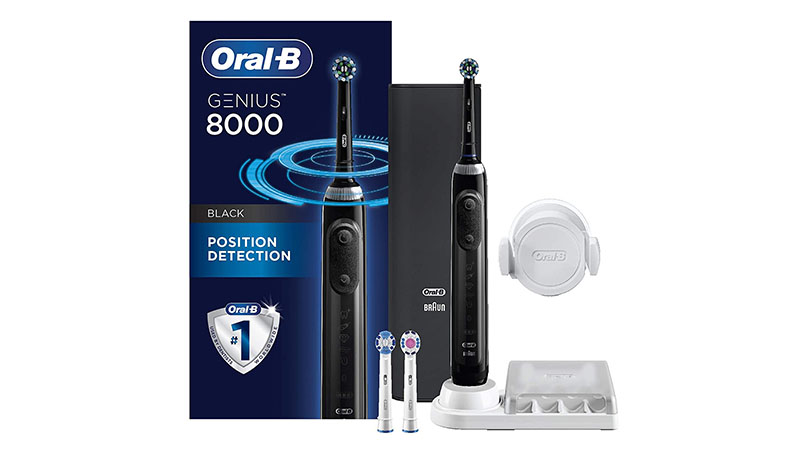 2. Philips Sonicare DiamondClean Smart 9750
Shine bright like a diamond with the Philips Sonicare DiamondClean Smart 9750 cleaning your teeth. This leading toothbrush is state of the art, with up 62,000 movements per minute. There are three intensities in five modes to customize your clean, allowing you to target your trouble spots. Get real-time feedback on your technique with the Philips Sonicare app, which also coaches you on how to clean better. Each of the different brush heads has a microchip embedded, which connects to the app, selecting the ideal settings for the best results. This chip will also remind you when it's time to replace the head. Finally, charge with ease, using either the handy travel case or the state-of-the-art charging glass. There's no need for a bulky charging station on your bathroom counter.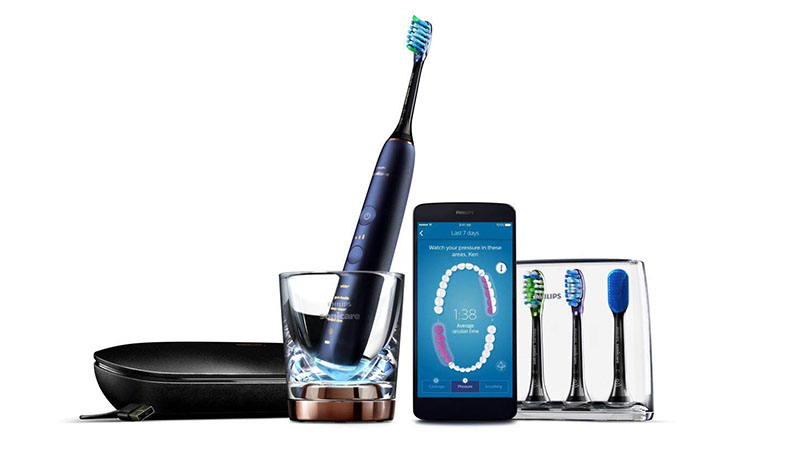 3. Philips Sonicare Protective Clean 5100
The Philips Sonicare Protective Clean 5100 helps improve your gum health and protect your teeth. This electronic toothbrush features 14-day battery life, a two-minute timer with QuadPacer, and a reminder for replacing the head. The pressure sensor ensures you don't go too hard, and you can select one of the three brushing modes. There's clean, white, and gum care. Lastly, the sonic technology gets down deep between your teeth for the freshest breath and brightest smile.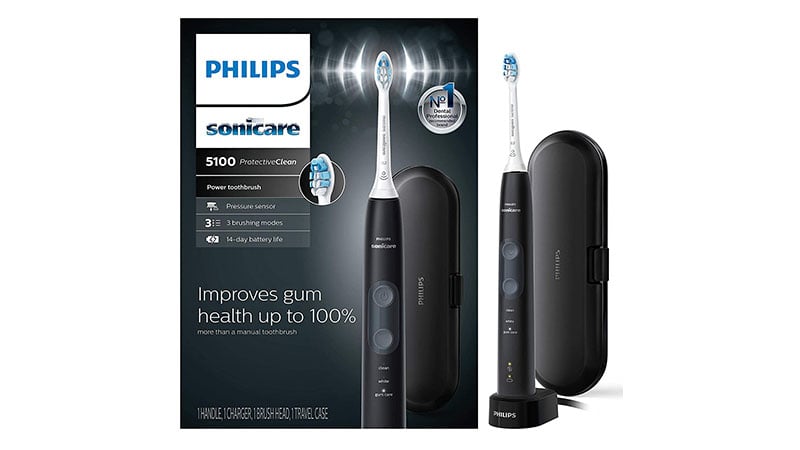 4. Oral-B Pro 1000
Enjoy a superior clean with the Oral-B Pro 1000. The CrossAction brush head, with its angled bristles and oscillating movement, comes standard and removes up to 300% more gum line plaque than regular toothbrushes. However, you can also choose what kind of clean you want, thanks to the compatibility with a range of Oral-B brush heads. It also features a pressure sensor to let you know if you're getting too enthusiastic, as well as a two-minute timer. The single Daily Clean mode makes it simple to operate and reassures that you're getting a thorough clean every day.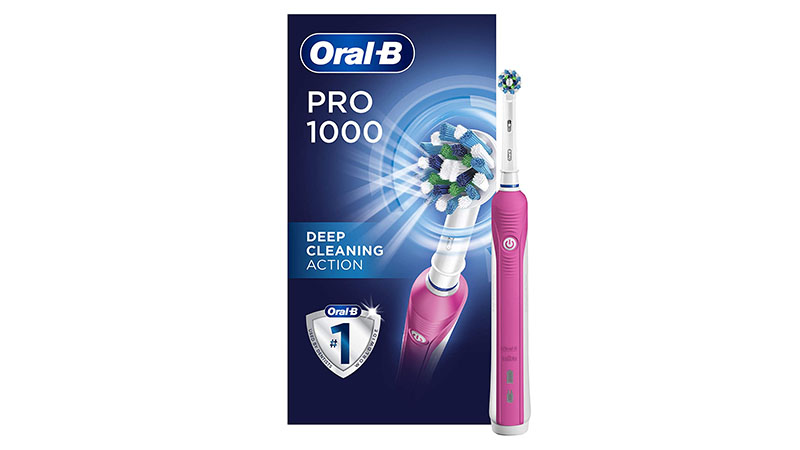 5. Philips Sonicare Protective Clean 4100
Keep it simple with the rechargeable Philips Sonicare Protective Clean 4100. This single-mode brush helps get you into good dental habits with a two-minute timer and Quadpacer, as well as a pressure sensor. The pulsating head works much more effectively than manual toothbrushes, removing up to seven times more plaque. It boasts an efficient battery life, lasting up to 14 days. Plus, there's an indicator to let you know when it's time to plugin again. Lastly, there's a reminder function to let you know when it's time to change to a new head.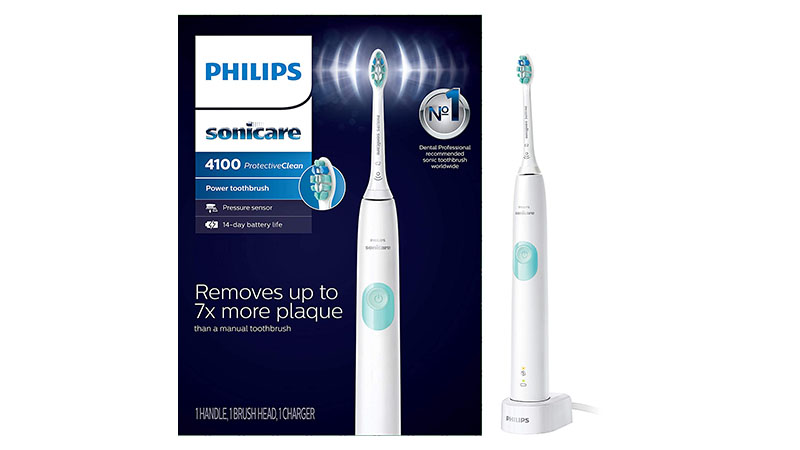 6. AquaSonic Black Series Ultra Whitening
Up your teeth game with state of the art technology. The AquaSonic Black Series Ultra Whitening is a stylish electronic toothbrush that boasts an industry-first Ultra Sonic 40,000 VPM Motor with four modes. The lithium-ion battery lasts for 30 days, and the wireless charging is super convenient. Whitening mode uses an inverted frequency to dissolve surface stains, for a bright smile. Plus, it's ten times more effective than manual brushing. The set comes with eight brush heads that will keep you kitted out for over two-and-a-half years. Finally, the hard shell travel case is great if you're on the move, and protects the toothbrush while you're in transit.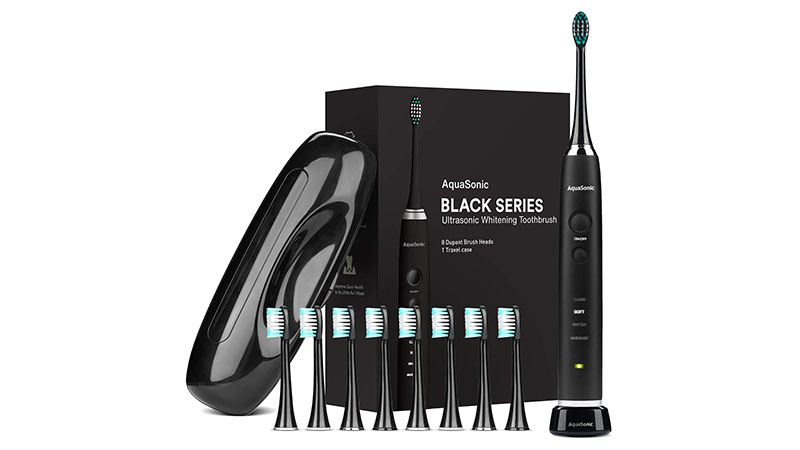 7. Hum Colgate
Colgate doesn't just do great toothpaste; it does excellent brushes too. Choose from three stylish colors in their Hum smart electric toothbrush — green, blue, or purple. It also comes in both a rechargeable and battery option that runs on AAA batteries. The sonic vibrations will switch between three modes, depending on your selection. There's normal, sensitive, and deep clean, making it great for a variety of users. You can also download the app, which guides you on how to brush better, and lets you earn points to redeem. Plus, it tracks movement in your mouth to ensure a balanced and thorough clean.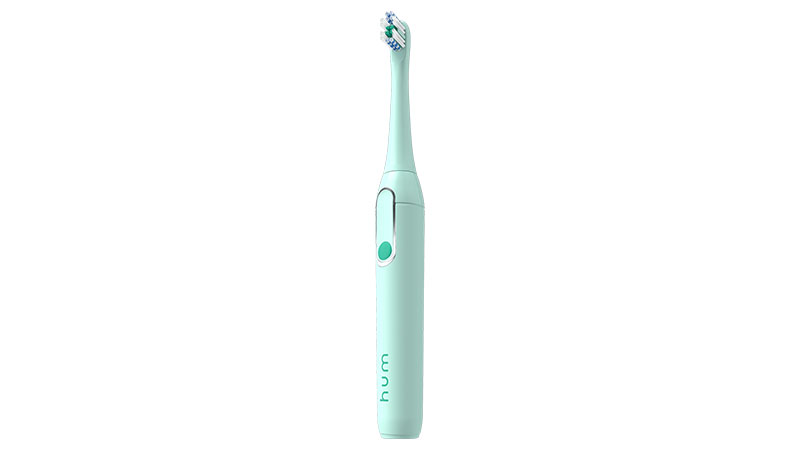 8. Fairywill Electric Toothbrush
The Fairywill Electric Toothbrush packs a punch for both battery life and cleaning. A single four-hour charge lasts for 30 days. Select from five different sonic cleaning modes, including white, clean, sensitive, polish, massage, to suit every oral health need. The two-minute smart timer ensures you're not slacking off, while the bristle color fades to let you know when it's time for a new head. The unit itself is waterproof, perfect for shower brushers, and the handle is ergonomic and non-slip. Lastly, this brush is great for traveling, with USB charging and a protective bristle case.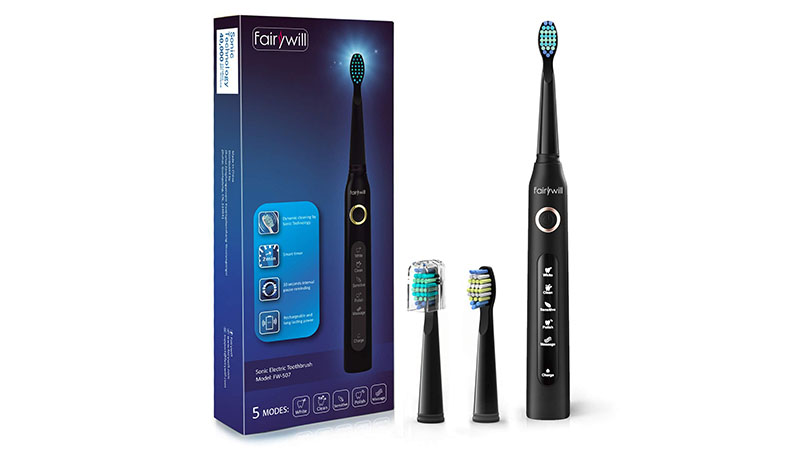 9. Foreo ISSA 2 Electric Toothbrush
The ISSA 2 from Foreo is a sleek design that raises the bar for electric toothbrushes. The sonic technology delivers a thorough yet gentle clean, with 11,000 pulsations channeled through the brush per minute. The USB charge only takes an hour and lasts for a whopping 365 days. When it comes to materials, the brush head uses both PBT polymer and soft silicone, which harbors fewer bacteria. Plus, the 3D flexible head gets to every corner of your mouth. The unit is waterproof, with an ergonomic soft-grip handle. Lastly, there are four colors — black, blue, mint, and pink — so there's no confusion in shared bathrooms over whose brush is whose.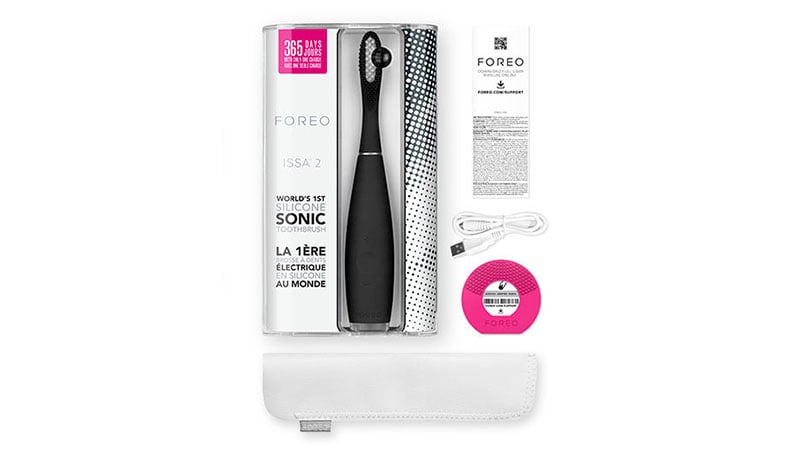 10. Waterpik Sonic-Fusion Professional Flossing Toothbrush
Take your two-step oral health routine down to just one step with the Waterpik Sonic-Fusion Professional Flossing Toothbrush. It combines the power of sonic brushing with water flossing. The brush connects to a reservoir, which streams water through the specialized head. It gets rid of the build-up between your teeth and along the gum line. You can even put your preferred mouthwash in the reservoir for the ultimate fresh feeling. There are three modes — brush, floss, or brush, and floss. There are ten speeds for the most comfortable experience and a two-minute timer with a pacer. You can also take the toothbrush with you when you're on the go. Just unplug it from the unit and pack it into the handy travel case.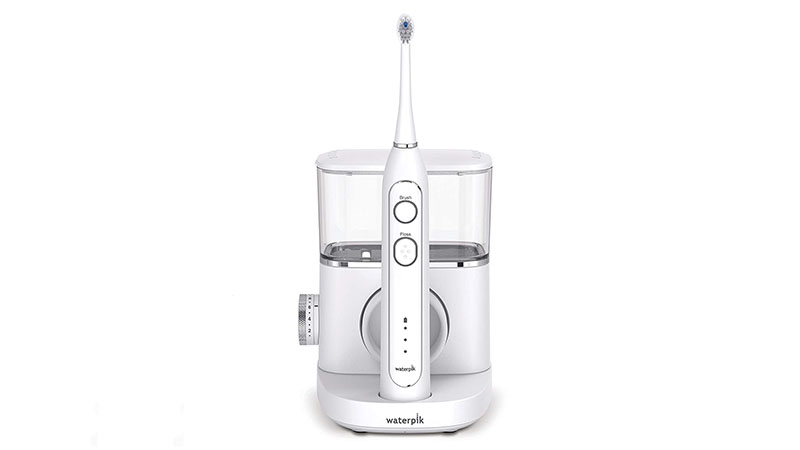 11. Oral-B Genius X Limited
Incorporate some Artificial Intelligence into your brushing routine with the Oral-B Genius X Limited. The brush connects via Bluetooth to an app on your phone. It then recognizes your brushing pattern and provides personal coaching on how to improve your technique. Select one of the six modes, depending on your needs and oral care goals. Then, the 360 SmartRing with LED lights gives you visual feedback on both your timing and pressure for the perfect clean. The set comes with a rechargeable handle, three heads, a charger, and a travel case for easy transport.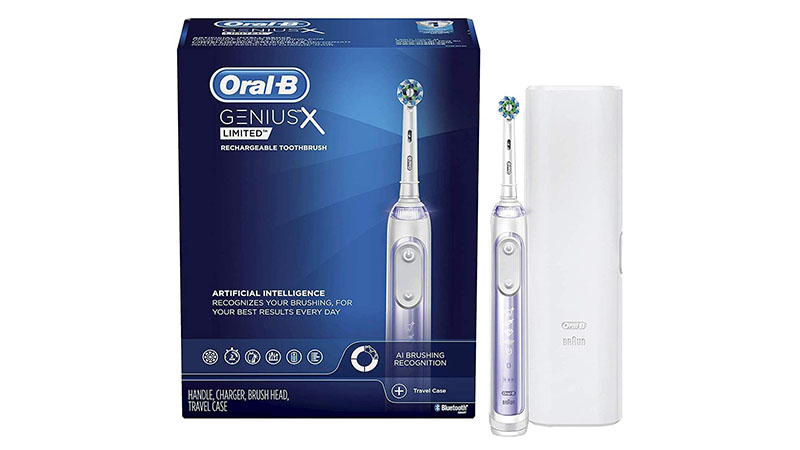 12. Pro-SYS VarioSonic Electric Toothbrush
Up your teeth game and clean smarter, not harder. The Pro-SYS VarioSonic Electric Toothbrush comes with five different precision brush heads so that you can make the perfect choice for your oral care. There are also five different brushing modes. When combined with the heads, that means you can choose from 25 different intensities for the ultimate clean. The unit lasts for a month on one charge, with a light indicator to advise when the battery is getting low. There's also a two-minute inbuilt timer, so you know you've done your dentist proud.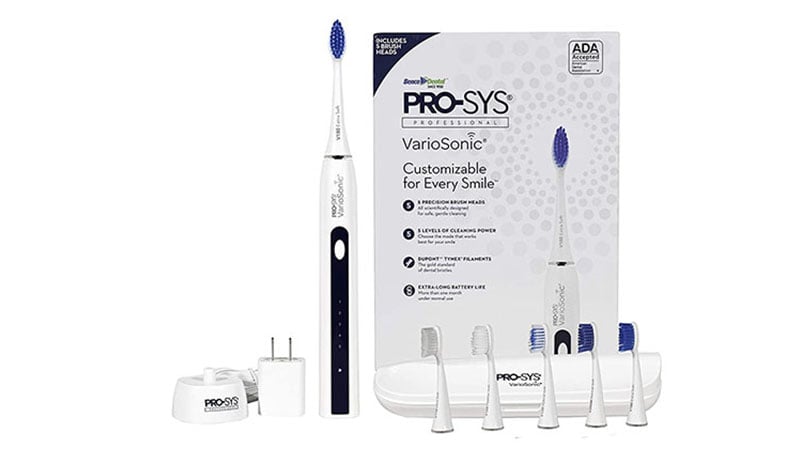 13. Quip Electric Toothbrush
The Quip Electric Toothbrush is a slim, compact design, making it easy to store and great for travel. You can brush in the shower because the unit is waterproof, and it also comes with a cover that can be mounted on your bathroom mirror. The sonic vibrations efficiently get rid of plaque and debris, while still being gentle on your teeth and gums. Sign up for the replacement subscription to get new heads automatically sent to your home. That way, you never have to worry about a bad clean.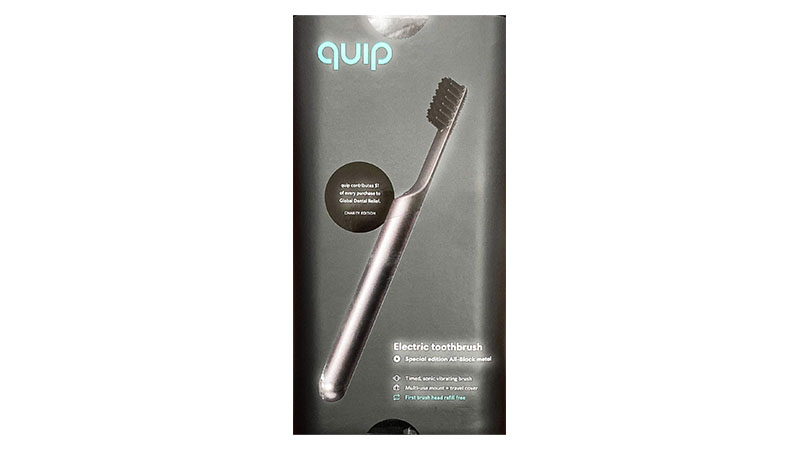 14. 2 Sonic Electric Toothbrushes
This is the perfect electronic toothbrush set for couples. In the package, you'll get two handles, eight brush heads, two protective bristle cases, and two USB charging cables. The toothbrushes themselves have five modes, including clean, whiten, sensitive, polish, and massage. You'll be able to remove up to 300% more stains and plaque than a manual brush, thanks to the 40,000 sonic vibrations per minute. The device is waterproof and also has a two-minute timer. Lastly, it's also great for traveling, as a single charge lasts 30 days, and it's compact and lightweight, so won't bulk out your toiletries bag.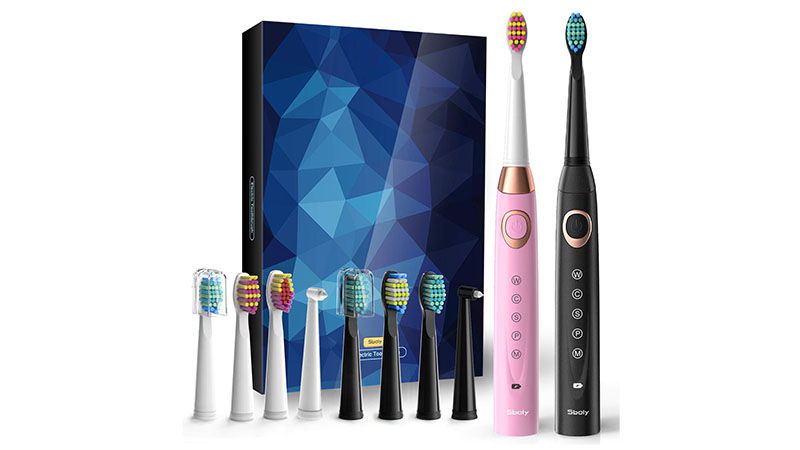 15. Shyn Sonic Rechargeable Electric Toothbrush
Add an award-winning electric toothbrush to your daily routine for incredible results. This design from Shyn won People Magazine's 2019 Travel Award for Best Electric Toothbrush and Wired Magazine's Favorite Electric Toothbrush. It's packed full of technology, with 31,000 brush strokes per minute and a pressure sensor for a comfortable clean. There are also five intensity levels over four modes, so you can mix and match to your preference. The wireless charger is also waterproof and incredibly compact, so you can take it on vacation, packed safely away in the sleek travel case.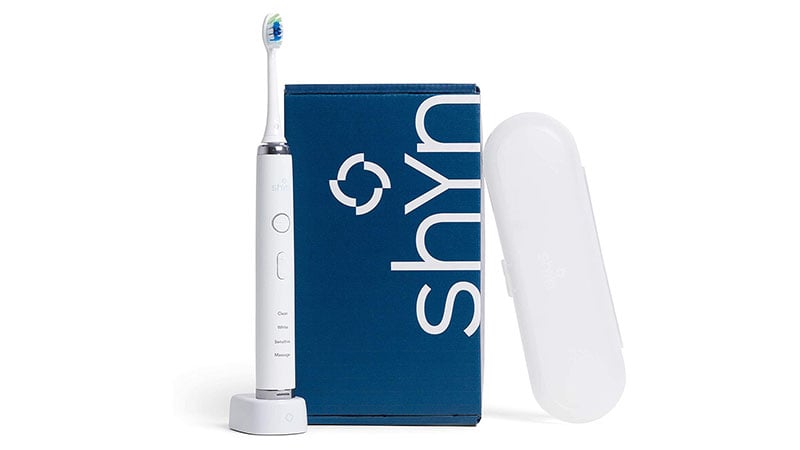 FAQs
Which is the best electric toothbrush?
The Foreo ISSA 2 Electric Toothbrush is an industry-leading and innovative electric toothbrush. The revolutionary silicone head is incredibly hygienic, and the fact that the battery lasts for a full year is also excellent. It's priced higher than many other electric toothbrushes, but it well worth the investment.
What Oral-B Electric toothbrush is best?
The Oral-B Pro 1000 with CrossAction head has some of the best reviews around. It's a good investment at a reasonable price and gives you a quality clean for the ultimate smile. 
Which is better Oral-B or Philips?
Both Oral-B and Philips are dental care industry big guns. They also both offer a wide variety of electric toothbrushes that range from basic to technology-packed. Each of them has pros and cons to all of their models. However, many reviews rate Oral B overall as slightly better than Philips due to the generally lower price point, battery life, and comfort of use.
What type of electric toothbrush is best?
Any electric toothbrush is going to be better for your dental care than manually brushing. The Oral-B Pro 1000, Philips Sonicare Protective Clean 4100, and Hum Colgate are all great for beginners and will get you used to electric brushing. Once you've perfected your technique, you can move up to multi-mode and multi-function designs.
What is the best electric toothbrush recommended by dentists?
The three electric toothbrush models that consistently sit at the top of "dentist recommended" lists are the Foreo ISSA 2 Electric Toothbrush, Oral-B Pro 1000, and Philips Sonicare DiamondClean. Keep in mind; most dentists will just be happy if you brush and floss twice a day, regardless of the model you use!
SUBSCRIBE TO OUR NEWSLETTER
Subscribe to our mailing list and get interesting stuff and updates to your email inbox.