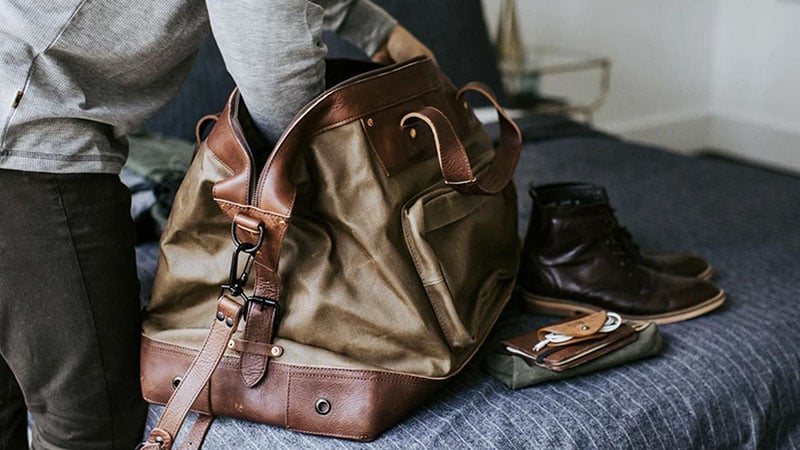 Duffel bags are the true workhorse of any stylish man's wardrobe. They're ideal for heading to the gym, embarking on a hiking trip, or jetting off for a romantic weekend away. There's always plenty of storage room and ways to organize your essentials. Plus, most come with a choice of carrying methods, from grab handles to shoulder straps. When looking for a new duffle, there's a lot to consider, so we've rounded up some of the best available duffle bags for men. They include classic athletic designs from leading sportswear companies, rugged options for the great outdoors, and refind styles that wouldn't look astray in a first-class aircraft cabin.
Best Men's Duffle Bags
1. Adidas Defender III Small Duffel Bag
Keep it classic with this sporty duffel bag from Adidas. It's a smaller size, measuring 20.5 inches long and 11.7 inches wide. This makes it perfect for trips to the gym, work, or school, as you can fit all the essentials without it being inconveniently large. Use the main compartment for items like clothing and sports equipment, while the two end compartments are great for keeping your shoes separated. There's also a small zippered section for things like keys, phones, and wallets. This duffel bag will last a long time, thanks to the 3D zip-stop fabric outers, which are designed to be extra durable. Finally, there are over 40 different color variations to choose from, including black, blue, grey, red, white, and purple.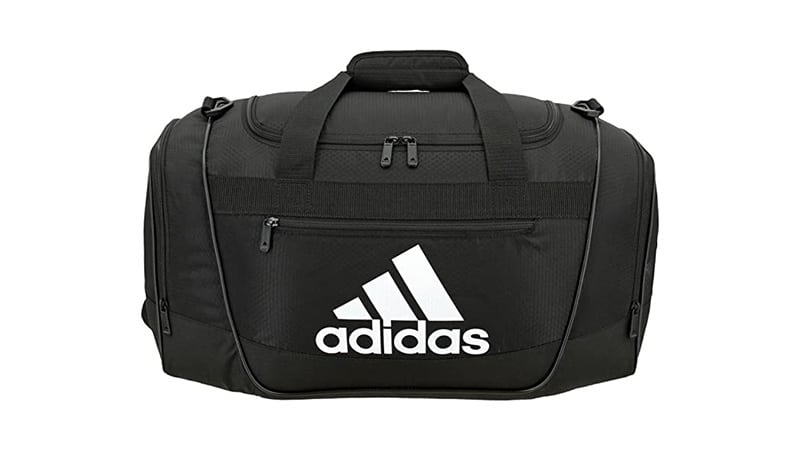 2. PUMA Men's Contender Duffel Bag
PUMA's Contender duffel bag for men is the perfect choice for the gym or sports. It has two carry options — a long adjustable strap or double handles that conveniently velcro together. There's a main compartment that's accessed with a double zip, as well as a separate shoe section, which is well-ventilated to prevent the build-up of smells and bacteria. Plus, there's a front pocket for smaller items. With its sleek styling and simple PUMA cat logo, you'll look fashionable and athletic all at once. Select from a range of colors: black, grey, red, blue, and navy.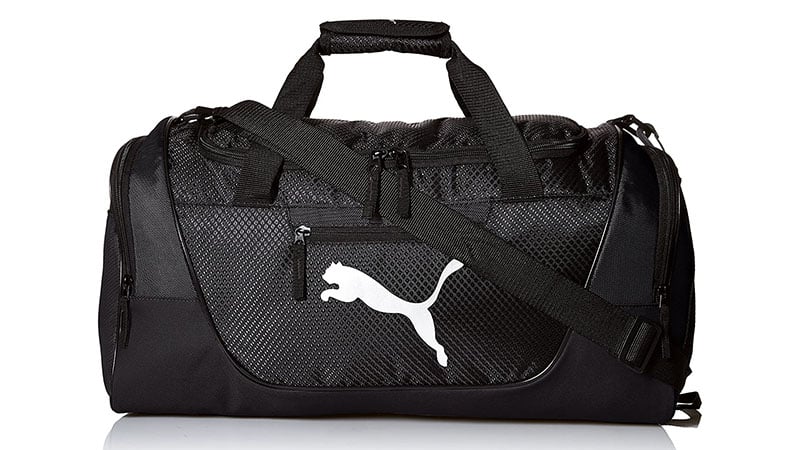 3. Sealand Gear Hero Ripstop and Nylon-Canvas Duffel Bag
This design from Sealand Gear is excellent if you're looking for a more refined duffel bag option. The construction is made of ripstop fabric that's been upcycled from yacht sails, as well as nylon canvas. This means it's exceptionally durable and tough-wearing, so you can expect it to be a wardrobe mainstay for years to come. When it comes to storage, there's a place for everything. Not only is the main section incredibly roomy, but there are a padded laptop sleeve and a separate compartment for valuables. Choose to carry this like a regular duffel, or use the padded shoulder straps to wear it like a backpack for better weight distribution.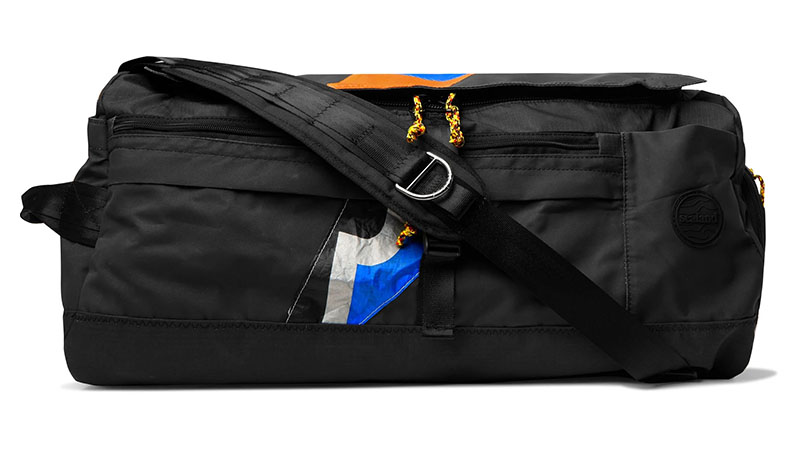 4. Under Armour Undeniable Duffel 3.0 Gym Bag
All your belongings will stay protected in this Under Armor duffel bag. The UA Storm technology used in the materials on the outer provides a highly water-resistant finish, so if you get caught in the rain or spill a protein shake on it, you don't need to worry about the contents getting damaged. Plus, the base of the bag and sides are abrasion resistant for even the toughest users. The padded grab handles give you a comfortable grip, or you can use the shoulder strap. Put your shoes or sweaty workout gear in the vented pocket and small items in a zipped internal pocket. There's also plenty of room for all the necessities in the main section.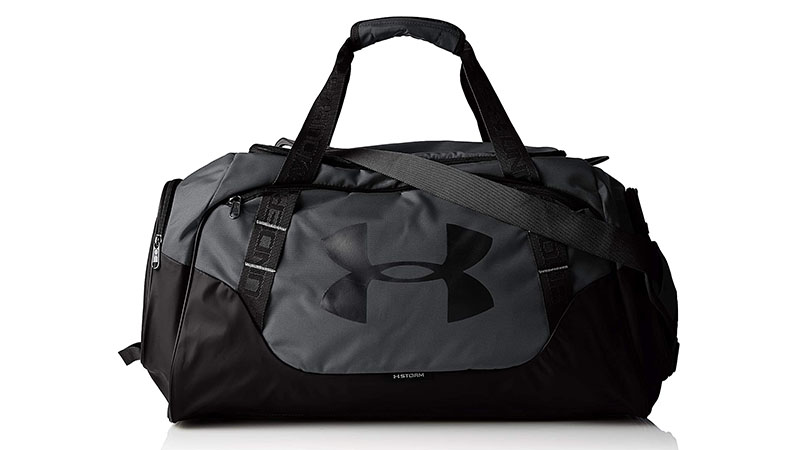 5. The North Face Base Camp Duffel Bag TNF Black Size Large
Like most things The North Face does, this duffel bag is built for outdoor adventures. It's super tough and has 95 liters of capacity to hold everything you need for your next hiking expedition, a weekend away or a trip to the gym. Enjoy the benefits of water-resistant Base Camp material, double stitching for strength, and four compression straps. It also features a D-zip opening and zippered end-cap compartment to separate your wet and dirty items without impacting space. While it does have a regular grab handle like most duffels, you'll get the most comfort out of using the alpine-cut shoulder straps. Finally, it has extra mesh storage sections internally to assist with organization and keep small belongings handy.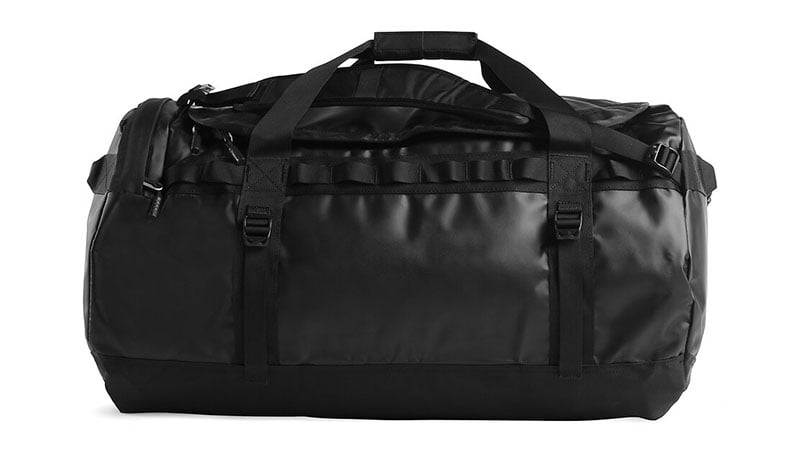 6. Nike Football Academy Duffel Bag
Stash all your essentials in this Nike Football Academy duffel bag. The sporty design is great for athletes, and there's heaps of room in the main compartment for all your gear. A reinforced base helps the bag maintain its shape, so packing and unpacking is a breeze. The tote-like shape also offers a great alternative to traditional duffel bag designs yet still features top and side grab handles and a shoulder strap. The bag's bottom section is zipped to allow you to separate wet or sweaty clothes and shoes. Plus, there's an external zip pocket and an internal mesh one for better organization.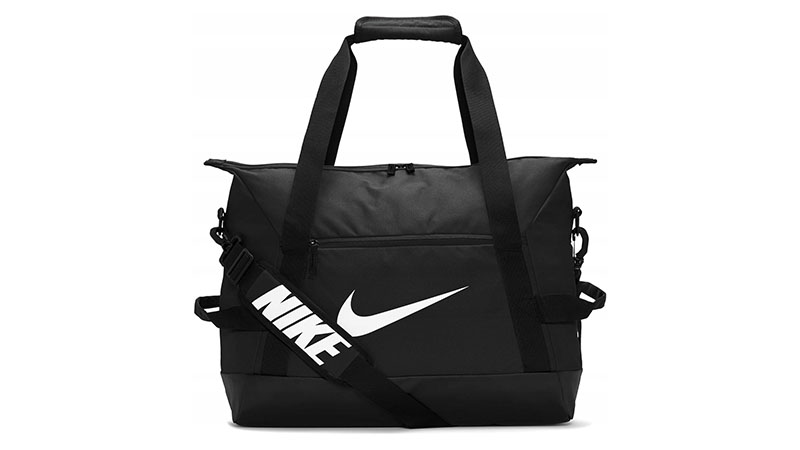 7. Tommy Hilfiger Men's Hayes Duffel Bag
Tommy Hilfiger brings its preppy style to duffel bags with the Hayes design. It boasts clean lines and simple styling that features the iconic Tommy Hilfiger palette of navy, red, and white. You'll enjoy plenty of room for storage with the large main section, as well as a smaller side pocket for anything you need to keep separate or easy to access, such as keys, phone, or passport. It also comes with handles on the top or a removable shoulder strap. Finally, the thick cotton and nylon material is durable and simple to spot clean.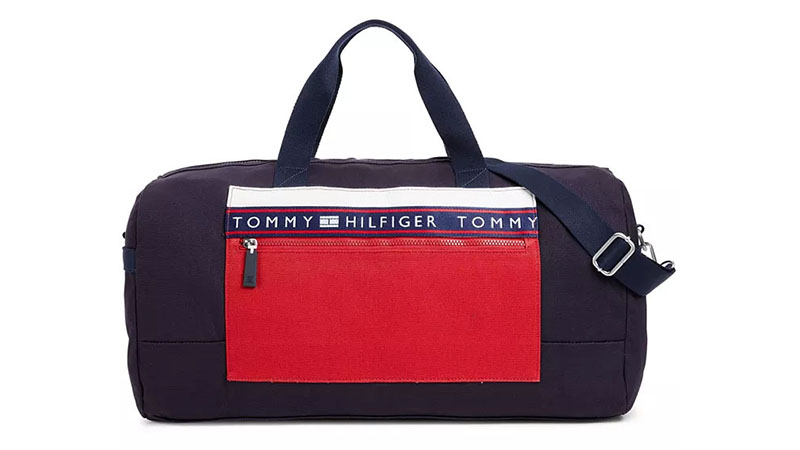 8. Samsonite Tote-A-Ton 32.5-Inch Duffel Bag
Samsonite is one of the leading luggage brands globally, so it's no wonder they also offer some fantastic duffel bags. This design is incredibly lightweight and made from 420 denier nylon, so it's very durable and hard-wearing. Plus, it has a huge capacity, so you can fit everything you could need. Choose from various colors, including bright green, orange, pink, and red – all of which will make spotting your bag at a luggage carousel much easier! Best of all, when the bag isn't in use, it can be rolled up into a tiny size, so it doesn't take up excess room in your wardrobe.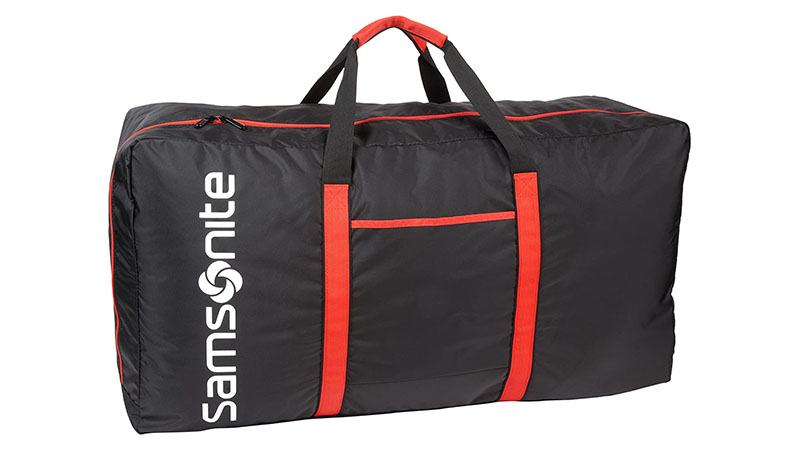 9. Osprey Rolling Transporter 120 Duffel Bag
Sometimes there's so much to pack that a rolling duffel is the best option. This massive 120-liter capacity style from Osprey gives you the space you need and saves your back from hauling around excessive weight. There's a lightweight yet sturdy aluminum frame, extendable handle, and large wheels to conquer any terrain. You'll be able to keep your items secures with the two internal compression straps. There are also two large interior pockets, an end pocket, and a double rain flap to keep everything dry. Finally, five options of handles make lifting the bag a breeze at any angle.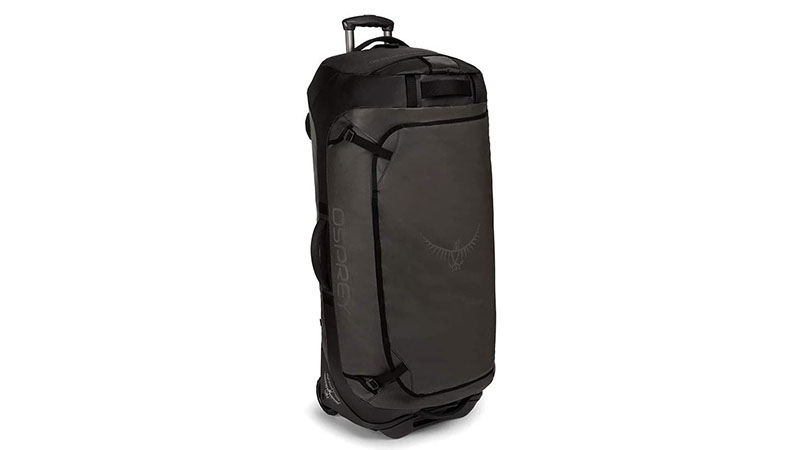 10. Valextra Boston Pebble-Grain Leather Duffel Bag
Men who have a taste for the finer things in life will appreciate this beautiful Boston Pebble-Grain Leather Duffel Bag from Valextra. It boasts a boxy shape to give you the ultimate amount of space in the main compartment, while side-slip pockets allow easy access to important items. The bag is crafted from the finest Italian leather and has a protective layer of hand-painted lacquer to make it even more robust. Each grab handle is also leather, while the shoulder strap is removable, so you can keep the silhouette minimal if you prefer. While the price makes it more of an investment piece than alternatives, it's sure to last you a lifetime of jet-setting around the world.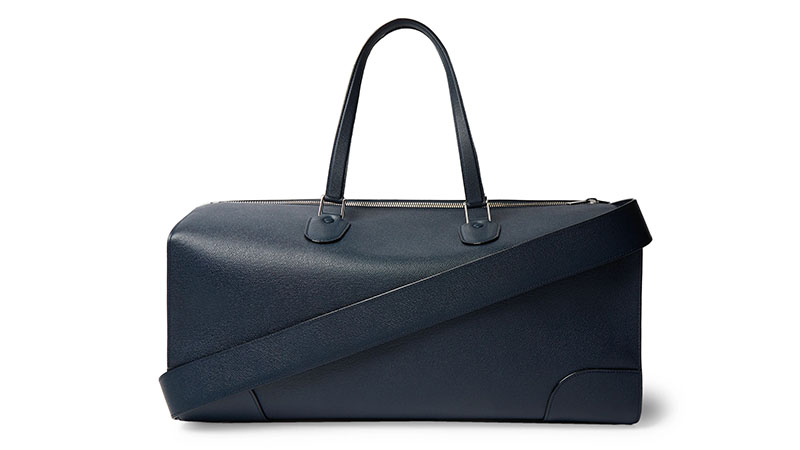 11. Thule Subterra Convertible Carry On 40L
This convertible duffel bag from Thule is the perfect choice for daily use, no matter your needs. The combination of compartments, accessories and removable sections means you can use it for the gym, the office, or travel. Firstly, you can carry it with the side handle or take the shoulder straps out from the rear storage section to make it a backpack. Then, it has a suitcase-style opening that reveals separate zippered sections to help keep things organized, and there's an additional section for shoes or dirty laundry. Other convenient accessories include a passport pocket, internal mesh pockets for small items, and a carabiner clip to keep your keys handy. Finally, there's also a removable laptop sleeve that fits not only your computer but a tablet and additional items such as a phone, charger, and stationery.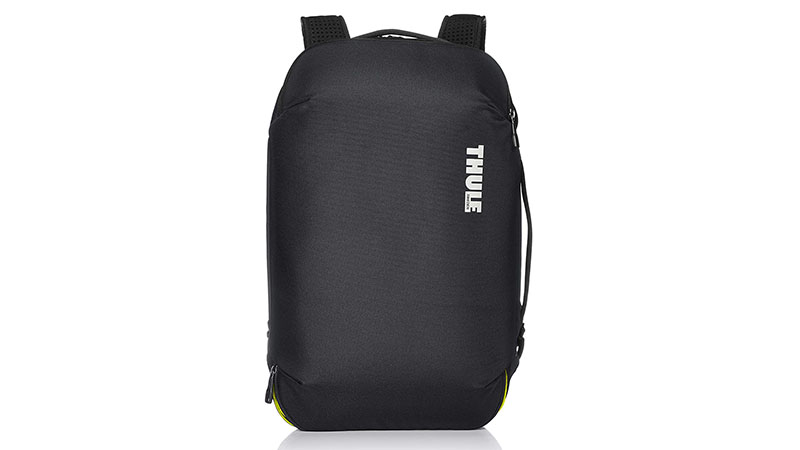 12. DALIX 20″ Sports Duffel Bag
Budget-friendly duffel bags don't have to compromise on room or style. This option from DALIX is ideal for daily use. In addition to the roomy main compartment, there are two zippered end sections and two external mesh pockets that are perfect for a water bottle, umbrella, or even your phone. The padded handles make it comfortable to carry, while there's a removable shoulder strap for extra convenience. You can also select from nine color combinations, including black, green, gold, grey, mushroom, navy, purple, red, and blue.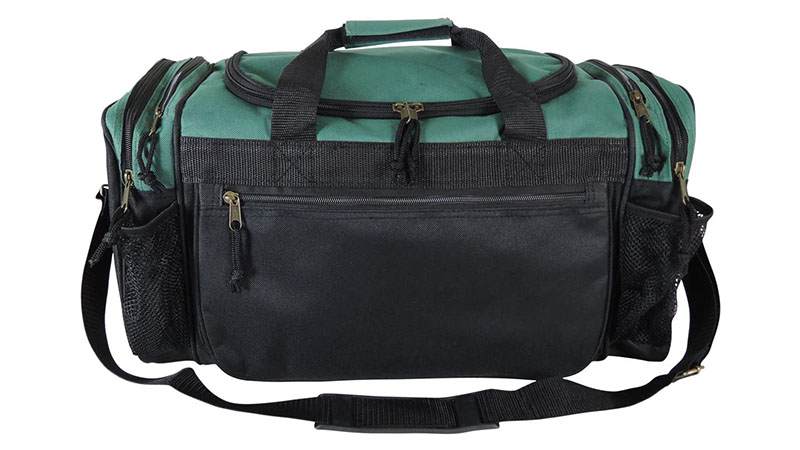 13. Canway 65L Travel Duffel Bag
Canway's 65-liter duffel bag is a great style and size for travel, the gym, or weekend getaways. It's made from 600 denier polyester that is tear-resistant and waterproof. There is one large main compartment, as well as six additional smaller spaces for better organization and easy access. One of these pockets is even ventilated for shoe storage. Plus, there's a slip-through panel on the back, so you can easily slide it over the handles of a suitcase if you're off on a more extended trip. Finally, the smooth finish and sleek silhouette make it a very fashionable choice, as does its range of trendy color options, including black, grey, pink, purple, red, and blue.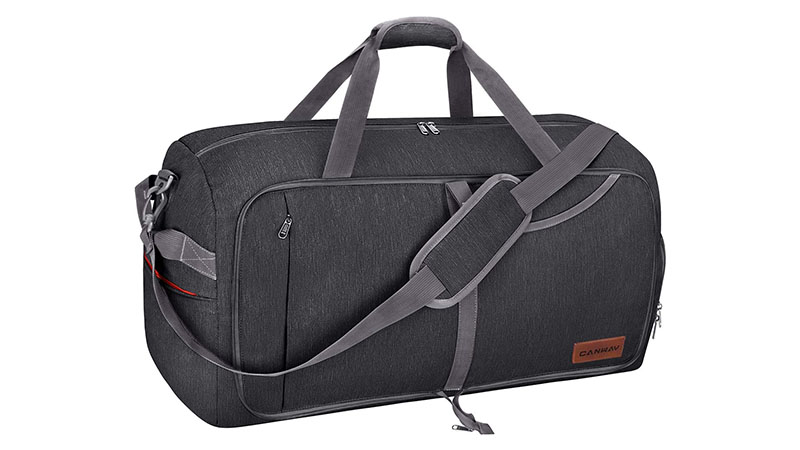 14. 5.11 Rush LBD Molle Tactical Duffel Bag
Choose this rugged and durable load-bearing duffel bag from 5.11 for all your outdoor adventure needs. The company produces a range of tactical clothing and gear that's ideal for climbing, hunting, camping, or hiking. As such, this design is made with exceptionally durable 1050 denier nylon, which is also waterproof. The zippers are self-healing YKK ones, so you never have to worry about a bust-out. There's also plenty of room for all your equipment, and if it gets too heavy, switch from the grab handles to the backpack straps for easier carrying. Lastly, if you find the internal storage is not enough, the exterior features molle webbing so that you can secure additional kit to the outside.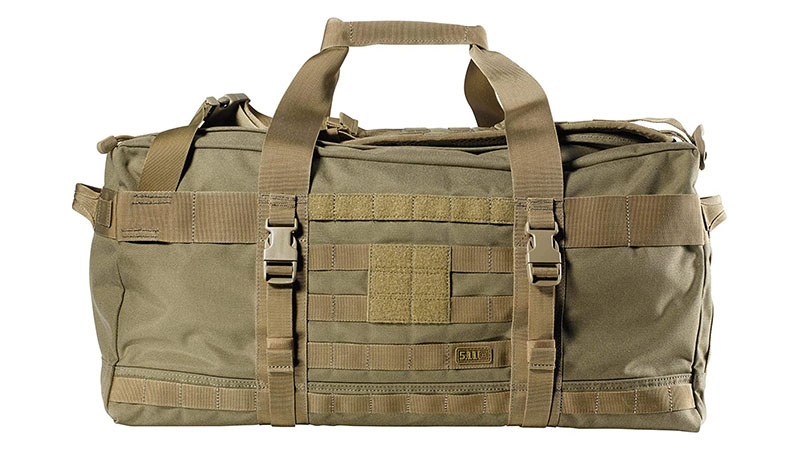 15. Herschel Supply Co Sutton Herringbone Canvas Duffel Bag
The herringbone canvas on the Sutton duffel bag from Herschel Supply Co is designed to withstand the toughest wear and tear. Plus, it's finished with a water-resistant barrier for extra protection. There's plenty of room on the inside for all your belongings, and there's an additional front pocket for small or valuable items. Carry it using the side handles or top handles, which also convert into backpack straps if that works better for you. While Herschel Supply Co makes bags suitable for outdoor adventures, this one is stylish enough for everyday use.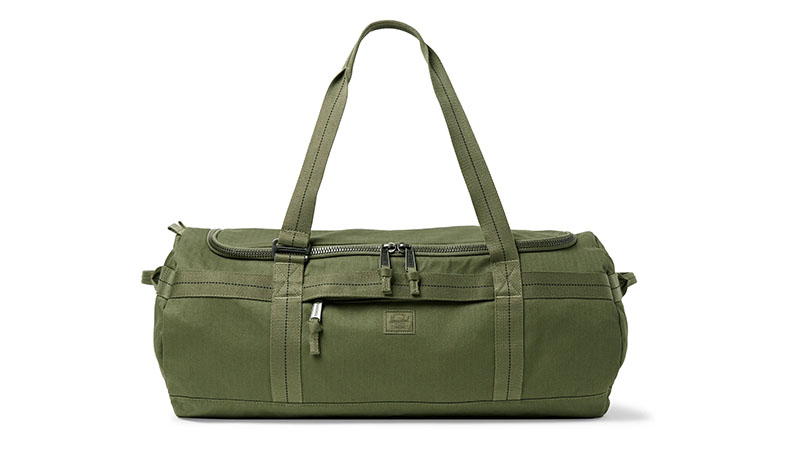 16. Plambag Canvas Duffel Bag
Make use of the multi-pocket design in this Plambag Canvas Duffel. It's perfect for separating and organizing your daily items, such as shoes, electronics, passports, or tablets. The main compartment has plenty of room; however, if it's not quite enough, unzip the extra panels that allow you to expand the bag by nearly four more inches. When it comes to the construction, it's made from high-density cotton canvas, nylon lining, and extra-large zippers with tan tabs. You can select from various colors, including grey, black, coffee, green, blue, and camouflage. Best of all, it's a very cost-effective option, which is excellent if you have a limited budget.
17. Fossil Men's Leather Duffel Bag
This duffel bag from Fossil is a great choice for men looking for something extra special. It comes in rich cognac and classic black, both of which are easy shades to incorporate into your wardrobe. In addition to the large main compartment, there's also a media and zip pocket on the inside, as well as four elastic loops for securing items. There are also three exterior pockets – two on the front with zip closures and an easy-access rear slip pocket with a magnet. Carry it with the two grab handles, or make life more comfortable with the removable shoulder strap. This bag is a great investment for yourself or makes a wonderful gift for a loved one.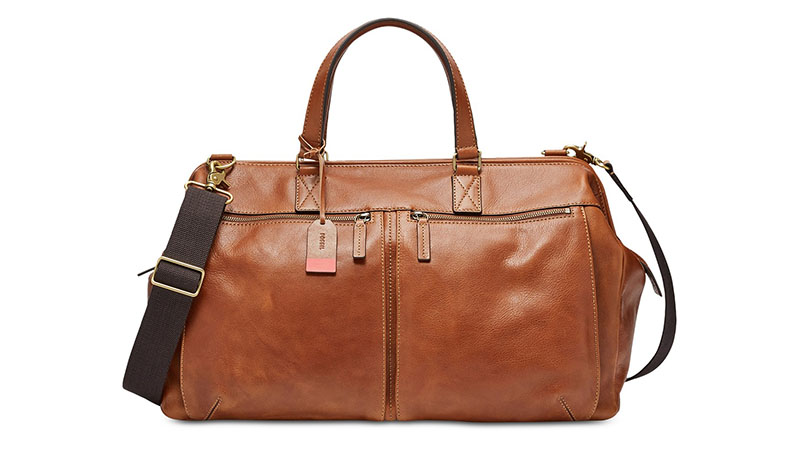 18. Rains 1353 Small Duffel Bag
The unstructured design and multiple straps make using this duffel bag from Rains incredibly versatile. Pack it and carry it exactly how you like, depending on what belongings you need that day. There's plenty of room for everything, with a large central compartment and a front pocket for small items. Then you can use the grab handles, shoulder strap, backpack straps, or end handle to carry it in whatever way works best. The Danish company has been defying the rain since 2011, so the material is water-resistant to keep your gear protected if you get caught in bad weather or spill a drink.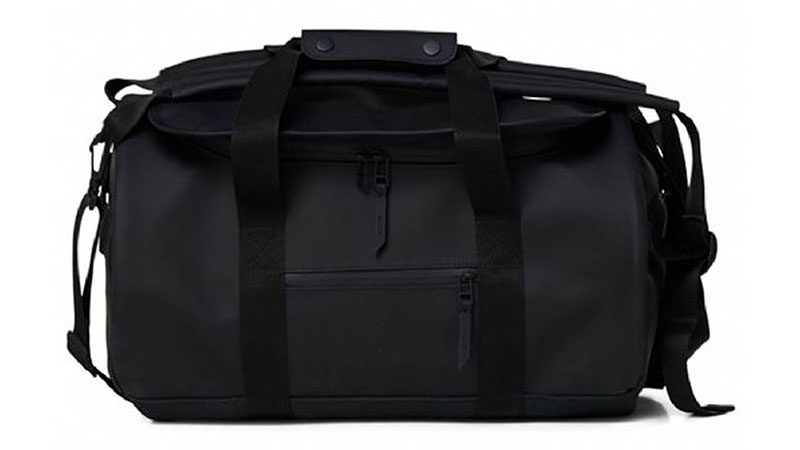 19. Rockland Rolling Duffel Bag
"They see me rollin'; They hatin' " – you'll be singing Chamillionaire's Ridin' in no time with this rolling duffel from Rockland. Despite its classic duffel shape, it comes equipped with a heavy-duty frame and wheels and a retractable pull-handle. There's an abundance of room in the main compartment and extra space in the front zippered pockets. Choose from four different sizes, depending on your needs. There's a 22-inch, 30-inch, 36-inch, and 40-inch option. Plus, there are over 30 different colors and fun patterns on offer if you're looking for something with a bit more personality. Try camouflage, houndstooth, polka dots, chevrons, or animal print.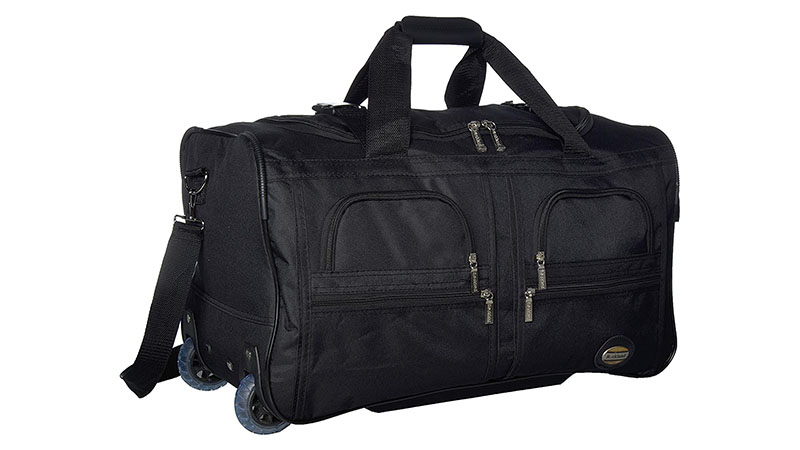 20. Saint Laurent Logo-Print Glossed-Nylon Duffel Bag
Opt for a designer bag next time you purchase a duffel. This one from Saint Laurent is an excellent choice that combines the classic duffel bag style with high-street fashion. It's is ideal for the office, gym, or traveling. The gloss nylon is a fun finish accentuating the simple but striking Saint Laurent branding. There's a padded shoulder strap and grab handles for easy and pleasant carrying. Meanwhile, the inside has all the room you need, plus an extra zippered storage section for high-value items such as keys, phones, and wallets.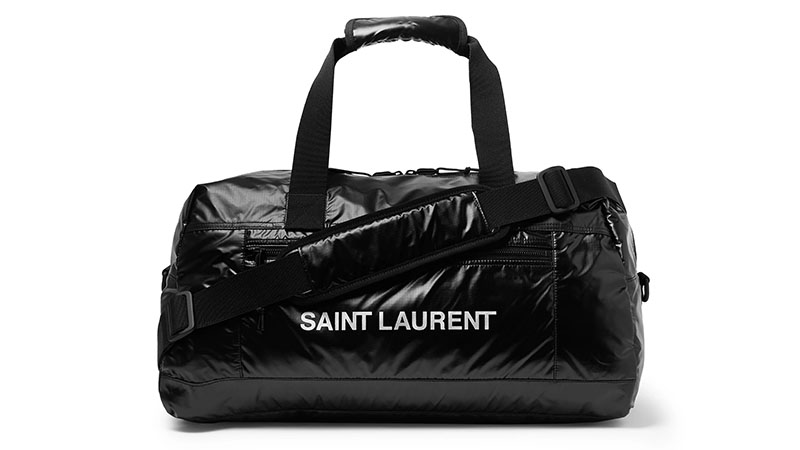 21. Wrangler Rolling 30″ Duffel
You'll appreciate how easy it is to get around with this rolling duffel bag from Wrangler. Its 30-inch size means there's heaps of room for all the essentials, while the inline blade wheels and telescopic handle make it simple to pull when it gets too heavy. Of course, if you want to carry it traditionally, there are side and top grab handles. Make use of different pockets, including a large main compartment, two front pockets, and a large side section. The exterior is hardwearing nylon that comes in black, charcoal, navy, and tan, so you can pick a color that best suits your aesthetic. This design is ideal for traveling, as it's the perfect size for checked baggage.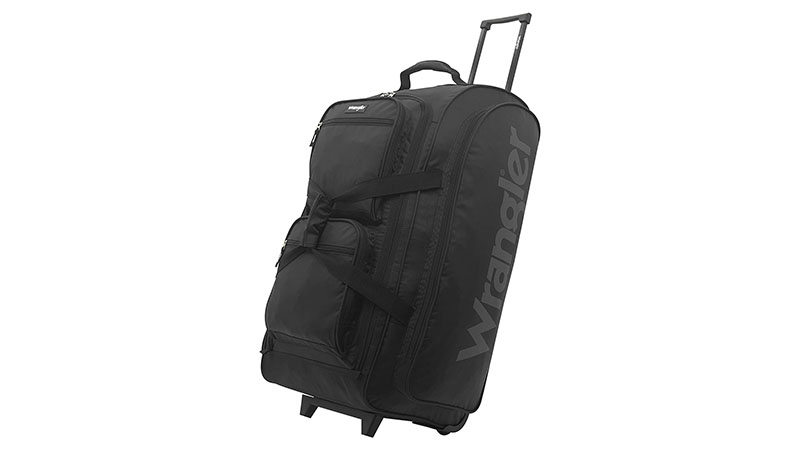 22. Champion Duffel Bag
Champion's duffel bag is a classic design that's ideal for sports and gym enthusiasts. The simple shape has plenty of room for your clothes, shoes, and gear and has an additional pocket on the front for your phone and keys. Carry it using the grab handles on the top of the convenient webbed shoulder strap. It's a great, unfussy option that keeps carrying your essentials straightforward.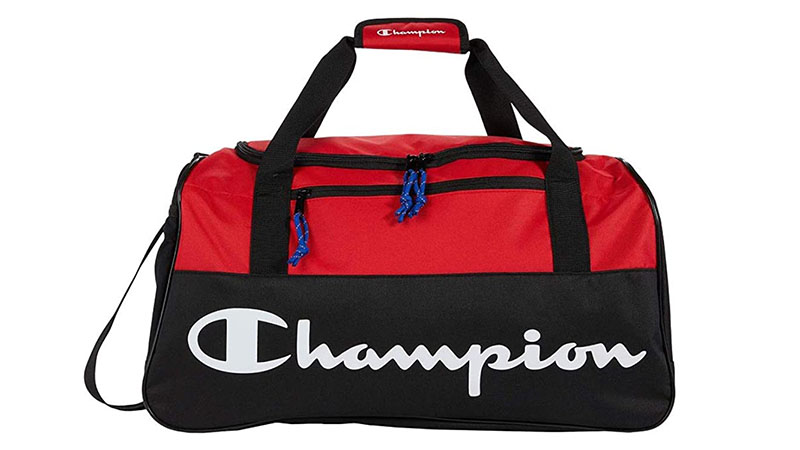 23. Oflamn 21″ 900D Weekender Leather Duffel Bag
If you're looking for a stylish duffel bag that's perfect for weekend getaways, look no further than this design from Oflamm. You can easily pack two to four days' worth of clothes, shoes, and toiletries in this bag. There's a main compartment, two open pockets, a zippered sleeve, and a separate section for shoes. Plus, it comes with a free matching toiletries bag. The exterior is made from tough and durable 900 denier polyester and faux-leather details. It's also the correct cabin size for most airlines, so you don't need to worry about checking it in – you can zoom past the luggage carousel and onto your vacation much faster!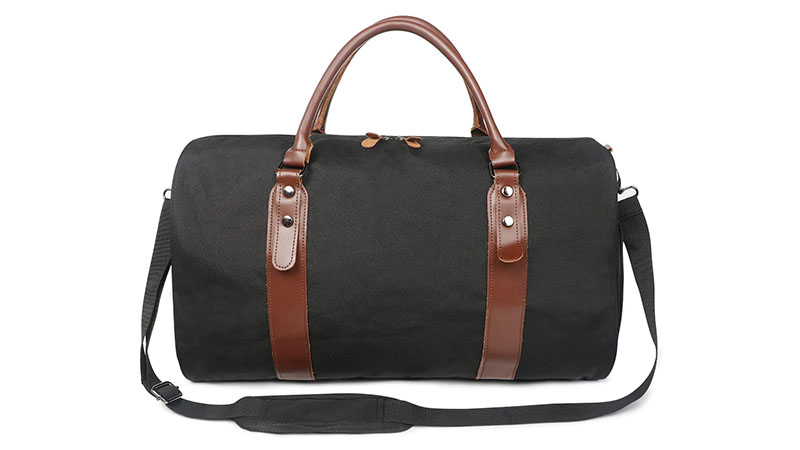 What is a Duffle Bag?
A duffle bag is a type of large bag, usually cylindrical in shape, with two carrying handles at the top and an adjustable shoulder strap. It is usually made from durable materials such as canvas, nylon or leather and is designed to carry various items. A good duffle bag can serve many purposes, such as packing gym clothing and equipment for a workout or holding multiple belongings when traveling on vacation. Duffle bags come in many sizes, colors and styles. They are popular among athletes and adventurers alike due to their convenience and capacity for holding larger amounts of items than traditional backpacks or purses.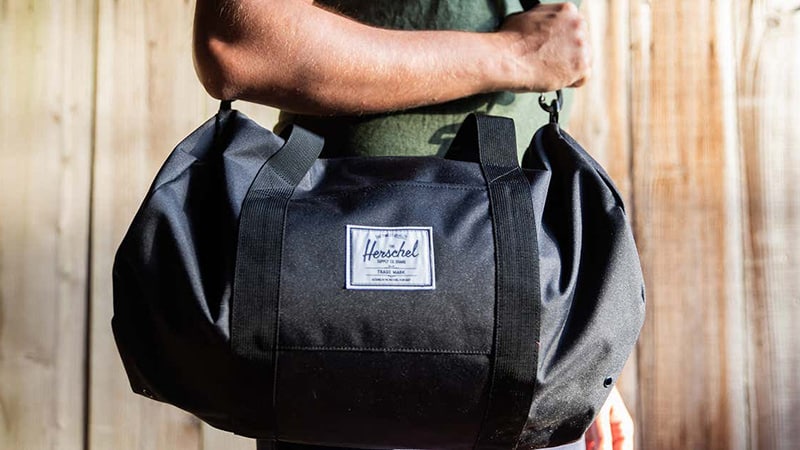 History of The Duffle Bag
The duffle bag has a long and varied history. It originated in Belgium during World War I as a cylindrical cotton sailor bag used to carry personal items with a drawstring at the top for closure. After its initial conception, the duffle bag was adopted by the military and civilians alike for its durable characteristics and waterproof nature. During WWII, soldiers began to adorn their bags with unit patches for individuality; thus transforming them from an ordinary piece of equipment into an individualized accessory. From there, demand for the bag's utilitarian design skyrocketed, leading to its production well beyond the confines of military service. Today they are enjoyed by travelers, athletes, and everyday citizens everywhere due to their lightweight yet sturdy construction and capacity to store many possessions in one compact item.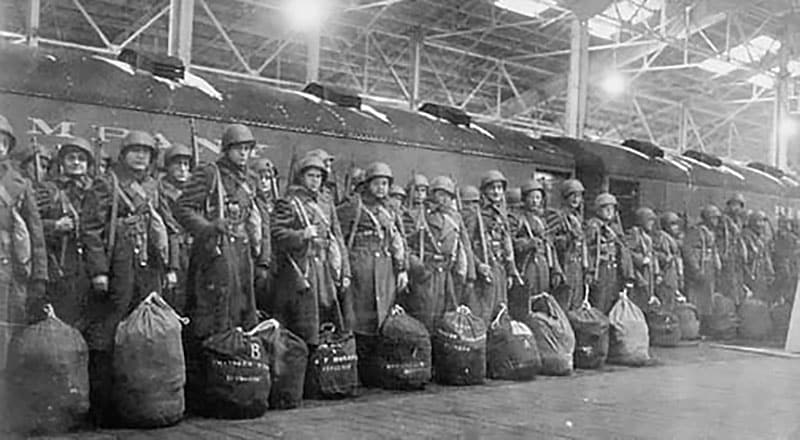 Weekend Bag vs Duffle Bag
When deciding on which bag is best for the weekend, there are two popular choices: a weekend bag and a duffle bag. Each has its own pros and cons, depending on your situation. A weekend bag may be preferred if you're packing for a short trip and have limited space, as it is usually more compact in size and still can carry everything necessary for a few days away. Duffle bags, however, offer greater capacity and are typically more durable for those longer journeys or outdoor trips where extra storage room comes in handy. In the end, both options serve similar purposes, but depending on specific needs, one might be better than the other.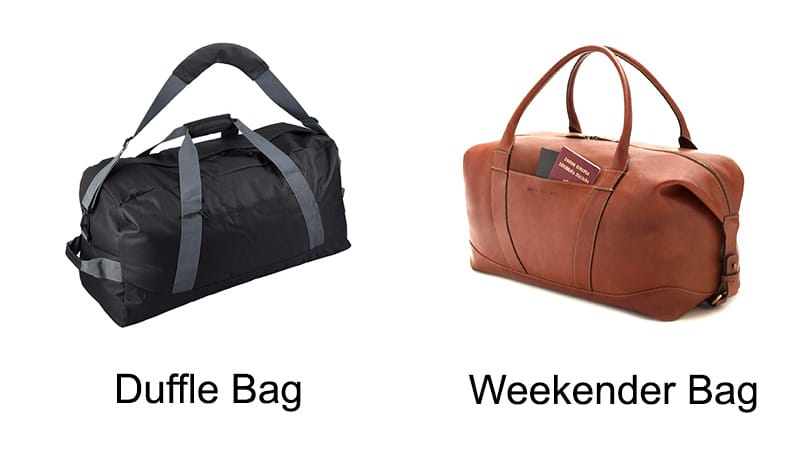 Duffle Bag Buying Guide
Durable Materials
If you're after a duffel bag that's ready to stand up to any journey, look no further than canvas, leather, and polyester. All three materials are incredibly resilient – perfect for lasting the distance when it comes to frequent air or road trips. Leather is particularly stylish and durable, while canvas and Polyester bags offer maximum protection in harsher environments.
Strong Stitching
Choosing the right fabric is essential, but don't forget about stitching! The more durable items feature internal stitching to keep tension from pulling apart when you're on the go.
Double Stitched Zipper
Make sure the duffle bag has a robust zipper. Look for double-stitching and choose one that is large in size – bigger zippers keep contents firmly locked away even without extra pressure.
Strong Shoulder Straps
When it comes to picking out the perfect duffle bag, durability is key. Make sure that whatever you choose can comfortably handle a heavy load without breaking a sweat; if its straps are straining under the weight of your belongings, it's certainly not up for the job.
Roomy and Lined Interior
Look for a duffle bag with abundant storage and pockets to neatly store clothes, shoes, toiletries, and cables. Also, be sure to check its lining – no nasty surprises from spills or tears during your trip of adventure.
Multiple Internal and External Pockets
A duffle bag should have the perfect balance of internal and external pockets and should hold everything from a laptop to toiletries. For extra convenience, seek out options with an alcove designed specifically for shoes – this will stop any dirt or bad odors from reaching your electronics and clothes.
Men's Duffle Bags FAQs
What is a good size for a duffel bag?
The best size for a duffel bag will depend on what you want to use it for. A 40-50 liter capacity bag is ideal for daily use and heading to the gym. A good weekender size can carry 60-80 liters, while longer trips need larger bags with around a 100-liter capacity.
What is the best material for duffel bags?
The best materials for duffel bags are going to be durable and ideally waterproof. Ripstop nylon, high denier polyester or canvas, and leather are all excellent options that will last.
Are duffel bags better than suitcases?
Duffel bags and suitcases tend to serve different purposes. Duffels are better for shorter trips where you don't need to pack heaps of items. They're also perfect for daily use, such as heading to work or the gym. However, if you're going on vacation for a couple of weeks, the larger size and practicality of suitcases will generally be the more appropriate option. Of course, you will need to check a suitcase in, so if you prefer carry on only, opt for a duffel bag and pack light.
What is the best duffel bag?
Some of the best duffel bags include the Adidas Defender III Small Duffel Bag, the Sealand Gear Hero Ripstop and Nylon-Canvas Duffel Bag, the Thule Subterra Convertible Carry On 40L, the 5.11 Rush LBD Molle Tactical Duffel Bag, and the Fossil Men's Leather Duffel Bag.
What is the best duffel bag backpack?
Some of the best duffels that can convert to backpacks include the 5.11 Rush LBD Molle Tactical Duffel Bag, Thule Subterra Convertible Carry On 40L, and The North Face Base Camp Duffel Bag. Convertible bags are an excellent option that provides the convenience of different carry styles when the load gets a bit too heavy. 
SUBSCRIBE TO OUR NEWSLETTER
Subscribe to our mailing list and get interesting stuff and updates to your email inbox.