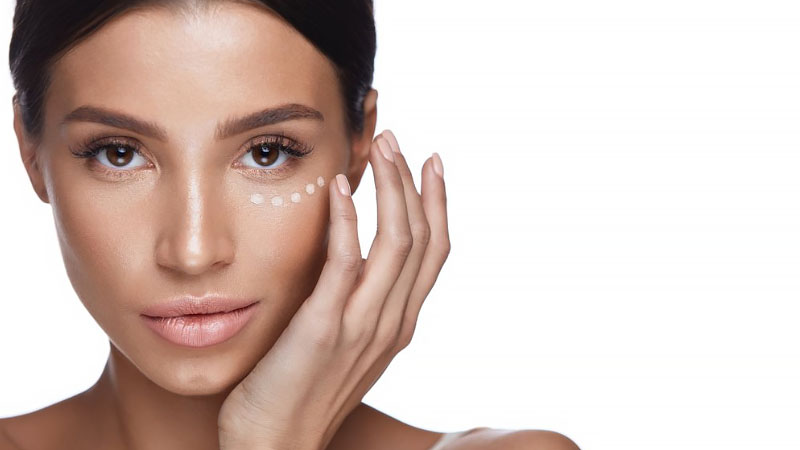 When it comes to makeup, you want to feel that the products you are using are worthy of your time. Concealers are hidden gems within the makeup application process. No matter if you are seeking a natural look or you are after a full glam, the concealer is always there to cover blemishes or brighten the face. If you are on the hunt for the best concealer, here's your guide that will help you to find the next best concealer for your specific makeup needs. Affordable and effective are the two most important aspects to look for in a concealer, and you can find the answer here.
RELATED: How to Apply Concealer the Right Way
RELATED: 15 Best Under Eye Concealers
1. NYX PROFESSIONAL MAKEUP HD Photogenic Concealer Wand
Channel your inner makeup artist when using the NYX Professional Makeup HD concealer as it provides some incredible features with every swipe. This photogenic concealer will smoothly cover blemishes, imperfections, and skin discoloration, which is perfect for a base before applying the foundation. Furthermore, this product is also safe for all skin types and is available in 23 other color-correcting shades. In addition to this, the NYX concealer is also cruelty-free, which means no animals were harmed during the manufacturing process.
2. LOreal Paris True Match Concealer
The L'Oreal Paris True Match concealer is one to add to the makeup collection as it is packed full of great qualities. This product is super blendable; it covers imperfections, evens out skin tones, and restores brightness across the face. If that isn't tempting enough, it is also affordable and comes with a pointed applicator, which is perfect for getting into all of the hard to reach places.
3. Maybelline Instant Age Rewind Multi-Use Concealer
This very popular and affordable concealer from Maybelline is a must-have for everyone. The product offers the ultimate coverage for any dark circles under the eyes or blemishes around the face. If the morning coffee just isn't enough, then this concealer will provide a shield for you. The formula of this product is thick and long-lasting. Additionally, there is an instant age-rewind feature so you can look refreshed as soon as you wake up.

BUY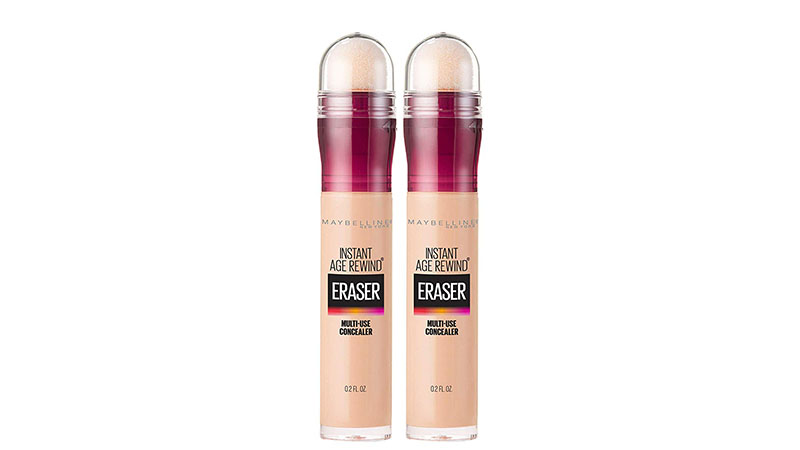 4. Revlon Photo Ready Concealer
The Revlon Photo Ready Concealer provides a creamy formula that can easily cover any redness or blemishes all around your face. It is light-weight with medium coverage that can be buildable if required. Just like the name says, you will be photo-ready as soon as this concealer is applied. The lipstick-styled packaging makes this product easy to throw into your handbag so you can reapply throughout the day or night if necessary.
5. Burts Bees Concealer
This Burt's Bees concealer is a much more gentle formula which is perfect for sensitive skin. Featuring a selection of nourishing ingredients, including avocado oil and shea butter, you can be assured that this soft and smooth product will be easy on your skin. Additionally, this concealer offers an easy glide-on application with full coverage of any redness and blemishes. So, if you're seeking cruelty-free and natural products, then this one is for you.
6. Covergirl TruBlend Undercover Concealer
The TruBlend Undercover Concealer by Covergirl is made with all-natural products, which means it is vegan and cruelty-free. In addition to this, it is long-lasting, easy to blend, provides full coverage, and has a light-weight application. If you are prone to oily skin, this concealer has a matte finish, which will block out the shine.
7. e.l.f. Cosmetics Cover Everything Concealer
Immerse yourself in an unforgettable makeup experience with the e.l.f. Cosmetics Cover Everything Concealer. This product allows you to achieve flawless looking skin due to its color-correcting qualities. It can eliminate the appearance of under-eye circles, discoloration, and scars almost instantly. If you're after a light-weight formula, then this concealer is the one for you, and it even allows for buildable coverage.
8. NYX PROFESSIONAL MAKEUP Dark Circle Concealer
This NYX Professional Makeup Dark Circle Concealer is specifically designed to hide and minimize the dark circles around your eyes. This area is the most problematic for many people, which is why the product is exactly what you need. Formulated with a hint of orange pigment, the concealer counteracts the appearance of dark circles. The creamy formula is one of the many reasons why you will love using it in your makeup routine.
9.Maybelline Fit Me Liquid Concealer
The Maybelline Fit Me Liquid Concealer is another popular drugstore product that almost everyone needs in their makeup collection. It contains an oil-free formula, ensuring that your skin will be left looking flawless and unclogged. The product also provides a natural-looking finish, which is perfect for any light-weight makeup look. The rounded sponge applicator allows for a smooth and quick process when applying it to the sensitive areas around your eyes, which is a definite must-have.
10. LOréal Paris Makeup Infallible Full Wear Concealer
The drugstore L'Oreal Paris Infallible Full Wear Concealer aims to provide every makeup fanatic with the best full coverage and long-lasting finish. The magic begins in the applicator wand where the thick and rounded sponge can apply a sweep of product onto the face in just one move. In addition to this, the formula creates a matte finish that can last all day and night because of its waterproof qualities. Therefore, you can be assured that a small amount of product can go a long way so you will get the most out of your concealer – and money. With plenty of shades on offer, this product is suitable for almost everyone and their unique skin tones.
11. Physicians Formula Instaready Full Coverage Concealer
Physicians Formula Instaready Full Coverage Concealer promises an Insta-ready finish with full coverage for a flawless look. It is pumped full of great ingredients that are gentle and nourishing for your skin. All of your blemishes and imperfections are instantly hidden with this product, and it's super affordable too.
12. Revlon PhotoReady Candid Concealer
Feast your hands on a jam-packed concealer that is full of great and nourishing ingredients. The Revlon PhotoReady Candid Concealer is a drugstore necessity due to being an affordable and full-coverage product. As the name suggests, this product will glam you up to be photo-ready at any time of the day. For instance, the incredible formula, which includes antioxidants, anti-pollution, and anti-blue light ingredients are fantastic for your skin.
13. e.l.f. Complete Coverage Concealer>
This e.l.f. Complete Coverage Concealer provides the ultimate coverage experience. This palette comes with four different shades of concealer, which can be used for multiple types of looks. If you're using the concealer to cover up redness, blemishes, and any dark circles, then the lighter shades are perfect to use. On the contrary, the darker shades will be more suitable for contouring the face. This multi-purpose drugstore concealer is one to try out and see if it works for you.

BUY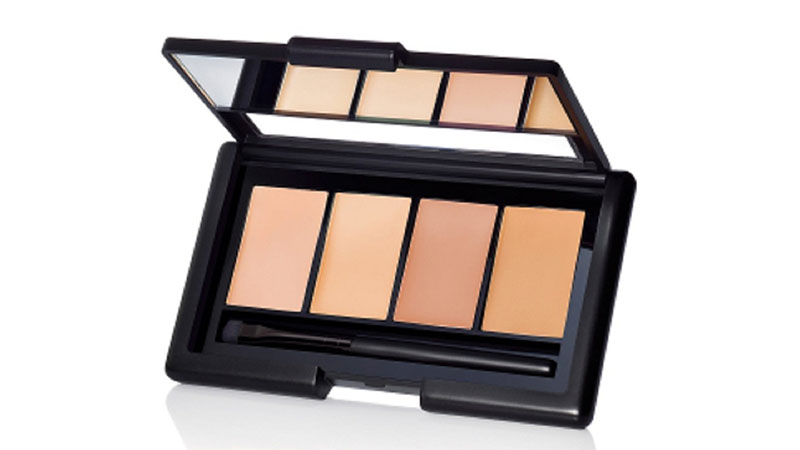 14. Physicians Formula Gentle Cover Concealer Stick
For those of you with sensitive skin, keep your eyes peeled as we bring to you the Physicians Formula Gentle Cover Concealer Stick. This product targets troubled skin to provide soft and light-weight coverage. If you're looking to even out your skin tone, blemishes, and darkened age or pigment spots, then this product will be suitable for you. Designed in a bullet-shaped stick, this concealer applies easily with just one swipe.
15. Neutrogena Healthy Skin 3-In-1 Concealer For Eyes
Get the best of both worlds – or maybe three – with this Neutrogena Healthy Skin 3-in-1 Concealer. It is specifically designed to be used under the eyes. It acts as a natural-looking and color-correcting concealer with light to medium coverage. In addition to this, the formula is infused with SPF 20 sunscreen, so it is excellent for protection against the sun. With these three qualities combined, you get the perfect concealer to use throughout the day.
FAQs
What are the best drugstore concealers?
Concealers are important because they help to brighten the face and cover any imperfections. When deciding what concealer is best, several important aspects are considered, including whether they are affordable and effective. Some of the top drugstore choices include NYX PROFESSIONAL Makeup HD Photogenic Concealer Wand, L'Oreal Paris True Match Concealer, and e.l.f. Cosmetics Cover Everything Concealer.
What is the best drugstore under eye concealer?
Under-eye concealers are fantastic products as they help hide discoloration and reduce the appearance of fine lines and wrinkles. There are several factors to consider when determining which product is the best, including price, formula, and shade. Some of the top options include Maybelline Instant Age Rewind Multi-Use Concealer, NYX PROFESSIONAL Makeup Dark Circle Concealer, and Neutrogena Healthy Skin 3-In-1 Concealer For Eyes.
What is the cheapest concealer?
A high price tag is not always an indication of quality, and some of the cheaper concealers on the market are just as effective. If you don't want to spend a lot of money, brands like NYX PROFESSIONAL, CoverGirl, and e.l.f. have some fantastic options.
How do you choose a drugstore concealer?
To choose a drugstore concealer, you want to ensure that the shade is right for your skin, and you can do this by holding the product against your neck. When picking out the right concealer for you, it is important to remember that it should be a shade lighter than your skin tone if you're going to be using it under your eyes, or for your face, it should match with your foundation color.
SUBSCRIBE TO OUR NEWSLETTER
Subscribe to our mailing list and get interesting stuff and updates to your email inbox.