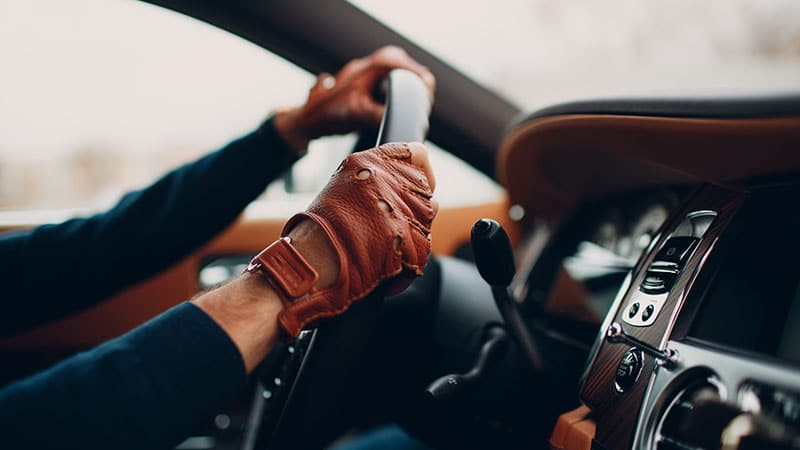 Driving gloves may seem like a concept from yesteryear, but there are so many reasons this dapper accessory should make its way into your wardrobe for both the gents and the ladies. Part of the main appeal is that they look incredible, especially when paired with smart tailoring and a well-put-together outfit. Plus, they also make any drive, long or short, safer and more comfortable. They protect your hands from the elements, help you grip better for increased control, and they reduce fatigue. All of these are excellent reasons to check out the best driving gloves.
Best Driving Gloves for Men
1. ELMA Winter Leather Gloves
Keep your hands warm even in the coldest conditions with these winter driving gloves. They're made with premium hair sheep leather for an exceptionally smooth grain. The 100% pure cashmere lining feels exquisite and soft against your skin while keeping you incredibly warm. Meanwhile, the pull-on shape has an elasticized wrist that helps insulate your hands. You can also still use your phone, with touch screen functionality built into the thumbs and fingers. Finally, the slip-resistant design gives excellent grip and control while you navigate snowy roads and reduces fatigue.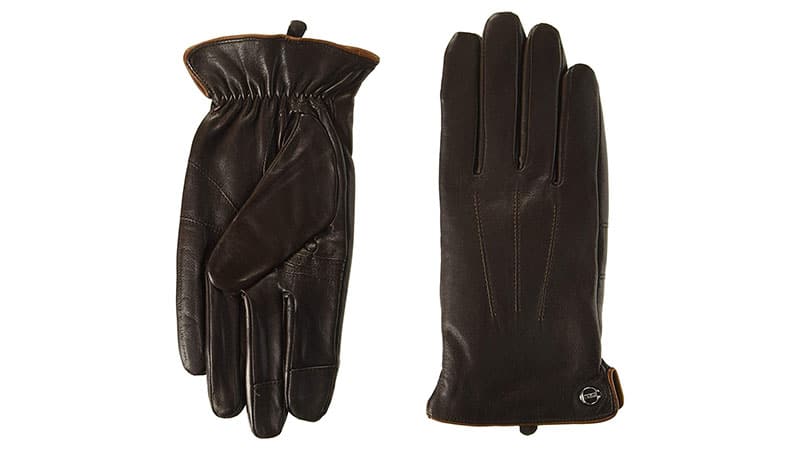 2. VBG VBIGER Winter Gloves
Opt for a modern winter glove with this design from VBG VBIGER. These unisex gloves feature stretchy jacquard fabric outers with double-layered cuffs for extra insulation. Enjoy plenty of grip with an anti-slip, waterproof silicone print on the palm and first fingers. Plus, touch-screen suitable pads on the forefinger and thumb let you use your smart device without removing the gloves. While these are excellent driving gloves, you can also use them for other outdoor activities such as cycling, hiking, and jogging.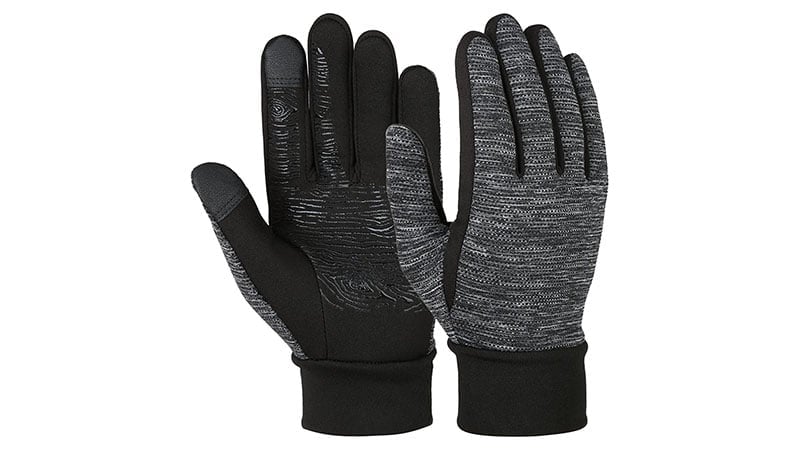 3. Riparo Motorsports Men's Fingerless Leather Gloves
Increase your rebellious vibes with these fingerless driving gloves from Riparo Motorsports. They come in a selection of colors that will appeal to both gents and ladies, including black, cognac, red, white, yellow, and pink, as well as sizes from XXS to XXXL. The design uses classic elements such as open knuckles, perforations, and a snap button closure at the back of the wrist. Genuine leather outers will wear well over time and are unlined so that they will soften and mold nicely to your hand.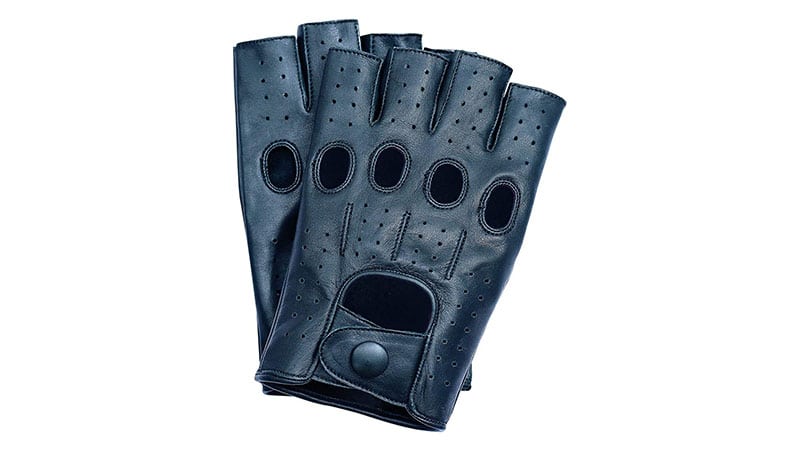 4. Pratt and Hart Silverstone Leather Driving Gloves
Enjoy classic styling with these driving gloves from Pratt and Hart. They're made with unlined sheepskin leather for comfort, grip, and durability. The reinforced knuckle holes provide flexibility, while perforations along the fingers keep your hands cool. Gloves like these are easy to pull on and off thanks to the elasticized wrist and open back that uses a snap closure for the perfect fit. Select from a range of sizes from small to 4XL and two timeless colors of chocolate and black. Pair these with a roll neck and pea coat for the ultimate in driving sophistication.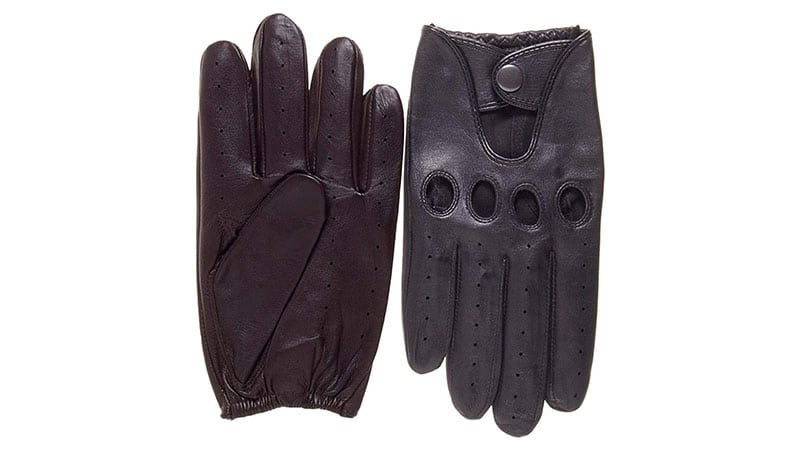 5. Reed Genuine Leather Warm Lined Driving Gloves
Winters are made for well-cut jackets, polished boots, and stylish gloves. Keep your hands warm with this lined pair of winter driving gloves from Reed. The exterior features 100% sheepskin leather, while the interiors have 3M™ Thinsulate™, which is light yet warm, giving maximum movement and heat. Meanwhile, the gloves slide on easily with an elastic wrist and snap closure for extra security. Lastly, you'll still be able to use your smartphone thanks to the high-tech touch-compatible finish on the fingers, so you don't need to freeze them off while texting or snapping a photo.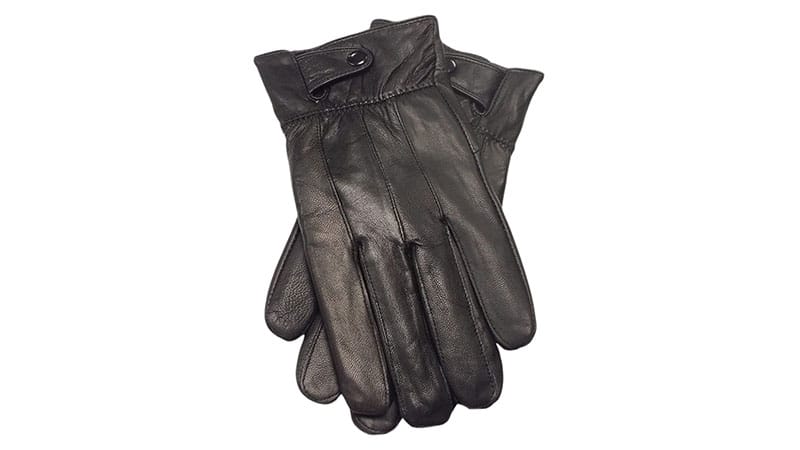 6. Pierre Cardin Leather Driving Gloves
It's hard to go wrong with a classic black pair of driving gloves. This particular design is simple and elegant, meaning you can wear them for more than just the car. Take them ice skating, exploring the town, or on a date night. They slide on easily with a cinched wrist and keep your hands super warm with 3M™ Thinsulate™ lining. Lambskin on the exterior is exceptionally soft and durable, meaning you'll be hanging onto these for years. While the gloves are labeled men's, they do come in women's sizes, and the pared-back design is easily unisex.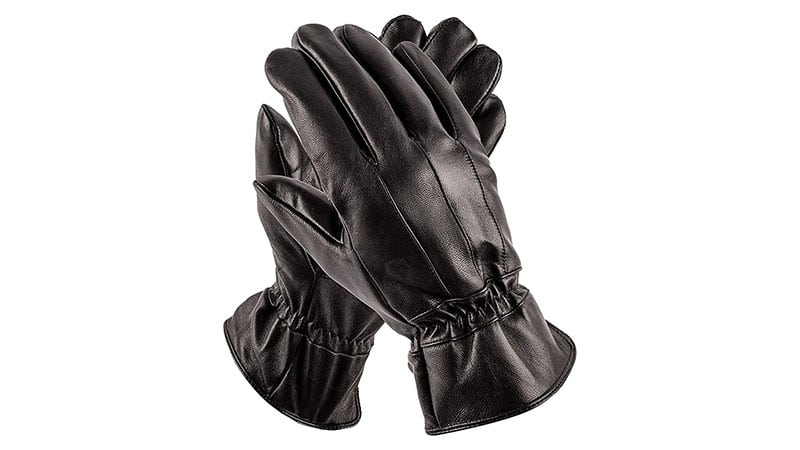 7. Riparo Genuine Leather Reverse Stitched Full-Finger Driving Gloves
These full-finger driving gloves are about as quintessential as you can get. They're unlined and feature knuckle holes and snap closure at the back for maximum flexibility and movement, so you can grip your wheel or stick shift with ease. Perforations along the top and bottom of your fingers keep the air circulating and let any sweat dry fast. This also means they're ideal for summer. Plus, you can also select some fun colors, including red, yellow, and white, plus classics like cognac, black, and rich coffee.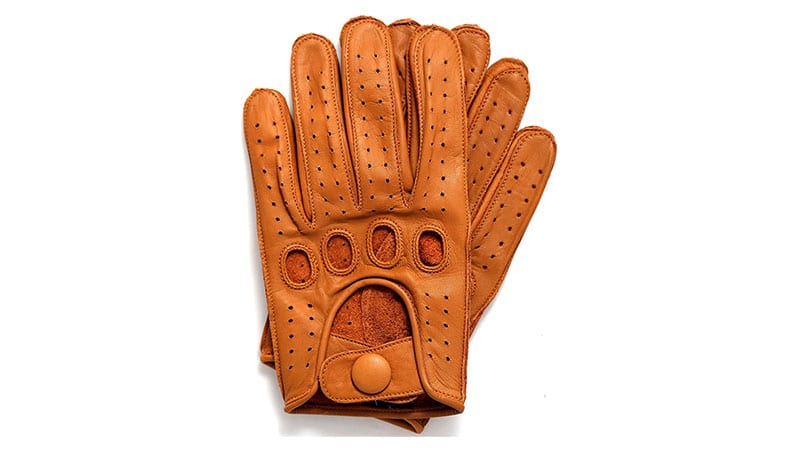 8. MGGM Collection Men's Touchscreen Unlined Leather Driving Gloves
Stay stylish no matter where you venture with these leather driving gloves. You'll protect your hands, enjoy better grip, and look amazing all at the same time. This particular design boasts super soft lambskin leather, which is unlined for maximum movement. The flexibility is accentuated with snap closure at the back of the wrist and open knuckles, while perforations along the fingers and palms provide ventilation. Plus, you can still send messages, check your emails, and snap photos of the scenery along the route, thanks to touchscreen compatibility.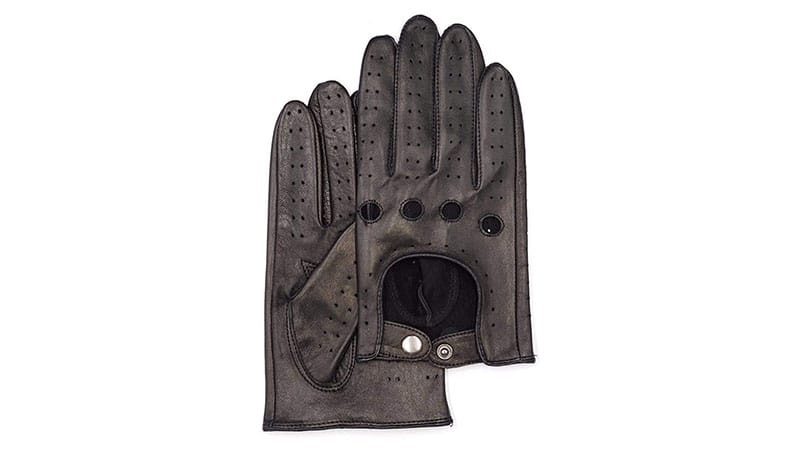 9. Alepo Store Genuine Sheepskin Leather Gloves
Effortless style comes in the form of these sleek black sheepskin gloves from Alepo Store. Leather is an excellent material because it's soft yet strong, with excellent insulation and movement. Your hands will stay extra toasty with full Italian cashmere lining. These driving gloves come equipped with an excellent grip for your steering wheel, plus 360-degree touch screen functionality so you can stay connected on the road (just not while driving!). Best of all, the elegant and minimal design means you can go from the office to the car, then dinner with friends, without needing to switch them up.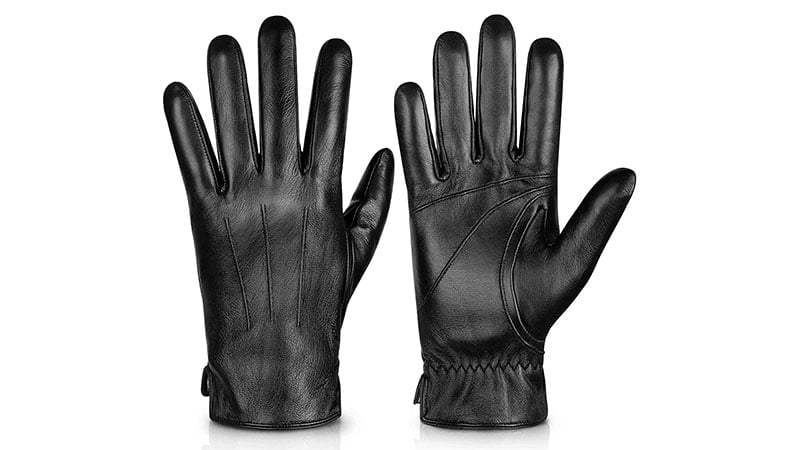 10. TRENDOUX Winter Gloves
If leather isn't your aesthetic, then opt for a pair of stretch knit gloves. These ones from Trendoux are perfect for both men and women and come in a range of great colors. The fabric is a mix of acrylic and spandex for the perfect balance of stretch and durability. Meanwhile, the soft lining is warm and comfortable, so you'll never want to take them off. Enjoy increased functionality with the silicone anti-slip print on the fingers and palms, plus touch screen compatibility and 50% more conductive yarn in the fingertips. This lets you access your devices without removing the gloves. Best of all, they're a great value price point, so you can have multiple pairs in different colors for every outfit.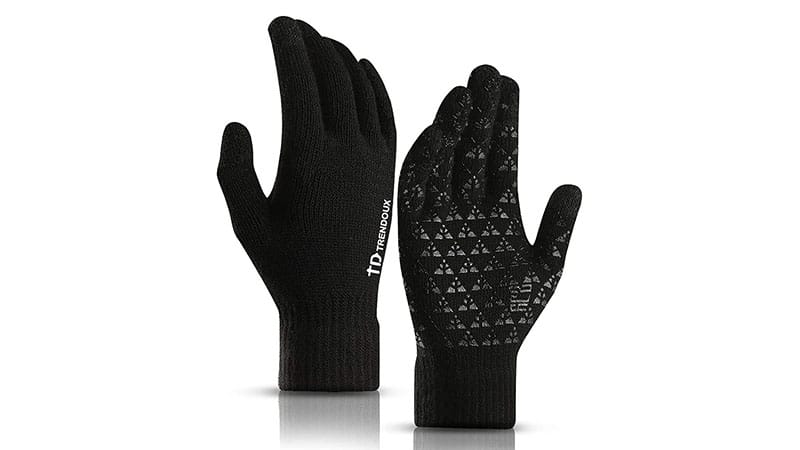 11. Maxot Sunblock Fingerless Summer Driving Gloves
Keep it light and airy with these summer driving gloves that protect your hands from the sun's harmful UV rays. The small size and elegant design are perfect for women and are a great way to prevent sun damage and signs of aging on your hands. They're made from cotton, so they're soft, thin, and comfortable while staying breathable. The palms feature a non-slip design, making holding the steering wheel much more secure. Plus, you'll also enjoy a selection of colors, including black, grey, pink, purple, and beige.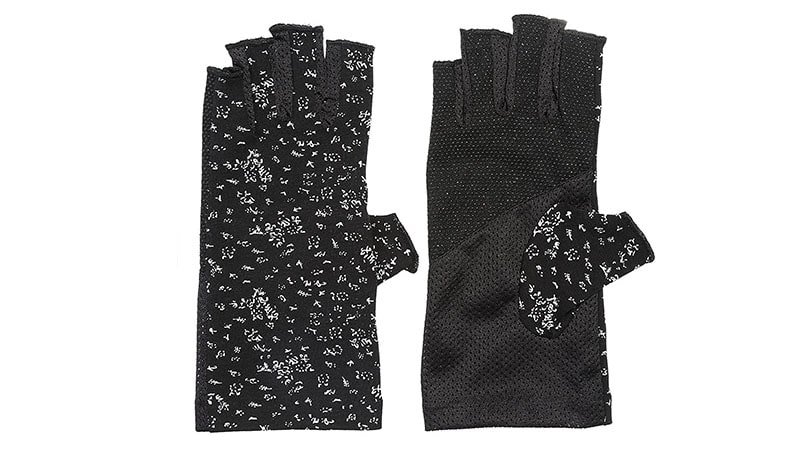 12. Coolibar UPF 50+ Ouray UV Fingerless Sun Gloves
Ladies and gents can both protect their hands with these sun protection driving gloves from Coolibar. They're made with UCmax™ fabric for a four-way stretch and comfortable fit. It also uses Cooltect™ technology to keep your palms cool and dry while blocking 98% of UV rays. They're simple to slide on and fit snugly. While your fingertips are free, there is extra silicone on the palm for increased dexterity and grip. Keeping them clean is also straightforward; just throw them in the washing machine, and you can either dry them flat or use the tumble drier. Lastly, there are plenty of choices for colors, including black, grey, pink, white, purple, turquoise, and pastel blue.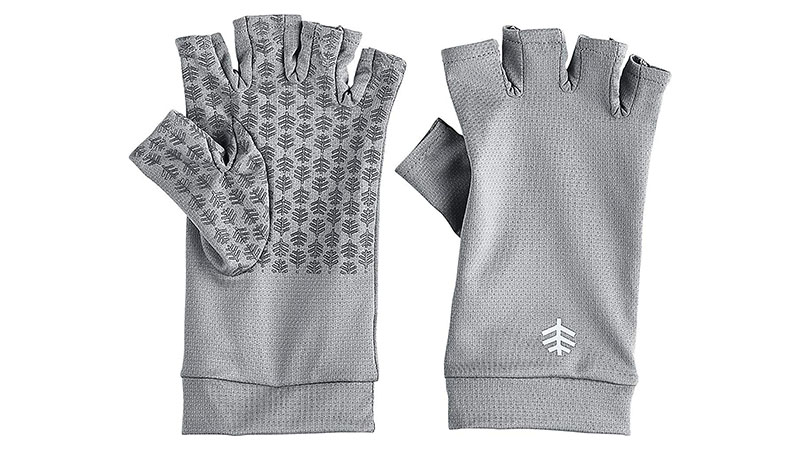 13. SEABIRR Driving Gloves
You've got a choice of natural or faux leather with this design of driving gloves from SEABIRR. The styling remains the same between the two options, featuring a snap closure and open knuckles for breathability and movement. The only difference is that faux leather has an additional grip mat through the center of the palm. Both options are also technology compatible so that you can use the touchscreen on your phone with no issues. Enjoy better grip while driving, as well as reduced hand fatigue and better cleanliness.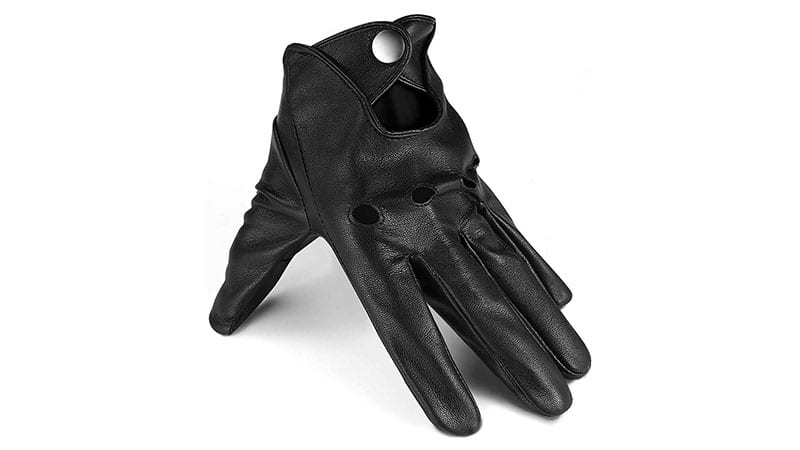 14. The Outlierman Luxury Leather Driving Gloves
Indulge in a touch of vintage luxury with a pair of handmade Italian driving gloves from The Outlierman. The soft, supple deerskin leather molds to your hands for the most exquisite fit while protecting you from the sun and cold. The vintage styling, which comes in various colors, is distinctive and refined, making it the ideal addition to any stylish gent's wardrobe. Every order also comes with a stylish leather travel case, so no matter where your journey takes you, your gloves are always with you.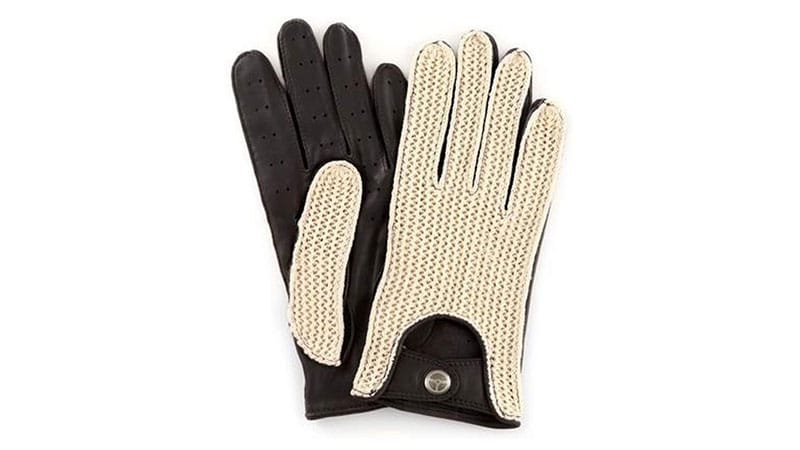 15. Riparo Winter Nappa Leather Dress Driving Gloves
You might as well be racing through the Swiss Alps with these winter driving gloves from Riparo. They boast classic race-style details, complete with elastic wrist and adjustable strap. The exteriors feature Italian Nappa leather, while the insides are lined with warm fleece to keep your hands extra toasty. Enjoy superior wheel grip, better steering, and a more comfortable drive. If the black is too heavy for your aesthetic, there are also options in cognac or camel.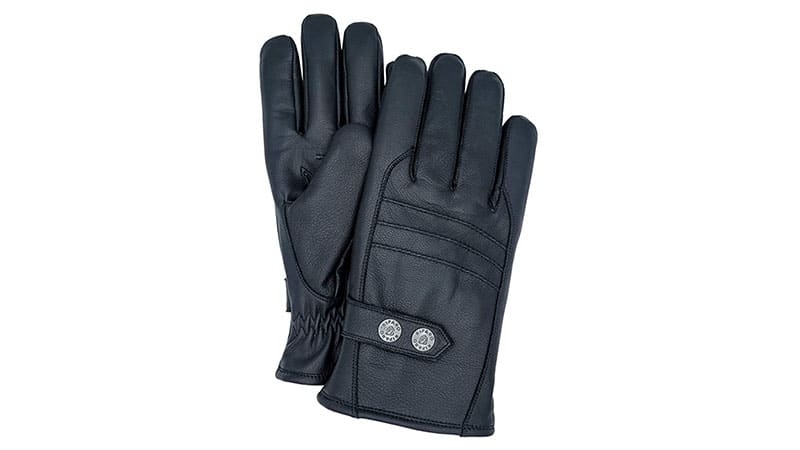 16. Ralph Lauren Winter Leather Driving Gloves
Ralph Lauren continues its iconic preppy, polished style with these leather driving gloves. Pair these with the brand's traditional tailoring, and you'll look like a dapper international spy. They're made with soft, supple leather and feature an adjustable wrist strap to keep the cold out. Brushed brass hardware adds extra detail and dimension. Lastly, while they're traditionally styled, they're still tech-enabled with touch technology that allows you to use your smartphone without the need to remove the gloves.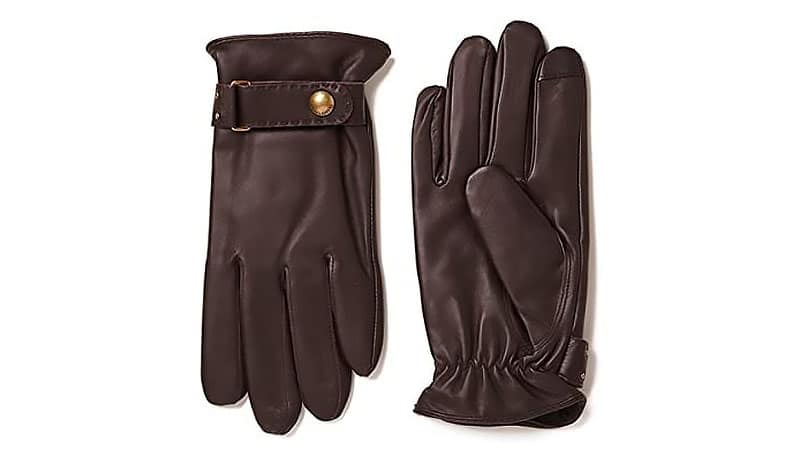 17. Dents Fleming James Bond Spectre Driving Gloves
Channel your inner MI5 spy with these driving gloves from Dents. They're the same style that the ever-dashing and masculine Daniel Craig wore as 007 in the James Bond Spectre film. These gloves are made with 100% hair sheep leather for a smooth finish and soft feel. An elasticated palm and clip back ensure a snug, perfect fit, while the perforated fingers maintain a good level of breathability. Now all you need is an Aston Martin and a license to kill!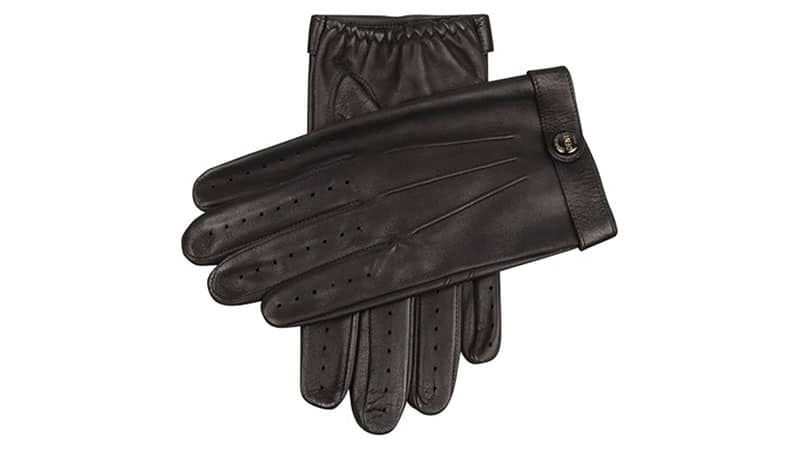 18. Pratt and Hart Chariot 1/2 Finger Leather Driving Gloves
You'll be feeling cooler than a cucumber wearing these fingerless gloves from Pratt and Hart. Not only do they pack a bunch of attitude, but they're also super comfy for long drives. The fine-grain sheepskin leather is soft and durable, while the open knuckles provide plenty of flexibility. Enjoy the perfect fit thanks to the velcro strap that ensure they sit snug and secure.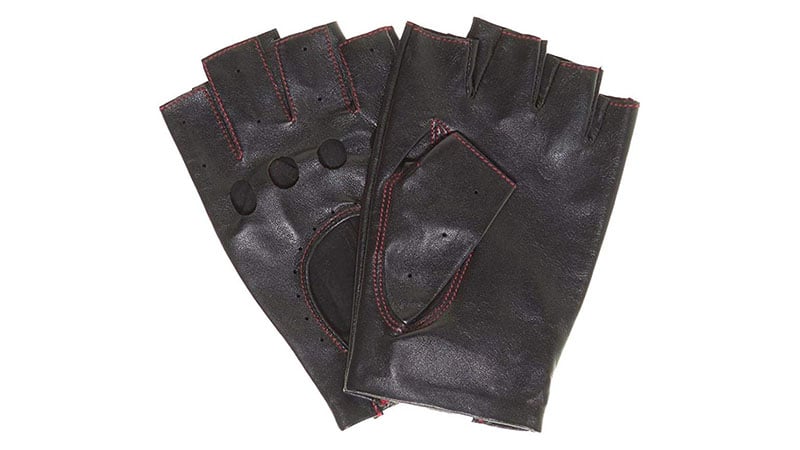 19. Ambesi Classic Lambskin Leather Driving Gloves
The minimalist design of these Ambesi driving gloves makes them incredibly versatile. Supple lambskin feels soft against the skin and molds perfectly to the shape of your hand. Meanwhile, the cinched wrist and snap-closure strap ensure a perfect fit, sitting low around your wrist, so there's no loss of dexterity. The classic driving glove styling includes perforations for breathability and reinforced knuckle holes that let you move your hands as you need, without limitations. These are the perfect all-season investment for your next weekend drive.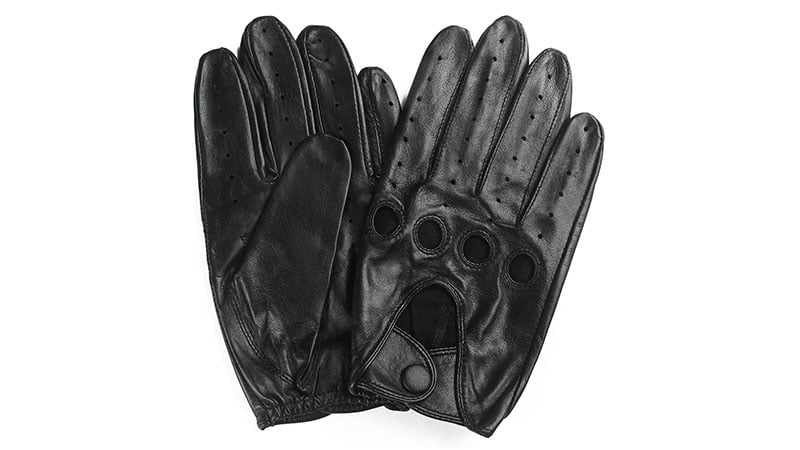 20. isotoner Smooth Leather Driving Gloves
Enjoy the practicality and minimal styling of these driving gloves from isotoner. They're made with genuine leather and feature a snap closure so you can take them on and off easily. The perforated fingers and knuckle holes ensure your hands can still breathe and stay cool. Match these with your favorite pair of jeans, a classic white t-shirt, and black leather jackets for a classic look with a rebellious vibe.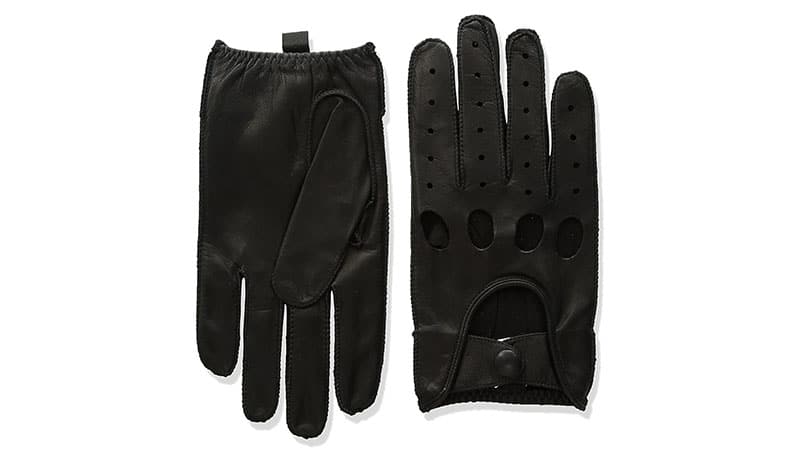 What are Driving Gloves?
Driving gloves are designed specifically to wear in the car. The two main functions are protection and grip. They'll prevent your hands from getting sun exposure and extreme cold and also protect your steering wheel and gear stick from the natural oils in your skin. This is especially important in vintage cars where materials such as wood and ivory are more susceptible to damage. The second primary function is to provide better grip and control over your vehicle. Driving gloves are generally made from a thin material, such as leather, and sit low on the wrist to provide all the benefits without hindering movement.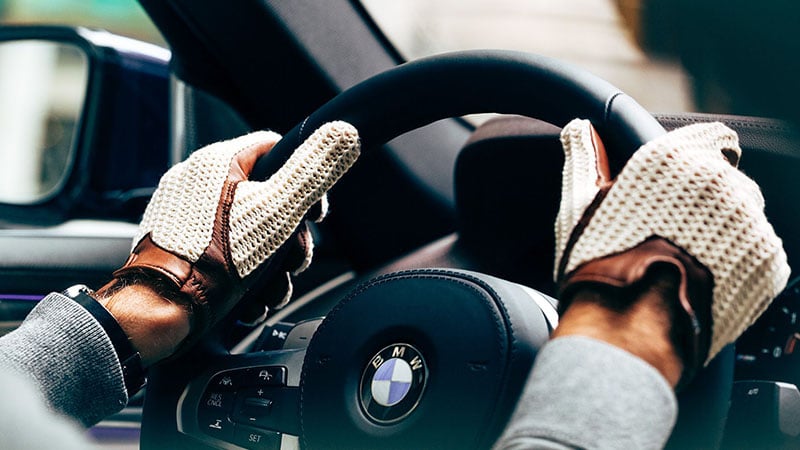 Types of Driving Gloves
There are a few different kinds of driving gloves, and what you choose will depend on where you live, the weather, and how you want to use them.
Fingerless Gloves
Fingerless gloves are ideal in warmer weather, as they still provide grip through the palm and base of the fingers but let air circulate, keeping your hands cool. In the current digital age, wearing fingerless gloves means you can also use your smart touch devices such as a phone or tablet without needing to take them off. This is especially handy if you use biometric security, such as fingerprint unlocking. Plus, fingerless gloves also look badass.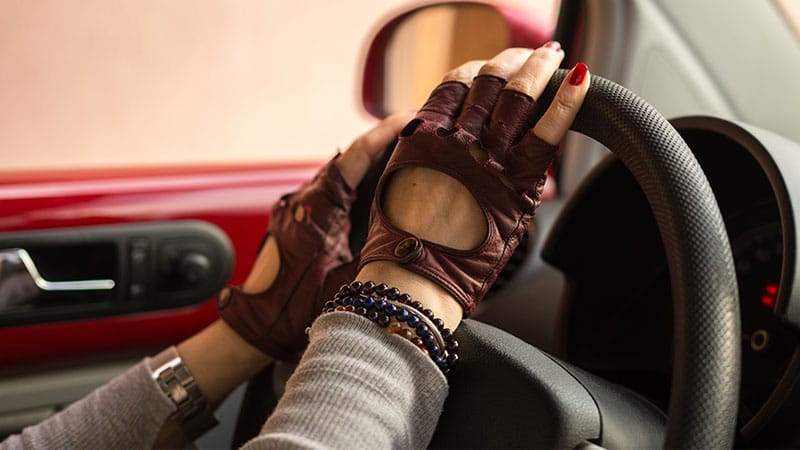 Cold Weather Gloves
When it's frigid cold outside, all you want to do is keep your hands and fingers warm. That's where cold weather driving gloves are ideal. Unlike traditional driving gloves, these are lined with warm materials such as fleece or wool to help insulate. Meanwhile, the outers will be leather or even a knit fabric with added grip on the palm. Cold weather gloves are also full gloves, without open knuckles, ventilation holes, or stud closure. Lastly, they might also finish slightly further up your wrists.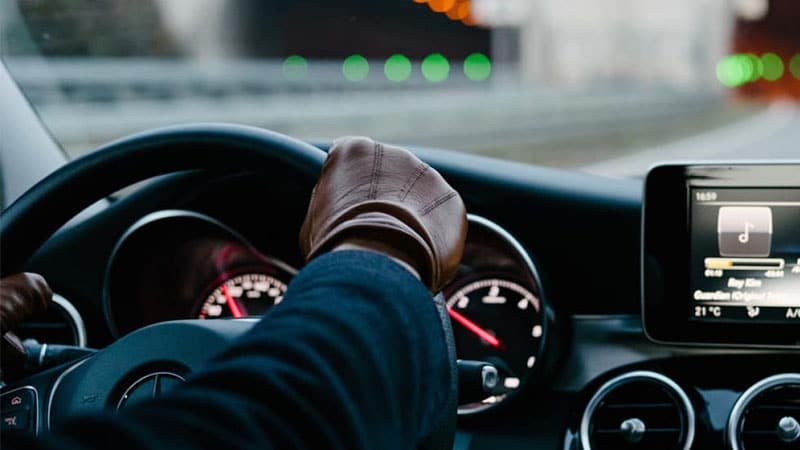 Traditional Driving Gloves
Traditional driving gloves are made from thin leather and feature open knuckles, stud closure, and perforations down the fingers. These details provide maximum flexibility while reducing stress on the thin material and keeping your hands from sweating too much. They can come in any color, from classic black and dark brown to vibrant shades of red and green.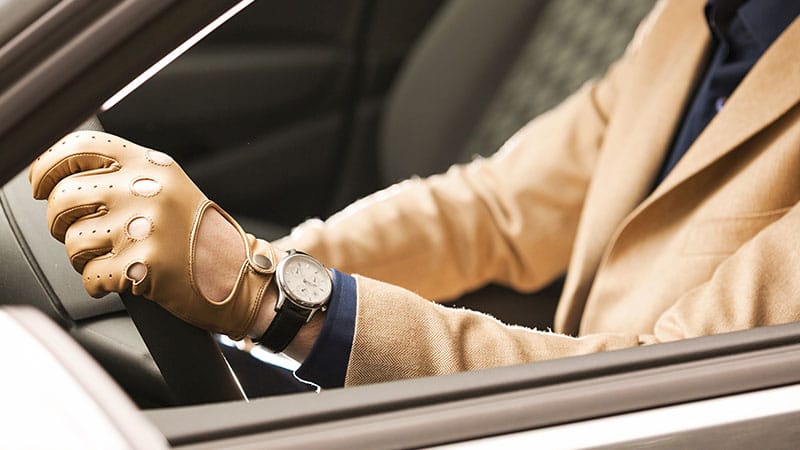 Benefits of Driving Gloves
Driving gloves provide many benefits that make your journey much more comfortable.
Grip: One of the primary benefits of driving gloves is a better grip. If you have a good grip on your steering wheel, you'll be more in control of the vehicle. This also means you'll be able to respond to unexpected situations more effectively and safely.
Warmth: Keeping your fingers and hands toasty warm is another key benefit of driving gloves. The material insulates your hands, keeping your body's natural heat in, which is especially true if you've chosen a full-fingered winter glove.
Airflow: The open back, open knuckle design of traditional driving gloves helps provide airflow and stops your hands from getting too sweaty. The material also helps absorb sweat, especially when it's hot, so you don't have to worry about slippery hands on the wheel.
Hand Fatigue: If you drive for extended periods, your hands can get tired. The road sends vibrations through the steering wheel, which can wear your muscles out. However, driving gloves can help reduce the impact this has, therefore lessening hand fatigue.
Style: There's no denying that a pair of driving gloves can take a well-dressed man or woman's style to the next level. Think of Daniel Craig as James Bond, Ryan Gosling in Drive, Sarah Paulson in Ratched, and Taraji P. Henson in Proud Mary.
Cleanliness: No one likes a sticky steering wheel. Even if you have clean hands, your body's natural oils will transfer over time. Then, if you have dirty hands, you'll be spreading all kinds of germs and bacteria to these high-touch areas. As such, driving gloves are a great way to mitigate this and maintain a high level of cleanliness in your car. Keeping things clean will also extend the life of the materials used.
FAQs
Do driving gloves make a difference?
Driving gloves do make a difference to your journey. They give you better control through increased grip on the steering wheel and gear stick. Plus, they help reduce the impact of road vibrations that cause hand fatigue in long journeys, making you much more comfortable. They also help protect your hands from UV damage through the windscreen and can keep you warm on cold winter days. 
Why do people wear driving gloves?
People choose to wear driving gloves for several reasons. Firstly, it provides a better grip on the steering wheel and gear stick, giving you more control for safer driving. Secondly, it also makes the drive more comfortable because they protect you from the cold, the sun, and muscle fatigue from the road vibrations. They also help keep your car clean, and maintain the integrity of the materials on the steering wheel, especially in vintage vehicles. Finally, they just look good, especially when paired with a stylish or tailored outfit and a confident attitude. 
What kind of gloves are good for driving?
Gloves that have plenty of grip yet, are flexible, and move well are the best for driving. Traditional styles are made with unlined leather that strikes the perfect balance. However, if you live somewhere quite warm, fingerless gloves are ideal as they let your hands breathe even better. Alternatively, cold frozen hands make for unsafe driving, so warm, lined winter driving gloves will be the best choice in that circumstance. 
What kind of gloves does Ryan Gosling wear in Drive?
Ryan Gosling wears a pair of driving gloves designed by Gaspar Gloves. The brand offers a replica for purchase, made from genuine Italian Hair Sheep leather, in a selection of colors including brown, white, tan, and black. 
SUBSCRIBE TO OUR NEWSLETTER
Subscribe to our mailing list and get interesting stuff and updates to your email inbox.