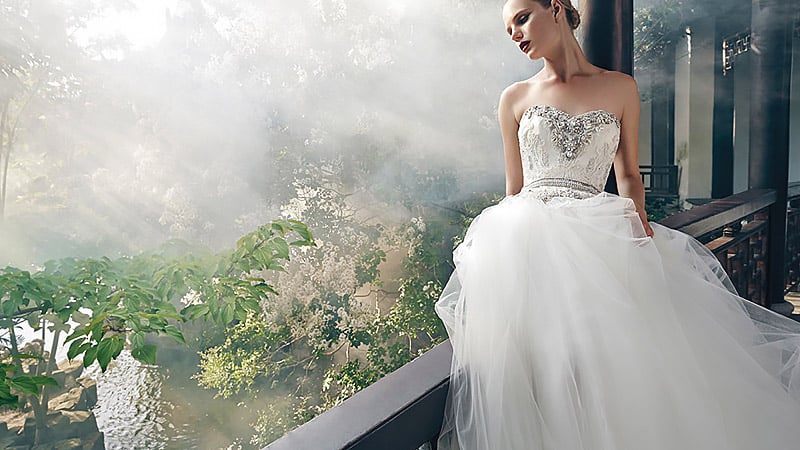 For most of us, it's a once-in-a-lifetime opportunity and a day that's going to be truly unforgettable, so it needs to be just perfect. If you're planning a summer wedding, then you need to know what type of wedding will work best for you and how to dress for it.
Summer Vintage Wedding
Are you a classic bride who feels she was born in the wrong century? Then you need a vintage wedding, and there are many pros to choosing this route. Firstly, you want to create a wedding that is simple and inexpensive but with a handful of embellishments and gorgeous antique decor.
Luxuries don't need to be pricey, and if you have a vintage wedding you probably already realise this. Try treasure hunting at the craft markets and let your creative juices flow in the months leading up to your wedding so the special day is anything but ordinary.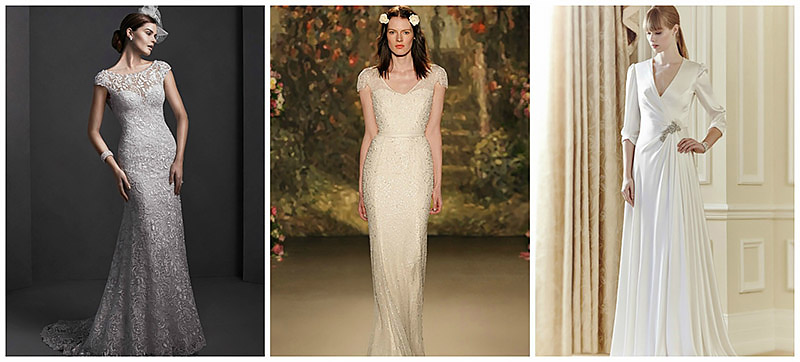 Dresses to Wear to a Summer Vintage Wedding
Look for an elegant vintage-inspired dress or shop for vintage gowns. Get inspired by the 50s and early 60s designs that featured barely-visible sweetheart neckline beneath the lace, or 80s frills and cinched waist.
Choose something adorned with lace, pearls or crystals and finished with dainty cap sleeves or you can opt for a voluminous ruffle dress, but be sure to pay close attention to the fabrics – you want something plain but glamorous that will compliment the wedding.

SHOP THE LOOK
Country Wedding
Nature lovers this is for you. Not only is a wedding in nature incredibly beautiful but you can also save a lot of money on decorating costs because mother nature provides such an excellent backdrop to work with. All you need is to add a few simple touches, et voila.
If you're opting for a country wedding or a wedding in the woods, another possible advantage is that you get to save on the venue costs – especially if you're choosing to have the wedding in a public place in which case you have the freedom to select any date. Plus, there's a real fairy tale element to this type of wedding.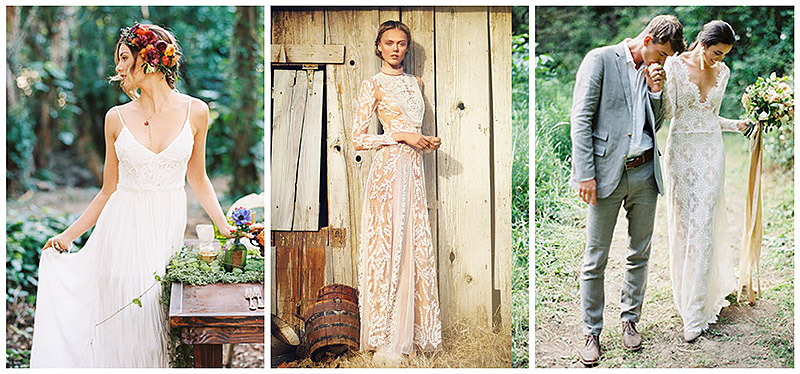 Dresses to Wear to a Summer Country Wedding
A country wedding in a barn or the woods is usually the perfect balance between classic and casual attire – you want to dress in a way that is suitable to your surroundings and for this you need to especially consider the type of floor your wedding venue will have. If you have a barn floor, or anything where your dress can get snagged, it makes more sense to choose a gown that falls around your ankles or shorter.
SHOP THE LOOK
Summer Beach Wedding
The pros of a romantic beach wedding are that it allows you to be comfortable and relaxed on one of the most potentially exciting days of your life. Another major pro about opting for a beach wedding is that you might be able to cut back on costs and decorations, as the venue tends to be a lot more casual and laidback. Plus, the ocean is the perfect backdrop and you get to start the honeymoon early!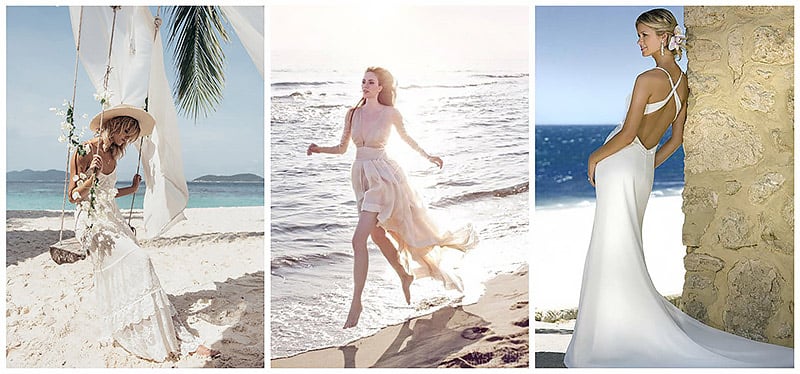 Dresses to Wear to a Summer Beach Wedding
A beach wedding is the most casual of them all, but that doesn't mean you cannot look breathtakingly beautiful. When picking the perfect wedding dress, it's recommended that you opt for something plain, with a simple silhouette like a romantic floaty pleated chiffon gown or a scoop neck gown.
Alternatively, you could opt for something short and fuss-free that is guaranteed to avoid the sand, like a crepe dress with ruffles or a short dress with sheer overlay. When it comes to accessories try to keep everything as low-maintenance as possible and avoid stilettos (and potential disasters in the sand), instead opting for wedges, embellished flats or go barefoot.
SHOP THE LOOK
Summer Traditional Wedding
Do you dream of cutting a big wedding cake surrounded by all your loved ones? Enjoying toasts and speeches and indulging in a three-course meal at a venue of your choosing? Then a traditional wedding is the way to go.
If you're religious or have significant ties to your hometown, and have a sizable guest list, these are other reasons to go the traditional route – it's a great time to connect with family and friends and a chance to put your love on display in front of everyone you know.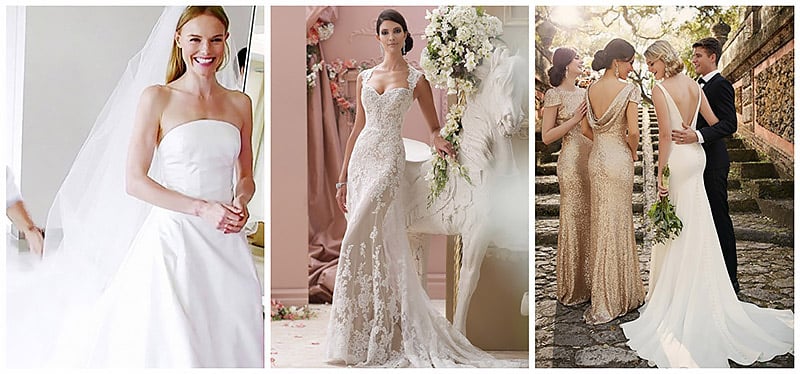 Dresses to Wear to a Summer Traditional Wedding
For a traditional summer wedding, which will usually be held indoors, the rules of dressing remain the same as for any formal event. You want to dress in something elegant and timeless, and to achieve this it helps if you pick out simple silhouettes and classic cuts – a floor length gown is always a great option.
For the modern bride try out a draped lace column gown or a romantic one-shoulder gown. The brilliant thing about traditional weddings is that you have so much versatility. Complete the look with a simple bouquet and a short veil.
SHOP THE LOOK
SUBSCRIBE TO OUR NEWSLETTER
Subscribe to our mailing list and get interesting stuff and updates to your email inbox.