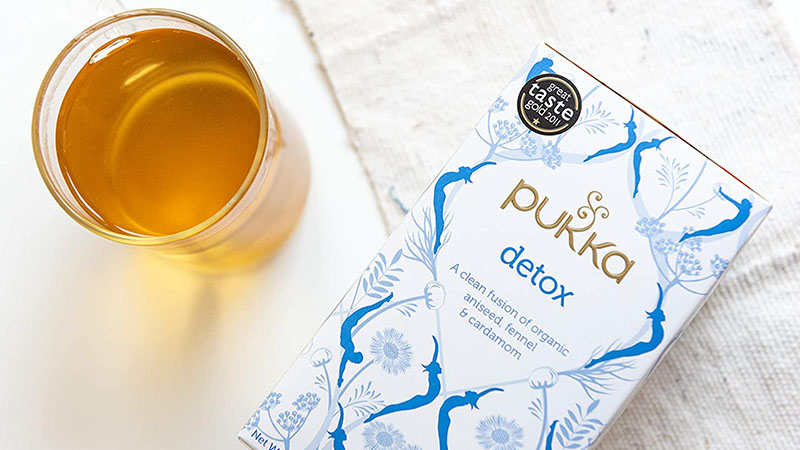 If you've overindulged with too much rich food, celebratory beers, and party snacks, it might be time for a detox. While the best way to feel good is to maintain a healthy, balanced diet full of nutritious whole foods and plenty of water, sometimes a kickstart can help. That's where detox teas come in. We've rounded up 15 of the best options available so that you can get right into it. Many contain a combination of herbs and spices that aim to improve your digestion and support your body with antioxidants. However, some also contain natural laxatives, such a senna, that can help flush out a backed-up system but should be used with caution. Most of all, they're warming and taste good thanks to ingredients such as ginger, licorice, and green tea.
RELATED: 20 Best Tea Brands for the Perfect Cuppa
1. Traditional Medicinals Organic Dandelion Chai Probiotic Tea
Boost your digestive health in multiple ways with this tasty, caffeine-free tea from Traditional Medicinals. Not only does it contain dandelion, with all its vitamins and minerals, but it also has a probiotic. Probiotics are great for fixing the balance of good and bad gut bacteria, which can cause bloating, discomfort, and sluggish digestion. Best of all, it also includes traditional chai spices such as cardamom, ginger, and cinnamon, which gives it a delicious, warm spiced taste.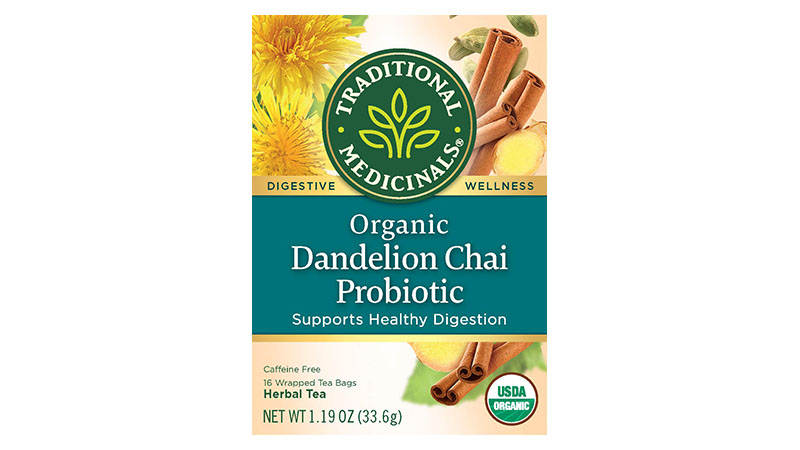 2. T2 Detox
T2's Detox blend contains a mix of fennel, juniper berries, stinging nettle, sweet blackberry leaves, lemongrass, marigold petals, licorice root, spearmint, and rosebuds. Many of the ingredients, such as the fennel and licorice, aid in digestion and help boost a sluggish system. Plus, it's packed full of antioxidants and minerals. The sweet, minty taste is enjoyable and will leave you feeling refreshed.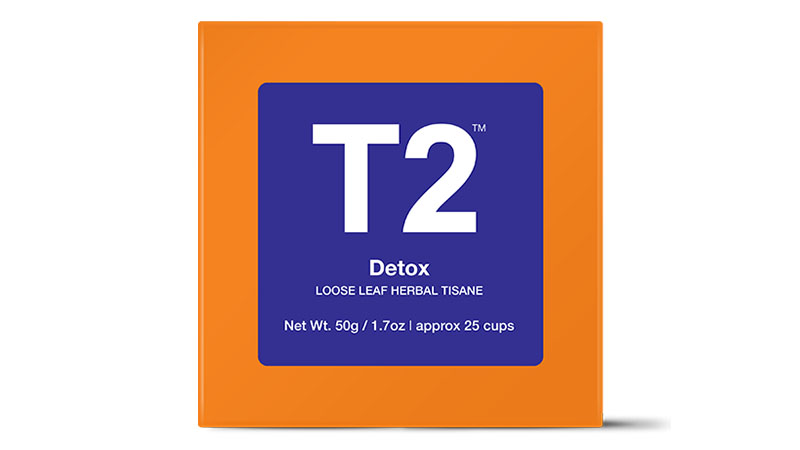 3. Yogi Tea — DeTox Tea
Indulge in a cup full of warming spices with this DeTox tea from Yogi Tea. The combination of ginger, black pepper, and long pepper is a traditional Ayurvedic blend known as "trikatu." Then, cinnamon, cardamom, burdock, dandelion, juniper berry, Indian sarsaparilla, and licorice are added for additional flavor and benefit. Not only does it taste good, but these herbs will also leave you feeling cleansed from within, and they will support your digestive health.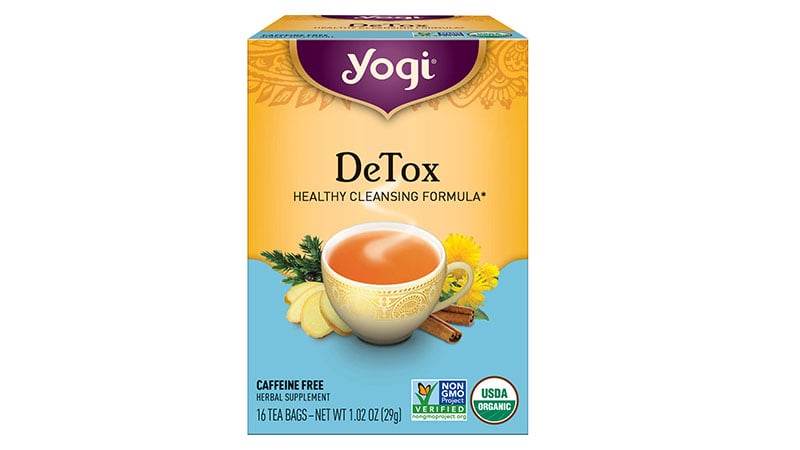 4. Raw Organic Dandelion Root Tea Detox Tea
Dandelion is a powerhouse plant full of nutrients such as vitamins A, C, D, B-complex, and minerals, including iron, potassium, and zinc. Combined, these can help detoxify the liver and kidney and improve digestion. Using raw root also means there are more nutrients that may otherwise be depleted in roasting processes. This particular blend also includes cinnamon and hibiscus for both the taste and their benefits, including acting as an anti-inflammatory and blood pressure stabilizer. Keep in mind; dandelion root tea can have a diuretic effect, which makes you urinate more. This is great for losing water weight and preventing UTIs, but to ensure you don't become dehydrated, keep up your water intake.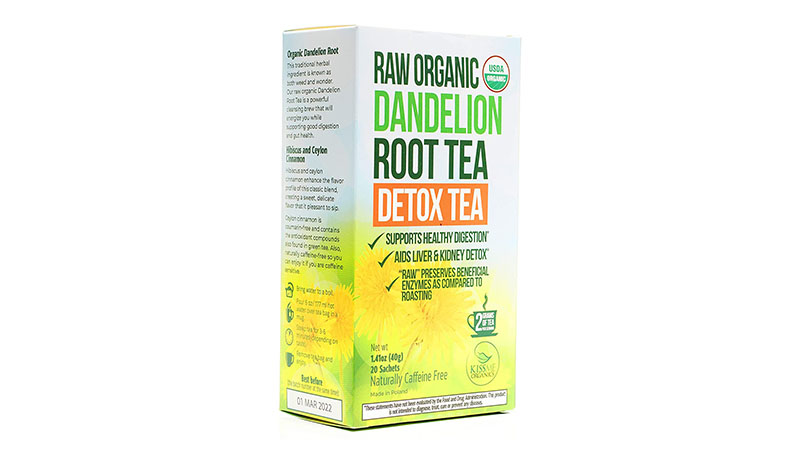 5. Organic India Tulsi Cleanse Herbal Tea
Organic India's Tulsi Cleanse tea contains tulsi, a medicinal herb that's closely related to basil, which is used in Ayurvedic medicine. It has adaptogenic properties that help support the body's natural functions and improve energy levels. Plus, it's also rich in antioxidants. Additionally, this herbal tea contains ginger, turmeric, Phyllanthus, Andrographis, and katuki. Each is also important in Ayurvedic medicine. Phyllanthus acts as a diuretic that can flush your system out, while Andrographis and katuki help with respiratory inflammation.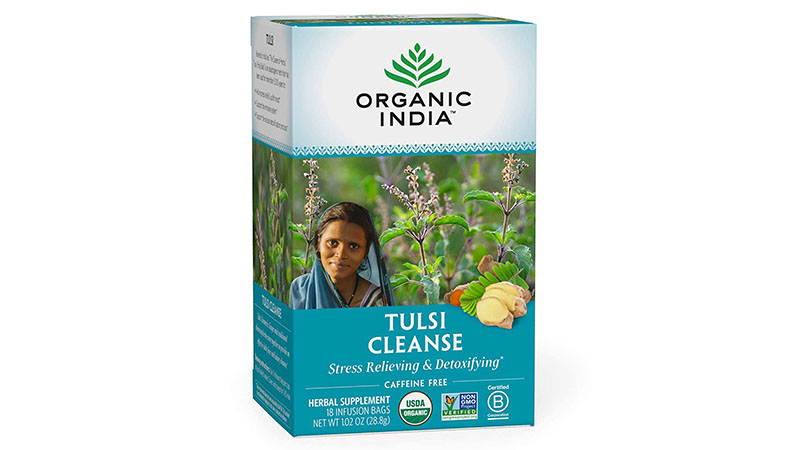 6. Zero Tea 14 Day Detox
Get things moving faster with the Zero Tea 14 Day Detox tea. It aims to improve your digestion, allowing your body to process excess toxins more quickly and reduce bloating. The tea can also keep your colon healthy to prevent a sluggish bowel, and it stimulates blood circulation through your body. The ingredients include green tea, rooibos, apple, orange peel, cinnamon, nutmeg, peppercorn, cloves, and cornflowers. All of these are natural, and many contain antioxidants, while some, such as cinnamon, is anti-inflammatory and anti-fungal. Plus, none act as a laxative, which can be a harmful effect of some detox teas.

BUY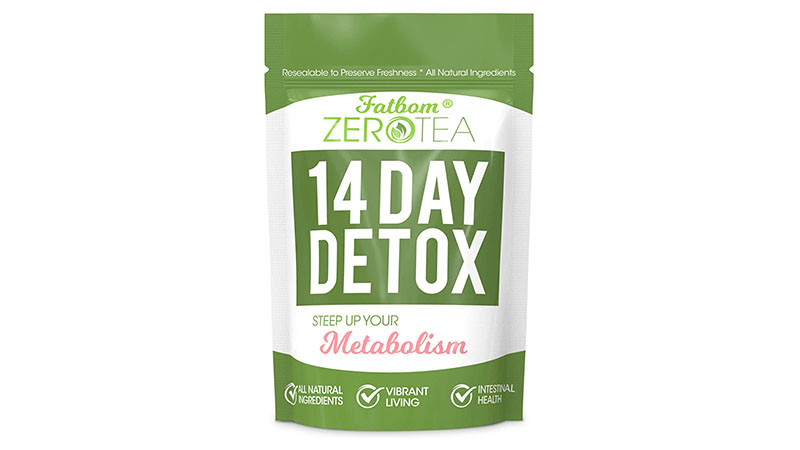 7. Pukka Detox
Give your insides a spring clean with Pukka's Detox tea. Their blend consists of aniseed, sweet fennel seed, cardamom pod, licorice root, and coriander seed for a slightly sweet, aromatic beverage. This combination of organic herbs and spices works to support your body's function and improve digestion. Pukka was created in 2001 by entrepreneur Tim Westwell and herbalist Sebastian Pole. Plus, they engage in ongoing research into the benefits of herbal health so that you can feel confident in your purchase.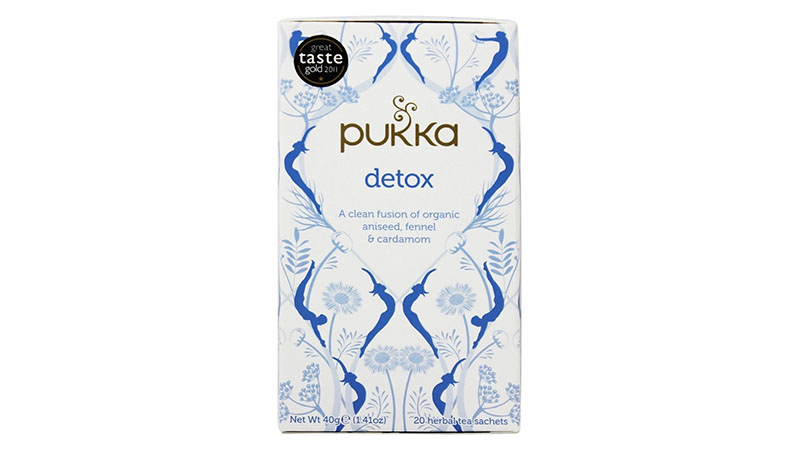 8. Baetea 14-Day Teatox Herbal Detox Tea
If you want to stop feeling bloated and tired, try this blend from Baetea. The mix includes green tea, ginger root, rooibos tea, & pomegranate, which are full of antioxidants, minerals, and can help digestion. You'll also get a jolt of energy with guarana seed, a stimulant similar to caffeine. Meanwhile, garcinia Cambogia extract comes from tropical fruit and is a common ingredient in weight loss supplements. It can help you feel full and suppress your appetite, so you're less tempted to snack, helping reduce fat stores. Enjoy a warm cup of this mild-flavored tea with breakfast each morning.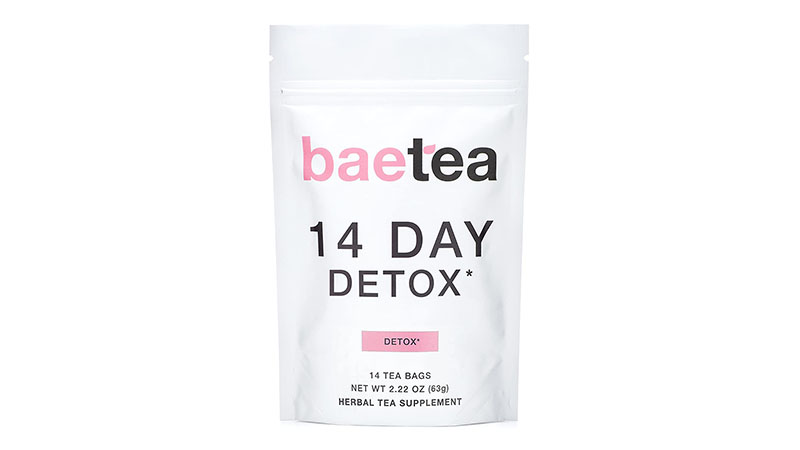 9. Teami® 30-Day Detox Tea Pack
The 30-day detox program from Teami is a two-step process that will help flush your system and fill you with energy. The first step is a cup of skinny tea each morning. It contains oolong, yerba mate, lime leaf extract, lotus leaf, ginger root, and rhubarb root. These are packed full of antioxidants and help digestion. Next, every second evening, you'll brew a cup of colon tea. The active ingredient in this is senna leaf, which does act as a laxative and is excellent for flushing out any blockages but can be a bit harsh on some people's digestive systems. As such, you'll also want to make sure you're staying adequately hydrated during the 30 days. The pack includes the two loose-leaf tea blends and a calendar to help you stay on schedule.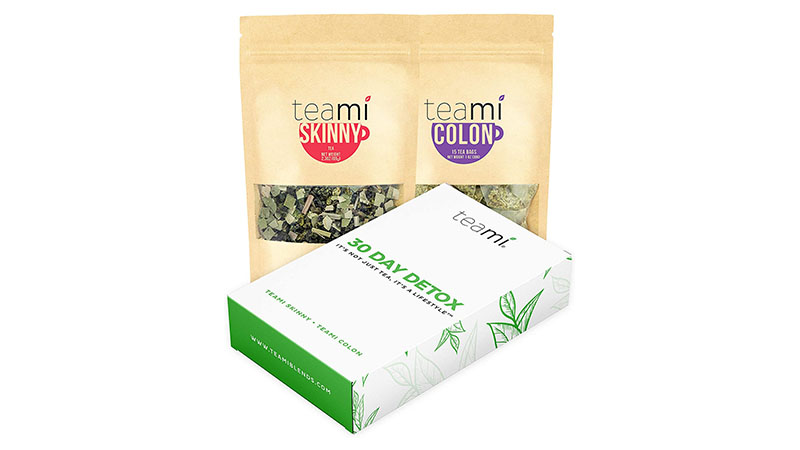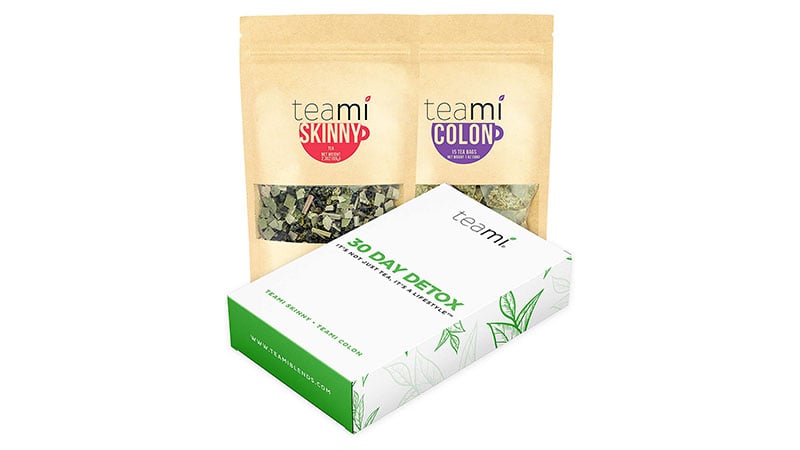 10 Gaia Herbs Cleanse & Detox Herbal Tea
If you've indulged in a little too much alcohol lately, then the Gaia Herbs Cleanse & Detox Herbal Tea is a great choice. It contains ingredients such as rooibos, burdock root, and licorice root that support liver function. Plus, rooibos is also full of antioxidants. When it comes to flavor, the licorice has a natural sweetness, which is complemented by the inclusion of both lemon and peppermint essential oils for an extra refreshing taste.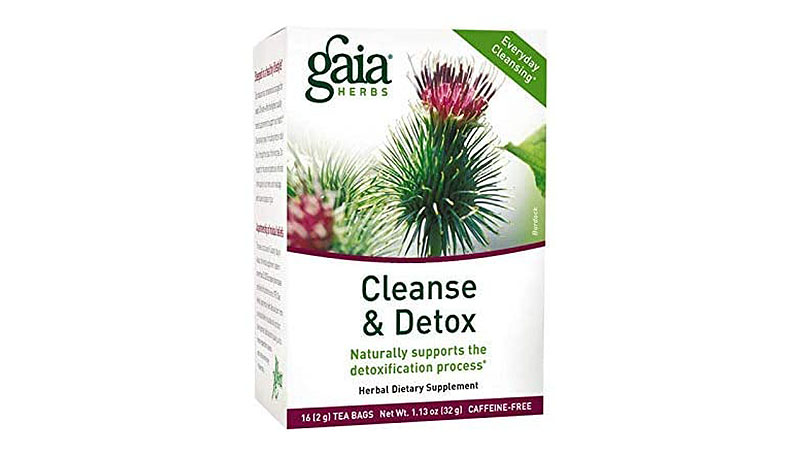 11 Traditional Medicinals Organic EveryDay Detox Tea
While some detox teas have an earthy "tea" flavor, the Organic Everday Detox from Traditional Medicinals has a more tarty, slightly sweet taste due to the inclusion of Schisandra berries. Also known as the "five flavor berry," this ingredient is a staple in Chinese medicine and gives your liver function a helpful boost. The berries are sustainably sourced from China's Minshan Mountains, contributing to the local economies and supporting the nearby Giant Panda sanctuary. Other ingredients in this brew include hibiscus flower, stinging nettle leaf, and licorice root.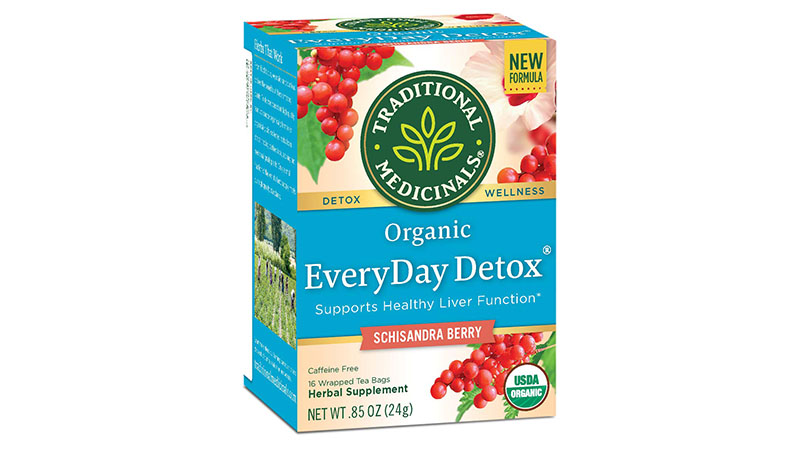 12. Yogi Tea — Berry DeTox
If you're looking for a more flavorsome detox tea, this option from Yogi Tea is excellent. It contains the usual detox ingredients such as burdock root, ginger, dandelion root, and fennel seed, all of which aid digestion. However, it's the addition of hibiscus flower, acai berries, stevia leaf, and honeybush that give it a lovely fruity, slightly sweet flavor, which is perfect if you're not a huge fan of traditional herbal teas. Brew a cup, chill it in the fridge, then serve it with ice for a refreshing alternative on hot days.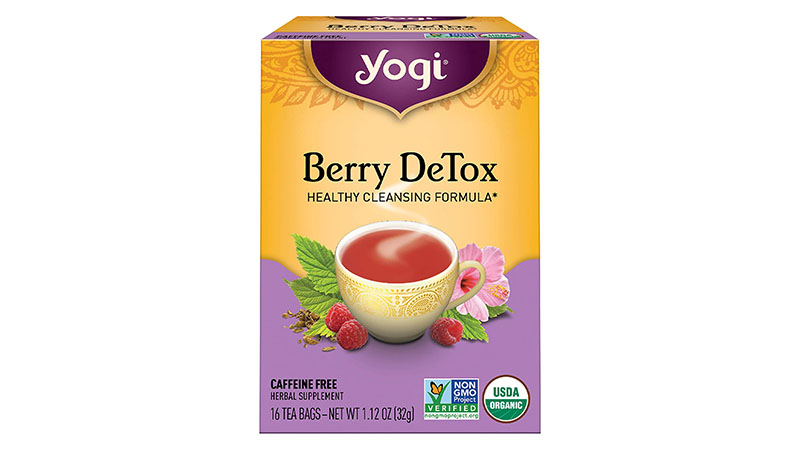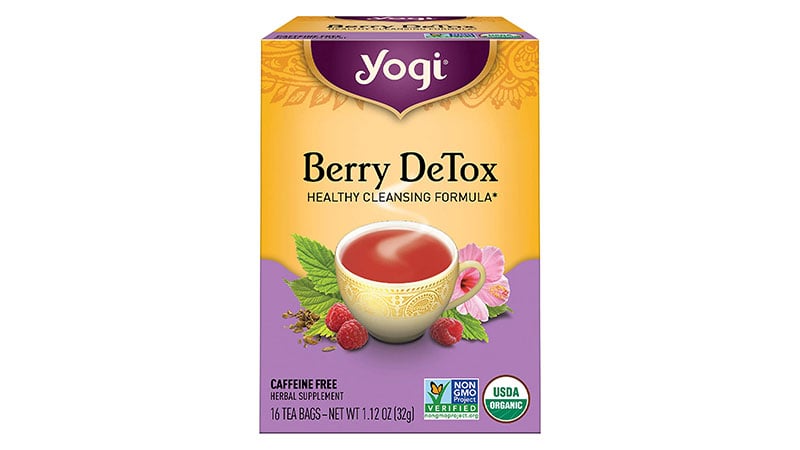 13. Hint Wellness 14 Day Detox Tea
Flush your system and ditch the bloating with Hint Wellness's 14-day detox tea. Ingredients such as burdock, dandelion, milk thistle, fennel, and ginger support your liver and kidneys, which filter toxins from your body. This tea also contains senna, a natural laxative, so it's recommended that you start with a short steeping time to reduce its adverse effects. The lemongrass, orange peel, grapefruit, and ginger give it a lovely refreshing flavor without a bitter aftertaste.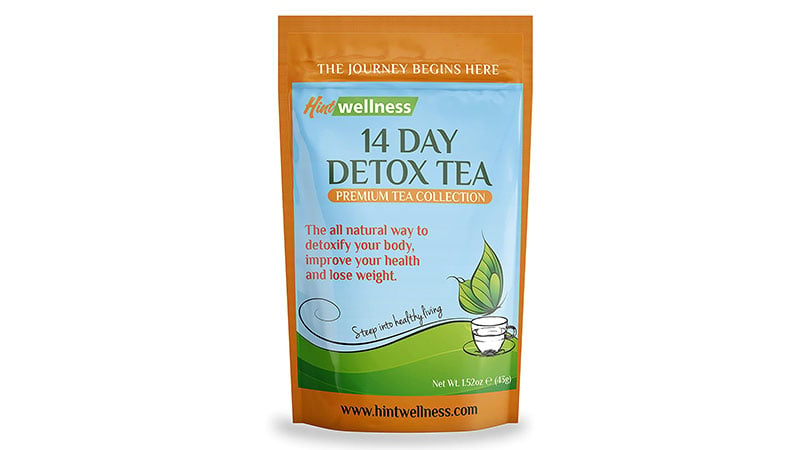 14. TeDivina Detox Tea
The TeDivina Detox Tea is the recipe of Dr. Esther Ramos. It contains a blend of persimmon leaves, holy thistle, Malva leaves, marsh, blessed thistle, papaya, myrrh, chamomile, ginger, cranberry, Siberian Chaga, and Ganoderma lucidum. It's designed to cleanse your mind and body, as well as aid in weight loss. One sachet makes enough tea for a full week. As such, brew it into a concentrate, then dilute it with hot or cold water, depending on your preference, when it's time to drink it.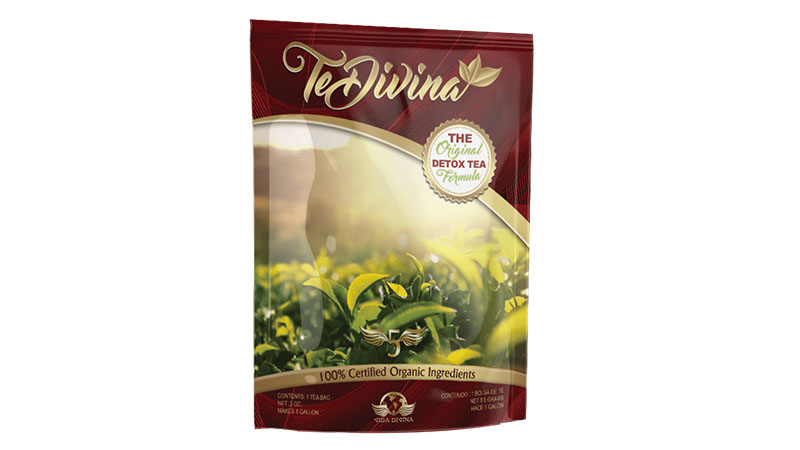 15. Hyleys New Wellness 14 Days Cleanse Kit
This wellness system from Hyleys combines three different types of tea to perform different functions. You take the moringa green tea in the morning to maintain your blood sugar levels and reduce snacking. Next, at lunch, enjoy a cup of the matcha and sencha, a potent mix of green teas to keep you energized and that are packed full of antioxidants. Finally, just before bed, you'll have the colon cleanse. This does contain senna leaf extract, a natural laxative, so be wary of overconsumption and possible side effects — begin with a weak brew. Together, the three products are designed to improve digestion and the immune system and leave you feeling fresh and healthy.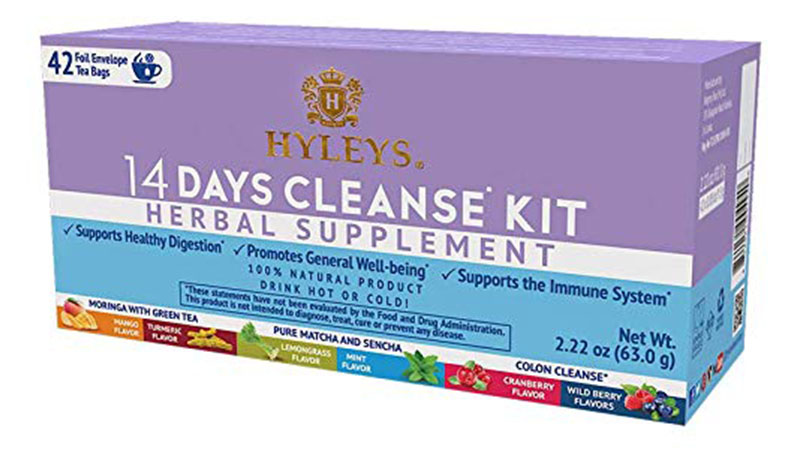 DIY Detox Teas
FAQs
What are the best detox teas for weight loss?
While many detox teas claim to help with weight loss, the best way to shed extra kilos is to eat a calorie deficit. If you are looking for a good tea to aid digestion, try one that contains gentle ingredients such as green tea, ginger, dandelion root, or milk thistle. Avoid using laxatives for weight loss, as this won't give you sustainable results and can cause more harm than good. 
Do detox teas really work?
Depending on the ingredients, detox teas can aid in digestion and are full of antioxidants, so in general, they are healthy for you. However, when it comes to slimming down, some can act as a diuretic or laxative, reducing water weight and moving food faster through your system, which can make you appear leaner. However, there's little scientific evidence that shows it supports long term fat loss results. Drinking water can be just as good for flushing toxins from your system as tea. 
What is the best drink to detox your body?
Water is the best option for detoxing your body. Ensure you're getting at least eight to ten cups a day to maintain healthy hydration and bodily function. Tea can be a tasty alternative, and opting for antioxidant-rich choices like green tea, oolong, rooibos, or other herbal blends are the ideal picks. Just remember to be wary of the diuretic or laxative effect of any ingredients.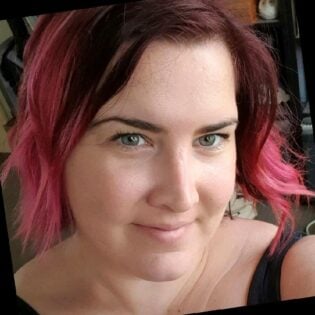 Alexandra Linde is an experienced writer holding a bachelor's degree in Journalism. She is the owner of Alexandra McKiterick Creative and has expertise in travel, fashion, fitness and lifestyle. Alex has previously written for Flightcenter, Travello, and Backpacker Deals.
SUBSCRIBE TO OUR NEWSLETTER
Subscribe to our mailing list and get interesting stuff and updates to your email inbox.