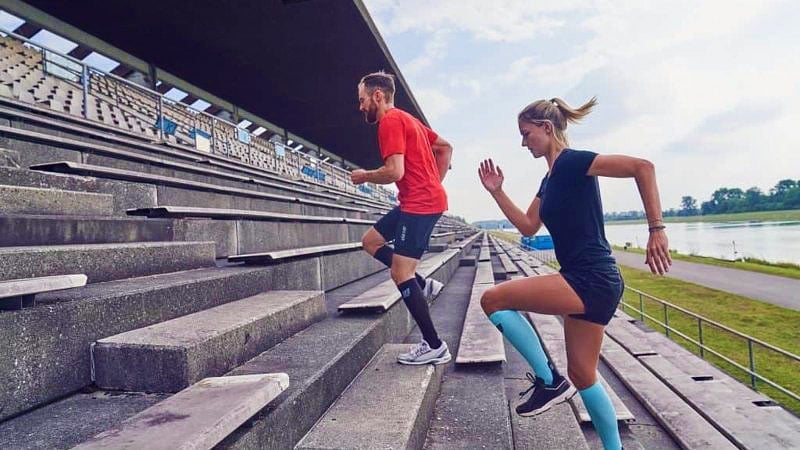 Compression socks are a specialized product that can help enhance your workout, take the pressure off being on your feet all day, and can be used for long-haul travel to prevent swelling and blood clots. They can aid blood circulation, preventing the blood from pooling at your feet, keep the muscles healthy and provide more stability. There are different levels of compression, from light to high, and you can choose the amount you need depending on the issues you wish to address. When deciding on a good pair of compression socks, you need to consider the fit, the fabrics used to create it, and also learn a few tricks on how to put them on and off. If you want to say goodbye to sore feet, this could be the solution you have been looking for.
Best Compression Socks
1. FITRELL Compression Socks – 20-30mmHg
The FITRELL compression socks can be used by both men and women and they are designed to target many issues. These include ankle and foot swelling, varicose veins, shin splints, heel and arch pain. They are also good for running, pregnancy or travel and can help speed up recovery. Created using a blend of 72.1 percent polyamide, 18.4 percent polyester, and 9.5 percent spandex, these 20-30mmHg compression support socks are moisture-wicking and breathable. This helps to keep the legs and feet dry. The design features a seamless toe, which will reduce friction, and extra cushioning for a comfortable and blister-free experience. The 20-30mmHg graduated compression is firm and will help with circulation, allowing for more oxygen which will, in turn, benefit your workouts. You can buy a three-pack of black, white or grey socks, or one that combines these three colors. The company also prides itself on excellent quality and service.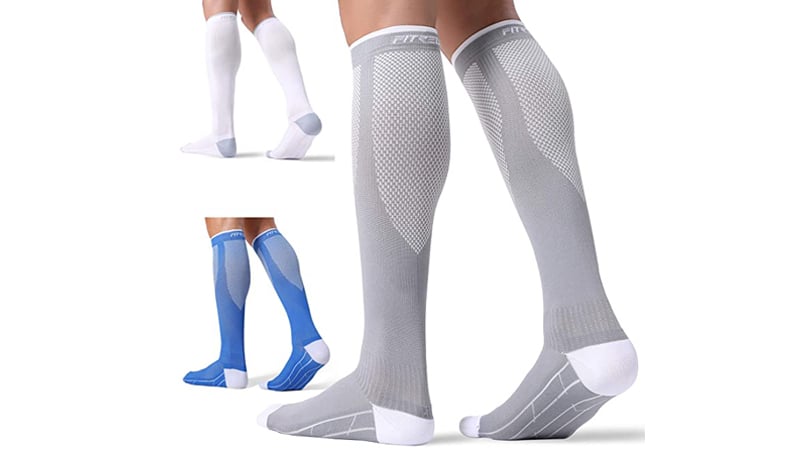 2. Vitalsox Italy-Patented Compression Socks
Vitalsox is an Italian brand that prides itself on being the leader in technology and tested graduated compression socks. They are graduated from the midfoot to provide support for the sole and the arch. They guarantee quality and believe that their product is superior to others. It is crafted with a blend of 70 percent silver drystat, 10 percent spandex, 10 percent lycra, and 10 percent nylon. Although you have likely heard of the other fabrics before, silver drystat is created using a quick-drying polypropylene infused with silver. It is great for a wide range of physical activities, which can help enhance performance and be used for vein support and during pregnancy. There are four-way stretch capabilities, meaning that it can stretch in both directions.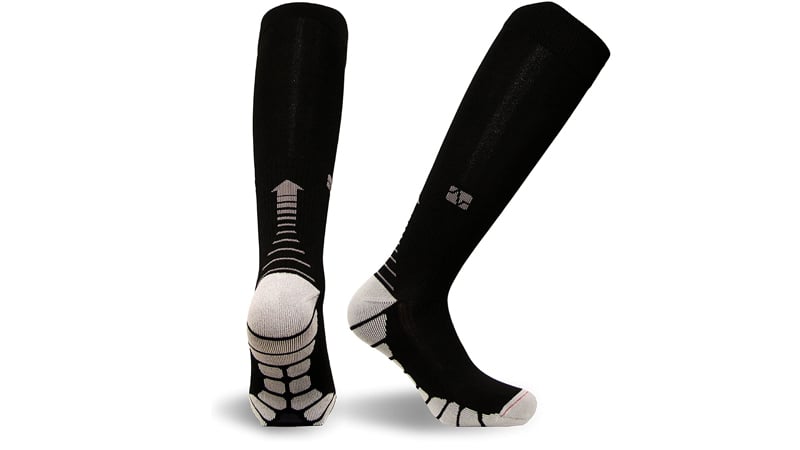 3. Thirty48 Performance Compression Low Cut Running Socks
The Thirty48 Performance compression low-cut running socks are the perfect purchase for a physically active individual. Whether you want them to enhance your sports activities like football and basketball or need something for running or weightlifting, these socks have 15-20 mmHg of pressure. They will wick away moisture, reduce inflammation, and they fit well around the nerves and muscles to help improve circulation. One major benefit is the comfort, and each pair is designed for the right or left foot. This gives you extra support and can help to prevent injuries. Other highlights include a seamless design, a heel pull tab to put them on and get them off easily, and ankle coverage. They come in a wide range of colors, including a mustard and navy combination, pink with blue, and black with grey. Choose from sizes small to extra-large.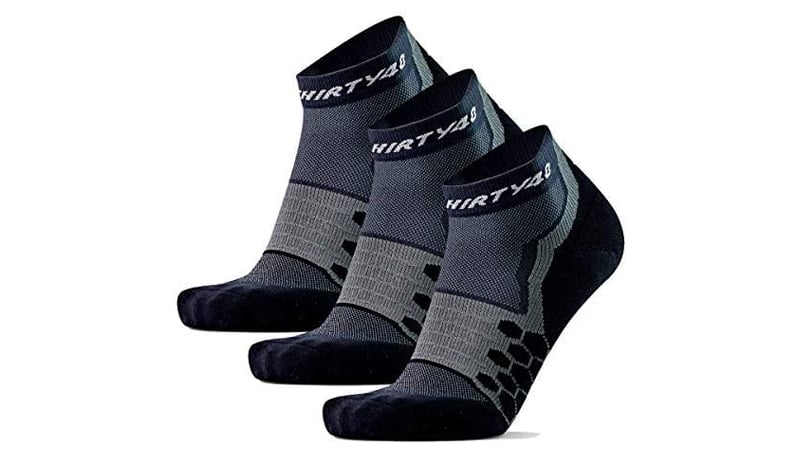 4. CWVLC Compression Athletic Socks – 16-23 mmHg
CWVLC compression athletic socks are made from a combination of 53 percent nylon, 23 percent moisture-wicking fabric to help keep the skin dry, 13 percent elastic, and 5 percent spandex. This product can enhance your workout; the compression fit is 16-23 mmHg and can help with blood circulation. Other features include shock absorption and durability. They are easy to put on thanks to the elastic closure and low cut, versatile, and are machine washable for convenience. They come in a pack of three or six, and there are a wide variety of colors and sizes to suit every preference. Another pro is that this product is machine washable. If you are not satisfied with your purchase after 30 days, you can return them for a replacement or refund.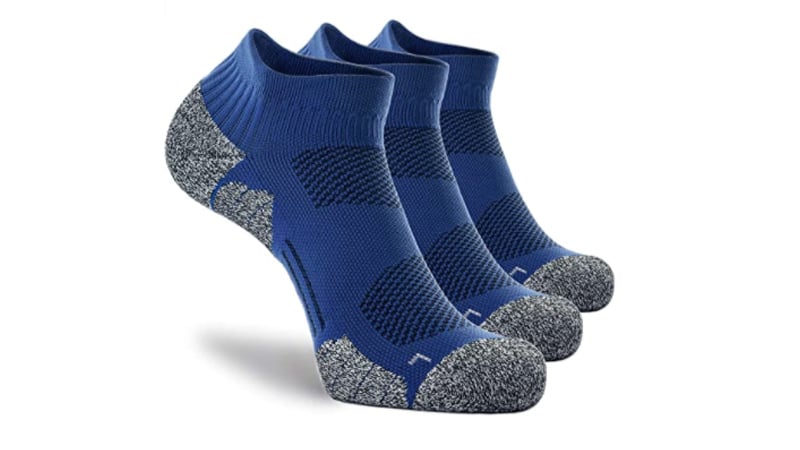 5. Rockay Vigor Graduated Compression Socks
Compression socks are incredibly beneficial as they help to increase blood flow, prevent muscle injury, and help with recovery and muscle soreness. A brand that takes this seriously is Rockay Vigor, and their graduated compression socks come with a lifetime guarantee. They have cushioning for the heel and toe and should remain odor-free. Not only is it a great product for high-intensity workouts, but it is also a conscious choice because it is created using 100 percent recycled materials, helping upcycle marine waste. One pair of socks is equivalent to removing 22 bottles from the ocean. There is a wide range of colors and sizes to choose from, allowing you to find the perfect fit but also the look that appeals to you most.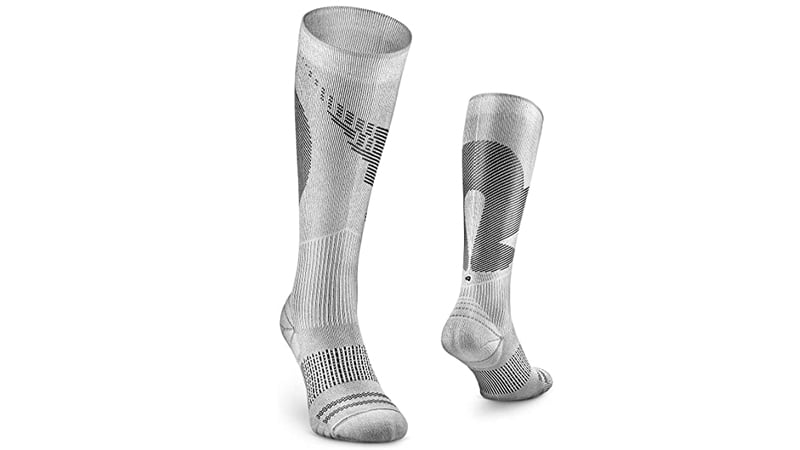 6. Dickies Men's 3 Pack Heavyweight Cushion Compression Socks
Dickies compression socks are smart and functional. They are created with 68 percent cotton for softness and durability, 31 percent polyester, and 1 percent spandex. The latter helps with the fit. They feature a pull-on closure, cushioning on the heel and toe, and arch and ankle compression. This ensures support and stability. The socks come in a three-pack, and there are also three color packs to choose from; grey, white and black. These neutral shades are incredibly versatile and will match with everything you own. Plus, they are machine washable.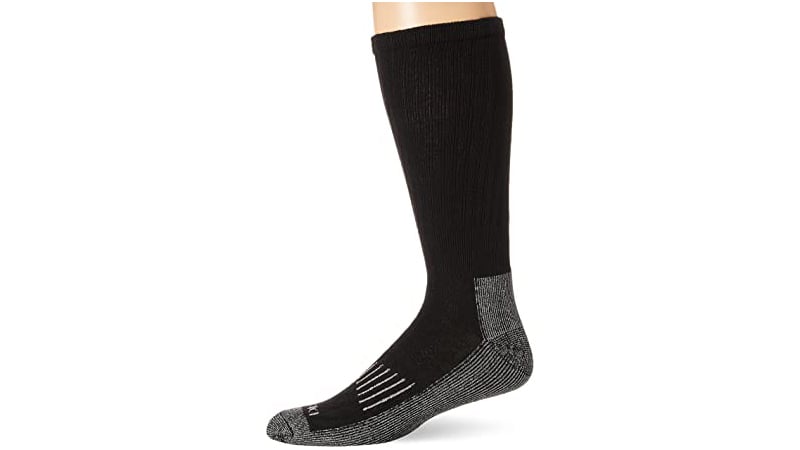 7. Amazon Essentials 6-Pack Compression Socks
Good quality compression socks will make your feet comfortable and improve blood circulation and offer stability and support. If you are looking for a value pack, Amazon Essentials 6-Pack Performance socks offer just that. The cushioned ankle-length socks can enhance your workouts and provide cushioning on the heel and toe. They are created using 62 percent cotton, 30 percent polyester, 6 percent nylon, and 2 percent elastane. They feature a mesh design for breathability and help get rid of moisture. They are incredibly affordable for a six-pack of socks, ranging from $15.60 – $18.60, depending on the size. Choose from black or white and machine wash when needed.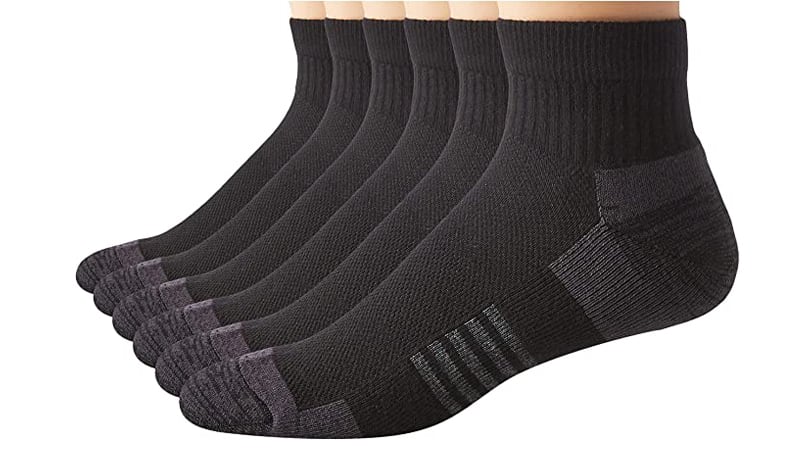 8. CHARMKING Compression Socks
The CHARMKING compression socks are perfect for both men and women and come in a pack of eight. They are 15-20 mmHg compression, which is medium, they help you use less energy, target compression zones, and offer support. They are great for running or cycling, among other things, and are high-quality, well-stitched, and easy to wear. Designed using 85 percent nylon, they are breathable and comfortable. This brand is one of the best-sellers and is also highly rated by customers. There is also a wide range of different colors and funky patterns, so you can really let your personality shine with this purchase. Pick black or beige if you want something versatile, or get playful with watermelons, flags, and heart prints.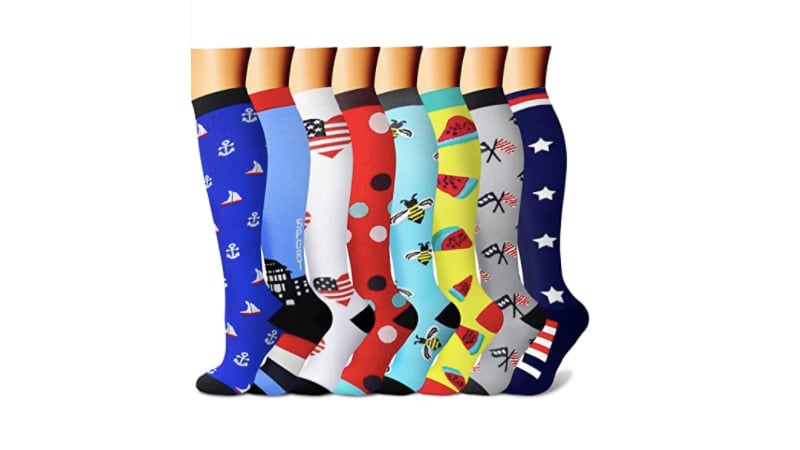 9. Toes & Feet Low-Cut Compression Running Socks
Toes & Feet is a brand that creates compression socks that can enhance your athletic performance and aid your muscles by allowing for the blood to circulate properly. It is created using a blend of 36 percent cotton, 24 percent polyester, 24 percent spandex, and 16 percent nylon and designed with an anti-swear compression fit, a breathable mesh top, and cushioning in all the right places. The use of silver ion also helps reduce foot odor, and the material will wick away moisture, keeping your feet dry. The product comes in a pack of two or five, which gives you value for your money. They are low-cut, which makes them easier to wear and more versatile. There are several colors to choose from, including classics like black and grey to bolder options such as bright blue and grey.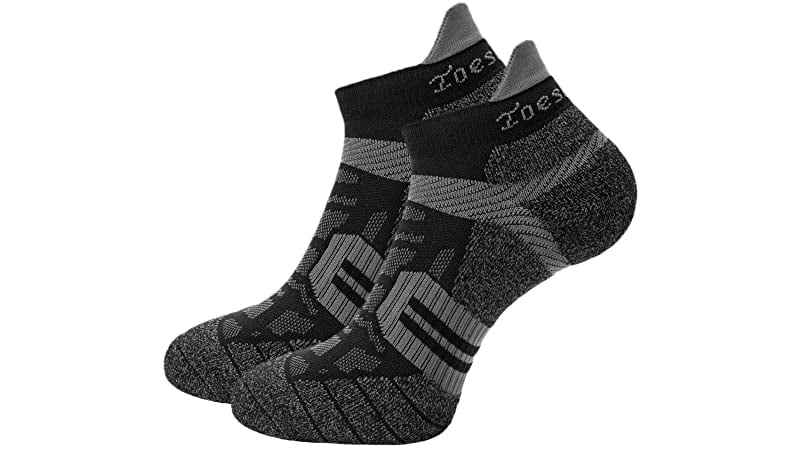 10. Clasmix Graduated Medical Compression Socks
The Hi Clasmix Store's Graduated Medical Compression Socks are designed with 20-30mmhg compression to help with oxygen delivery to the muscles. Not only does this help with muscle recovery, but it can also relieve pain. The socks are created using a mixture of 85 percent nylon, 10 percent polyester, and 5 percent copper fiber. The reason for the copper fiber is to aid circulation but can also enhance performance and eliminate odors. Other highlights of the product include that it is moisture-wicking to keep you dry and comfortable. Choose from multicolored or plain to suit your personal style preference. After all, these are socks that are bound to get noticed.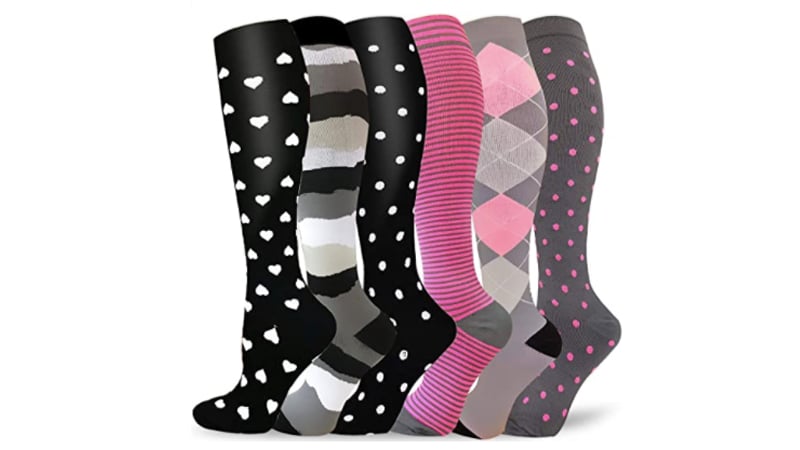 11. BERING Men's Athletic Ankle Compression Socks
BERING Men's athletic ankle compression socks come in a pack of six, and you can choose from black or white. Value packs are great because you have a pair for almost every day, and these will allow your socks to last longer. These athletic socks are designed with a breathable mesh top for ventilation and can help improve venous blood flow and aid oxygen delivery to the muscles. This, in turn, can help prevent injury and reduce swelling and muscle fatigue. You can expect cushioning in the key areas, which can also prevent blisters and reduce friction. The product is created using 54 percent polyester, 26 percent rubber, 12 percent spandex, and 8 percent nylon. They are true to size, so order your regular size. They should be hand washed only.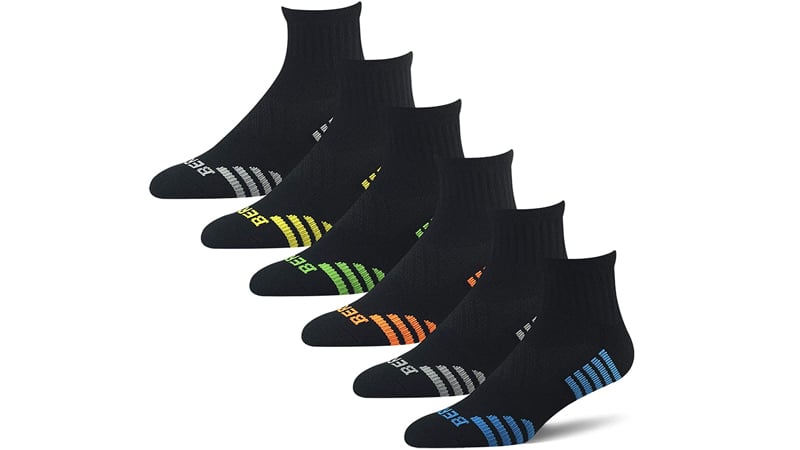 12. SunFeeling Compression Socks
The SunFeeling Compression is perfect for both men and women and provides 20-30mmHg compression. This allows for support for your physical activities but can also be worn during flight or travel. They are designed using a blend of 85 percent nylon and 15 percent polyester, with quality in mind. The construction has no stitches and added support on the toe and heel parts allowing for more comfort and grip. In addition to improving blood circulation and oxygen flow, these socks can also ease pain and discomfort related to plantar fasciitis. This product is highly rated, with thousands of reviews available online, meaning you can rest easy by choosing something that has been tried and tested by others. The value packs come in a wide range of colors or patterns, from cute prints that will make you smile to more wearable neutral shades.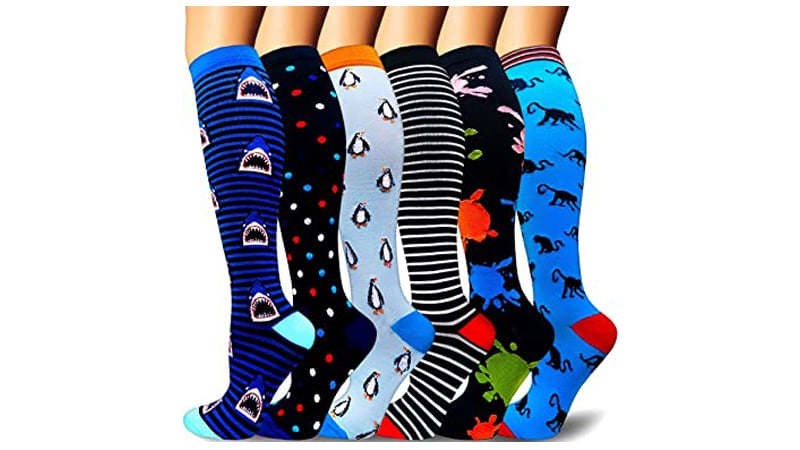 13. Iseasoo Copper Compression Socks
Iseasoo Copper compression socks are great for men and women. One of the highlights of this design is that it uses copper fibers to aid blood circulation. It is created using a blend of 8 percent copper fiber, 70 percent nylon, and 22 percent spandex. Individuals who want stability and support, wish to reduce plantar fasciitis pain and heel pain and swelling will be drawn to this design. It is breathable, durable, and comfortable and will stay in place and retain its shape after washing. They have been reviewed almost 8,000 times, with many pleased customers. The socks come in packs of five or 10, and there are various colors or patterns to choose from, helping you get healthy and stylish feet.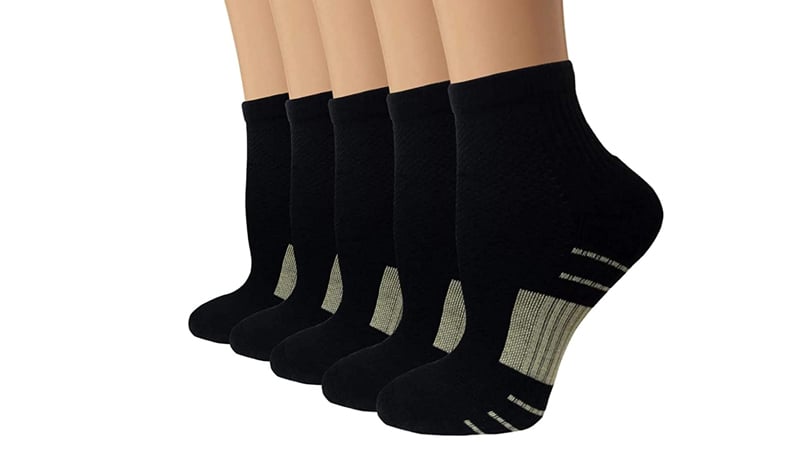 14. FULLSOFT Compression Running Socks
If you are searching for low-cut compression socks, these could be just what you have been looking for. They are more versatile than higher styles and are easy to get on. The FULLSOFT product provides a 15-20 mmHg compression, which is considered medium and is designed using copper fibers. The idea is to help with blood circulation in your legs, reduce swelling, cramping, and stiffness. Other highlights include the fact that they are lightweight, moisture-wicking, have blister control, and air-circulating ventilation. If you are not happy with the purchase, you can rest easy because the brand offers a 100 percent refund.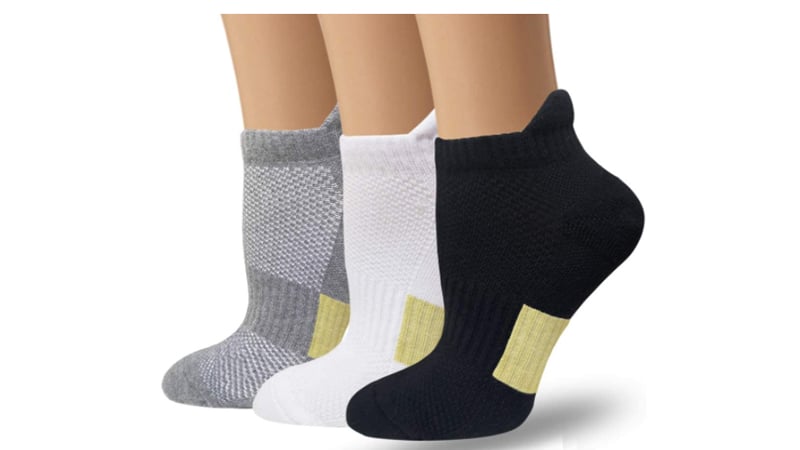 15. Actinput Compression Socks for Circulation
If you're looking for compression socks that are suitable for a wide range of things, whether that is medical purposes or athletic, then the Actinput store has just what you need. Their socks, which are sold in a pack of eight, are created using a combination of 85 percent nylon, 10 percent polyester, and 5 percent elastane. The nylon ensures comfort and is moisture absorbent. They are designed without stitches for a more comfortable fit. This ensures they will not rub against your skin and are unlikely to rip. The compression socks are 15-20 mmHg, which is designed for blood circulation and oxygen flow; this is beneficial in helping to prevent pain, swelling, and cramping and aiding muscle recovery. If you decide that these socks do not do the job they were intended to do, you can contact the company for a 100 percent refund.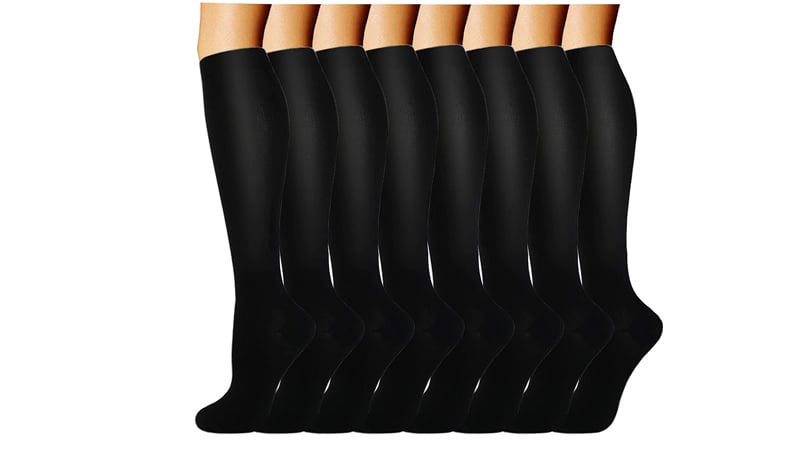 Compression Socks Buying Guide
Before shopping for compression socks, there are some things you want to consider, including whether you want graduated compression socks or a product designed for anti-embolism. The most commonly used is graduated compression, and they come in a range of tightness options; these are 8-15 mmHg which is the lowest, 15-20 mmHg is medium, 20-30 mmHg is firm, and 30-40 mmHg is extra-firm. The mmHg stands for millimeters of mercury. You also want to consider the material used, which is commonly a blend of nylon, polyester, and spandex or elastane. Some products are also created using cotton. Another thing to be mindful of is the height of the sock, as those with lower-cuts may be more versatile and easier to wear. As well as the color and size.
Compression Level
There are varying levels of compression, ranging from mild, 15-20 mmHg (millimeters of mercury), to extra-firm, usually 30-40 mmHg. The amount of compression is important for specific issues you want to address, from minor swelling of the feet, ankles, and legs to more serious edema treatment. The sizing of your sock will also affect the compression. If you have any medical reasons to wear compression socks, you should consult a professional beforehand.
14 mmHg and less:
14 mmHg and less is considered light compression and is used to treat minor problems like swelling of the feet, ankles, and legs. It can also be used by pregnant women or individuals who spend many hours on their feet during the day. If you have no underlying medical issues, then this is the best option for you.
15 – 20 mmHg:
15 – 20 mmHg is medium compression and will help relieve minor to moderate varicose veins, offer relief for minor swelling, and help tired legs. This is also the range of compression that is often recommended for long-haul travel and can help prevent blood clots caused by being in a seated position for an extended amount of time.
21 – 30 mmHg and more:
The 21 – 30 mmHg and more are a high level of compression and are usually used by those struggling with a medical issue such as blood circulation problems or edema. If you are a serious athlete and often do high-intensity workouts, this could also be an option for you.
Material
Compression socks are often made using several different fabrics, and these can be synthetic or natural. Common blends include nylon, cotton, polyester, spandex, and elastane. The fibers help compress the leg, foot, or ankle, and there are different levels of compression to choose from, depending on your needs or medical issues. Synthetic fabrics like nylon, polyester, and spandex can be moisture-wicking, keeping your feet dry and comfortable. Some brands use blends of cotton, which can help with warmth, compression and adds a softness to your socks. If you require compression socks that have insulation because you will be spending prolonged time outdoors, some opt for products that use merino wool.
Fit
When you purchase compression socks, you do not always need to take measurements. However, you can do this in the morning before any swelling occurs by measuring the circumference of your ankle and calf, as well as the length of your calf. Most products are sold in sizes small to extra-large; you would wear the same size you would with regular socks. It is important to read the advice from the manufacturer to see if the sizing chart differs. If you need compression socks for medical purposes, then you will require accurate measurements from your healthcare professional. When it comes to comfort, you want to ensure that your socks are not too tight but have enough cushioning and support. There are also varying lengths, and your decision will be based on the issue you would like to tackle.
Value
When it comes to determining whether you are getting a good value pair of socks, there are some things to consider. Although you may be inclined to buy cheap socks for everyday wear, compression socks are more expensive than the average sock, and therefore you want to get your money's worth. Some brands are so confident about their product that they will offer a money-back guarantee if you are unsatisfied. It is also worth reading reviews online about products that you are interested in to see which are highly rated by customers who have tried and tested them before. This helps get an accurate representation and not just the opinion of the company trying to sell them. Consider the materials that your socks are made from, and sometimes multi-packs offer the best deal because you can alternate your socks daily, thus not wearing out one pair too much.
How to Put on Compression Socks
Unlike regular socks, compression socks cannot be put on within seconds, and you need to give yourself some time to do it correctly. The tightness of these products, designed to increase blood circulation and provide support, requires you to follow certain steps. You will need to do so in a place with enough room to move about and get the right leverage; this could be on the floor or your bed. Deciding on the right size beforehand will also help for a more accurate fit, and this will make the process of getting the socks on much simpler.
Pinch the Heel
When putting on compression socks, it helps to pinch the heel's middle section with your thumb.
Turn Sock Inside Out
The next step is to pull the sock down your arm, turning it inside out. This is particularly important with long socks. Stop when you reach the thumb, and continue holding the heel of the compression sock. This will make the process of getting the sock onto your foot much easier.
Roll Up Your Compression Socks
When the foot is inside the bottom of the sock, you can roll it up. If there is extra fabric at the top of your sock, you want to fold it under your knee. This is an important step because if there is too much fabric, it will be uncomfortable, and you will not get the full benefit of compression socks.
Best Compression Socks FAQs
What are Compression Socks?
Compression socks are a fantastic, specialized product. They are much tighter than regular socks, which help increase blood circulation, keep the muscles healthy, and provide added support and stability. They can be used to enhance your athletic performance but are also beneficial for people who spend a long time on their feet during the day, pregnant women, or those traveling on long-haul flights. There are two types of compression socks; anti-embolism and graduated. The latter is the most common, and there are typically three different compression levels, each designed for specific issues. Compression socks come in various lengths, from low-cuts to knee-high and thigh-high.
What are the benefits of wearing compression socks?
Compression socks are a specialized product that can help enhance your workout or take the pressure off being on your feet all day. It can boost blood circulation, keep the muscles healthy, and offer added support and stability. They can also be worn by pregnant women or used for long-haul travel to prevent swelling and blood clots. There are different levels of compression, from light to high, and you can choose the amount you need depending on the issues you wish to address. Those with edema or serious medical issues need to consult a doctor beforehand.
Can wearing compression socks be harmful?
Although there are many benefits to wearing compression socks, there are also some cons. Not all products are made equally, and those that are of poor quality may cause friction or blisters. If you wear socks that are too tight, it could prevent blood circulation in the legs and cause tingling, discomfort, and redness. Older and weaker patients may also find that pressure from compression socks may harm their thin skin and cause pain.
What are the best compression socks?
The best compression socks will depend on various factors and vary depending on what you intend to use them for. Lower compression is great for minor swelling of the ankle, foot, and leg. In comparison, those with higher compression can relieve minor to moderate varicose veins, offer relief for minor swelling, help tired legs, and reduce the chance of blood clots. Some of the most highly-rated brands include Iseasoo Copper Compression Socks, SunFeeling Compression Socks 20-30mmHg, and BERING Men's Athletic Ankle Compression Socks.
What's the difference between graduated and uniform compression socks?
Uniform compression socks have the same mmHg on all sock areas, while graduated compression socks tend to be tighter around the ankle and offer a more loose fit towards the top of your leg. This can help with swelling, relieve pain in the ankles and lower leg, and help with preventing deep vein thrombosis (DVT).
Is it ok to wear compression socks all night?
It is possible to wear compression socks all day, but you should take them off at night unless a medical professional has advised you otherwise. This is because they move blood flow away from your feet, which could be problematic when lying down. You can wear them again when you wake up.
SUBSCRIBE TO OUR NEWSLETTER
Subscribe to our mailing list and get interesting stuff and updates to your email inbox.