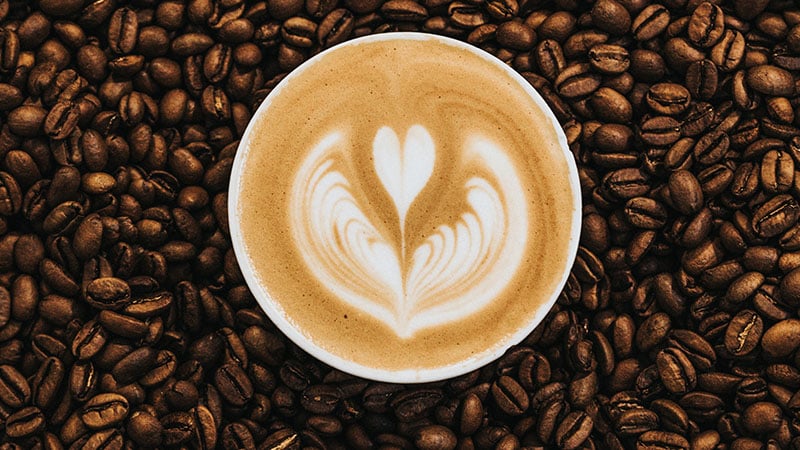 Coffee is arguably the elixir of life. Its warm, comforting aroma is the perfect smell first thing in the morning, while the stimulating caffeine gives you that edge to get through the day. However, there's a lot more to coffee than meets the eye when creating your perfect cup o' joe. Not only do you have to consider the best brand, but also the type, growing region, roast style, grind style, and brewing method. It can be a journey, but a fun and interesting one nonetheless. Plus, you get to drink a bunch of great coffee as you learn. Read on to get the low-down on everything you need to know about coffee, including the best brands, regions, methods, and terminology.
Best Coffee Brands
New England Coffee, Butter Pecan
New England Coffee's range of delicious blends is ideal if you have a sweet tooth. They're made from 100% arabica coffee beans roasted using the same method employed for over 100 years. Each roasting batch is small to ensure consistency, so you get the perfect cuppa every time. Natural and artificial flavorings allow them to create the sweet, baked good tastes of butter pecan, blueberry cobbler, donut shop, pumpkin spice, or pistachio creme. It's not traditional, but it's the perfect choice for casual drinkers and anyone looking for a gateway drink into the world of coffee.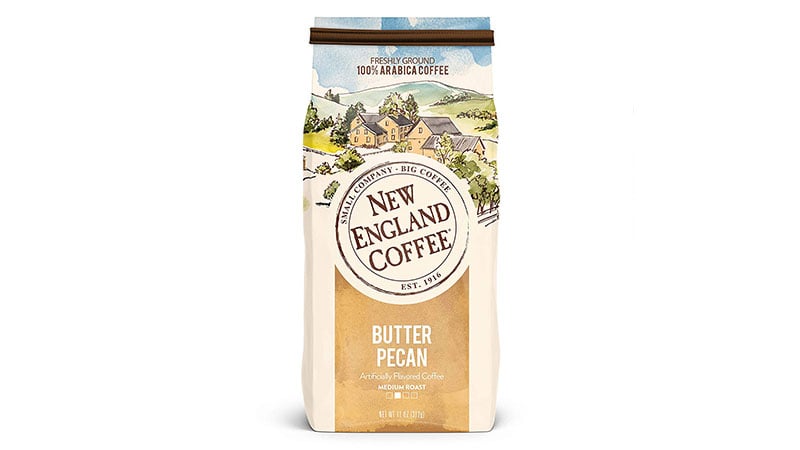 Death Wish Coffee Whole Bean Coffee
Death Wish Coffee is not for the weak of heart. This bold, intense blend uses slow-roasted arabica and robusta beans, resulting in a cup of coffee that's twice as caffeinated as other brands. Even though it's a dark roast, you'll still detect hints of cherry and chocolate for a smooth, enjoyable beverage. All the beans are small-batch roasted at the Death Wish Coffee headquarters in upstate New York. This ensures consistency and quality. Plus, all the beans are fair trade and United States Department of Agriculture (USDA) organic certified, so you know you're not consuming any extra nasties.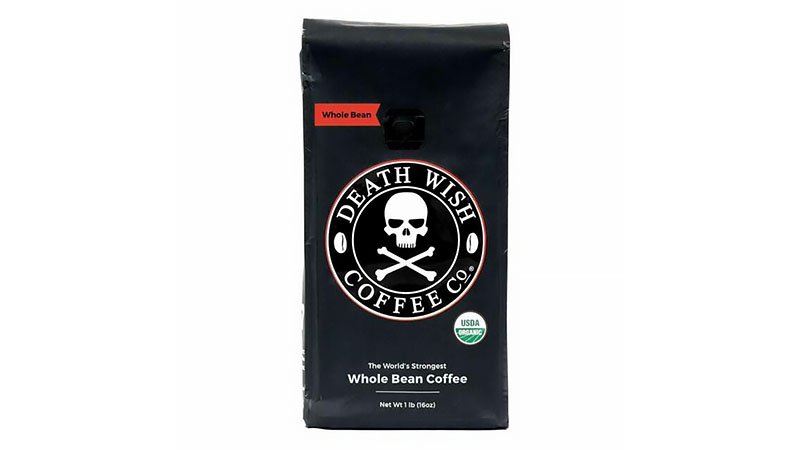 Seattle's Best Coffee Post Alley Blend
Choose a dark, smoky, and alluring blend to start your morning right. Seattle's Best Coffee Post Alley Blend is a strong, French-style roast and features arabica beans from Latin America. Beans from different plantations are blended to create a smooth, approachable taste. This coffee is best enjoyed by taking a moment to let the rich aromas stimulate your senses before the first sip. If it sounds a bit too strong for you, other options from Seattle's Best Coffee include Hazelnut, Henry's Blend, Portside, and a House Blend.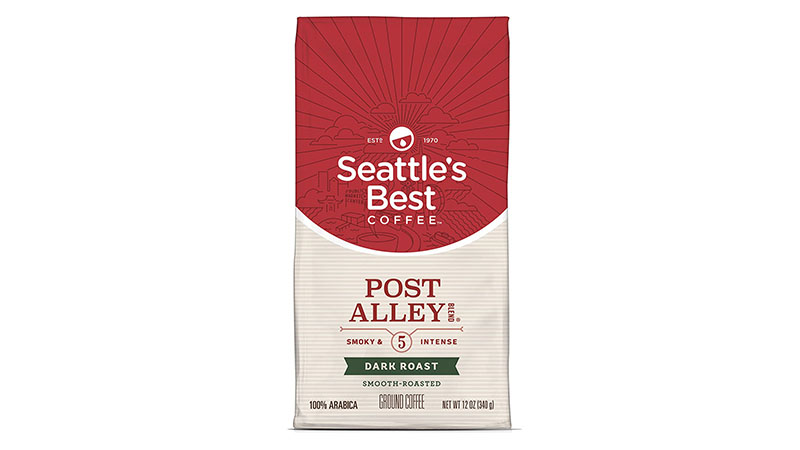 Stumptown Coffee Roasters Hair Bender Whole Bean Coffee
Hair Bender is Stumptown Coffee Roasters' most popular blend. It takes beans from around the world, including Indonesia, Latin America, and Africa, to create a complex and balanced blend. As you sip, you'll enjoy notes of citrus and dark chocolate – an intriguing combination. This is ideal for use in espressos and comes in both a whole bean and ground option. The roasted on and best by dates will let you consume the coffee when it's freshest. Alternatives in the range include Holler Mountains, which is creamy and caramel; Founders, with clove and bittersweet chocolate notes; and French Roast with jam and toffee. All the options are medium roast, letting the natural flavors shine through. Stumptown Coffee Roasters is also a Certified B Corporation, meeting the highest environmental and social performance standards.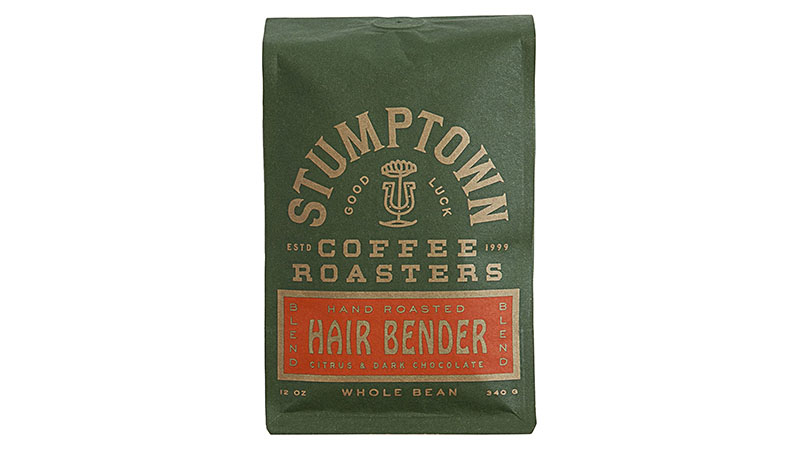 Bizzy Organic Cold Brew Coffee — Smooth & Sweet Blend
If you prefer your coffee cold, then Bizzy is an excellent choice. It's specifically designed for cold brew, a process that steeps the coffee in chilled water for 14 to 20 hours. The result is a less bitter, lower acidity brew that is perfectly served on ice or mixed into cocktails. All the arabica beans are USDA organic certified and sourced from Guatemala, Peru, and Nicaragua. This gives it a smooth medium body with hints of caramel and hazelnut. They're also ground to the best size for taste and caffeine extraction. Bizzy's other blend options include a Breakfast Blend, Dark and Bold, Espresso Blend, and Light and Bright.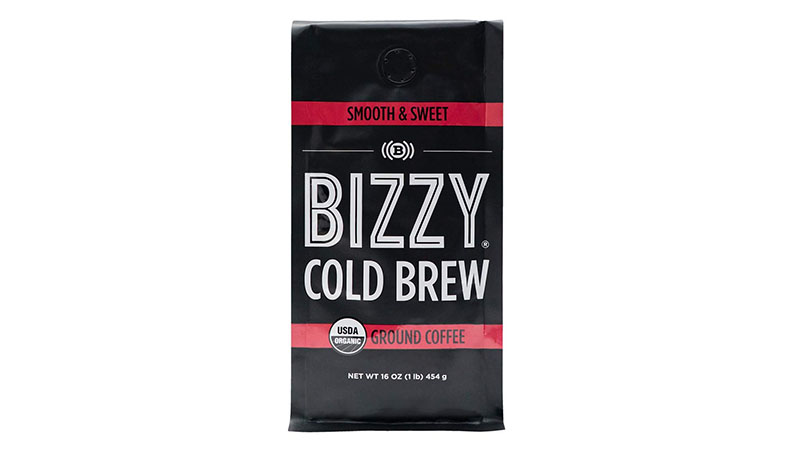 Peet's Coffee Big Bang, Medium Roast Ground Coffee
Fresh, hand-roasted beans from Latin America and East Africa go into every bag of Big Bang from Peet's Coffee. This medium-roasted blend was created for the 50th anniversary of the brand, which spearheaded the craft coffee movement in America. You'll enjoy the vibrant tastes of tropical fruit and a smooth aromatic finish. Each bag also features the roast date, so you know exactly how fresh the product is. If you prefer a darker roast, look for Major Dickason's Blench, Organic French Roast, Espresso Forte, or the Decaf House Blend.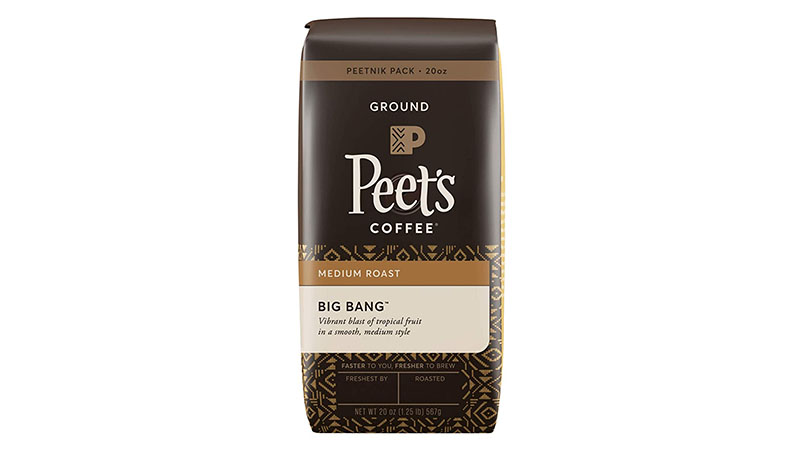 Equal Exchange Organic Whole Bean Coffee, Mind, Body & Soul
Equal Exchange is a fair-trade and organic coffee brand that's all about building up the international coffee community. This Mind, Body & Soul blend is the perfect way to find your zen first thing in the morning. It's smooth, creamy, and has hints of malt, dark chocolate, and almond, making it a gentle wake-up call. The beans come from small farming co-operatives in Latin America, Africa, and Asia. They're medium roasted to let the authentic flavors shine while staying approachable for even the most casual coffee consumer. If you like the coffee, you can also check out the brand's range of tea, chocolate, and baking cocoa that support similar communities.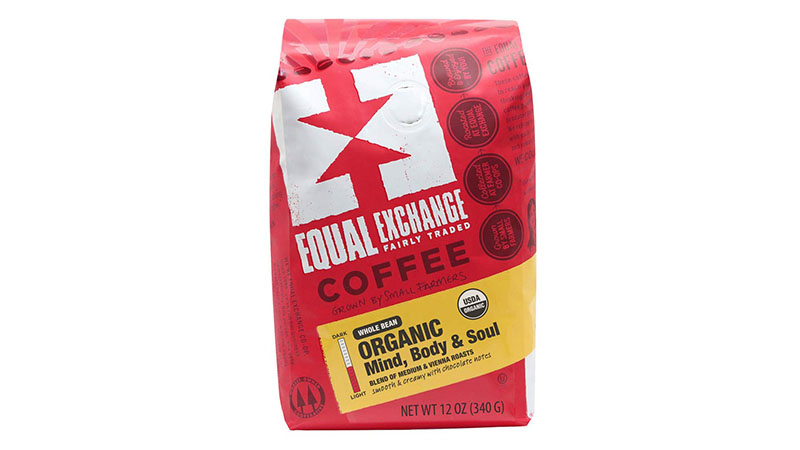 Subtle Earth Organic Coffee – Medium-Dark Roast – Whole Bean
The 100% arabica beans in Subtle Earth Organic Coffee come from the Marcala region of Honduras. The high altitude growing area gives it a beautiful depth, and the roasting process brings the natural characteristics to life. Enjoy hints of chocolate, honey, and caramel, with a clean finish and low acidity. You can also choose from light, medium-dark, and dark roasted beans to best suit your preferences. The waste flesh from the coffee cherries is used as fertilizer, while pepper trees are planted in the vicinity to repel bugs. As such, it's a genuinely organic product that is also certified by the California Certified Organic Farmers (CCFO).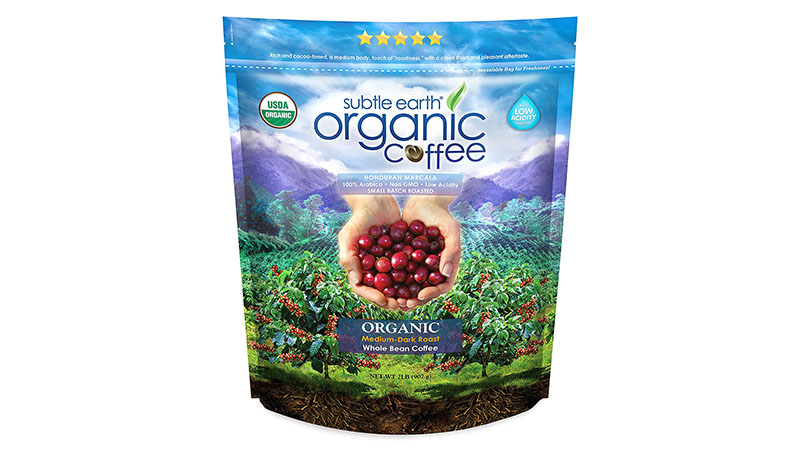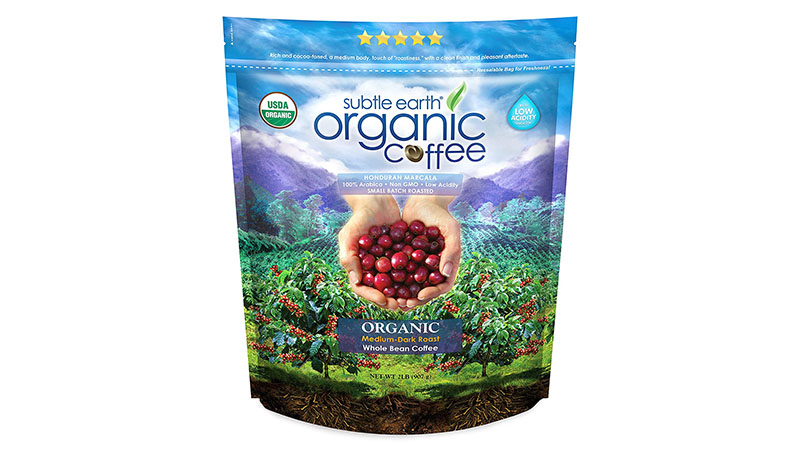 Grounds & Hounds Three Blend Starter Kit
If you're new to the world of coffee and are still working out what you do and don't like, this starter kit from Grounds & Hounds is a brilliant investment. It also makes a great gift for the coffee lover in your life. Every box comes with a bag each of Morning Walk with notes of toffee, cherry, cocoa, and nuts, as well as Paper and Slippers, which is a medium roast with hints of brownie, blackberry, and blueberry. Finally, you'll also get the big, bold Alpha Blend, full of cocoa, nutmeg, and vanilla. Every bean is fair trade, organic, and sourced from the best regions around the world. Best of all, proceeds from every sale help support animal rescue initiatives that give dogs in need a helping hand.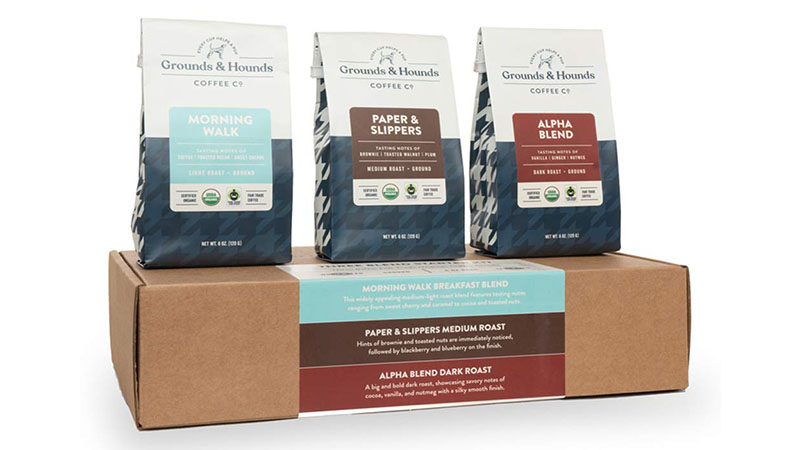 La Colombe Corsica
Chocolate, red wine, and spices are the flavor profile of this dark roast Corsica coffee from La Colombe. It has a deep and bold taste thanks to beans from Brazil, Colombia, Honduras, and Mexico, meaning it works beautifully on its own or with milk. You can purchase this coffee as a one-off or make life simpler by signing up for a subscription. You'll get ground-to-order coffee delivered right to your door. There's also an extensive range of other options, including Rwanda Early Rise, Phocea, and Sierra Sur. Plus, you can get mixed packs and gift packs for yourself or a friend. Founders Todd Carmichael and J.P. Iberti also use the brand to improve the world around them. The brand advocates for equity, empower communities and cares for the planet through a range of initiatives and business practices.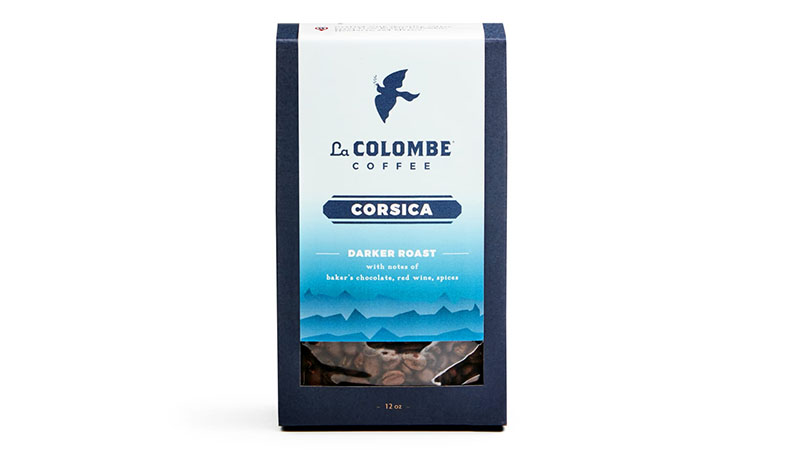 Intelligentsia Frequency Blend
Intelligentsia uses a direct trade model for buying coffee and working with suppliers. This lets them cut out unnecessary middle parties and build meaningful relationships with suppliers on the ground who are just as passionate about coffee. The Frequency Blend is an approachable, easy-drinking style using beans from El Salvador and Brazil. You'll enjoy hints of almonds and dried fruits to complement the main characteristics of smooth milk chocolate. Beyond this option, you can choose from over 50 other coffee blends and single-origin beans.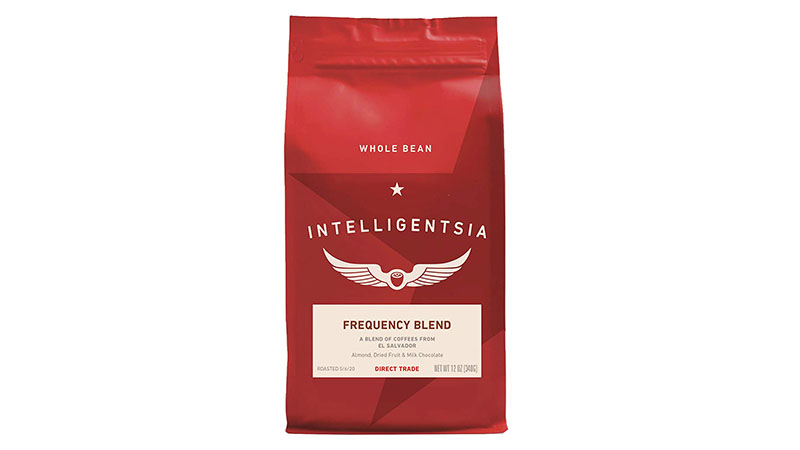 Counter Culture Coffee Big Trouble
You won't be in Big Trouble if you start your day right with this blend from Counter Culture Coffee. Indulge in the warm, toasty flavors of caramel, nuts, and chocolate with the full, round body of a dark roast. It uses beans from Peru, Colombia, and Papua New Guinea, all of which are only roasted on the day that they are shipped to you for the ultimate in freshness. Other blend options include Fast Forward, Forty-Six, and Hologram. The brand also maintains a dedication to education and sustainability to ensure the coffee journey can continue for everyone.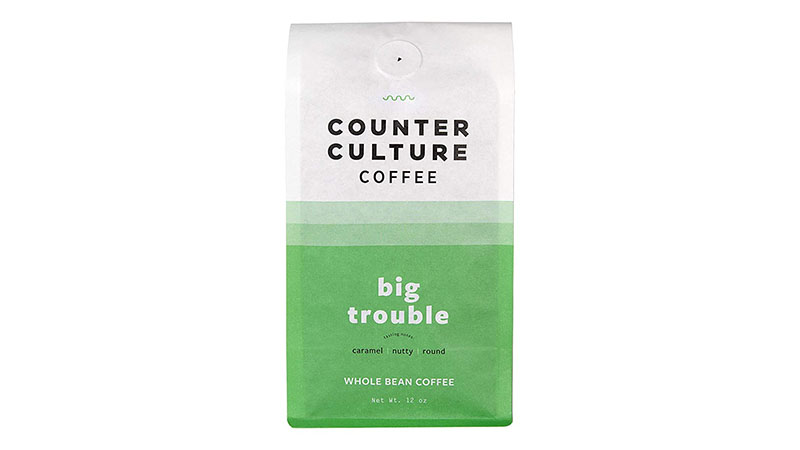 Lavazza Super Crema Whole Bean Coffee Blend
Italian brand Lavazza was founded in Turin in 1895 and is now a fourth-generation family-owned business. With over 125 years of craftsmanship, they've got the process down pat. The Super Crema has a medium-light intensity, using both arabica and robusta beans for a balanced profile. The tasting notes feature hazelnut and brown sugar, creating a subtle sweetness. It's best suited for use in an espresso machine, but there are plenty of other options to select from if you use an alternate brewing method.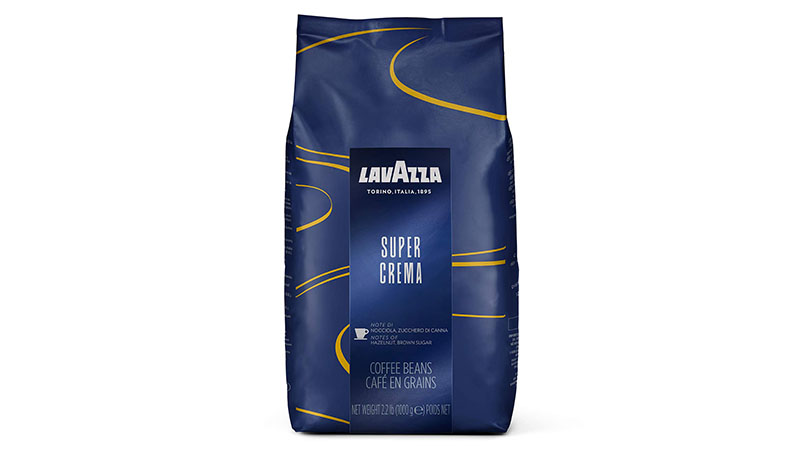 Mount Hagen: Organic Cafe Liofiliza Cafe Instantaneo
If you're the kind of person who just can't function in the morning until that first sip of coffee hits your lips, Mount Hagen's instant coffee is the answer. It's quick, easy, efficient, and delicious. All you have to do is add boiling water and whatever sugar and cream you take. The fair-trade single-origin beans come from Papua New Guinea, which gives it a velvety mildness, yet complex taste.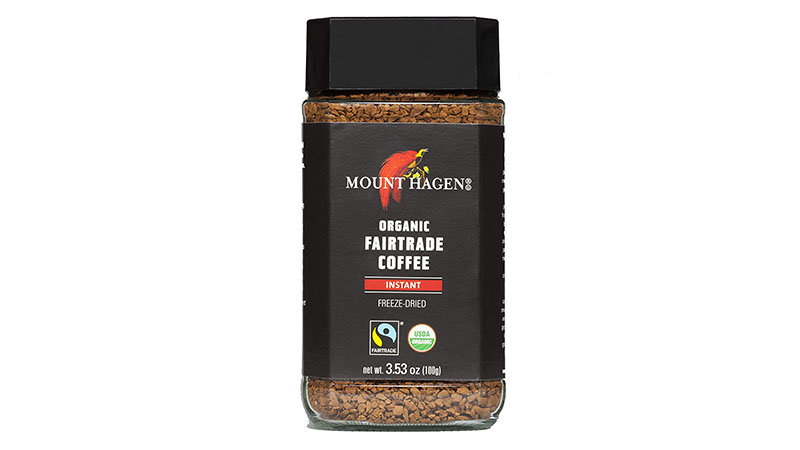 Red Bay Coffee East Fourteenth Tanzanian Coffee Beans
Red Bay Coffee is based in Oakland, California, and has won multiple awards at the world's largest coffee roaster competition, Golden Bean North America. The East Fourteenth is a single-origin coffee from the Sweet Unity Farms Cooperative in Tanzania with tasting notes of blackberry, dark chocolate, and dates. It's a rich, full-bodied brew. The brand focuses on high-quality direct-trade coffee that uses inclusionary practices and contributes to community development. Once the coffee cherries are harvested and processed, they're sent to the United States for roasting at Bed Bay Coffee's Oakland plant to ensure maximum freshness in every cup.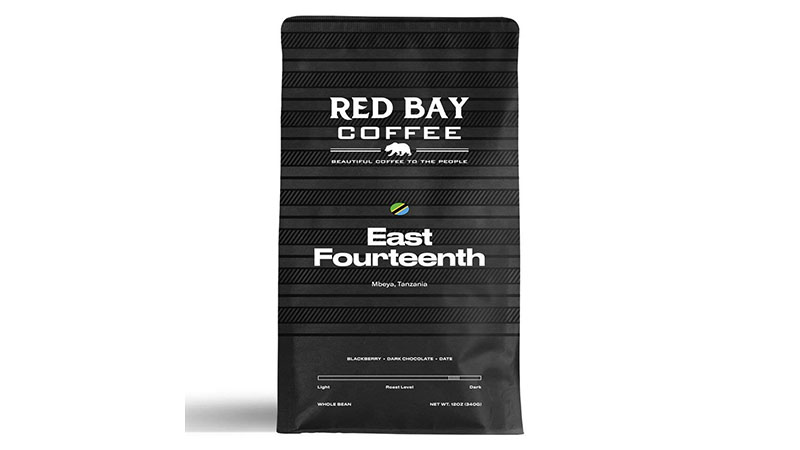 Peerless Whole Bean Coffee Direct Trade Organic French Roast
Enjoy the deep, lingering, smoky notes in the French Roast from Peerless. It uses direct trade beans from small farmer-owned co-ops that are also USDA certified organic. Each bag is roasted, packaged, and shipped from Oakland, California, so it arrives on your doorstep as fresh as can be. If you like this coffee but also drink tea, Peerless has a range of teas that you can also browse.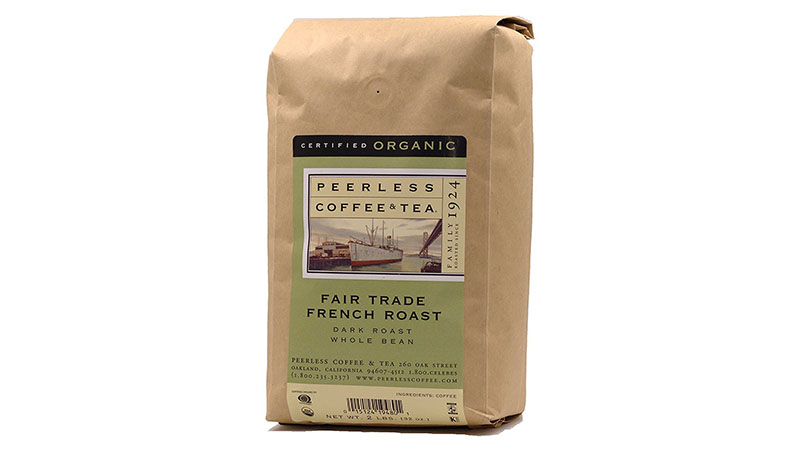 Green Mountain Coffee Roasters Nantucket Blend
Keurig has undoubtedly changed the world of coffee and made it much easier to brew a good cup. Green Mountain Coffee Roasters is proud to produce genuine K-Cup pods. The Nantucket blend uses African and Indonesian arabica beans, resulting in tasting notes of berry, caramel, and chocolate. The medium roast gives a full body feel, with the slight smokiness of a French roast. The company also ensures that the coffee journey gives back by providing access to clean water, new trees for the coffee plantations, and better pay for the farmers.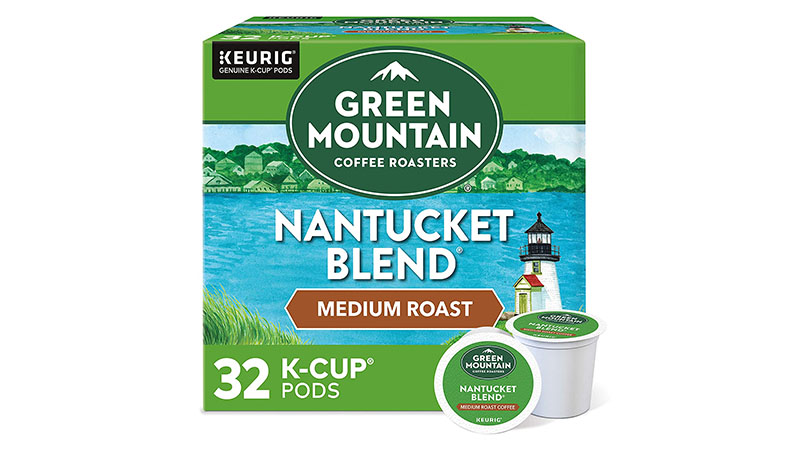 Stone Street Coffee Company Tanzania Peaberry Whole Bean Coffee
If you're looking for a unique coffee, try the medium roasted Tanzania Peaberry coffee from the New York-based brand, Stone Street Coffee Company. These special African beans bring a bright acidity, sweetness, and complexity to every cup. For other blends, beans are sourced from around the world, making use of the brand's intimate and ethical supplier relationship with farmers in the best growing regions. Everything is then small-batch roasted fresh in the Brooklyn plant, ensuring the best quality is maintained.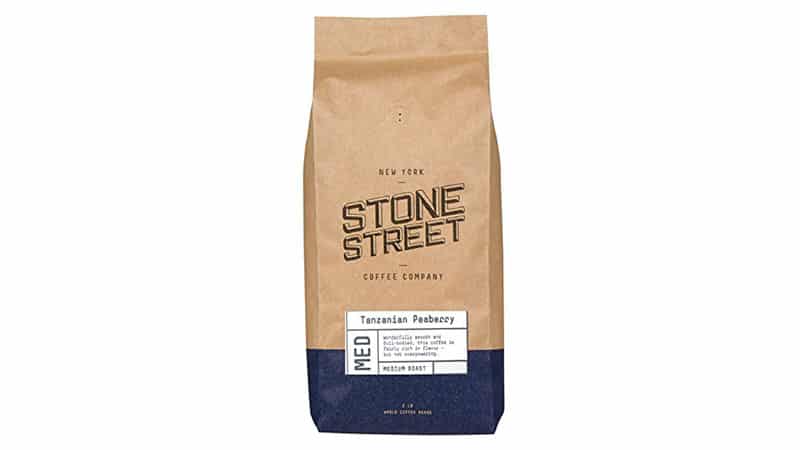 Koffee Kult Coffee Beans Dark Roasted
Robust, smooth, and clean come to mind when drinking Koffee Cult's Dark Roast. The arabica beans come from Colombia, Guatemala, and Sumatra and are roasted at the family-owned business in Hollywood, Florida. Enjoy warming notes of cinnamon and cocoa, with a heavy body and long finish. While this coffee is ideal for an espresso shot, it's also delicious when combined with steamed milk to make lattes or cappuccinos.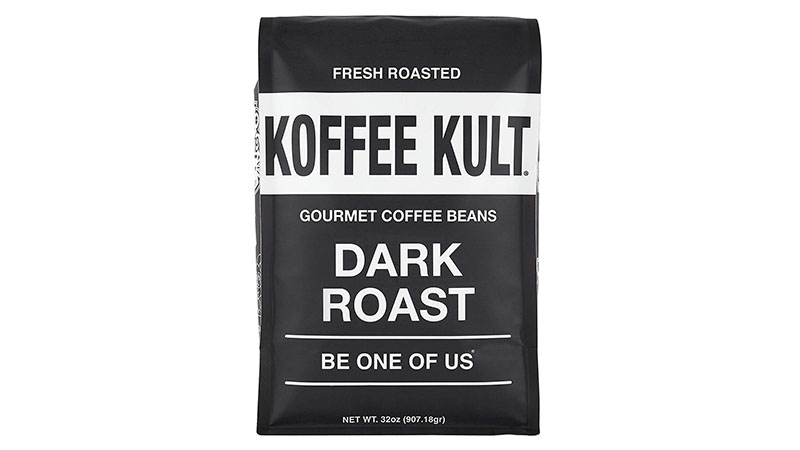 Caribou Coffee, Daybreak Morning Blend Light Roast
Ease into your morning with the Daybreak Morning Blend Light Roast from Caribou Coffee. Despite the light flavor, it packs a caffeine punch to help you wake up and get ready for the day ahead. It's full of floral overtones and a caramel and nutty finish that perfectly matches a bowl of granola. It's like a sip of sunshine. Every packet of beans from Caribou Coffee is also Rainforest Alliance Certified for Sustainability. This means using water conservation, sustainable farming methods, and the protection of forests and wildlife habitats.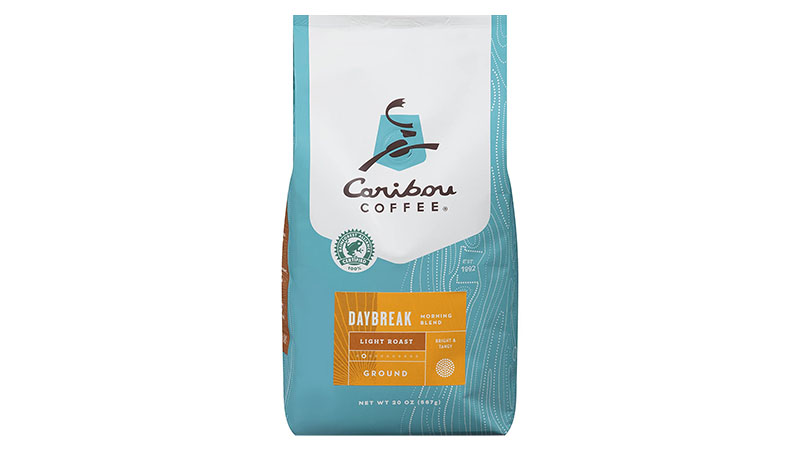 How to Choose the Best Coffee?
There's a lot that goes into the perfect cup of coffee, and personal preference plays a huge role. Consequently, it might take some time and experimentation to discover your ideal combination. First, you'll need to decide what species of coffee suits you best. Then, you'll also need to work out your preferred flavor profile — do you want something fruity and floral, or do you like nutty and sweet. This is all before you've even boiled the kettle! Choosing a roast type will affect both the bitterness and caffeine, while different brewing methods showcase different flavors. Some brewing methods are a full ritual, while others are quick and easy.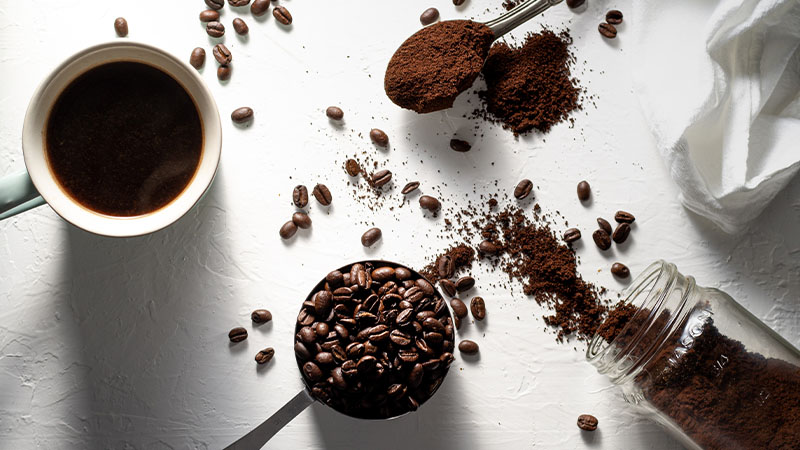 What are the Best Coffee Growing Regions?
The world's coffee comes from a region known as 'the coffee belt.' It's a horizontal area that extends around the globe sitting between the Tropics of Cancer and Capricorn. As such, it cuts through Africa, Asia, Central, and South America, and parts of the Caribbean and Pacific. Some of the most recognizable coffee nations within this area include Ethiopia (the birthplace of coffee), Kenya, Rwanda, Costa Rica, Mexico, Guatemala, Colombia, Brazil, and Vietnam. While each of these countries has ideal growing conditions because of their global position, the flavors and characteristics from each still vary thanks to regional and local differences in soil, plant varieties, and processing methods.

The flavor profiles can vary, but there are some general trends from each country. Starting in Africa, Ethiopian coffee has high acidity and is quite fruity and floral, with flavors like strawberry, blueberry, and jasmine. Kenyan coffee is similar with citrusy afternotes, while Rwandan beans have more orange blossom and sweet notes of date and caramelized sugar. Next, in Central America, expect more chocolate and nutty notes. Costa Rican coffee has milk chocolate and stone fruit, while Guatemalan is more intense with a sugar-driven cocoa taste. Finally, Mexican coffee has chocolate and nuts, resulting in a light-bodied brew that's ideal for blends.

Moving onto South America, the two biggest producers are Colombia and Brazil. Colombian coffee is bold and sweet with caramel, nuts, and chocolate. Brazil is the world's largest coffee producer, accounting for up to 40% of the world's supply. Its classic taste profile is nutty, creamy, and chocolatey with mellow fruit notes and low acidity. Lastly, in Asia, Vietnam is the world's second-largest producer, with robusta beans making up the majority of the supply. Expect a thicker mouthfeel and more bitterness, with caramel, butter, and even whiskey notes.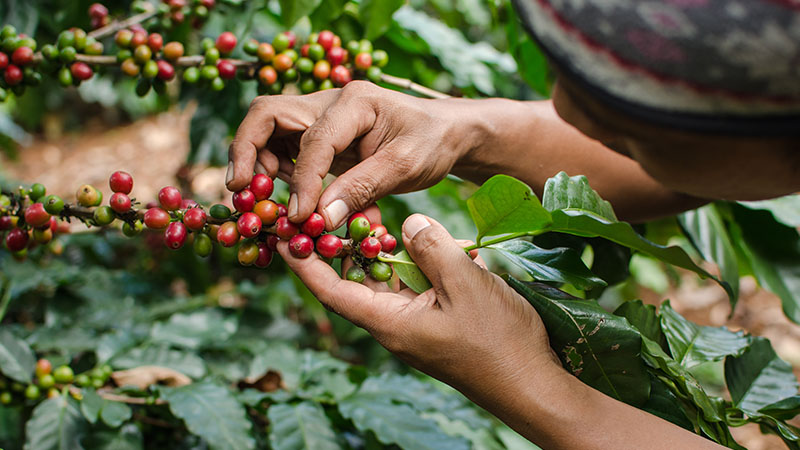 Types of Beans
There are over 100 types of coffee species, yet the world primarily consumes two main sorts — arabica and robusta. Each kind requires different growing conditions, which results in vastly different coffee products.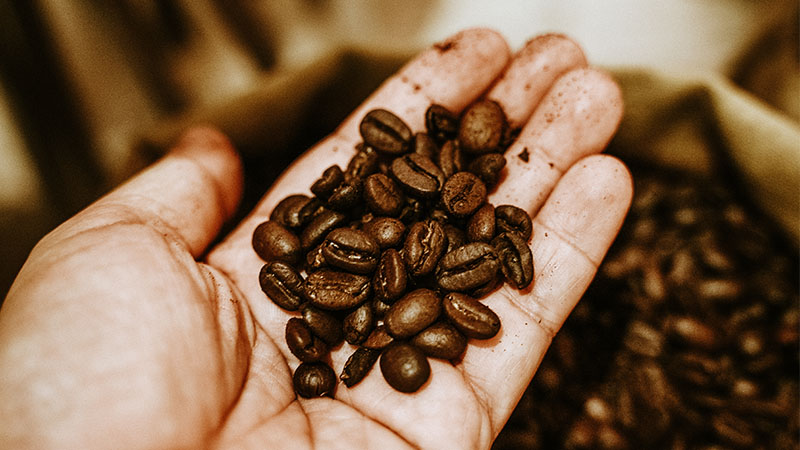 Arabica Beans
It's most likely that your barista-made lattes will feature arabica coffee. It's the more commonly used type of coffee, thanks to its smooth, delicious flavor. However, despite its popularity, it's harder to grow. Arabica coffee plants require a higher altitude and are more susceptible to pests, yet also yield a lower harvest. Consequently, this makes it more expensive as well.
Robusta Beans
Robusta plants are harder-wearing and easier to grow, making the beans cheaper to buy. However, they do produce a much more bitter flavor, which can be unpalatable for some. You're more likely to find robusta used for instant coffee thanks to the higher caffeine content, which can be up to 83% stronger than arabica. Robusta also contains more antioxidants.
Brewing Methods
How you choose to make your coffee is a very personal decision. Brewing methods will showcase the flavors in different ways and require different types of grinds. Some methods are more time-consuming than others but can create a calming ritual that becomes an integral part of the coffee-making process. Other ways a great for just smashing out a quick brew and getting that caffeine hit as soon as possible.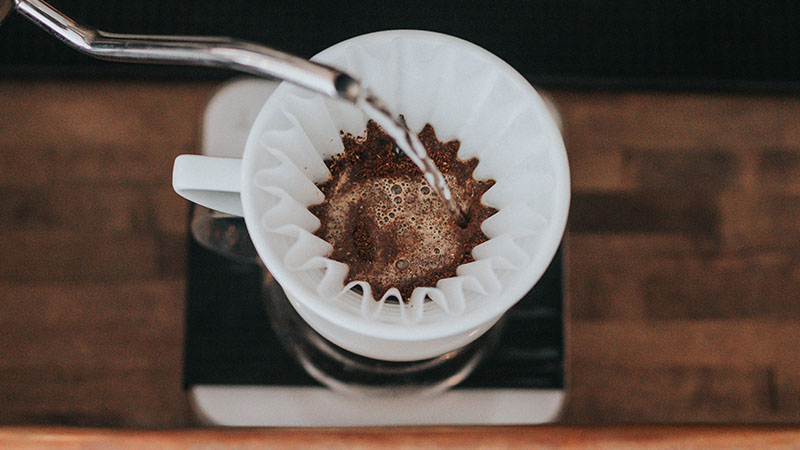 Grind and Brew
A grind and brew machine is an all-in-one unit that is simple and easy to use. The beans sit in a storage hopper, which releases the appropriate amount when required. They fall into a grinder, which then drops the fine grounds into a filter compartment. Water from a reservoir drips through into the waiting jug, and all you need to finish is add sugar and milk. The benefits include always having freshly ground coffee for better flavor and versatility of grind size, number of cups, and coffee strength. It's the perfect choice if you can barely function before your first cup o' joe in the morning.
Pour-over Coffee
Pour-over coffee can be an art and is popular among coffee enthusiasts. This method is ideal for accentuating the more intricated flavors of a bean. The basic principle simple — you put the medium grinds in a filter unit and set it over your cup or a carafe. Then you pour the water over, letting it drip through. However, many fanatics have created a full ritual for the perfect pour-over. It includes measuring the beans to a specific gram and grinding them with a burr-grinder as needed. Then set the water temperature to an exact degree, using a gooseneck kettle and 'bloom' the coffee to open the beans. Finally, while the unit is sitting on scales, the water is slowly poured over, using a circular motion, until the desired weight is reached. It can be an intense but meditative ritual for people who are very serious about coffee.
Chemex
A Chemex is a carafe that's used for pour-over coffee. It's ideal if you want to make more than one cup at a time. The unit has a distinct and beautiful shape, somewhat similar to an hourglass, with a wooden 'belt' handle, so you don't burn your hands. Using the same technique as pour-over, you fill a paper filter with grounds and pour the hot water over, allowing it to drip through. Same as pour-over coffee, a medium grind is an ideal choice.
French Press
A French press is also known as a plunger. It's an immersion technique because grinds are placed in a special pot or jug filled to the top with water. The coffee floats around, saturating the water with flavor. When it's ready, a plunger plate is pushed from the top to the bottom to separate the grinds from the brewed coffee, allowing you to pour it out. Choose a coarse grind for the best results.
Drip Coffee
Drip coffee is one of the most common brewing methods in commercial settings such as restaurants, hotel buffets, and diners. It lets you make a large amount in one go and keeps it warm. A tank is filled with water, which then heats and drips through a coffee-filled filter basket into the jug below. The base often has a heating element, so it stays warm. You need a medium grind bean for drip coffee to allow the water to filter through without becoming too bitter.
Roasting Grade
The amount a bean is roasted will change the flavor, as well as the caffeine content. Select from weak/light, medium, medium/dark, and dark roast.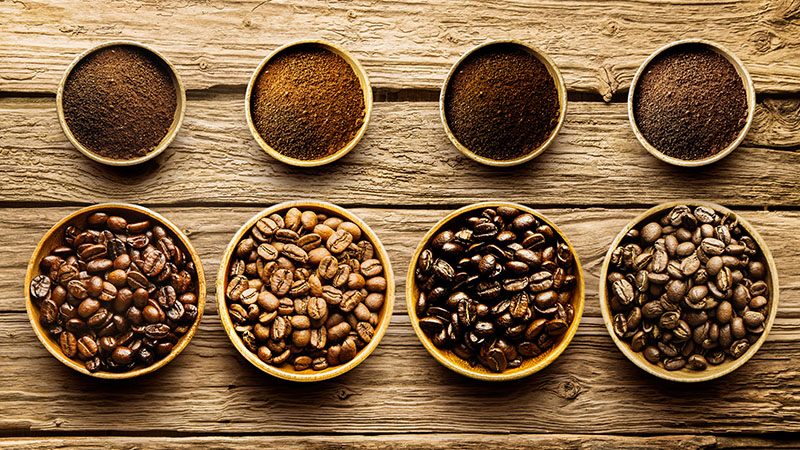 Weak/Light
A weak roast has lighter, more fruity, and citrus flavors that are otherwise covered by heavy roasting. It's the closest to a raw green bean that you can brew and has the most caffeine. The more you roast, the less caffeine there will be. It's a popular style in Scandinavian countries.
Medium
A medium roast is universally popular and an excellent, middle-of-the-road option. It's also a great place to start your coffee journey, as it's not too overwhelmingly bitter and lets the natural notes shine through. Coffee made with this is generally well balanced with a good body.
Medium-dark
Step it up a notch with a medium-dark roast. There will be more oils emitted at this stage, giving you more of that roasty, toasty flavor and warm coffee aroma. It's fuller-bodied than a medium but generally not too intense.
Dark
Dark roasts are common in French, Italian, and Espresso blends. It's an intense, bitter, and slightly smoky taste that covers many of the natural notes. It can be a bit too much for some, but if you want a strong coffee flavor, it's the ideal choice. Just remember, a dark roast has the least amount of caffeine.
Coffee Terminology
Like any industry, the coffee world is full of jargon that can confuse anyone who doesn't live and breathe the beverage. Below are some of the more common terms that you might hear and what they mean. Remember them all, and you'll be sounding like a pro in no time.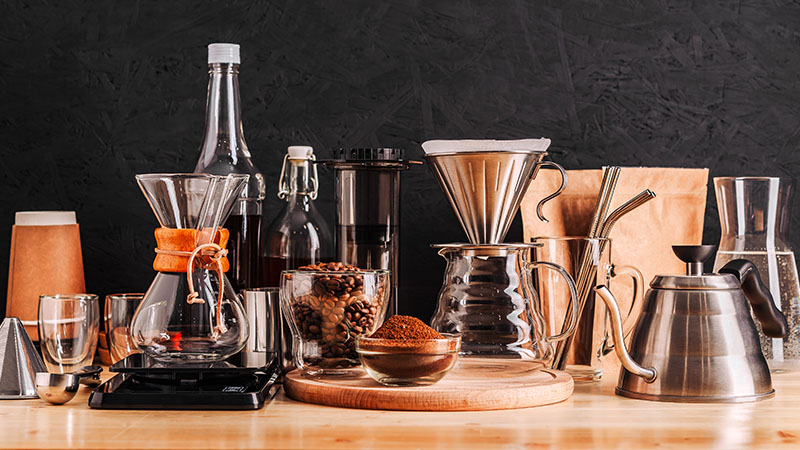 Organic
Coffee grown without the use of pesticides, herbicides, and other chemicals can be referred to as organic once it's been certified by a third-party agency.
Green Coffee
Green coffee is unroasted beans, which are a similar color to peas.
Decaffeinated
Decaffeinated coffee has gone through a process to remove a least 97% of the caffeine from the bean. Most of the time, this is completed when the coffee is green. The most common method is to soak the beans in a solvent, which removes the caffeine without affecting the flavor.
French Press
A French press is also known as a plunger. It's an immersion technique because grinds are placed in a special pot or jug filled to the top with water. The coffee floats around, saturating the water with flavor. When it's ready, a plunger plate is pushed from the top to the bottom to separate the grinds from the brewed coffee, allowing you to pour it out.
Wet-Pressed / Washed Coffee
Wet-press is the most common processing method for coffee. It removes the skin and pulp from the fresh coffee fruit before they're dried, highlighting the true flavor of the coffee bean.
Acidity
The acidity is also known as liveliness or brightness. Coffee has a subtle tartness that carries the high notes in the coffee, and that is the acidity.
AeroPress
An AeroPress is essentially a small French press used for brewing coffee. There are two thick tubes, one with a filter and another with a plunger that fits inside the first one. You place the coffee and water in the filter end and plunge with the other. It's perfect for making a single-serve and ideal for use in the office, camping, or traveling.
Briny
Coffee that has been exposed to heat (such as a warming element) for too long can develop a salty sensation when drunk. It's generally unpleasant and a good indicator the coffee is not fresh. It commonly happens to drip coffee that's been sitting for too long.
Cupping
Cupping is a coffee tasting method often used by professionals to evaluate new blends for quality, cleanness, sweetness, acidity, and mouthfeel. The process involves adding ground coffee into cups and then smelling for the different aromas when both dry and brewed. The taster then uses spoons to taste the coffee with a slurp and spit method, similar to wine tasting.
Caffeine
Caffeine is a naturally occurring stimulant that is found in coffee. It speeds up the messages between the brain and body, giving you that feeling of heightened energy and awareness.
FAQs
What is the best ground coffee brand?
Some of the best ground coffee brands include Death Wish Coffee, La Colombe, Stumptown Coffee Roasters, and Seattle's Best Coffee.
What is the most popular coffee?
The most popular type of coffee is arabica. It has a smooth, well-rounded flavor with a balanced bitterness. The tasting notes can also vary significantly, depending on the growing region, giving it broad appeal.
What is the best coffee beans in Australia?
Some of the best coffee brands in Australia include Lavazza, Merlo, Pablo & Rusty, Coffee Alchemy, and Sensory Lab.
SUBSCRIBE TO OUR NEWSLETTER
Subscribe to our mailing list and get interesting stuff and updates to your email inbox.