Satisfy the strongest sugar craving with a trip to one of Sydney's best cake shops. Dotted around the city, this collection of cafes, boulangeries, and patisseries offers various mouthwatering cakes for all kinds of occasions, from weddings and birthdays to regular Wednesdays. Plus, they're not just about cakes. Most also provide a selection of incredible pastries, like flaky croissants or fresh fruit tarts and fresh-baked crusty loaves of bread ideal for gourmet sandwiches or dipping in olive oil. It's the perfect way to get your next carb fix.
1. La Renaissance Patisserie and Cafe
Indulge your sweet tooth the European way with a sweet treat from La Renaissance Patisserie and Cafe. This French-inspired cake shop sits in the historic Rocks district, with a second location in Waterloo. Owned by Sally Charkos and Jean-Michel Raynaud, the cafe was the first restaurant in Australia and the Southern Hemisphere to be admitted to Relais Desserts, recognizing excellence in French desserts. Head Chef Jean-Michel trained in France, worked in Michelin-star restaurants and high-end patisseries and won multiple awards across his career. Make sure you try the Monet cake with layers of vanilla sponge and white chocolate bavaroise, raspberries, and lychee jelly. They also offer flaky croissants, decadent Mille Feuilles, and fresh fruit tarts. Enjoy your cake out in the idyllic Parisian-style courtyard at The Rocks.
Address: 47 Argyle St, The Rocks & Waterloo Design Centre, Shop 1, 197 Young Street, Waterloo
Known for: French pastries, The Monet cake, Croquembouche, macarons
La Renaissance Patisserie and Cafe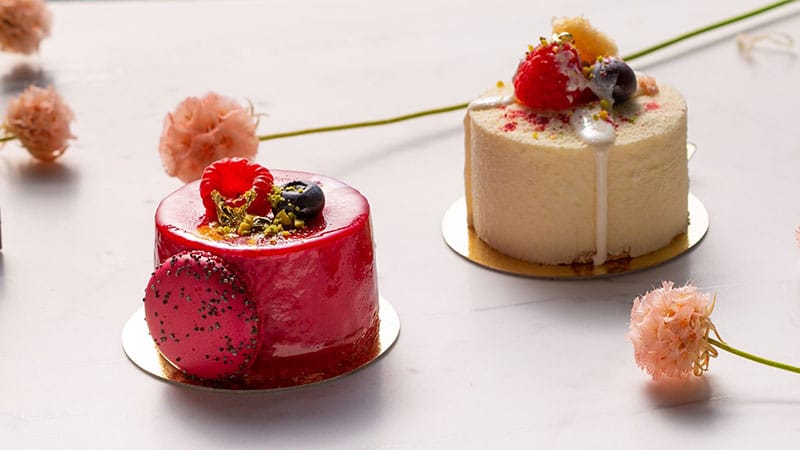 2. Bourke St Bakery
Bourke St Bakery is a Sydney icon, run by chefs turned bakers, Paul Allam and David McGuinness. With a dozen locations, it's easy to get a delicious carby fix. The menu at this neighborhood bakery includes tasty cakes like Flourless Belgian Chocolate, Flourless Lemon, and Carrot & Walnut. Other sweet items include croissants of many varieties and tarts like a Ginger Brule or Raspberry Meringue. If you decide that cake doesn't constitute a whole meal, there are savory options like sandwiches and pies, plus a range of fabulous artisan bread. The staff makes everything by hand with love. You can also learn how to bake bread like a professional with a Sourdough Master Class, creating your own warm, crusty loaves at home.
Address: Multiple locations in Alexandria, Balmain, Banksmeadow, Barangaroo, Kirrawee, Marrickville, Neutral Bay, Newtown, North Sydney, Parramatta, Surry Hills, & Potts Point
Known for: Flourless Lemon Cake, Chocolate & Sour Cherry Cookie, Artisan Bread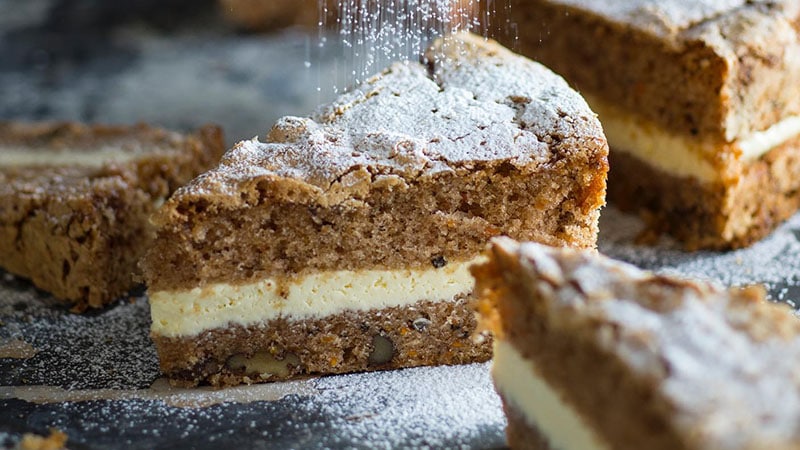 3. Black Star Pastry
It's all about the 'gram at Black Star Pastry. Established in 2008 in Sydney, this cake shop rose to stardom thanks to its incredibly Instagrammable fare. This includes the Strawberry Watermelon Cake, which the New York Times declared "the world's most Instagrammed cake." It boasts dacquoise, rose-scented cream and watermelon, and it is topped with strawberries, pistachios, and dried rose petals. Other original and inspiring creations include Dragon Cake, Vegan Chocolate Popcorn Cake, and Pistachio Lemon Zen Cake. There's even an elaborate Japanese Forest Cake, with layers of hojicha sponge, Choya confit ume fruits in umeshu infused cream, and garnished with matcha moss. Plus, the cake shop has collaborated with other brands like the National Gallery of Victoria and Koko Black. Enjoy a slice in-store, or order one for a special event such as a wedding or birthday.
Address: Multiple locations in Newtown, Rosebery, Sydney CBD, & Moore Park
Known for: Strawberry Watermelon Cake, Dragon Cake, Chocolate Mirage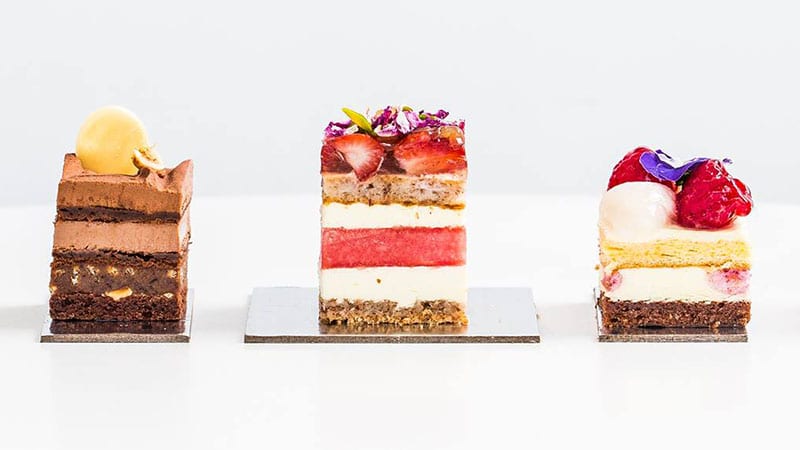 4. Uncle Tetsu Japanese Cheesecake
Get jiggly wit' it with a Japanese Cheesecake from Uncle Tetsu. These delicious cakes are like nothing else on earth. They're light, fluffy, and jiggle like a bowl of jelly. The recipe uses Australian cream cheese mixed with butter, eggs, sugar, milk, and flour. Then, the finished product is branded with Uncle Tetsu's smiling cartoon face. Other menu items include buttery Madeleines and velvety smooth Cheesetarts. The company began on Oyafuko Street in Fukuoka, Japan, before finding global success. In addition to the Sydney location, you can find them in Melbourne, plus internationally in New Zealand, Canada, the USA, Malaysia, the Philippines, Thailand, Hong Kong, China, Taiwan, the UAE, and Indonesia.
Address: 501 George St, Sydney
Known for: Japanese Cheesecake, Cheesetarts
Uncle Tetsu Japanese Cheesecake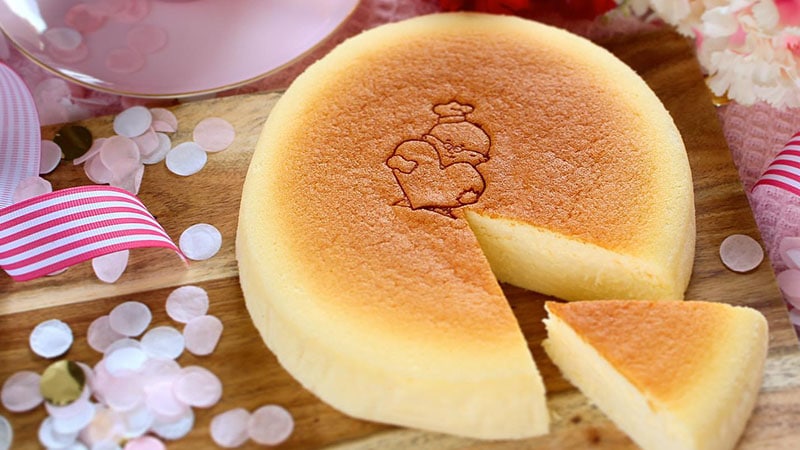 5. Flour & Stone
Nadine Ingram is the woman behind Flour & Stone. Her baking journey took her from her kitchen in the Hunter Valley to Michelin-star restaurants in London, honing her skills in the kitchens of Le Gavroche, Le Caprice, and The Ivy. Now, she's set up shop in Wooloomooloo, offering a delicious selection of dreamy cakes, sweet tarts, and French pastries, plus savory options like pies and sausage rolls. Make sure you try the Pannacotta Lamingtons, Pear Tarte Tatin, and Pistachio, Raspberry & Rose Cake. If you fancy learning how to bake like a master pastry chef, Nadine released a book, Flour and Stone, Baked for Love Life, and Happiness. In it, she shares her signature recipes with clear instructions and stunning photography. Grab a copy next time you pop in, or you can order it online.
Address: 43 Riley Street, Woolloomooloo
Known for: Pannacotta Lamingtons, Lemon Drizzle Cake, Pistachio, Raspberry & Rose Cake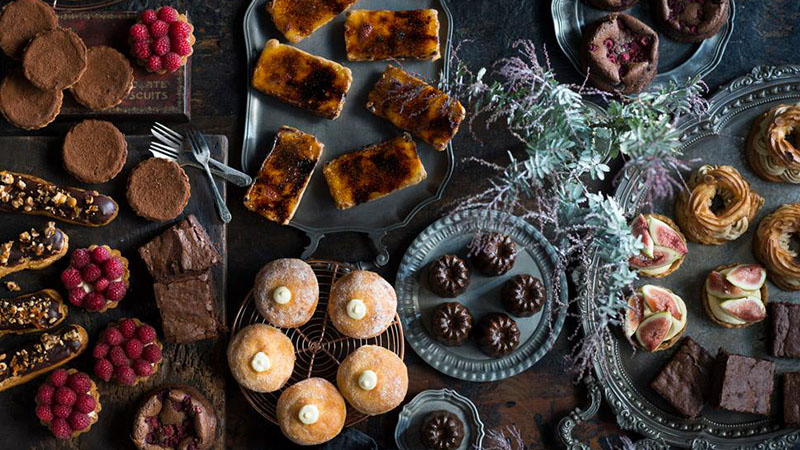 6. Brickfields
Brickfields is more than just a cake shop; it's a full bakery offering artisan bread, flaky pastries, and other sweet treats. Discover the full range at either the Chippendale or Marrickville locations. The Persian Love Cake is a popular choice, while the Chocolate Kaya Cake is sure to satisfy any cocoa craving. Other options include a White Chocolate & Raspberry Cake, Lemon Chiffon with torched meringue, and Spelt, Zucchini & Walnut Cake which is excellent for some sneaky vegetables. If you can't make it into either store, they appear at several weekend markets around the city. Plus, they also supply several cafes around town, so you may have already tried their delicious fare!
Address: 206 Cleveland St, Chippendale & 2 Sydney St, Marrickville
Known for: Lemon Chiffon Cake, White Chocolate & Raspberry Cake, Persian Love Cake, Artisan Bread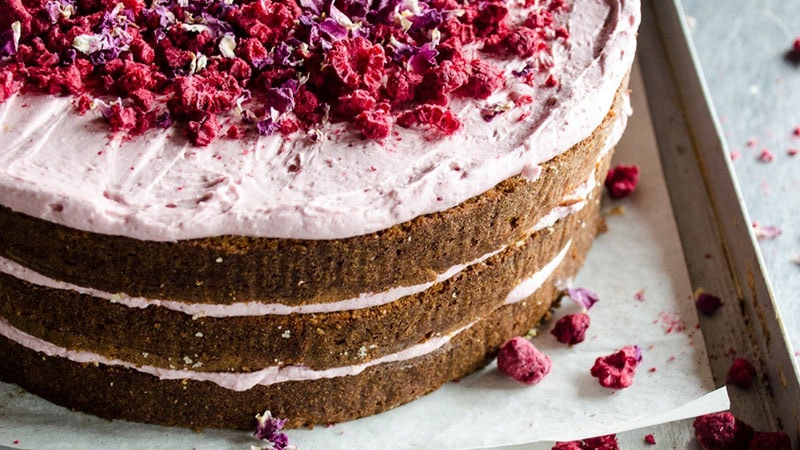 7. Cupcakes on Pitt
If you're only looking for a small mid-morning sweet snack, then Cupcakes on Pitt is perfect. Each individual cake is a work of art, with unique frosting and decorations. Choose from flavors like Mango & Coconut, Vanilla Sundae, Tiramisu, Orange Jaffa, Peanut Butter, or Cherry Ripe. Best of all, they're very reasonably priced, so if you couldn't possibly pick just one flavor, it won't break the bank if you end up back in the office with multiple.

Address: Shop 2, 323-327 Pitt Street
Known for: Strawberries & Choco cupcakes, Chocolate Sundae Cupcakes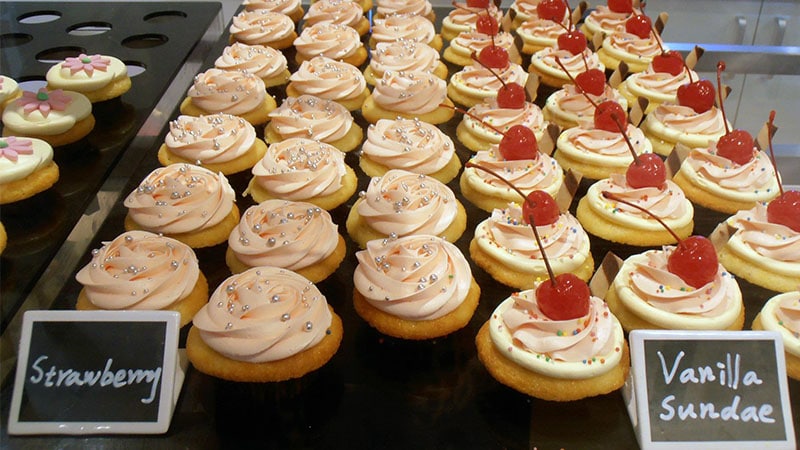 8. Sydney Cakery
Jillian Butler started her Cakery in 2013, under the name Jillian's Cakery, leaving the corporate world behind to follow her dreams. In 2020, she refocused her attention and decided to move away from the business, passing it on to her trusted employee, Caryn Greyling, and her mother, Nadene. They decided to rename the company to Sydney Cakery while keeping the dream alive of selling great-tasting vintage cakes and treats. As such, you'll still be able to get your hands on delicious creations such as Sticky Date Cake, Devil's Food Chocolate Cake, Key Lime Pie, and Hummingbird Cake. Everything is made with the highest quality ingredients and a heaping of love. While cake is king, coffee is also revered here, so grab a warm cup to accompany your slice. If you have a special occasion coming up, you can also order custom cakes to celebrate.
Address: 1/242 Elizabeth St, Surry Hills
Known for: Red Velvet Cake, Key Lime Pie, Gluten-Free Orange Almond Cake, Custom Cake Orders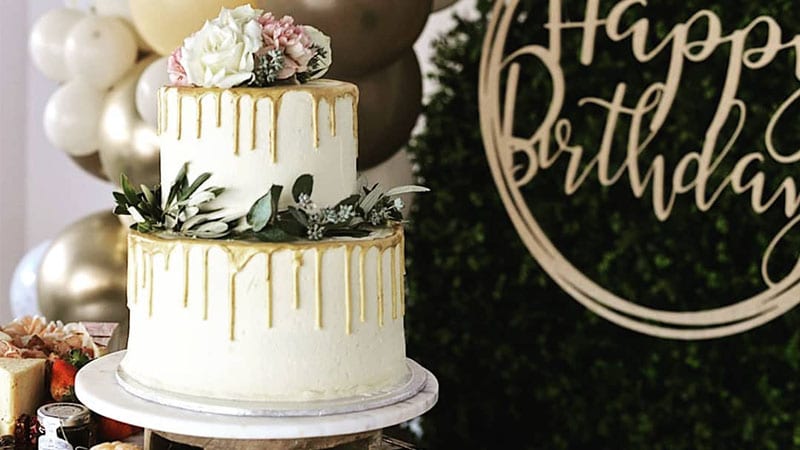 9. Andy Bowdy Pastry/Saga
Andy Bowdy is a bit of a celebrity in the baking industry, thanks to an illustrious career that included time at the award-winning Hartsyard in Newtown. Now, he has his own custom cake brand and the accompanying cafe, called Saga. Head in for brunch or lunch with a selection of sandwiches and sweet treats. Make sure to order one of the mini cakes with options like Izzy, Thor, Karl, and Lara. Other choices include sticky buns, vanilla slice, and banana cream pie. However, Andy's passion shines the brightest with the custom cakes. These are extravagant works of art are filled with lashings of cream and decorated in the most glorious and over-the-top manner. There are plenty of creative flavors to choose from. Chocoholics will love the Jasper, while Damo combines banana, caramel, peanut butter, and passionfruit.
Address: 178 Enmore Rd, Enmore
Known for: Elaborate multi-layered cakes with decadent design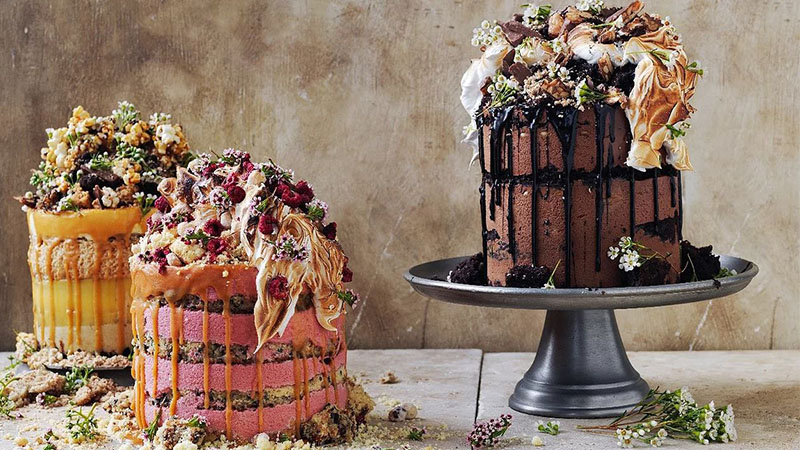 10. Mrs Jones the Baker
Lucy and Barry Jones are the wife/husband team behind Mrs Jones the Baker. Both have illustrious careers, working in varying capacities as elite Pastry Chefs across multiple five-star venues in the UK, France, and Australia. In 2015 they opened their own bakery and patisserie, pouring their hearts and souls into the food. You can expect to find a mouth-watering collection of artisan bread, beautiful pastry, and indulgent cakes. Opt for a pain au chocolate, raspberry brioche, or almond croissant. If you're after a more traditional cake, then the Victoria sponge, DD flourless chocolate cake, or carrot and ginger cake are all excellent selections.
Address: Shop 14, 1-3 Moore Road, Freshwater; Kiosk 105 Warringah Mall, Brookvale; & 65 Prince Charles Road, Frenchs Forest
Known for: Tarts, Artisan Bread, Gluten-Free Cakes, DD Flourless Chocolate Cake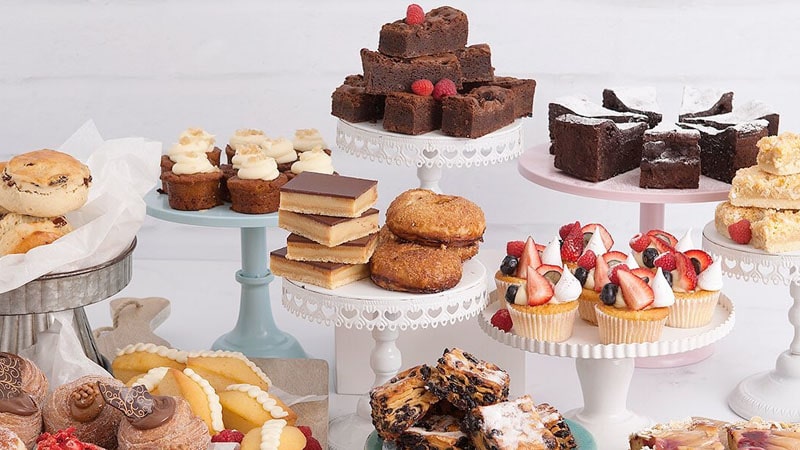 11. Lorraine's Patisserie
Follow the sweet, buttery smells up Palings Lane to find Lorraine's Patisserie. Here, you'll discover the mouth-watering creations from head chef Lorraine Godsmark. Ruby's Cake has orange-scented chocolate mousse, while the Mascarpone Cake has creamy layers interspersed with crisp coconut dacquoise and fresh strawberries. More options include Franjipane Tart, Kalamansi Cake, a light New York-style lemon cheesecake, and flaky croissants. Best of all, it's an open kitchen with huge glass windows, so you can watch the magic happen, marveling at the skill of these talented pastry chefs.
Address: 320 George Street, Sydney
Known for: Macadamia and Salted Caramel Chocolate Tart, Ruby's Cake, Mascarpone Cake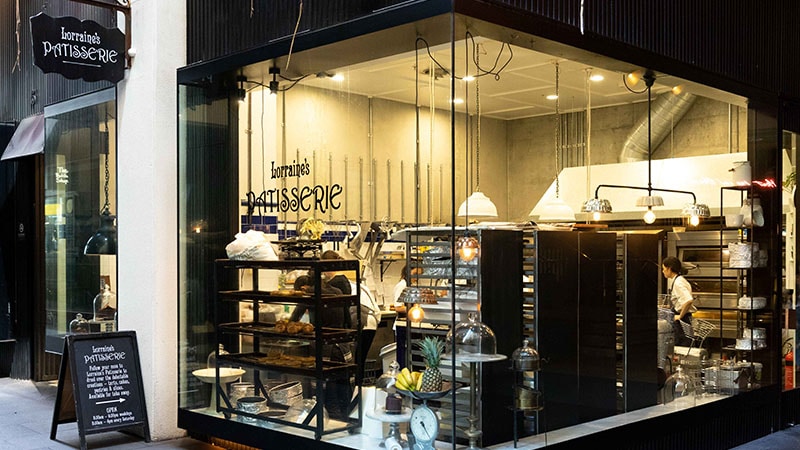 12. Textbook Boulangerie Patisserie
The seasons and the outdoors provide constant inspiration for Pastry Chef John Ralley and the team at Textbook Boulangerie Patisserie. There's a magical mix of texture, balance, and beauty in every pastry, cake, and croissant this venue produces. The weekend croissant specials are one of the venue's most iconic offerings, changing each week. However, with John's training at Michelin-starred restaurants in Europe, they also specialize in viennoiserie (breakfast pastries) and elegant handmade cakes. Try the Raspberry Bubble Gum cloud-shaped cake, Pineapple Mango Gateaux, or Choc Coffee Mocha cake. Just remember, the menu changes with the season, so if you want to try something, make sure you grab with while you can, because you may not get a second chance!
Address: 274 Botany Rd, Alexandria
Known for: Weekend Croissant Specials, Raspberry Bubble Gum Cake, Earl Grey Mandarin Cheesecake, Artisan Bread
Textbook Boulangerie Patisserie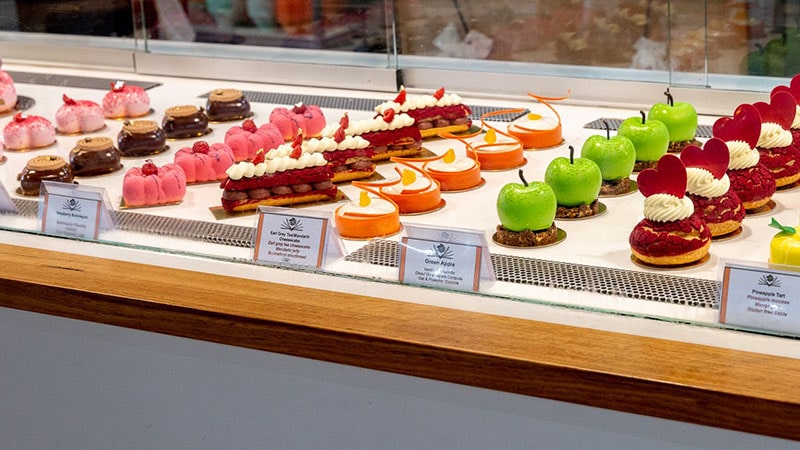 13. Pasticceria Papa
You'll find Sydney's favorite Baked Ricotta Cake at Pasticceria Papa. It's a taste of Southern Italy right here in Australia. Salvatore Papa came to Australia, sharing with locals the homemade treats from his childhood in Italy. They were an instant hit, and Pasticceria Papa was born. Beyond the ricotta cake is a vast selection of other cakes and pastries. Pick from mini cheesecakes, creamy cannoli, fruity tarts, bigne, and rum baba. You can also get standard-sized mousse or mud cakes, fruit flans, crostata, and decadent black forest cake. Take your Italian indulge even further with lunch or dinner at the restaurant in Haberfield, where you can dine on quintessential Italian cuisine accompanied by a bottle of fine wine.
Address: 75 Hall St, Bondi Beach; 145 Ramsay St, Haberfield; & 95 Queens Rd, Five Dock
Known for: Cannoli, Fruit Tarts, Baked Ricotta Cake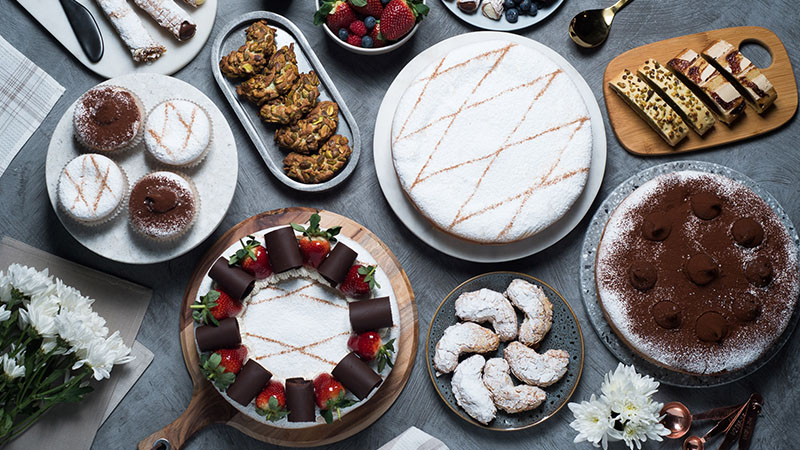 14. Dulcet Cakes & Sweets
The beautiful cakes from Dulcet Cakes & Sweets aren't just tasty; they're a visual treat as well. This Sydney cake shop is run by Vivienne, who designs the cakes, and Juno, who is the soul of the kitchen. Everything is made fresh in-house, and there's constant innovation and experimentation when it comes to flavors. Try creative options like the Taro Salted Egg Pork Floss Chiffon, Mandarin Yogurt Mousse cakes, or Rose Lychee Crepe stack. Alternative mouth-watering variations include White Peach Earl Grey Mousse, Yuzu Osmanthus Crepe, and the stunningly decorated Galaxy Mousse cake. If you have a special occasion coming up, such as a wedding or birthday, you can also order a custom design tailored to your event.&
Address: TG4, 8 Quay St, Haymarket; 31 Belmore St, Burwood; & 500 George St Sydney
Known for: Chiffon Cake, Dark Chocolate Mousse Cake, Crepe Cakes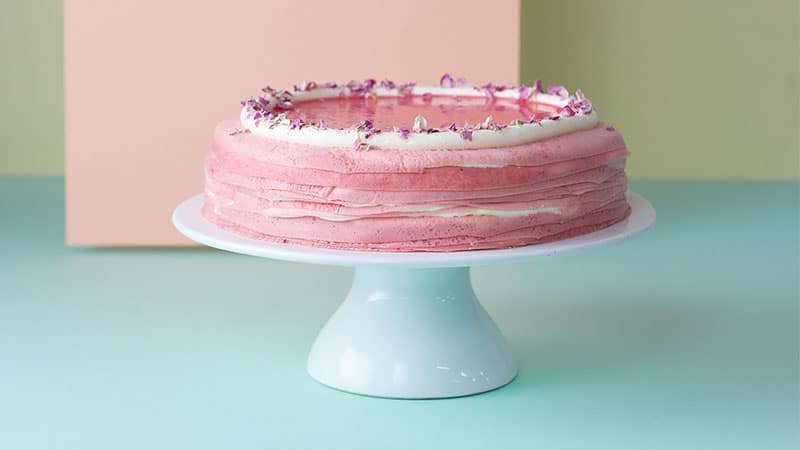 15. Bakealicious By Gabriela
Even though it's located a little bit out of town, a trip to Bakealicious By Gabriela is well worth the drive. Gabriela Oporto is the founder and baker at this cake shop, bringing her passion for sweet treats and homemade goodies to all her customers. Pick from a range of full-size cakes, including vegan and gluten-free options, and everything is made to order for the ultimate freshness. Flavors include Tres Lesches, Chocolate, Red Velvet, Dulce De Leche, Victoria Sponge, Tiramisu, and Pina Colada. There are also cheesecakes such as Neapolitan and cupcakes for convenient individual servings. Plus, you can order cakes for a wedding, corporate event, or other special occasions.&
Address: 161B Eastern Valley Way, Middle Cove
Known for: Custom Cakes, Vegan Cakes, Mil Hojas Cake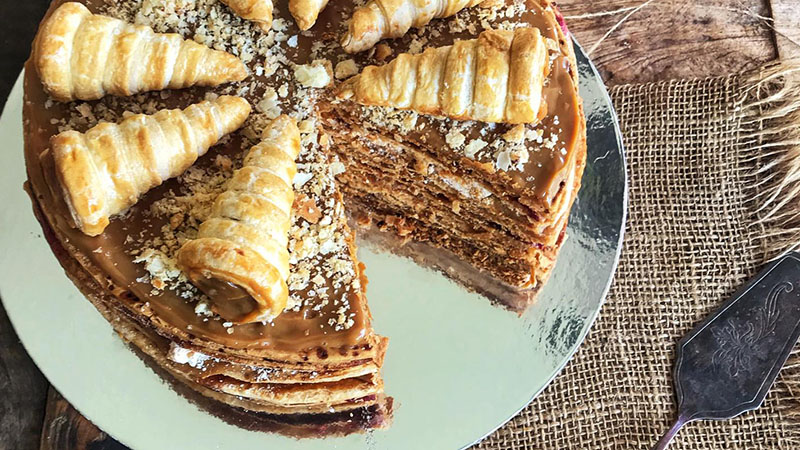 16. Gelato Messina
Gelato Messina has a bit of a cult following already because of its delicious range of gelatos. However, they also make gelato cakes if you're looking for something non-traditional. There are two kinds to choose from. The first is regular gelato cakes that you serve straight from the freezer. Varieties include How Now, Dr. Evil's Magic Mushroom, Strawberries & Cream, Quad Choc, and Bombe Alaska. The second kind is Trans Cakes that can be served either from the freezer or the fridge, making them a good option if you're traveling to an event with it. Served out of the refrigerator, it takes on a more mousse-like texture. Options for this kind include Boysenberry Cheesecake, The Slab, and Tiramisu Tart. You can order them online, and the in-house gelato chefs will create them at your local store.
Address: Multiple locations in Bondi, Brighton Le Sands, Circular Quay, Darling Square, Darlinghurst, Miranda, Newtown, Parramatta, Penrith, Randwick, Rosebery, Surry Hills, The Star, & Tramsheds
Known for: Gelato Cakes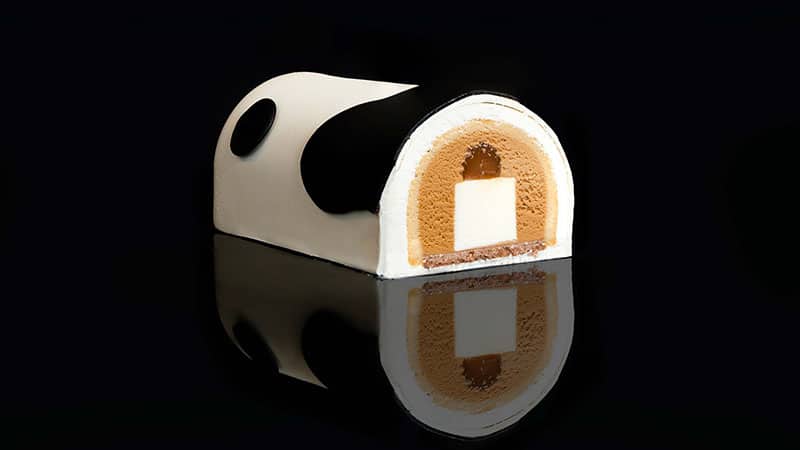 17. Wholegreen Bakery
Finding delicious sweet treats as coeliac or someone with gluten intolerance can be challenging. Unless, of course, you head to Wholegreen Bakery, where everything is 100 percent gluten-free and Accredited by Coeliac Australia. Owner Cherie Lyden and her daughter were both diagnosed with coeliac in 2014 and struggled to find safe, tasty baked goods. Taking her background in nutrition and passion for food, Cherie started her own bakery, using innovation and breaking boundaries. Now, with two locations in Sydney and delivery available, Wholegreen Bakery is the picture of success. When it comes to cakes, try the Dark Chocolate and Beetroot, Lemon Coconut, or Chai-Spiced Carrot Cake. Other sweet options include croissants, creme brulee tarts, or decadent brownies, and there's a range of savory options too. Plus, you can even sign up for an online baking class to learn how to cook gluten-free in your own home.
Address: 24 Arden Street, Waverley & 257 Clarence St, Sydney
Known for: Gluten-Free Cakes and Pastries, Chai Spiced Carrot Cake, Lemon Coconut Cake, Chocolate Tart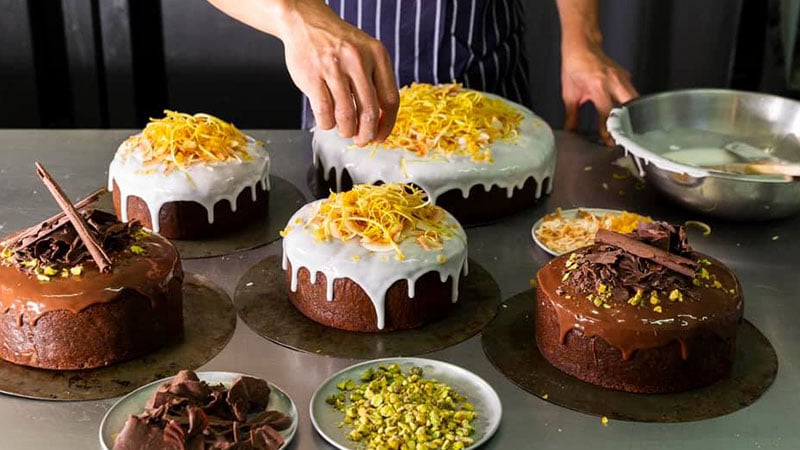 18. LABANCZ Patisserie-Boulangerie
Live like the French and start your day with a delicious, flaky pastry. LABANCZ Patisserie-Boulangerie is a French-style bakery established in 2012. While they might not offer traditional cakes, you'll still be able to satisfy your sweet tooth. Try the croissants, pear tarts, cornet a la creme, fresh fruit tarts, or even hot savory pies. Alternatively, keep it simple with a fresh baguette and salty butter. Everything is prepared and baked onsite, ensuring maximum flavor and freshness.
Address: 719 Darling Street Rozelle
Known for: Croissants, Pear Tart, Artisan Bread
LABANCZ Patisserie-Boulangerie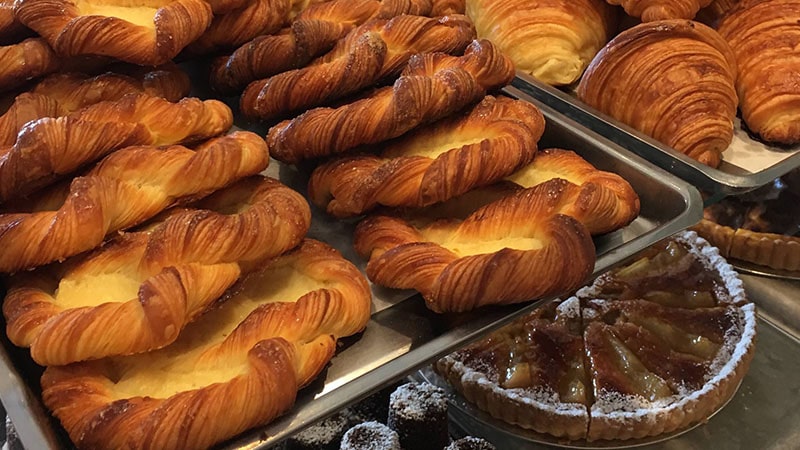 19. Penny Fours
Penny Fours is run by Penelope Ransley, who was previously the pastry chef at Tetsuya's and Sepia. It's the perfect spot to go if you hate making decisions or simply want to try a little bit of everything. All the sweet treats are miniature, so you can indulge in two or three without feeling bad. Why not try a lemon meringue tart, fruit flan, or custard-filled brioche. Of course, the famous croissants should not be missed. Admittedly, there aren't so many traditional cakes on the menu, but the rest of the selection of fresh-baked goods is sure to make up for it. Plus, you can also get a soul-brightening coffee roasted in-house.
Address: 141 Norton St, Leichhardt
Known for: Lemon Meringue Tart, Croissants, Danishes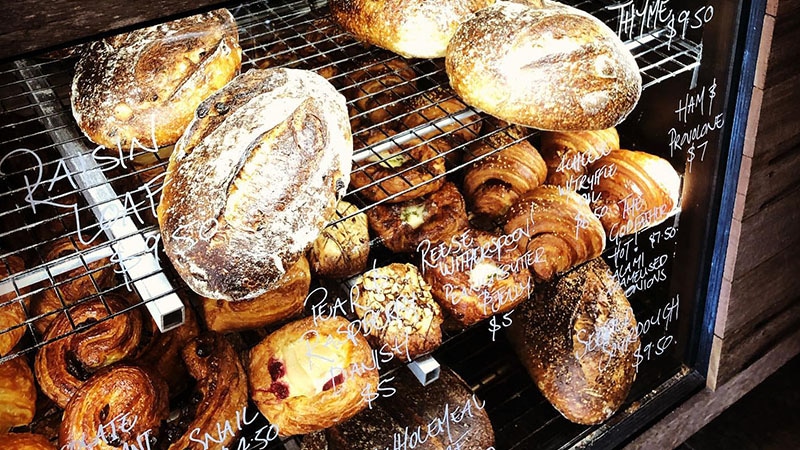 20. Wellington Cake Shop
Enjoy a taste of Austro-Hungarian sweets with a visit to Wellington Cake Shop. This family-run business has been around since 1979 and offers traditional baked goods, as well as modern fusion creations. One of the most iconic cakes is the chocolate kuglóf, a bready yeast cake with gooey rivers of chocolate. You can also pick up incredible croissants, poppyseed bejgli, traditional Sacher Torte, mud cake, danishes, and pastry snails. If you want something savory, the bagels have a loyal fan base, while the savory scones and cheese pockets are also excellent. Finally, during summer, you can wander up from the beach to cool off with one of the house-made ice creams, with the chocolate a favorite of many.
Address: 157 Bondi Rd, Bondi
Known for: Austro-Hungarian cakes and tortes such as Kuglouf, Croissants, & Bagels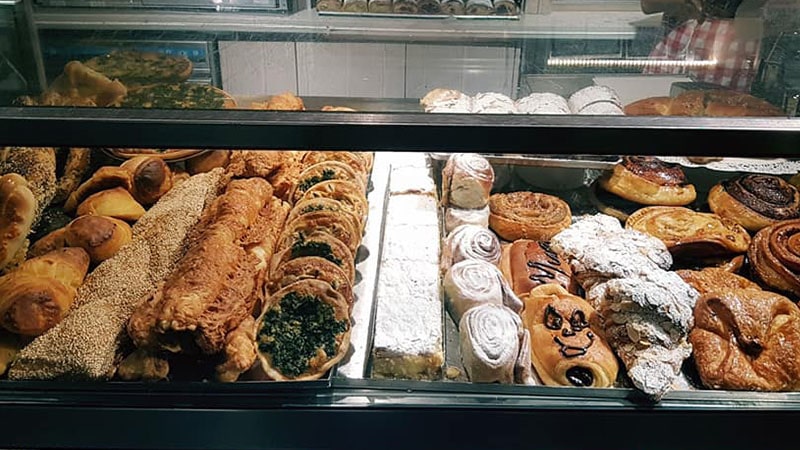 SUBSCRIBE TO OUR NEWSLETTER
Subscribe to our mailing list and get interesting stuff and updates to your email inbox.