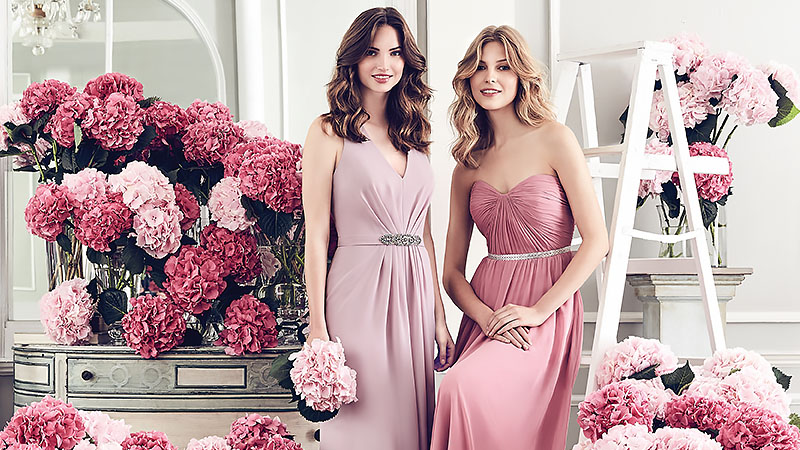 It's one of the biggest days of your life, and it's a special time to share with your friends and family. The bridal party represents a big part of your life, so why not get them looking their best? There are many factors to consider when choosing these gowns, such as the location, season, and theme of your wedding. So, if you're on the lookout for lovely pieces for your big event, this guide will help you find the perfect bridesmaid dresses.
RELATED: 15 Beautiful Hairstyles for Bridesmaids
Bridesmaid Dresses Guide
Wedding Theme and Location
Chapel or garden? Indoors or outdoors? These are the questions you've got to answer before buying your bridesmaid dresses. The theme of the big day, as well as the location, will play a role in the style, color, and design of your dresses. If it's amongst flowers, why not choose a style that flatters the floral patterns – jewel tones look best during the colder months. Do some research on the weather before the big day too. If it typically rains during the season you pick, opt for a dress with sleeves or long silhouette.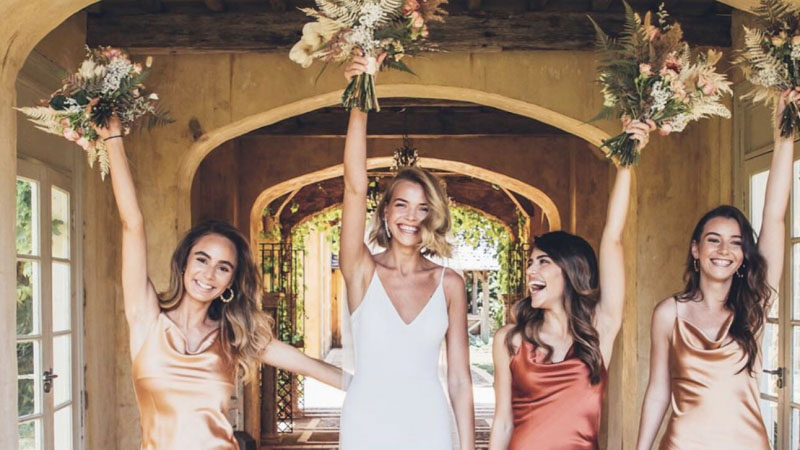 Bridesmaids' Tastes and Body Types
Those who are in your bridal party are a special part of your life, so why not show them off looking their best? When it comes to choosing a bridesmaid dress, it's essential to think about your friends, their style, and body types. For those with a fuller bust, you can choose a wrap silhouette or something with thick straps. Make sure you ask your group what style they like – a great way to compromise with everyone is to let them wear different gowns. Keep the look cohesive by incorporating the same fabric or color theme – varying shades of a single hue look incredible in any setting.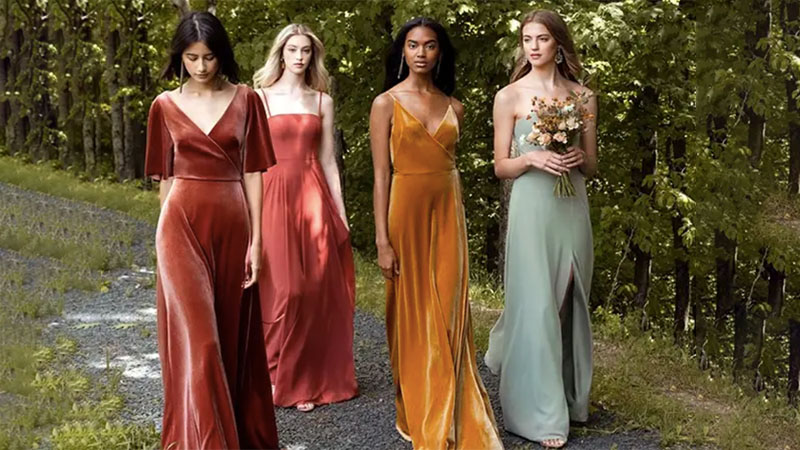 Your Budget
When you're on the lookout for a bridesmaid dress, there are plenty of things to take into consideration. Depending on how many people are in your bridal party, you have to consider your budget. There are plenty of choices for everyone's taste and finances – simple designs are timeless in style and work cohesively with each other. Why not choose a series of different styles, and keep them in similar shades? Be mindful of the silhouettes that suit your friends, and be sure to be wary of their price range. No matter how you approach it, your friends will look simply stunning!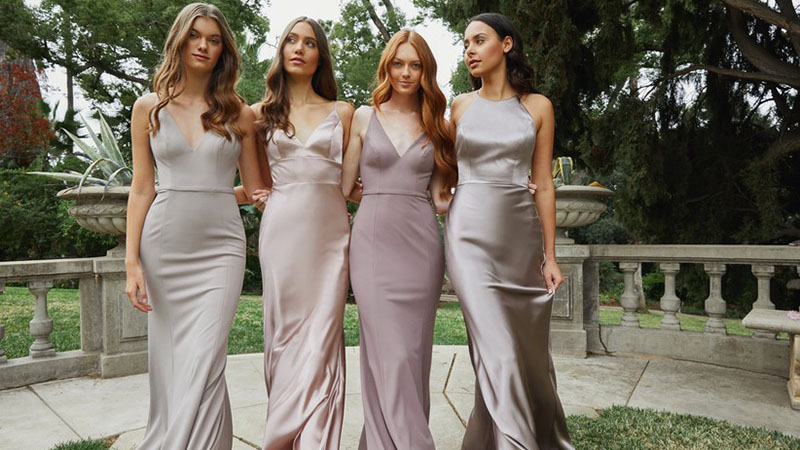 Best Bridesmaid Dresses Brands
Fame and Partners
From the most simple designs to daring dresses, Fame and Partners offer bridesmaid outfits for every type of wedding. With silhouettes to suit everyone's taste and body types, you can find a stunning set of gowns for your big day. Choose from their rainbow selection of styles – from long sleeves to two-pieces; you will discover your favorites here.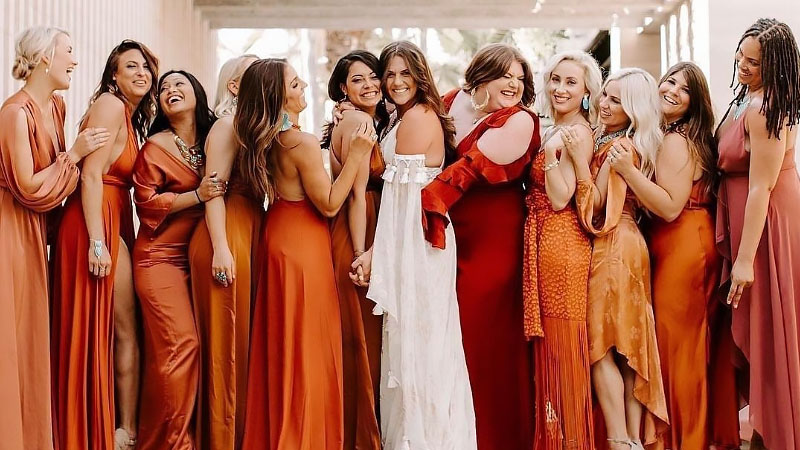 Nordstrom
From the timeless styles to something a little fashion-forward, Nordstrom offers every kind of dress you could wish for. Catering to all budgets and preferences, you can choose from slinky off-the-shoulder pieces for summer or a long sleeve gown for winter. From a town hall ceremony to a garden wedding, this store's offering will have you sorted for the big day.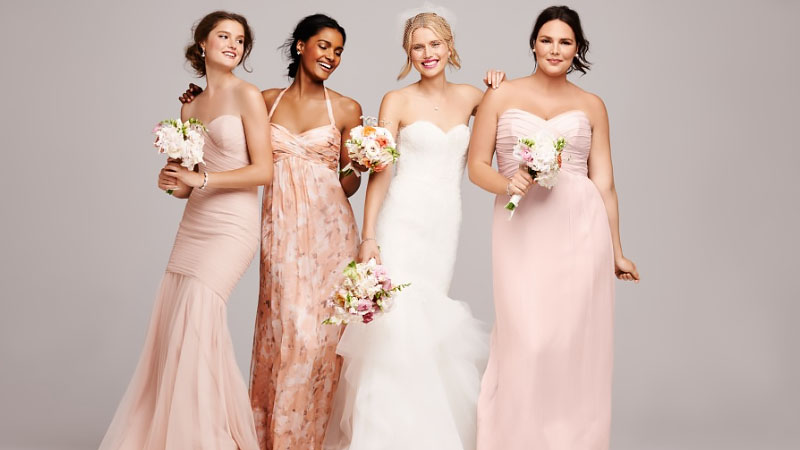 TFNC
TFNC offers the best dresses, perfect for a spring or summer wedding. With soft lace, delicate pleats, and whimsical silhouettes, this is an excellent option for every bridesmaid. Choose from a myriad of necklines, fabrics, and lengths – there are so many colors to pick from that will flatter every possible venue. Celebrate your big day by dressing your friends and family in these flawless gowns!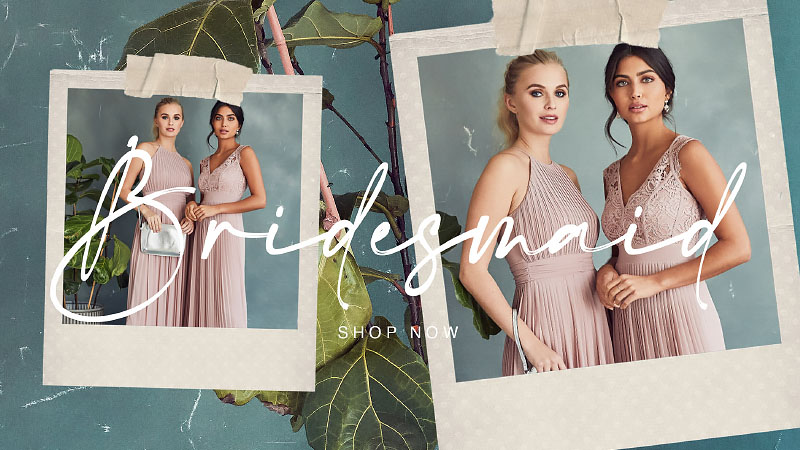 Net-a-Porter
For those who are interested in bridesmaid gowns with a designer edge, Net-a-Porter is for you. Dive into a world of Brandom Maxwell, Zimmermann, and Prada, all in one place. Whether you prefer one-shoulder silhouettes or a frock short in length, you can get it in this store. Filter by color range to discover the perfect dresses for your bridal party.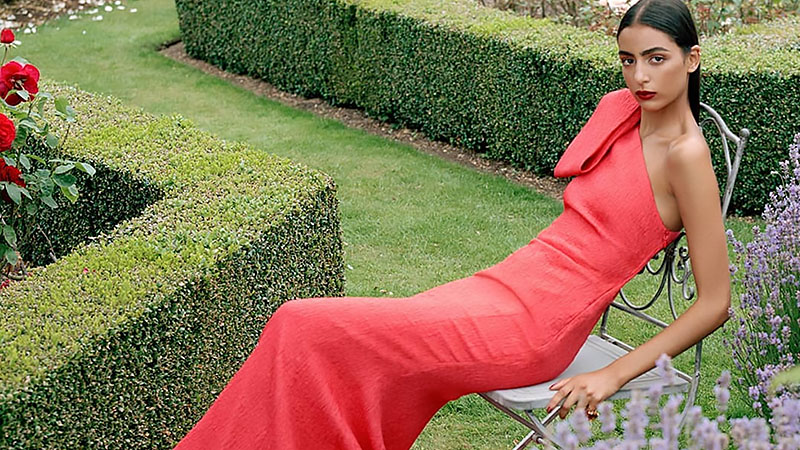 ShopBop
Take your wedding to the next level in a chic piece from ShopBop. Starting with simple dresses to elaborate gowns, there is something here for everyone. Find yourself lost in shades of pink, blue, and gold, with daring designs and timeless finishings to each item. It is the best place to search for similar styles – let your friends choose their favorites and watch as your big day turns into a masterpiece.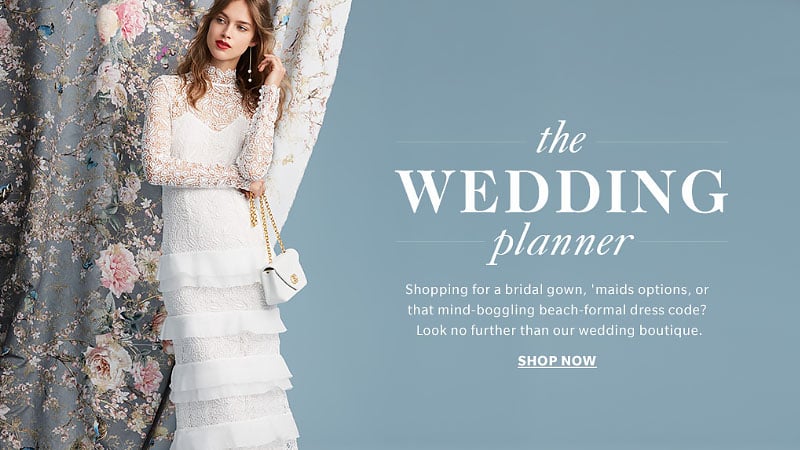 The Reformation
Switch things up with bright patterns and asymmetrical lengths – The Reformation should be one of your first choices for finding a dress. From plunging necklines to intricate detailing, these gowns look like they've come straight off the runway. These modern adaptations of the traditional bridesmaid styles look incredible on every body type and suit a range of occasions.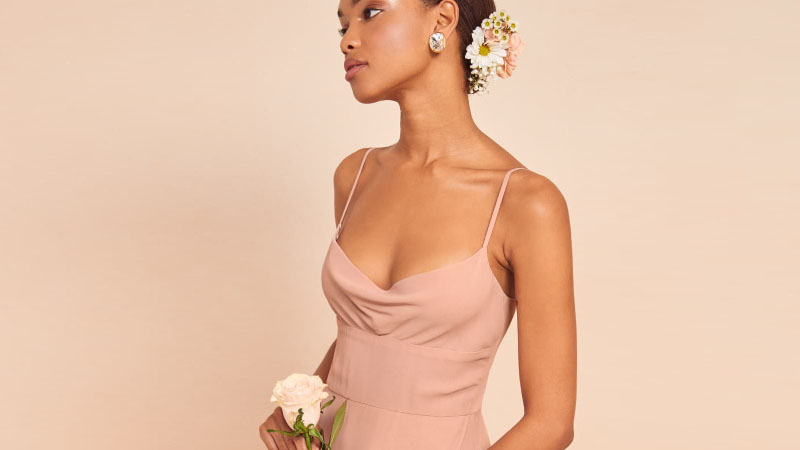 ASOS
Find the perfect bridesmaid dress in just a few clicks with ASOS. Whether it's a winter wedding or something during the warmer months, there is the best gown for you and your bridal party. With trending silhouettes and a vast range of fabrics and styles to flatter your taste, you'll have the best affordable choices for your big day.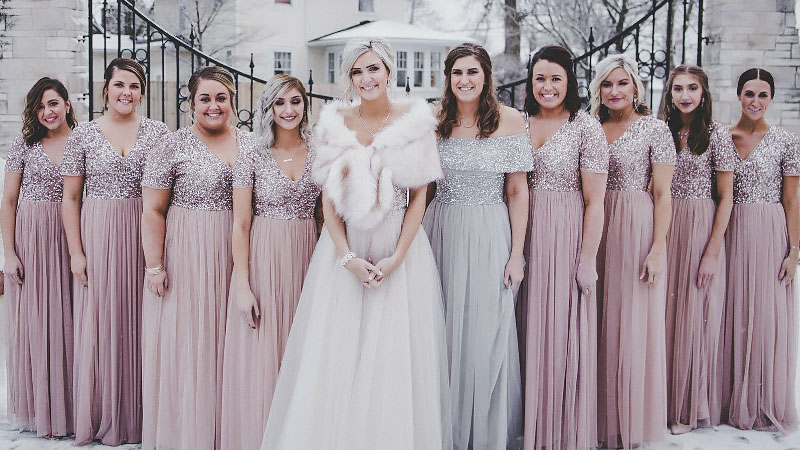 THE ICONIC
Get the right gown for your bridesmaids with THE ICONIC. There are thousands of styles, colors, and designers in this collection, so you'll be hard-pressed finding something as amazing anywhere else. Choose from labels such as Bec + Bridge, Alice McCall and Camilla and Marc – you'll host the most fashionable and modern wedding yet.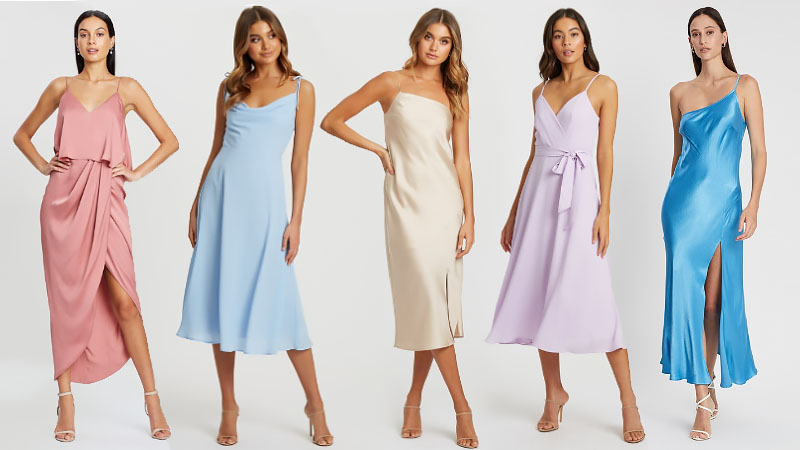 Missguided
Boasting modern designs with an affordable price, Missguided offers tasteful dresses without going over budget. Choose from a stylish wrap dress to something a little more daring – you can find your favorite design, no matter the venue of the big day. From satin to lace, you can discover the best gown for your beautiful bridal party.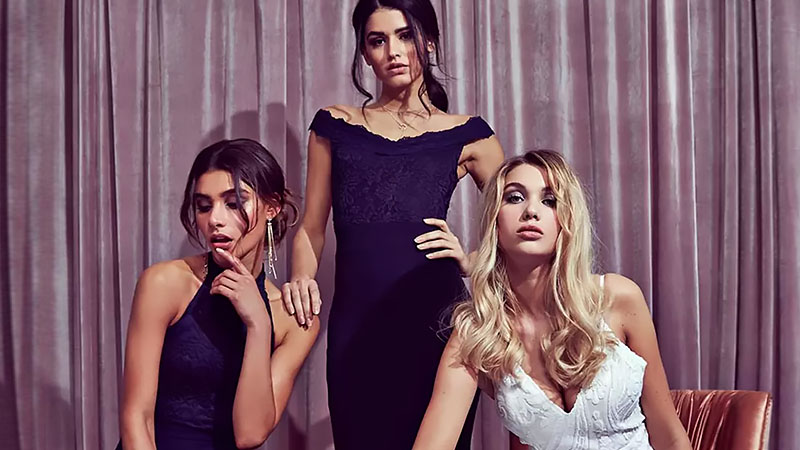 Showpo
Celebrate your big day with these stunning bridesmaid dresses from Showpo. Boasting sleek one-shoulder necklines and stunning fishtail silhouettes, you'll quickly discover one-of-a-kind pieces for your friends and family. Donning the most stylish shades of the season, you and your entire bridal party will look on-trend and timeless at the same time.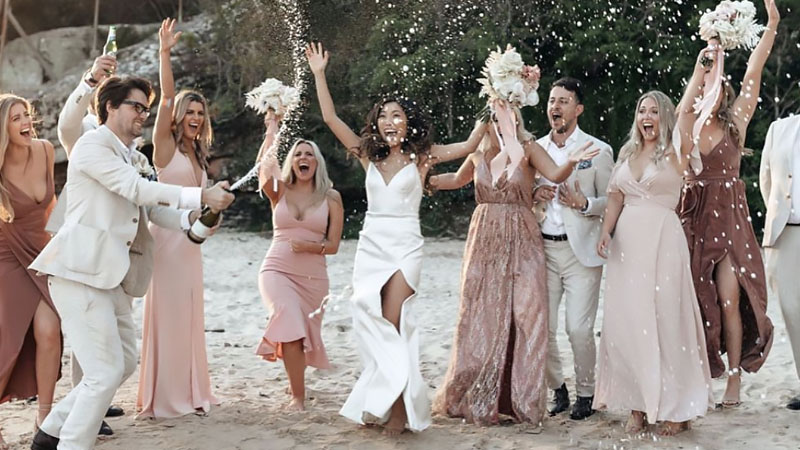 Bridesmaid Dresses FAQ's
Who should pay for bridesmaids' dresses?
Although every wedding is different, in general, the rule is for each woman to pay for her own bridesmaids' dress and any other costs she will incur, such as hair and makeup.
What is the best website for bridesmaid dresses?
If you prefer not to shop from your local boutique, it is possible to find fantastic bridesmaids' dresses online. You should always consider the theme of the wedding, the budget, and your bridesmaid's body shapes and tastes. Some popular websites to note include Fame and Partners, Nordstrom, TFNC, Net-a-Porter, and The Reformation. All of these sites have a large selection of multiple styles and colors for every wedding type.
How much should you spend on bridesmaids' dresses?
A bridesmaid's dress can vary in cost depending on your chosen design and designer, but on average, you should expect to pay around $150. There are also other costs to consider, such as alterations, shoes, and jewelry, which may significantly drive the cost. You can easily pay upwards of $500.
What are the best bridesmaid dresses?
The best bridesmaid dresses should be comfortable to wear but also flattering on the wearer. Although the dresses should be lovely, they should also not overshadow the bride as it is her big day. Some of the best bridesmaid dresses include those with a chiffon skirt, which tends to flatter most body shapes, wrap dresses and full skirts are also popular options. As for color, some of the favorites include dusty pink, soft grey, navy, and teal.
SUBSCRIBE TO OUR NEWSLETTER
Subscribe to our mailing list and get interesting stuff and updates to your email inbox.