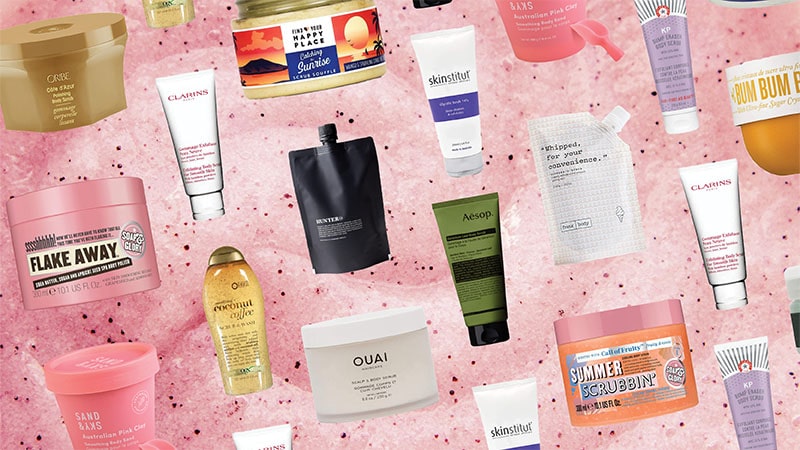 Scrub-a-dub-dub in the tub with these best body scrubs for glowing skin. Regular use of a body scrub ensures silky smooth skin, as it sloughs off dead cells, dirt, and environmental debris. Choose from a variety of abrasive ingredients, such as sugar or salt, as well as beautiful, nourishing oils like coconut and avocado. Together they reinvigorate your skin, encourage healthy cell renewal, minimize the appearance of cellulite and stretch marks, eliminate toxins, and give you a radiant glow. Plus, your skin will feel amazing.
What is Body Scrub?
A body scrub is a physical exfoliant that you massage into your skin to slough away dead skin cells, promoting cell turnover for smoother, brighter skin. Sugar and salt are two of the most common abrasives used in many formulas; however, other options include coffee grounds, pulverized rice, natural clay, or even ground-up coconut shells. The other main component of body scrubs is oil, such as jojoba, avocado, or coconut. This helps to smooth the formula over the skin and rehydrate as you polish, restoring the skin's moisture as it removes debris from the surface.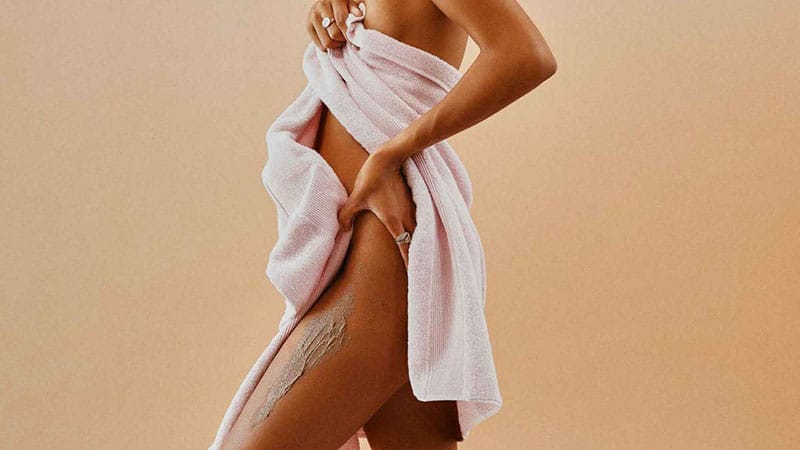 Body Scrub Benefits
Adding a body scrub to your skincare routine brings many benefits. To start, it gets rid of dead skin cells and dirt, resulting in cleaner, smoother, and softer skin. Then, it draws out impurities and clears congestion such as dryness and environmental debris. Regular body scrub use also promotes efficient circulation, encouraging blood flow to the surface, removing toxins, and improving skin cell turnover, giving you a more radiant glow. Plus, it helps free and prevent ingrown hairs as well a improve razor bumps. Finally, it also just feels terrific, which can be excellent for making you feel refreshed and renewed.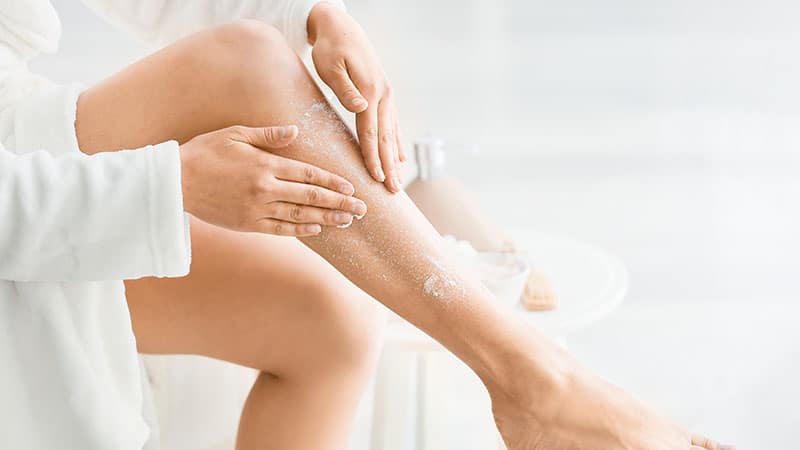 Salt Or Sugar
Sugar and salt are the two most common exfoliating ingredients in scrubs. Both mechanically exfoliate dead and dry skin in the same manner, but each brings its own unique benefits to your skin and body.
Sugar Scrub
If you're looking for a more gentle scrub, then sugar is the way to go. The granules are rounder and therefore less abrasive, suiting sensitive skin and areas better. Sugar is also a natural source of glycolic acid and can speed up rehydration. Unrefined cane sugars also have extra nutrients such as calcium, iron, magnesium, and potassium; however, by its nature, it's coarser, so should only be used on the body. Finally, if you have any kind of skin irritation, sugar is the better option because it won't sting as much as a salt one will.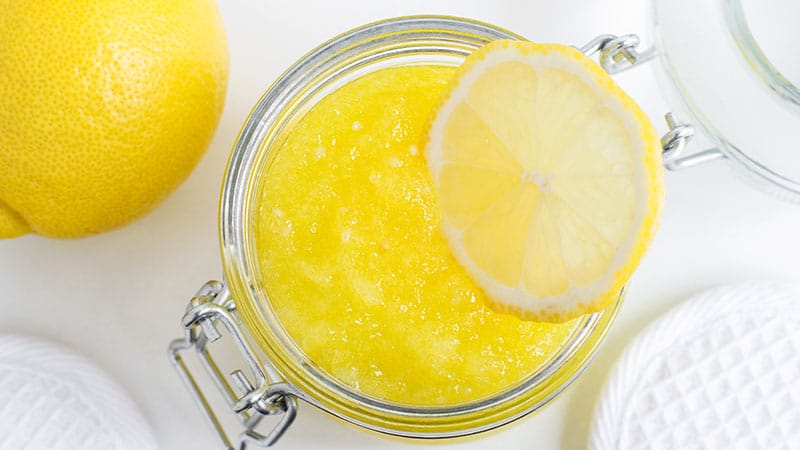 Salt Scrub
Meanwhile, salt granules tend to be more angular than their sweet counterpart, and therefore excellent for tougher areas of your body like feet and elbows. Additionally, salt has detoxifying properties, which can draw out impurities, toxins, and congestion. Plus, it also has anti-inflammatory benefits the can help soothe sore and achy muscles. However, keep in mind that it can also be more irritating to sensitive skin and will definitely sting if you have any wounds or existing abrasions.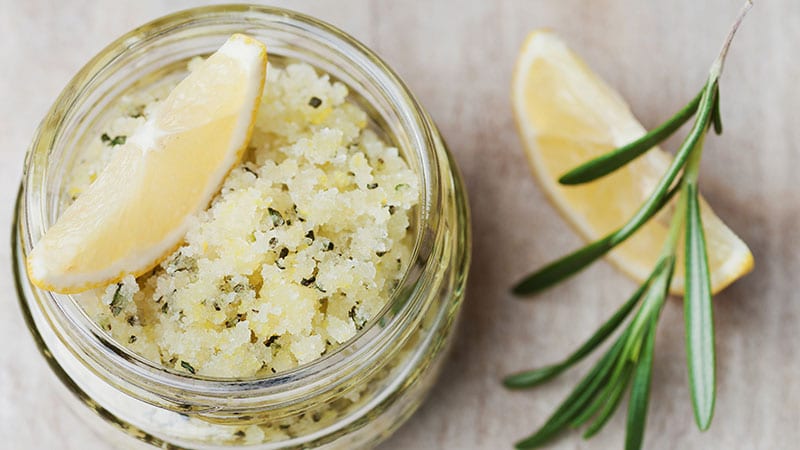 Salt & Sugar Scrub
If you can't decide between sugar or salt, some brands offer formulas that combine the two for the best of both worlds. That way, you get the benefits of detoxification and rehydration, along with the invigorating and stimulating exfoliation. You'll be feeling fresh and new, with healthy, radiant-looking skin!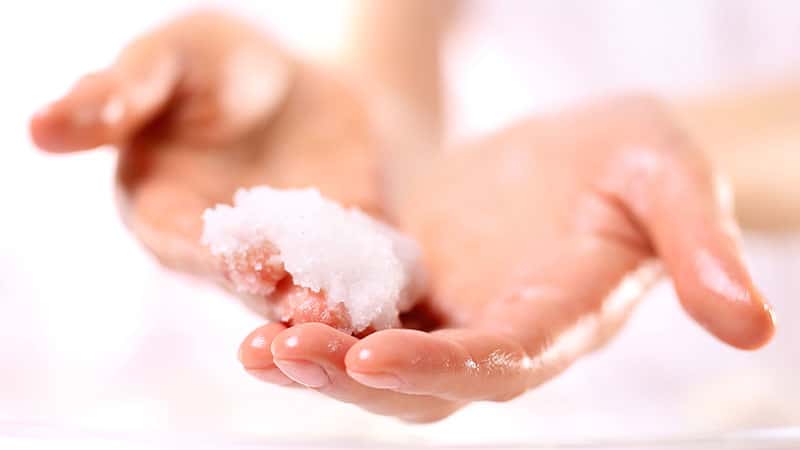 How to Use Body Scrub?
Using a body scrub is simple and can be added to your shower routine. Once you've been in the warm water for five to ten minutes and have cleaned off any surface dirt with your regular shower gel or soap, you can turn the tap off. Then take a small scoop of scrub and gently massage it into your skin using circular motions. Start at your feet and work your way up for better circulation, ensuring you don't rub too hard. Rinse thoroughly, then pat yourself semi-dry with a towel. While your skin is still slightly damp, apply your favorite body oil to lotion to replenish and rehydrate your skin. You'll achieve the best results by exfoliating two to three times a week. Avoid doing more, as excessive exfoliation can damage the skin's natural barrier.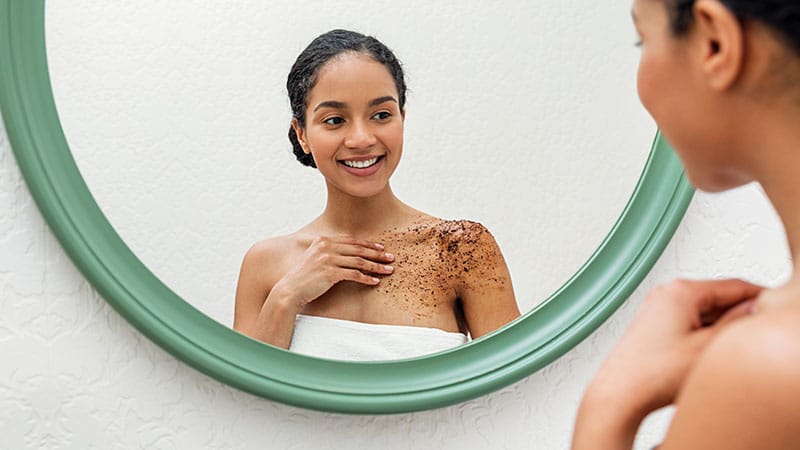 How to Make Body Scrub?
You can easily make a body scrub at home. All you need is your chosen abrasive – this could be sugar (brown, raw, or pure cane), salt (finely ground sea salt or even Epsom salt), or another option such as coffee grounds or clay powder. Then you'll also need oil. Good choices include avocado, coconut, jojoba, sweet almond, apricot, or grapeseed oil. Finally, if you want, you can also add a few drops of essential oil for its aromatherapy benefits.
Collect a small bowl, spools, and measuring cups.
Mix a ratio of one cup of sugar or salt to a quarter cup of oil, and mix gently, adding more oil if you want – it can vary depending on the type of abrasive and oil you've chosen. The texture should be like wet sand but not soupy.
Add in ten to 15 drops of your essential oil if using, and gently mix again.
Spoon the mixture into a lidded container, and store it in a cool place. The scrub will last for a couple of months, and if it separates, just give it a stir.
Best Body Scrubs
1. Tree Hut Tahitian Vanilla Bean Shea Sugar Scrub
Indulge in the sweet smell of tropical Tahiti with this sugar scrub from Tree Hut. It's made in the USA and infused with nourishing shea butter for deep moisturizing even the driest skin. It also boasts a combination of oils, including safflower seed, avocado, sweet almond, macadamia, and orange oil. Together with the gentle sugar, you'll be left with soft, smooth skin and a refined, healthy glow. Plus, it's vegan, as well as paraben, gluten, sulfate, and alcohol-free, with a non-slip formula.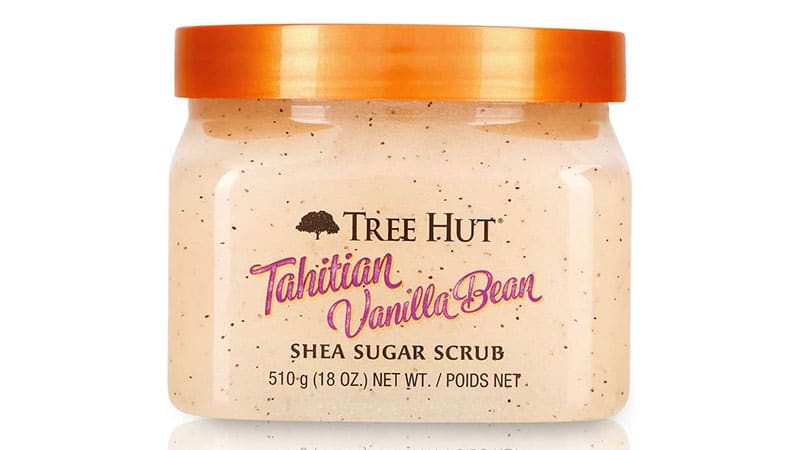 2. Dove Exfoliating Body Polish
Dove's Exfoliating Body Polish has a whipped formula that creates a thick, creamy lather when applied. As such, you'll gently polish your way to perfection, removing dead skin cells for smooth, radiant skin. Like all Dove products, it's made with one-quarter moisturizing cream for instant hydration and softness. It also uses crushed macadamias to fight the signs of aging, while rice milk brightens your skin tone. Plus, together, they have a beautiful fragrance that adds a touch of luxury to shower time.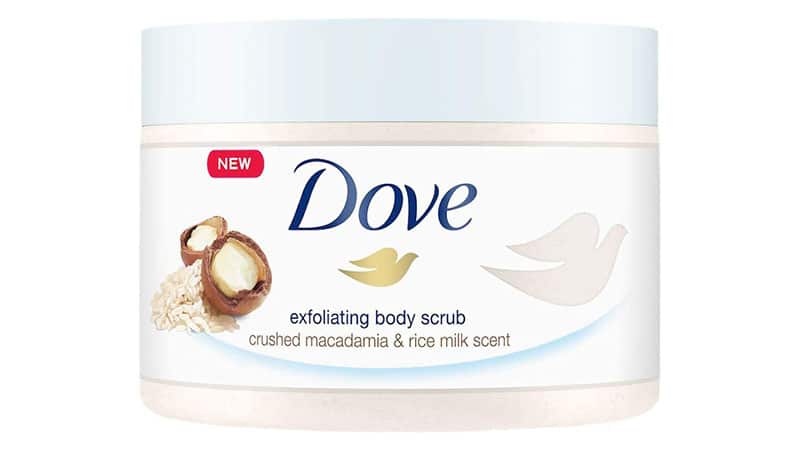 3. Frank Body Express-O Coffee Scrub
Get up and glow with the Frank Body Express-O Coffee Scrub. This mess-free whipped formula comes in a convenient pouch, making it easy to dispense, apply, and massage in without the cleanup. Rather than more traditional sugar or salt, the scrub includes invigorating coffee grounds as the abrasive, which is ideal for sloughing away dry patches and dead skin in minutes. Other powerful ingredients include deeply hydrating shea butter, brightening grapeseed oil, and white clay, which is excellent for drawing out impurities and detoxifying the skin. Finally, the scent is caramel frappuccino, which is just perfect for a morning shower before your regular cup of joe.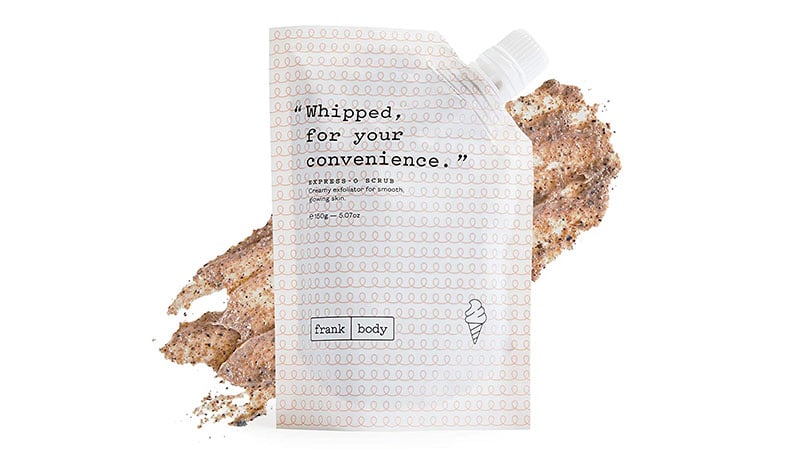 4. Oribe Cote d'Azur Body Scrub
You'll be looking holiday fresh like you just stepped off the yacht from the French Riviera when you use the Oribe Cote d'Azur Body Scrub. This gentle polishing body scrub is full of natural oils to soften and hydrate, including sweet almonds, meadowfoam, and starflower oils. Soybean oil adds vitamins B, E, and K, while sunflower seed oil is also rich in vitamin E. When it comes to scrubbing your skin, a blend of diamond powder and sugar is gentle while revealing a radiant glow and giving your skin a luxurious, smooth finish, free of dryness and impurities.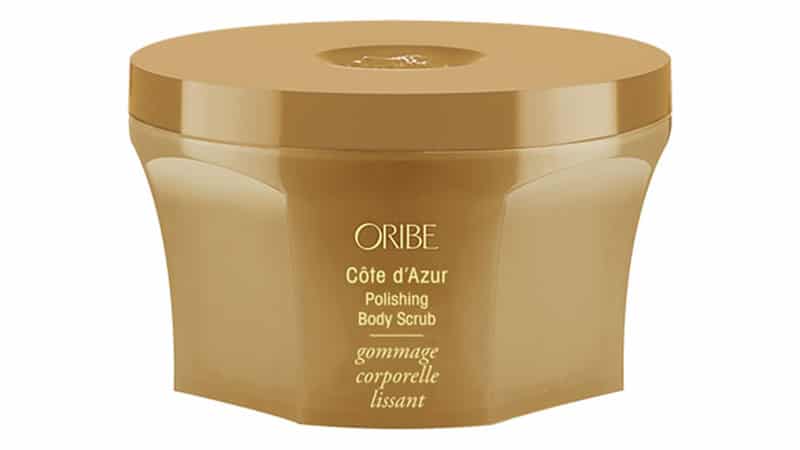 5. Sol de Janeiro Bum Bum Body Scrub
The Bum Bum Body Scrub gives you summer-smooth skin all year round. It uses fine sugar crystals and crushed cupuaçu seeds for gentle exfoliation. The Brazilian body-smoothing blend has replenishing coconut oil to moisturize, while the caffeine-rich guarana stimulates blood circulation and boosts your energy. Best of all, it smells indulgent like a day at the spa, thanks to the Cheirosa 62 fragrance with notes of pistachio, salted caramel, and sweet vanilla.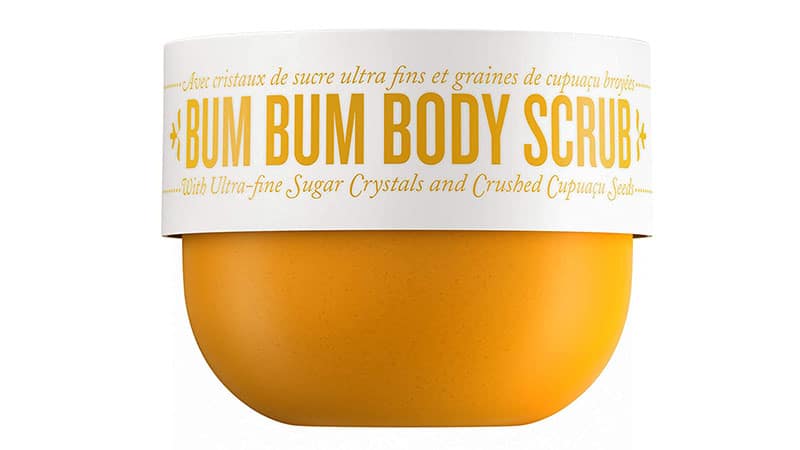 6. M3 Naturals Himalayan Salt Body Scrub Infused with Collagen and Stem Cell
Use the Himalayan Scrub from M3 Naturals all over your body. The gentle formula works just as well on your hands and feet as it does on your body. The natural ingredients include Himalayan salt, lychee oil, and aloe vera, plus oils from grapeseed, jojoba, and sweet almond. However, two ingredients that really make a difference are the hydrolyzed collagen and apple stem cell extract. Combined with the exfoliating effect, they boost natural collagen production for firmer skin while increasing skin cell longevity, so you glow for longer. Plus, it can help reduce blemishes, fight the signs of aging, and minimize toxins and impurities in the skin.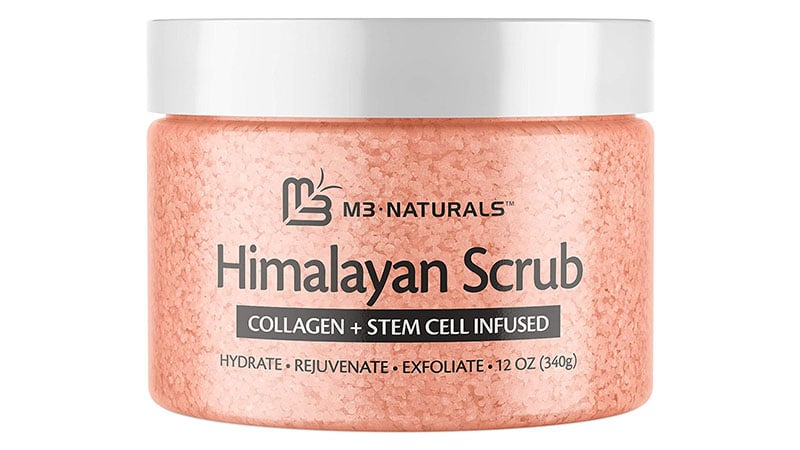 7. Brooklyn Botany Brown Sugar Scrub
Brooklyn Botany's Brown Sugar scrub is a sweet-smelling delight made from 100 percent natural ingredients. The gentle formula is ideal for sensitive skin and can even be used on the face. In addition to sloughing off dead skins cells and dry skin, the nourishing ingredients boost your skin's hydration levels, locking in the moisture and leaving you feeling soft and supple. Use before you shave to help prevent ingrown hairs and razor irritation, or help clear up acne and blackheads. Each pot is proudly made in New York and is vegan and cruelty-free.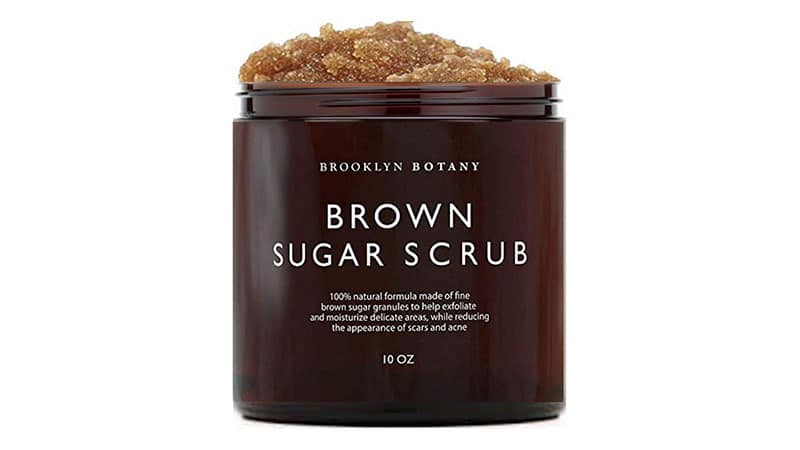 8. Clarins Exfoliating Body Scrub For Smooth Skin
Enjoy smooth, youthful-looking skin thanks to the Clarins Exfoliating Body Scrub. The formula contains natural bamboo powder to smooth flaky skin, while mimosa and shea extracts leave your skin feeling ever-so-soft. This is also a protective scrub that maintains the balance of the skin's hydrolipidic film, ensuring no damage is caused in the exfoliation process. It's also an excellent first step to include in your skincare routine, as it optimizes the absorption of other products and moisturizers, therefore amplifying their effects.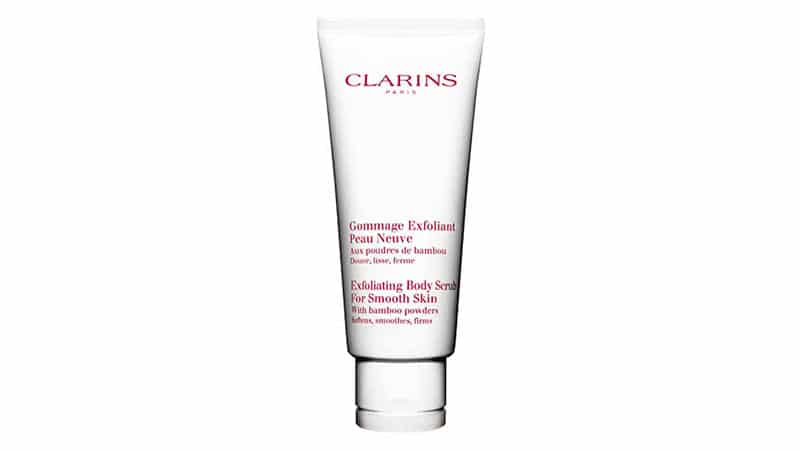 9. Soap & Glory Flake Away Body Scrub
Relish your silky, smooth legs when you use the Flake Away Body Scrub from Soap & Glory. There's a combination of buffers in the formula, including both sugar and salt, as well as apricot seed powder for radiant, glowing results. Then, you'll also find nourishing hydrators in the shea butter and sweet almond oil, both of which will help replenish your moisture levels. Best of all, the Original Pink fragrance is delightful and spa-worthy, making you feel like you've just stepped out of an epic pampering session.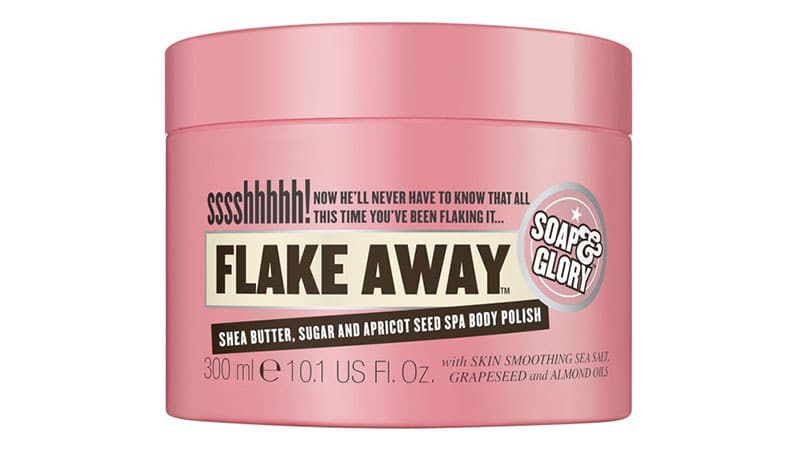 10. SheaMoisture Illuminating Hand & Body Scrub
There'll be no dry, dull, or lifeless skin around when using the SheaMoisture Illuminating Hand & Body Scrub. This cruelty-free exfoliator is packed full of goodness for glowy skin. It uses the power of shea butter and coconut oil to nourish and repair. Then, hibiscus flowers soothe any irritation from dryness, while songyi mushrooms even out your skin tone. Use it in the shower for soft, smooth skin all over, or keep it by the sink for dry, rough, and hardworking hands.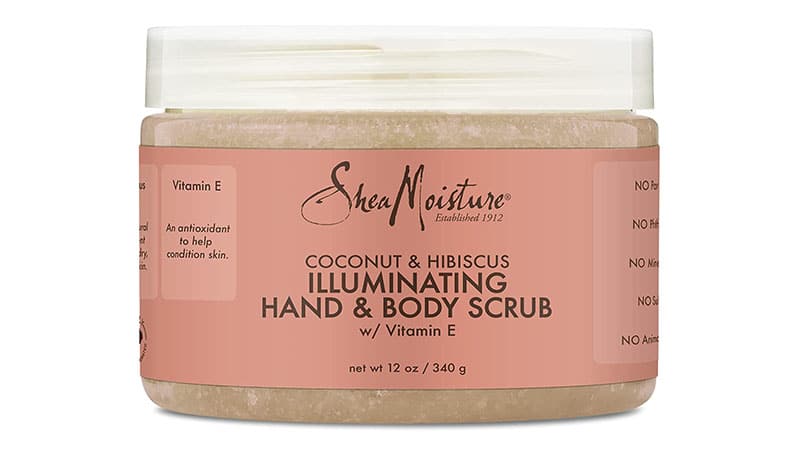 11. First Aid Beauty KP Bump Eraser Body Scrub with 10% AHA
First Aid Beauty gives you a two-for-one exfoliating boost with the KP Bump Eraser Body Scrub. The formula combines both physical exfoliators in the form of pumice buffing beads and chemical exfoliants for more effective results. Glycolic and lactic acids are alpha-hydroxy acids that help break up the bonds that hold dead skin cells together, helping them shed easier. In addition to the abrasives, you'll also find bisabolol to help soothe, vitamin E to nourish, and the FAB Antioxidant Booster to help protect against environmental aggressors. This dermatologist-tested body scrub is perfect for reducing skin bumps known as 'strawberry skin' as well as buffing away dead skin.
12. Aesop Geranium Leaf Body Scrub
Australian-made skincare brand Aesop boasts vegan, cruelty-free, and sulfate-free products. The Geranium Leaf Body Scrub is no exception. Scrub off dead skin cells with ease with the bamboo stem and pumice stone exfoliants. Meanwhile, the unique green citrus scent is perfect for all genders and leaves you feeling fresh and clean. The formula is ideal for after waxing or shaving to prevent irritation and ingrown hairs. It's also great for preparing the skin for body balm or oil, as it helps these nourishing products penetrate the skin much more effectively.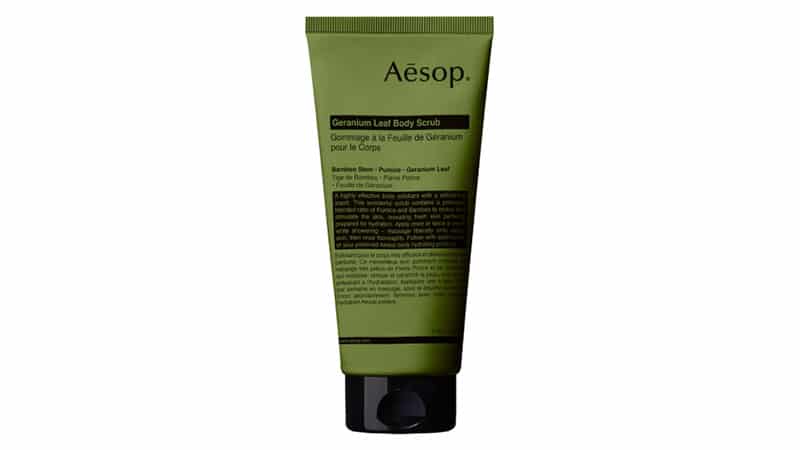 13. OGX Coffee Scrub and Wash
Wake up to the invigorating scent of coffee and coconut in the morning. This body scrub from OGX is infused with Arabica coffee to help invigorate the skin while sloughing off dead cells and other debris. Meanwhile, the coconut oil softens and hydrates for even more beautiful skin. Start the day right with this exfoliator, followed by a nourishing moisturizer, locking in the hydration all day, so you look and feel your best.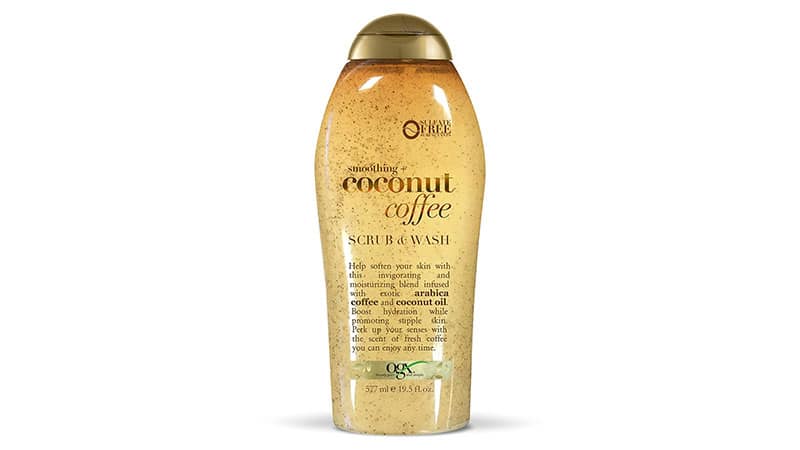 14. Nature's Beauty Lavender Chamomile Sleep Body Scrub
Find your zen before bed with Nature's Beauty Lavender Chamomile Sleep Body Scrub. This lovely scrub is best used in the evening, as the calming scent of vanilla, lavender, and chamomile will help you relax and enjoy a good night's rest. Containing natural sugar, the gentle formula buffs away dead skin cells and dryness, while the coconut, jojoba, and moringa seed oil help soften and hydrate. They also assist in strengthening the skin's barrier and reducing inflammation. You drift off to sleep feeling like a new person, with silky smooth legs sliding between your sheets!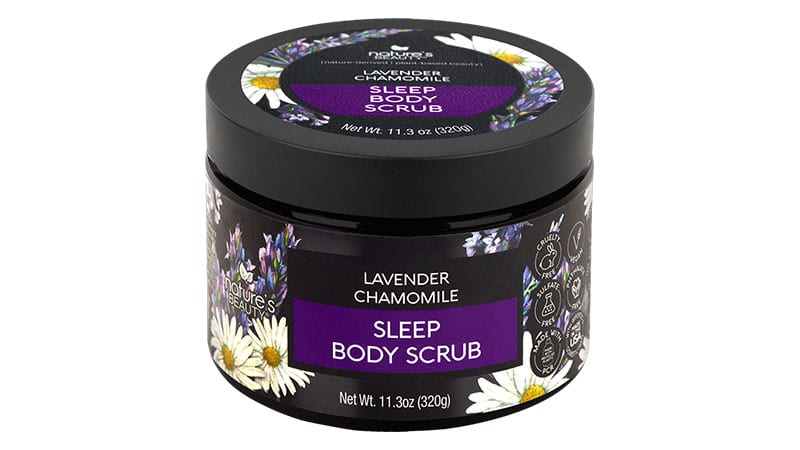 15. M3 Naturals Charcoal Exfoliating Body Scrub with Collagen & Stem Cell
Cross over to the dark side with M3 Naturals Charcoal Exfoliating Body Scrub. It contains natural charcoal granules and Dead Sea salt to break up and remove dead skins cells and draw out toxins and impurities. At the same time, luscious coconut oil restores your skin's natural glow. However, it also takes your skincare to another level with the infusion of collagen and stem cells. These promote the production of natural collagen, reducing the signs of aging and blemishes like stretch marks, acne, and scars while increasing the skin cell's longevity.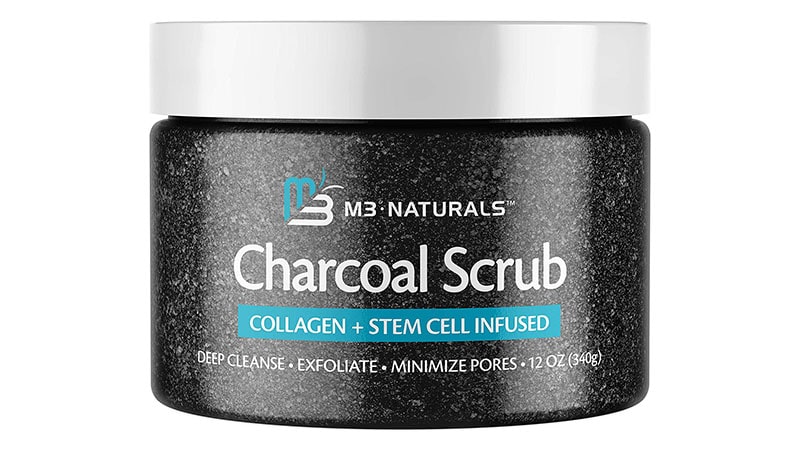 16. Hunter Lab Pinot Grape Skin Body Scrub
Take 'shower wines' to a whole other level with the Hunter Lab Pinot Grape Skin Body Scrub. This body scrub is packed full of antioxidants from Hunter Labs's signature grape skins. It fortifies and helps protect your skin's barrier from environmental aggressors. However, the real hero is sea salt, as it works hard to smooth away dead skin cells and debris, leaving behind nothing by smooth, radiant, and brighter-looking skin. It's supported by grapeseed and coconut oil to replenish the moisture levels. Finally, the citrus, herb, and spice scent is made for men yet distinctly unisex in its appeal for both genders, so be prepared to share.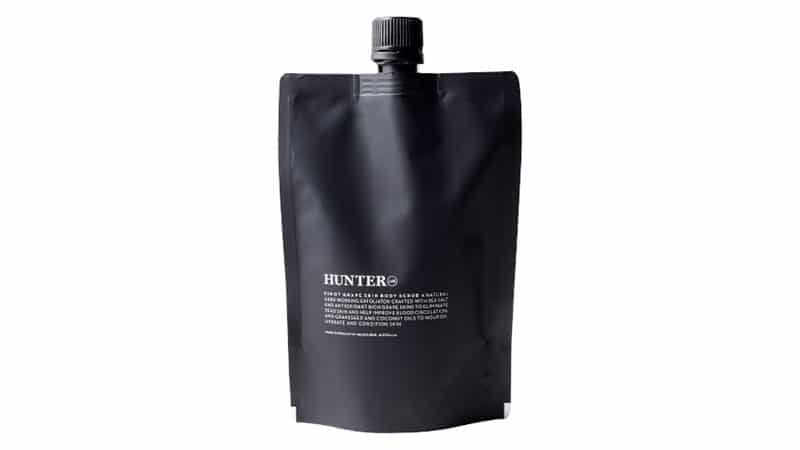 17. Dr. Teal's Epsom Salt Body Scrub with Lavender
Epsom salts help to deeply relax tired and achy muscles. As such, it's a great addition to a body scrub, especially one that also contains lavender. It's the ideal way to switch off and pamper yourself at the end of a long day. The salts gently exfoliate your body, removing dead skin and dirt, while the shea butter and jojoba oil leave you feeling hydrated. While you massage it in from toes to head, don't forget to breathe deep and appreciate the calming scents of lavender, which will help you achieve a deep and peaceful night's sleep.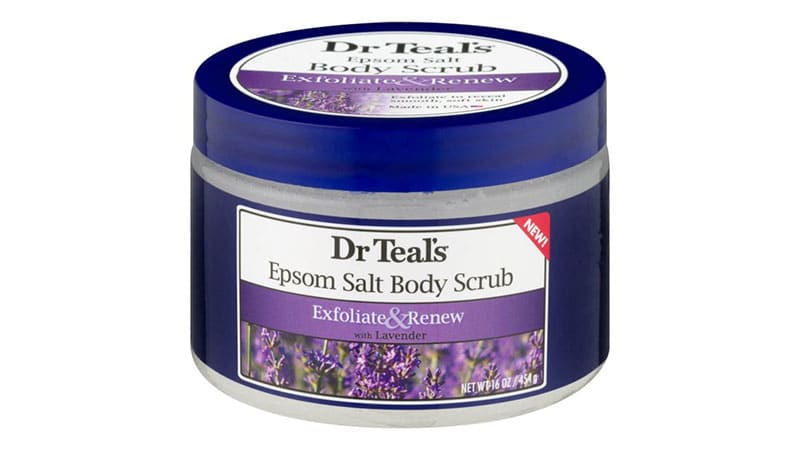 18. OUAI Scalp & Body Scrub
Deep clean both your skin and scalp with this scrub from OUAI. The formula uses sugar granules to gently remove product build-up, environmental debris, and dead skin cells. The gentle massage required for application also increases circulation, promoting blood flow to the skin. Next, a probiotic blend helps support the skin's natural microbiome defenses, preventing damage from free radicals and aggressors. Then, coconut oil, rich in fatty acids, nourishes and moisturizes the scalp and body, leaving your skin feeling soft and smooth. Finally, the Melrose Place fragrance has notes of rose, bergamot, lychee, cedarwood, and white musk, for a subtle but sophisticated scent.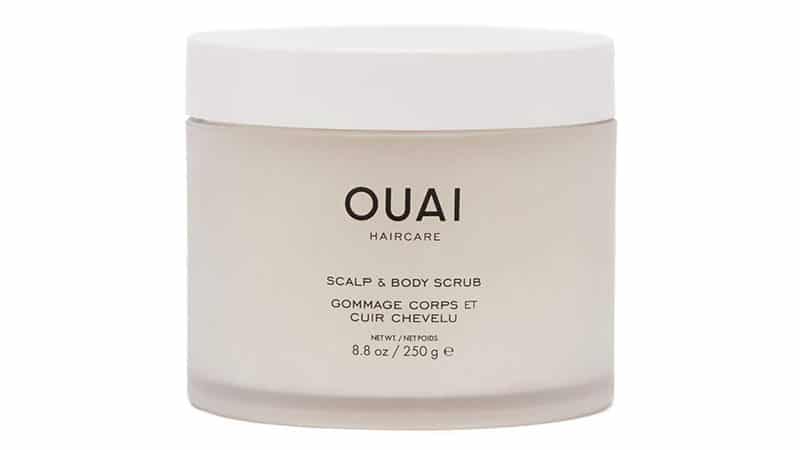 19. Turmeric Body Scrub by LANBENA
Let the refreshing scent of lemon and ginger waft over you as you scrub your body clean of dirt, debris, and dead skin cells. This Turmeric Body Scrub by LANBENA uses Dead Sea salt enriched with turmeric, sweet almond oil, vitamin E, and Argania Spinosa kernel oil. Together, they exfoliate and moisturize, leaving you with ultra-soft, smooth, beautiful skin. It can also improve the tone and appearance, helping minimize acne, cellulite, and the signs of aging. Best of all, it's suitable for all skin types, and is free from gluten, parabens, and alcohol, and is vegan and cruelty-free.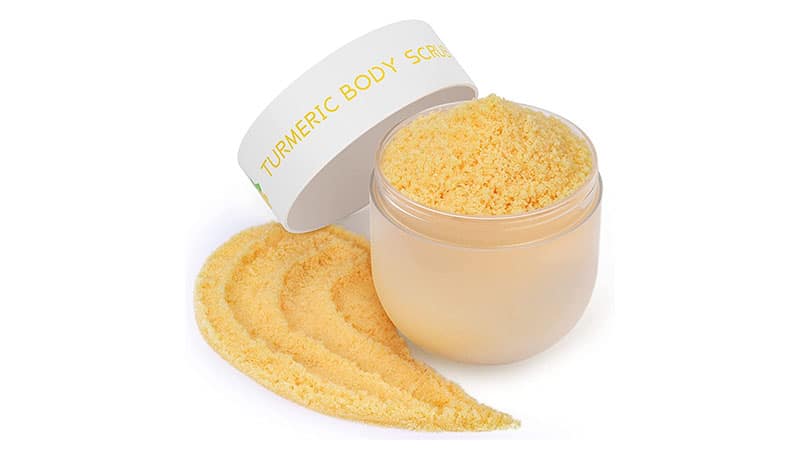 20. ASUTRA Scrub The Day Away
There are two kinds of salt in the ASUTRA Scrub The Day Away. The first is Dead Sea salt, which contains more than 20 healing minerals, and the other is Himalayan salt that's ground extra fine for gentle exfoliation. It's the perfect way to buff off dead skin cells, revitalizing your skin and encouraging renewal. In addition to the salt, there are other nourishing ingredients. These include coconut, sweet orange, grapefruit, and lemon oils to detoxify and hydrate while combating blemishes and blocked pores. The result is soft skin in just minutes!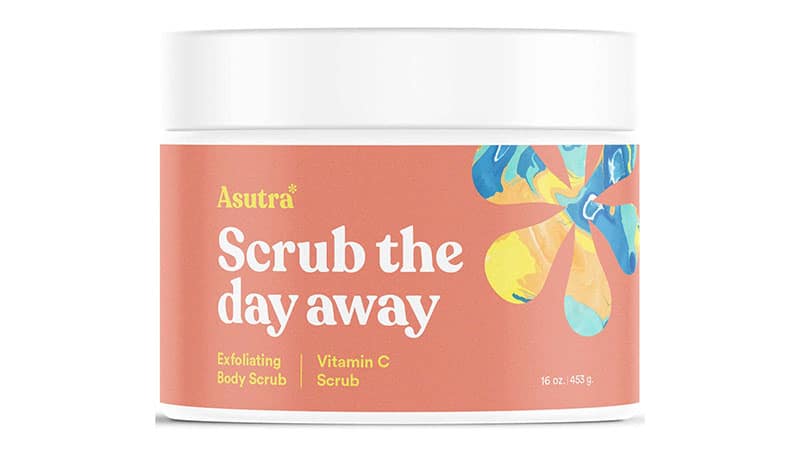 21. GiGi No Bump Body Scrub with Salicylic Acid for Ingrown Hair & Razor Burns
The No Bump Body Scrub from Gigi takes a two-pronged approach to smooth skin, using both physical and chemical exfoliants. Salicylic acid is the key ingredient. It's a powerful beta hydroxy acid that penetrates the pores to remove build-up and dissolve dead skin cells for clean and clear skin. As such, it's ideal for minimizing ingrown hair, skin bumps, and razor burn. Other great ingredients include rice bran wax which is rich in antioxidants to help protect the skin from free radical damage and environmental aggressors. With regular use, you'll enjoy brighter, smoother, more hydrated skin.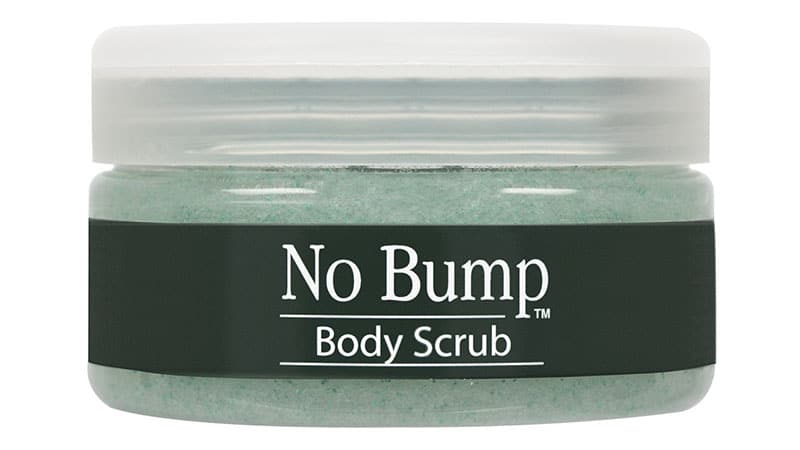 22. Soap & Glory Call of Fruity Summer Scrubbin' Cooling Body Scrub
Physically you might be in your shower when you use this body scrub from Soap & Glory. However, mentally, you'll be on a tropical island listening to waves crashing on a beach as the wind rustles the leaves of a nearby palm tree. That's all thanks to the exotic Call of Fruity fragrance boasting tropical fruits and hibiscus. Beyond the alluring scent, you'll find a body scrub enriched with exfoliating coconut shell and pink jojoba to slough away all the dead skins cells and dirt that clog your pores and causing dryness and itching. Plus, the Exotic-cool blend has a cooling effect on the skin, leaving you feeling fresh and invigorated.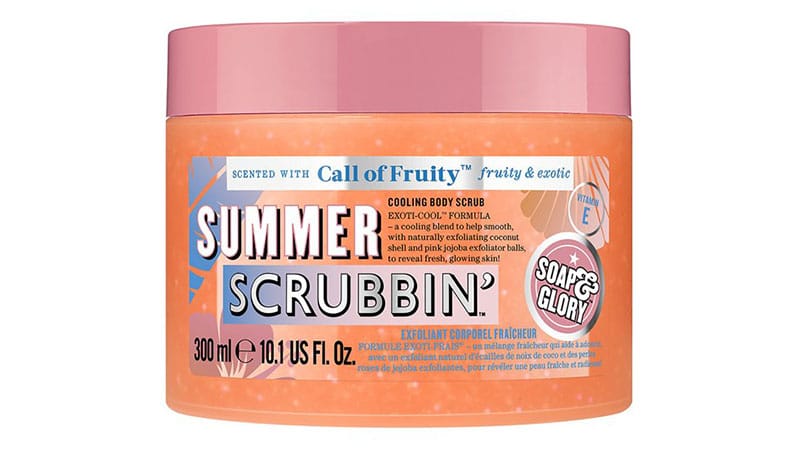 23. Find Your Happy Place Body Scrub Souffle Catching the Sunrise Mango And Sparkling Citrus
The delightfully light texture of this scrub souffle makes it easy to find your happy place while you take time out from a busy day for some self-care. It gently buffs away dead and dry skin, leaving you feeling clean, smooth, and radiant. Plus, it boasts a triple hydrating blend of shea butter, cocoa butter, and vitamin E for extra softness. Just like the label, the delicate scent will transport you somewhere tropical. Breathe in the sweet mango, wild pineapple, sparkling grapefruit, and golden amber as you find your inner peace.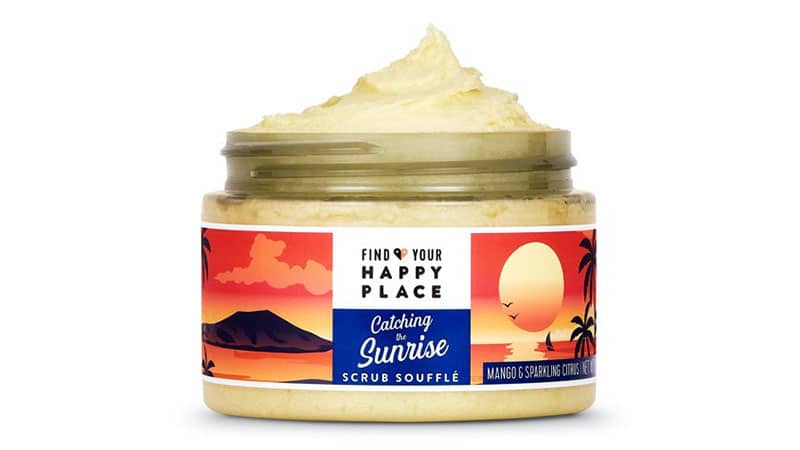 24. Skinstitut Glycolic Scrub 14%
If you're looking for a cosmeceutical scrub, then Skinstitut's Glycolic Scrub 14% is a great choice. It boasts a double punch by using both physical and chemical exfoliants in the form of jojoba beads and glycolic acid. The acid, which is an AHA, breaks the bonds of the dead skin cells, while the jojoba beads gently slough them off, removing impurities and congestion. You'll end up with refined texture, fewer blemishes, and healthy cell renewal for plumper a, more youthful appearance. The additional tea tree oil is antibacterial and soothing. Best of all, this formula is gentle enough for both the face and body.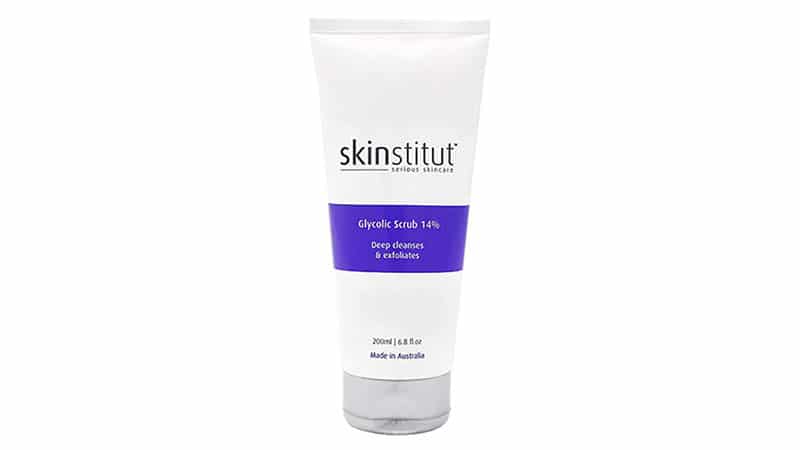 25. Sand&Sky Australian Pink Clay Smoothing Body Sand
Get your skin silky soft, and beach-ready with the illuminating Australian Pink Clay Smoothing Body Sand from Sand&Sky. This beautiful product detoxes your skin thanks to the pink clay, which draws out impurities. Then, the coconut and macadamia shells buff away dead skin cells for extra smoothness, while the macadamia nut oil leaves your skin nourished and hydrated. Other benefits include fewer ingrown hair and less noticeable cellulite and stretch marks. Finally, biodegradable Mica lets you shine bright with a stunning shimmery effect so you can glow all day.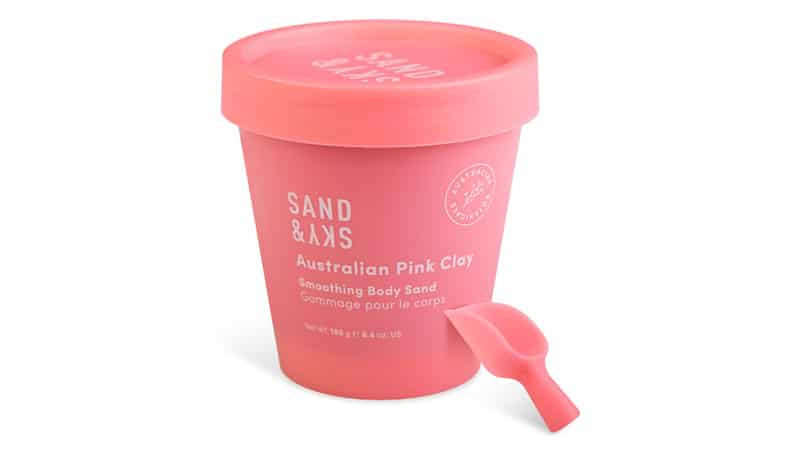 FAQs
Which body scrubs are the best?
There are some great body scrubs on the market that will leave you with soft, silky skin. Try the Frank Body Express-O Coffee Scrub, Tree Hut Tahitian Vanilla Bean Shea Sugar Scrub, or the Oribe Cote d'Azur Body Scrub. 
What is the best body scrub for sensitive skin?
The best body scrubs for sensitive skin will use sugar as the abrasive, as it's less intense than salt or other alternatives. Try Dove Exfoliating Body Polish, Sand&Sky Australian Pink Clay Smoothing Body Sand, and Brooklyn Botany Brown Sugar Scrub. 
What is the best body scrub to remove dead skin?
All scrubs do a great job of sloughing off dead skin cells; however, if you really want bang for your buck, look for one that combines both physical and chemical exfoliants. The First Aid Beauty KP Bump Eraser Body Scrub with 10% AHA, GiGi No Bump Body Scrub with Salicylic Acid, and Skinstitut Glycolic Scrub 14% are great options. 
Do body scrubs make a difference?
Body scrubs definitely make a difference to your skin; however, the key is consistent use. If you use it once in a blue moon, you'll feel great for a couple of days, but because your skin is in a constant cycle of regeneration, regular use will provide the best results. Aim for two to three times a week for the ultimate glow. 
What is the best sugar for body scrubs?
Brown sugar is one of the least abrasive sugar options, so it's great for a gentle scrub. Meanwhile, unrefined cane sugars boast extra nutrients such as calcium, iron, magnesium, and potassium, which are also great for the skin. 
What oil is best for body scrubs?
Some of the best oils for a body scrub include sweet almond, virgin coconut, avocado, and grapeseed oil. 
SUBSCRIBE TO OUR NEWSLETTER
Subscribe to our mailing list and get interesting stuff and updates to your email inbox.