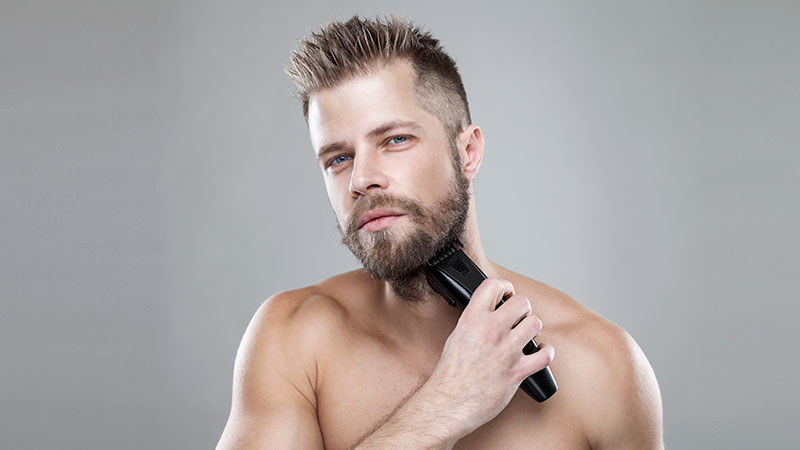 Whether you prefer a 5 o'clock shadow or fashionable scruff, there's a beard trimmer to meet your needs. Alternatively, you can create epic fades and line-ups and take care of any unwanted ear or nose hair with specific attachments. If your a man who likes to feel and look great, then investing in one of these beard trimmers should be on your shopping list.
Best Beard Trimmers
1. Wahl Model 5622Groomsman Rechargeable Beard
Look your best with the Wahl Model 5622Groomsman Rechargeable trimmer. This easy to use beard trimmer has high-carbon precision-ground blades that are self-sharpening to provide a smooth result. It comes with an assortment of combs, allowing for 14 different trimming lengths, perfect for any length and thickness. There are three stubble combs, four hair guide combs, as well as an adjustable guide comb. The zippered storage pouch and dual voltage make it a great device for traveling. Change the head to easily switch to the nose and ear trimmer attachment. The blades on this attachment are conveniently waterproof, making it simple to rinse clean.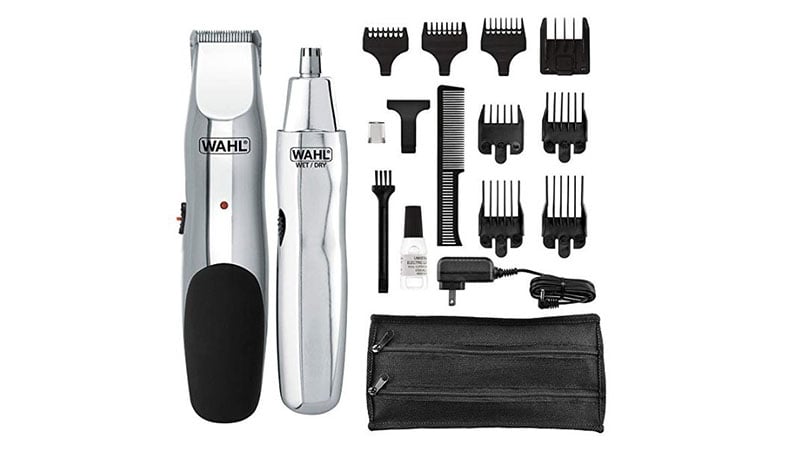 2. Philips Norelco MG3750 Multi Groom All-In-One Series 3000
Achieve your best look with this 13-piece, multi-use beard trimmer. Choose from three beard guards, plus a stubble guard to trim any length of facial hair. Create lines as sharp as your wit with both a full-size trimmer and a precision attachment, for the trickier areas. Finally, tidy up further with a nose and ear trimmer, plus three hair guards for touch-ups between trips to the barber. The tempered steel blades are self-sharpening and incredibly durable, while cleaning and maintenance are easy. There's no need for oil, both the blades and guards are easy to take off and rinse, and the set comes with a cleaning brush. The device can run for 60 minutes, and the lithium-ion battery is easily rechargeable. Storage is simple with the included accessory bag.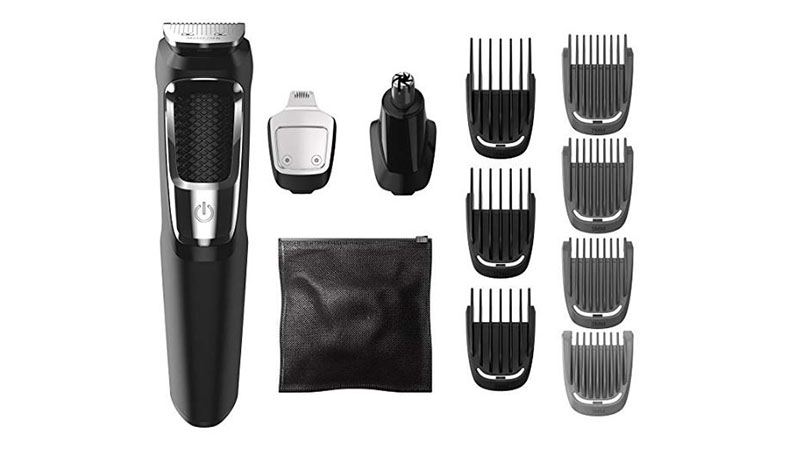 3. Remington PG6025 All-in-1 Lithium Powered Grooming Kit
High-performance power and 14 length and style settings let you take control of your beard with the Remington PG6025. Use the beard trimmer without a comb to create clean lines and a smooth, close shave. The precision attachment lets you get into the finer details, while the ear and nose trimmer comfortably removes hair from those areas. Then, regardless of your beard length, the three snap-on combs, and adjustable comb with 8 options, make trimming any style, shape, or length easy. The adjustable comb is also great for touching up your haircut. The textured grip, cordless use, self-sharpening surgical steel blades, and power indicator provide versatile functionality. Wash the removable attachments under a running faucet, and pack it all up in the storage pouch.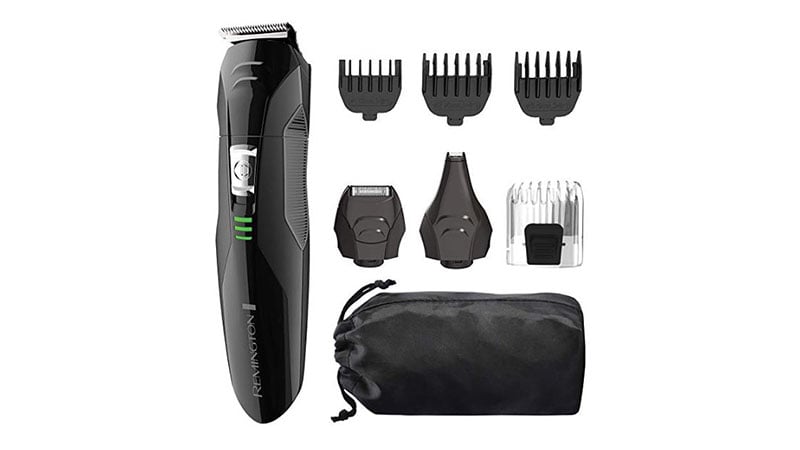 4. Wahl Beard and Nose Trimmer for Men
This dual-voltage device is great for the jet-set. The lithium-ion + technology gives it a 4-hour run time from a single hour charge, which is convenient when you're traveling. The brushed stainless steel body also adds something a little extra to the stylish design. In terms of grooming, the four different heads have you covered head to toe. The T-blade gives you the ability to create immaculate lines and quality shades. The eight combs and four beard guides assist in trimming varying lengths. In addition, the detail shaver and detail trimmer get you up close to trickier areas such as around the mouth. And finally, the rotary personal trimmer removes hair from the more sensitive nose and ears.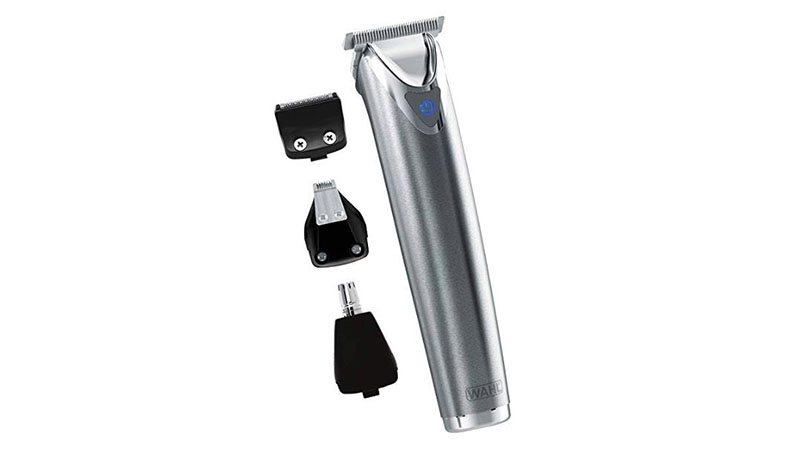 5. Hatteker Beard Trimmer Kit
This multi-functional beard trimmer set keeps you looking good all over. The USB docking station means it's not only easy to charge but keeps the accessories neat and tidy. The accessories include a nose trimmer, trimming combs for lengths from 3-12mm, as well as an adjustable precision dial from 1-10mm. With so many options, you can use this on your beard, body, or head, to create everything from even-length facial hair to intricate hair designs. Know exactly how much time you have left with the easy-to-read LED display. Similarly, this also shows you how long the device needs to charge. Cleaning couldn't be more simple − the whole body is fully washable, just let it dry completely before storing.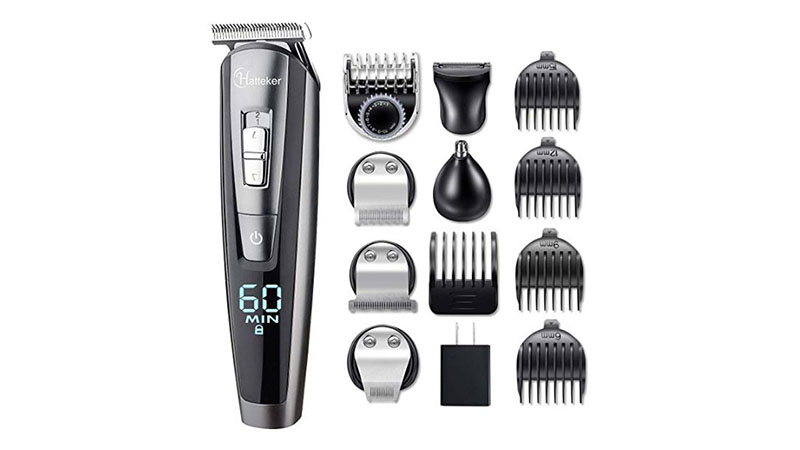 6. Panasonic Cordless Men's Beard Trimmer
Keep it simple with this Panasonic cordless trimmer. The ergonomic, Italian design, with rubber grips, makes handling comfortable and safe. The case is fully waterproof. As a result, you can use it wet or dry, even taking it in the shower. There are water channels in the head, directed under the blade, to flush excess hairs out. This means cleaning is also incredibly easy. The dial on the built-in adjustable guide has 19 length options. For precision work, simply take the guide off to create clean, fine lines. The slimline body fits nicely into the compact charging station, which gives up to 50 minutes of shaving time. It's also a great size and shape for traveling, taking up minimal luggage space.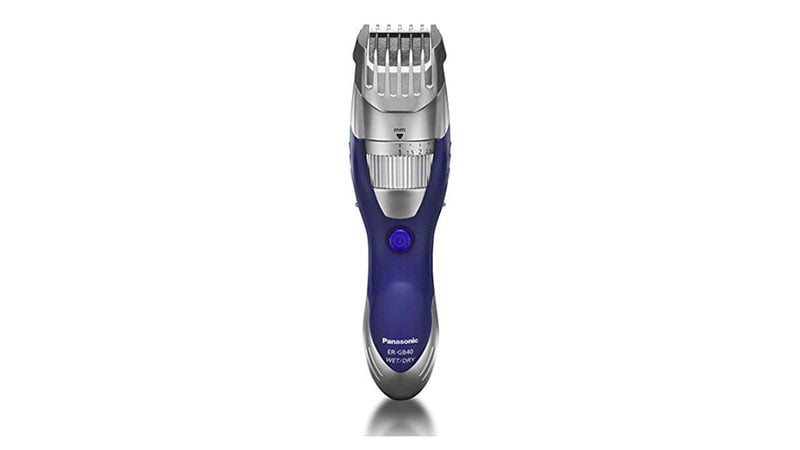 7. Philips Norelco BT7215/49, Vacuum Beard Trimmer Series 7200
If you don't like cleaning up bits of stray hair from shaving, then the Philips Norelco BT7215/49 is the beard trimmer for you. This device has an integrated vacuum system, with a high-velocity motor and fan that catches up to 90% of hair. This lifting action also makes trimming more effective and efficient, requiring fewer strokes and causing less irritation. Select from 20 length settings, all of which are built-in. To get clean edges, switch to the click-on precision trimmer. Once you're done, just rinse the self-sharpening stainless steel blades under running water, and empty the contents of the vacuum chamber straight into the trash. The trimmer needs to only charge for an hour to get 80 minutes of runtime and can be used while charging.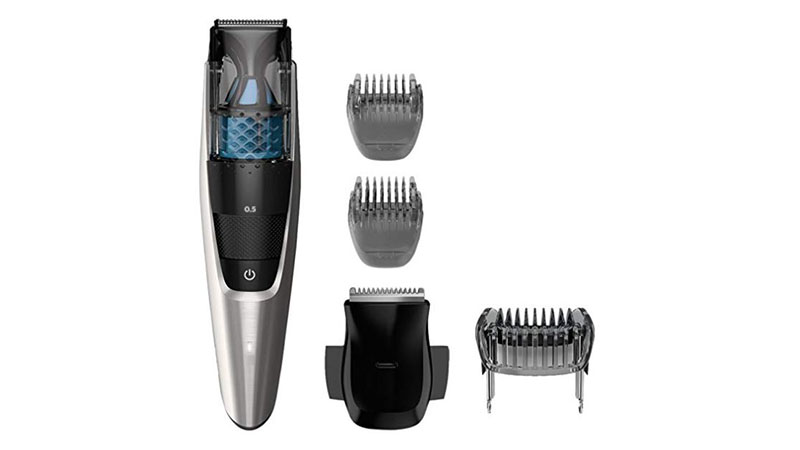 8. Braun Multi Grooming Kit MGK3980
Do it all with this multi-grooming kit – sexy stubble, office-ready corporate beards, and majestic full beards. Use the eight different attachments for a variety of tasks, from trimming nose hair to cutting sharp edges. There's also a body grooming attachment for safe and effective hair maintenance on your torso and beyond. The sharp, durable blades cut hair without pulling, and using a little bit of blade oil helps maintain them over time. The device is waterproof, so it's perfect for in the shower and is a breeze to clean. Finally, the stylish, zippered case makes storage both easy and good looking.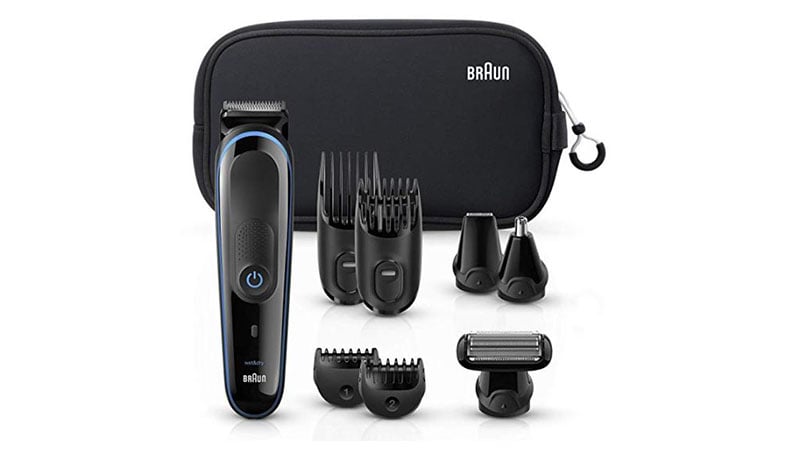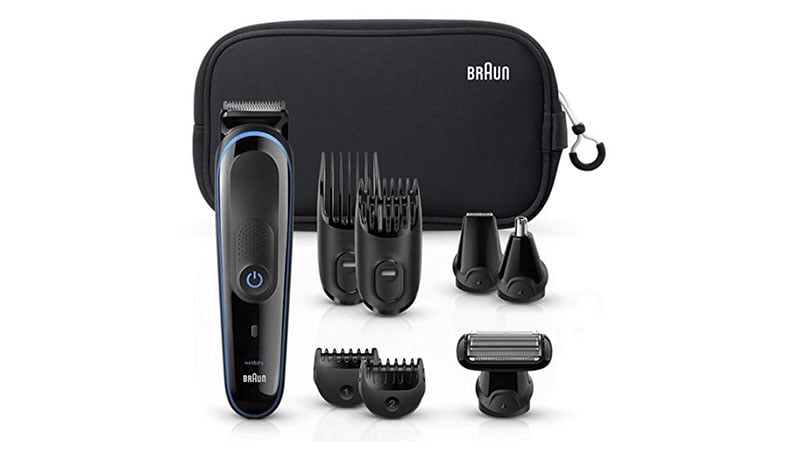 9. Suprent Li-ion Rechargeable Beard Trimmer
Like the Gooleen Beard Trimmer above, the Suprent Li-ion Rechargeable Beard Trimmer has five trimming heads. However, it ups the ante with 11 guide combs, including a barber and styling comb. This means you can trim your beard to any length, create sharp lines around your beard edges, and style your hair easily. In terms of practicality, the high-performance blades are low-friction and self-sharpening. The lithium-ion battery can run for up to 60 minutes with a full charge or can support a single trim, with just five minutes of charging. However, the well-organized docking station charges, so you can store your trimmer neatly, and know it will always be charged when you want it.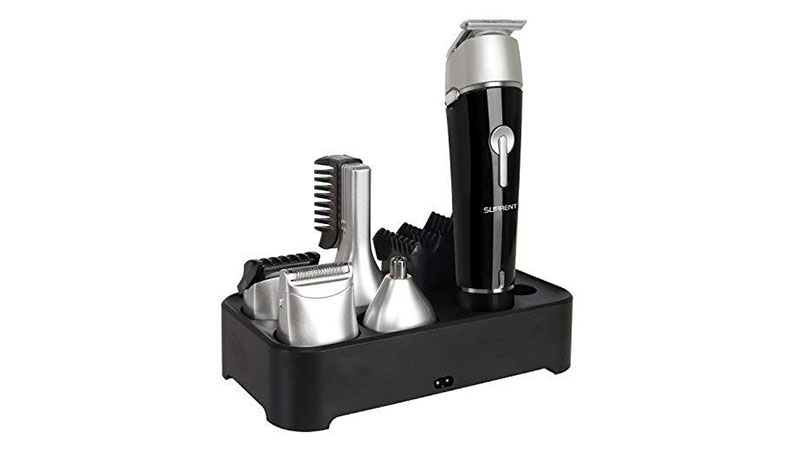 10. Suprent Beard Trimmer Adjustable length
Another device for the gents who like to keep it simple, this beard trimmer is an all-in-one unit. The precision dial lets you choose lengths from 2-14mm, allowing for ultimate control. A full charge takes only 90 minutes and gives the trimmer up to 70 minutes of running time, which is plenty of time to go from fine, to on fire. It's light and compact, so it's great for when you're on the go. There's also a safety lock, so if you are transporting it around, you can do so safely. It's cleaned effortlessly, with detachable parts that can be washed under running water.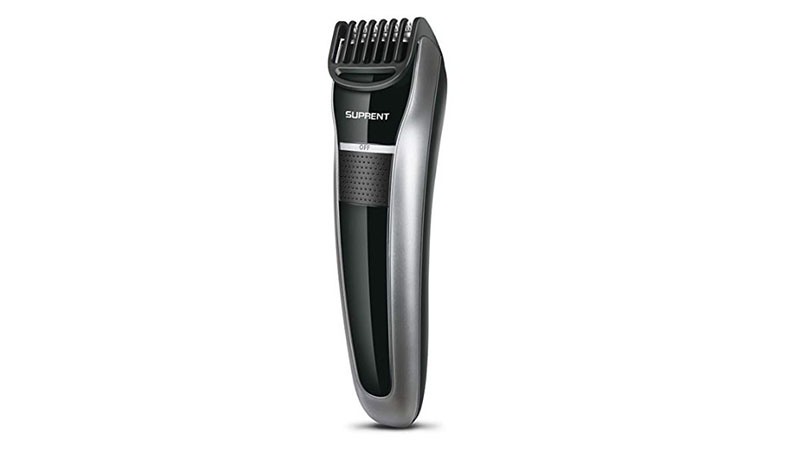 11. Abbicen 5 in 1 Multi-functional Beard Trimmer
Designed for versatility and a clean trimming experience, this Abbicen multi-functional trimmer is an excellent choice. The docking station provides both organizations, as well as charging capacity, meaning it'll always be ready. The five different cutting heads are easy to change with the release buttons on the side. Choose the hair clipper, hair trimmer, nose trimmer, shaver or tidy up your lines with the precision trimmer. You can also create your favorite look easily, picking from the four combs to help control length. Both the blades and combs can be rinsed under a running tap, making clean up quick, so you can get on with your day.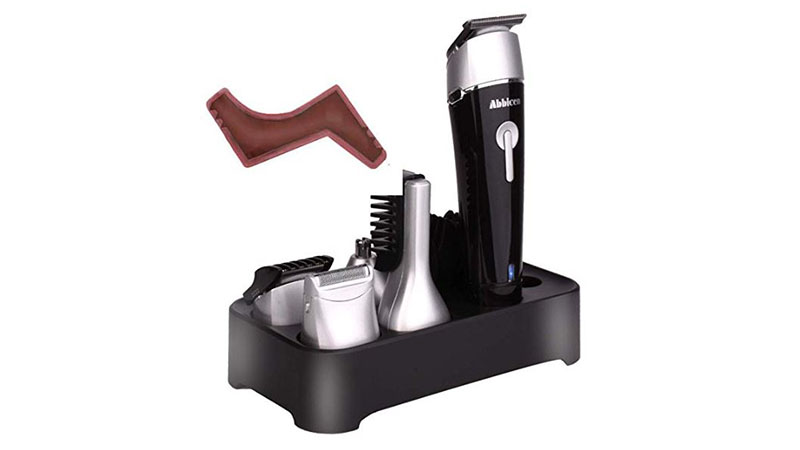 12. Conair Man Beard & Mustache Trimmer
Get in and get it done with this good-value, no-fuss beard trimmer. The ease of use and simple set up is a great option for first-time trimmers, or for gents who like to keep life classic and low-maintenance. It's a corded device, plugging into the wall for use, so there's no concern about running out of power mid-shave. It comes with three all-purpose combs in the set, as well as a five-position adjustable comb, and two jawline combs to provide sufficient variation. The stainless steel blades are easy to remove and clean. This trimmer from Conair Man keeps it simple, takes it back to basics, and gets the job done with minimal fuss.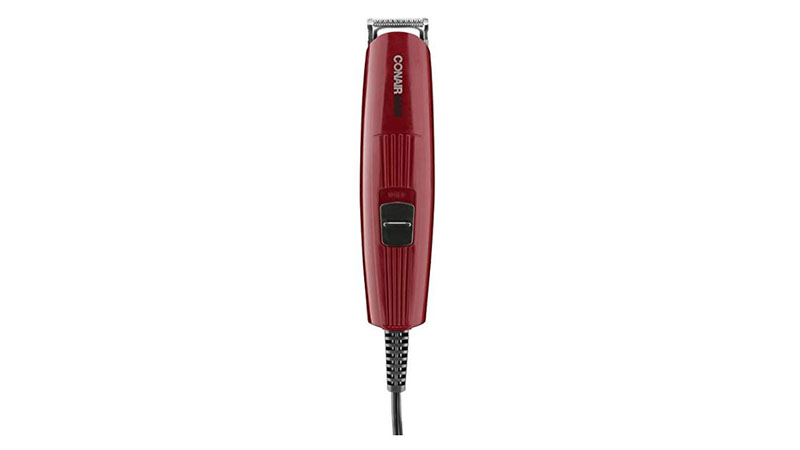 13. Sminiker Professional Waterproof Man's Grooming Kit
The Sminiker is another 5-in-1 multifunction trimmer kit. It comes with the classic combo of a hair clipper, hair trimmer, nose trimmer, shaver, and a precision trimmer. Go for a clean shave, a general shape-up, or create sharp edges. Whatever look you desire, one of the four comb attachments will help you nail it. The docking station means that storage and charging are combined, and 2 hours' charges give you 60 minutes of continuous use. In addition, you can take your grooming to the next level, with the included bonus manicure kit to keep your nails and cuticles just as tidy as your facial hair.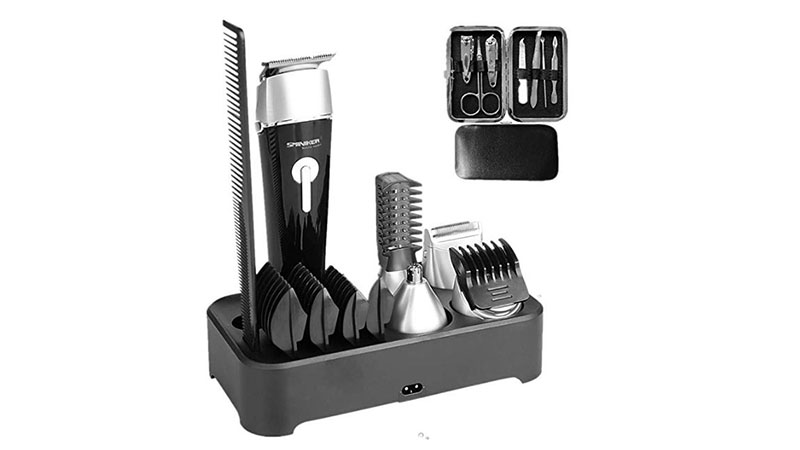 14. Brightup Hair Clippers
This multifunction grooming kit from Brightup will have you clipped, trimmed, and smoothed to perfection. Not only is it great for tidying up your beard and facial hair, but you can also use it on the rest of your body. It comes equipped with various attachments and combs, including a full size, precision, body hair, nose, and micro shaver trimmers. This lets you tackle hair you don't want, no matter where it is. The lithium-ion battery charges using a convenient USB cable and will run for 90 minutes on a full charge. Plus, the body of the clippers can be washed in water, while the kit also includes a cleaning brush and oil, so you can keep your blade clear of debris and function at its best.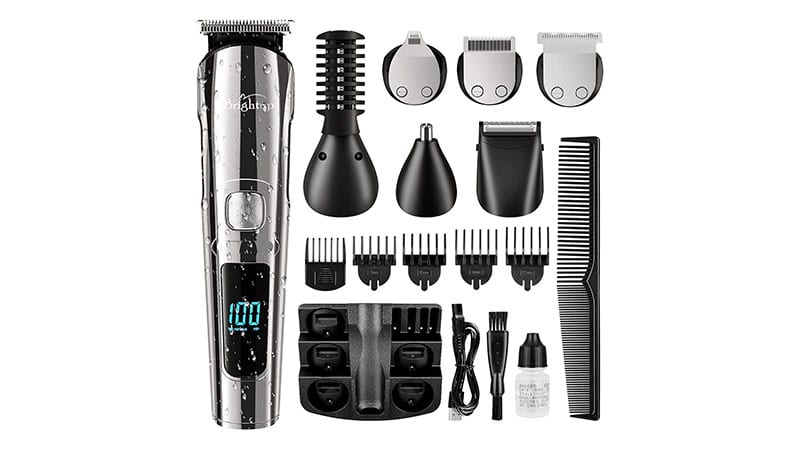 15. Surker Beard Trimmer for Men
Enjoy the convenient storage unit that comes with the Surker Beard Trimmer to keep your bathroom vanity neat and tidy. The main unit, six trimmer attachments, and five guide combs all have a place for easy access, making your hair maintenance routine effortless. Detachable titanium blades stay sharp, even with use, and are easy to clean. Additionally, the whole body can be rinsed under running water to make washing up simple. A digital display lets you know how much power is left and reminds you to set it on to charge. Finally, there's a lock function for traveling. This means your device won't accidentally turn on in transit, shredding your clothes or causing the TSA to ask awkward questions!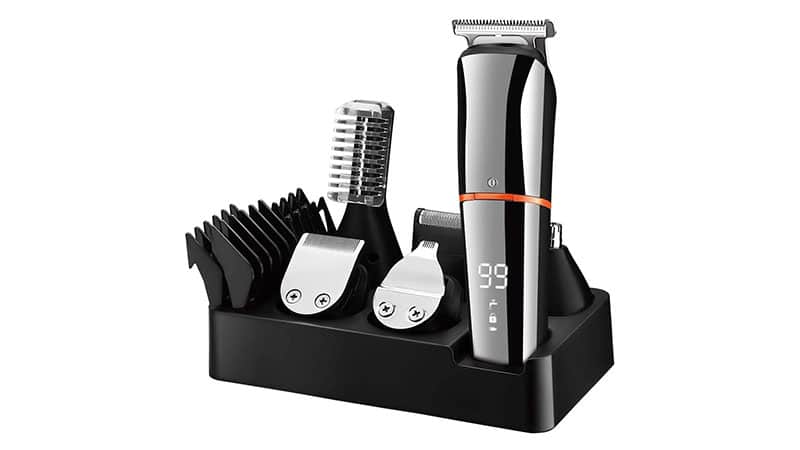 16. NAVANINO Hair Clippers
Whether you prefer to shave over the sink or in the shower, the NAVANINO Hair Clippers will suit both needs. Enjoy 90 minutes of run time, with detachable USB charging for the lithium-ion battery. The LED screen also shows the remaining power supply, cleaning and charging tips, and a screen lock function. Select from five attachment heads — one adjustable beard comb and four guide combs for the perfect haircut or beard trim. Then, take care of any unruly nose and ear hair with the rotary trimmer, while the precision detail head is ideal for line-ups and mustaches. The blades use stainless steel to prevent rusting, while the anti-pinch design helps avoid irritation. Finally, simply clean the whole unit in water to wash off excess hair once you're finished.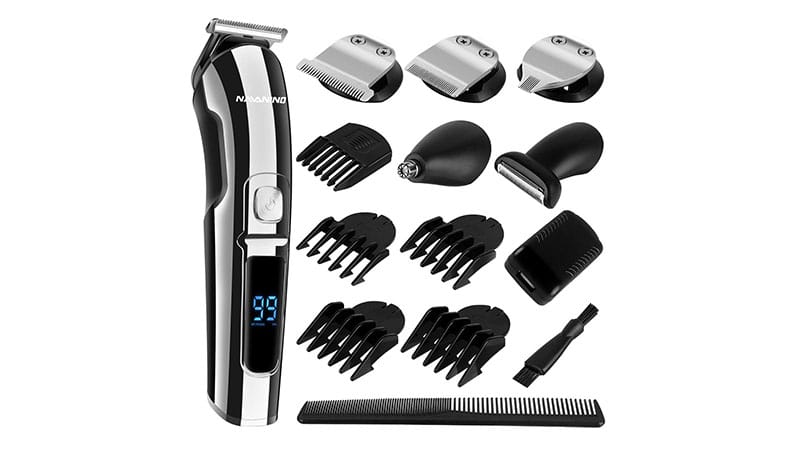 17. Philips Norelco Multigroom 7000 23 Attachments
Be spoilt for choice when it comes to your grooming with the Philips Norelco Multigroom 7000. It has 23 attachments for all your facial, head, and body hair styling needs. There are five trimming tools, two body guards, two fade combs, four hair guards, and five options for your beard. Meanwhile, the DualCut technology has self-sharpening maintenance-free blades and maximum precision. Finally, the lithium-ion battery has a huge run time, with up to five hours powering the full metal motor that's reinforced with tempered steel for better performance.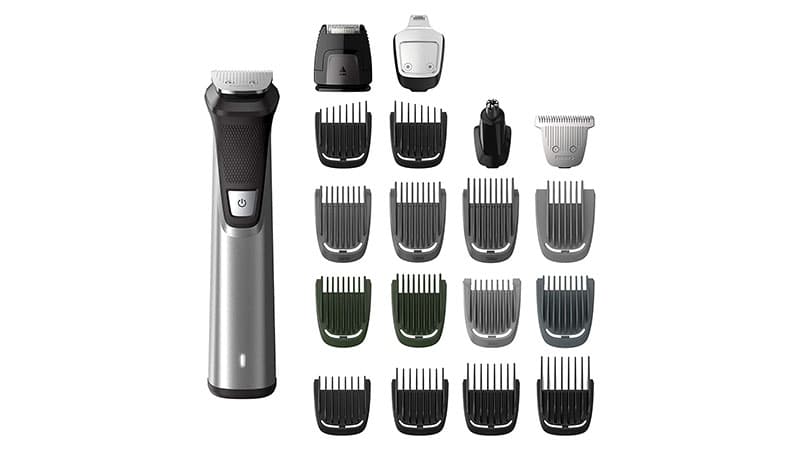 18. Wahl Aqua Blade Rechargeable Wet Dry Lithium Ion Deluxe Trimming Kit
Shave and detail your beard, stubble, body hair, nose hair, and ear hair with ease, using the Wahl Aqua Blade trimmer. Its wet/dry design means you can use it in the shower or over the sink – whatever your preference. The self-sharpening precision blades also ensure you'll always have a clean, sharp cut that won't irritate your skin. Select from four attachments, including an extreme precision T-blade, a detail shaver, rotary personal trimmer, and detail trimmer. Then, there are also 12 guide combs, so you get the perfect length beard, with options for a perfect five o'clock shadow to a full beard. Finally, this trimmer is also great for travel, as it comes in a convenient travel pouch, and has dual voltage, so no matter where in the world you are, you can charge the battery without issues.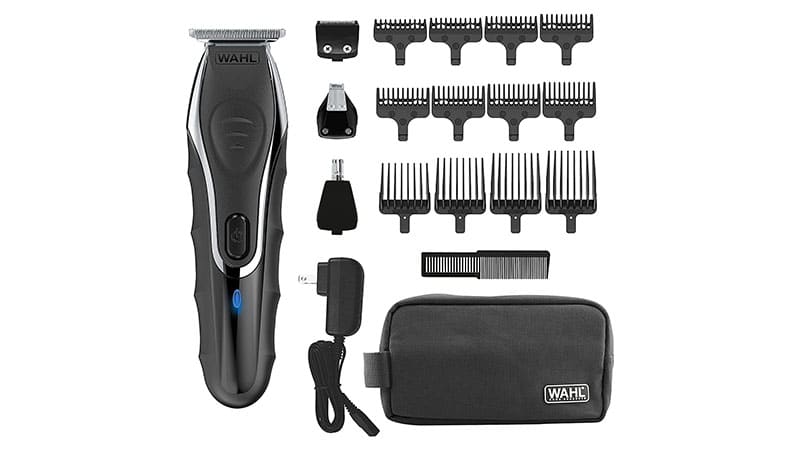 19. Beard Trimmer by Bevel
Bevel's founder and CEO, Tristan Walker, developed a range of trimmers suited for the unique needs of black skin after being frustrated with the lack of options on the market. This beard trimmer keeps it simple, with a tool-free zero-gap dial for a cleaner, smoother shave, reducing bumps, ingrown hairs, and skin irritation. The blade snaps on and off easily for simple adjusting and cleaning. Plus, it boasts an antimicrobial coating to repel dirt and oil. Meanwhile, a soft-touch grip and faceted body give you excellent control and non-slip handling. Enjoy 6 hours of battery life on a full charge, with equal power regardless if you're operating it wirelessly or while plugged in. The battery also stays charged for 180 days when not in use.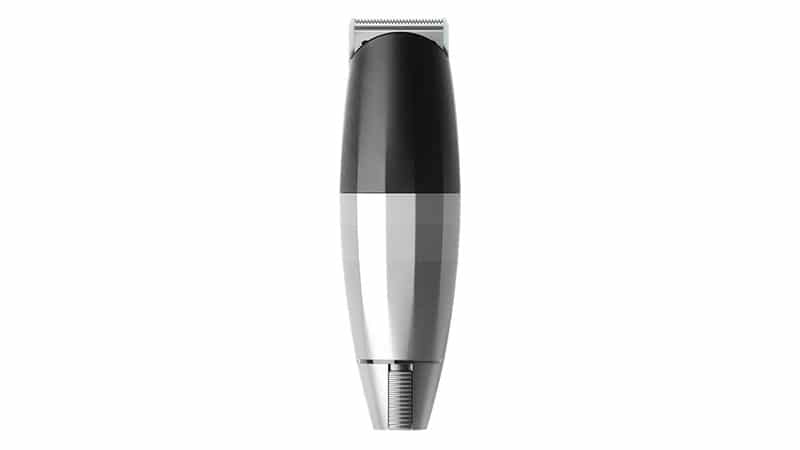 20. BaBylissPRO Barberology MetalFX Series Outlining Trimmer
Not only is this gold trimmer from BaBylissPRO Barberology incredibly stylish, but it's also very powerful. The high-torque motor was designed by Ferarri, giving the zero-gap T-blade speeds up to 7200RPM. This means it's ideal for detailed work like hard lines and sharp edges. Use it corded or cordless, depending on your needs, and enjoy 2 hours of run time on a full charge thanks to the lithium-ion battery. There's also a LED charge indicator light to let you know when it's running low on juice. Finally, the glossy metal finish not only looks good, but the knurled barrel grip has a masculine edge and ensures non-slip operation for smooth, safe results.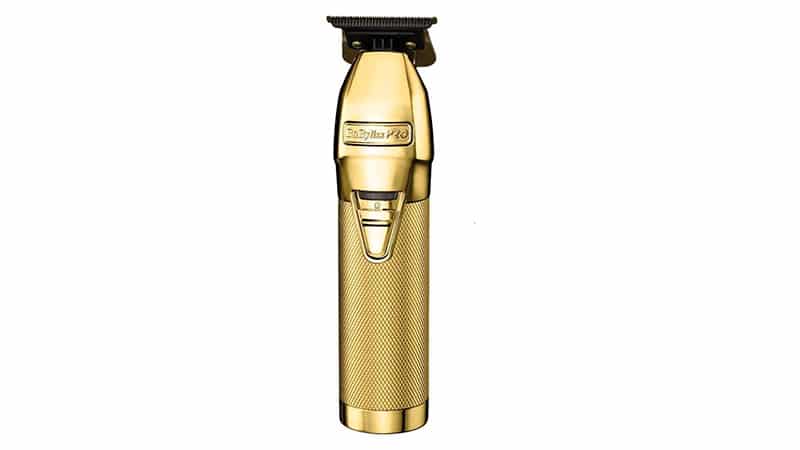 21. SUPRENT Adjustable Beard Trimmer
Ditch the need for dozens of attachments with the SUPRENT Adjustable Beard Trimmer. This innovative design has an adjustable precision dial letting you select from 19 length settings for the ultimate control over your results, regardless of your beard length. Boasting a powerful 3.6V DC motor and ultra-sharp 211 stainless steel blades, you can expect clean, fast trims. Finally, stay charged with 70 minutes of run time, an LED low battery indicator, and a convenient USB charging cable.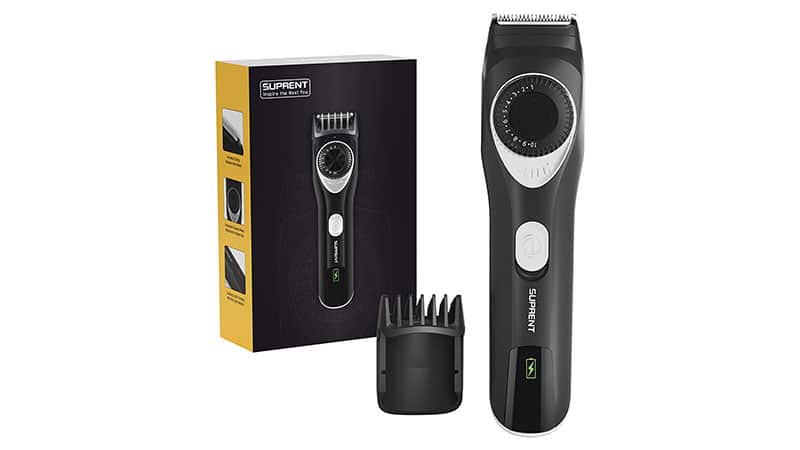 22. King C. Gillette Cordless Men's Beard Trimmer Kit
The King C. Gillette Cordless Men's Beard Trimmer Kit comes with three combs, allowing you to trim your beard to lengths between 1 millimeter for perfect stubble to 21 millimeters for a fuller beard. The heads switch out easily over the blade and slide up and down the unit to adjust between the different lengths. A full charge gives you 50 minutes of run time without any loss of function while cordless. Once you've finished creating your own unique style, cleanup is simple with washable heads and combs that you can rinse under running water. The addition of a cleaning brush also helps to remove any stubborn hairs.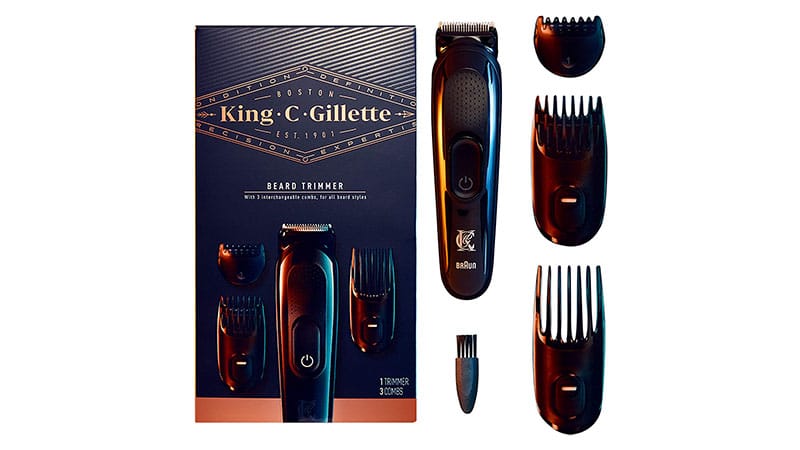 23. WAHL Beard/Mustache Trimmer
If you're looking for a smooth and precise trim, then Wahl is your answer. This beard trimmer boasts self-sharpening blades, so every cut is clean and sharp. Select from seven individual beard guide combs or the six-position adjustable guide that lets you achieve any beard length from stubble to full whiskers. The kit also includes a charging cord, cleaning brush, blade oil, and a comb to help with styling. Plus, there's also a travel lock, so if you're on a business trip or vacation, you don't need to worry about it switching on in transit and destroying your suitcase.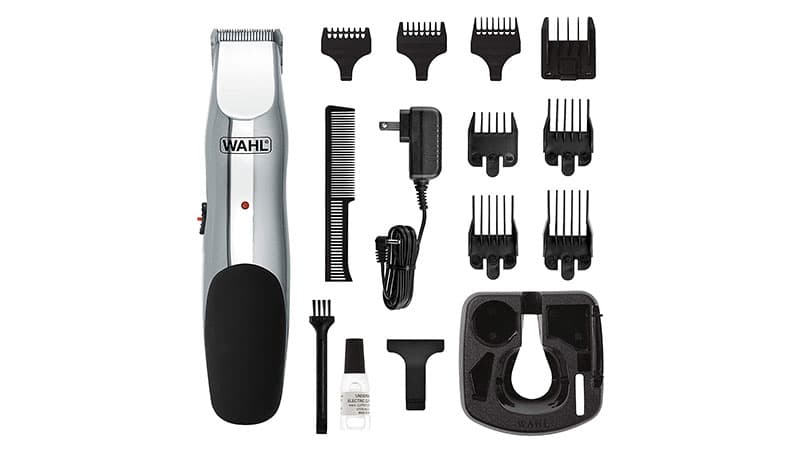 24. Philips Norelco OneBlade Face
An innovative design, the Philips Norelco OneBlade looks like a disposable razor but trims like a full-size electric beard trimmer. You can use it wet or dry, with foam, without foam, and even in the shower. Cordless operation adds to this versatility. Enjoy an efficient and comfortable shave, with the cutter moving at 200 times per second. As such, you can get a close shave and neat edges but using the trimmer without the attachments, or use one of the four stubble combs for tidying different lengths. It does come with two blades – one for your face, and one for your body. This means you can take care of even the most robust body hair. The blades do need to be replaced every 4 months, to ensure a continued effective and safe trimming or shaving experience.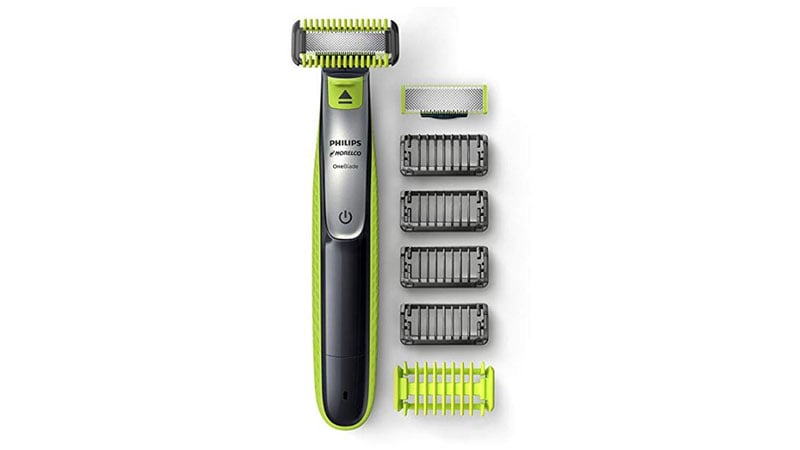 25. Gooleen Beard Trimmer
With 14 accessories, this set has a multitude of options. There are five trimming heads – a micro shaver, hair clippers, beard trimmer, nose trimmer, and body trimmer. Add to that, four trimmer combs for beard trimming and hair cutting, plus an additional comb for precision trimming. Rounding out the set is a charger, docking station, barber comb, cleaning comb, and blade oil. With this array of options, no hair will be left untamed. The device holds 90 minutes of charge, is voltage adaptable, and is also waterproof.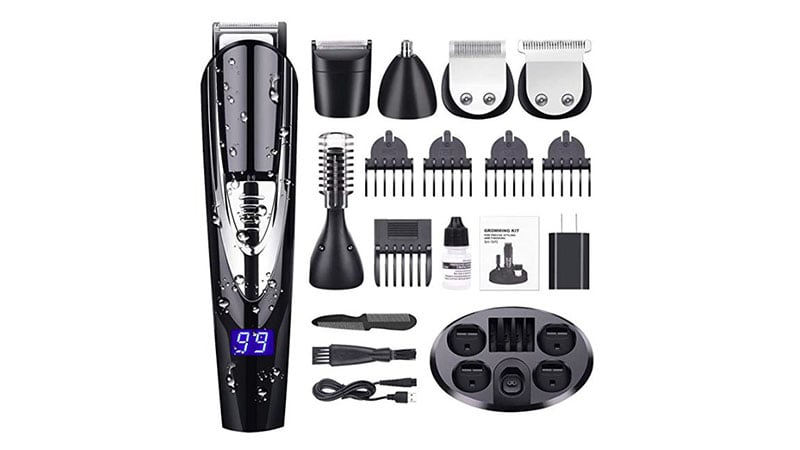 Beard Trimmer Buying Guide
Choosing the right beard trimmer has a few factors to consider before throwing down your cash. You'll need to think about the quality of the device you're looking for as well as your budget (especially because these two factors regularly correlate). Then you'll also need to think about what length beard you have (or want), as this will influence what kinds of attachments and combs you need. Finally, do you prefer to trim your beard in the shower or the over the sink, and therefore require a wet or dry designed unit?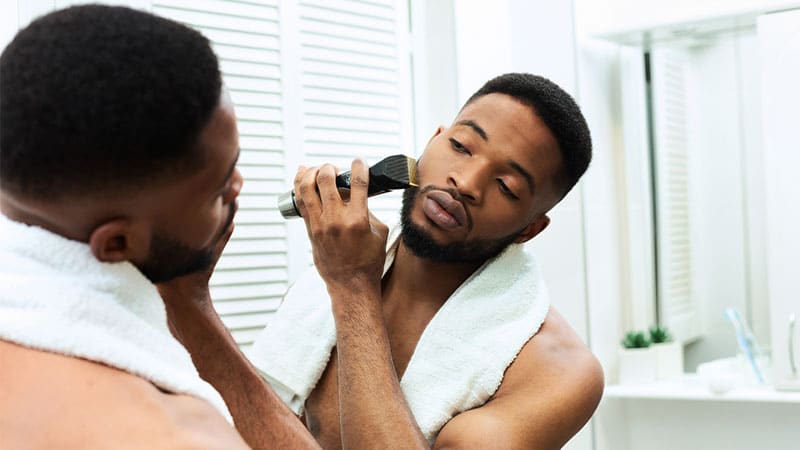 Quality
While beard trimmers aren't necessarily big-budget items, you still want to ensure you're purchasing a good quality unit. This meant that not only will it last, but it will cut more effectively and efficiently. Look for stainless steel blades that won't rust to deteriorate with wear. When it comes to corded or cordless, it's a matter of personal preference. Cordless is a great option if you frequently travel, while corded ones are excellent if you have a power outlet in your bathroom.
Length Option
Choosing a trimmer with varying length options gives you the most flexibility when grooming your beard. Most styles use different comb attachments that you can change depending on your desired length. However, some also boast a precision dial that changes the length with the twist of a knob. Other features to look for include different heads for more precision trimming, so you can neaten up your edges or even trim unwanted nose and ear hair safely.
Wet/Dry Trimming
When you groom your beard comes down to personal preference. Some guys like to do it in the shower, which also means less mess, so look for waterproof trimmers that are designed for wet trimming. However, if you prefer to shave after a shower, then a dry-style trimmer is better suited. If you prefer to mix things up, there are specific designs that are equipped for both wet and dry trimming.
Budget
You don't have to break the bank when buying a new beard trimmer, but you can also splash out if you feel like it. Most trimmers will range from $30 to $130, depending on the features, attachments, and quality of the build. Units designed for professional use will be more expensive but also more robust and likely to last longer. However, most gents only require beard trimmers intended for at-home use.
FAQs
What is the best beard trimmer on the market?
Some of the best beard trimmers on the market are Wahl Model 5622Groomsman Rechargeable, Philips Norelco MG3750 Multi Groom All-In-One Series 3000, and Remington PG6025 All-in-1 Lithium Powered Grooming Kit.
What beard trimmers do barbers use?
Just like home use, the trimmer a barber chooses to use comes down to personal preference. However, the Wahl Professional Cordless Magic Clip and Philips Norelco 7000 series are both popular choices among professionals.
Do beard trimmers work?
Beard trimmers work perfectly for trimming a scruffy beard while still allowing you to keep some length. It means you don't have to choose between clean-shaven or scruff ball. The different settings work for different length beards and allow you to trim your beard into the ideal shape. It's an essential tool in any bearded man's grooming kit.
Which brand is best for trimmer?
Wahl, Philips, and Braun are the best brands for beard trimmers.
Do you shave up or down with a beard trimmer?
When trimming your beard, you want to shave against the grain. As such, you'll be shaving up, as your beard will grow down and out.
What length should I set my beard trimmer?
The length at which you set your beard trimmer will depend on what you want the end result to be. If you're after a fuller beard, then a longer comb that cuts between 15 and 21 millimeters is ideal. However, for a more stubbled look, two to three millimeters is perfect. If you're unsure, start longer, and you can always go back over with a shorter length if it doesn't take enough off.
Can we use a beard trimmer to remove pubic hair?
In short, yes, you can use a beard trimmer to remove pubic hair, but there are a few things to consider. Firstly, there are a few features that make trimming your more intimate areas more manageable and safer. This includes high-quality blades, a powerful motor, size guards, and a safety guard. You'll also need to clean your trimmer after each use to help prevent hair from clogging the blades and bacteria (from both your face and nether regions) from building up. While beard trimmers are reasonably versatile, if you're serious about your manscaping, it can be beneficial to have separate devices specially designed for each use.
SUBSCRIBE TO OUR NEWSLETTER
Subscribe to our mailing list and get interesting stuff and updates to your email inbox.