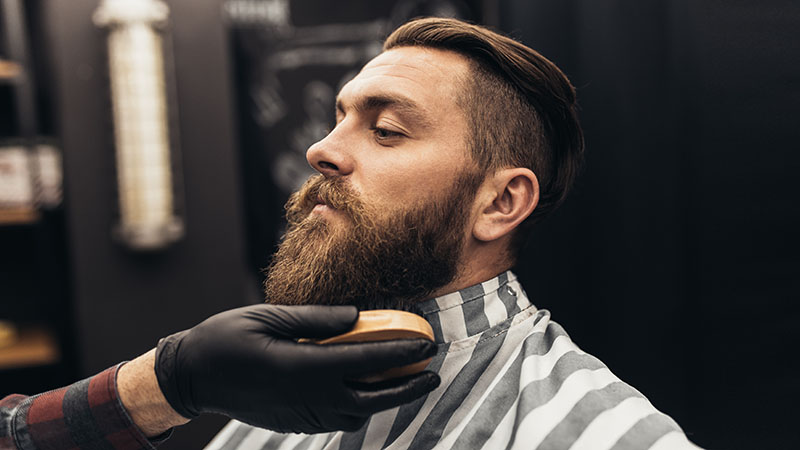 Brushing your beard is a crucial step to include in your maintenance routine. Doing so has multiple benefits to both your whiskers and face. Firstly, it helps exfoliate your skin and relieve itchiness, as well as stimulates the production of your skin's natural oils. Secondly, beard brushes help train the growth pattern and allows you to distribute beard oils and balms evenly through all of your facial hair. Using these products improves the health of the hair, makes your beard softer, and prevents split ends. Brushing also helps hide patchiness and removes dead hair for a fuller, healthier look. When it comes to a brush choice, the general rule is that the longer and thicker your beard is, the firmer you need the bristles to be. Lastly, synthetic or natural materials come down to personal preference.
RELATED: 15 Best Beard Trimmers That Cut With Ultimate Precision
RELATED: 10 Beard Straighteners That Will Tame Your Wild Beard
Best Beard Brushes
1. Smooth Viking Beard Beard Brush
Why choose between a beard brush or a comb, when you can have both? Enjoy the best of two worlds with this comprehensive styling and detangling kit from Smooth Viking Beard Care. Firstly, the beard brush is made with natural boar hair and sturdy wood. It's perfect for oiling and softening your beard, as well as styling and shaping. Plus, it helps rid your skin of flakiness, dandruff, and itchiness. The compact comb, made from pear wood, has both wide and narrow teeth for personalized grooming. It's the perfect travel size for freshening up on the go.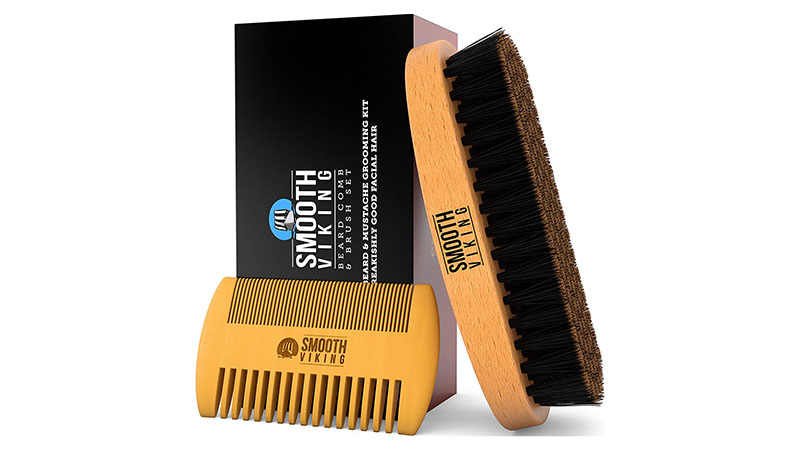 2. Diane 100% Boar 2-Sided Beard Brush
There's no need to choose between medium and firm bristles, as this double-sided brush has both. Consequently, it's an excellent option for gents who are growing their beards out. Otherwise, you can also use it as both a beard and a hairbrush. The boar-hair stimulates the face or scalp to encourage healthy hair growth and sebum production, and it exfoliates. Plus, enjoy easy detangling and smoothing for a tidy and stylish beard. Finally, Diane's advanced implantation technology means there's reduced bristle loss so that the brush will last through regular use.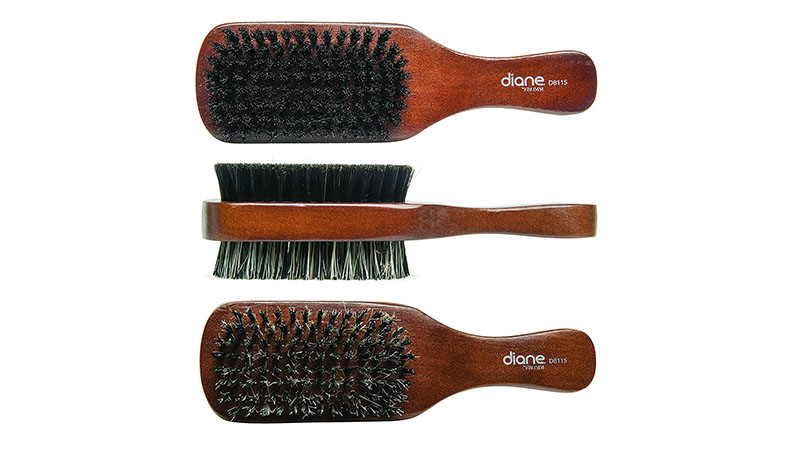 3. ZEUS 100% Boar Bristle Beard Brush
Based in California, Zeus has been keeping beards looking healthy and groomed since 2013. Their 100% boar hair beard brush, which is made in Germany, is durable and easy to use. Choose the soft bristles for short stubble, while gentlemen with long facial hair should select the firm bristles. This will ensure optimum detangling and excellent stimulation of the skin beneath your beard. Next, the Austrian pear wood handle has a comfortable grip and is hard-wearing, as are the boar hair bristles. These natural hairs gently massage your skin, and smooth and tame your stubble. Finally, the brush comes with a storage bag to protect it when not in use, or when you're traveling.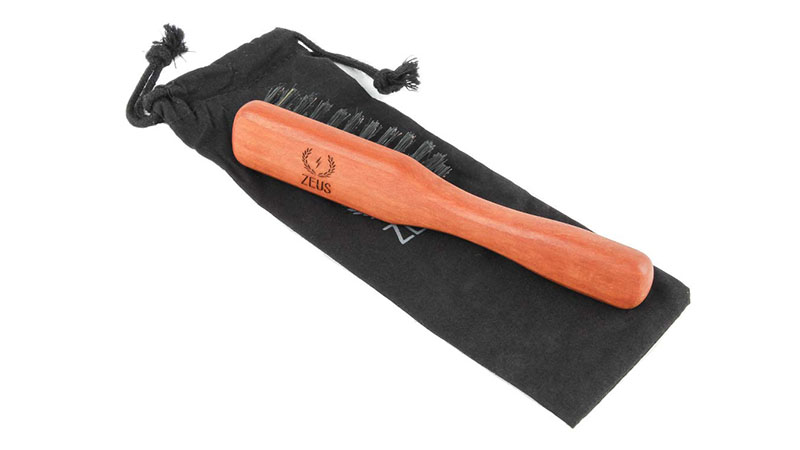 4. Diane Original Military Brush 100% Boar
Groom your beard to perfection with the Diane Original Military Brush. The oval-shaped brush, with its quality wood handle, sits comfortably in your hand for a secure grip. Plus, it's durable and won't break with extended daily use. The extra-firm boar bristles, with defined spacing, penetrate right down to your skin. As such, it makes distributing product and styling your beard straightforward. Plus, it gently yet satisfyingly exfoliates your face for healthy skin and stimulated hair growth.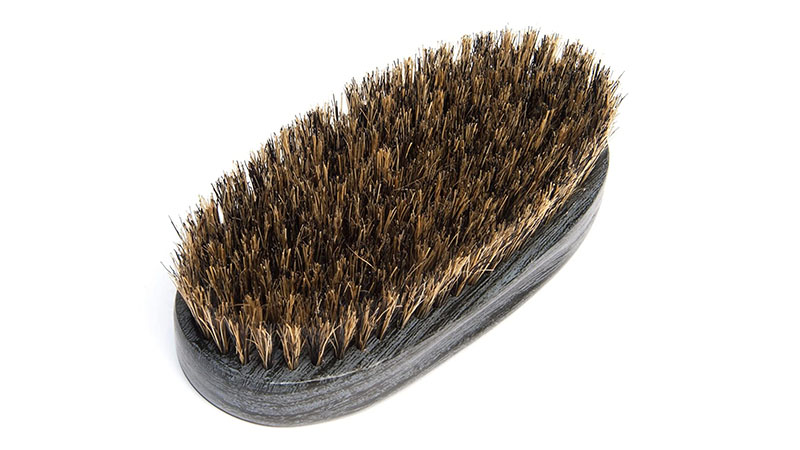 5. ZilberHaar Regular Beard Brush
The German-made ZilberHaar soft beard brush is an excellent choice for men with short beards. The soft, second-cut boar bristles easily reach the skin without scratching or irritation. As such, it revitalizes your face, relieves itchiness and ingrown hairs, and stimulates the hair follicles. The pearwood handles are thoroughly dried before they're carved, sanded, and oiled for the ultimate in durability. Finally, all the materials, including the wood and bristles, are sustainably sourced.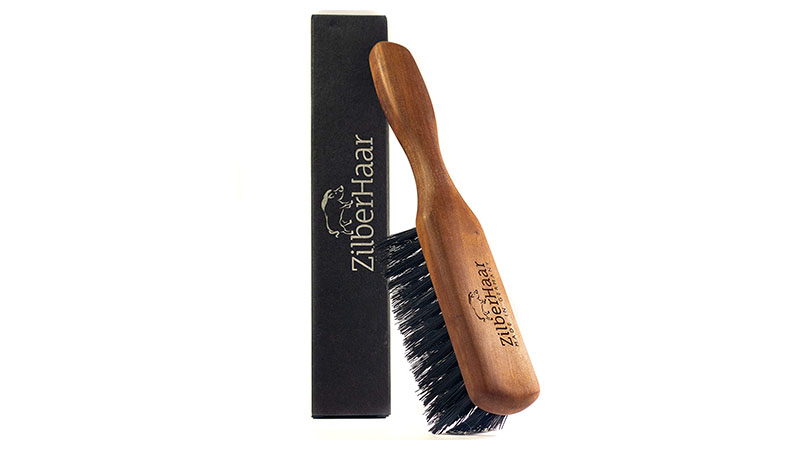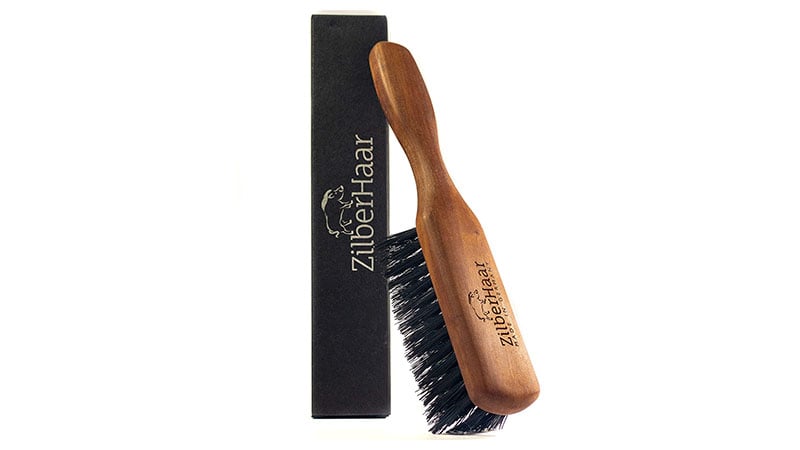 6. Beard Balm Application Brush
Apply your beard balm with ease using this handy applicator brush from Can You Handlebar. The innovative round shape is designed to dip directly into your beard balm tin. Alternatively, if beard oil is your preference, you can apply a few drops onto the bristles before brushing through your facial hair. This keeps your hands' mess and oil-free. The brush is made in the USA, using soft horsehair for the bristles and hardwood maple for the handle. Plus, the storage tin is perfect for travel, as well as keeping your beard brush clean and safe when not in use.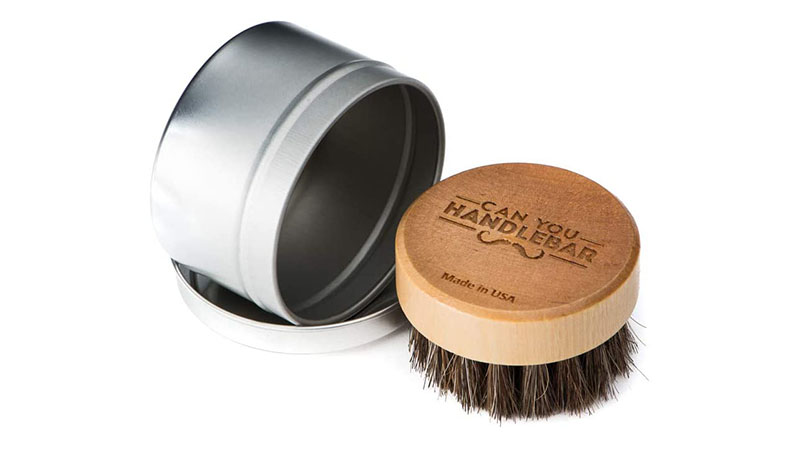 7. Badass Beard Care 100% Boars Beard Brush
Keep your morning routine badass and straightforward. This brush from Badass Beard Care features boar hair for static-free detangling. Plus, the molded grip on the hardwood frame is easy to hold, especially if you're still half-asleep. The brush, which measures just under seven inches long, is compact and durable. Combine this brush with one of Baddass Beard Care's premium beard balms or oils, to tame flyaways and shape your beard to perfection.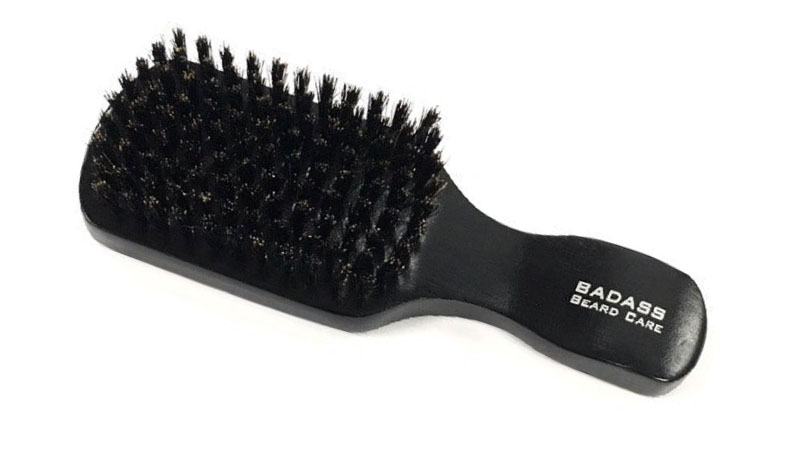 8. Beard Brush by ZilberHaar
Gentlemen with a full, long, biker or Viking beards will appreciate this beard brush from ZilberHaar. Made in Germany, the stiff bristles are perfect for penetrating long, bushy beards to give them a thorough brush and eliminate tangles. Plus, it also reduces itchiness, softens your hair, and exfoliates your skin. You can also feel confident in the quality, with pearwood timber used for the handle, and through testing performed once the brushes are complete.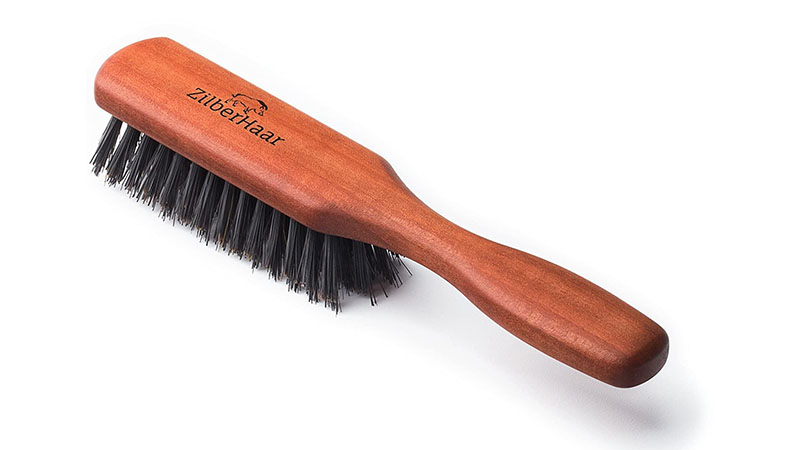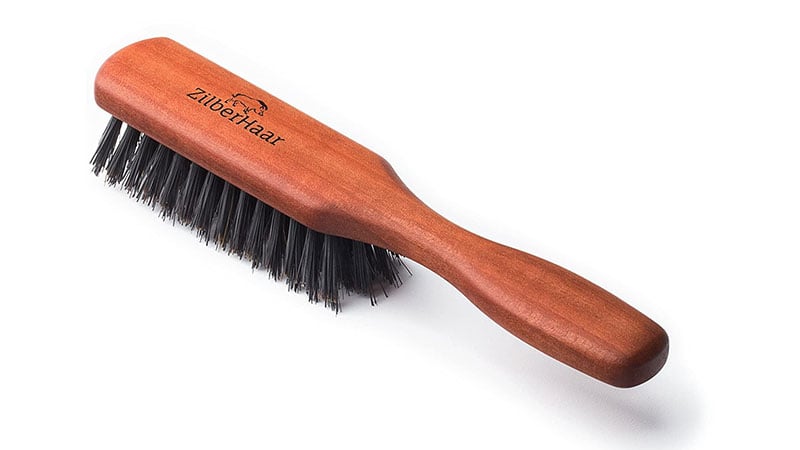 9. Kent Men's Beard and Mustache Brush
Tame your beard and 'stache with confidence using this brush from Kent. The ergonomic beechwood handle allows for a better grip and easier maneuvering. Meanwhile, the long, soft bristles are made from a blend of horsehair and nylon. Next, the oval head is the perfect size for efficient brushing, yet still small enough to pack when you're traveling for work or a vacation. Plus, it comes with a printed canvas storage bag. Finally, the back is engraved with a unique monster to remind you that you're an absolute beast who's going to conquer your day.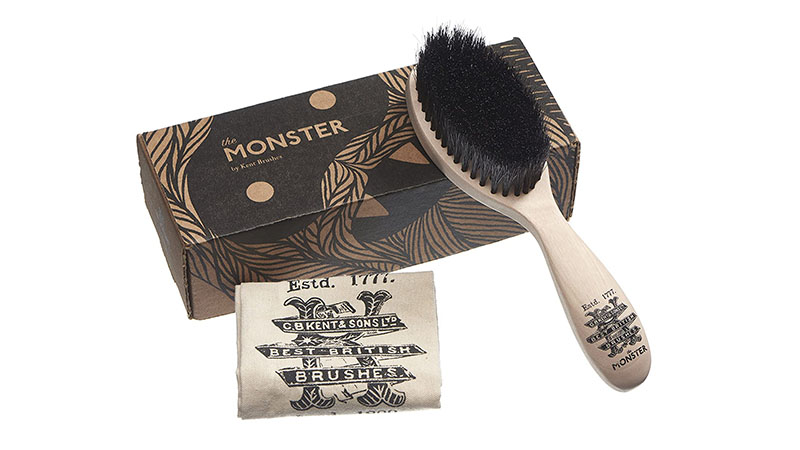 10. Cremo Beard Brush
Ensure your beard is styled, shaped, and tamed precisely how you like with the Cremo Beard Brush. The boar hair bristles are firm to allow even distribution of both your natural oils and styling products. Plus, it gets rid of even the biggest knots and tangles. The handle is made from wood and is designed to be the right size for use at home, as well as traveling. Therefore, no matter where you are, you'll be looking your best.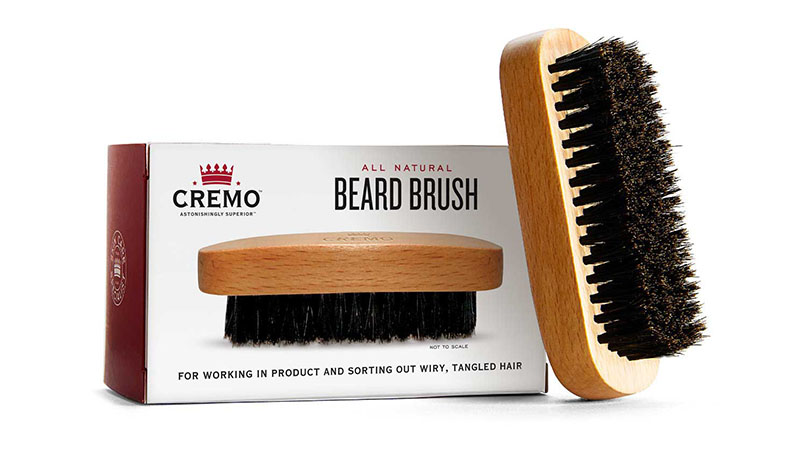 11. Golden Beards Vegan Beard Brush
On the hunt for a natural beard brush? Then Golden Beards have something sublime for you. With all-natural bristles made from oiled Tampico cactus fibre and an ergonomic hand design for an easy grip, it's the Vegan Beard Brush that every man's bread and butter. It's a cruelty-free, eco-friendly and sustainable opt than boar bristle brushes and works on all kinds of beards.
12. Rocky Mountain Barber Company Hair Brush
Boasting with fine boar bristle, the Rocky Mountain hairbrush is the grooming tool that'll help you finesse your style. Untangle, tame & style your beard with the brush's all-natural materials meticulously crafted for proper facial hair care. Its boar hair bristles, contoured shape that ensure proper contact with your beard and petiteness make the hairbrush an essential accessory to add to your grooming gear.
13. Seven Potions Beard Brush
The Seven Potions beard brush' boasts a backbone of boar bristles that provides an exceptional grip and outstanding performance. Made of natural wild boar bristles and a Pearwood body, it's designed with an ideal shape for deft movement and its bristles carry natural oils that revitalise hair follicles. Using this brush will guarantee a healthier, fuller beard and a sleeker appearance.
14. BRD2 Kent Beard Brush
UK brush label, Kent, is a fine beard brush that'll keep any facial hair tip-top condition. The brush is filled with natural boar bristles that are cut at a 45-degree angle for ideal brushing performance. Its ergonomic wood handle places the hand away from the face so that you'll have a continual and comfortable grooming experience with every use.
15. Fuller Brush Co. Hair & Beard Brush
The Fuller Beard Brush is made with fine boar bristles that take the worries out of manscaping your beard. Created with genuine maple wood, it features a natural wood grain providing each brush with a unique look & style. The brush was created with multiple lengths & a robust amount of bristles to get that beard fuller and healthier. Only with the Fuller brush, and the other superlative brush names from our list, can you untangle facial hair with such ease.
16. GBS Sandalwood Beard Set
GBS' Sandalwood grooming kit is a cut above the rest. Boasting a military-style brush that's natural wooden sturdy boar bristles, it's veritably a gent's bread and butter. The balm is made from fine oils and ingredients for a healthier, softer beard; the face wash gently cleans and revitalizes skin under your beard to promote stronger, healthier facial hair and sandalwood beard oil. It's the whole kit and caboodle for men seeking premium beard care.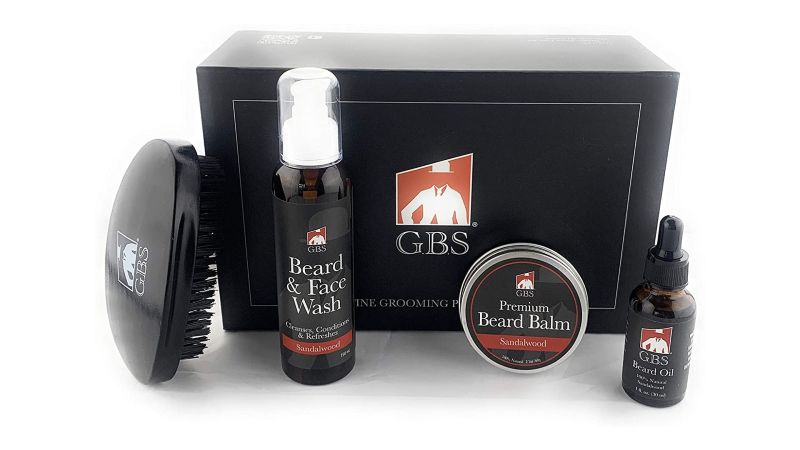 17. Every Man Jack Beard Brush
Its titular spells it. The Jack Beard Brush is made of high-quality wood and cruelty-free bristle that untangles and tames the most rogue and unruly of facial hair. The beard brush will help level up your beard game to get that fine gent you've been pinning for. The ultra-soft, man-made bristles of this beard brush and woodgrain handle are ergonomic and classic in design —perfect for a minimalistic gent.
18. Thefansi Beard & Mustache Brush
Want a beard brush squarely tailored for a shorter beard? Then the Thefansi brush is the way to go. The brand's signature beard brush is sublime in keeping facial hair in optimal condition by promoting shine and increasing smoothness. Its hallmark pearwood body (and the backbone of boar bristles) allow for excellent grip and outstanding performance.
19. Giorgio GBRD1 Small Travel Men's Beard Brush
Giorgio's brush works on all facial hair types and is made with a natural wooden handle that retains soft boar bristles. Its unique design allows you to comfortably groom your beard all while removing dead hair and debris from beneath the trenches. And if you're ever bored and need a utensil to massage, itch and remove the flakiness caused by your beard, then the Giorgio beard brush is at your service.
20. Raffin Beard Grooming Kit for Men
This isn't another beard grooming kit. It's by one of the most trusted labels in the biz. Raffin's beard package is the toolbox every man covets when seeking greasing, tightening and sharpening up their facial hair. Swaggering a premium balm and beard oil that revitalize hair, skin and promote hair growth, the kit's highlights are its boar bristle brush and to free your beard from curly worries, dead skin and flakiness. A dual-sided comb and stainless-steel scissors are addedly thrown into the kit for a penultimate kit deal for blokes on the ball for an all-in-one.
Beard Brush vs Comb
This is kind of an existential quandary that's divided men of all beard types and styles. Now, if you want a volume and natural appearance that's tangle-free, then a brush is the way to go. Whereas combs are dual-sided: one side bears wider teeth used by fellas with coarse hair and the other with narrow teeth by guys with fine facial hair. Combs are also commonly used by men with long beards.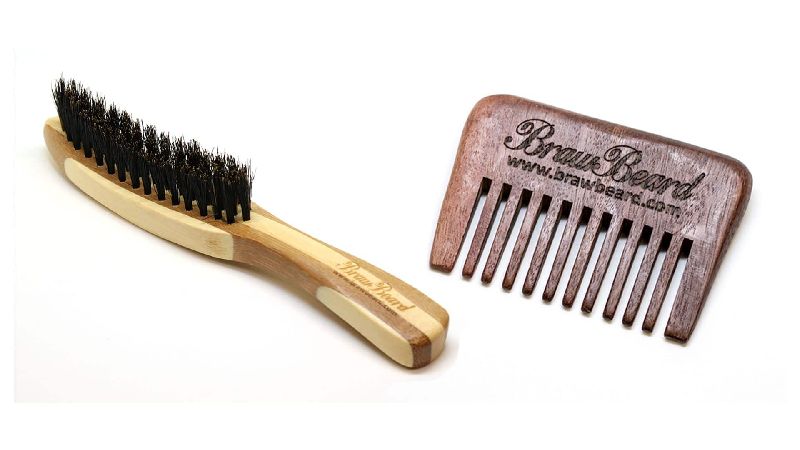 How to Brush a Beard
Once you've carefully washed your beard, dry it out. Apply a couple of drops of beard oil to your brush; the oil will moisturize your facial hair as well as give it a brilliant shine. Brushing thoroughly in each direction, move the brush down your cheeks. Work in short strokes. Once complete, do the other side for that impending suave look.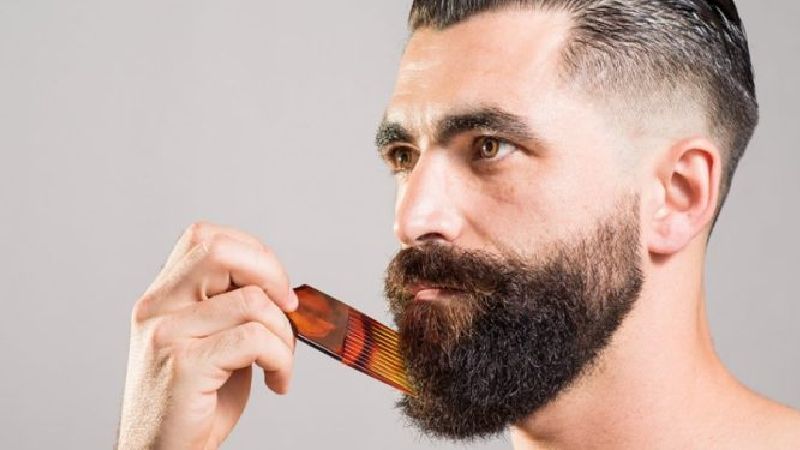 How to Clean a Beard Brush
Start by gently brushing off any surface debris on the bristles. Then hold your brush with the bristles facing down and shake it out well to free it from any hairs and dead skin. Run a q-tip or comb through the bristles to remove hairs and debris from within. Finally, wipe the brush with a tissue to remove any residue from oily or balmy products used on the beard when brushing. And just a rule of thumb: don't ever clean your beard brush in water – it'll damage it.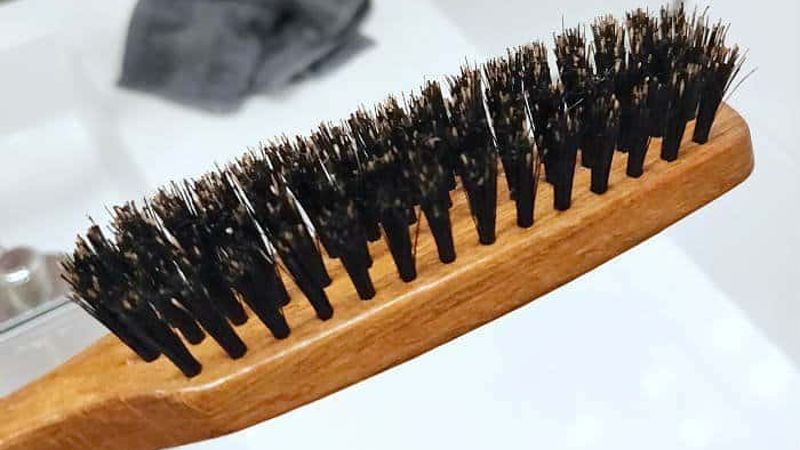 Beard Brush Benefits
Tames the Beast: What sets aside a well-groomed gent from Grizzly Adams is how they're kept their beard in trim. The beard brush is the essential utensil for men with facial hair of all types. Its ability to tame and untangle hairs all while keeping it in style for a debonair appearance has had it fly off shelves over the past decade.
Stimulates Hair Follicles: Regularly using a beard brush not only keeps your beard clean; it stimulates hair follicles. When brushing, blood rushes to the surface of your skin to pass on more nutrients and oxygen to hair follicles, thereby promoting growth. Brushing also removes dead follicles and helps distribute the natural oils of the skin.
Improves your appearance: You wouldn't leave the house without brushing your head hair, so why not give the grass on your mug some attention? The beard brush is one of the most underrated of the grooming gears. Its flair to untangle, straighten and stylize facial hair has had the hair comb looking like an old-timer — but you, fresh-faced.
FAQs
Do beard brushes work?
Beard brushes do work and should be a part of your regular maintenance routine. The appeal of these brushes is they can remove dirt from your beard and keep it clean. They also help with exfoliation and can stimulate the production of your skin's natural oils. Beard brushes can be used to achieve a full appearance, brushing the hairs into place and hiding patchiness, as well as allowing your hair follicles to grow in the pattern you want. These brushes can be less damaging than a comb.
Why do I need a beard brush?
There are definite benefits of a beard brush, and it can help you achieve the beard of your dreams. It will work to create the appearance of a fuller and thicker beard, help keep it looking neat, and remove the dead hairs and exfoliate the skin. This, in turn, can help stimulate natural oils and can result in better hair growth. Brushing will also help the pattern of your follicles, allowing them to grow in the direction you desire and improve the overall health of your beard. Beard brushes can remove dirt that has accumulated throughout the day and keep your beard clean. There are many brushes to choose from, depending on the thickness and length of your beard, and your preferred choice can revolutionize your maintenance routine.
What type of brush is good for beards?
There are several different beard brushes, allowing you to find the product best suited to your beard's thickness and length. For those that have long and thick beards, firm brushes will work best. This will help you tame your beard, in addition to keeping it clean and improving the overall beard health. For those with sensitive skin, a brush with soft bristles is best. You can also choose from synthetic or animal hair bristles.
Do beard brushes help growth?
Beard brushes can work as an exfoliator and help to stimulate the natural oils in your skin. As a result, this can also improve overall beard growth. It is beneficial to brush your beard every day to help distribute the oils and keep it moisturized.
SUBSCRIBE TO OUR NEWSLETTER
Subscribe to our mailing list and get interesting stuff and updates to your email inbox.