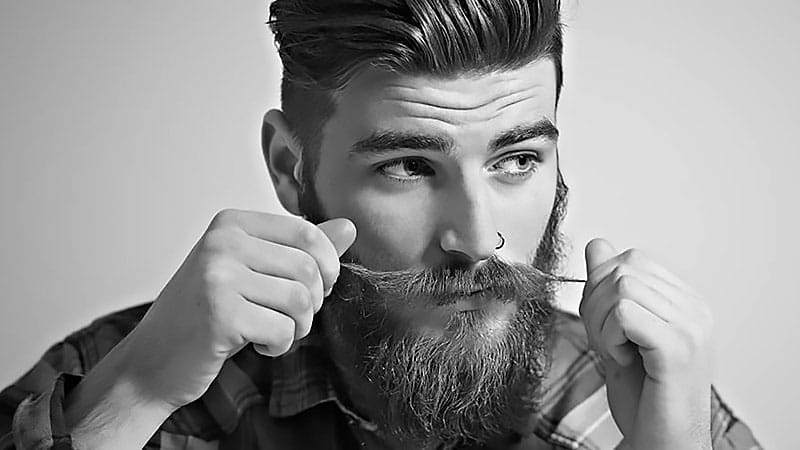 Young or old, your mustache is one of the first things people notice about you. So, it has a great deal of power over how you're perceived. To ensure you don't toe the line between messy miscreant and dapper dude, you should invest in mustache wax. Designed to keep your stache healthy, smooth, and stylishly under control, mustache wax is essential for every fuzzy-lipped gent. In this guide, we've rounded up the best of the bunch to help you tame and treat your beloved facial hair.
1. Fisticuffs Strong Hold Moustache Wax
Fisticuffs Moustache Wax is the ultimate stong hold stache wax. Without all the fancy bells and whistles, it gets the job done, keeping your facial hair in place for 24 hours and then some. It contains just enough soothing ingredients to soften the hair and nourish the skin without leaving your beard greasy or feeling weighed down with too much product.
2. Fisticuffs Old Fashion Moustache Wax
The foamy solution of Fisticuffs Old Fashion Moustache Wax protects the skin and prevents irritations caused by shaving by softening the hair follicles so they can be cut with ease. It also exfoliates dead skin cells and is made without any damaging synthetic or chemical ingredients that can harm your skin. Additionally, it leaves behind a thick layer of oil to protect your skin from further irritants during shaving.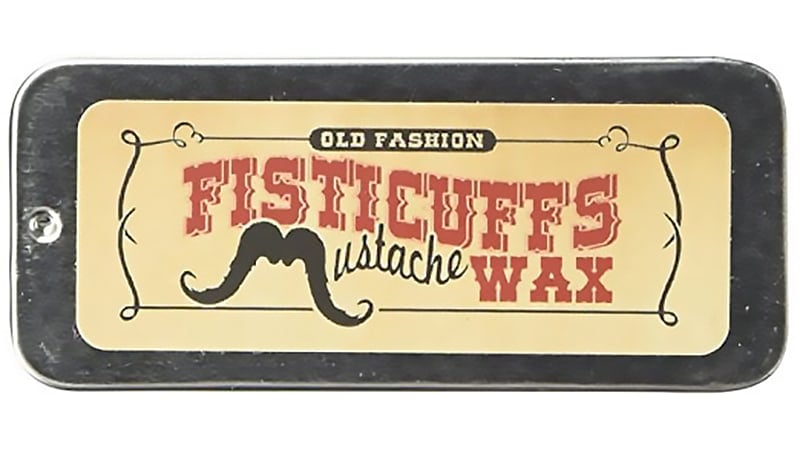 3. Death Grip Moustache Wax
Death Grip's Moustache Wax certainly lives up to its name. This all-natural formula features a competition-grade strength that will keep your facial hair in place while providing the ultimate control when it comes to sculpting and styling. It is the strongest all-natural moustache wax on the market and is not for the faint-hearted. And for a bonus kindness factor, it is also cruelty-free and contains no nasties.
4. Mountaineer Brand All Natural Moustache Wax
While some natural beeswax formulas fail to provide a firm enough hold, this one certainly gets the job done. Mountaineer Brand All Natural Moustache Wax will keep your beard and stache perfectly shaped and in place all day long without any harsh chemicals. Thanks to its au naturel ingredients, it also has a pleasant and subtle cedar and pine scent. So it can sit under your nose all day without invading your senses.
5. Can You Handlebar All Natural Secondary Moustache Wax
This wax delivers a super firm hold minus the uncomfortable stiffness often caused by other moustache waxes. Made with all-natural ingredients, it contains zero petroleum and no artificial colors or perfumes. It is just pure wax with pure ingredients. It gets its hold from hearty ingredients such as beeswax and wool wax, but also contains olive oil for a smooth spread.
6. Fisticuffs Cigar Blend Moustache Wax
Fisticuffs Cigar Blend Moustache Wax contains soothing moisturizers, vitamins, creams, and gels to prevent your skin from drying. This smooth blend will also help to alleviate any small bumps, razor rashes, or scratches caused by shaving. The mixture is textured and not too runny, which means it is also super easy to apply and won't leave a mess.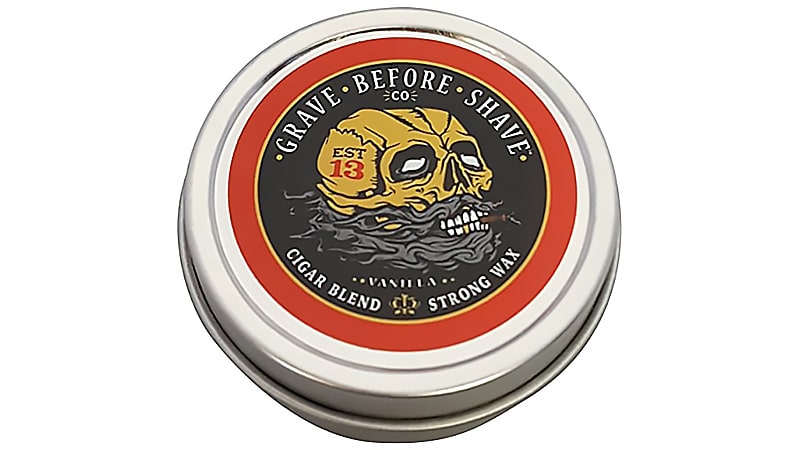 7. Stache Bomb Stache Wax
If you're after a wax that will still give you a little freedom to style your facial hair without weighing it down, then Stache Bomb Stache Wax is for you. While it doesn't provide the strongest hold, it does keep your moustache in shape and looking natural. It is light in color and works well with most hair shades. However, if your hair is a little unruly, you may want to consider something with a little more staying power.

8. Live Bearded Moustache Wax
Live Bearded Moustache Wax is probably the sweetest smelling, high-quality option available. Take in the subtle blend of honey, cedar, and lemon scent while also experiencing a superior formula, which will hold your facial hair in place without making it look stiff. It's also the perfect option for on-the-go gents thanks to its convenient tube, which can comfortably fit in your pocket.
9. Wild Willie's Stache Wax
Wild Willie's Moustache Wax offers a super firm hold and will keep your stache stuck down all day. Where it differs from its competitors is that you only need to use a small amount to keep your hairs secured, meaning you can enjoy the peace of mind of knowing your beard will stay neat and in place without having to use a boatload of product. It also contains all-natural oils and no petroleum jelly. The combination of the yellow beeswax as a base and sweet almond oil as a carrier oil work beautifully to condition your beard, making it appear both well-nourished and healthy.
10. Fisticuffs Pine Scented Strong Moustache Wax
Containing a dreamy blend of pine sap, jojoba oil, coconut oil, beeswax, petroleum jelly, and tea tree oil, Fisticuffs Pine Scented Strong Moustache Wax provides a superior hold. It has a fresh outdoorsy scent and features essential oils. It is ideal for men who live in colder climates as it does not clump or flake in the wintery weather.
11. Opium Den Moustache Wax by the Bearded Bastard
Handcrafted in the heart of Texas, Opium Den Moustache Wax by the Bearded Bastard is one of the strongest all-natural moustache waxes on the market. It offers superior hold and styling control without making it feel like your hair is glued to your lip. Its manly tobacco scent with smoldering resin and spices isn't overpowering but is strong enough to be worn without aftershave.
12. Can You Handlebar All Natural Primary Moustache Wax
Can You Handlebar All Natural Primary Moustache Wax is designed to hold your stache in place for 24 hours, even in the hottest and most humid climates. It styles your moustache perfectly while also keeping it healthy and nourished. It contains enriching vitamin E, shea butter, and other nourishing ingredients. Each batch is homemade from locally-sourced ingredients in Michigan. We'd recommend this product if you're growing your moustache or beard out for the first time.
13. ArtNaturals Beard and Stache Balm
ArtNaturals Beard and Stache Balm strengthen your facial hair while reducing split ends and breakage. Containing invigorating and restorative jojoba and grapeseed oil, sweet orange, and more, it is also very gentle on the underlying skin. This is great if you're prone to rashes and other skin irritations. It also provides reasonably firm hold without leaving your beard looking stiff or greasy.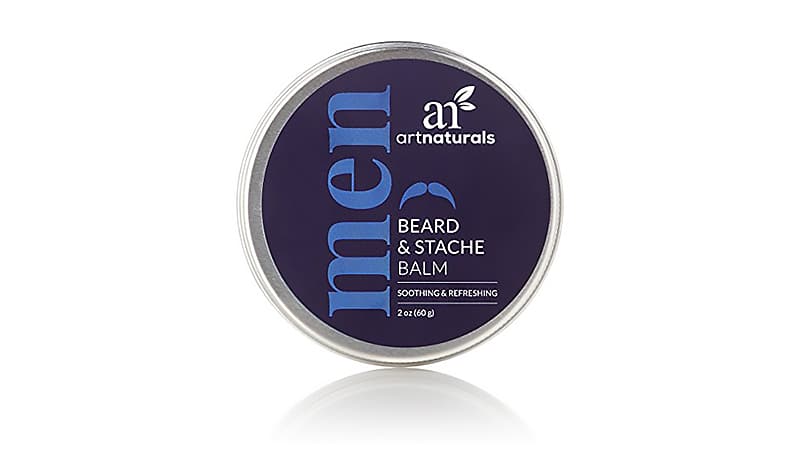 Mustache Wax FAQs
What is beard wax used for?
Beard wax is a styling product used to help sculpt and hold your beard or mustache in shape.
Can I use beard wax every day?
You can use beard wax every day; just make sure to choose a high-quality product that won't damage your hair. It's also a good idea to wash it out at the end of every day and apply beard oil to replenish the moisture to the follicles and skin.
What is better beard oil or wax?
Beard oil and wax serve different purposes, and depending on the kind of beard you have, both can serve an important role in your styling regime. Beard oil is a moisturizer that nourishes the hair and skin, while beard wax is a styling product used for sculpting and hold.
Can I use hair wax on my beard?
Using hair products on your beard is not ideal. The hair on your head and face is different in both texture and how it moves, so utilizing a beard specific product will be healthier and give you better results. Beard waxes generally have less hold but are more durable to allow your facial hair to move more naturally as you eat and talk.
Is it good to wax your mustache?
It is a good idea to use beard wax on your mustache to help tame it and keep everything in place.
Is Mustache wax the same as hair wax?
No, mustache wax is different from hair wax. Like beard wax, it lasts longer, is more malleable, and contains nourishing ingredients to keep the hair moisturized. It's better designed for the movement that your face and mouth have during the day.
Is Vaseline good for mustache?
Vaseline is not the ideal choice for a mustache — you're better off choosing a facial hair specific wax, balm, or oil. While it does lock moisture in, it can make your mustache appear greasy. It's also not water-soluble, which means it can clog your pores and is difficult to wash out.
SUBSCRIBE TO OUR NEWSLETTER
Subscribe to our mailing list and get interesting stuff and updates to your email inbox.