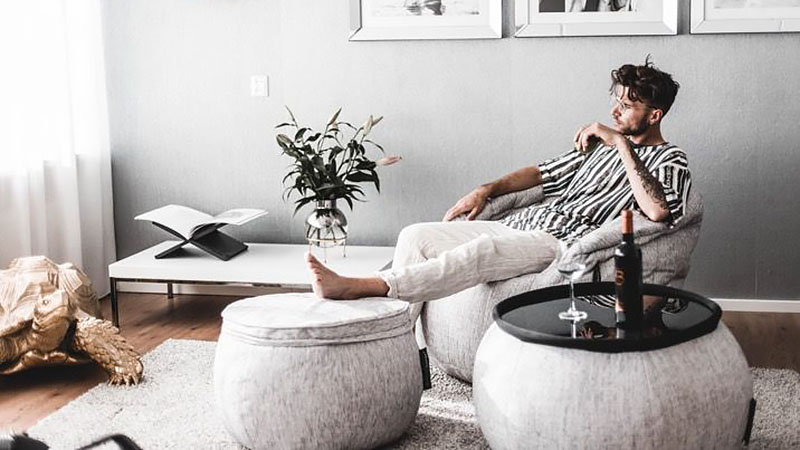 Gaining popularity in the '60s, this plush lounger provides serious support to your joints and is an excellent addition to your home. The original Sacco design was released in 1969, but the versatile chair has since been redesigned to flatter the modern lifestyle and latest trends. From the home cinema to working at home, there are so many ways you can unwind and sit in pure luxury. Get ready for the comfiest sit of your life, with these best bean bag chairs for total relaxation.
Best Bean Bag Chairs
1. Big Joe Smartmax Milano Bean Bag Chair
For those after a bean bag that's made to last, you can't go past the Smartmax Milano by Big Joe. This sturdy and reliable seat offers resilient wear without sacrificing on comfort. Move from the bedroom to the living room in an instant, thanks to its handy handle. The covers are double stitched so that it will keep its shape even after years of use. The UltimaX filling contours to your body shape, providing hours of pure support on your joints. Choose from a wide selection of colors that best suit your home decor – you can't have just one!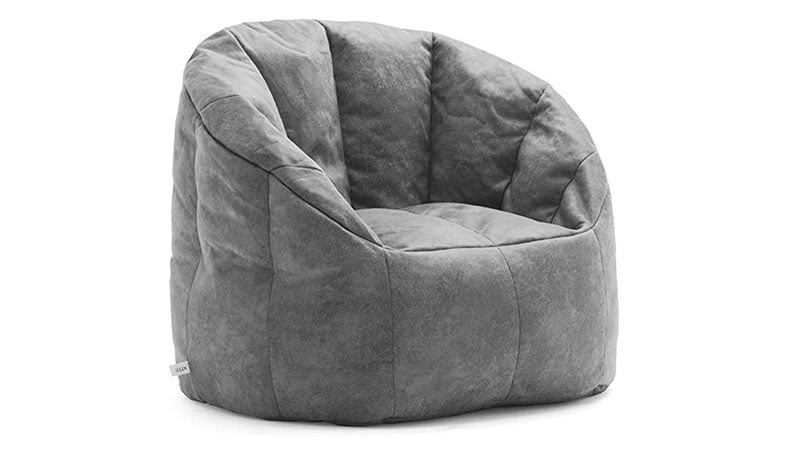 2. Moon Pod Bean Bag Chair
There are regular bean bags, and then there's the Moon Pod. This revolutionary seat features high-density beads and mimics the sensation of Floatation Therapy. This state of the art lounger can instantly help reduce signs of anxiety and pressure on your joints, and the sleek designs sure to fit perfectly amongst your decor. Choose from five chic colors to suit your style and watch as it becomes the most popular spot in your home.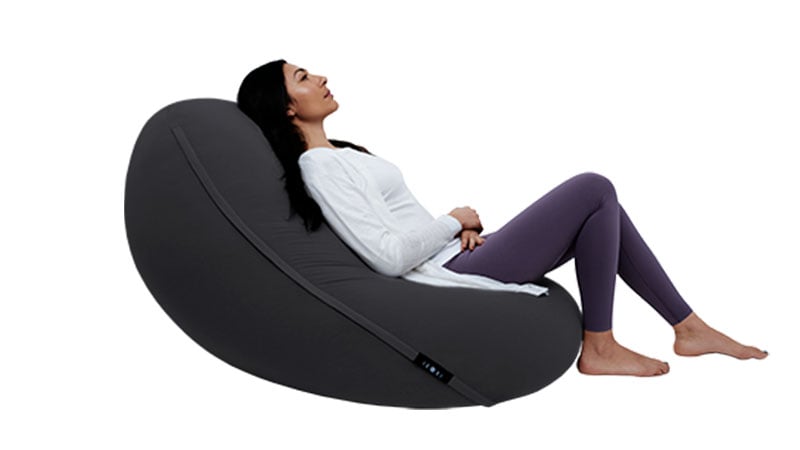 3. Ambient Lounge Butterfly Sofa Bean Bag Chair Set
Relaxation is only a seat away with this contemporary bean bag set by Ambient Lounge. From a home cinema to the living room, you can enjoy pure comfort for hours on end. The stylish design can instantly elevate your home decor, and the matching table and ottoman make for the perfect living set. With a wide variety of colors and textures to match your style, you can find something perfect for you. Why settle for traditional furniture, when you can be sitting on a cloud?

BUY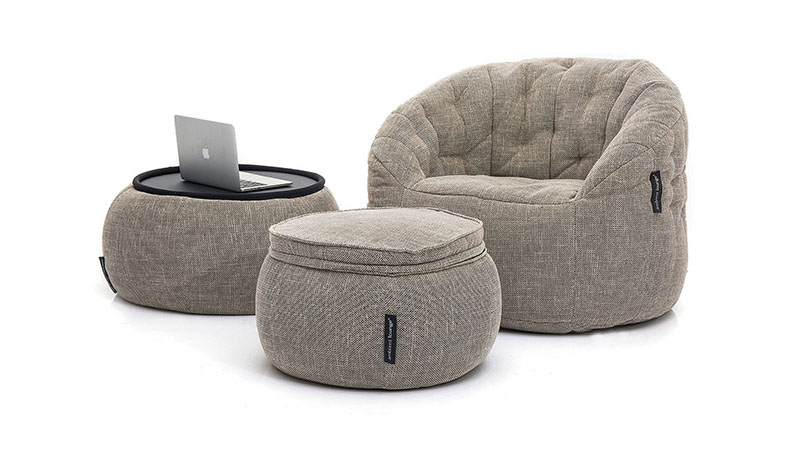 4. Big Joe Lux Imperial Bean Bag Chair
It looks like a chair, but it's much better. The Lux Imperial Lounger features a durable and sturdy shape that never goes flat, thanks to its dense shredded Fuf foam filling. You can easily match the bean bag with the rest of your home decor, thanks to its five color options. Grab and go from one room to another with ease – it's the ideal addition to your living room, home cinema, or even a kid's room.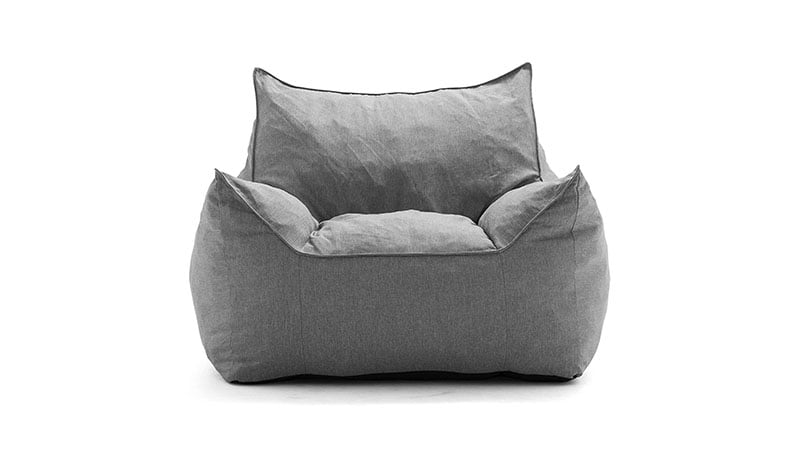 5. Chill Sack 5 ft Bean Bag Chair
For those who love to chill in style, this bean bag is for you. It's five feet in size, so it's big enough to share with a friend, or for you to immerse yourself. Watch your favorite movie, play video games, or have a relaxing drink with friends and enjoy the ultimate comfort this chair provides. It's covered in soft microfiber material – once you get yourself comfortable, you'll never want to get up again!
6. Chill Sack Bean Bag Chair
Hang out with your friends and feel at home with the Chill Sack lounger. This bean bag is oversized so you can sit with someone in pure comfort. Filled with shredded memory foam, it's super soft and highly durable so you can keep yourself feeling secure while it maintains its shape. The microfiber cover can easily be machine washed and is stain resistant, so you can enjoy a movie night without worrying about the furniture. Its double stitching creates extra durability for use, so you can truly relax and unwind with ultimate support.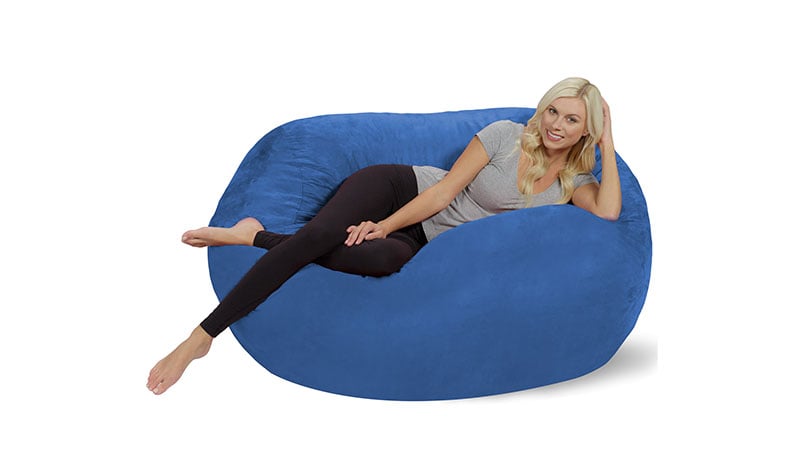 7. CordaRoy Chenille Bean Bag Chair
Invite your friends around and have a night worth remembering, thanks to CordaRoy Chenille bean bags. Not only is this a super relaxing seat, but it instantly folds out into a bed for guests. Remove the cover, and you're ready to sleep in pure luxury – the foam filling is soft and comfortable for anyone to catch some Zs. No matter if you're having a sleepover or someone has decided to stay the night, this is the perfect go-to portable bed that matches any decor.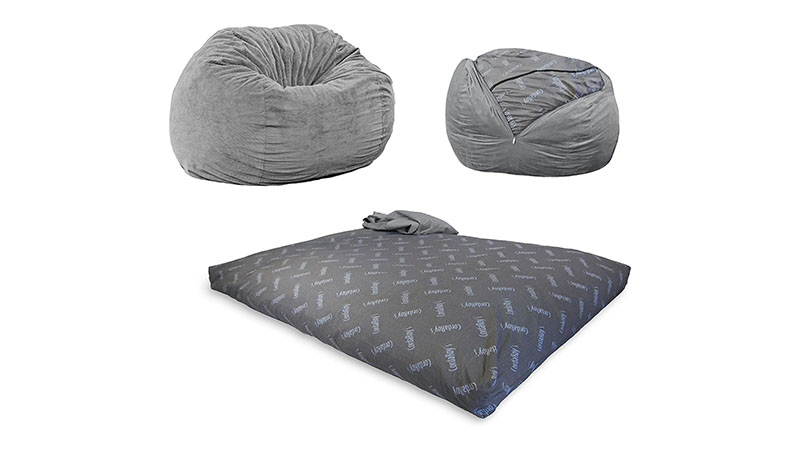 8. Sofa Sack Bean Bag Chair
The humble bean bag is the perfect addition to any room, and the Sofa Sack makes for the best option. Unlike traditional seats, this chair is filled with memory foam instead of beans, making it super comfortable every time you take a seat. The extra soft material covering feels luxurious on your skin, and thanks to its large size, you can wiggle around and get comfortable in an instant. Choose from a wide variety of colors to best suit your home – it will be a welcome addition to any room!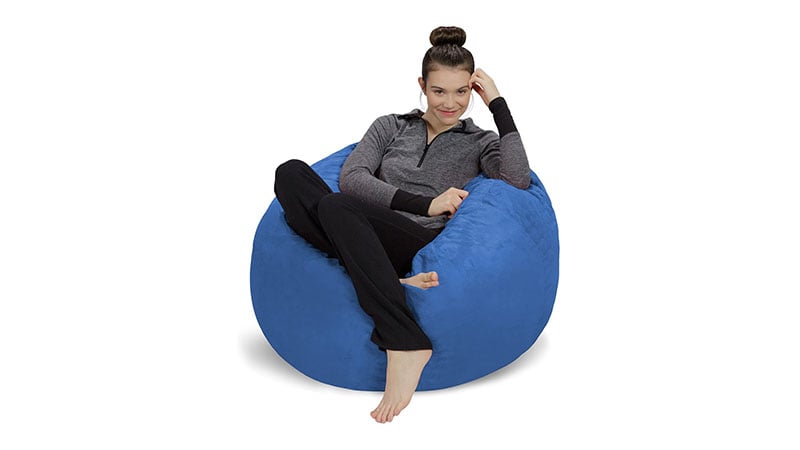 9. Big Joe Bean Bag Chair
From the kid's room to the home cinema, the Big Joe bean bag is just what you need to complete a space. The stain-resistant and durable fabric is easy to clean, and the classic form is extra comfortable to relax into. The fluffy bean filling is lightweight and conforms to your body, meaning you can stay relaxed without sinking into the floor. When you need to add more shape, you can easily refill it to your preference. With the added security of the Big Joe safety locks, you can feel sound and secure, ready for a full night of fun!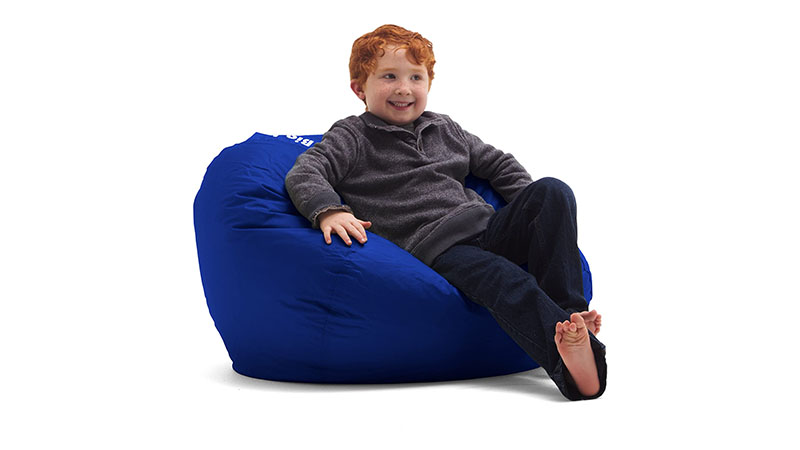 10. Jaxx 6 Foot Cocoon Bean Bag Chair
Grab the popcorn and a drink, get cozy and enjoy the comfort of the Jaxx Cocoon. This oversized crash pad is multi-positional, so you can sit up, lie down, and feel at home within seconds. The micro-suede cover is luxurious to the touch – it's also machine washable and is removable if you need to clean it. It is the perfect option for a home cinema, basement, or bedroom – the multi-density polyurethane foam will conform to your body shape for ultimate relaxation.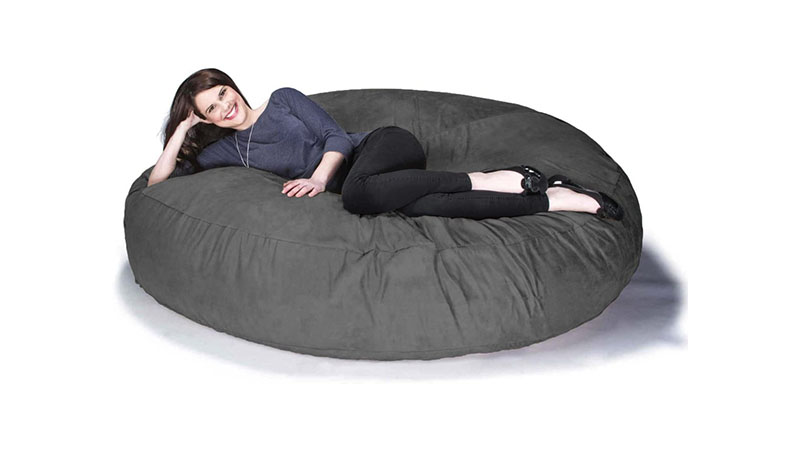 11. Ambient Lounge Avatar Bean Bag Chair
The Ambient Avatar Lounger with USA-made Sunbrella fabric is the perfect option for those who are interested in supporting their full body after a long day. The twin compartments and elastic structure will keep your back and legs in total comfort without losing its shape. Unlike traditional bean bags, this curved design will easily contour with your natural sitting position. You can enjoy this all-weather bean bag in the living room, by the pool, or in your bedroom – the options are unlimited, and the relaxation you'll feel is endless.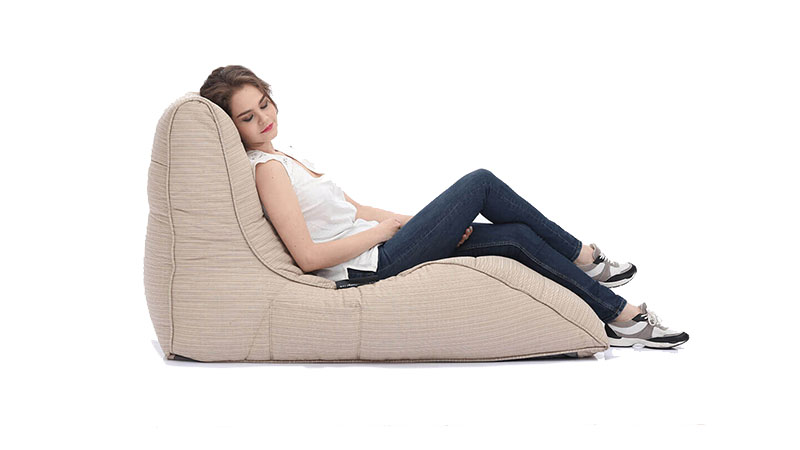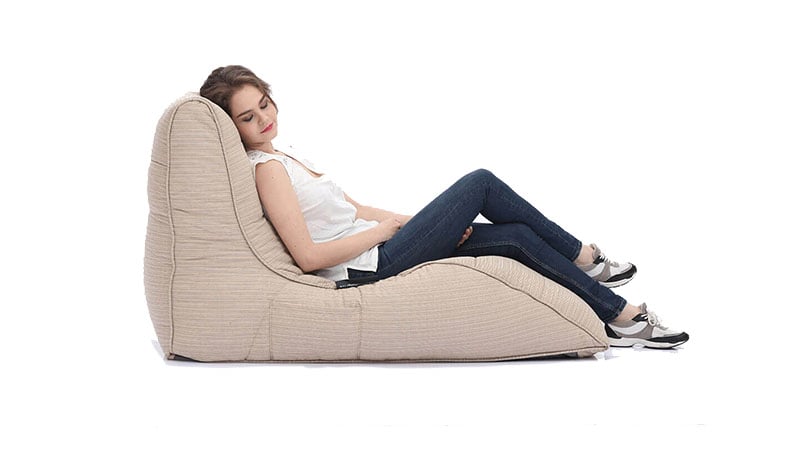 12. Cozy Sack Bean Bag Chair
Stop the spread of lumpy seats and say hello to ultimate comfort with the Cozy Sack bean bag chair. This lounger features CertiPUR-US foam, which is light and devoid of any uncomfortable lumps. Grab your family and friends, and all gather on the oversized seat – it's also a great idea to snag this space to yourself. Easily match the chair with the rest of your home decor thanks to the myriad of shades – this is a timeless option for the whole family.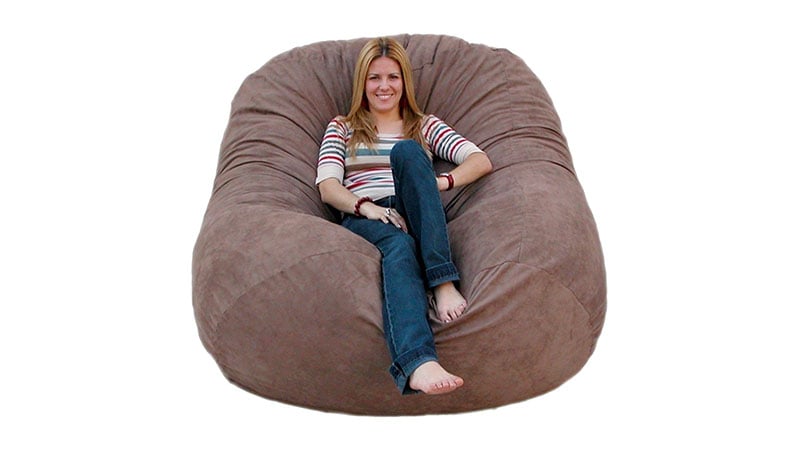 13. Nobildonna Corduroy Bean Bag Chair
Are you ready to enjoy premium comfort? This corduroy bean bag is a size perfect for kids and adults and is an excellent option for a bedroom, home cinema, or any place in the home. The thick, luxurious fabric is sturdy and comes in a wide variety of shades to best suit your taste. The added handle at the top of the lounger allows you to grab and take the chair any place you like. Fill the bag with the filling of your choice, and you'll have the perfect finishing touch to any room.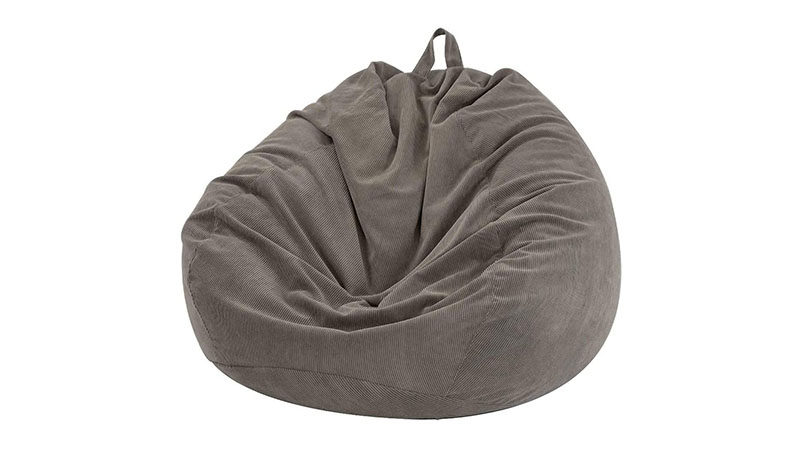 14. Bliss Circular Bean Bag Chair
Let this bean bag from Bliss snuggle around you as you relax after a long day. This lounger is large so that you can move your body into almost any position. The scratch-resistant cover is waterproof and UV protected, so you can take it by the pool or keep it in your home cinema or living room. With a vast range of colors to choose from, you will find something that perfectly matches your home decor.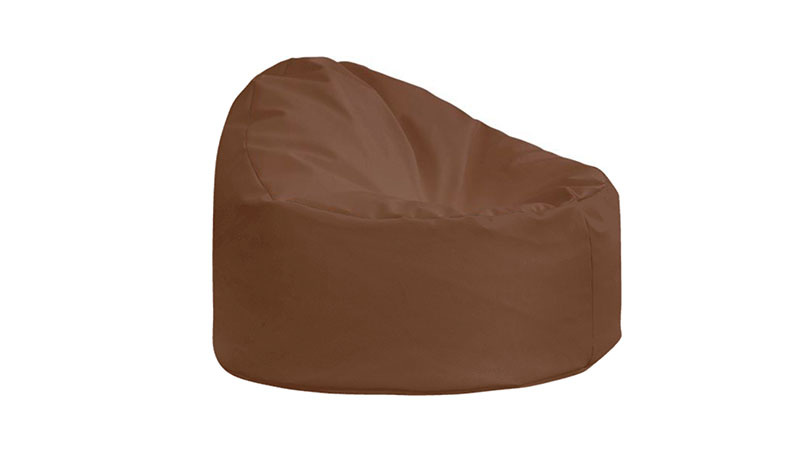 15. Chill Sack Bean Bag Chair
Catch up with your friends and be surrounded in luxurious comfort with this oversized bean bag. Seven-and-a-half feet in size, you can fit up to three buddies on this lounger, or keep the whole space to yourself. Spend the afternoon gaming in style, or binge-watch your favorite TV shows without feeling the need to fluff the seat back up. The shredded foam contours to your body shape without going flat so that you can remain in serious relaxation-mode for hours on end.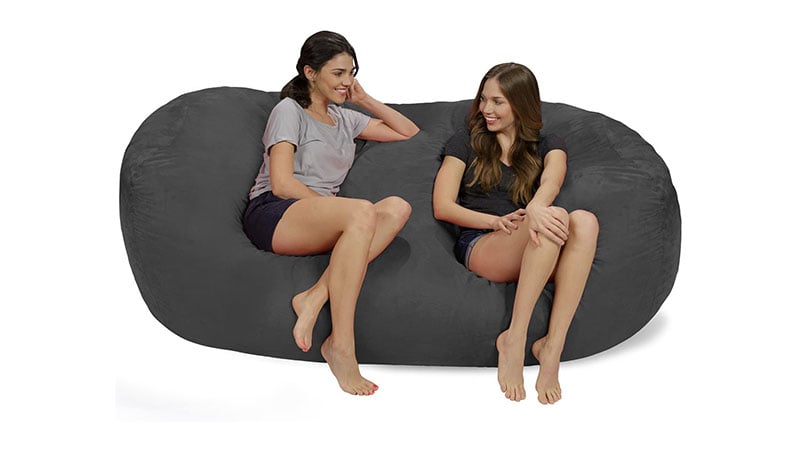 Bean Bag Buying Guide
Bean bags are a great modern addition to your home or office. However, you want to make sure you're choosing the right kind for your space and use so that it's practical and won't wear out faster than it should. Factors to consider include shape, materials, fillings, functionality, size, and zips and stitches.
Shape
The size and shape of your beanbag are some of the most significant decisions you'll need to make. What you choose should suit the purpose you want it for. If you're looking to augment your living room furniture, then an armchair or L-shaped design will be the best choice. You could also opt for a two-seater bean bag couch if you want to share. However, if it's for the kids' playroom, then an easy-to-move pear-shaped one with handles is better. Finally, if it's for lazing about by the pool or on the terrace, a long reclining style will be ideal.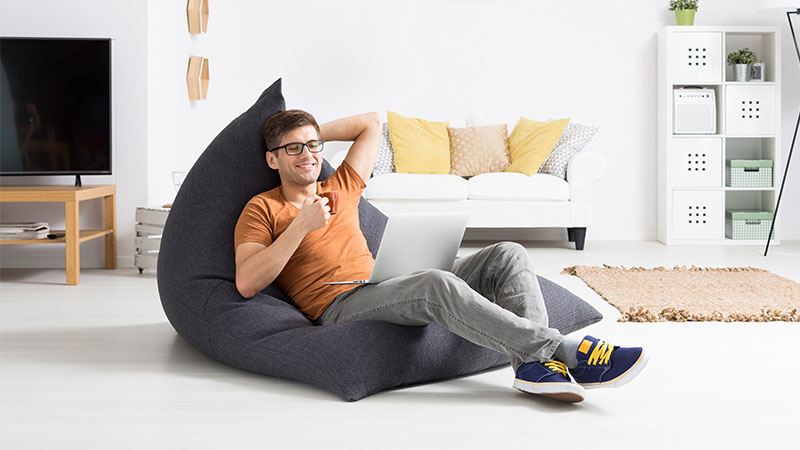 Materials
There's more to bean bag material choice than just aesthetics. While you do want it to look nice and suit your style and space, it also needs to be practical, so it lasts. The two most common types of fabric are soft polyester and faux leather. The softer polyesters are better suited for indoors, while faux leather can be used outside as well, though you still shouldn't leave it out in the elements. The latter is also a bit easier to clean, especially if you have kids or pets. However, ideally, you'll have a design that has an inner and outer layer, where the inner layer holds the beans, and the outer layer can be removed for washing. Finally, for use around wet areas such as the pool, you should always choose a waterproof option for longevity.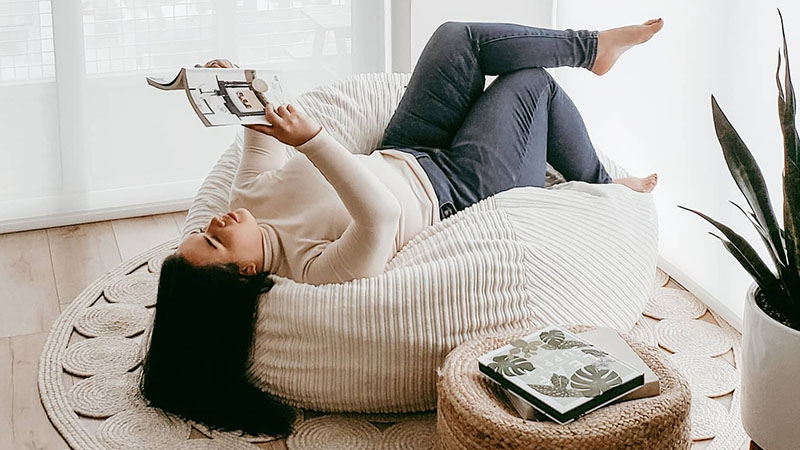 Fillings
You can get various fillings for your bean bag. This includes ground polystyrene foam, shredded foam, expanded polystyrene (EPS) beads, or even buckwheat grains. The most common and popular choice is EPS beads. These are lightweight, inexpensive, and easy to move around. Shredded foam is also a great option, though a little more expensive. However, it uses offcuts from furniture manufacturing, so it can be better for the environment. It also mixes well with EPS beads if you want a combination. Natural grains are a less ideal option, as they are heavy, expensive, and can attract pests, while ground polystyrene foam can wear out and go flat quickly.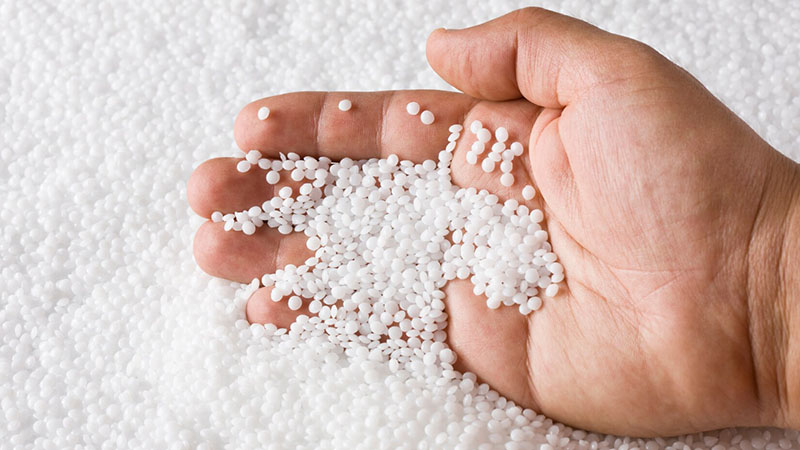 Functionality
Like any piece of furniture, if your bean bag doesn't suit your needs, then it wasn't an excellent investment. If you want a bean bag that you can work from or use as a couch, then a structured design will be better — bonus points if it comes with a laptop table. However, if all you want to do is lounge around, watch television, read a book or nap, then a laidback, round or oval shape is perfect. The same goes for outdoor use. Chilling by the pool and soaking in the sun is best done on a more bed-shaped design made from waterproof fabric.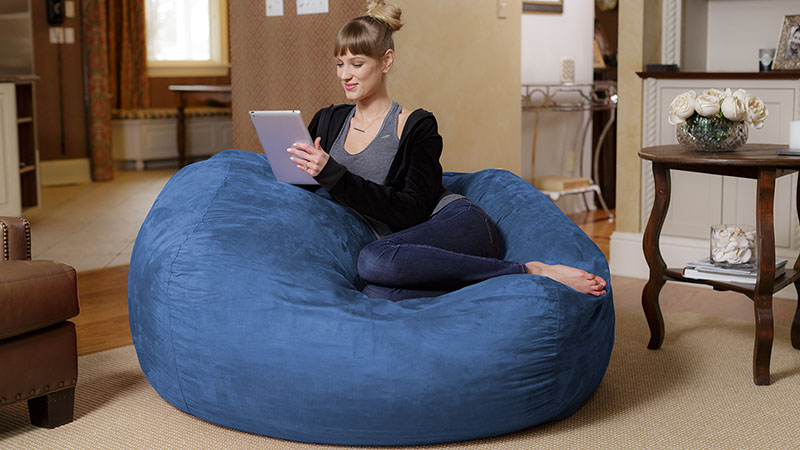 Bean Bag Chair Size
What size bean bag chair you pick will depend on the space you have available and how you want to use it. You can get some massive bean bags that act as a sofa for two people or that you can stretch out on to full-length. However, these will take up a lot of room, so you'll need ample space. Keep in mind that the more structured the piece, the less spread you'll get when sitting down – they tend to hold their shape better. The size you choose will also dictate how much filling you need to purchase (if it's not included). A bean bag needs to be filled enough to be practical but not overfilled that you risk it busting open.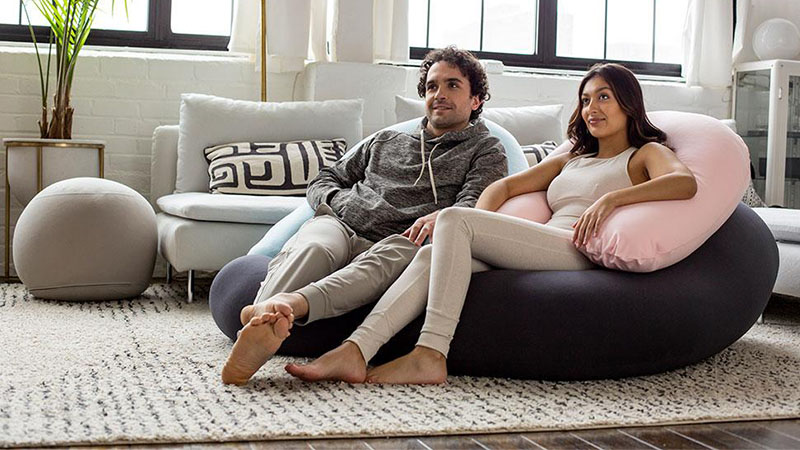 Stitches and Zippers
The weakest point on a bean bag will be the stitching and zippers, so you need to make sure they're good quality. Look for double-stitched seams, as these are less likely to result in a bust out if you sit down too hard. Again, ideally, you'll have a removable outer layer and inner bag that holds the filling. Both should have good quality stitching and overlocked hems as an extra level of security. Then, when it comes to zippers, they should be concealed under a flap of fabric to prevent damaging or scratching your floors. Zippers on outdoor bags should be strong with wide teeth that are less likely to rust or corrode. The final consideration is that the zipped opening is a good size and position to be practical for removing the outer cover.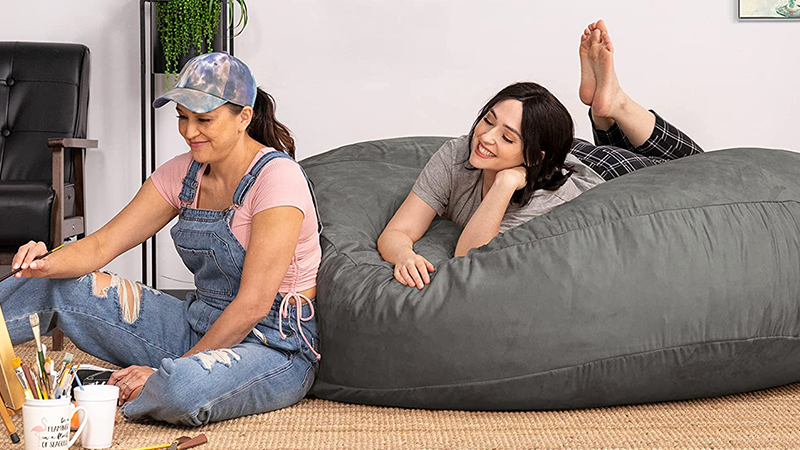 FAQs
Should I get a bean bag chair?
Bean bags are a great piece of multi-purpose furniture and have been featured in homes since the '70s. This versatile item is an excellent option for kid's rooms, living rooms, and home cinemas. Not only are they incredibly comfortable, but they can also add an extra-cool flair to your home. 
Is a bean bag good for back?
Bean bags are known for their exceptional comfort. Depending on the filling inside, they instantly contour to your body's natural shape and assist your joints. When sitting in this lounger, make sure you're low enough to support your neck, shoulders, and back. 
How can I make my bean bag more comfortable?
The comfort of a bean bag comes from its filling. If you're trying to make your bean bag as comfy as possible, make sure you don't overfill it. When you put too many beans inside the bag, it can prevent you from moving around when you sit down. For best results, fill the bag 2/3 of the way for the ultimate relaxation experience. 
Why are bean bag chairs so expensive?
Bean bags can get more expensive depending on the size, the fabric used, and the filling inside. If you choose to purchase a lounger that can fit more than two people, you can expect to pay a little more. The filling of the bean bag can also dramatically increase the cost - memory foam is more expensive than traditional beans. 
Can I use a bean bag as a bed?
A bean bag is an excellent alternative to a guest bed or mattress if you have unexpected visitors or a sleepover. The support that these loungers provide can help support your neck, shoulders, and back. However, make sure you select a seat that can fit someone in a sleeping or fetal position, as these are the most comfortable ways to catch some Zs. 
Which size of bean bag is good?
Depending on the type of bean bag you prefer, many sizes can perfectly suit your needs. The standard bean bag size is 6"x6", which can comfortably fit a single person. However, you can find loungers that can fit up to three people and are around six feet in length. If you wish to lie down flat on the bean bag, it's ideal to get something oversized. That way, you can sit by yourself comfortably or grab a couple of friends to join you.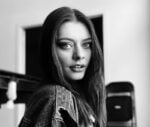 Alexandra Feiam is an experienced fashion writer who holds a degree in journalism. She has an impressive portfolio and expertise working as the Editor at Power Retail and Commercial Content Editor at Newscorp. Ally has been writing for The TrendSpotter since 2018, and her work has been featured in notable publications such as The Herald Sun, Arirang TV South Korea, Kidspot, The House of Wellness, and The Daily Telegraph.
SUBSCRIBE TO OUR NEWSLETTER
Subscribe to our mailing list and get interesting stuff and updates to your email inbox.