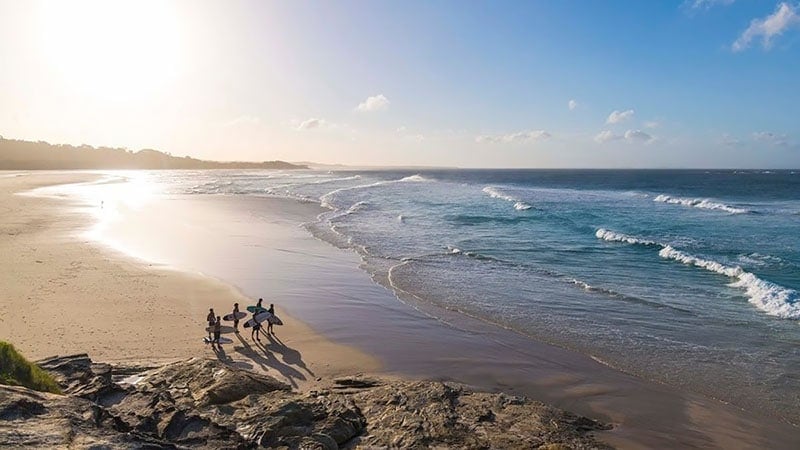 Queensland's capital, Brisbane, may not have the coastal allure of the Gold or Sunshine coasts, but the city and surrounds still boasts its fair share of amazing beaches. Incredibly, you don't even have to leave the CBD to hit the water — just pop over to Streets Beach at Southbank! Alternatively, head north to Redcliffe or Bribie Island for a chilled seaside vibe. To the southeast, Cleveland has its own waterfront precinct and is the launching point for Coochiemudlo and North Stradbroke Islands. Both have lovely sandy stretches and are home to unique wildlife. Of course, there's also Moreton Island, where you can explore the famous Tangalooma wrecks and spot dolphins and whales. Just remember, whenever you're at the beach, it's important to practice sun safety and always swim between the flags. You can check if and when the beach is patrolled on the Beach Safe website.
1. Woorim Beach, Bribie Island
Located on the ocean side of Bribie Island, Woorim Beach is the closest surf beach to Brisbane. It's about a 90-minute drive from the CBD and is excellent for surfing and swimming, with waves averaging between half and one meter. The beach is patrolled for some parts of the year; however, when the waves are large, be careful of strong currents and rips. If you're into fishing, it's also a great place to throw a line in from the sand. Enjoy easy access with plenty of parking at the Surf Club. Plus, there are many local cafes to grab something for a picnic lunch. If you have a 4WD, there's also a beach access track located about one kilometer north. You will need a vehicle access permit if you do want to drive on the beach, but you can book one online or at the newsagent in Woorim.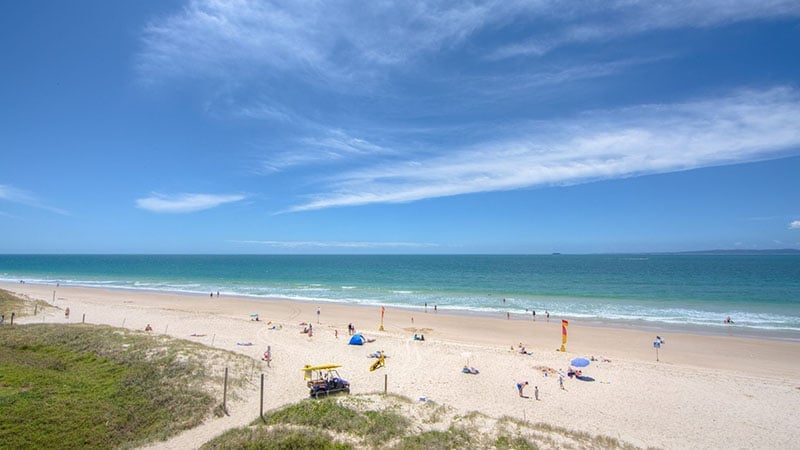 2. Streets Beach, South Bank
You wouldn't normally expect to find a white sandy beach in the middle of a city; however, that's precisely the case with Streets Beach. This artificial beach sits proudly at the center of the South Bank Parklands and is popular with tourists and locals alike. It's Australia's only inner-city beach. While it's not huge, it has sprawling views of the CBD across the river and is safe for swimming with the whole family. Plus, it's also patrolled year-round by qualified lifeguards. When you get hungry, chuck your thongs on and head to one of the many restaurants and cafes in the precinct for a delicious meal and cold beer. Alternatively, pack a picnic and sprawl out on one of the many manicured lawns. There are public barbecues dotted around the park and several large playgrounds that will keep the kids occupied.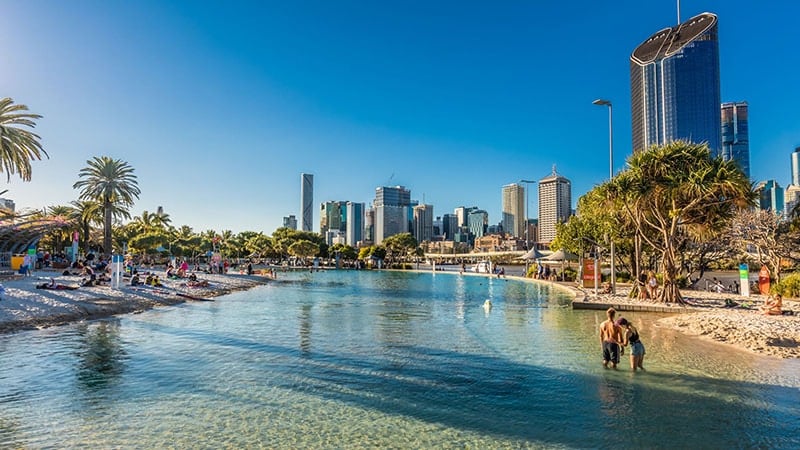 3. Suttons Beach, Redcliffe
You can easily spend an entire day at Suttons Beach. It's located in Redcliffe, a 40-minute drive north of Brisbane. You'll find wide stretches of sand and small gentle waves that make swimming safe for the whole family. The local Surf Life Saving Club also patrols the area during busy times of the year. Beyond the beach, there are excellent facilities, including sprawling parklands, public barbecues, multiple playgrounds, and bathroom amenities. It's the perfect place to pack the cricket or bocce set, your picnic blanket, and towels and just enjoy a relaxed day by the bay. If you feel like getting active, there's a bike path and running track right along the water, and a short walk away, you'll find Settlement Cove Lagoon, a man-made sandy swimming pool that's popular with families.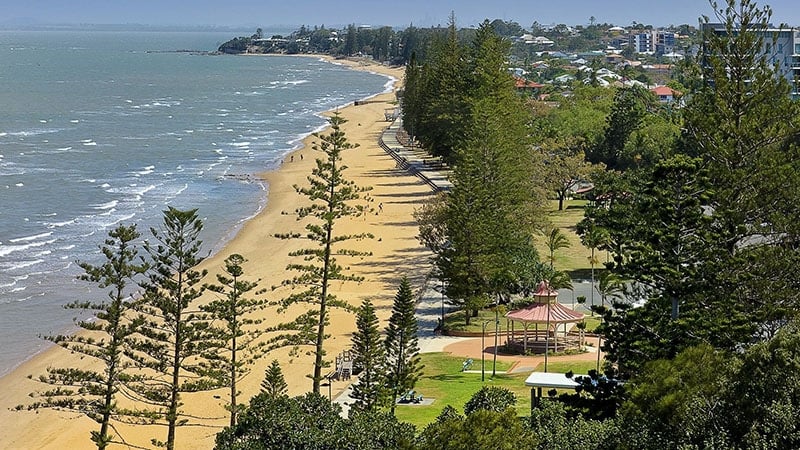 4. Tangalooma Beach, Moreton Island
Moreton Island is the jewel in Moreton Bay, located 40 kilometers offshore from Brisbane and accessed via car or passenger ferry (or private boat). It's the third-largest sand island in the world and is home to Tangalooma Island Resort. The beach out the front of the resort is sheltered with calm waters that make it ideal for swimming, snorkeling, SUP, or kayaking. It's the perfect spot for guests staying at the resort, as well as day-trippers. Plus, it's also close to the famous Tangalooma Wrecks, a series of scuttled ships that create an artificial reef and safe anchorage for private vessels. If you plan to explore the wrecks, you need to be a confident swimmer as strong currents pull through the channel. Another excellent alternative to the wrecks is Bulwer Beach, located further north and accessed via the MICAT ferry and 4WD.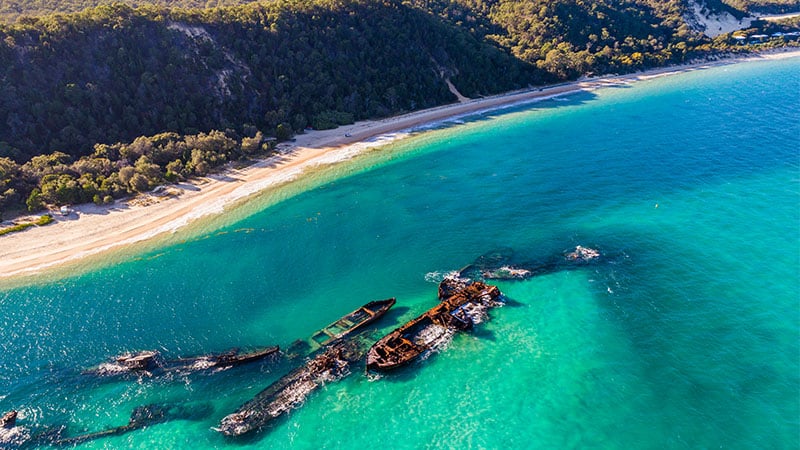 5. Cylinder Beach, North Stradbroke Island
North Stradbroke Island's Cylinder Beach is an award-winning stretch of sand. In both 2018 and 2019, it won Surf Life Saving Queensland's Top Beaches and came third in the 2021 list. It's located between the Cylinder and Home Beach Headlands and is more protected than some other locations on the island. As such, it's ideal for families and young kids. It's also the perfect spot to soak up some sun, enjoy a swim, or even learn to surf on the smaller breaks. Additionally, you'll find plenty of excellent facilities. There's lots of parking, bathrooms, barbecue facilities, picnic areas, and bikeways. Plus, there's also a campsite, with a combination of powered and unpowered sites, plus an Eco Island safari-style permanent tent that sleeps up to four. You'll be able to wake up to the sounds of waves crashing and wander straight down onto the sand.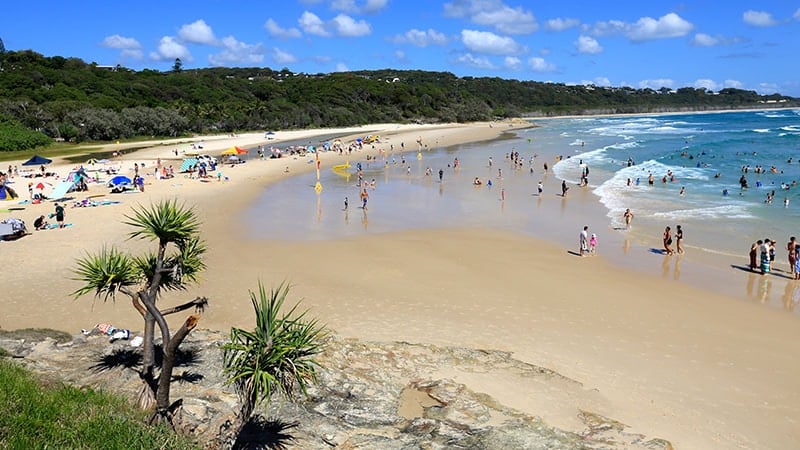 6. Coochiemudlo Island
Nestled in the south of Moreton Bay, between Victoria Point and North Stradbroke, you'll find Coochiemudlo Island. Affectionately known as "Coochie," this little slice of paradise is just five square kilometers but is home to abundant wildlife, including migratory birds, dugongs, and soldier crabs. Plus, it also has three magnificent beaches – Main, Morwong, and Norfolk. Each has calm, protected waters that are great for swimming or SUP. You'll find public amenities at all of them, including bathrooms, barbecues, and playgrounds. The island is accessed via either passenger or vehicle ferry from Victoria Point. Pack a picnic and stay for the day, or book a holiday home on the island and enjoy an extended vacation. Learn about the Quandamooka People, the traditional custodians of the land, as well as European history, such as Flingers Landing in 1799.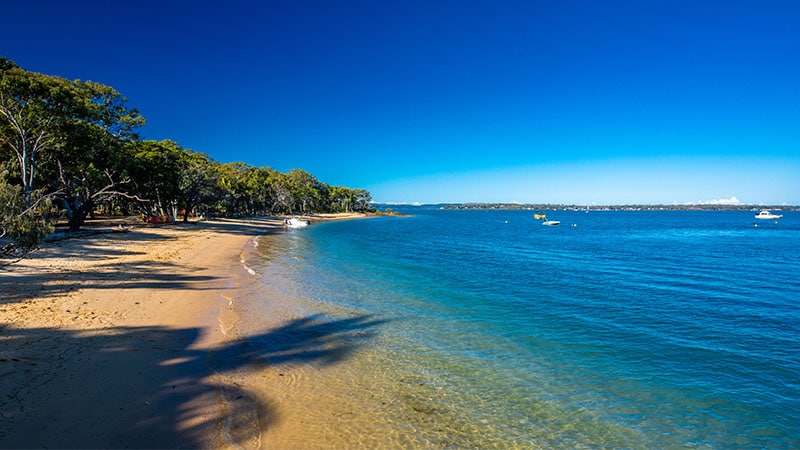 7. Honeymoon Bay, Moreton Island
Who doesn't love a secret escapade with your lover? This hidden treasure, Honeymoon Bay, is located at the very north end of Moreton Island, between Cape Moreton and North Point. It's a small pocket bay, just 50 meters wide, and is shaped like a beautiful half-moon. While you can enjoy a refreshing dip, do be cautious of the strong rips, submerged rocks, and large waves – it's not patrolled, so it's best to avoid getting into trouble. Access is via the walking track from Cape Moreton. It's a two-kilometer journey that requires sturdy shoes and plenty of water, but it is worth it for the picturesque views and Insta-worthy snaps. If that seems a bit too much effort, the North Point camping area is much closer, so if you're staying there, the walk is only about 650 meters.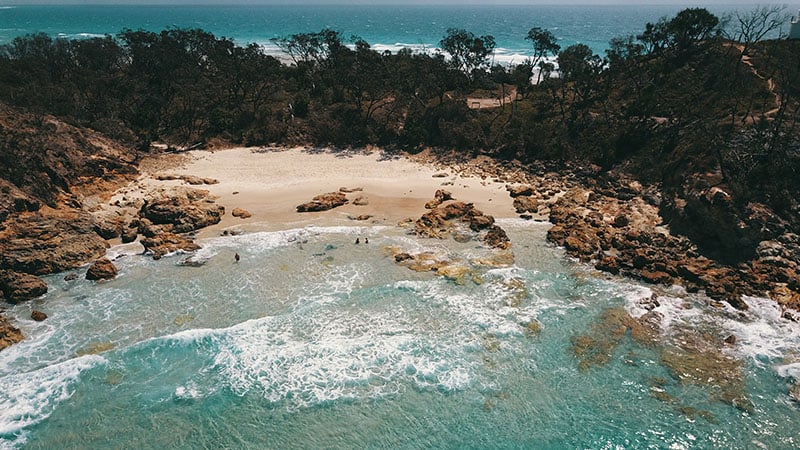 8. Raby Bay Foreshore Park, Cleveland
The Raby Bay Foreshore Park is a sprawling precinct located along the southern edge of Raby Bay, in Cleveland, a 40-minute drive from Brisbane. There are five sections in the park, three of which feature protected beach coves. These are ideal for swimming, especially with kids, as well as SUP and fishing. Other park areas feature excellent facilities like playgrounds, shade shelters, picnic tables, barbecues, bathrooms, and a dog off-leash area. Plus, it's wheelchair accessible, with car parks, restrooms, and an accessible playground. You'll easily be able to spend a day relaxing in the sunshine with the family. Bring a picnic, bikes, scooters, a cricket set, and plenty of water and sunscreen, and you'll be set. You can also hire various spaces around the park for special events such as weddings, naming ceremonies, or other occasions.
VISIT: Raby Bay Foreshore Park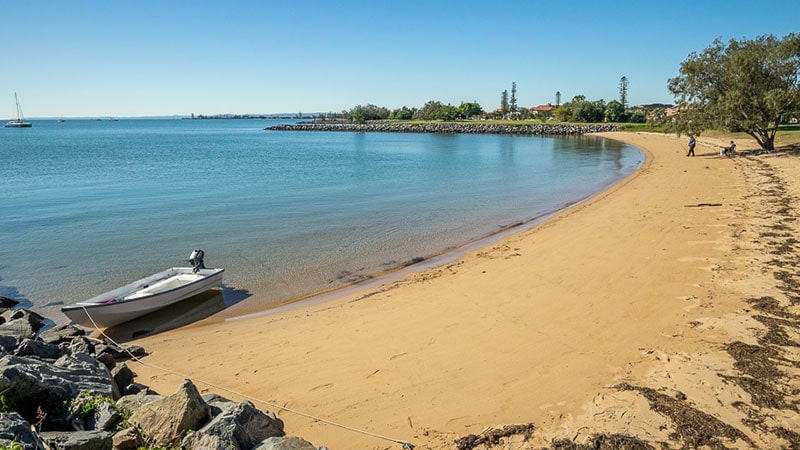 9. Nudgee Beach, Nudgee
Nudgee Beach, just 30 minutes drive from Brisbane, isn't a white sand beach but has its own appeal and unique character. It boasts a long stretch of sandy mudflats that become exposed at low tide, leaving behind plenty of puddles and places to splash. As such, it's ideal for young children to play and get muddy, and it provides excellent reflections at sunrise for keen photographers. You'll also find wetlands and mangroves at one end, which provides a wonderful environment for birdlife. Continue north-east from the beach, and you'll reach the Nudgee Beach Wetlands Boardwalk if you want to explore further. While it was known as an excellent off-leash dog beach, the laws have recently changed, but you can still take your fur baby for a beach walk, as long as they're on a leash. Otherwise, head to the nearby fenced Tuckeroo Dog Park for free running.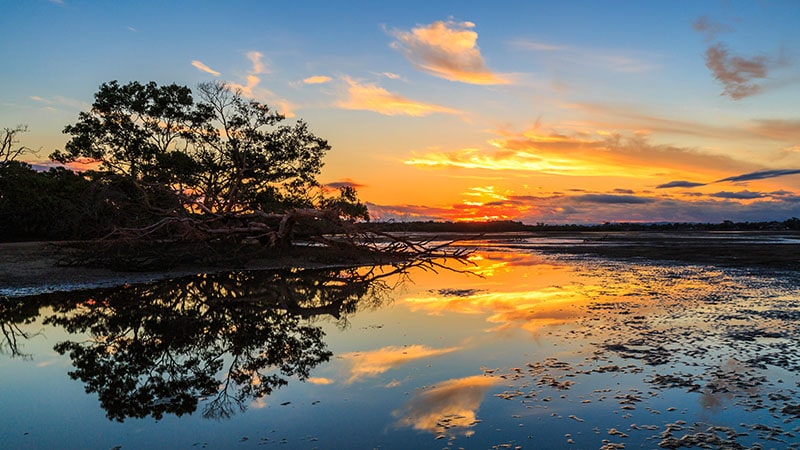 10. Red Beach, Bribie Island
Bribie Island's Red Beach is one for the dog parents. It's located on the southern end of the island and has relatively calm protected water. The eight-kilometer stretch is perfect for letting your furry friend run and frolic, with the beach extending all the way around the tip to Woody Bay. It's a long but lovely trek for both people and dogs and is best done during low tide for the safest access. Enjoy a mix of both on and off-leash areas along this stretch, with signage on the way. Keep in mind; there are no facilities, so make sure you clean up after your pooch and dispose of messes responsibly. Access to Red Beach is via Tully Street and along a vegetation path out to the shore.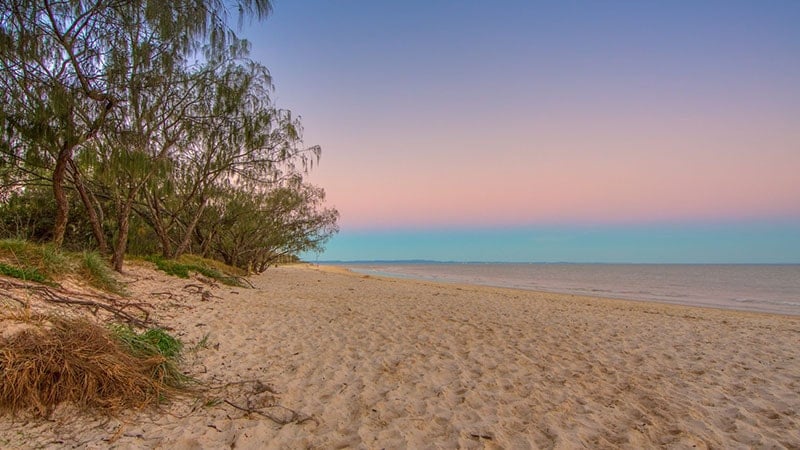 11. Main Beach, North Stradbroke Island
See the sands of Main Beach stretch as far as the eye can see. This 38-kilometer beach extends along the eastern coast of North Stradbroke Island from Point Lookout to Jumpinin. There is plenty of space to swim, surf, fish, and camp. It's a surfer's paradise, with a double bar system and excellent breaks, especially with west to northwest winds. You can also swim, but it's best to do so between the red and yellow flags when the lifesavers are patrolling. Access is only available via 4WD, and you do need a vehicle access permit. Visit for the day, or book one of the 15 campsites along the southern stretch and absorb the incredible beauty of Mother Nature. Look out for kangaroos and koalas on land; then, from June to November, you might be lucky enough to spot whales passing on their annual migration.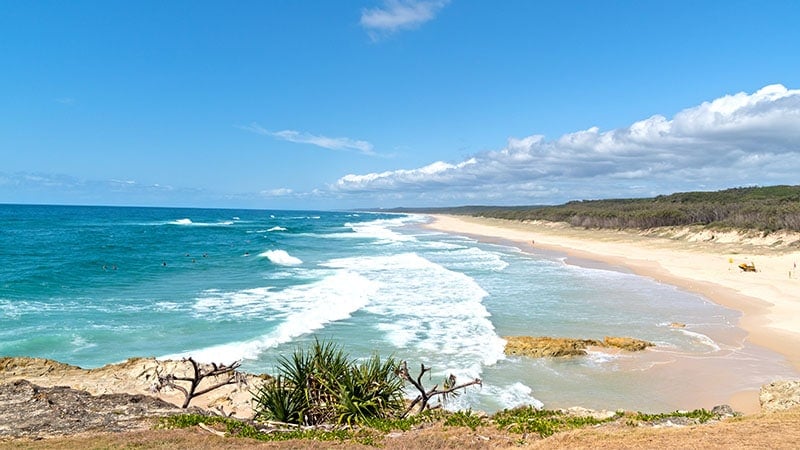 12. Bongaree Beach, Bribie Island
If you're looking for a family-friendly Brisbane beach, then Bongaree on the western side of Bribie Island is perfect. It's located south of the Bribie Island Bridge and enjoys cool breezes, calm sheltered water, and excellent views. Pack your toddler's bucket and spades, and get ready for a day of fun. Older kids and stronger swimmers will love bomb-diving off the nearby jetty, which also offers excellent fishing conditions. On the waterfront, you'll also find plenty of shaded grass areas perfect for a picnic. Light up one of the barbecues for a sausage sizzle, or if you don't feel like cooking, grab something from one of the nearby cafes or takeaway stores. You can also hire watersports equipment such as kayaks or SUPs from local businesses for a different way to explore this pretty beach.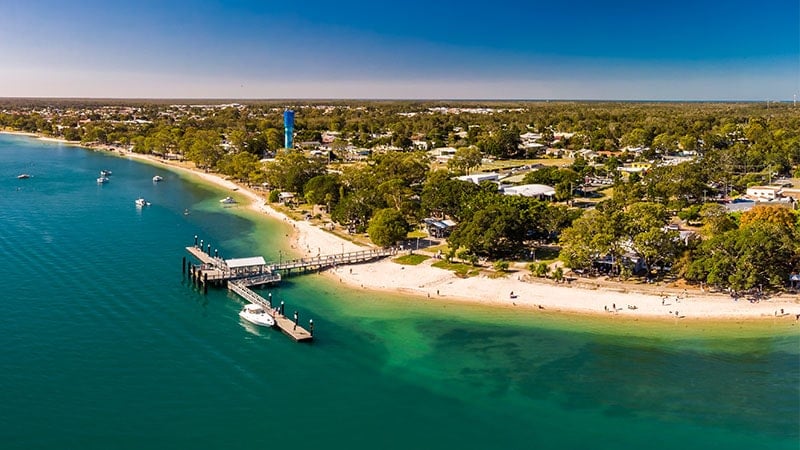 13. Scarborough Beach, Scarborough
It's just as much about taking a dip as is it about the other fantastic facilities at Scarborough Beach. It's located north of Redcliffe, along the waterfront, and is a quaint location and former winner of Queensland's Friendliest Beach. Take the whole family, have a swim, sunbake, and enjoy a picnic on the grass. Kids will love the pirate-themed playground, which also includes Cotton Tree Forest, full of gnarly old trees that are perfect for climbing. Other play equipment consists of a half-pipe skate ramp, giant jumping pillow, and basketball half-court. Plus, Filthy Hobbitses should keep a lookout for the secret door in The Gollum Tree! When you get hungry, there are plenty of nearby restaurants and cafes, so you can grab a sandwich or fish and chips. Otherwise, there are also barbecues so you can cook up your own feast.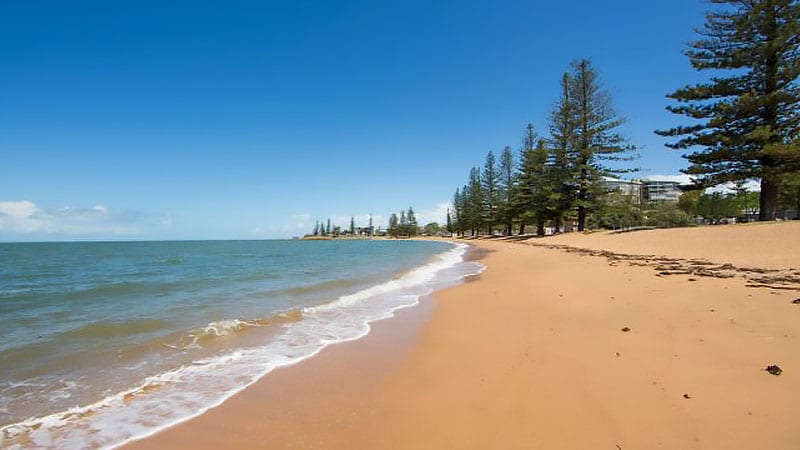 14. Frenchmans Beach, North Stradbroke Island
If you're on North Stradbroke Island and looking for a killer surf break, make a beeline for Frenchmans Beach. It lies to the opposite side of Point Lookout to Main Beach, facing due east. This means it receives very little protection, and the waves range from one to one-and-a-half meters. If you fancy a casual swim, this is not the right place. The water is dominated by strong rips, is incredibly hazardous, and there are no beach patrols. However, it is excellent for fishing, especially around the rocks, but again, exercise caution. You can access the beach from the main road, taking a steep staircase down to the sand, or from around Dune Rocks, coming from Deadmans Beach. On your journey, keep an eye on both land and water for incredible wildlife such as dolphins, whales, and kangaroos.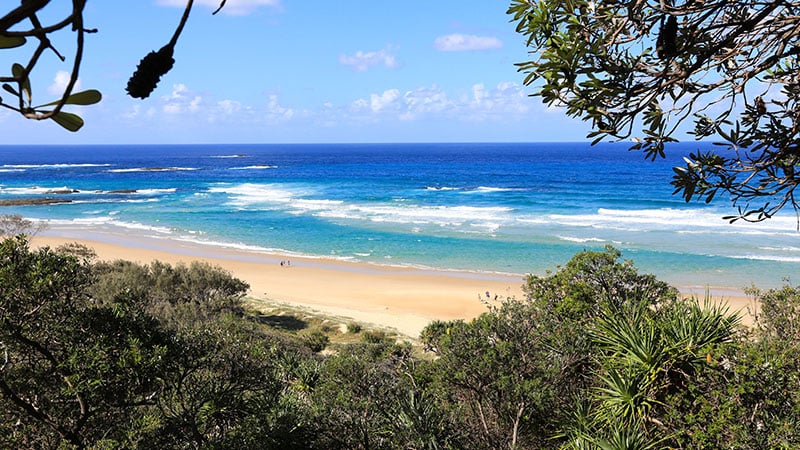 15. Eastern Beach, Moreton Island
Like its nearby sand-island neighbors, Fraser and North Stradbroke, Moreton Island's east coast is dominated by one long, beautiful 27 kilometer stretch of white sandy beach. Also known as Surf Side, the Eastern Beach is six almost continuous beaches. There is no protection from the harsh offshore winds, making excellent conditions for surfers. However, it's not ideal for swimming, and there are no patrols. You will need a 4WD to access this side of the island, with the Middle Track the fastest route from west to east. Because it's also more challenging to get to, you'll more than likely encounter very few people, making it a very peaceful and beautiful escape. Take the drive north and back inland to the Blue Lagoon, or right up to Cape Cliff, and head overland to North Point and the Champagne Pools.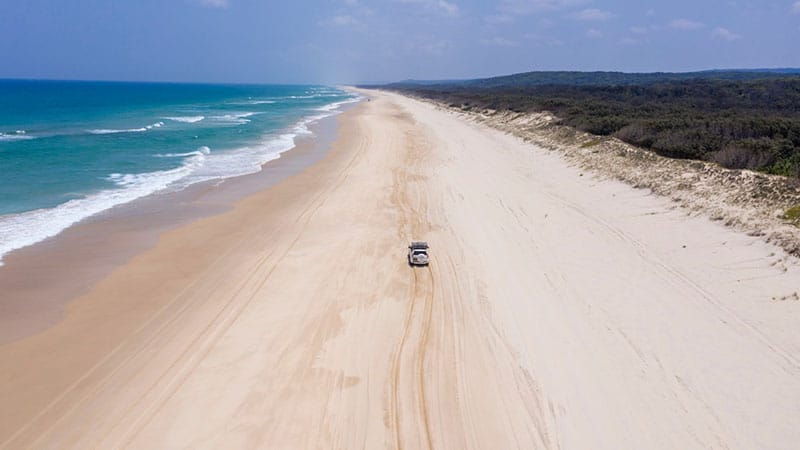 FAQs
What is the best beach to live near in Brisbane?
If you're looking to move to Brisbane but still want to be near the beach, opt for suburbs like Redcliffe or Cleveland with their own beaches. Cleveland is also the launching point for the ferries to Coochiemudlo and North Stradbroke Island, making access very convenient. If you don't mind living out of the city or work remotely, Bribie Island is also a great option, with many beaches and a laid-back sleepy seaside town vibe.
Does Brisbane have a beach?
Brisbane is located inland from the coast, so there are no natural beaches. However, it does boast Australia's only inner-city beach with the artificial Streets Beach at Southbank. Plus, there is a range of stunning beaches around the Brisbane region, from as far north as Bribie Island and out into the Moreton Bay with Moreton and North Stradbroke islands.
Can you swim in Manly beach, Brisbane?
You can swim at Manly if you wanted to, and Bayside Park is a popular spot to SUP. However, there are other little beaches in Wynnum, the next suburb, which is also away from the Marina. Try the sandy Pandanus Beach or Wynnum Wading Pool, which is perfect for families.
SUBSCRIBE TO OUR NEWSLETTER
Subscribe to our mailing list and get interesting stuff and updates to your email inbox.