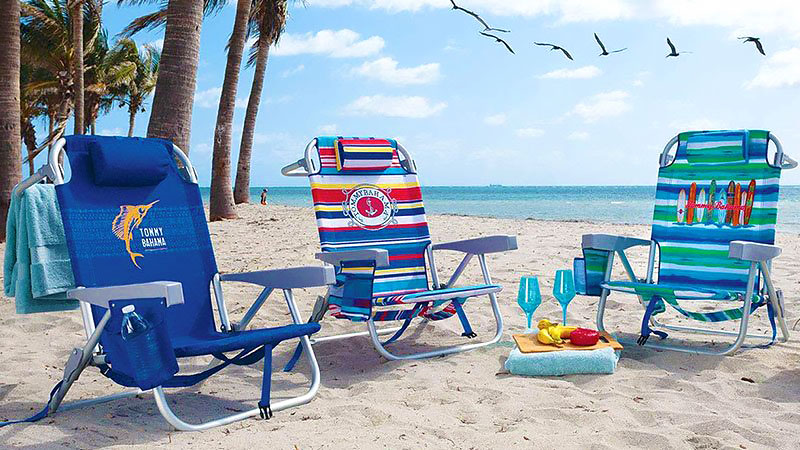 There's nothing quite like the simple joy of a day spent at the beach. Warm sunshine, cool water, and the rhythmic sound of crashing waves – it's a recipe for bliss. One thing that can make it even better is a good beach chair. It keeps you off the sand (so it doesn't get in places you don't want sand!), ensures your towel dries quickly and stays clean, and is ideal for kicking back and just relaxing. There are many styles to choose from. Some sit high; some sit low, some recline, some don't, and most have a drink holder. However, most importantly, all are comfortable and a brilliant addition to your beach gear collection.
1. Tommy Bahama Striped Beach Chair
Tommy Bahama is the epitome of tropical vacation vibes. As such, their beach chairs are the perfect holiday accessory. This striped option is a classic design that folds up into a back-pack style for easy carrying. The frame uses rust-proof aluminum, while the body is 600D polyester with maximum weight support of 300 pounds. One of the most appealing features is the adjustability of the design. Choose from 5 different reclining positions, including lay flat for a sun-soaked nap. Plus, there's an adjustable pillow for extra comfort. Lastly, enjoy plenty of storage with an insulated beverage pocket, zipped storage pouch, cup holder, and velcro-sealed phone pocket.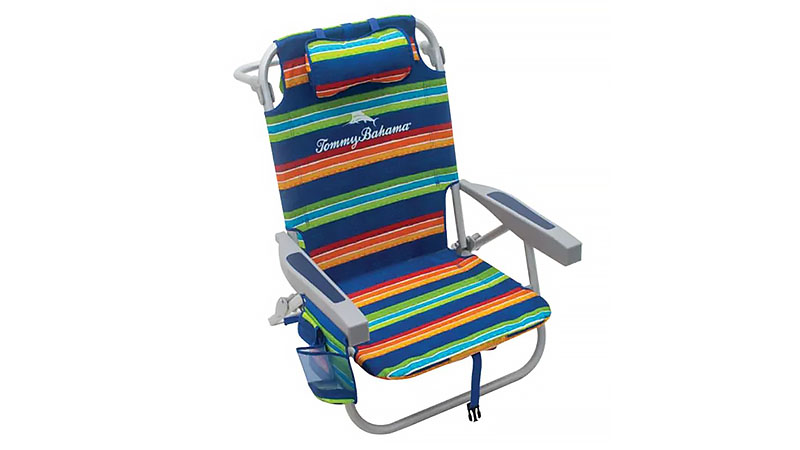 2. Nice C Low Beach Camping Folding Chair
Hey there, low-rider. Nice C's beach chair is ideal for kicking back with your legs stretched out and toes in the sand. Enjoy plenty of airflow through the mesh center that keeps your back and booty cool. The rest of the chair is made from heavy-duty 1000D polyester and a steel frame. Plus, its wide shape and anti-sink feet stop the chair from sinking into the sand. Best of all, it sets up in just 10 seconds so you can hit the waves even sooner. Then, at the end of the day, it also folds back up quickly into the convenient carry case.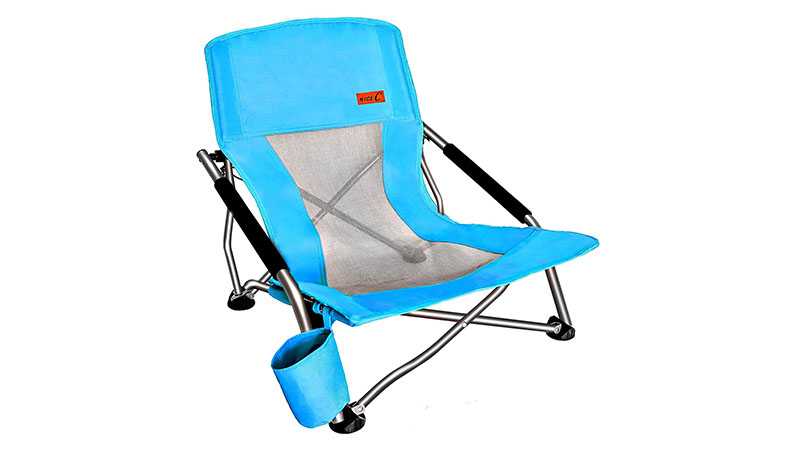 3. Ostrich 3-in-1 Lightweight Aluminum 5 Position Reclining Beach Chair
You can relax in any position with the Ostrich 3-in-1 reclining beach chair. There are five different chair positions plus three different footrest positions. As such, you can go from sitting upright to laying flat in no time. When you're sitting, make use of the comfy bamboo armrests, convenient pillow, and handy cup holder for a refreshing drink. Then, lying down, you can enjoy a cushioned snooze. If you flip onto your stomach, remove the pillow to reveal a padded face hole, which combined with armholes mean you can read a book while lying down – what more could you want!? Lastly, the breathable woven fabric ensures you don't get too hot, while the carry straps make transportation simple.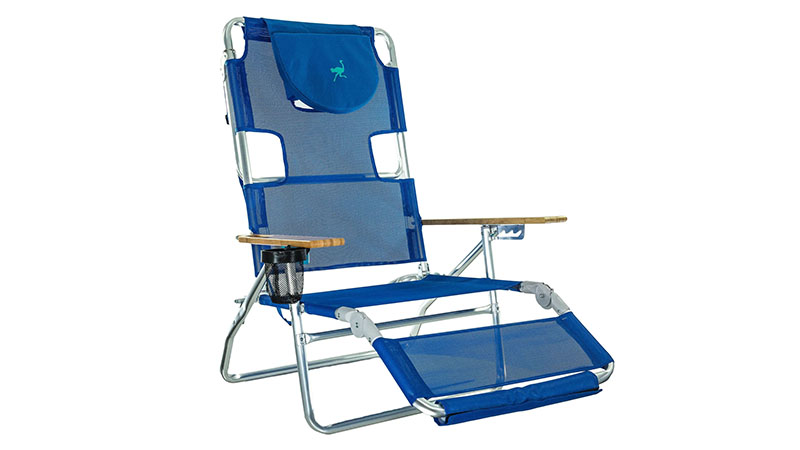 4. TureClos Portable Backpack Beach Chair
Kick back and relax by the seaside in this beach chair from TureClose. It's sturdy, comfortable, and even comes with an adjustable pillow, which is perfect for a lazy afternoon post-swim snooze. There's also a handy cupholder for keeping a refreshing bottle of water nearby and handrails on both sides. The metal frame folds up easily when not in use, making it simple to pack up at the end of the day. Finally, it's effortless to carry, thanks to the double shoulder straps that turn it into a backpack. This keeps your hands free to take other items or wrangle the kids up.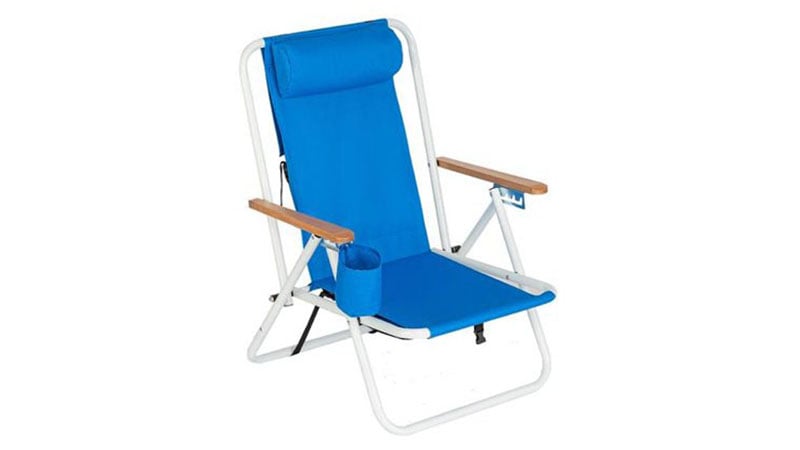 5. Pacific Pass Full Back Quad Chair
Opt for a classic camping-style chair next time you head to the beach. It sits higher than other options, creating excellent accessibility and eliminating the need to get up and down from a low position. The design features lightweight 600D ripstop polyester and a steel frame that supports up to 300 pounds of weight. Other assets include a mesh cup holder that doesn't collect condensation and a cooler bag in the opposite arm so you can keep a spare drink or two chilled. When it comes to portability, the chair folds up quickly to be placed in a convenient carry bag with a strap. Not only is it great for the beach, but you can also take it fishing, camping, and to sporting events.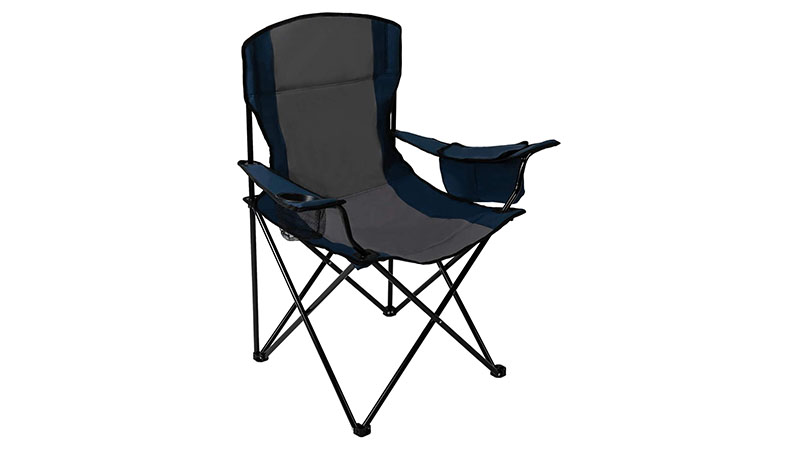 6. Brace Master Beach Chair
Relax and recline on the sand with the Brace Master Beach Chair. The low sling profile is perfect for stretching out your legs and soaking in the sun. Plus, it's full of practical features. The breathable mesh back keeps you cool, while the 600D Oxford fabric is exceptionally durable for lasting use. The steel frame supports up to 300 pounds and has padding on the arms for extra comfort. It also folds to a compact size to slide easily into the handy carry bag. Sneak in a nap using the adjustable pillow, have your belonging close and sand-free in the front pocket, and keep a beverage accessible in the cupholder. It's an ideal choice for cruisey days by the coast.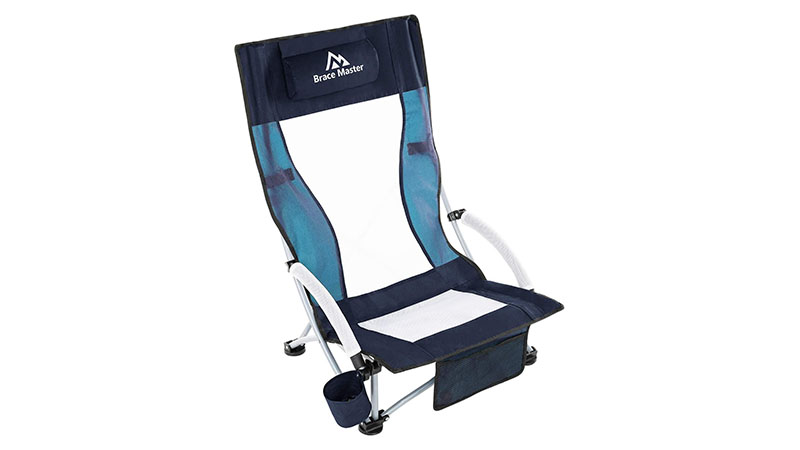 7. HITORHIKE Low Sling Beach Chair
It's all about that chill life with this HITORHIKE Low Sling Beach Chair. Sit back, relax, and enjoy time in the sun with friends and family. The heavy-duty structure makes it durable, long-lasting, and suitable for weights up to 250 pounds. Yet, it's still compact, lightweight, and folds up easily into the convenient carry bag. It uses waterproof 600D Oxford polyester with mesh paneling for breathability. There are also two storage pockets in the front for items like your phone, keys, or snacks. Not only is it great for the beach, but it's also ideal for other occasions like sports games, camping, and parties.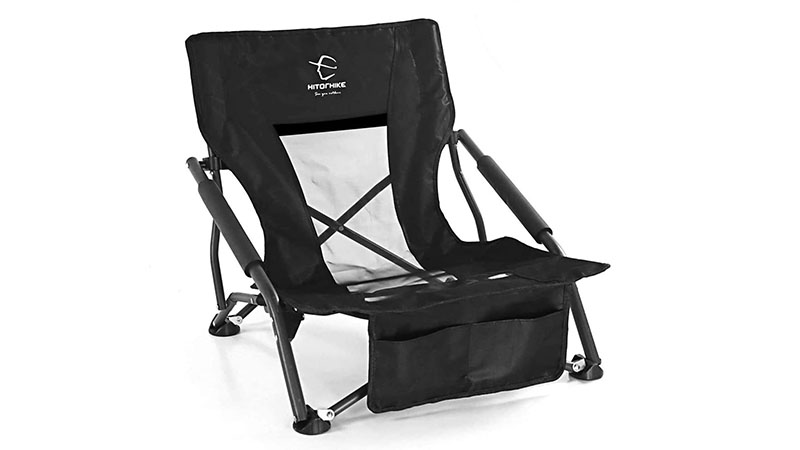 8. MOON LENCE Outdoor Ultralight Portable Folding Chairs
Swap a traditional beach chair for this tub-style option from Moon Lence. It lets you recline and relax as the waves crash nearby. Mesh panels ensure you stay cool and sweat-free, even on the hottest days, while the chair's main section features 600D Oxford polyester. Enjoy the convenience of two side pockets for items like keys, a phone, and snacks. Best of all, it's incredibly lightweight at just 2 pounds yet can support up to 242 pounds. It's also small enough when packed down to fit into carry-on luggage, so you can easily take it on your next beach vacation!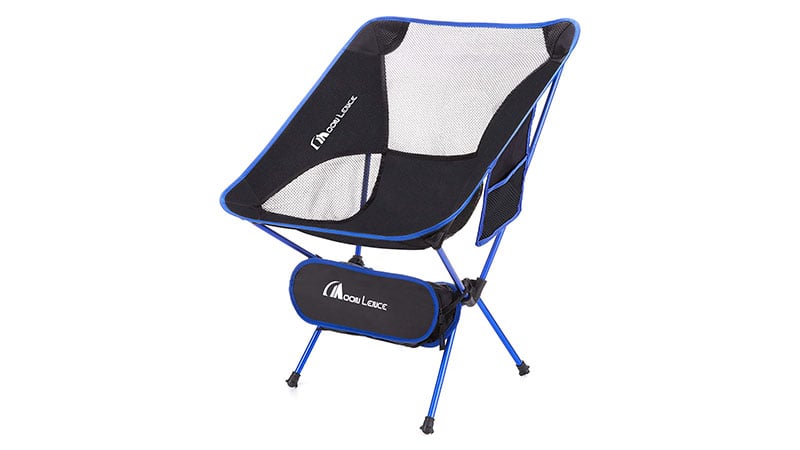 9. Weather Station Folding Steel Beach Chair
Keep it simple with this no-frills design from Weather Station. This beach chair is not only ideal for the seaside but also camping, tailgate parties, and sports events. It folds up easily for storage and transportation in a helpful bag and is lightweight at just over four pounds. The frame uses powder-coated steel tubing, while the fabric is polyester. There's also a mesh drink holder so that you can keep a beer or water close by. At less than $15, it's also incredibly economical and perfect if you're on a tight budget.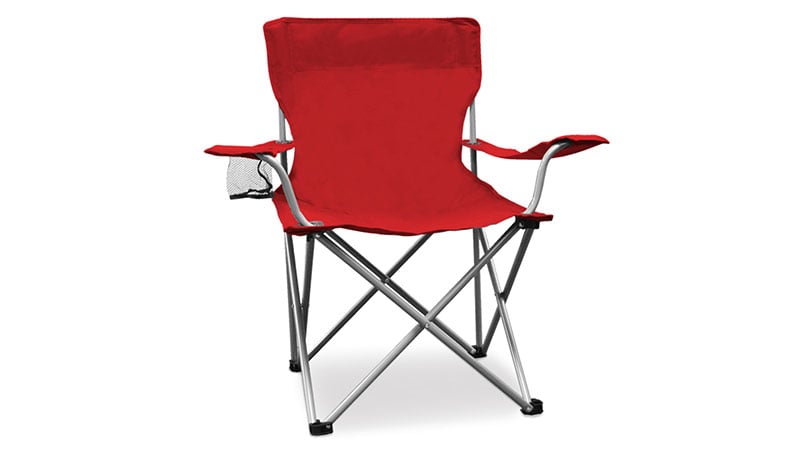 10. Ostrich On Your Back Folding Reclining Beach Chair
Sit up or lay flat with this Ostrich reclining beach chair. Not only are there five adjustable positions, but it also features the brand's patented pillow and padded face opening, plus armholes. Consequently, if you lie face down, you can put your arms through to read a book or just enjoy a more comfortable snoozing position. The extra-wide frame adds comfort, while the cup holder keeps a drink or other valuables close by. Choose from various colors, including teal, blue, or navy and white striped, and carry it with ease using the backpack-style straps.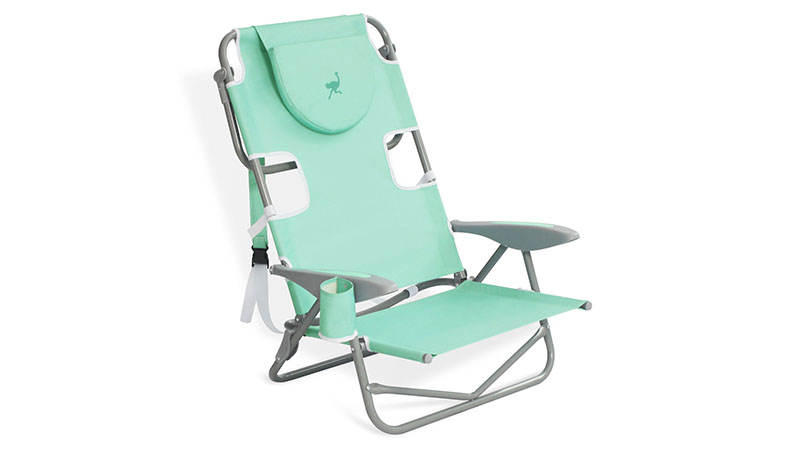 11. Best Choice Products Set of 2 Adjustable Zero Gravity Lounge Chair Recliners
Treat yourself, and a loved one to a pair of new beach chairs. This zero-gravity design from Best Choice is exceptionally comfortable and features freely adjustable back and footrests with a 160-degree variation. A heavy-duty frame means it suitable for weights up to 250 pounds, while the elastic cords along the side adjust perfectly to your body. The main fabric is water-resistant and comes in an array of colors, including black, pink, burgundy, blue, white, orange, green, grey, and tan striped. Enjoy the convenience of a removable headrest and drinks and storage tray that has space for two drinks, a book or tablet, and a phone. Finally, its foldable design makes carting it around to the beach or tailgate party straightforward and easy.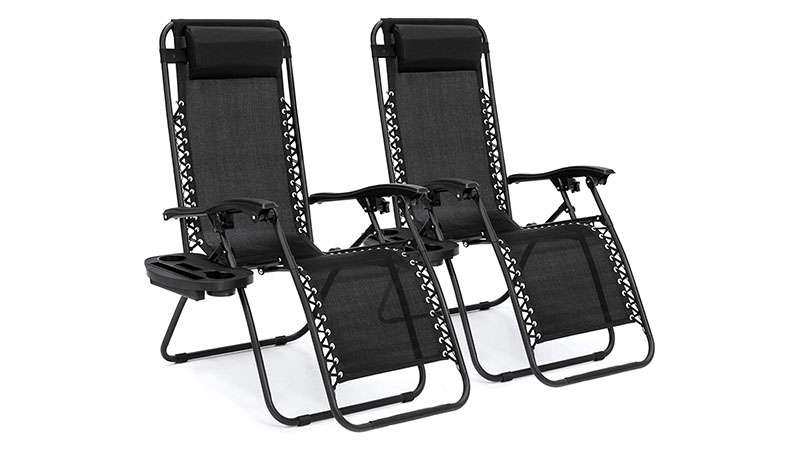 12. Mainstays Reclining Beach Lay-Flat Backpack Chair
This stylish reclining beach chair from Mainstays is perfect for the beach as well as events and camping. It features a lightweight aluminum frame and padded backpack straps so you can carry it with ease and still have your hands free. There's a double pocket on one side for storing valuables to keep them safe and sand-free. Other convenient features include a fold-up towel bar so you can dry it more effectively, an adjustable pillow for the ultimate relaxation, and a zipper under-seat pouch for extra storage. Of course, you can also recline the back, choosing from five options, including lay-flat.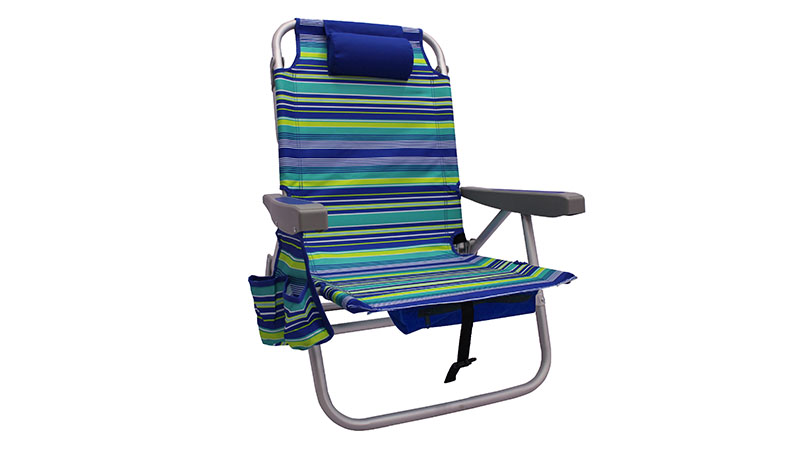 13. Mainstays Soft Arm Low Seat Beach Chair
Embrace the feel of the tropics with this fun palm leaf beach chair from Mainstays. It's a simple design that lets you sit low in the sand to stretch your legs out and soak in the sun. Features include a heavy-duty rust-resistant steel frame and colorful water-resistant polyester fabric. It comes with padded EVA arms, a drink holder, and a carry bag with a shoulder strap. Plus, the folded size is small and weighs just over six pounds, so it's lightweight and doesn't take up huge amounts of space in storage. Lastly, it's an excellent price, so it easily fits within most budgets!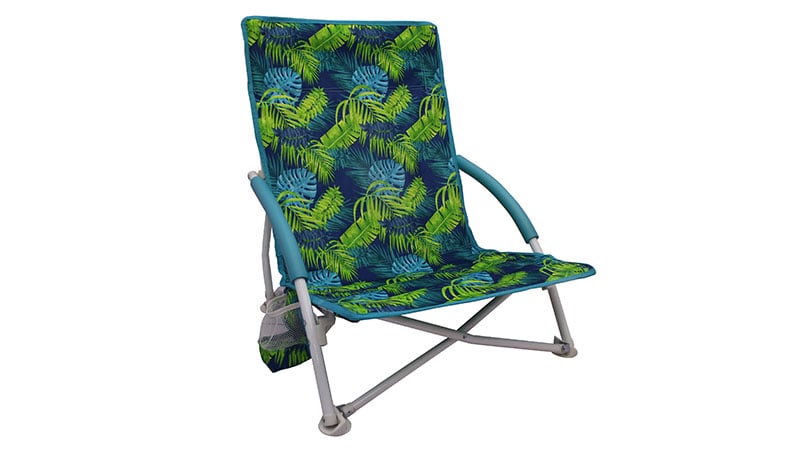 14. KingCamp Low Sling Beach Chair
The high back and wide seat on this sling beach chair from KingCamp is perfect for a full-day beach adventure. It comes in a convenient carry bag and folds out quickly and simply. The back panel features mesh for maximum airflow and a pillow for extra comfort. There's also a cupholder for your favorite drink and a mesh pocket to keep your phone and keys safe. The heavy-duty steel frame supports up to 300 pounds, yet the entire unit is less than seven pounds. Finally, choose from bright, fun colors including cyan, blue, or pink, and pick a single chair or opt for a pair for you and a friend.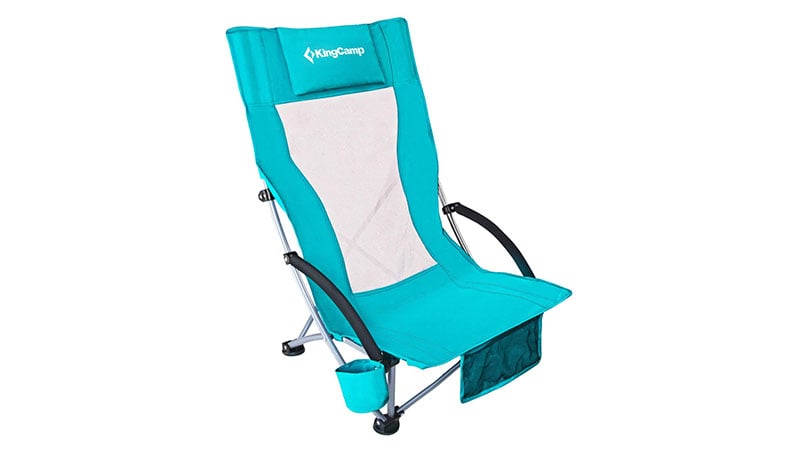 15. Homevative Folding Backpack Beach Chair with 5 Positions
If you're looking for a beach chair packed with features, then go no further than this design from Homevative. To start, it has five reclining positions, including lay flat. When it's upright, you've got access to two storage pockets, one of which is a cooler for ice and drinks. Then, there's a cup holder and phone storage pocket on the side, an adjustable pillow, and a towel bar for drying your towel and keeping it out of the sand. When it comes to transport, it folds up neatly and has two padded straps to carry it like a backpack; plus, it doesn't take up a lot of space when you're not at the beach. Finally, enjoy even more comfort with the lace-up seat suspension that adjusts to your body.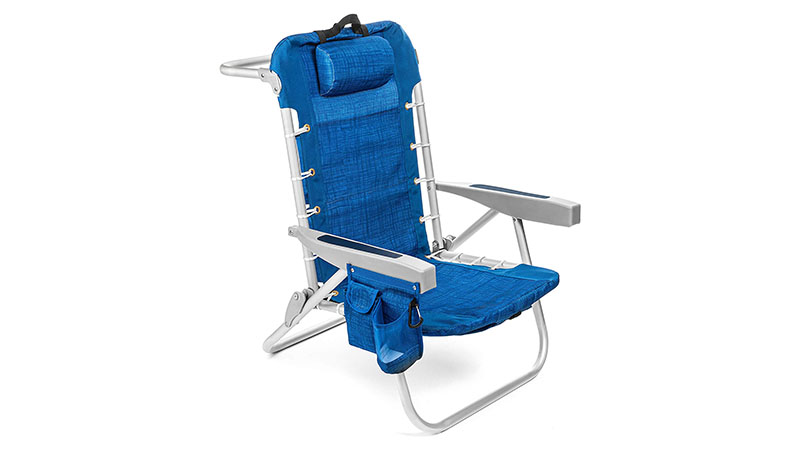 16. Outdoor Spectator Multi-Position Flat Folding Mesh Ultralight Beach Chair
Enhance your outdoor furniture collection with this two-pack of folding beach chairs from Outdoor Spectator. You can choose from simple grey, bright red, vibrant blue, or deep purple shades. They hold 225 pounds of weight and use 200g polyester mesh, which is both water and UV-resistant. The frame is aluminum and steel for durability and longevity, with comfortable plastic arms. Enjoy using a foam-filled pillow and a cup holder to keep a fresh drink close by. Finally, select from five different reclining positions for the perfect amount of relaxation, no matter what time of day it is.
17. Tommy Bahama 5-Position Classic Lay Flat Folding Backpack Beach Chair
Opt for a classic beach chair with this design from Tommy Bahama. It lets you sit low on the sand but not in it, so it's the best of both worlds when it comes to beach time. Relax in five different reclining positions, and make use of the combination insulated cup holder and zipped storage pocket. At the back, there's a towel bar, insulated cooler, and mesh storage pouch. Then at the front is a pillow for a quick nap when you get the sunshine sleepies. The aluminum frame is rust-resistant and lightweight at just over seven pounds. This also means it's easy to carry with the patented shoulder straps that convert it into a backpack for hands-free travel.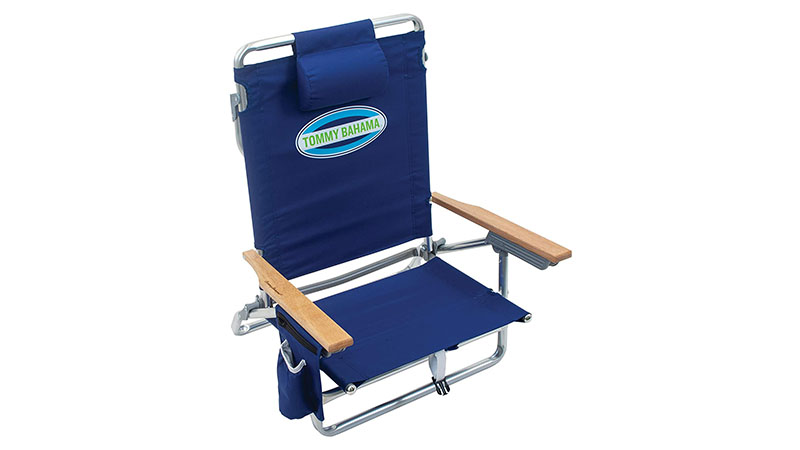 18. RIO Beach Portable Folding Backpack Beach Lounge Chair
Take relaxation to another level with this beach lounge chair from RIO Beach. Not only can you lay flat for comfortable sunbaking, but it also adjusts to a seated position when you want to be more upright. There's a large storage pouch at the back that will fit all your essentials for a full day by the ocean. When it comes to transport, it's effortless. The unit folds up and secures with straps that also let you carry it like a backpack. At only nine pounds, it's lightweight and suitable for most people to handle. Finally, the material is a durable polyester designed to withstand daily usage.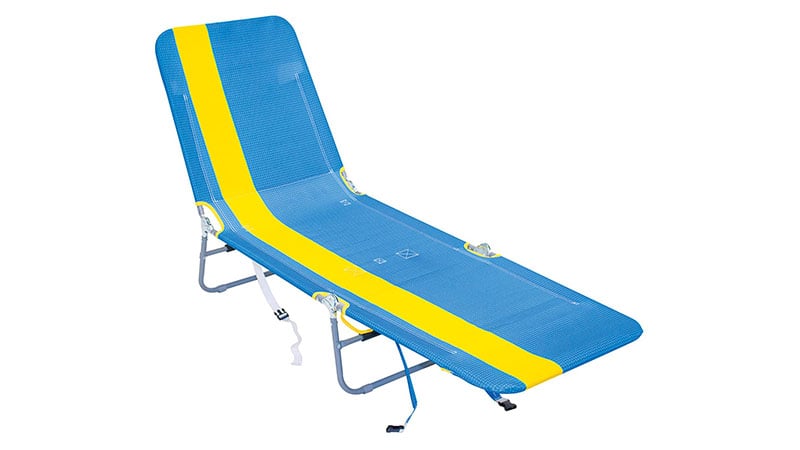 19. GCI Outdoor Waterside Reclining Portable Backpack Beach Chair with Sunshade
There's no need for both a beach chair and umbrella with this all-in-one unit from GCI Outdoor. The chair boasts a mesh back panel, comfortable pillow, handy drink holder, and a large storage pocket at the back. It also reclines to four different positions for your perfect level of relaxation. Next, the frame is a hybrid of powder-coated steel and aluminum and supports up to 250 pounds. Finally, the canopy pops up easily and has an Ultraviolet Protection Factor (UPF) 50 to keep you safe from the sun's harmful UV rays. At the end of the day, the unit packs down to s surprisingly small size and has convenient backpack-style straps for simple transportation.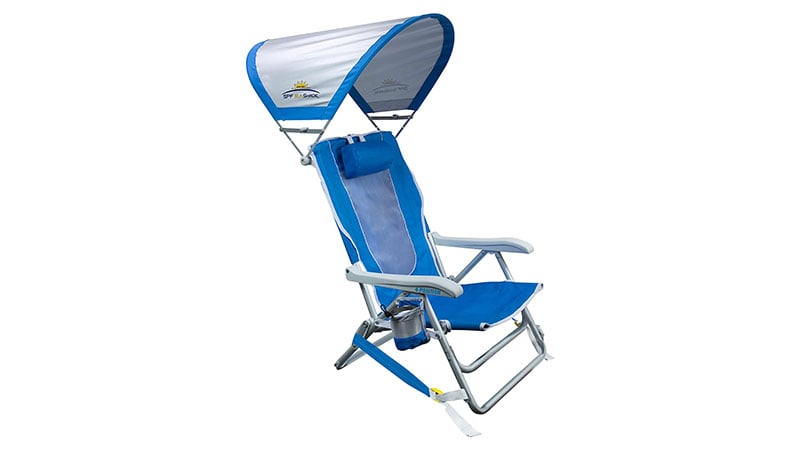 20. Mainstays Reclining Bungee Beach Chair
If your looking for simple and versatile, this beach chair from Mainstays is ideal. The bungee-suspension design means the weather-resistant polyester fits perfectly to your body for the ultimate comfort. Plus, you can tailor your level of relaxation with four adjustable reclining positions. Then, enjoy the convenience of a dual-compartment storage pocket for both drinks and essentials like keys, phone, and wallet. The frame is made from lightweight and rust-proof aluminum and has a seat height of just over 15 inches, so it's easy to get in and out of. Last of all, it folds flat for easy storage and transportation with back-pack style straps. This style of chair is excellent not only for the beach, but camping, barbecues at friend's places, and tailgates.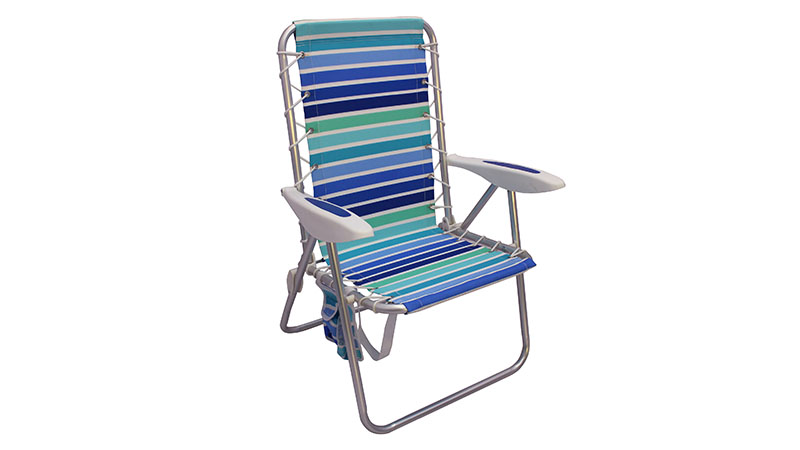 21. Armor Castle Portable Camping Chair with Footrest
Indulge in a bit of luxury on your next beach trip with this Armor Castle camping chair with a footrest. It's the perfect way to sit back, relax, and just relish the sounds of the ocean crashing against the sand. Not only does it have a footrest, but it also has different reclining options and a pillow so you can have a sunshine-warmed nap. There are also mesh panels to keep you cool and a small storage compartment and cup holder. The fabric is tear and abrasion-resistant, while the frame uses aerospace steel – all of which contributed to a durable, hard-wearing chair. While the overall unit is larger than other options, it's still easy to carry thanks to the folding frame and convenient carry bag with shoulder strap.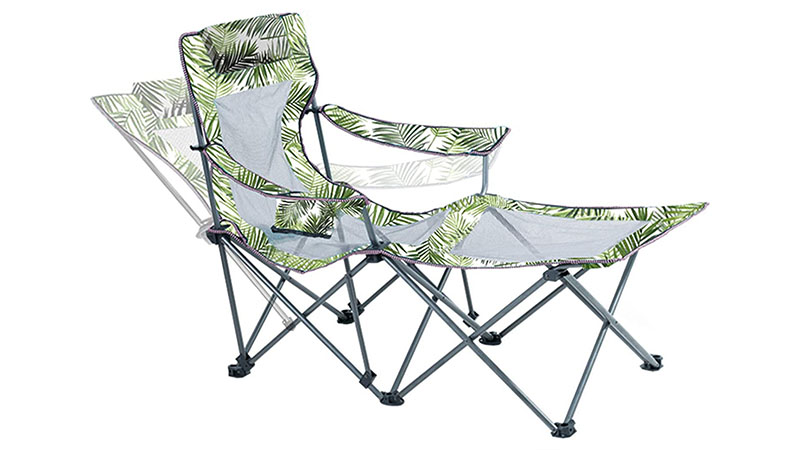 22. Portal Aluminum Lightweight 4-Way Hi-Back Folding Beach Chair
Opt for simple and fuss-free when choosing a beach chair. This design from Portal fits the brief perfectly. There are four reclining positions that can be switched up with the pinch-free mechanism. The frame is made from lightweight anti-rust aluminum and wooden armrests, while the main section uses 600D canvas polyester in a green and orange striped print or a blue stripe design. Plus, you can keep a refreshing beverage nearby with the drink holder. Finally, it folds up flat, taking up limited space, and has a handy shoulder strap to make transportation straightforward.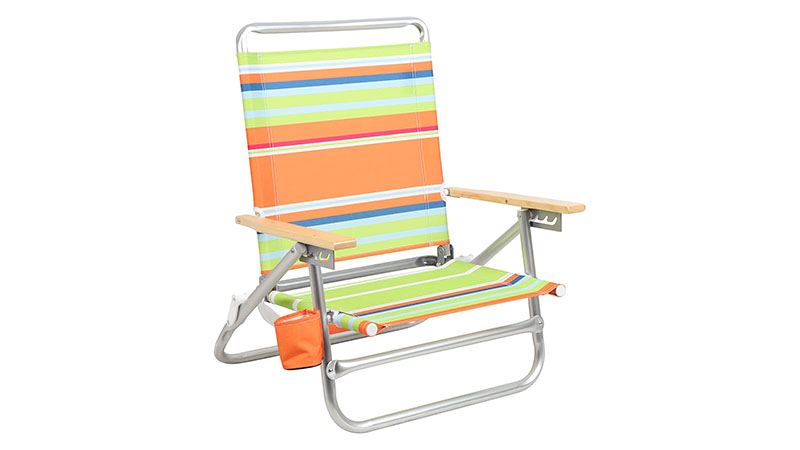 23. Caribbean Joe Deluxe Beach Chair
Caribbean Joe's Deluxe Beach Chair is easy, breezy, and the perfect addition to any beach day. The aluminum frame is lightweight yet strong, and it folds up easily to carry with the convenient strap. Make use of the storage pocket and cup holder to keep your essentials close by and out of the sand. You can also choose from five different reclining positions to find your perfect kind of comfort for all-day seaside fun.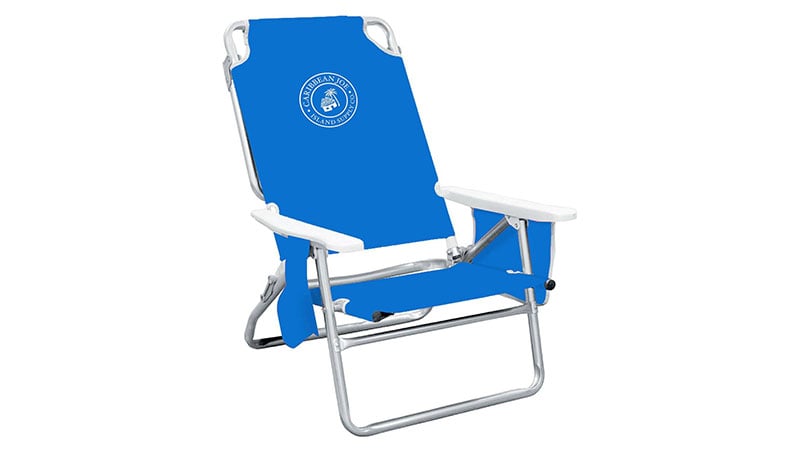 24. Rio Beach Classic 5 Position Lay Flat Folding Beach Chair
The Rio Beach Classic is another great option for your next trip to the coast. Not only can you choose from five reclining positions, it uses patented SAFE-ADJUST technology in the wooden armrests, so you don't risk pinching your fingers when you're changing between positions. Keep your towel dry, and sand-free using the rear towel bar, and have your essentials close by in the drink holder pocket. When it comes to carrying it, it's straightforward. The design folds flat, and there is an adjustable and padded shoulder strap. Finally, there's an array of fun colors and patterns to select from, so your chair stands out on the beach. Opt for solid shades in green and various blues, tropical patterns in rainbow colors, or an assortment of stripes.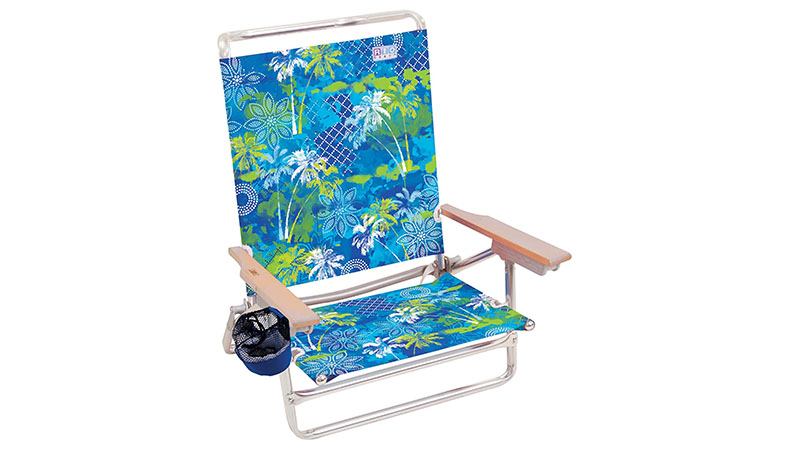 25. ALPHA CAMP Low Beach Camping Folding Chair
Spend a comfy day by the ocean with a loved one in this pair of ALPHA CAMP low beach chairs. They feature an ergonomic sling design and breathable mesh paneling to keep you feeling fresh. The high back provides extra support; however, the design also comes in a low back option. The frame uses heavy-duty steel and supports up to 300 pounds. It's also covered with soft padding at the arms for additional comfort. The body of the chair is made from 600D Oxford fabric, known for its water resistance and durability. Other valuable features include a front storage pocket for easy access to your gear and a carry bag to make taking it down the sand much more manageable. Finally, it folds up and down in seconds so you can hit the water even quicker.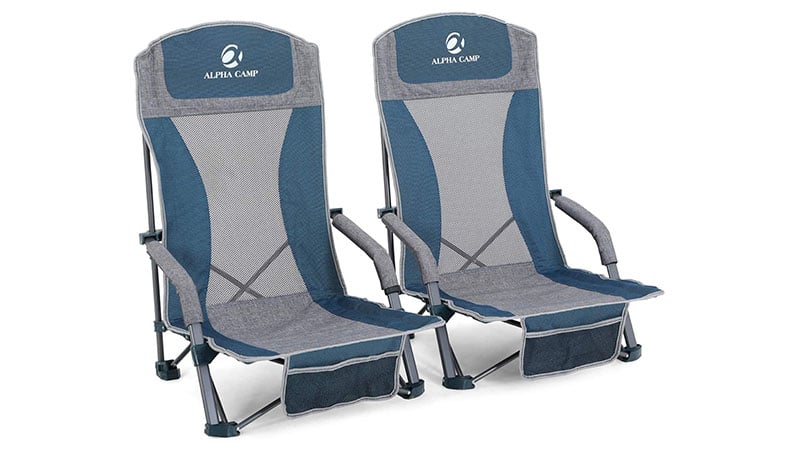 Beach Chair Buying Guide
Comfort
It's easy to spend an entire day frolicking in the water and soaking up the sun at the beach. As such, you want a chair that's going to be comfortable for all-day use. Adjustable reclines are excellent for mixing things up and getting into the most comfortable position. Mesh panels will help keep you cool and stop sweating, while a broad base is ideal for preventing the frame from digging into your butt or thighs. Lastly, features like pillows can add an extra, luxurious level of comfort, especially if you love a post-swim snooze.
Added Extras
Beach chairs can come with a surprising amount of added extras. The most common are drink holders and storage pockets. These are great for keeping a refreshing beverage nearby and preventing your essentials like keys and phone from getting lost in the sand. Other extras to consider include pillows, sun canopies, built-in coolers, recline adjustability, and footrests. What you choose can depend on how much, when, and how you'll use your chair, so have a good think before you buy. The only downside is that more features can add a little extra weight to the unit, making it heavier to carry.
Durability
If you're investing your hard-earned dollars into a new beach chair, you want it to last more than one summer season. Durability is essential in both the frame and the material. Look for metals that are rust-resistant and strong, as this will help prevent deterioration and unnecessary wear. Regarding fabric, opt for thick, high-dernier, rip-stop materials that are water and weather-proof for the longest life.
Portability
Portability is an important factor when deciding what beach chair to buy. There's often a fair distance between the parking lot and your ideal beach spot, and sand is notoriously difficult to traverse. Plus, you'll often be carrying more than just the chair, especially if you have kids, so something that's easy to carry and keeps your hands free is ideal. Many designs either folder up into a backpack-style or come with a carry bag that can be slung over the shoulder.
Weight Capacity
Most chairs have a maximum weight capacity, many of which sit between 250 and 300 pounds. While this should suit many people, if you have a larger frame, it's best to check the manufacturer's recommendations before purchasing. The same goes if someone wants to sit on your laps. Nothing ruins a fun day at the beach more than your chair collapsing beneath you.
Sun Protection
Sun protection built into your beach chair can eliminate the need to pack a beach umbrella. Some designs come with a canopy that provides shade and shelter and pops up and down easily. Of course, you should still apply a quality broad-spectrum sunscreen of at least SPF30. The other kind of sun protection you need to consider is whether the chair's material is weather resistant. Sun has a damaging effect on materials, just like skin, so look for weatherproof fabrics to increase the longevity of your beach chair.
FAQs
What is a Beach Chair Called?
Beach chairs might also be referred to as a camp chair, a folding chair, a deck chair, or a lounger.
What are the best chairs for the beach?
The best chairs for the beach will be low, with an adjustable recline and useful extra features like storage and drink holders. Try styles like the Ostrich 3-in-1 Lightweight Aluminum 5 Position Reclining Beach Chair, Mainstays Soft Arm Low Seat Beach Chair, or Tommy Bahama Striped Beach Chair.
Why are beach chairs low to the ground?
The low height of many beach chairs meaning a lower center of gravity and therefore greater stability. It also increases lounging comfort and gives more space to stretch your legs. It emulates sitting on the sand without actually sitting on the sand and with the bonus of back support.
What are the Lightest Beach Chairs?
Most beach chairs average around seven pounds in total weight. However, some super lightweight options, such as the MOON LENCE Outdoor Ultralight Portable Folding Chair, are incredibly only two pounds! Look for lighter metals in the frame, such as aluminum, if you want to reduce your chair's weight.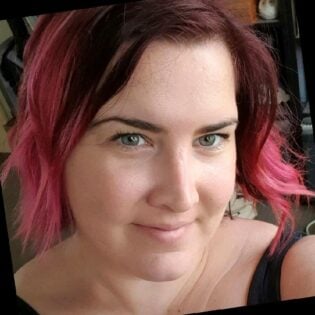 Alexandra Linde is an experienced writer holding a bachelor's degree in Journalism. She is the owner of Alexandra McKiterick Creative and has expertise in travel, fashion, fitness and lifestyle. Alex has previously written for Flightcenter, Travello, and Backpacker Deals.
SUBSCRIBE TO OUR NEWSLETTER
Subscribe to our mailing list and get interesting stuff and updates to your email inbox.