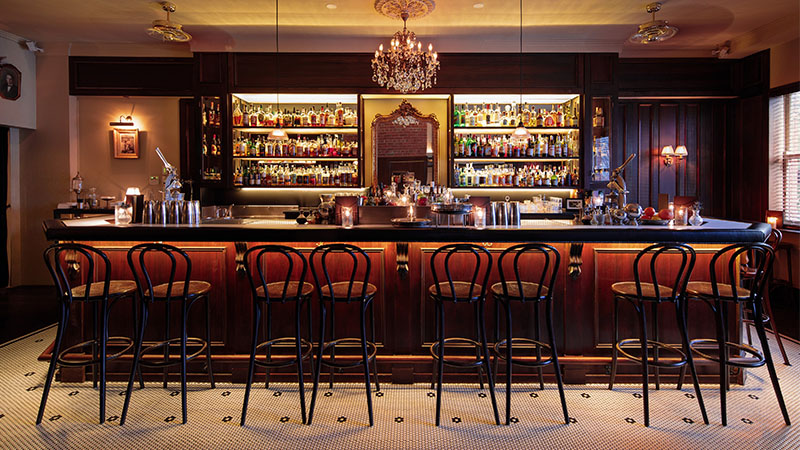 Melbourne's world-class bar scene stands as the envy of the nation. Stellar spots sit on every corner and down every laneway. And there is certainly no end to the onslaught of new openings insight. But with such an abundance of choice, knowing where to go can be a task requiring a drink itself. From new and noteworthy to tried and true, there is something for everyone in one of these best bars in Melbourne.
1. Cookie, Melbourne
Melbourne's Cookie is an old faithful that never disappoints. With the never-ending onslaught of new openings across the city, sometimes it is best to go where you know the atmosphere will be buzzing, and the beer flowing. Centrally located in Melbourne's iconic Curtin House, the enduring institution brings in locals and tourists alike night after night. Not quite a beer hall, not quite a cocktail bar, and not quite a Thai restaurant. Cookie seamlessly blends all three to produce a buzzing, CBD atmosphere that just works.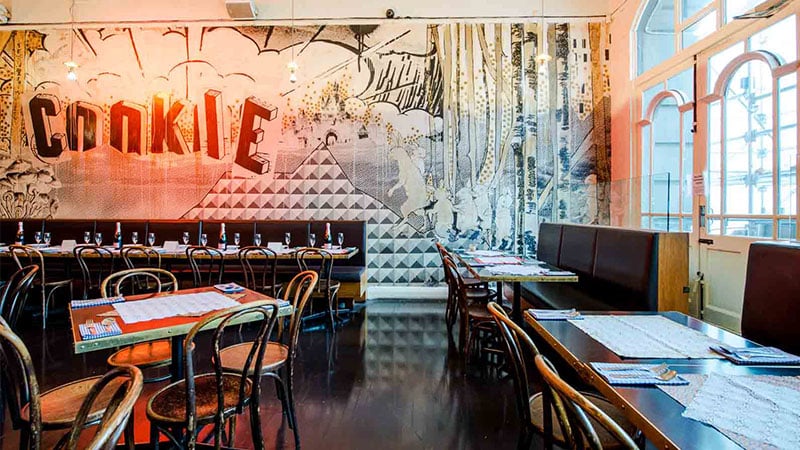 Lucky Coq, Windsor
With a $4 pizza special and a selection of crowd-pleasing beers, this vibrant bar is a student hotspot. On the lower level, you will find kitschy furniture arranged in conversation-inducing clusters and a rotating roster of funk, soul, and house DJs. Venture upstairs to find the lantern-lit rooftop lounge with its own bar and dance floor making it your next summer destination.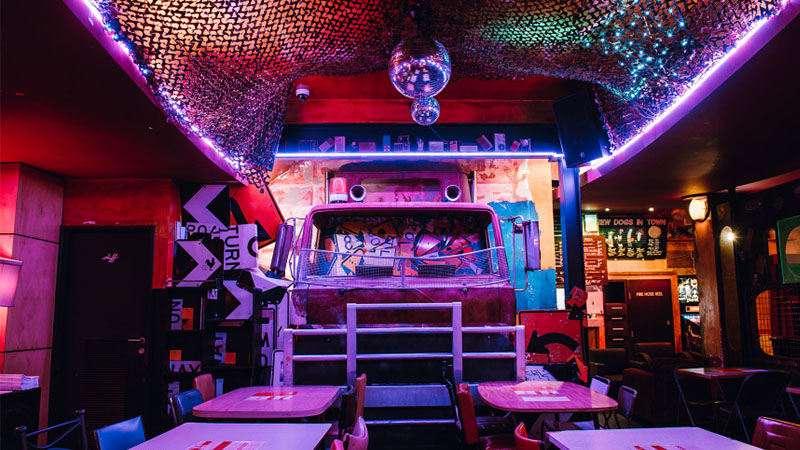 2. Eau De Vie, Melbourne
This American prohibition-style bar was once Melbourne's original hidden bar. Due to its wild popularity, it has since become one of the city's worst kept secrets. But with its jazzy soundtrack, expert staff, and inventive drinks, this crowd-pleasing venue is one we will happily share. The Whisky Room is the ideal place to enjoy one of the bar's rare and exclusive whiskies. You can also take a seat at their degustation table where they host a 5 course, cocktail degustation experience.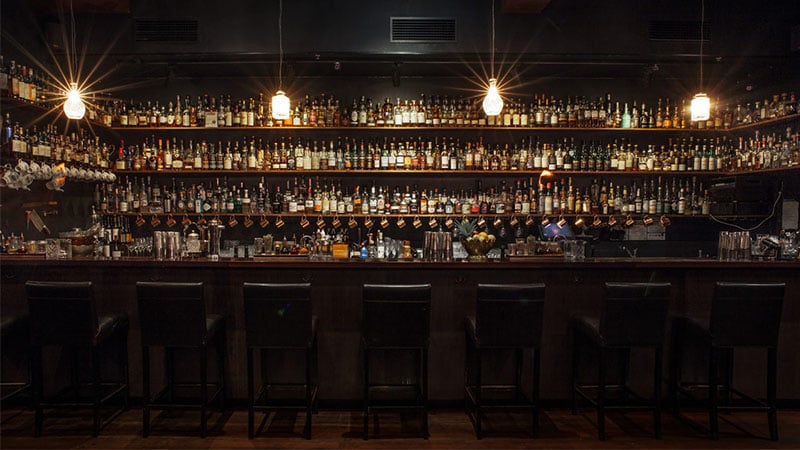 3. Naked in The Sky, Fitzroy
Situated above the popular tapas restaurant Naked For Satan, this rooftop bar takes things to another level – quite literally. Naked In The Sky boasts the best city views in all of Fitzroy. And with both indoor and outdoor seating areas, you can be sure the unpredictable Melbourne weather has no say in your plans. The food menu is all about Basque flavours, while the drinks menu plays host to a broader selection of local, Spanish and Basque options. You may have to queue, but with a view that good, it is more than worth the wait.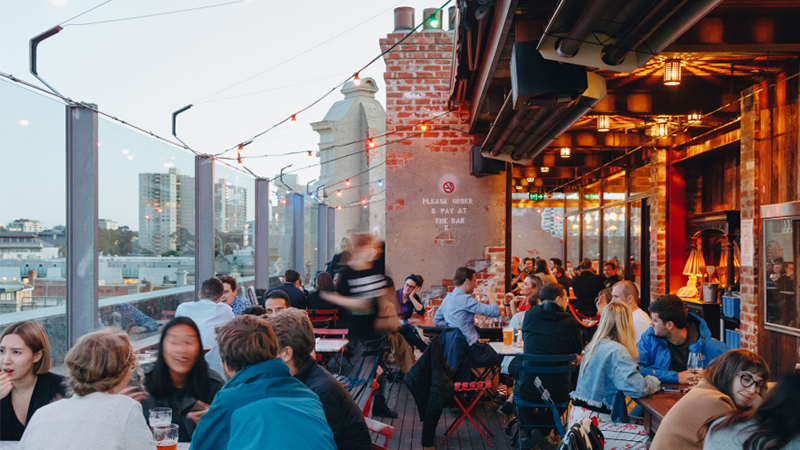 4. Neptune Bar, Windsor
This ambitious, two-story bar is bringing the best in Mediterranean food and wine to High Street in Windsor. Here you will find high-grade tins of tuna served with crisps and pickles and best paired with a dry white or vermouth. With mood lighting and cosy booths, it is the perfect venue for a tinder date.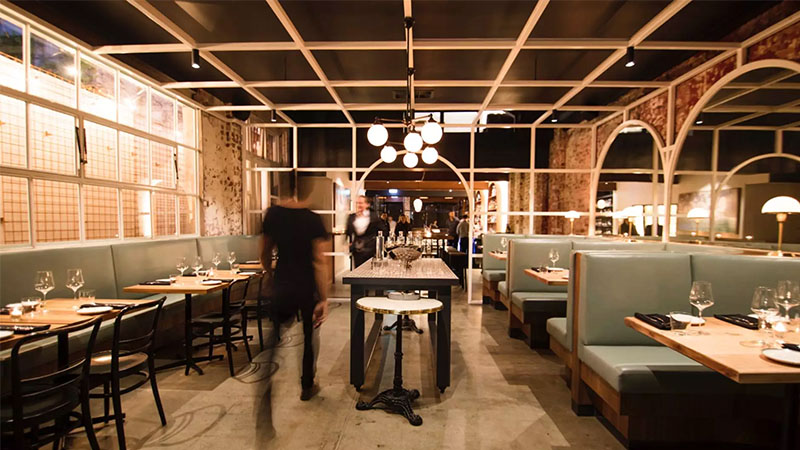 5. Siglo, Melbourne
Enter through the unmarked doors of Melbourne's Supper Club and venture up several flights of stairs to find this sophisticated rooftop bar. With an impressive view over Parliament House and a menu offering caviar, foie gras pate, and Jamon ham, Siglo is a little slice of Europe in the heart of Melbourne. Be prepared to fork out a little more than usual for a night out at this classy establishment – but hey it's still cheaper than a flight!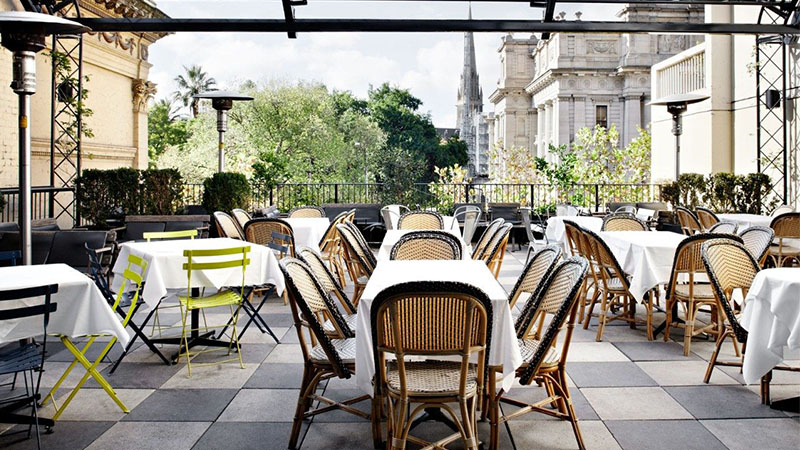 6. Bar Liberty, Fitzroy
In partnership with some of Australia's best vignerons, brewers, distillers, and roasters, Bar Liberty is all about bringing you a seriously good drink. The focus is on wine, but they've got all the other bases covered if that suits you. Paired with honest hospitality and a delicious meal, what else could you want?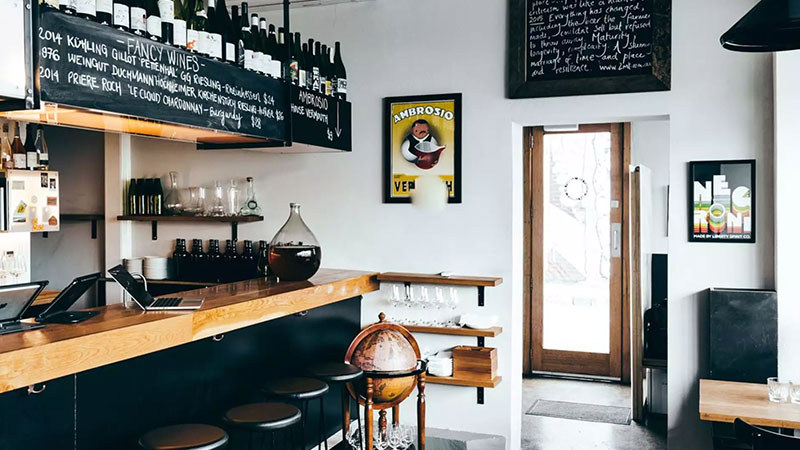 7. Howler, Brunswick
Nestled inside a converted warehouse, you will find Howler. A multifunctional, multifaceted arts hub and bar. Its unique indoor-outdoor beer garden features sculptural bike racks, large wooden benches, and black metal planter boxes full of trees. At the bar, you will find one of the city's most eclectic craft beer list, including the Japanese Hitachino Nest on tap. If all that doesn't satisfy the hipster within, the bar also houses a dedicated performance space out the back supporting local and international Indie acts.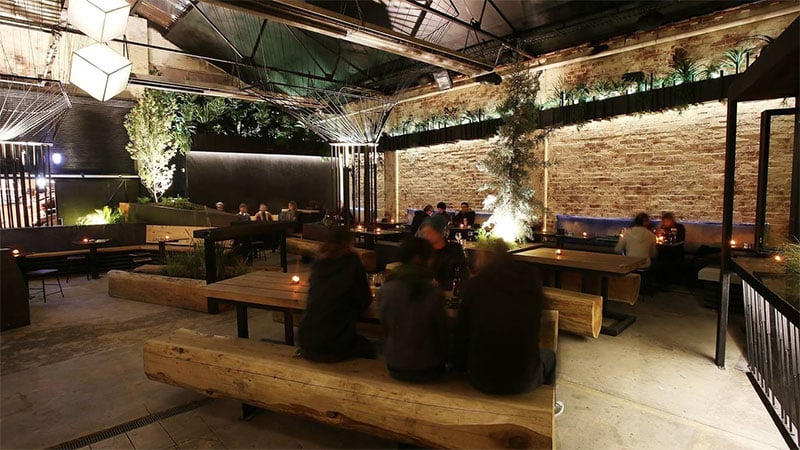 8. The Everleigh, Fitzroy
The Everleigh in Fitzroy has taken out a slew of awards since opening its doors in 2011, and for good reason. Reminiscent of the golden era, the swanky speakeasy is dedicated to classic cocktails and quality service. With a purist approach to drinks, know you are in good hands as one of the expert bar staff whips you up a carefully considered concoction. Be transported to another time through old-world decor (think: Chesterfields and deer heads) and the smooth sounds of jazz.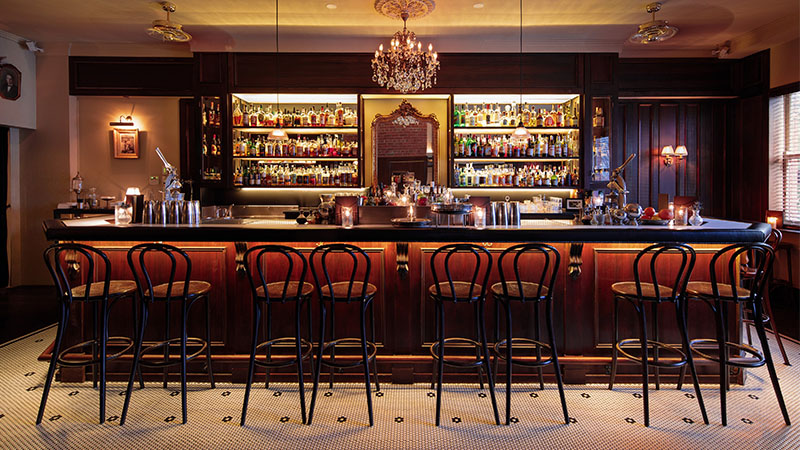 9. The Wolf & I, Windsor
This industrial-style pub and cocktail bar is Windsor's venue with something for everyone. The inviting space is all the things a classic pub should be. There are all the usual suspects on the menu, a wide range of beverages, and six large sports screens. With quirky furnishings and a dedicated cocktail bar, The Wolf & I is also so much more than just a pub. The generous size of the venue also means you can say goodbye to queuing in Windsor!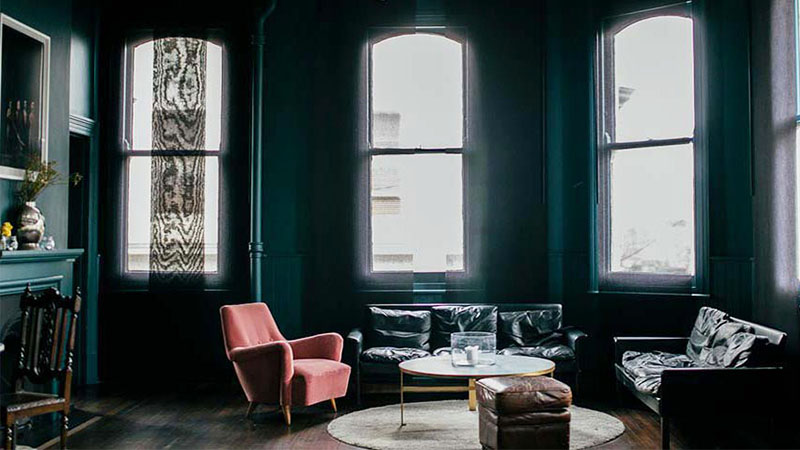 10. The Elysian, Fitzroy
Boasting a back bar 350-odd whiskies strong, the Elysian Bar in Fitzroy is straight out of a whisky-lovers dream. The impressive collection features only rare and independently bottled whiskies from across the globe. They have been painstakingly hand-selected by the duo behind the business – Yao Wang and Kelvin Low. Modelled off the intimate, back alley whiskers of Japan, enjoy your dram in a comfortable leather seat to the soft sounds of jazz.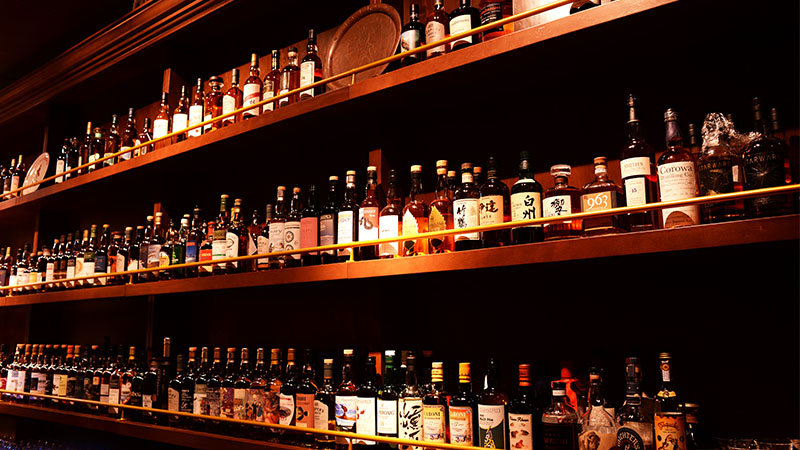 11. Black Pearl, Fitzroy
This neighborhood bar in the heart of Fitzroy has become an icon of the Australian bar scene. Black Pearl has even become a regular on the World's 50 Best Bars list in recent years. Don't be fooled though; this family-run business is anything but pretentious. Welcoming locals and tourists alike, the emphasis here is on good old-fashioned service and cocktail innovation – and a house-made sausage roll to die for.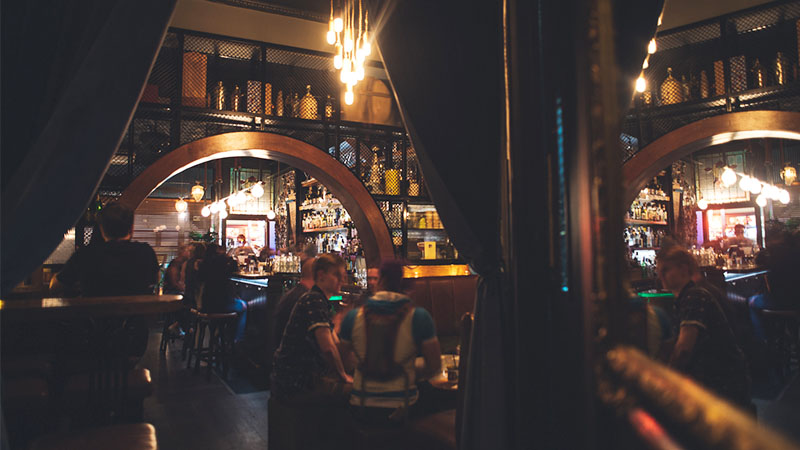 12. Stomping Ground, Collingwood
Believe it or not, in the late 1800s Collingwood was the home of Australian brewing. By the 1900s, the industry was undone by amalgamations, closures, and buyouts. Born out of a combined passion for great beer, trio Steve Jaffares, Guy Greenstone, and Justin Joiner decided to bring brewing home to its original Stomping Ground. Inside the spacious beer hall, you will find an always rotating selection of house-brewed beers and good grub to match.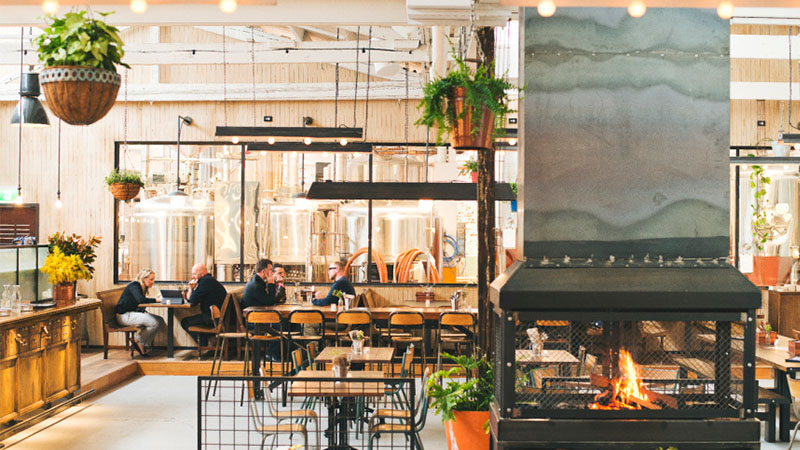 13. Tusk High Bar, Windsor
Windsor's brand new Art Deco bar has arrived and is ready to transport you back to 1930s Manhattan. There's an extensive range of classic cocktails on offer, including the Charlie Chaplin and St Croix Rum Fix. The small food menu features cheeseboards, sliders, and wood-fired pizzas. Get ready for live jazz, cabaret, and drag performances thanks to a newly renovated stage at the far end of this dazzling lounge.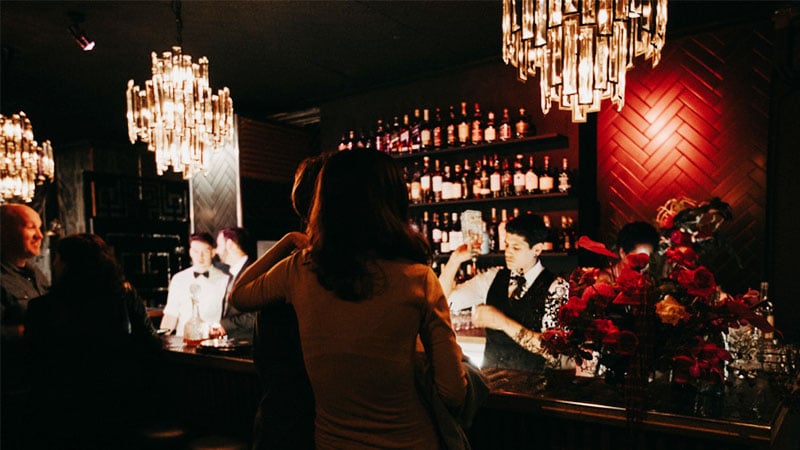 14. Paradise Alley, Collingwood
Housed within a converted warehouse, this casual Collingwood joint shares its space with a microbrewery, deli, art gallery, and motorbike shop. The communal nature of the building lends itself to a warm and inviting atmosphere. Guests can order food from neighbours Little Latin Lucy, while the team behind the bar focuses on what they do best: craft beers, natural wines, and speciality cocktails. Paradise found.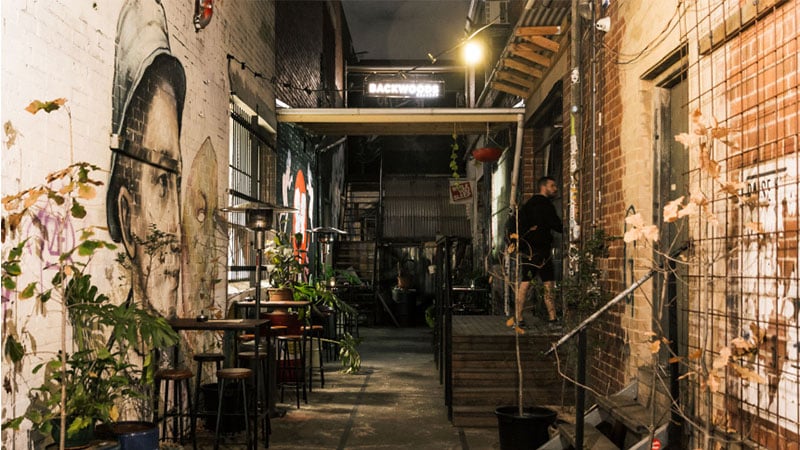 15. Arbory Bar & Eatery, Melbourne
Standing at 150-metres long, Arbory Bar & Eatery is positioned in place of the derelict Sandridge train line next to Flinders Street Station. The kitchen and bar are situated within illuminated shipping containers, while the expansive deck provides ample seating room overlooking the Yarra.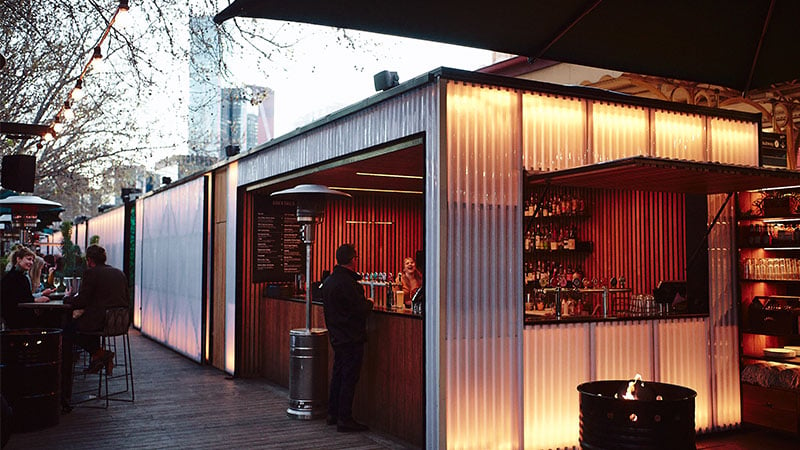 16. Clooney Kitchen and Bar, Port Melbourne
Forget George; this moody speakeasy celebrates his aunt and legendary jazz singer, Rosemary Clooney. The place is decked out with all the Hollywood glitz meets Art Deco furnishings you'd expect to find in an old-school cocktail lounge. Emerging from the crowd of speakeasies that dot the city, Clooney Kitchen and Bar veers away from the traditional when it comes to drinks. Instead, serving up fresh and balanced iterations of classics, such as the Duck Fat Martini, designed to pack a punch.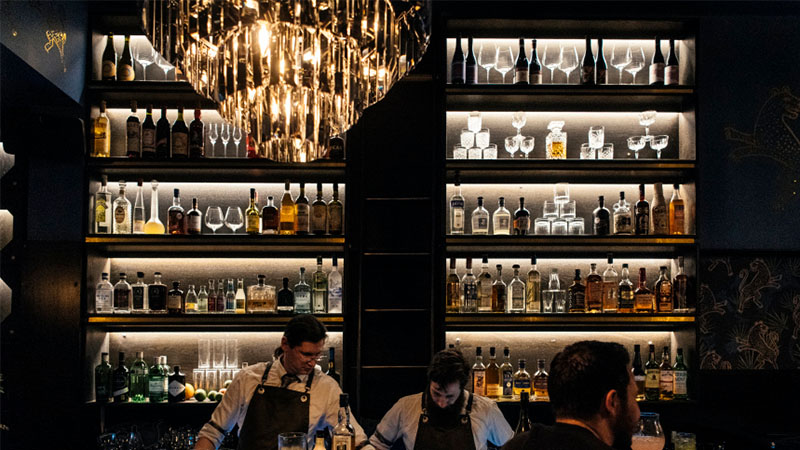 17. Congress, Collingwood
Congress invites you to come to their table for an opportunity to seek pause and pleasure in the flow of daily life. Within the walls of this sleek dining space lies the promise of a cold glass of water, a comfortable chair, and something delicious to eat. What you will find is so much more. With an ultra-polished menu and an Australian-dominated wine list, this oh-so Collingwood venue is well worth the visit.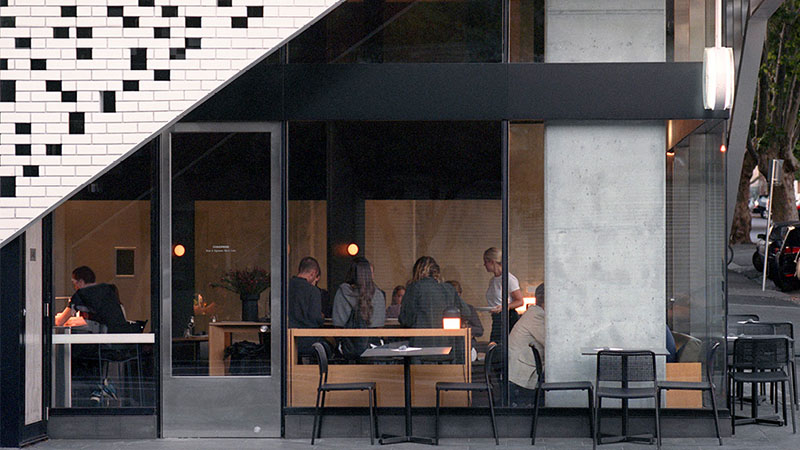 18. Bad Frankie, Fitzroy
Bad Frankie in Fitzroy specialises in two areas: toasties and local spirits. The Brunswick Street institution showcases the best in home-grown produce with over 150 boutique Australian spirits in its enviable collection. If you thought Australia lacked in the drinks department, their 29-page drinks menu might make you think twice. But who are we kidding? We had you at toasties!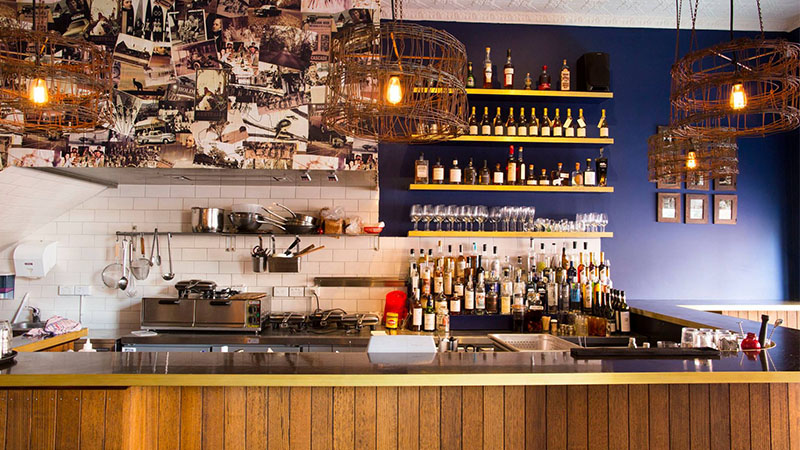 19. Kirk's Wine Bar, Melbourne
Amidst all the hustle and bustle of touristy Hardware Lane, sits a warm, light-filled wine bar. The philosophy at Kirk's Wine Bar is simple: In Vino Veritas. Or, in wine lies the truth. The welcome retreat proves year after year that sometimes the simple things in life – like a glass of good wine and some quality service – are all it takes to make it in this city.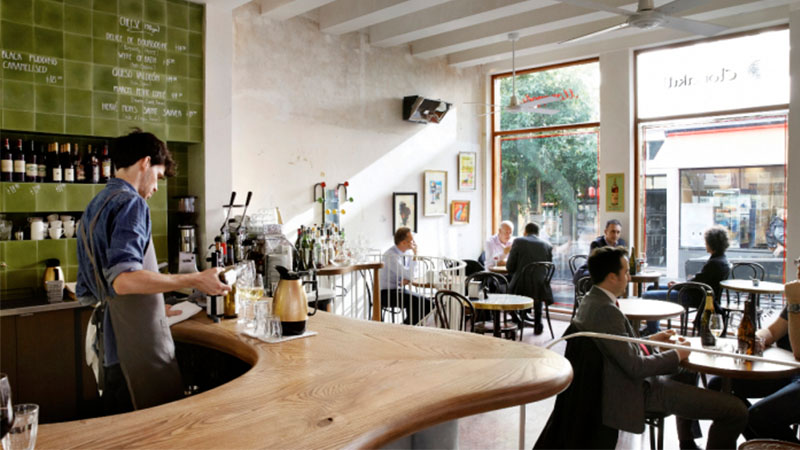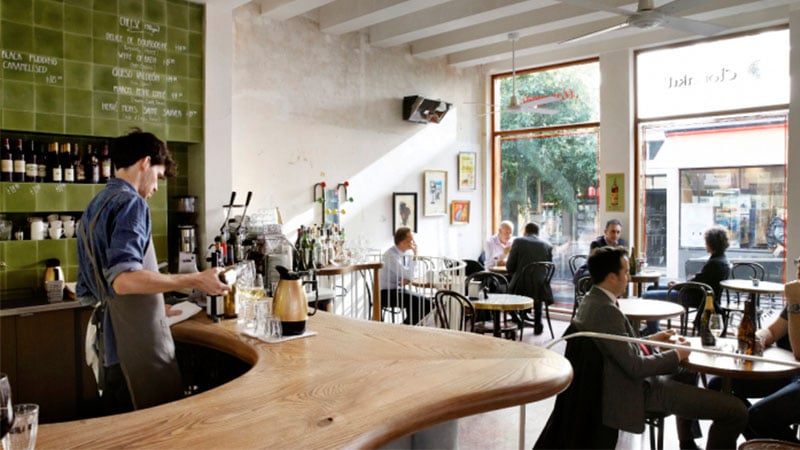 20. Boilermaker House, Melbourne
Boilermaker House was born out of an idea to pair beer with whisky for a drinking experience more than the sum of its parts. With a back bar shelving over 900 malts and a continually rotating tap list, if there ever was a perfect match, chances are you'd find it here. The pairings, aptly named Boilermakers, are accompanied by a small selection of cheese and charcuterie designed with boozing in mind.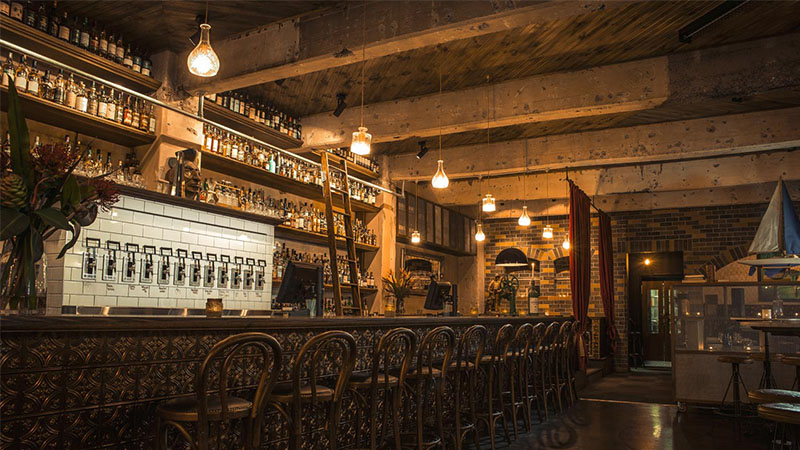 21. Cumulus Up Wine Bar, Melbourne
Inspired by the great wine bars of Europe, Cumulus Up brims with charm. Situated above the iconic Cumulus Inc restaurant, this elegant wine bar is the perfect spot for after-work drinks or a relaxed dinner. Although the main focus is on wine, the food is also worth a mention. The seasonal menu continually evolves to reflect small-scale farms and local produce. Their selection of snacks and larger dishes consist of classic but flavoursome dishes, and are of course, best paired with wine.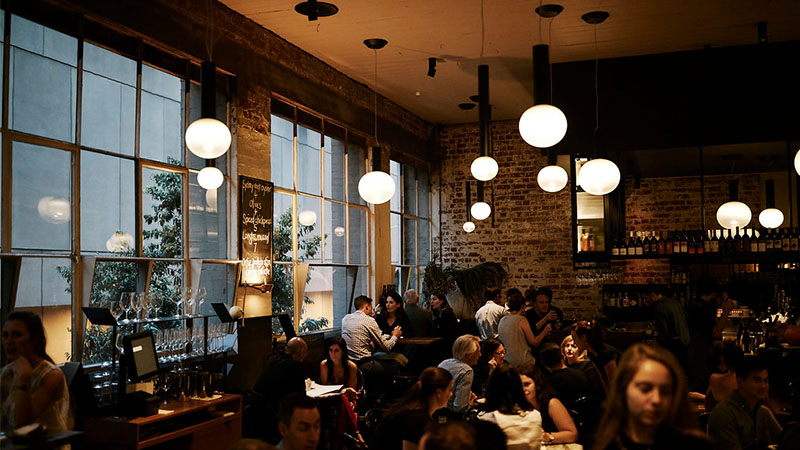 22. Heartbreaker, Melbourne
If you're in the mood for some rock'n'roll, there is no better place to be than under the neon lights at Heartbreaker. The focus here is on letting your hair down for the night, rather than high-class cocktails and fine dining. There are four pre-batched cocktails to choose from and a decent selection of beers and wines. It may be a dive bar, but from the team behind the award-winning Everleigh, this late-night venue is giving the term a whole new meaning.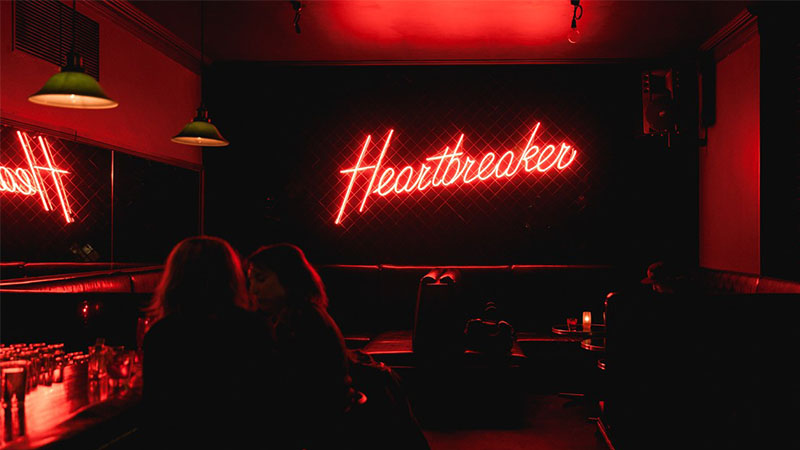 23. Mr West, Footscray
The main attraction of this Footscray bar is its 24 taps pouring not just beer, but cider, wine, and cocktails as well. Yes, that does include an espresso martini. While its food menu consists of simple bar snacks, the owners encourage guests to BYO from the myriad of surrounding takeaway joints. If you find something you like from their carefully selected drinks menu, you can take it home thanks to the bottleshop downstairs.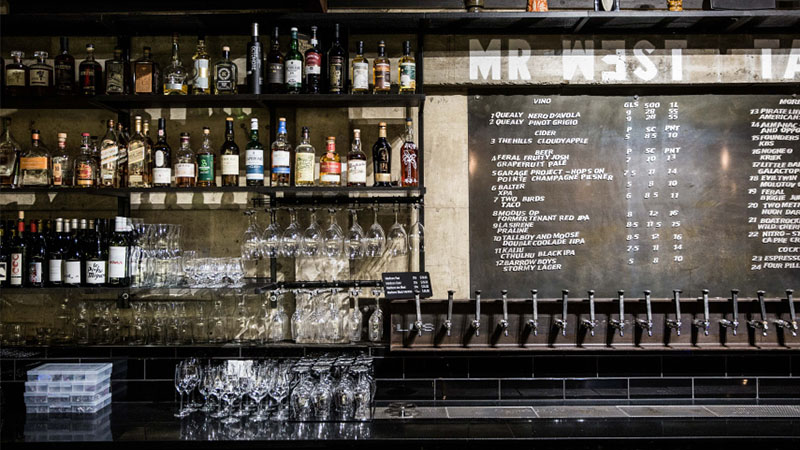 24. Morris Jones, Windsor
The recently revamped Morris Jones in Windsor offers a Californian take on modern Japanese cuisine. The result is a menu as lush as its interiors, that spotlights fresh produce with an expected seafood tilt. The Japanse-Cali twist extends to the drinks menu, with a Yuzu Pina Colada, Sake Plum Spritz and Nakatomi Old Fashioned among the many unique options.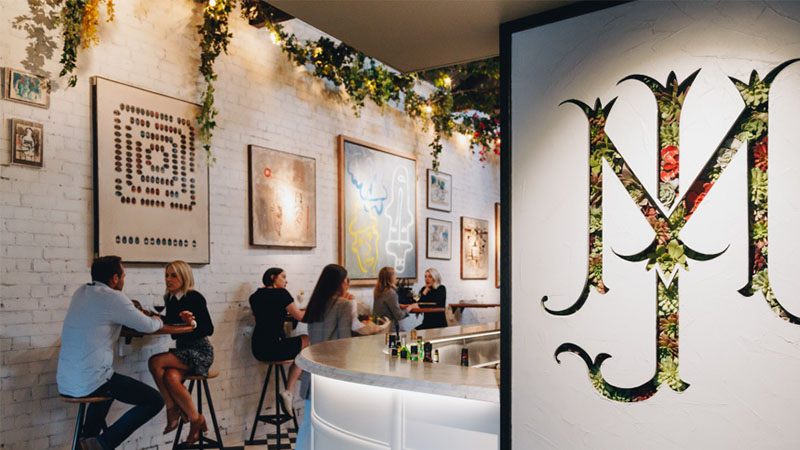 25. The Smith, Prahran
Escape the Chapel Street crowds in Prahran's elegant all-day eatery, The Smith. Head in the direction of the restaurant to indulge in their seasonal menu championing fresh local produce. Or enjoy a bar snack and a cocktail in the light-filled atrium-style terrace.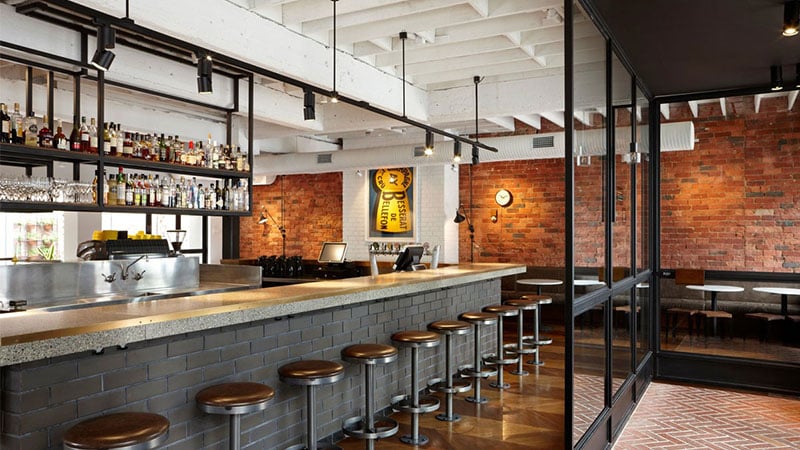 26. Gerald's Bar, Carlton North
Step into the warm light of Gerald's and instantly understand why North Carlton locals are drawn to this cosy wine bar. With an ever-changing menu showcasing local fare, the kitchen operates on a 'we cook and you eat' philosophy. And trust us, you'll want to be eating whatever Gerald is cooking up. The same goes for the extensive wine list, with the first few bottles opened for the night available by the glass. Homely, inexpensive, and bursting with personality, Gerald's has our tick of approval.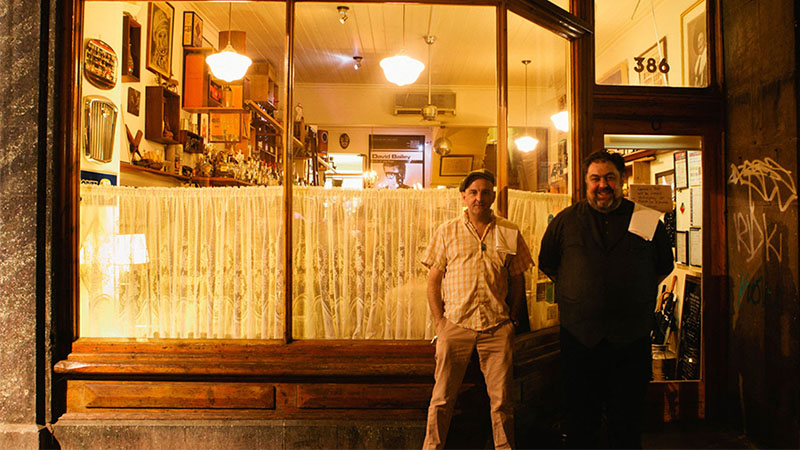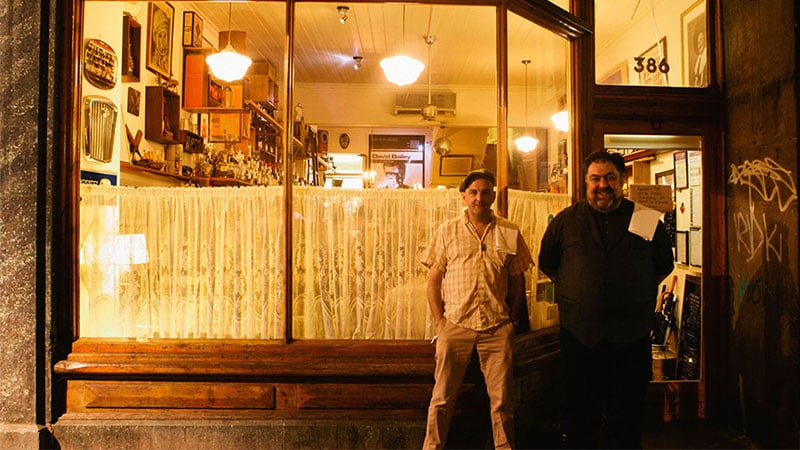 27. Temperance Hotel Bar, South Yarra
Stop by the Temperance Hotel on Chapel Street for one of Melbourne's classiest pubs. Located in the heart of South Yarra, this sleek establishment is a local favourite. Take advantage of their many weekly specials, including live music and DJs every Friday and Saturday night, acoustic music on Sundays, and $10 cocktails on a Thursday.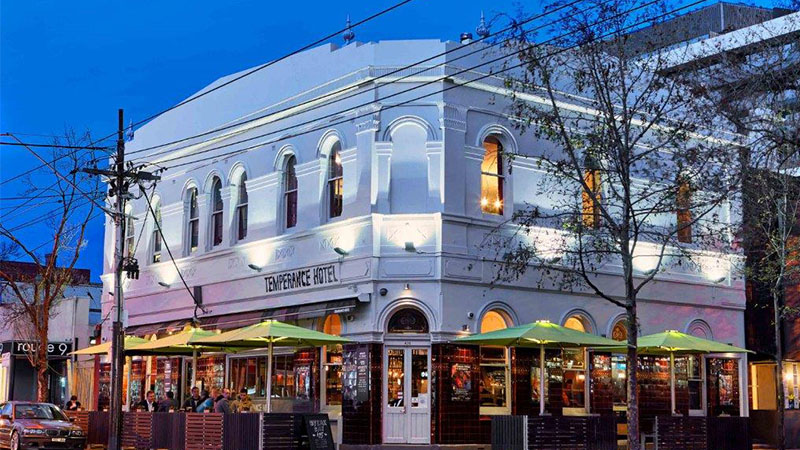 28. Two Wrongs, South Yarra
Self-described as a 'fine-diving' venue, Two Wrongs in South Yarra is part restaurant, part dive bar. With a quirkier approach to fine-dining, the menu offers the likes of mac'n'cheese and pulled-pork-filled doughnuts, alongside some killer cocktails. And despite some questionable decor, featuring Versace cutlery and hot-pink bar stools, both locals and visitors can't get enough of the place. Proving that two wrongs actually can make a right.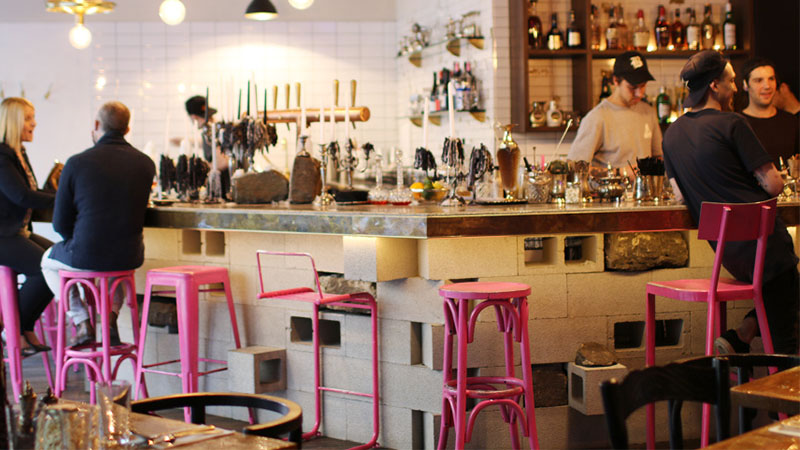 29. Leonard's House of Love, South Yarra
Leonard's House of Love is just that; a '70s inspired bar situated within an actual house – picket fence and all. With a house-party vibe, there is no bookings or formal dining area here. Order a cold beer and a burger at the bar and get ready to boogie all night long.
VISIT: Leonard's House of Love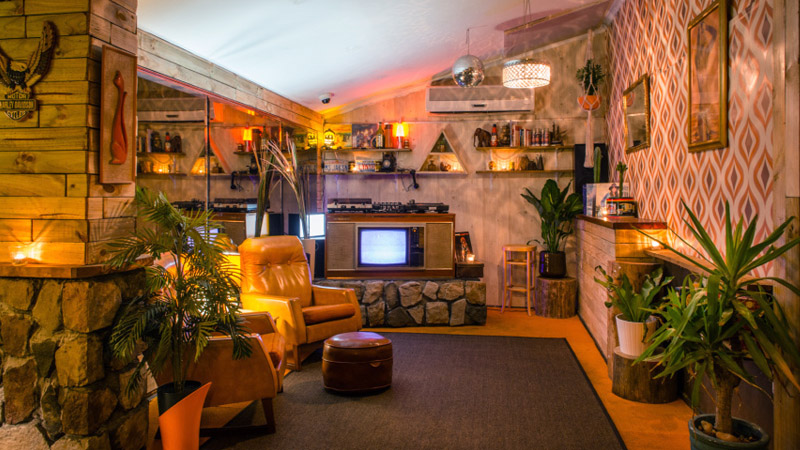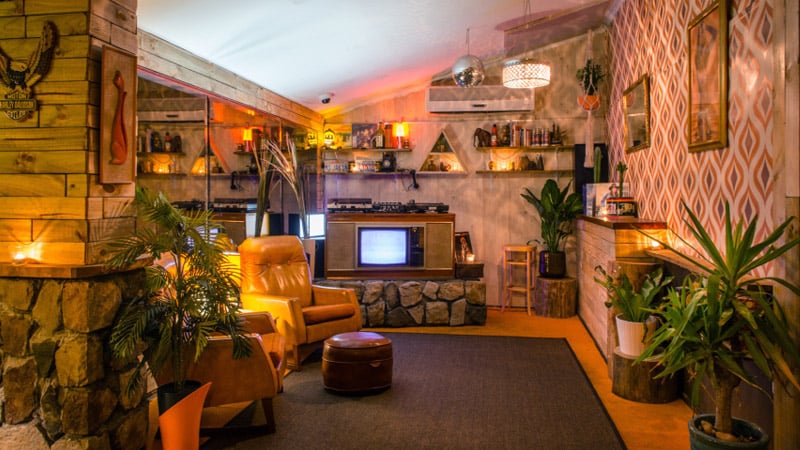 FAQs
What is the best bar in Melbourne?
Melbourne is home to some great bars, from wine and whiskey to beer and cocktails; there's something for everyone's tastes. Must visits include Cookie, Lucky Coq, Eau de Vie, Naked in the Sky, and Neptune Bar.
What is the best bar in Melbourne with fun entertainment?
If you're looking for a great bar in Melbourne with heaps of fun entertainment, there's plenty of choices. Check out Ballers Clubhouse, Jukes, B. Lucky & Sons, GG EZ, Pixel bar & café, Bosozoku, Mr. Wow's Emporium, and Bartonica.
What are the best cocktail bars in Melbourne?
When you're keen on an excellent cocktail, check out the likes of Cookie, The Everleigh, The Wolf & I, Black Pearl, Tusk High Bar, Two Wrongs, and Heartbreaker.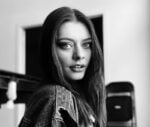 Alexandra Feiam is an experienced fashion writer who holds a degree in journalism. She has an impressive portfolio and expertise working as the Editor at Power Retail and Commercial Content Editor at Newscorp. Ally has been writing for The TrendSpotter since 2018, and her work has been featured in notable publications such as The Herald Sun, Arirang TV South Korea, Kidspot, The House of Wellness, and The Daily Telegraph.
SUBSCRIBE TO OUR NEWSLETTER
Subscribe to our mailing list and get interesting stuff and updates to your email inbox.