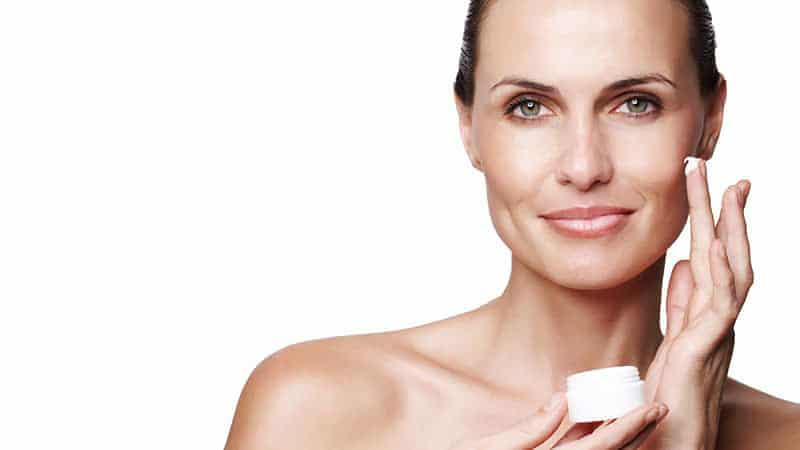 As much as we wish it wasn't, aging is inevitable. And while we can't completely stop the process, we can slow nature's hand down with a little help from modern skin science. It's a tricky terrain to navigate considering the number of products currently on the market that all promise to work miracles. But there are only really six main ingredients in the anti-aging game that are proven to actually work. Confusing, we know. So to help you develop the best plan of attack against the aging clock, we've gone into more detail on each below.
Anti-Aging Vitamin C Products
When it comes to anti-aging, Vitamin C is nothing short of a miracle worker. It's one of the most powerful antioxidants for the skin and helps to maintain a healthy, youthful complexion long into the future. Mainly due to its ability to reduce the appearance of fine lines and wrinkles because it stimulates collagen synthesis in skin fibroblasts. Not only that, but its potent antioxidant-rich properties help to also protect the skin from free radicals. Vitamin C also protects the skin from sun damage, reduces under-eye circles, speeds up the body's natural healing processes, and keeps skin looking younger, hydrated, and healthier overall. Vitamin C used in many forms in skincare, the most well-known being L-Ascorbic Acid. The amazing benefits of using Vitamin C for anti-aging have been backed up by many recent studies that have shown a dramatic improvement in skin texture, fine lines, and wrinkles.
OBAGI Professional C Serum 15%
Obagi Professional C Serum 15% is an advanced product that contains one of the most effective ingredients that neutralizes free radicals to prevent skin damage. Serum concentrate contains 15% L-ascorbic acid that promotes natural collagen production and reduces fine lines and wrinkles. The serum decreases transepidermal water loss, maintains normal cellular turnover, lightens and brightens the skin. Include the serum in your skincare routine for an even skin tone and a brighter complexion.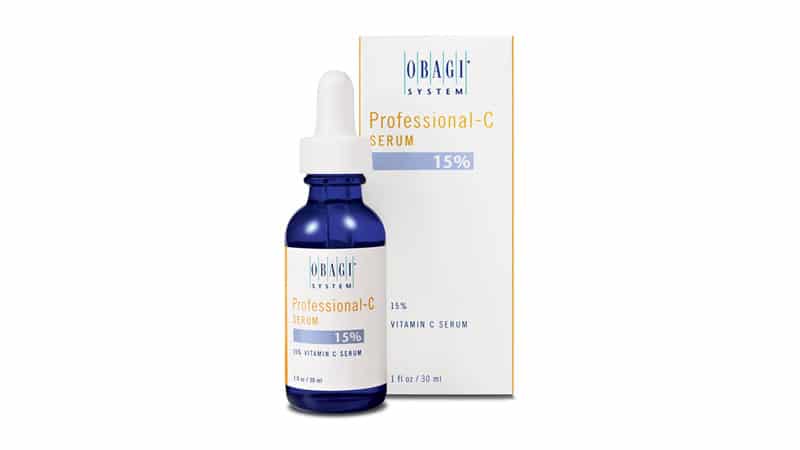 SkinCeuticals CE Ferulic PRO
SkinCeuticals CE Ferulic PRO is a revolutionary antioxidant combination that is bursting with powerful ingredients like Vitamin C, Vitamin E, and Ferulic Acid. It has the ability to neutralize free radicals which gives it a potent anti-aging effect. It also works at defending against environmental aging, builds collagen, and has unmatched antioxidant protection. Let's just say, you'd be hard-pressed to find a dermatologist who doesn't have a bottle of this on their shelf.
Timeless Skin Care 20% Vitamin C Plus E Ferulic Acid Serum
The Timeless Skin Care 20% Vitamin C Plus E Ferulic Acid serum contains high concentrations of Hyaluronic Acid and Matrixyl that work to combat the visible signs of aging. The Vitamin C in this product helps to even skin tone and build collagen. This product pretty much has more active ingredients with fewer chemicals, which is a win-win in our eyes. Better yet, it's all-natural, paraben-free, non-greasy, and dries fast and clear. Simple but effective.
Drunk Elephant C-Firma Day Serum
This revolutionary serum evens skin tone, fights cellular UV damage, stimulates collagen synthesis, and optimizes skin physiological activities of defense and cell regeneration. The most enticing quality of this super-potent product is that it dissolves unwanted surface skin cells and provides intense hydration. It can easily penetrate the skin to achieve a noticeably more youthful complexion. It's also packed with powerful antioxidants to reduce the signs of aging, particularly wrinkles.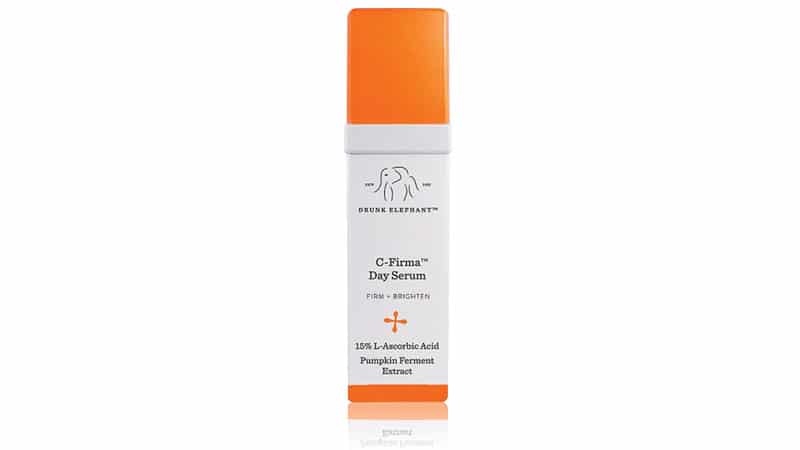 Anti-Aging Niacinamide Products
If you're searching for the fountain of youth, look no further than Niacinamide. In multiple clinical studies, using Niacinamide has been shown to improve the appearance of aging skin. The benefits are huge and include things like a reduction in fine lines and wrinkles, hyperpigmented spots, red blotchiness, and skin sallowness. Another bonus was that skin elasticity was drastically improved. We also can't ignore its antioxidant properties and ability to increase the skin's production of ceramides which help to fight aging round the clock. And thanks to its anti-inflammatory properties, Niacinamide is the gold standard when it comes to repairing sun-damaged skin. It's also capable of increasing levels of fatty acids in the skin to achieve a youthful complexion. And it does so with minimal side effects.
The Ordinary Niacinamide 10% + Zinc 1%
The Ordinary Niacinamide 10% + Zinc 1% is a high-strength vitamin and mineral formula that works to brighten skin tone and improve the appearance of aging skin. The potent Niacinamide found in this product works to reduce fine lines and wrinkles and increase the skin's production of ceramides to combat the aging process.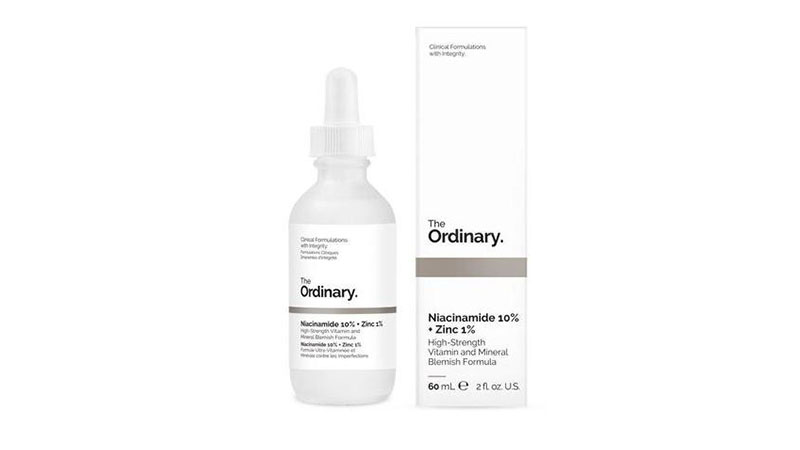 Paula's Choice RESIST 10% Niacinamide (Vitamin B3) Booster
This hero product will work wonders if you're looking at tapping into that fountain of youth. It not only promotes a brighter, more even-toned complexion but helps to smooth skin texture. It's a sheer, ultra-light liquid formula that absorbs quickly into the skin. It's so strong, you only need a few drops, best added to your moisturizer after cleansing, toning, and exfoliating.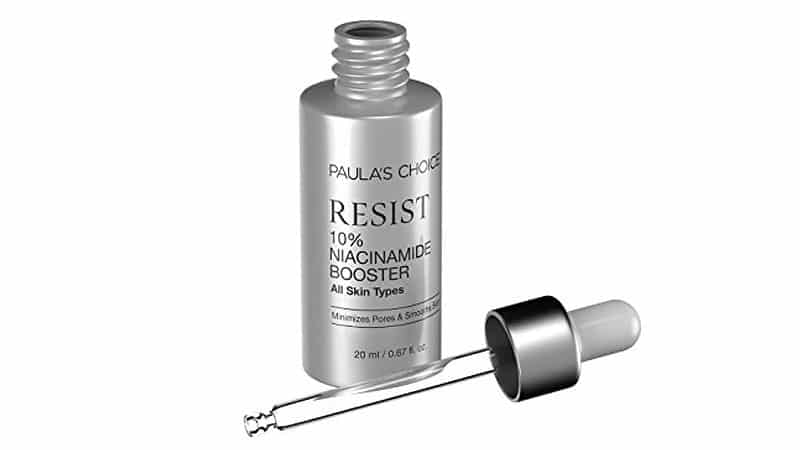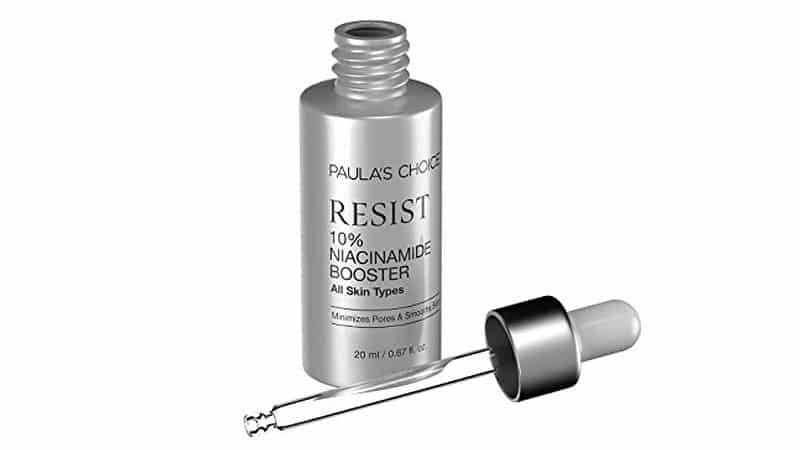 Anti-Aging Vitamin A Products
Vitamin A is an anti-aging powerhouse. Retinol, Retinoic acid, and Pro-Retinols are all common forms of Vitamin A that are used in skincare. Vitamin A is known to refine pores, reduce dark spots, smooth even the deepest of wrinkles, and improve skin texture. All thanks to its ability to work directly on the cells themselves. Vitamin A keeps the skin young and healthy and is recognized as one of the strongest antioxidants around. These antioxidants work to protect our bodies from harmful free radicals and preserve the skin's structure and firmness. Better yet, it's also been proven in many studies to slow the aging of the skin and even reverse the aging process through the production of collagen and elastin fibers. Hallelujah! Due to the dramatic proven effects of Vitamin A, it is considered one of the only ingredients whose properties can achieve real change in the skin.
The Ordinary Granactive Retinoid 2%
This advanced retinoid delivers incredible anti-aging results with less irritating side effects than other similar products. The Ordinary Granactive uses next-generation retinoid active technologies which have been shown to achieve a better reduction in signs of aging. This jam-packed product can help to smooth wrinkles and improve skin texture. It's so potent, you only need a few drops and its super light-weight creamy formula makes it a dream to apply.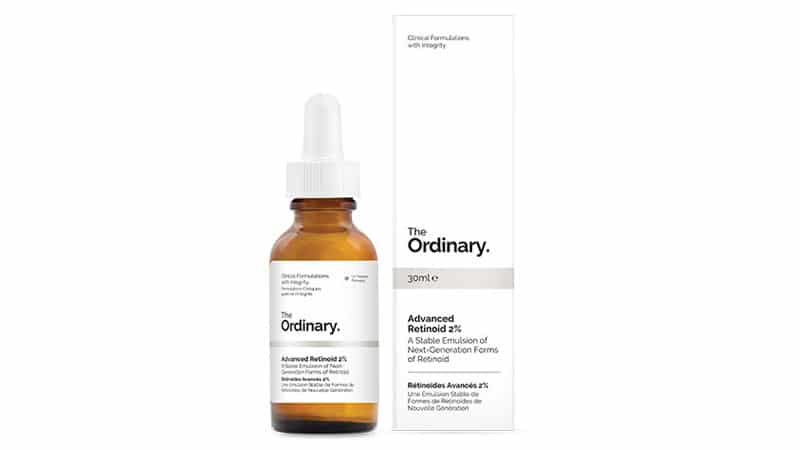 Skinceuticals Retinol 1.0 Maximum Strength Refining Night Cream
Skinceuticals Retinol 1.0 Maximum Strength Refining Night Cream is a perfect solution for photo-damaged skin. It contains the highest concentration of pure retinol currently available on the market. The retinol ingredient helps to stimulate cell regeneration and build collagen which in turn will diminish the appearance of fine lines, wrinkles, and age spots. Because this product is so potent, start by using it only twice a week, before gradually increasing to every other night and finally once in evenings.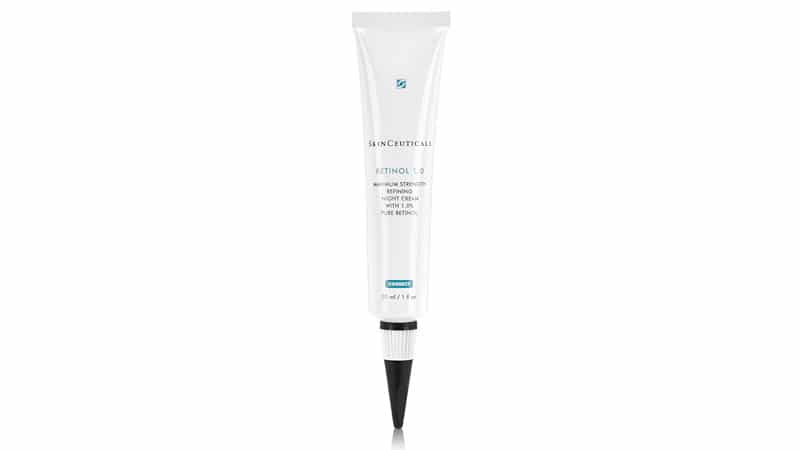 CeraVe Renewing System, Skin Renewing Serum
CeraVe Skin Renewing Cream Serum is designed to help reduce the appearance of fine lines and wrinkles while helping to repair and restore the skin barrier, resulting in brighter, smoother skin that looks healthy and radiant. It contains an encapsulated 1 percent retinol and ceramide complex, which stabilizes and delivers the retinol into the skin gradually over time so it won't cause harsh irritation like many retinols. The nongreasy and fast-absorbing formula also contains vederine, a vitamin D analog known to provide epidermal and skin barrier support and long-lasting hydration. It is ideal for all skin types.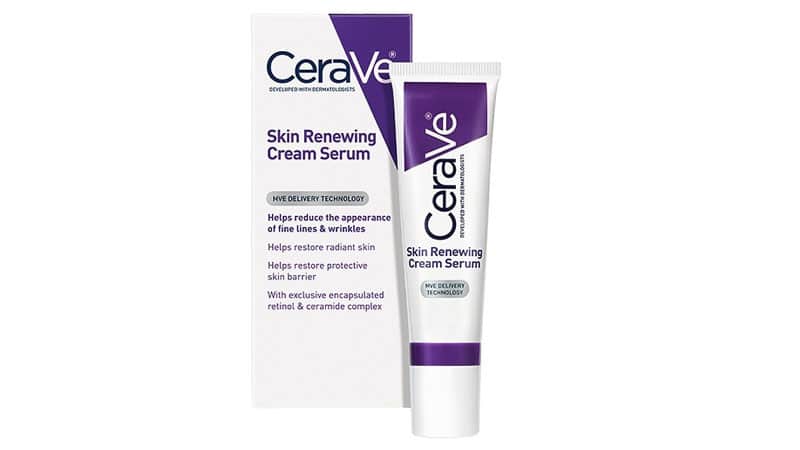 Paula's Choice CLINICAL 1% Retinol Treatment
If deep wrinkles are your main concern, this product is where you want to invest your money. Its potent yet uniquely formulated ingredients like Vitamin C, Vitamin E, Hyaluronic Acid, and Peptides team up with a high dose of retinol to fight the advancing signs of aging. Not only does it effectively diminish the appearance of wrinkles and fine lines, its oat, burdock and licorice extracts help to soothe the skin and reduce irritation. It absorbs quickly and goes to work even faster to deliver powerful results. This product is suitable for all skin types.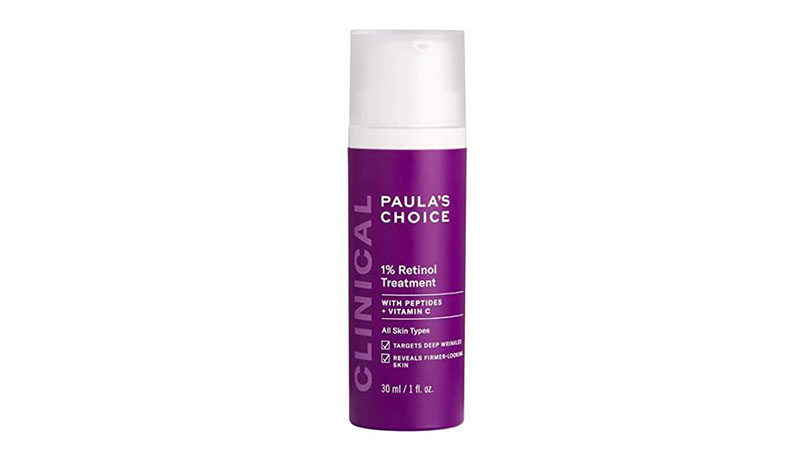 Anti-Aging Alpha Hydroxy Acids Products
If you want to look like a 20-something well into your 40's, Alpha Hydroxy Acids are a great place to start. AHAs work to dissolve the bonds between skin cells to allow the dead cells to be removed, resulting in a smoother skin surface. Since they act on the surface cells, they can reduce fine lines and wrinkles, improve elasticity and texture by reversing some of the processes that cause visible skin aging. As we age, the skin becomes thinner and more fragile and the production of collagen and elastin declines. AHAs have been found to combat the skin's natural aging process by removing dead cells and stimulating the growth and thickening of the dermis and epidermis – the two main layers of the skin. The result? New, younger-looking skin.

Sunday Riley Good Genes
The name says it all, Sunday Riley's Good Genes will give you exactly that. This amazing treatment is formulated with key ingredients that work to plump fine lines, reveal brighter, newer skin, and improve circulation for a noticeably smoother complexion. Long-term use promises to reduce the depth and number of lines and wrinkles and also increase epidermal firmness and thickness, which is a key player in fighting the visible signs of aging.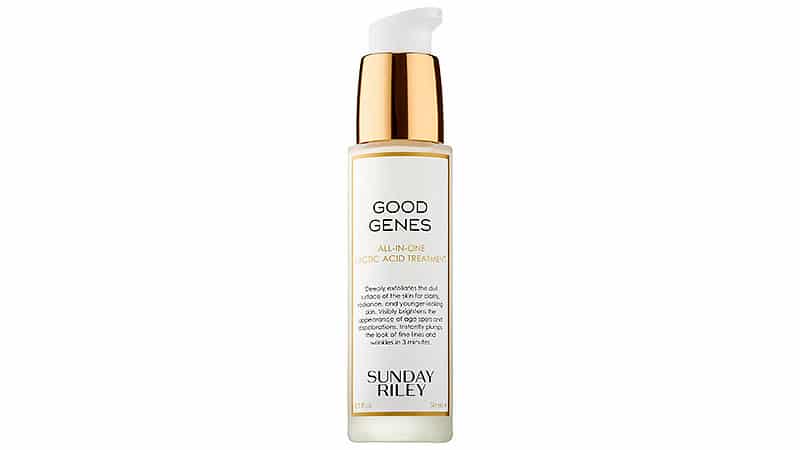 Drunk Elephant TLC Framboos Glycolic Night Serum
Drunk Elephant TLC Framboos Glycolic Night Serum is formulated with a 'dream team' of AHAs including glycolic, lactic, tartaric, citric and salicylic acids and blended with the raspberry extract. It is specifically designed to reveal a smoother and more radiant complexion. This miracle product works to gently dissolve dead skin cells, increase collagen production and diminish fine lines and wrinkles. Drunk Elephant formulations only contain ingredients that are there to benefit skin health and support the formulation, keeping them safe and making them ideal for even the most sensitive skin.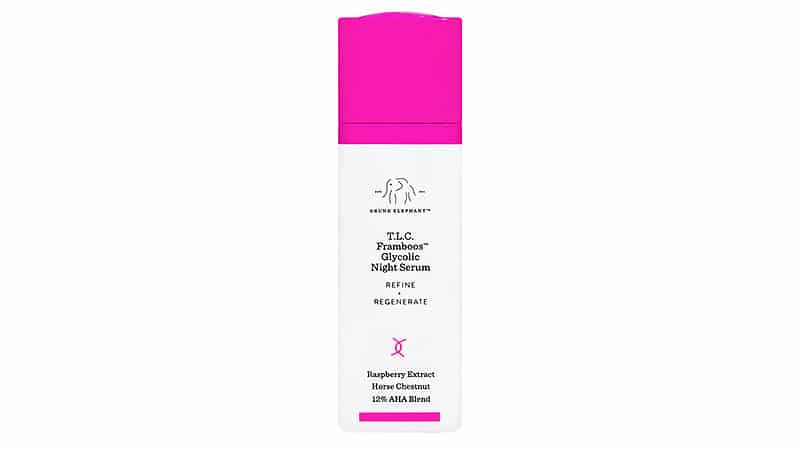 The Ordinary Glycolic Acid 7% Toning Solution
The Ordinary's Glycolic Acid 7% Toning Solution offers a gentle exfoliation for improved skin brightness and visible clarity. Continued use of this product will improve skin texture and reduce fine lines and wrinkles, improve elasticity and also reverse some of the processes that cause aging.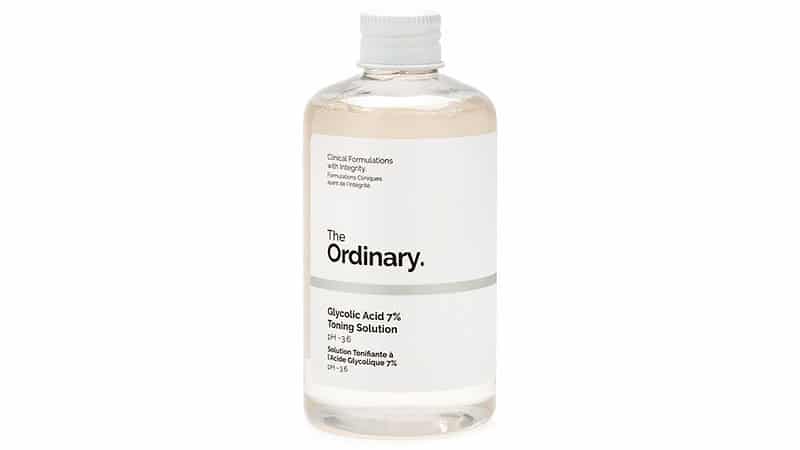 Dr. Dennis Gross Alpha Beta Ultra Gentle Daily Peel
This cult product is designed with a cocktail of exfoliating acids to refine and strengthen delicate complexions. It contains three gentle acids, anti-agers, and soothing botanicals to exfoliate and nourish fragile skin and combat three common signs of aging: uneven skin tone and texture, fine lines and wrinkles, and enlarged pores. An ideal introduction for those new to AHAs, this is also the perfect option for those whose skin is prone to redness.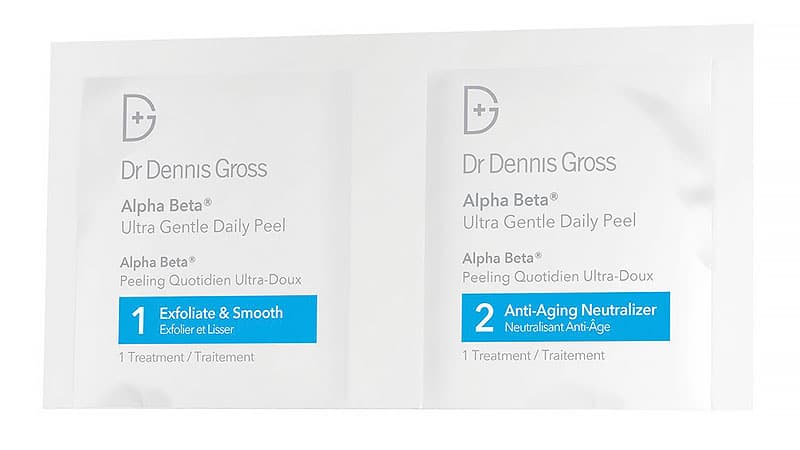 Anti-Aging Copper Peptides Products
Skincare lovers often say that Copper Peptides are their favorite anti-aging ingredient. To a significant degree, skin aging is caused by the accumulation of minor day-to-day damage from the sun, wind, detergents, acne, abrasions, and so forth. As these minute lesions heal, they leave microscopic imperfections, which, eventually, accumulate to become visible signs of aging. Copper Peptides can help minimize the damage from daily wear and tear of the skin. Their antioxidant and anti-inflammatory effects also can't be ignored. This allows it to promote wound healing, collagen stimulation, and the production of immune cells. In turn, this improves skin firmness, elasticity, and plumpness and its wound-healing properties make it a great treatment for wrinkles. Research into the use of Copper Peptides in skincare is relatively new, so the scientific benefits, when compared to other anti-aging heroes like retinol, have not been proven absolutely.
Medik8 Firewall by Medik8
Medik8 Firewall is an antioxidant-packed anti-aging serum that minimizes the appearance of fine lines, crow's feet, and wrinkles while protecting skin from premature aging. The highly-potent formula contains powerful anti-agers and free-radical-fighting ingredients, such as Copper Peptides. It will leave skin feeling hydrated, fresh, and glowing with a silky feel. It's the ultimate all-in-one product working to protect and moisturize. And it's fragrance and paraben-free so even those with sensitive skin can reap the rewards.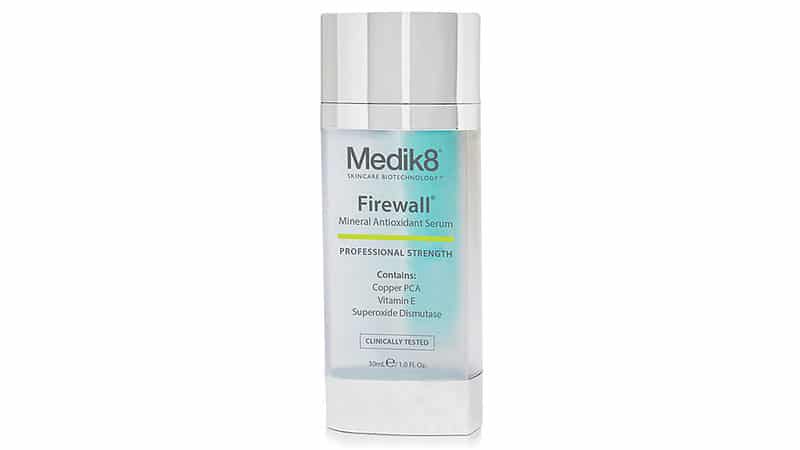 Anti-Aging Sunscreen Products
The best thing you can do to tackle wrinkles is to prevent them from occurring in the first place. UV-light from the sun is the biggest contributor to premature skin aging. It is important (and much easier) to protect existing collagen and elastin rather than try to rebuild it later. That's where sunscreen steps in. You need a broad-spectrum sunscreen with an SPF of 30 or more. It needs to be worn every day without question and reapplied to the skin as often as the instructions say to do so. Using daily UV protection is necessary even in cold or cloudy weather or if you're staying indoors, as the sun's ultraviolet radiation is still able to penetrate. It's even more important if you're using retinol or AHA products, as these make your skin more sensitive to the sun. Not applying sunscreen in conjunction with these could actually deem them ineffective.
SkinCeuticals Sheer Physical UV Defense SPF 50
Sheer Physical UV Defense SPF 50 is an ultra-sheer, transparent sunscreen fluid that helps boost the skin's natural defense to UV rays. This silky sheer fluid spreads easily and dries fast, leaving no residue. The result is a sheer, weightless matte finish, that is guaranteed to protect you from harmful UV rays. This broad-spectrum protection is suitable for all skin types, even those with sensitive skin. It contains no chemical filters and is paraben-free and non-comedogenic.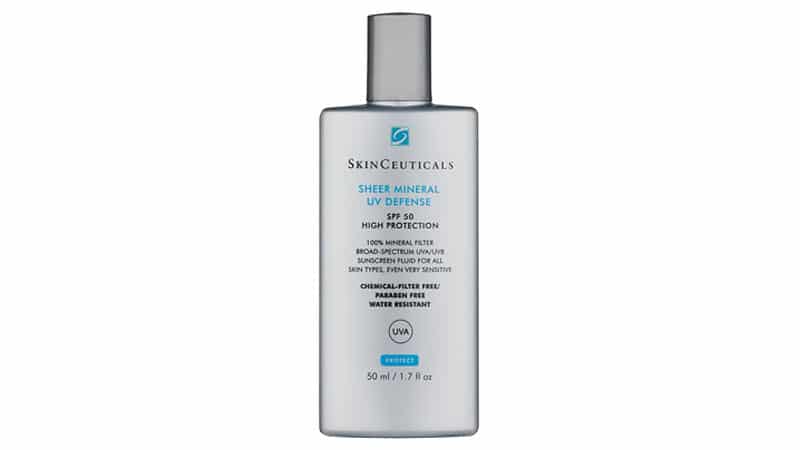 EltaMD UV Clear Broad-Spectrum SPF 46
EltaMD UV Clear SPF46 helps calm and protect sensitive skin types. It contains one of the six key anti-aging ingredients niacinamide (Vitamin B3) as well as hyaluronic acid and lactic acid. These ingredients promote the appearance of healthy-looking skin. On application, this cream is lightweight and silky and is best worn alone, or with makeup if needed. We love the tinted variety which is great for everyday use if you're after a light coverage.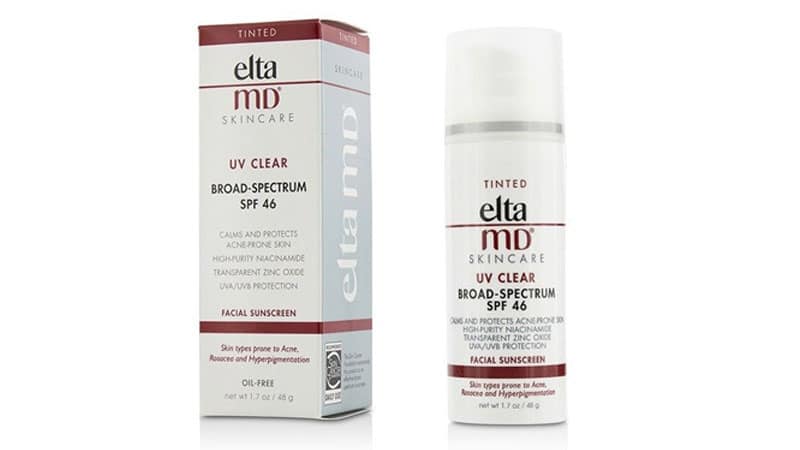 CeraVe Moisturizing Facial Lotion AM SPF 30
CeraVe Moisturizing Facial Lotion AM SPF 30 is a great all-around moisturizer with the added bonus of being a broad-spectrum sunscreen. It will work to keep your skin hydrated throughout the day, but also form a protective barrier on the skin. Better yet, it dries with a clear finish and is non-comedogenic, so it won't clog your pores.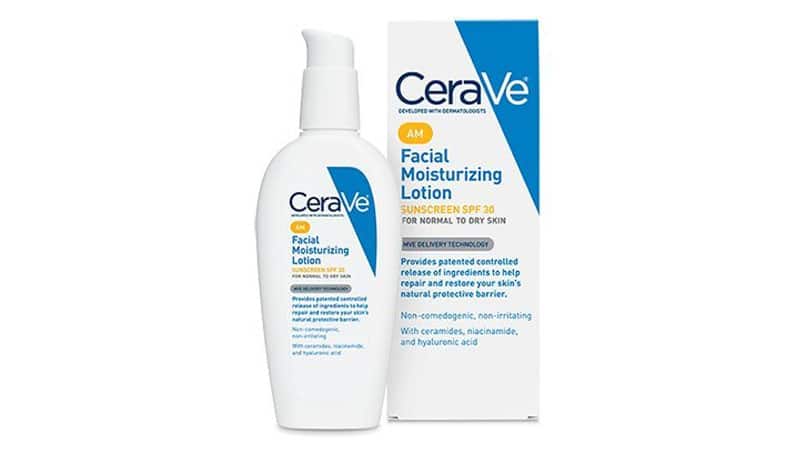 FAQs
Which is the best anti-aging cream?
The answer as to which is the best anti-aging cream for women will differ, as each person has individual needs, differing budgets, and skin types. That said, several brands are celebrated for being at the forefront of anti-aging technology, designed to protect the skin from harmful UV rays as well as nourish it, leaving you with a flawless appearance. These products include SkinCeuticals Sheer Physical UV Defense SPF 50, EltaMD UV Clear Broad-Spectrum SPF 46, and CeraVe Moisturizing Facial Lotion AM SPF 30. Other top picks include OBAGI Professional C Serum 15% and the Timeless Skin Care 20% Vitamin C Plus E Ferulic Acid Serum.
Do anti-aging creams really work?
Anti-aging creams work to boost your skin's natural production of collagen and protect from pollutants that can cause wrinkles and fine lines. Not all products are made equally, and there are various formulas and brand promises to consider. Different brands will also have varying results, and these are often dependent on your age and skin type. These creams and serums are not magical potions that will remove every imperfection and make you look years younger, but they do have the ability to slow-down premature aging and nourish the skin.
What anti-aging products do dermatologists recommend?
The recommendations from dermatologists vary and will depend on that individual's personal preference. The best brand for your skin will also be unique to you and your budget. That said, some popular choices include SkinMedica Total Defense + Repair cream, Skinceuticals C E Ferulic, and Neutrogena Hydro Boost Water Gel.
Where to buy anti-aging creams?
Anti-aging creams are incredibly popular and can be bought both online or in the drug store. If you want a specific product designed to tackle your skin type and concerns, it is best to consult with a dermatologist beforehand.
SUBSCRIBE TO OUR NEWSLETTER
Subscribe to our mailing list and get interesting stuff and updates to your email inbox.